Bestellen Sie Ihre Fahnen / Flaggen im Flaggen-Shop bei fahnenversand.de

Diese Website beschäftigt sich mit der Wissenschaft der Vexillologie (Flaggenkunde).
Alle auf dieser Website dargebotenen Abbildungen dienen ausschließlich der Informationsvermittlung im Sinne der Flaggenkunde.
Der Hoster dieser Seite distanziert sich ausdrücklich von jedweden hierauf u.U. dargestellten Symbolen verfassungsfeindlicher Organisationen.

---
This is a mirror of a page that is part of © FOTW Flags Of The World website.
Anything above the previous line isnt part of the Flags of the World Website and was added by the hoster of this mirror.
Unidentified Flags or Ensigns (2005)
Flags submitted in 2005
Last modified: 2023-06-03 by

zachary harden
Keywords: ufe | unidentified flags |
Links: FOTW homepage | search | disclaimer and copyright | write us | mirrors

---
Please note our Policy for Submissions and Enquiries.
Below is a series of images of flags that have been provided to FOTW; some we have recognized, and some we have been unable to recognize. If you can help us identify any of these flags, please let us know! Contact the: UFE Editor.
Identification Key:
= Positive ID (Positive Identification)
= Tentative ID (Tentative Identification)
= Some Speculation
| | |
| --- | --- |
| Flags on this page | Flags on other pages |
---
05-1. Striped Turkish Flag

Positive ID

This flag was moved after being identified as belonging to the Besiktas Football Team.
---
05-2. Old Swiss Communal Flag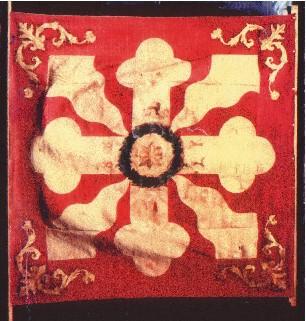 Photo from Martin Karner, 8 January 2005
See also: Ferden commune (Valais/Wallis canton, Switzerland)
Last September (2004) I took part in an excursion of the Swiss Society for Vexillology. We went to the "Lötschental" in the Valais (German: Wallis) canton to have a look at the old "communal flags" (Gemeindefahnen). The communes of the Lötschental have been united in one parish several centuries ago, that's why there's also a parochial flag ("Talschaftsfahne" / Talschaft = community of the valley). The flags that have been presented to us (it was the first time ever that they have been together on the same place) are different from the official communal flags. They're religious flags that are presented to the public only three times a year on occasion of certain Christian and special Catholic holidays (the Lötschental is Catholic like the whole Valais). During our visit a man from one of those villages (Ferden; today he lives in Berne) joined us and asked if we could help him to find the owner of a certain flag. I offered him to place his request on the Francovex list because the owner is supposed to live in France. Some time later this man sent me photos of the flag and photocopies of the correspondence which took place between February 1991 and January 1993 with follow-ups until 2003. Because there was no answer on Francovex up to now I expand the search to this page, maybe the searched flag has made its way outside the francophone area.

I reported the previous search for this flag in details on Francovex which I don't repeat now. Whoever is interested may contact me for details. I'm also in possession of the letter correspondence which report the research about the origins of this flag (the research was made by the vexillologist Michel Rochat from Geneva). This flag is one of the above mentioned old religious communal flags of the Ferden commune (it's not known how this flag left Ferden. The communal archives have not been searched yet for this). The writings on the flag are "G.F." (=Gemeinde Ferden) and "1788". To make it short: Michel Rochat was one of two middlemen between the owner of the flag and the Ferden commune who wanted to buy back its old flag. During the negotiations the connections suddenly broke and the commune hadn't anymore a connection to the owner who lived in Paris. From unknown reasons Michel Rochat didn't want to communicate anymore about this flag and its owner. Last autumn there was the last try to speak with him on this matter but this time it was his mental weakness (due to his high age) which disabled him to remember. We know that the Ferden commune is still interested to buy this flag, that's why we try on this way to find out something about its whereabouts. I got two photos from 1992/93 in a not too good quality above. One of the photos shows the owner and two women. Please mail us if you know something about these persons and/or the flag. Thank you for your help.
Martin Karner, 8 January 2005
---
05-3. Red-Yellow-Green with Runner

Some Speculation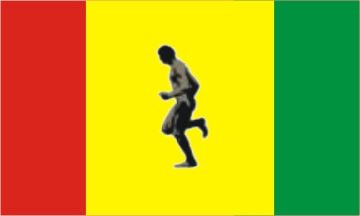 Image from Thomas Barr
I am looking for the origin of a flag that has a red stripe, then a yellow square with a red runner in the center of the flag over the yellow square, and ending with a green stripe. Can you help me? Working in a school we find all kinds of things packed away in file cabinets. This was on a roll of tiny flags that the secretary found. The students for history used the internet to find which flag belong to which country. They found all but a few. Some of the students are really curious to see where this one came from. It could be from anywhere or from any event. Was hoping you could help.
Randy Cooper, 2 February 2005
If the countries were all those that competed at some international sports event, say, then this might be the flag of that event.
James Dignan, 7 February 2005
---
05-4. Ship Funnel Logo: Red Star and C
Positive ID

This flag has been identified as the house flag of the Columbia Transportation Division of the Oglebay Norton Co. and is on its proper page.
---
05-5. School in Kobe, Japan

Tentative ID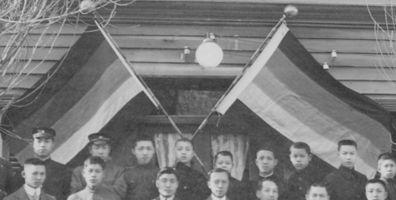 Image from Thomas Barr, 2 February 2005
I wonder if you might have seen this flag. I thought at first that it was Manchukuo (Manshukoku), but now I'm not so sure. This was taken, I'm told, in the 1880s in Kobe. It appears to be a mission school, or some kind of Christian school, as the boys all have crosses on their uniforms. Any information will be helpful.
Thomas Barr, 2 February 2005
These five striped flags has nothing to do with Manchukou or the Chinese five striped flag if the picture was taken in Kobe circa 1880's, because (1) Manchukou was established on March 1, 1932 and (2) the Chinese 5 striped national flag was adopted on February 10th 1912. I have not seen the flag before, but this flag design is unusual in Japan. The most popular Japanese flag design is a centered emblem on a one colour field such as national flag and most prefectural flags using only two colours. We have striped flags in only very rare cases. These flags look to have four or five colours and stripes which may be from a Christian school as Thomas mentions. So what four or five colours were chosen to symbolize Christianity?
Nozomi Kariyasu, 3 February 2005
In Christianity there are generally 5 colours that are used to represent the Christian story. first is green: represents God's creation of the universe and the world. Black: sin enters the world (the wages of sin is death). Red: represents Jesus Christ dying on the cross for our sins. White: represents the cleanliness, blamelessness of the souls of the human race once they have accepted Christ as their Lord and Saviour. The last is yellow or gold which represents heaven, the eternal resting place.
Justin Yip, 30 December 2005
The flag is reminiscent of the one used these days by Buddhists. The colour values, however, seem at variance with the modern Buddhist flag, which also has a panel in the fly repeating the colours.
Lesley Prince, 9 February 2008
It is said to date from the 1880s, which if true would preclude the flag from being the 1912 Chinese Republic 5 Stripe Flag. However, I question whether the dating is accurate. I am no expert on uniforms, but those shown in the picture strike me as post 1890s- I could be wrong though. However, it is interesting to note that there was (and still is) a Kobe Chinese School. It was founded in 1899, and I rather suspect the picture at FOTW was taken there, sometime between 1912 and 1928, and does show the then-current flag of China.
Ned Smith, 20 November 2005
So the UFE flag looks different in colour order. It might be from top blue/red/yellow/white/black.
Nozomi Kariyasu, 20 November 2005
I think we have to take into account the fact that the shades of color were probably not standardized for the flag. I have seen images of the flag where the shades of some of the colors vary greatly, particularly the middle stripe, the blue one. A black and white view will indicate only the relative darkness/lightness between the stripes, not the actual colors, except for the bottom two. Naturally, the bottom stripe, black, will always be darkest, and the penultimate stripe, white, will be lightest, but the top 3 stripes, red, yellow, and blue, may vary in relative darkness, depending on the particular dye and fabric used. Additionally, in the case of the photograph, the camera or film's sensitivity to particular wave lengths of light can effect even B & W images. And one final point, if the photo was taken in the immediate aftermath of the adoption of the new flag when details were still sketchy, the school may have simply made a flag with stripes in the wrong order.
Ned Smith, 21 November 2005
Until some evidence is posted indicating the photo is indeed from the 1880's, I suspect that this UFE can be tentatively identified as the 5-stripe Republic of China flag, and the site is the Kobe Chinese School. Also note that the siding on the Kobe Chinese School building in a 1900 photo is very similar to that shown in the photo at ( http://www16.ocn.ne.jp/~ochm1979/guide05.html ), but I don't know how common that would have been in early 20th century Kobe.
Ned Smith, 17 January 2010
The colors of the photo are entirely consistent with the Chinese Republic National Flag, 1912-1929 (red, yellow, blue, white, black). The orthochromatic films that were generally used during that era were completely insensitive to red, and over-sensitive to blue. Photographed with this kind of film, the stripes would appear black, gray, light gray, white, black.
Andy Behrens, 28 February 2017
---
05-6. Unidentified Flags at an International Meeting

Some Positive IDs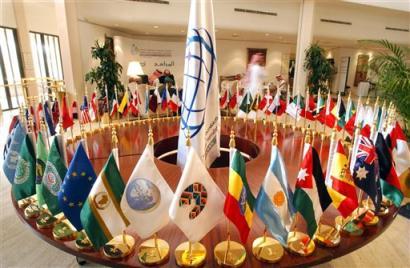 Photo from Zach Harden, 4 February 2005
I see some flags that I might not have seen before. Between the African Union and Ethiopia flags, there are two flags that I cannot seem to make out what they are. Also, between the Arab Union and the Islamic Congress, there is a green flag with a black disk. The meeting flag is the flag that is in the middle of the table.
Zachary Harden, 4 February 2005
The flag that is white with a logo beside the Ethiopian flag is the Non-Aligned Movement. The logo is in the web at http://www.nam.gov.za/.
J.L. Cepero, 8 July 2005
[See our page on the Non-Aligned Movement.]
---
05-7. Orange-White-Green with Blue Stars

Some Speculation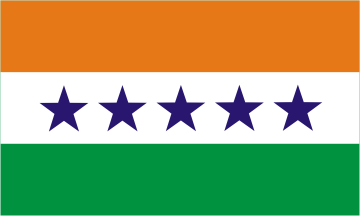 Image from Irene Fernandez, 26 February 2005
I saw this flag, can you please tell me what country this belong to - it has 3 parts (bands) - orange (top), white (with 5 or 7 blue stars), green (bottom). Waiting to hear from you.
Irene Fernandez, 26 February 2005
I think this bears a striking resemblance to the flag of the Indian political party Congress Jananayaka Peravai. The main differences are the number of stars on the white stripe and the number of points on the stars. Does anyone else think they look strangely similar? Could this be our UFE's identity?
Also, regarding the Congress Jananayaka Peravai, the party is no longer active. "On November 25, 2004, CJP merged into the Indian National Congress." (Source: Congress Jananayaka Peravai).
Randy Young, 17 January 2015
---
05-8. Red-White-Blue with Three Stars

Some Speculation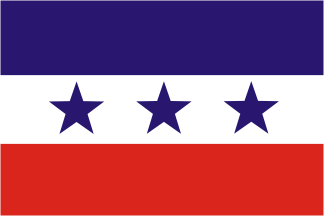 Image from Mabel Gunther, 1 March 2005
I wonder if you could help me identify a flag I saw. It has 3 horizontal stripes: blue on top, white in the middle, and red on the bottom. The middle white stripe has 3 large blue stars in a horizontal line across the middle of the white stripe. I wonder if it is an obsolete flag, perhaps from the Yugoslavia, Bosnia, Serbia area? If you know what this flag represents, will you please write back and let me know? Thanks.
Mabel Gunther, 1 March 2005
Anybody notice the similarities between this flag and the Lansing, Illinois flag? (Different stars, however...)
Pete Loeser, 7 August 2010
Lansing flag was adopt much later, but composition of the design might be suitable for some municipality in Greater Chicago Area. Maybe it will appear in some of answers from them?

But, I must say that my first impression says "Shipping Company."
Valentin Poposki, 7 August 2010
---
05-9. Four Cap Badges

3 Positive IDs and

1 Tentative ID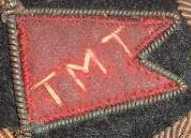 #a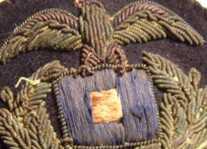 #b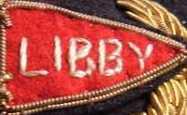 #c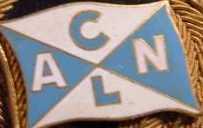 #d
Images from Bill Johnston, 15 March 2005
Four more cap badges needing identification - probably shipping companies.
Bill Johnston, 15 March 2005
Flag UFE05-9a was positively identified as the house flag of the TMT Trailer Ferry Inc. and is on its proper page.
Flag UFE05-9c has beenpositively identified as the house flag of the Libby, McNeil & Libby of Chicago and is on its proper page
Flag UFE05-9d was positively identified as the house flag of the Compañia Argentina de Navegación Mihanovich Ltda and is on its proper page
UFE5-9b is the Blue Peter (P) and may be a pilot's cap badge. Without the rest of the badge being visible it's hard to tell where from, but the eagle looks distinctly American.
Lesley Prince, 9 February 2008
The "Libby" cap badge could relate to a ship of that name, but a stronger possibility would seem to be Libby, McNeil & Libby of Chicago ( for details see http://www.encyclopedia.chicagohistory.org/pages/2751.html ) as they were also shipowners as can be seen from http://www.kenailanding.com/History.html.
Neale Rosanoski, 3 January 2010
If UFE05-9b is a pilot's cap, it could be the Pilot Flag of Haiti.
Klaus-Michael Schneider, 22 January 2011
Cap badge #5b bears striking resemblance to the crest of the US Army Signal Corps dating from 1865 and still in use today. As the example is identified as being from a pilot's cap, it is important to note military aviation in the US began whith the Signal Corps purchasing a Wright Model A/Military Flyer in June 1909.
AJ Ketchum, 10 July 2014
---
05-10. Fleur-de-lys Flag

Tentative ID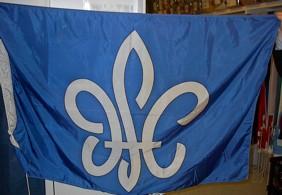 Image by Luc Baronian, 3 May 2005
A strange commercial-looking white fleur-de-lis on a blue field forwarded to me by Quebec's Protocol Officer, Patrice DeLaBrosse.
Luc Baronian, 3 May 2005
Could it be some sort of Scout emblem?
Ron Lahav, 3 May 2005
I think the fleur-de-lys is designed to spell out the letters FSC - but I don't know what they stand for. Ron mentioned scouts - could some combinations of Federation Scouts Canada work? Just guessing here.
Rob Raeside, 3 May 2005
I also thought it looked like an F key and a G key (musical keys), somewhat abstractly, but still... Or else, if they are initials, the last letter could also be an E, I guess.
Luc Baronian, 3 May 2005
This is probably, as has been suggested before, a scout flag. However, I think the letters are designed to spell out JSC, rather than FSC, which makes sense - in 2002, an acronym-based method of communication was created for use between scouts around the world, known as the J-Code (http://homepages.ihug.co.nz/~jim-p/jota/jcode.html). In J-Code, JSC means simply "I am a scout". Again, I can find no proof to confirm that's what the flag stands for, but it seems a likely possibility.
Law Martin, 24 September 2008
Following the information on jcode, it is for over the radio communication, i.e., Scout amateur radio stations. Within scouting, most groups use a fleur-de-lys symbol as logo and on flags. And the JOTA, Jamboree Over the Air, occurs annually there isn't much reason to fly such a flag if does use J-Code.
Steve Shumaker, 26 September 2008
It might be the initials FSE - whilst this is "Federation Scouts Europe" there are French-speaking Troops which belong to the FSE in Canada. As it looks like a new flag - it will not be ISC - The Imperial Scout Corps - founded 1909 as part of the British Boy Scouts (Not the main UK Association - but that led by Sir Francis Vane). The Imperial Scout Corps had a base in Canada circa 1909-1914, and thus any ISC flag will definitely look older.
Michael Foster, 2 October 2008
---
05-11. Black-White-Red Tricolour Flag

Positive ID
This flag has been identified as that of the short-lived 18th Century French Roman Republic and is now located on its proper page.
---
05-12. European 19th-20th Century Flag

Some Speculation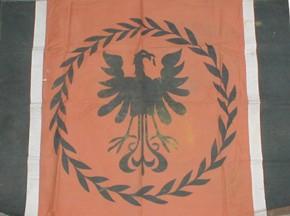 Image by Kevin John Franklin, 23 May 2005
A friend of mine approached me with a flag which he has been trying to get identified for quite some time now. It is suspected to be either central or eastern European in origin. He received it from his grandmother and it is thought to be from the 19th century. The image is only on one side of the fabric and he has two of these flags both identical with no makers tags or other forms of identification. It would be greatly appreciated if you could aid in the identification of this flag.
Kevin John Franklin, 23 May 2005
I don't think, this eagle looks very German. Especially this "drop" at its bill let me think more of an East European eagle. Definitely it is not the eagle of the emperor of Germany.
J. Patrick Fischer, 30 December 2005
I'm not even sure, if this is really a flag! Perhaps it's a tapestry or tablecloth? The eagle looks different from any eagle I have seen. It is "definitely" not German, that's sure.
Marcus E.V. Schmöger, 8 January 2006
---
05-13. Red/Blue Pennant on Hat Badge

Positive ID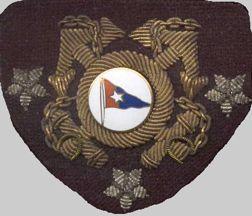 Image by Mike Safran, 4 November 2005
Can anyone identify an old hat devise I came across from a local estate (in South Carolina). I thought that it might be White Star line, but the one shown was all red. The flag features a white star with red and blue on either end. I have enclosed an image.
Mike Safran, 4 November 2005
The "hat badge" in the unidentified 2005 section is more properly called a "cap device" and it's shown upside down. The three silver stars (which go at the top) indicate that the owner was a past commodore of a yacht club. The enamel device shows the burgee of the owner's club, the Columbia Sailing Club.
P/C (for Past Commodore) Joseph A. Tringali, 25 August 2006
Flag on cap is from Fort Washington Yacht Club, source: Lloyd's Register of American Yachts, 1930.
Tom Henderson, 16 March 2007
---
05-14. Shipping Flags on Plate

2 Positive IDs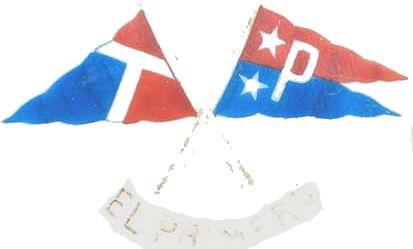 Image by Harvey Williams, 7 August 2005
I am a collector of restaurant/dinner ware from railroads, airlines, steamships, etc. I recently came across a dinner plate with a flag logo that I am unable to identify or locate (e.g., Google, e-bay). The back-stamps on the plate are "Higgins & Seiter, New York" and "Cauldon, England." The first is evidently the distributor, and the second the manufacturer. Above is an image of the logo. Under the logo is "EL PRIMERO" (which doesn't show up in the image very well). I would appreciate any help that you might be able to provide as to the identification of either of the flags.
Harvey Williams, 7 August 2005
Given the colours of both pennants and the Spanish inscription, "El Primero", it could be worthwhile to look into badges and insignia of late XIXth and early XXth century Chilean shipping companies. One pennant shows a slanting white "T" also, which could give a lead as to the Company's name (Talcahuano?..).
Anselmo Galindo, 15 April 2006
The unidentified flags from 2005 include crossed flags over a banner on a dinner plate. According to the inquirer, the banner shows the words "El Primero." The flag on the left is the burgee of the Tacoma Yacht Club. The flag on the right, swallow tail with the letter "P," is almost certainly an owner's flag, the "P" of course being "Primero." I've visited Tacoma Yacht Club and found the members to be very helpful, generous people. The owner of the plate should check with Tacoma Yacht Club for further information.
Joseph A. Tringali, 25 August 2006
Double flag image on china is the Tacoma Yacht club on left and the owner's burgee of S.A. Perkins, 301 Perkins Bdlg, Tacoma, WA. Belonged to the following clubs: Tacoma, Seattle, Olympia & Bellingham. Yacht named El Primero, made by Union Iron Works, launched in San Francisco, 1893, rebuilt in Houghton, WA, 1926.
Tom Henderson, 16 March 2007
El Primero is found on site http://www.commodoreinsignia.com/el_primero.asp and currently is at Gate 1, Blaine, WA, Marina in disrepair.
James Trotman, 2 July 2008
---
05-15. Blue Pennant with Red Cross on White Disk

Some Speculation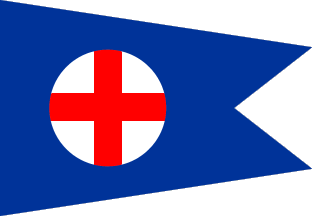 Image by Jorge Candeias
One of my mystery files is an image sent in 1999 with the filename cross-pen.gif. A search in my archives, this time, produces some results, but no identification. The image was subject of the following conversation:

At 19:37 23-03-1999, Edward Mooney, Jr. wrote:
While away this weekend I saw a photo of this pennant flying at the top of the main mast of a sailing ship. A small Union Jack/Ensign(?) "appeared" to be at the stern of the boat (it was obscured). Is it a yacht club ensign? Anyone have any ideas?

Then, at 01:25 25-03-1999, Roy Stilling replied:
From its shape - a broad pennant like a naval commodore's - I would guess it's some sort of yachting command flag, perhaps the flag of the commodore of the club in question. I can't find any clues as to which one in any of my books though.

And at 06:35 25-03-1999, so did John S. Ayer:
A burgee or pennant in that position should be either a club burgee or a personal signal. I have found a couple of club burgee sites, but don't recognize that flag. From European waters, did you say?
All I can say is what it's not - it is not the burgee of any yacht club which is presently entitled to fly a Blue Ensign (either plain or defaced), or a defaced Red Ensign (although thought I'd seen it somewhere and it is rather like the fly of the Poole Yacht Club Ensign - but not their burgee). It may, of course, be the pennant of a club commodore, or a variation on the normal burgee shape, of a club which can only fly the undefaced Red Ensign, or (has been suggested) a personal flag of some sort?
Christopher Southworth, 1 June 2005
A triangular version, in which the arms of the St George's cross are narrower, is shown in the British Isles section of "Yacht Club Burgees" by Colin Stewart as St George's Sailing Society .
David Prothero, 2 June 2005
---
05-16. Dniester Republic UFE

Some Speculation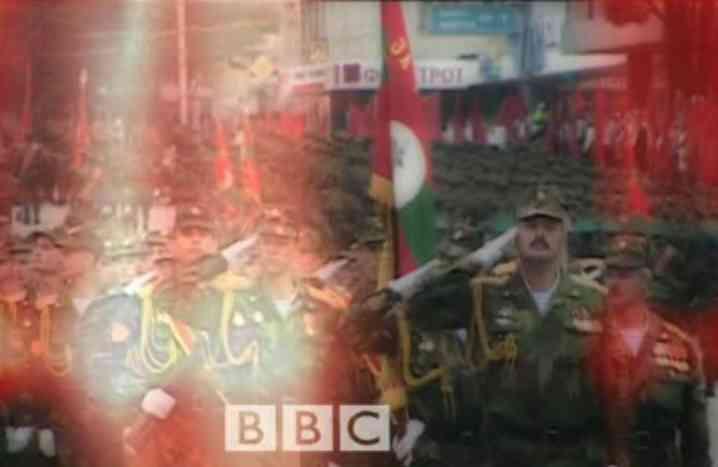 Image by André Coutanche, 2 June 2005
(Click on image for bigger version.)
More from "Holidays in the Danger Zone!" The attached screen grab is part of the opening titles, so there is no context. However, one of the subjects in this series is the (Trans-)Dniestr Republic, so I am guessing that this shot may come from that programme since the flag uses the red and green which we show and the writing, both on the flag and in the background, is Cyrillic.
André Coutanche, 2 June 2005
I was looking at "Encyclopedia Heraldica" ( http://eh.lenin.ru/english/index.htm ). In one of its sections I saw the symbols for the Dniester Republic which involves Moldova and Ukraine. Comparing the image shown above regarding this topic it is possibly the flag of the Dniester Republic. However the picture shown could actually be a military flag since it not only has thecolors but also one can see some yellow letter on the flag as well.
Esteban Rivera, 27 September 2006
---
05-17. Unknown Lion's Head Flag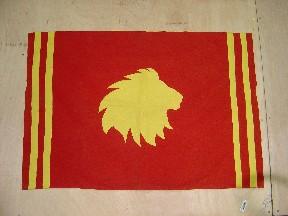 Image by Clay Moss, 12 June 2005
This flag is in our school's flag collection (Penang, Malaysia), and we don't know what it is.
Clay Moss, 12 June 2005
---
05-18. Iranian Demonstration Flags

Tentative ID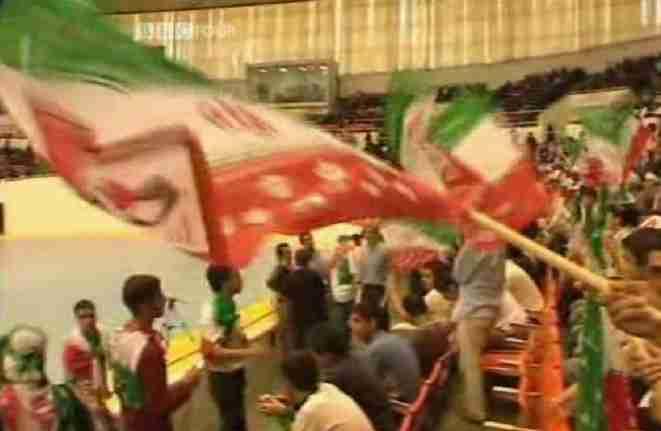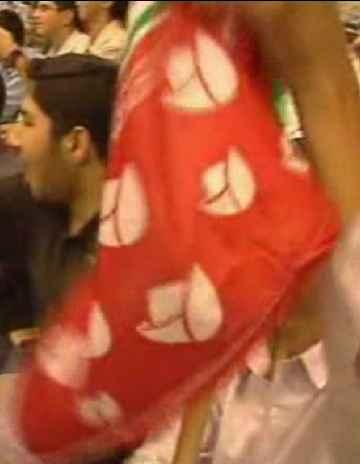 Images from André Coutanche, 17 June 2005
[Click on images for larger versions.]
"The World" on BBC4 TV last night had a report about the forthcoming presidential elections in Iran. There were many images of crowds of people waving Iranian national flags, apparently irrespective of political allegiance, but there was also a scene in an indoor stadium where people were waving vigorously (a bit too vigorously, unfortunately) Iranian flags defaced with some sort of symbol 'semé' on the lower red band. From the general coverage of the report, these people may have been supporting Hashemi Rafsanjani, but this isn't certain.

The images above are two screen captures, which are about as clear as the short and very active sequence allowed. Note that there is also some image on the lower fly of at least one of the flags; there is a green line and/or writing above the red band, and at least one other flag may also have the symbols (or something else) on the green band. Does anyone know what these flags represent and whether they are standardised or widespread?
André Coutanche, 17 June 2005
The white symbols on the red stripe are probably tulips, described on the Iran main page:
"The shape of the emblem is chosen to remind a tulip, for the memory of the (young) people who died for Iran. It is an ancient belief in Iran, dating back to mythology, that if a young soldier dies patriotically, a red tulip will grow on his grave. In recent years it is considered as the symbol of martyrdom."
Ivan Sache, 18 June 2005
---
05-19. Unidentified Flag in Gaspésie

Positive ID
Image by Luc-Vartan Baronian, 22 January 1998
Here is a most interesting flag and may I add very beautiful flag. It was spotted by Donald Gauthier and we think it's from the Gaspésie/Iles-de-la-Madeleine administrative region of Quebec. Anyway, Donald is pursuing his researches, meanwhile if any of you has a clue about this Unidentified Flag or Ensign (UFE), we will appreciate any contribution.
Luc-Vartan Baronian, 22 January 1998
This is an unofficial flag of Gaspésie-Îles-de-la-Madeleine, an administrative region of Quebec, consisting of the Gaspé Peninsula (Gaspésie) and the Îles-de-la-Madelein, Quebec, Canada. (source)
Anonymous, 11 June 2021
---
05-20. Nazi Flag in CAMBIO Magazine

Positive ID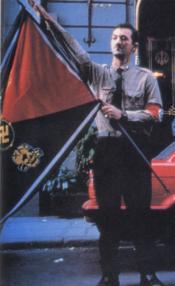 Photo from Esteban Rivera, 11 June 2005
I'm enclosing a picture I found in a Colombian magazine called CAMBIO (http://www.cambio.com.co). If someone knows the origin or could draw it, it would be very helpful.
Esteban Rivera, 11 June 2005
This flag shown would appear to be based on some sort of NASDP command flag such as these on our page on SS command and other car flags. With the presence of the "Death Head", could it be linked to a waffen-SS or SS-Totenkopfverbände unit? Alternatively, since the image is modern (based on the car seen behind the man) could it be a fantasy item that simply recycled a few elements?
Marc Pasquin, 30 July 2005
I found this website today that features the same flag (http://www.pzg.biz/flags_nazi.htm). If you scroll down this page you will find the title "SS Totenkopf Nazi Flags". At first sight it seems like a replica flag, but I doubt that.
Esteban Rivera, 4 December 2005
Image from Pete Loeser, 23 May 2010
This flag has been widely distributed, and claims to have been the flag of the SS-Totenkompf Division, but no real creditable documentation exists to back the claim. The unit was, however, very real. The 3rd SS Division (one of approximately 38 divisions fielded by the Waffen-SS during World War II) was formed from the Totenkopf units that took part in the Polish Campaign. It should be noted that although this unit is sometimes called Polish, once again, there were no Poles in the ranks of SS-Totenkompf. The unit served both in France and on the Eastern Front. The Division surrendered to the Americans on May 9, 1945, and the prisoners were handed over to the Soviets. This particular modern replica of the Totenkopf Flag design seems to be based on a square unit patch or crest. Another similar modern version of this flag follows the same pattern, but doesn't have the skull. The embarrassing part of all this is, in my early enthusiastic years of vexillology, I wrote the flawed and mistaken description still being used by the PZG website and others. Some friendly help from Brian Davis later set me straight, but my early mistake has been embraced by those wishing this flag to be authentic, and it has taken on a life of its own.
Pete Loeser, 23 May 2010
---
05-21. 1898 Lion Flag

Positive ID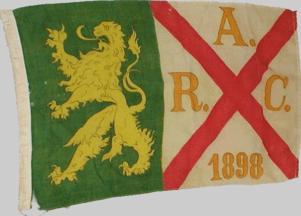 Image from Steve Winters, 3 March 2005
Can you please help to identify a British(?) flag I have...it's dated 1898 and has a large standing lion with the words R.A.C. on it.
Steve Winters, 3 March 2005
This is a complete guess, but the Automobile Compagnie de Renault was founded in 1898. The flag definitely has a lion which is more continental European than British, but Renaults would have competed in British races from the very early days of the sport. I don't know if the company ever used a lion as their emblem (they certainly don't today), but it's a possibility.
James Dignan, 3 March 2005
I don't think we should necessarily assume that the initials are "R.A.C." James suggests "A.C.R." (which looks a little forced to me ), but "A.R.C." looks quite likely. The gold lion rampant on green suggests Alderney to me - though the Alderney lion is crowned - and I don't know where the St Patrick's Cross fits in.
André Coutanche, 3 March 2005
Assuming that the initials should be read as R.A.C. I have two wild guesses: 1. I was reading about the history of African slavery and came across the Royal Africa Company = R.A.C.? It is probably unlikely that they would still have existed in 1898, however. 2. Royal Automobile Club? Perhaps too early for them to have existed? It was founded in 1897, but not called RAC till 1907.
Andries Burgers, 6 March 2005
The identification with Renault I think may be a bit fanciful, simply from the order of the letters. The combination of the (possibly) Alderney lion and the Jersey saltire suggest to us that it may be from the Channel Islands. One suggestion has been "Alderney Rowing Club" and the date of its foundation. Certainly the size of the flag as specified to us by the owner suggests a flag which would have flown over the shore establishment of such a club.
Michael Faul, 17 July 2005
I believe that I have identified the 1898 Lion Flag as belonging to, wait for this! Ruder Club Aschaffenburg 1898. I researched this flag entirely through the internet and arrived at the following website page, http://www.ruder-club-aschaffenburg.de/downloads/rca-satzung.pdf, needless to say, it's in German or Bavarian (is there a difference?) However, I downloaded the .pdf file and converted it into a text file, then using my Multilingual software converted the German text into English. The following is my software translation of part of the .pdf file:
The colors of the association are green white red. The association flag consists of STATUTE of the Rudder club Aschaffenburg of 1898
a right-angled divided field. The left rectangle of the flag field shows a golden, upright-standing lion, which is turned to the flag mast on green reason. The remaining larger rectangle of the flag field has a white reason and is diagonally by two red bars crossed. In the three upper triangle fields divided by the bars the initial letters of the association name are in black set in golden Latin large letter attached. The year of the establishment of the association is drawn in in the same way in the lower triangle field. The large "A" of the abbreviation for Aschaffenburg is in the upper triangle field.
David S Smales, 23 September 2005
---
05-22. Scottish Fisherman's Wedding Flag

Positive ID

UFE05-22 has been positivately identified as a Scottish Fisherman's Wedding Flag and is on its proper page.
---
05-23. Gyronny with Double-Tailed Lion

Positive ID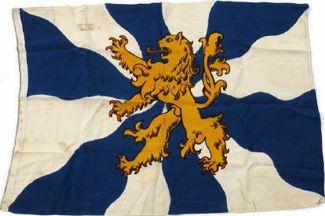 Image by Mark Satterfield, 24 November 2005
Any help in identifying this flag would be appreciated.
Mark Satterfield, 24 November 2005
The gyronny and double-tailed lion reminded me of the Flanders area or perhaps the Netherlands?
Christopher Southworth, 25 November 2005
I think it's a house flag: Bayerischer Lloyd (Bavarian Lloyd).
Jan Mertens, 24 November 2005
There is a photo of some Bayerischer Lloyd document - a stock certificate I suppose - at http://www.historisches-wertpapierhaus.de/auktionen/pa3/Los0548.jpg. In the circles at each corner are illustrations of the flag superimposed on an anchor. While this does not confirm the colors of the flag, I think Jan's identification is almost certainly correct.
Ned Smith, 25 November 2005
Some info from http://www.historisches-wertpapierhaus.de/auktionen/pa3/pa3_2.html indicates (my translation) the company was founded in 1913 and became a limited company in 1917. It was an inland shipping company. After the Süddeutsche Donau-Schiffahrts-Gesellschaft became Austrian in 1911 the Bavarians wanted their own shipping company on the Danube, wherefore the Bavarian Lloyd was founded. Which does not explain the double-tailed lion - Bohemian?
Jarig Bakker, 25 November 2005
---
05-24. Red swallowtail with black eagle Some Speculation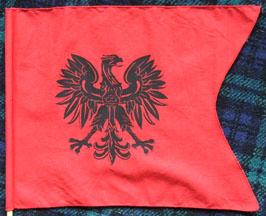 Image sent by James Dignan, 6 Nov 2005
A friend of mine just came back from a trip to Germany, and brought a couple of small handwaves back with him for my collection. One of them has me puzzled. it may well be simply a mock "pseudo-flag" rather than being a replica of a real flag, but I thought I'd run it past the experts :). It's a red swallowtail with a very German-looking black eagle in the centre (imagine a Scandinavian-style state flag for German Albania, and you'll get the idea!).
James Dignan, 6 Nov 2005
This image of eagle is identical (only black and reversed) to a Polish coat-of-arms of communist era (1945-90). It's origin is from 1927. (Second Republic: crowned eagle); in 1945-90 period (People's Republic of Poland) eagle lost his crown; since 1990 (Third Republic) the crown has been restored.
The 1927 grafic form (as it's used today) author is professor Zygmunt Kaminski. I have no idea why a Polish-style (but black) eagle had been put on a red flag (turned to fly-end) in Germany, but this grafic form of eagle is not used elswhere, but only in Poland.
Maciej Borowski, 1 Dec 2007
---
Anything below the following line isnt part of the Flags of the World Website and was added by the hoster of this mirror.
---
Bei fahnenversand.de erhalten Sie eine Vielzahl an günstigen Flaggen, Pins und Aufnähern, zum Beispiel: