Bestellen Sie Ihre Fahnen / Flaggen im Flaggen-Shop bei fahnenversand.de

Diese Website beschäftigt sich mit der Wissenschaft der Vexillologie (Flaggenkunde).
Alle auf dieser Website dargebotenen Abbildungen dienen ausschließlich der Informationsvermittlung im Sinne der Flaggenkunde.
Der Hoster dieser Seite distanziert sich ausdrücklich von jedweden hierauf u.U. dargestellten Symbolen verfassungsfeindlicher Organisationen.

---
This is a mirror of a page that is part of © FOTW Flags Of The World website.
Anything above the previous line isnt part of the Flags of the World Website and was added by the hoster of this mirror.
Unidentified Flags or Ensigns (2006)
Flags submitted in 2006
Last modified: 2023-06-03 by

zachary harden
Keywords: ufe | unidentified flags |
Links: FOTW homepage | search | disclaimer and copyright | write us | mirrors

---
Please note our Policy for Submissions and Enquiries.
Below is a series of images of flags that have been provided to FOTW; some we have recognized, and some we have been unable to recognize. If you can help us identify any of these flags, please let us know! Contact the: UFE Editor.
Identification Key:
= Positive ID (Positive Identification)
= Tentative ID (Tentative Identification)
= Some Speculation
| | |
| --- | --- |
| Flags on this page | Flags on other pages |
---
06-1. Black Pennant, F in White Disk

Positive ID

Image provided by Scott Burke
This flag is 42 inches long. We bought an old farmhouse here in midcoast Maine - Nobleboro. It was hanging on the wall in the barn. The tacks holding it up were very rusty, so I think it had been there quite a while.
Scott Burke, 14 August 2006
I'm pretty sure this is a prize pennant for the series of annual Friendship Sloop races held by the Friendship Sloop Society. The pennants are made in three versions, blue with a white ball and blue letter "F" I think is first place; red with white ball and red letter is second place I believe; and white with a blue ball and white letter is third. I witnessed the award ceremony some 18 or 20 years ago, so I am relying on my memory here, but I'm fairly certain that is what it is.
Dave Martucci, 16 August 2006
---
06-2. Possible Palestinian Flag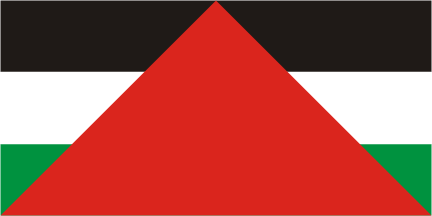 Image by Rob Raeside
I saw a flag that looks exactly like the Palestinian flag- same colors and shapes, except the base of the triangle is situated along the length of the flag (instead of the width part) and the point of the triangle reaches to the other side of the flag (unlike the Palestinian flag where it just goes about 1/4 of the way in). Someone had it in New York City.
John Ether, 7 January 2006
---
06-3. Triband with Black Hoist

Tentative ID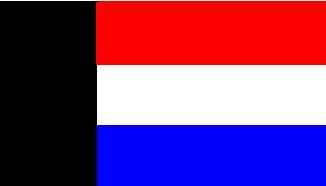 Image by Flavio C.
I live in the L.A. area, and saw a flag on a sticker on the back of someone's car. I did not recognize it at all, I was hoping you or somebody else may know it offhand. (I tried using the flag identifier, but couldn't find it.) The flag had a black hoist, with 3 horizontal stripes (red, white, and blue). In the black area, there was some sort of design in yellow. I have attached an illustration (without the yellow design). The car sped past me, I really didn't get a very good look at that yellow design.
Flavio C., 18 January 2006
I would be almost certain that this flag is a version of the unofficial 'Benelux' flag. The unidentified yellow design in the hoist would then be the yellow rampant lion. Compare this described design with the design under 'Benelux' on the FOTW site and you will see what I mean. I have also seen a similar flag design used in the shipmate flagchart to indicate Dutch/Flemish language (black lion rampant on yellow field).
Peter Bradley, 20 March 2006
---
06-4. Stickpin Flag

Positive ID
UFE06-4 has been identified as a stick pin of the Slavia Praha Rowing Club and is on its proper page.
---
06-5. Pharaoh´s Flag

Positive ID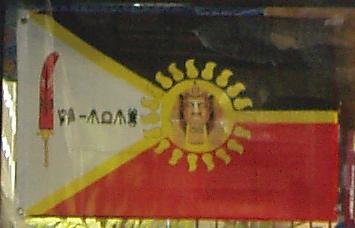 Photo from Don Macnaughtan, 2 June 2006
I came across this striking and beautiful UFE displayed in a storefront in Atlanta. I suspect it's the flag of those African-Americans (and others) who identify with the concept that the ancient Egyptian civilizations were black African in origin. The store owner explained some of the symbolism, but I can't find any other provenance.
Don Macnaughtan, 2 June 2006
This flag is a Nuwaubian flag. The flag is called the Tama-Re flag. Nuwaubianism is a black Muslim movement that was founded by Malachi York. I have found this link which identifies it as a Nuwaubian flag. This link calls it the flag of Tama-Re which is the name of the compound that the Nuwaubians lived on before it was banned. Another picture is located on Blackplanet.com.
It is probably not the flag of the religion itself, but the compound. Unfortunately information on Nuwaubianism is very scarce. I have contacted Mauve Deep, who posted the first picture, but I am still awaiting a response.
Bishop Lamoureux, 7 March 2014
---
06-6. Three Black Stars

Positive ID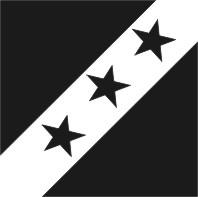 Image by Željko Heimer, 26 November 2006
A visitor of my FAME pages asked a question on which I need help. Here is my condensed translation of Maurizio's question: "... a photo showing a steamship in front of Rijeka (Fiume) harbour around 1910 or so. On the funnel one can clearly see the flag, as attached. Could you identify the ship or at least the company itwould belong..." It is not quite clear from the question whether the flag is an actual flag flying or something painted on the funnel, but it may not be of big difference for the identification. I would guess that colours might not have been interpreted correctly by Maurizio, black being to so common choice in the house flags (as it seems to me), but this is just my guess.
Željko Heimer, 26 November 2006
Stewart's Flags & Funnels of 1963 shows a flag of similar design but different colours; a red bend sinister charged with three white stars on a blue flag. It is listed as Pittaluga, Ditta Luigi, Vapori of Genoa.
David Prothero, 27 November 2006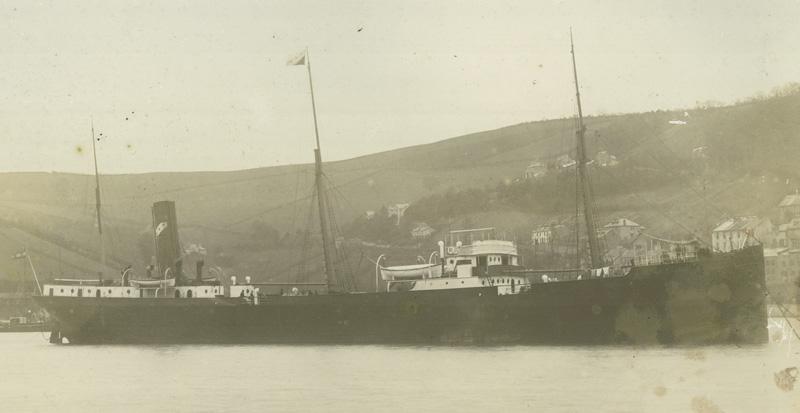 Image from Maurizio Grbac, 10 December 2006
(click on image for larger picture)
Maurizio has sent me a scanned photo, showing the flag clearly. There the rectangular flag is clearly visible with white (falling!) diagonal with three stars. The background colour of the flag might as well be red or blue... The funnel shows the same flag (but with rising the diagonal, but this may well be because this is the starboard side of the ship, the other side might have the proper flag). The Austro-Hungarian merchant ensign is clearly visible at the stern. Unfortunately, the ship's name is not readable. According to David's finding there was a Genoese company that afterwards used a similar flag although in blue with red diagonal and white stars. It may be that this latter flag is based on flag of some earlier company that the Vapori Ditta Luigi Pittaluga of Genoa inherited in some way.
Željko Heimer, 10 December 2006
I received the following from Maurizio Grbac: "I'd like to inform you that with a help of a friend of mine Marijan Zuvic from Split we manage to identify a ship and a company. Ship name is Etelka and was first and only Austro-Hungarian oil tanker in Adriatic. The shipping company name is Photogen Transport Co. Ltd., Fiume, AT-HU, 1896-1909."
David Prothero, 13 December 2006
Now we have to find out more about this Photogen - I am more and more convinced that the flag is not black. For some reason I envision that the flag might be red with white diagonal and maybe blue stars, but this is just a "feeling".
Željko Heimer, 14 December 2006
The company is not in any of the Flag Institute Library material. Red seems more likely - the kind of emulsion that was used on photographic plates at that time had the effect of darkening yellows, bright reds and bright greens, so that they appear as dark grey, or even black in the finished print.
Ian Sumner, 14 December 2006
The Lloyds (1912) House Flags and Funnels at the The Mystic Seaport Foundation website, lists Pittaluga as being a company with no house flag in 1912, and doesnot have an illustration of a house flag that resembles the one in thephotograph. Pittaluga was the Italian company that had a red diagonal bearing white stars on a blue flag in 1957.
David Prothero, 14 December 2006
This can possibly be put to bed. See a colour picture of "Etelka" at http://www.ina.hr/UserDocsImages/CRUDE_OIL%20_PROCESSING_RI.pdf. Apparently relates to her arrival 12.12.1892 which means the B&W photo showing the same design in 1910 means no change and therefore the markings belong to the owners Mineral Oil Refinery Co. formed 7.10.1822 as a Rothschild subsidiary. Photogen Transport Co. Ltd. were only managers given as starting in 1896 and were possibly connected with Nederlandsche Petroleum Maatschappij Photogen Co. of Amsterdam and who seem to be connected it some way as well. From the picture the flag is red, the diagonal band white and whilst the stars are not clear black would seem likely.
Neale Rosanoski, 27 July 2008
---
06-7. US Shipping Flag on a Gravy Boat

Positive ID

Image provided by Paul Van Vactor, 4 July 2006
Can you identify a logo - could be a steamship line. Here's the flag logo - it is on a restaurant china style gravy boat.
Paul Van Vactor, 4 July 2006
The unidentified flag submitted July 4, 2006 is the signal burgee of the St. Francis Yacht Club - http://www.stfyc.com/
Kett Cummins, 22 August 2006
---
06-8. Nazi Postal Flag pre-1935

Tentative ID
This flag appears to be unique, but has been tentatively identified as a Postal Flag pre-1935 (unofficial).
---
06-9. Whaling Flag

Some Speculation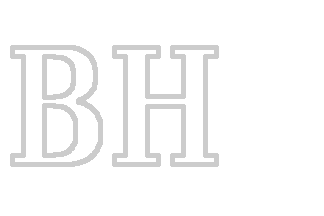 Speculative Image by Peter Hans van den Muijzenberg, 31 January 2011
I am trying to locate information about a house flag with the letters BH on it. This flag is depicted on scrimshaw that may be pre-civil war. It is carved flying on a tall ship and does not have a straight side (similar to < on the edge). Any information you can provide would be greatly appreciated.
Virginia Willard, 9 July 2006
Scrimshaw is the decoration of bone, ivory, shells in general and not confined to whale bone. Not necessarily a whaling flag.
David Prothero 23 January 2011
FWIW, there are several house flags with the letters "BH" on them at http://hfotw.free.fr/bh.html, but these are modern designs. What we need is an image of the scrimshaw. Mystic Seaport has a number of 19th century nautical flag resources in its online library.
Dave Martucci, 28 January 2011
It's not there, as far as I know. US scrimshanders in the 19th century apparently preferred the Stars and Stripes.
Peter Hans van den Muijzenberg, 31 January 2011
---
06-10. Red-Black-Red with Eagle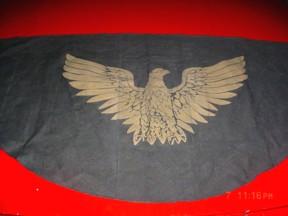 Image by Thomas Ostrognai, 8 August 2006
Does anybody recognize this flag?
Thomas Ostrognai
---
06-11. Black Flag, White Disk

Positive ID

This is the flag of the "Monarchy is Racist End Monarchy Referendum" Party and is now located on its proper page.
---
06-12. Yellow-Black Diamond and Disk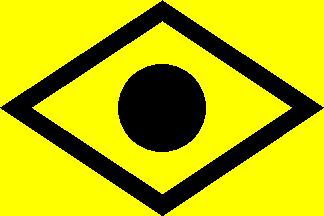 Image by Ivan Sache, 3 September 2006
This flag was found on a plate. My father, who owned the plate, did not have any direct connection with the sea, although he did buy similar plates that had been used on ships, so it is still possible that it is a house flag.
Valerie Marsh, 3 September 2006
---
06-13. Navy League Flag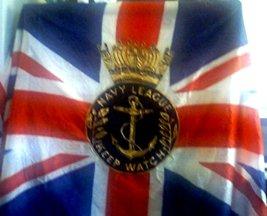 Image from Shawn Goodwin, 22 September 2006
I have become, in the last year, the Branch President of a Navy League Corps. NLCC Ark Royal, Toronto, ON, Can. ( www.arkroyal.ca ). And for the record I luv it! Our NL Corps. was granted, Oct 31/44, but prior to that Ark Royal was a Sea Cadet Corps. comprised of two other that joined together (Haida and Illustrious). In '44 the NL and Sea split up, with the S.C. part taking the name of RCSCC Vanguard, who now meet at HMCS York. In my last year, I have been counting stores and I am astounded all the time by the things I find. Pictures, signed by Admirals, etc. of HMS Ark Royal from the 40s and up until the 80's. We have some paintings on the walls of the Duke of York sailing HMS something (can't remember of the top), huge oil paintings. A huge painting of HMS Ark Royal (which while researching I have found a copy of on-line from some book). All these things I'm going to have appraised, because I believe we are sitting on a small fortune and don't even know it. Time will tell. Saying that, I think this ensign was more than likely presented to the original NL Ark Royal and happened to stay with us. As you may know a long time ago NL seemed to have carried a lot more prestige and dignitary visits were common. Anyhow, just this Thursday someone brought me this flag (attached photo) and said that they found it in their closet and wanted to return it to its rightful owners (that would be our Corps.). I accepted it gracefully, but now am searching for the time frame and where it came from.
Shawn Goodwin, 22 September 2006
---
06-14. Equestrian Statue with Flag

Tentative ID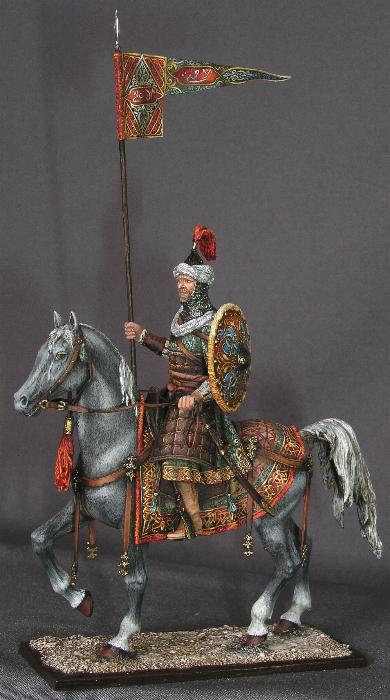 Image from Bill Garrison
[click on image for larger picture]
Possibly an Arab-Russian flag. Perhaps someone might be give more information?
Bill Garrison, 1 September 2006
This is a very finely painted mounted military miniature, 54 mm or larger. It is not at all Russian.
I am fairly confident that it represents a standard bearer of the Ayyubid army during the late 12th, early 13th century. Saladin (c1138-1193) (Salah-al-Din) was the first Sultan of the Ayyubid dynasty, victor of the battle of Hattin (1187) which resulted in the capture of Jerusalem from the Christian crusaders and provoked the Third Crusade to recapture the holy city. Saladin was an ethnic Kurd and relied heavily on Kurdish and Turcoman cavalry. I think the miniature is a good representation of such cavalry. Whether this standard is fanciful or a reasonable copy of a real one I am not qualified to comment.
For some context, see this image erroneously described as "Janissary army standard bearers and Mehter musicians spearheading another attack of the Ottoman army." It is in fact from an early 13th manuscript (Maqamat of al Harari, Ms. Arabe 5847 in the Bibliotheque Nationale, Paris) depicting soldiers of the Caliph of Baghdad, specifically a variety of musicians, standards and their bearers.
T.F. Mills, 14 April 2018
---
06-15. Red Cross Flag

Positive ID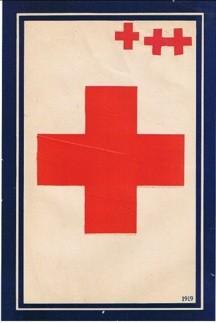 Image contributed by Robin
Any help on identifying the attached flag? The number at the bottom is 1919. I was given a gift of a paper flag, it is dated 1919, it has a big red cross in the center, a wide dark blue outside border, then a thin white border then a narrow blue border, when you lay it flat in front of you to the left of the red cross there are three little red crosses. Someone suggested that it might be a quarantine flag that appeared on the houses at that time, others have said maybe on a Red Cross ambulance. Any help you could give would be appreciated I would just like to know more about it.
Robin, 2 September 2006
This is an official variant of the the Red Cross Service Flag. Service flags were all the rage during the First World Wwar, being used not only in the United States, but in Canada and Australia as well, albeit somewhat unofficially in the latter country. Everyone wanted to get on board and the success of the military version spawned many other "Service Flags." I am writing a fairly long and comprehensive account of this phenomenon for future publication. (Canadians and Australians take note: I am looking for more information regarding these types of flags in your countries. Write to me if you have information. Thanks.) At any rate, the Red Cross adopted a Service Flag in 1918 that altered the red border of the US Service Flag to blue and placed a red cross in the center. For each additional Red Cross member in the household an additional smaller red cross could be added. Some variants used the same basic design, but with a border of B-W-B rather than all blue. There is a poster of one of these at http://groups.yahoo.com/group/flags/files/INT/int_redcrossWW1.jpg
Dave Martucci, 4 January 2010
---
06-16. Two Hand-held Flags from Cape Town

Positive ID

First flag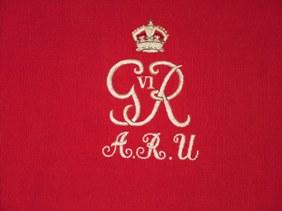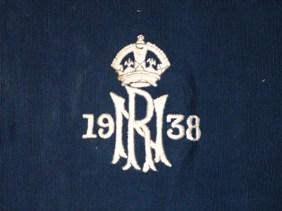 Images provided Bruce Berry, 29 November 2006
Second flag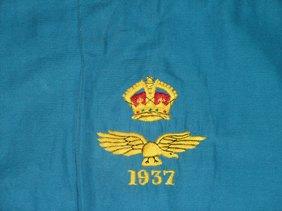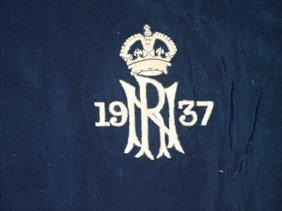 Images provided by Bruce Berry, 29 November 2006
I found two flags which I cannot identify at a militaria dealer in Cape Town. These are hand-held flags stitched together back-to-back on short wooden poles - obverse (on the left, above) and reverse (on the right, above) being different in each case. They obviously relate to a royal event - the coronation of George VI perhaps?? Can anyone assist in identifying the flags.
Bruce Berry, 29 November 2006
The Coronation took place on 12th of May, 1937. George VI acceded to the throne on 11th December, 1936 upon the abdication of his brother, the uncrowned Edward VIII. There was no royal visit to South Africa in 1938. The famous visit took place in 1947, during which our present Queen celebrated her 21st birthday. It is interesting that Bruce originally identified these flags as British. They may, of course, very well be from South Africa, of which country George VI was King throughout his reign. The royal cypher GR (Georgius Rex) is, however, that which was used following Indian independence in 1947. Up to that point, the cypher GRI (Georgius Rex et Imperator) was more usual, though I believe that much depended on whether the cypher was used within or without the UK. Is it possible, therefore, that one of these flags is of later date than the other? As for what they represent, I'm afraid I haven't a clue.
Peter Johnson, 29 November 2006
When I hear "ARU" I instantly think of the Australian Rugby Union - South Africa toured to Australia in '37. But the backs look distinctly like naval and air force flags.
James Dignan, 30 November 2006
The designs on these flags looked very much like cap badges to me and I referred them to a former colleague RAdm (JG) A.G. Soderlund (SA Navy (Rtd)) who collects everything, including cap badges, for an opinion. They proved not to be cap badges, but by a process of elimination using the initials A.R.U. they arrived at Army Rugby Union. Eureka! Following this trail he arrived at the annual Navy, Army and Air Force rugby tournament at Twickenham in London. The black flag with the dated design with the initials RN of course represents the Royal Navy Rugby Union. The crown and eagle (which looks rather more like a very peaceable dove!) with the date underneath on the light blue field, represents the Royal Air Force Rugby Union and the reddish field with the George VI cypher and the initials A.R.U. underneath represents the British Army Rugby Union. It would appear that someone at one time or another sewed two of Navy Rugby Union flags to a RAF and Army flags back-to-back. It would be interesting to know what was on the other side of each. It might even have been deliberate as table flags at the subsequent mess dinner or celebration.
Andries Burgers, 7 December 2006
---
06-17. White Pennant, Two Black Crosses

Positive ID

This pennant has been identified as that of the Kiel Yacht-Club Gode Wind and at its permanent location.
---
18. Z & Co. House Flag

Positive ID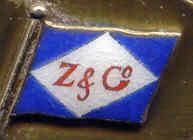 This flag has been identiified as that of Zerssen & Co. of Rendsburg, Germany
---
06-19. Georgian NATO Flag?

Positive ID

Image from Esteban Rivera
I visited this website called http://www.peacekeeper.ru/ on Russian Peacekeepers and there is an image showing what seems to be a NATO - Georgian flag ( http://www.peacekeeper.ru/media/11_1001158930934.jpg ).
Esteban Rivera, 27 September 2006
More knowledge of the context in which the image is shown seems to be required before calling this graphic representation a flag. The images appears here: http://www.peacekeeper.ru/index.php?rub=8. It relinks to an article that does not show the "flag": http://www.peacekeeper.ru/index.php?mid=2154.
Ivan Sache, 28 September 2006
Not quite directly related, but close...I received a table flag from a friend who was a member of the UN peace-keeping mission in Georgia. The flag is based on the UN flag, light blue with the white UN emblem, and defaced with dark blue inscription: UNOMIG to the hoist of the emblem, MOONNG (in Cyrillic) to the fly of the emblem, and below in two rows full name of the mission in English and Russian, "United National Observer Mission in Georgia" (Missiya OON po Nablyodeniyo v Gruzii)
Željko Heimer, 1 October 2006
That's not a flag, but a graphic, I think just to picture Georgia and NATO. They do something similar with Ukraine and NATO.
Peter Hans van den Muijzenberg, 5 February 2010
After 4 years of searching for this symbol on a flag, I think we can safely call it positively a graphic, not a flag.
UFE Editor, 5 February 2010
---
06-20. Four Red Rays and H

Some Speculation
Image supplied by Ray Weinmann, 8 October 2006
I'm going nuts trying to identify a WW2 Flag brought back with German war stuff and Japanese. Most items were German, all real. The flag looks a bit like a U-boat flag. Has red rays to 4 corners with something in center or flag. Is white field, red rays to 4 corners and has a black H in blue circle in center of flag. Stitching is similar to Kreigsflag edge. unmarked about 5ft. x 31/2 ft. I attach a picture. Any help would be appreciated.
Ray Weinmann, 8 October 2006
This is a long shot, but... the colours and design of this flag are similar to Polish military flags. And, maybe coincidentally, deep bluish violet was the colour the Nazis used to identify Poles. At a much, much longer shot, if I had to make a complete guess (which would be little more than a stab in the dark) I'd suggest that it was the flag of Poles fighting alongside the Russians on the eastern front ("H" might then be the cyrillic N, possibly for "The people"). Unfortunately I've no idea whether such a flag ever existed, or - indeed - how many if any Poles did fight on that front (most free Polish military was based in the U.K.)
James Dignan, 9 October 2006
James´ speculations are interesting, but I feel are off the mark. This is not a Polish military flag. It is almost most likely some kind of the German service flag, although I don't have any idea of what kind.
Chrystian Kretowicz, 6 February 2010
I agree with Chris about this not being Polish, but this also isn´t any German service flag that I'm aware of. I am now almost convinced that it is some houseflag of a (German??) shipping company. For example, the flag of the Hansa Transport at Hannover has green rays and a slightly different "H." Shipping companies very often use flags with some kind of letter(s) on them like this.
Fornax, 10 February 2010
---
06-21. Blue Pennant DTC

Positive ID

This flag has identified as a Deutcher Touring Club (DTC) pennant and is at a permanent location on the FOTW website.
---
06-22. Saint George's Cross on Blue English Flags

Some Speculation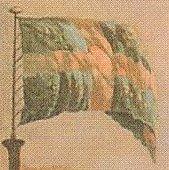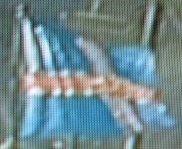 Images provided by David Prothero, 9 October 2006
Two similar unidentified English flags - St George's cross on a blue flag.
At left above: at the masthead of a 17th century warship.
At right above: on the ensign staff of a ship at Londonderry 1689.
1. In a painting of a ship built in 1637 as "Sovereign of the Seas," re-built in 1660 as "Sovereign," re-built in 1685 as "Royal Sovereign," and destroyed in 1697. The right half of the painting is a portrait of Peter Pett who built the ship, while the left half is a stern view of the ship. A red flag with a small St. George canton is at the stern and high above it on the main mast flys a red St. George's Cross on a blue fielded flag.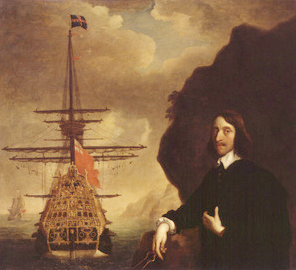 Image from Nation Pictures Gallery, 9 October 2006
James Taylor in "Marine Painting" wrote that Sir Peter Lely (1610- 1670) painted the portrait and the landscape, while the ship may have been by Lely, or done separately by Issac Sailmaker (c1633-1721). The National Portrait Gallery now describe it as "possibly after Sir Peter Lely, probably 18th century." Marks in each quarter of the flag might be emblems, or might be shading.
2. In an unidentified painting that was used as an illustration in the television programme about David Tennant in the series "Who Do You Think You Are?" (Dr. Who). The painting is a general view of Londonderry walls and the river Foyle, and includes one of the three ships that broke the bar across the river and thus ended the siege of Londonderry in 1689. The ships were the warship 'Dartmouth', and merchant ships "Mountjoy" of Derry and "Phoenix" of Coleraine. The cross probably has white fimbriations, and there might possibly be something at the centre of the cross.
David Prothero, 9 October 2006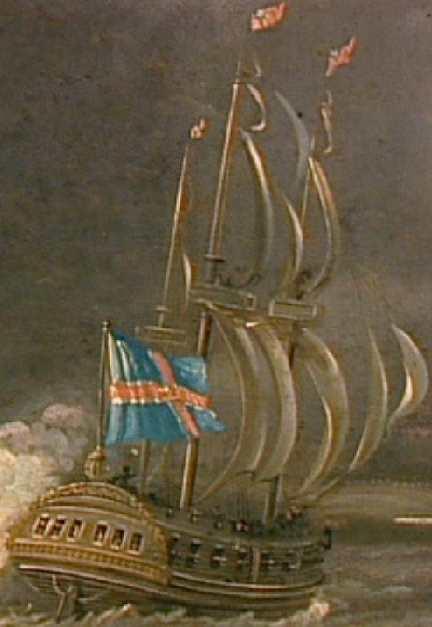 Image provided André Coutanche, 9 October 2006
I would say that the white fimbriation [on the second flag] is definite. To complement yours, I provide the image of the whole ship in case its configuration can help with identification. She is also flying flags at the top of each mast which appear to be some sort of Red Ensigns.
André Coutanche, 9 October 2006

Image provided by David Prothero, 5 December 2006
A reference to this design as a flag and as the canton of an ensign appears in "Flags of the World" (c.1894) by F.E. Hulme. He describes the ensign as being a curious modification of a St George's cross Red Ensign and continues; "It is from a sea piece of the sixteenth century. It was displayed at the poop of a vessel, while Fig.79 is the Jack on the bowsprit." If 16th century is correct, this flag was earlier than the Union Jack, and the ensign was the first (?) example of a plain, un-striped, ensign.
David Prothero, 5 December 2006
Concerning the images here, particularly the one on the left, I don't think it's white on blue. I've found another picture of the same ship ) http://www.nmm.ac.uk/collections/displayRepro.cfm?reproID=BHC3614&picture=1#content) and it's got a red and blue flag. If you look closely at your picture you'll see a pinkish hue. It actually looks like some sort of heraldic flag - a royal ensign perhaps? If it's the same flag (better picture: http://www.nmm.ac.uk/mag/pages/mnuExplore/ViewLargeImage.cfm?ID=BHC3614) then it's the royal standard that was in use around the union of the crowns.
"wonkotsane", 31 July 2007
James VI etc. Not the same flag. The other one might be, but looking closer at it, is this even the same ship? If the Sovereign is supposed to have a carving of a horseman, then the ship beside Peter Pett appears to differ too much. Note the size of the cross on the Ensign. Regarding differences, note that the ensign in the second image looks different.
Peter Hans van den Muijzenberg, 31 July 2007
---
06-23. S on Red and White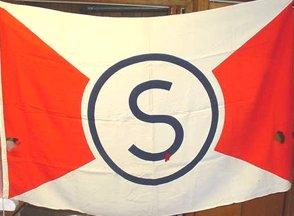 Image by Phil Dean, 1 November 2006
I think the flag shown in the attached photo is some kind of German Navy signal flag. Can you give me any information on it?
Phillip Dean, 1 November 2006
---
06-24. Black-Red-Black Nazi Flag

Positive ID

This flag has been identified as a Luftwaffe Artillery Regiment Command Flag and all discussion has been moved there.
---
06-25. Scandinavian Flag with off-centred Cross

Positive ID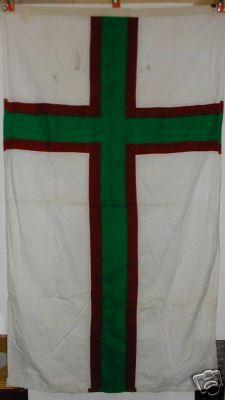 This flag has been identified as one of the proposed flags for Greenland entered in the Home Rule Government organized design contest of 1980.
If the person who told Fred that it was a Greenland proposal was right, then this would seem to be the one. But I'm still not sure the person who told Fred that this was a Greenland proposal was right.
Apart from it being unlikely that such a flag would have been fabricated while still a proposal, I also don't think the widening of the ends of the arms is caused by stretching the cloth or turning the edges closer to the camera. It looks more like this is part of the design, and together with the length, it creates an impression of a church banner. I still wonder where Fred ran into this flag, in 2006.
Peter Hans van den Muijzenberg, 7 May 2015
But there is no such widening at the hoist (top), and the other three edges, where it is present, look somehow thicker than the rest of the flag. Maybe the top widening is hidden by the sewn-on stripe with the grommets, still It would not have been done if it was meant to be part of the design. (Or maybe would - I was seeing the flags where the hoist edge was simply rolled and sewn into a sleeve, thus completely disturbing the appearance.)
Tomislav Todorovic, 8 May 2015
---
06-26. World War I Patriotic Tapestry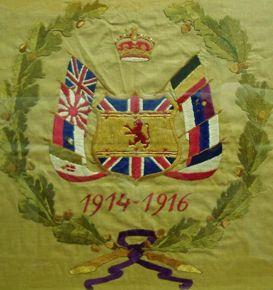 Image provided by Andrew
I possess a patriotic tapestry, which bears the flags of the Allied Powers in the First World War, at the time 1916. I have identified the flags of Great Britain, Japan, Serbia, Italy, Belgium, Montenegro, Russia and France. I am curious about the original purpose of the tapestry. I bought it second-hand, and I do not know its provenance. It bears a Lion Rampant in the centre escutcheon. It also bears oak branches tied with a purple ribbon; I am unclear of the symbolism of these features. The background material is olive drab, which has strong military connotations. Perhaps it was meant for a Highland regiment in Canada or Britain.
Andrew, 26 December 2006
---
06-27. House Flag on British and Portuguese Ships

Tentative ID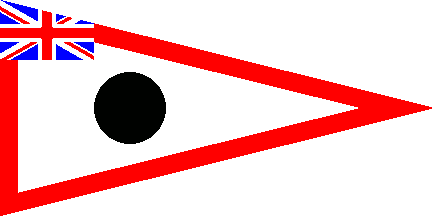 Speculative Image by Peter Hans van den Muijzenberg, 6 October 2011
In a private collection are two paintings signed S. Walters, one dated 1851, the other 1852. One represents British topsail schooner "Lanesfield" leaving the Mersey; the painting of 1852 shows a Portuguese brig (no name visible) leaving the Tagus. Lloyds Register for 1856 states that the "Lanesfield" belonged to G.B. Carr of London, and traded between Liverpool and Lisbon. Both ships display what is believed to be a house-flag -- a white triangle, bordered red, bearing a black ball and the Union in the upper corner. What is this flag and why is it worn by two vessels of differing nationality ?
David Prothero, 10 December 2006
Could it be that both ships belonged to G.B. Carr and therefore used the same house flag? He might have been running a regular service between Lisbon and Liverpool with one ship homeported in each port and therefore registered accordingly? Perhaps Walters was commissioned by Carr to paint his ships wherever they might be? Guessing of course.
Andries Burgers, 10 December 2006
This is probably the explanation. At least fifteen British shipping companies incorporated the Union Jack into their houseflag, six using it as a canton. Still the correct houseflag even on a company ship registered in Portugal.
David Prothero, 12 December 2006
Tentative house pennant of Carr?
Peter Hans van den Muijzenberg, 6 October 2011
Christies [auction house] described an item sold in an auction held on 10 May 1996 as two S. Walters paintings of "The topsail schooner Lancefield" and "The brig Maria Helena of Lisbon." (unfortunately no images) About them, they wrote:
"Samuel Walters (1811-1882)
The Liverpool to Lisbon packets, Lancefield and Maria Helena, leaving Liverpool and arriving off Lisbon respectively, both signed 'S. Walters', the former dated '1851', the latter '1852' oil on canvas..."
Both the Lancefield and Maria Helena displayed the same distinctive houseflag, including a Union flag. The circumstances suggest a syndicate between Carr & Co, of London, and Portuguese interests with offices in both Portugal and England.
Does anyone have access to a ship´s register of the day to check?
Peter Hans van den Muijzenberg, 4 May 2012
---
06-28. Red-Blue Flag in Crimea

Positive ID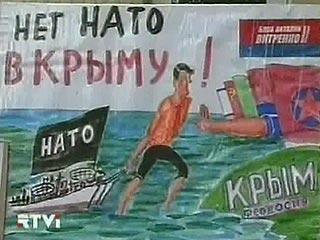 See Miscellaneous Flags (Ukraine)
---
06-29. Red Flag, Ring of Stars

Positive ID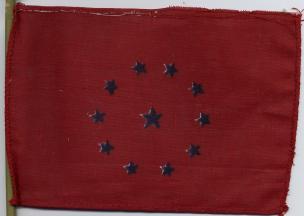 Image from Michael P. Smuda, 1 May 2006
I was able to buy a group of 4"x6" desk flags in California, 24 for $5.00 USD, which is quite a bargain. I have not been able to identify two of them and would like to ask for your help. The first one is red with a circle of ten black 5-point stars with another black 5-point star in the center.
Michael P. Smuda, 1 May 2006
I have two sets of flags containing this flag. I bought the second set just to get the booklet that explains what each flag is. The front cover of the booklet says "HISTORICAL FLAG COLLECTION OF OUR AMERICAN HERITAGE". The back cover says "COMMEMORATION OF OUR BICENTENNIAL VONS GROCERY CO." The Red flag, ring of stars, is number 40 and is listed as "Confederate Battle Ensign" again with a paragraph:
Like the struggling united colonies before it, the fledgling Confederate states fought under many banners. These battle flags included the "Palmetto Flag," the "Bonnie Blue Flag," and the "Pelican Flag." They symbolized the South much as the Pine Tree and Rattlesnake flags symbolized the colonies, during the Revolution. This simple Confederate ensign, battle-weary, bloodstained, symbolizes the horror and death of war, whenever and whenever it is fought.
Dale Grimes, 24 June 2006
This flag is a replica of an 1861 Confederate "independence flag". The stars are dark blue, not black. The flag is pictured on page 136 of Boleslaw Mastai's book "The Stars and the Stripes" (Alfred A. Knopf, New York; 1973; ISBN 0-394-47217-9)
Dave Martucci, 26 June 2006
Editors Note: This flag has been reported twice and identified twice - see UFE09-13.
---
06-30. Cincinnati Flag

Positive ID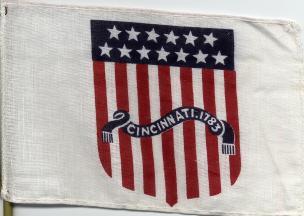 Image from Michael P. Smuda, 1 May 2006
I was able to buy a group of 4"x6" desk flags in California, 24 for $5.00 USD, which is quite a bargain. I have not been able to identify two of them and would like to ask for your help. The second UFE has something to do with Cincinnati. It is a white flag with a large US shield on it. Across the shield is a blue scroll with white lettering "Cincinnati 1783" on the scroll. It is not the flag of Cincinnati. Could this have been a bicentennial flag? Any ideas?
Michael P. Smuda, 1 May 2006
Maybe it has something to do with the Society of the Cincinnati, which was founded in 1783.
Phil Cleary, 1 May 2006
Maybe, but it is not the flag of the Society itself, which is a US flag with light blue stripes and an eagle surrounded by a ring of stars in the canton, as seen on http://www.cincinnati.asso.fr.
Eugene Ipavec, 1 May 2006
I have two sets of flags containing this flag. I bought the second set just to get the booklet that explains what each flag is. The front cover of the booklet says "HISTORICAL FLAG COLLECTION OF OUR AMERICAN HERITAGE". The back cover says "COMMEMORATION OF OUR BICENTENNIAL VONS GROCERY CO." The Cincinnati is flag number 27 in the set and is listed as "Banner of the Society of the Cincinnati." And then there is a three sentence paragraph:
In 1801 Major James Farlie and Lieutenant John Stagg, Jr., were appointed the task of designing a banner for their association, the patriotic Society of the Cincinnati. Instead of the usual rectangular flag, they put their imaginations to good use and came up with this beautiful shield-shaped design. The unique banner continues the traditional blue and white regimental stripes, and commemorates the Society founding in 1783 by military companions of George Washington.
Dale Grimes, 24 June 2006
But the image shows a shield with red & white stripes, not blue & white. I wonder from what sources Vons Grocery got the image and data.
Ned Smith, 25 June 2006
This flag is a (bogus) replica of what is supposed to be an early proposal for the Society of Cincinnati, which was founded in 1783. It is in fact a bad copy of a banner that had a dark blue canton with silver stars and 13 alternate light blue and silver pales on the shield with a ribbon overall and the same inscription, although the banner does not have a white field. It is also pictured in Mastai's book, The Stars and the Stripes, on page 24.
Dave Martucci, 26 June 2006
---
06-31. Burma Campaign Flag?

Positive ID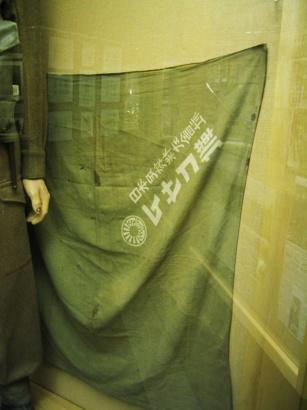 Image A provided by Ian Sumner, 20 March 2006
(Click on image to enlarge it)
This flag is in an exhibit in the regimental museum of the West Yorkshire Regiment in York. It is in the Second World War display case, which deals with the Burma Campaign. Unfortunately it is not captioned, and the staff couldn't help. The mannequin in the display case obscures what should be the hoist, so you cannot see if there is a proper sleeve or eyelets. If it is a flag, would someone please be kind enough to translate what is written in one corner? What is the badge?
Ian Sumner , 20 March 2006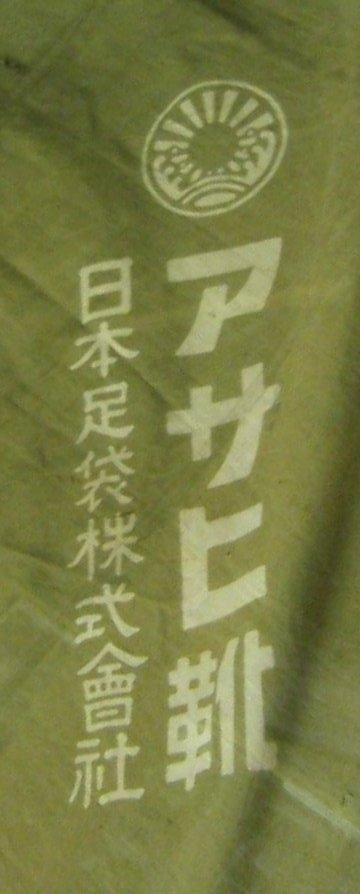 Image rotated and reversed by Al Kirsch, 13 March 2010
I'm no expert, but the flag/cloth is upside down and backwards. The first two kanji reads "Japan" (Nihon). The kana reads "asahi" (sunrise). Zach Harden says its appears to be an ad banner for the Asahi Shoe Company.
Al Kirsch, 13 March 2010
UFE Editor's Note: Several members of the FOTW list remember this being previously identified as a banner for the Japanese shoe manufacturer mistaken for a Burma Campaign flag, but I couldn't find any reference. Apparently, it was a banner hung in shoe stores carrying this brand of shoes and perhaps found by a soldier during the Burma campaign.
Pete Loeser, 16 March 2010
---
06-32. Unknown Sunburst Flag

Positive ID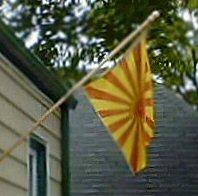 UFE06-32 has been identified as a variant of the Nepali Peace Flag, its central disc being red instead of yellow, and is now on its proper page.
---
06-33. Unknown Dutch University Flag

Tentative ID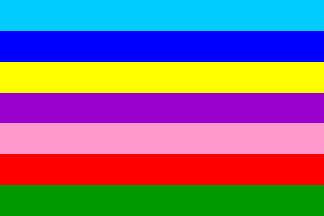 Image by António Martins, 14 Feb 2000
UFE06-33 seems to be a variant of the Utrecht University Flag with the departmental/faculty colors in a different order. One suggestion is that some departments have versions made with their colors on top. It can now be found on its proper page.
---
06-34. Unknown Reichskriegsflagge Pennant

Some Speculation

Speculative image by Pete Loeser, 14 June 2011
I hope you can help me identify a pennant I found amongst my late grandfather's possessions. He served in the U.S. Navy and I assume he brought the pennant home as a trophy from WW2. The pennant is triangular, measures approx. 12-1/2 inches long by 8-1/4 inches at the wide hoisting end; loop and clip still attached. The design is exactly that of the 1935-1938 reichskriegsflagge. It is two-sided, made of a durable cloth, with lots of chain stitching. I've exhausted all means of research available to me (which isn't that much) and I cannot find either a reference to, or a photo of, this pennant. Can you help?
Michelle, 5 Dec 2006
If the image is accurate, it is a car pennant used in 1938-1945 (not 1933-1935). The Reichskriegsflagge triangular car pennants were used in Nazi Germany (as you can see in some examples in FOTW).
Anonymous, 12 July 2021
Not a clue what this is about: "The design is exactly that of the 1935-1938 reichskriegsflagge." Well, if it's exactly that design, what problem does he have with it?
Peter Hans van den Muijzenberg, 24 July 2021
---
06-35. Unknown Pennant or Ensign

Positive ID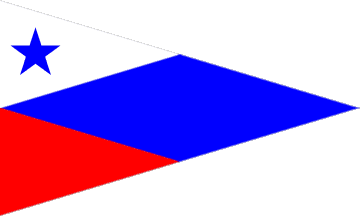 Image by António Martins, 10 May 2006
I purchased what might be merchant steamship company captain's patches. They look quite old, and feature a blue, red and white with blue star pennant or ensign flag.
Rolf Penzias, 17 Aug 2005
As far as I can tell, this is the burgee of the Bridge Marina Yacht Club. I asked the club for confirmation, but did not receive a reply.
Peter Hans van den Muijzenberg, 6 October 2011
(It looks like a positive to me - UFE Editor)
---
Anything below the following line isnt part of the Flags of the World Website and was added by the hoster of this mirror.
---
Bei fahnenversand.de erhalten Sie eine Vielzahl an günstigen Flaggen, Pins und Aufnähern, zum Beispiel: