Bestellen Sie Ihre Fahnen / Flaggen im Flaggen-Shop bei fahnenversand.de

Diese Website beschäftigt sich mit der Wissenschaft der Vexillologie (Flaggenkunde).
Alle auf dieser Website dargebotenen Abbildungen dienen ausschließlich der Informationsvermittlung im Sinne der Flaggenkunde.
Der Hoster dieser Seite distanziert sich ausdrücklich von jedweden hierauf u.U. dargestellten Symbolen verfassungsfeindlicher Organisationen.

---
This is a mirror of a page that is part of © FOTW Flags Of The World website.
Anything above the previous line isnt part of the Flags of the World Website and was added by the hoster of this mirror.
Unidentified Flags or Ensigns - 2009
Flags submitted in 2009
Last modified: 2023-11-25 by

zachary harden
Keywords: ufe | unidentified flags |
Links: FOTW homepage | search | disclaimer and copyright | write us | mirrors

---
Please note our Policy for Submissions and Enquiries.
Below is a series of images of flags that have been provided to FOTW; some we have recognized, and some we have been unable to recognize. If you can help us identify any of these flags, please let us know! Contact the: UFE Editor.
Identification Key:
= Positive ID (Positive Identification)
= Tentative ID (Tentative Identification)
= Some Speculation
| | |
| --- | --- |
| Unidentified Flags located on this page | Unidentified Flags on other pages |
---
09-1. Six Red and White Striped Flag

Tentative ID
Speculative Image by Peter Loeser, 19 December 2009
Do you have any insight into what flag consisting of 6 horizontal stripes, alternating red and white, with white at the top (i.e. w-r-w-r-w-r) would be related to the destruction of Speyer by Louis XIV's forces in 1689 (Nine Years War)? Any insight you can provide would be much appreciated.
Christina Rosati, 3 January 2009
UFE09-1 is the same flag currently used by Wismar city (Mecklenburg-Vorpommern) and can be found at this webpage City of Wismar (Germany), but I am afraid it doesn't match the context, another guess would be some other Hanseatic city flag.
Klaus-Michael Schneider, 31 January 2010
The colours of the City of Spires (Germany) would be red and white as well.
Peter Hans van den Muijzenberg, 1 February 2010
The flag with six red and white stripes may have been used during the "Whiskey Rebellion." It is describe in: W. Hogeland, The Whiskey Rebellion (2006) on page 182. "The western counties had their own flag now. Six stripes, alternating red and white, stood for the unified six counties of western Pennsylvania and northwest Virginia."
Tim McNary, 1 January 2021
---
09-2. New Zealand Blue Ensign

Positive ID
This flag has been identified as a deteriorated image (stars appear red instead of white because of aging) of the 1877 ensign of Victoria (Australia), and can be found at its permanent location.
---
09-3. Yellow over Black Short Pennant

Positive ID
Image by Lespey, 19 January 2009
From your web site, I can't find this flag. I'm sure is Japanese, probably from WWII but I can't find any info. I'm a Japanese WWII collector of 31 years and never seen this one.
Lespey, 19 January 2009
Looks very much like a signal flag of some sort, although not in current use.
Pete Loeser, January 2010
You may be right about its being a signal flag, but I don't recognize it. It's also possible that it's some kind of a distinguishing pennant for a sub-flag-level commander, of a flotilla or squadron or such, or a senior officer afloat pennant for some navy or another. Or even a yacht burgee.
Joe McMillan, January 2010
It looks like this mysterious yellow/black "signal flag" might be an U.S. Naval signal flag, not Japanese at all. See UFE10-15b on the UFE 2010 page.
Pete Loeser, 11 February 2010
I don't think UFE09-3 is the right shape to be a signal flag. Perhaps it is a marker flag
David Prothero, 16 February 2010
It's Japanese naval manoeuvre pennant Reccon, and they're holding it upside-down.
Peter Hans van den Muijzenberg, 2 June 2015
---
09-4. Japan Merchant Marine College-like Flag

Tentative ID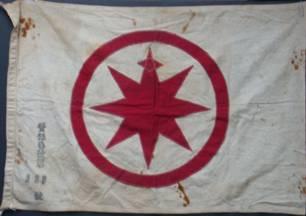 Image by Donald Shannon, 30 January 2009
I am the curator of the National WWII PT Boat Museum at www.battleshipcove.org. I am currently researching the origin of a flag I have attached 2 images of the flag. If you can provide any information on this flag I would greatly appreciate it.
Donald Shannon, 30 January 2009
I have not been able to identify the flag, but I have located very similar emblems used by the Merchant Marine College around 1910. It has the same star emblem in red, but not the circle. Perhaps it is the flag of the college a few years later? Perhaps this similar design may help others to identify the actual flag in your museum.
Ralph Kelly, 30 January 2009
---
09-5. Red-Green Lapel Pin with Yellow Cross

Positive ID

This flag was positively identified and moved to its correct location as the flag of Ceiba, Puerto Rico..
---
09-6. Vertical Banner with V

Positive ID
Image by Peter Lenagh, 7 February 2009
This flag was posted on eBay and the seller says it came from the Tumbling Waters Flag Museum. It is 27 x 96 (inches). There also seems to be one that has the fleur de lis in blue and yellow. After several days of looking the best conclusion I could come up with was NAVA. The scale is wrong on the V... but NAVA may be the answer.
Peter Lenagh, 7 February 2009
The supposition is that it may have something to do with NAVA and that it was from the Tumbling Waters Museum of Flags. Indeed it is all true. This is one of several banners that were used at NAVA 12, October 7-9, 1978 in Montgomery, Alabama, sponsored by the Tumbling Waters Museum of Flags.
Dave Martucci, 25 August 2010
---
09-7. Flag in European Port

Tentative ID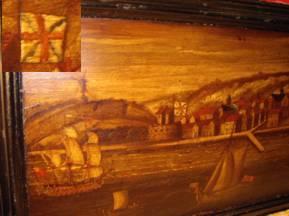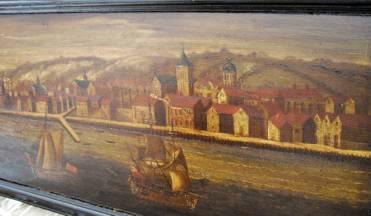 Images provided by Jim Megura, 8 February 2009
I am trying to find someone who may have a general knowledge of flag design from the 17th C. I own an early painting, believed to be 17th C, and it has British ships and gunships in a harbor, with a large flag visible on the mainland. It is that flag on the mainland which I am trying to identify, seemingly a major European port city. We are also trying to then determine if this painting represents a rendering of some historical event, perhaps an attack or treaty. Perhaps you can refer to me someone who might have such knowledge. (Large flag is shown enlarged as inset in photo above.)
Jim Megura, 8 February 2009
I think I see red in the saltire of the British Union jacks at the bows of the two ships; that would place the painting post-1801.
Albert S. Kirsch, 11 February 2009
Definitely 18th century, if not early 19th as Al suggested -- not 17th. The boats in the foreground do not appear to be warships, so this may not be a military attack on a town.
T.F. Mills, 11 February 2009
The design of the large vessel at the left-hand edge of the painting is late seventeenth century, say 1670s or 1680s - it has very prominent quarter galleries picked out in gold, characteristic of English and Dutch ships of the period. The flag on the fortress does have a Spanish look, although there is a slim chance - a very slim chance - that it is a regimental colour belonging to one of the Irish regiments in French service, but that particular regiment was not serving in a coastal fortress in the period in question. If it were supposed to be the Mediterranean, I would expect to see more lateen-rigged vessels, but that's not conclusive.
Ian Sumner, 11 February 2009
Another possibility is that it's either Russian or eastern European, given that a lot of naval flags from that region are UJ-like designs.
James Dignan, 11 February 2009
Could it be a wrongly depicted Russian jack and fortress flag (1700-1917)? The usage matches; could this city be Finnish or Estonian?
António Martins, 11 February 2009

Image by David Prothero, 12 February 2009
The flag on land forms the hoist of a pennant in the notebook of William Downman, 1685-6. It is reproduced in "Flags at Sea" by Timothy Wilson, National Maritime Museum, 1986. The whole pennant is shown above. There does not seem to be any available information about Cap Presmant.
David Prothero, 12 February 2009
It need not, of course, be a painting that represents an actual event. Marine painters of the period often painted "capriccios" - vessels set against backgrounds which were typically Mediterranean, or typically Dutch, or typically East Indies, without intending that it should be identified as a particular place. So this could be a generic battle painting, which may account for the confusing (or at any rate, unidentifiable to us) details; for if you were painting an actual event, you had to get the details right, otherwise survivors of the battle would be quick to tell you where you went wrong. I suspect that if it was a generic painting, there would be more action, but you never know...
Ian Sumner, 14 February 2009
One minor indication as to date is the size of the cantons in the red ensigns, which tended to be smaller during the interregnum of 1649 - 1660.
Christopher Southworth, 16 February 2009
The flag from painting of a European port looks like the square version of the flag which appears in many cartoons by James Gillray. Gillray shows a square variant of the design in several drawings of his, where they represented military colors.
The Cap Presmant Pendant has also appeared in Gillray's cartoons, with a square variant of the pattern in the hoist as well as with a rectangular ones (see here and here).
Since the above sources are unrelated to each other, but were created in the same period, perhaps they all do display the flags which were really used in Great Britain then, although their real purpose is yet to be fully determined.
Tomislav Todorovic, 20 December 2013
---
09-8. White over Yellow Pennant with "e"

Tentative ID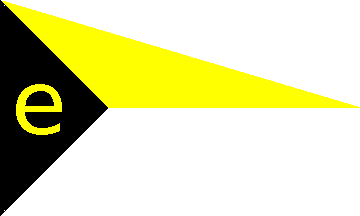 Speculative image by Peter Hans van den Muijzenberg, 13 February 2011
I was trying (without success) to find which Australian club (likely to be in the Northern Territory, Singapore or Queensland) which has a triangular pennant (apex of the triangle to the right) where the top half is yellow, the bottom half white and a yellow lower case "e" on black background at the base (left) of the "triangle"/pennant.
Owen, 21 March 2009
I did find that it was a Singapore club which sponsors annual offshore races. Unfortunately, the club name presently evades me.
Owen, 14 January 2010
---
09-9. Egyptian Flag (1946)

Tentative ID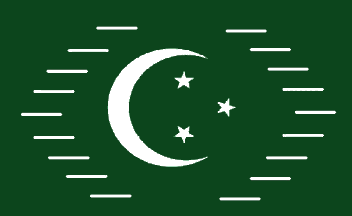 Image by NH, 13 March 2009
I watched a video on YouTube which featured footage from the evacuation of British troops from Egypt and celebrations about it. At the celebrations we can see soldiers holding a flag which was the national flag of Egypt at that time with stripes around the crescent and three stars arranged in the shape of a kite. I have attached a screenshot from this video showing this flag and an approximate image of the flag. I would like to know what this flag is (perhaps some kind of military flag) and it would be great if you could feature it on the FOTW website.
NH, 13 March 2009
This flag is a regimental colour.
Mohamed Hossan el Din, 13 July 2009
Which regiment? (so it can be marked as indentified)
Pete Loeser, 1 December 2009
---
09-10. Egyptian Military Flag

Positive ID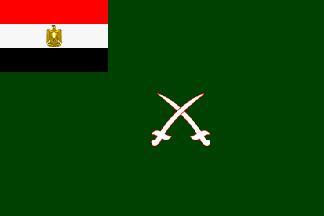 Image by NH, 20 April 2009
As I passed by a military hospital in Cairo I saw a military flag I had not seen before and which isn't on FOTW. It was green with the national flag in the canton and crossed swords in the canton like I attached. I do not know what the flag is.
NH, 20 April 2009
I believe that this is an Army rank flag, I am not sure of the exact rank.
Mohamed Hossan el Din, 13 July 2009
A curious flag, the green field is like that used during the Kingdom & Republic of Egypt (1923-58), the crossed sabers are the emblem used by the Egyptian Army, and the canton shows the current Egyptian flag. Does anybody know what rank this is for? (so it can be marked as indentified)
Pete Loeser, 1 December 2009
Crossed swords is the rank insignia for "liwa´" which is equivalent to a western Major General. See: The International Encyclopedia of Uniform Insignia Around the World.
Dov Gutterman, 27 February 2010
---
09-11. Red and White Striped Flag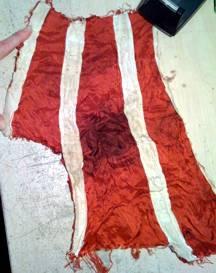 Image provided by Ernest Rugenstein, 4 May 2009
What flag is this? Soldier was in Italy in 1945.
Ernest Richard Rugenstein, 4 May 2009
---
09-12. Red-White-Black-White-Red Striped Flag

Positive ID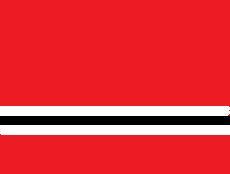 This has been identified as one of the Kosovo Art Gallery Proposals by Zana Ramadani from an exhibition of the "Symbols of Kosovo," sponcered by the Ministry of Culture, Youth and Sports of Kosovo.
---
09-13. Eleven Blue Stars on a Red Field

Positive ID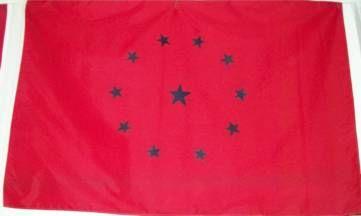 Image provided by Creston Raines, 29 May 2009
I am the Adjutant of VFW Post 7498 in Port Hadlock, WA and have had a collection of 21 historical flags donated to the post. I have been able to find descriptions of 19 of these flags, but [this one] seems to be unknown. I am hoping that you will be able to shed some light on these [it]. We have these flags on display around the perimeter of the post with a brief history on each flag. Any history will be greatly appreciated.
Creston Raines, 29 May 2009
The original of this flag was a flag formerly in the collection of Boleslaw & Marie-Louise d'Otrange-Mastai. It is illustrated, in their landmark book "The Stars and the Stripes," on page 136 wherein they identified it as an 1861 proposal for a flag of the nascent Confederate States of America. These were widely available as reproductions offered during the American Revolution Bicentennial by a short-lived California flag company, Golden State Flag Co., which marketed these through Safeway grocery stores. Its actual identification remains speculative, but the original was sold at auction by Sotheby's on October 10, 2002, as one of four pieces as Lot 82 for $7,768.00. Its current location is unknown to me.
James Ferrigan, 30 Aug 2009
I am given to wonder what your source information is. I own the set of 48 miniature flags produced by the Golden State Flag company, with copies of the explanatory brochure they produced. On page 6, the flag is clearly identified as a Confederate Battle Ensign, and there is no white border. Perhaps the sample you were given was a misprint, or if a drawing included a border to move the picture away from the edges? Besides Safeway, these flags were marketed in numerous other grocery stores, including Pathmark, a chain in the Tri-State are (New York, New Jersey, Connecticut); my father was an executive with this chain during the bicentennial and got me a couple of sets of these flags in miniature (with their really fantastic display base!), as well as a number of the full size (40 x 60 inch) flags they produced. I still have them in my collection.
Dave Pawson, 19 December 2010
Editors Note: This flag has been reported twice and identified twice - see UFE06-29.
---
09-14. Henry Hudson Flag in The Economist

Some Speculation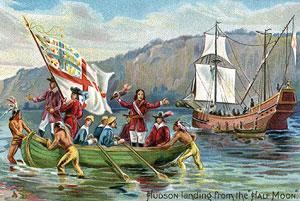 Image submitted by Al Kirsch, 3 July 2009
The image above appears in The Economist, as New York commemorates the arrival of Henry Hudson, then working for the Dutch East India Company. Is the flag in the painting the artist's fantasy or is it a real flag, vintage 1609?
Al Kirsch, 3 July 2009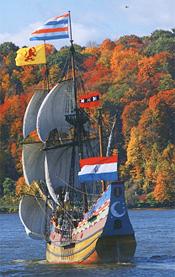 I think the flag in The Economist picture is a New England flag, and not a flag that would exist at the time of Hudson. Hudson's ship the "Halve Maen" belonged to the Dutch East India Company (he was supposed to find a new route to East India), and his flag would have been a Dutch one. I've attached a picture of what historians think his ship might have looked like.
Jeroen van Leeuwen, 5 August 2010
Aside from the Dutch (company) ensign and the flag of Amsterdam, can we identify the other two (the lion and the striped)?
Al Kirsch, 5 August 2010
To me it appears the replica ship's foremast carries a variant of the States-General Flag, the mainmast carries the double or 7 striped "Prinsenvlag" (Princeflag), the aftmast carries the Ansterdam Flag and the stern carries the Dutch (Netherlands) East India Company Flag. All-in-all, an unlikely historical combination. For those interested in the Dutch East Indies Company Flag, see the illustrations and short essay at http://www.loeser.us/flags/dutch_note_1.html. The original UFE still remains unidentified and is probably a product of artistic historical license.
Pete Loeser, 6 August 2010
---
09-15. Man's Head on Flag in Lucerne, Switzerland

Positive ID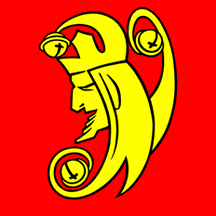 This flag has been identified as the carnival flag of the Lucerne "Maskenliebhaber" guild and is now on its proper page.
---
09-16. White Star on Blue; Red Border

Positive ID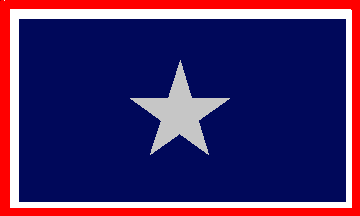 Image by Kevin Evans, 15 July 2009 and star modified by Pete Loeser, 1 January 2010
Can you identify the flag pictured here? Obviously it is a variation of the Bonnie Blue, but is there some other significance than a fancy Bonnie Blue? It was seen on a flag pole in Pontotoc, Mississippi (I think). It was flying just below the US flag. Maybe a municipal flag?
Kevin Evans, 15 July 2009
That flag is the flag of an organization called the "Silver Star Families of America" - Their website is http://www.silverstarfamilies.org/. Founded 2005, the Silver Star Families of America are dedicated to supporting and assisting the wounded and ill and their families. Their "goal is to recognize the blood sacrifice of our wounded and illnesses incurred during combat, and remember their efforts by honoring them with the Silver Star Banner." (from their website) Go to http://www.stevenewtonbestofthebest.com/Flying_Silver_Star.jpg for a picture. (Note: The star color is actually a pale silver.)
Jan Mertens, 8 August 2009
---
09-17. Flag in Georgian Parliament

Positive ID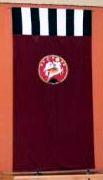 This is the Standard of the First Republic.
---
09-18. Two Flags from the Confederacy

One Positive ID and

One Tentative ID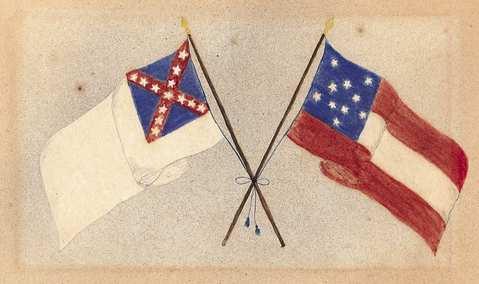 Image provided by "lancer525", 21 July 2009
I work in a house museum, and on the wall in one of the rooms, we have this hand drawn image of two flags. According to the files, this image "dates to the late 19th Century" and is "two flags from the Confederacy". I have never seen either of these two flags before, and while they look like Confederate era flags, they aren't quite exactly like any I have ever seen. One has a color reversal in the canton, and the other has a different star pattern. I would deeply appreciate any and all information anyone might know about either of these two flags.
"lancer525", 21 July 2009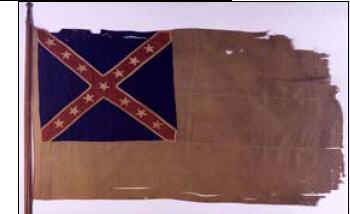 Image from Museum of the Confederacy, 09 Sep 2009
The flag on the left is currently in the collection of the Museum of the Confederacy # WD335: described as a 48"x 74"; 2nd National (variant with colors reversed) captured at the battle of Paine's Cross Roads, Virginia, April 1865, by Sgt. John A. Davidsizer of the 1st PA Cavalry. The flag on the right is a CSA Grand Luminary, I will check to see if I have any information on any with just 10 stars.
James Ferrigan, 09 Sep 2009
The flag on the right is an intermediate version of the 1st Confederate National Flag. Note that it has only ten stars in the canton rather than the final thirteen. There could have been some confusion over the status of the State of Tennessee which joined in a military alliance with the Confederacy on 7.V.1861 but did not formally join the Confederacy until the Act of \Succession was ratified by plebiscite on 8.VI.1861. The State of North Carolina joined the Confederacy on 20.V.1861 making it the official tenth Confederate state. I will speculate that this flag was made some time in the month of May 1861 or the beginning of of the month of June 1861.
David Pritchard, 18 Sep 2009
David Pritchard has correctly identified the chronology of the 10 star CSA 1st Nat. flag, but not the flag; we must remember that this in not a flag, but rather an image of a flag. Never-the-less, I concur with the dates, but that only gives us the tip of an iceberg. The Confederacy only officially had ten states for 41 days. The design shown in the image would place it between 21 May to July 2 1861 = 1 month 12 days = 42 days, a narrow window. Furthermore, the design of an inverted Grand Luminary make it intriguing as the Grand Luminary would have been an anathema to the Confederacy as they believed in "States Rights" rather than a strong central power. I am going to look for images of Confederate flags with a similar star pattern, as I'm unaware of any surviving flag with this design. Confederate flags with a Grand Luminary or Great Star design are very rare, and I have a file on images, but I do not recall if I've seen one like this, and the file is in storage in Nevada, so further research will have to await my return. My suspicions are that this painting is an allegorical post-war image.
James Ferrigan, 19 Sep 2009

Image of "Great Star" made from 10-stars
For those of you suffering from a terminology breakdown, a "Grand Luminary" or "Great Star" flag is one whose stars are placed in a pattern that form one large star. Notice the second Confederate flag has an upside-down 10-star "Great Star" on it.
Pete Loeser, 1 January 2010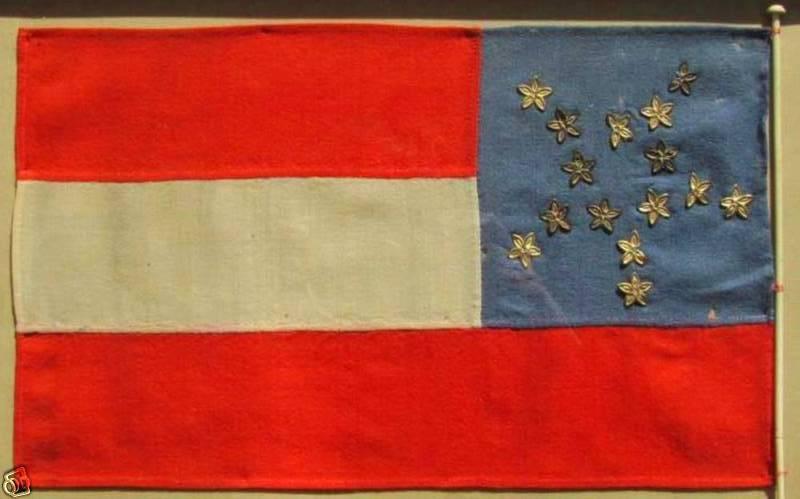 Image provided by James Ferrigan, 27 June 2010

James Ferrigan informs me that a flag sold on eBay on 7 Feburary 2010 (lot #220548110325) by gallerybfa of Pittsburg was similar to the second flag. It was described as a 15-star Confederate parade or bible flag, circa 1861. The Great Star was upside down as on our second UFE, but it had 15 stars instead of 10. Speculation was that the maker of this flag was hopeful that the slave holding areas of Arizona Territory and New Mexico Territory would join the Confederacy, or that the flag was made at a point in 1861 when 11 states were declared Confederate and the maker was hopeful that the 4 remaining slave-holding states in the Union would join the southern cause (Maryland, Delaware, Kentucky and Missouri). The small flag was hand sewn (average of 15 stitches per linear inch), the fabric was wool with embossed paper gold stars attached by stitches. The stars are applied on one side only. The flag dimensions were about 6 7/8" x 11 1/2". Unfortunately, as James correctly points out, with no history and no known provenance other than that provided by the eBay auction, plus the use of the upside down Grand Luminary in its design, this flag does not positively identify our UFE, but seems of a similar design. As James states: "This, of course, prompts an investigation of the origins and demise of these star patterns as a motif on Confederate flags - are they symbolic, artistic, both?"
Pete Loeser, 27 June 2010
---
09-19. Red-White Striped Flag on Stick-pin

Tentative ID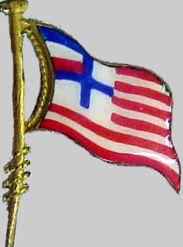 Image provided by Ann Meacham, 24 July 2009
Have not been able to identify the following flag pin. Interesting that the style (note the rope detail wrapped around staff) matches another flag pin identified as the sport club Slavia Praha Rowing Club. Perhaps another club with international members?
Ann Meacham, 24 July 2009
It might be a flag pin showing an erroneous version of the flag, of former Rudergesellschaft "Nelson" Halle, before German reunion located in Goslar. The club meanwhile merged with RC Böllberg Halle and is today part of SC Halle. The flag of "Nelson" however had only 9-stripes. (I checked it at RA77 and the club's website as well) Due to all other parts, however, it is a perfect match. [See: Hallesche RV Böllberg (German rowing club)) To be on the safe side, I send a copy to SC Halle, maybe they can reconfirm my information.]
Klaus-Michael Schneider, 28 July 2009
---
09-20. Yellow Flag with Green and Red Vertical Stripes

Positive ID

This flag has been positively identified as the Vietnam Veterans Ribbon flag.
---
09-21. 48-Star Casket Flag with Four Gold Stripes.

Tentative ID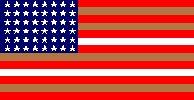 This flag has been one of the most discussed UFE flags ever posted and the "Great Gold Stripe" debate that resulted has been moved to its own permanent page as United States 48-Star Flags with gold stripes.
---
09-22. Unidentified Arctic Flags

Four Positive IDs and

One Tentative ID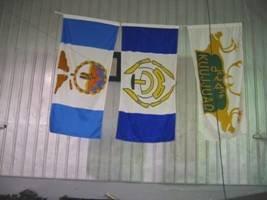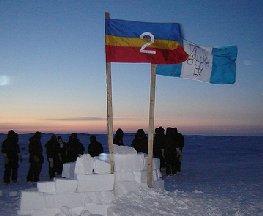 Image from Aleksandar Nemet, 1 September, 2009, and from Eugene Ipavec, 29 September 2009
I found this photo with three flags visible (caption of image is "Flags from various Arctic Communities"), but I only found the middle flag (left photo, center flag) at FOTW site,which is the (Arviat Flag of Nunavut, Canada.)
Aleksandar Nemet, 1 September, 2009
My guess is that the one saying "Kuujjuaq" (left photo, right flag) has some relation to http://www.nvkuujjuaq.ca/
Peter Hans van den Muijzenberg, 1 September, 2009
The Flag of Puvirnituq can be seen on this photo (right photo, right flag). Puvirnituq is an Inuit settlement on the Povungnituk River near its mouth on the Hudson Bay in northern Quebec, Canada. Its population is only 1287 (2001). The name means "Place where there is a smell of rotten meat" (http://en.wikipedia.org/wiki/Puvirnituq,_Quebec). The Second flag (right photo, left flag) is a flag of 2nd Service Battalion, a unit of the Canadian Forces (CF). The flag of a service battalion is a horizontal tricolour, red over yellow over blue. The red represents the Medical Corps, yellow Logistics, and blue the Engineers. The flag also has a large Arabic numeral (representing the battalion's number) in the centre, extending into the red and blue bars. This flag was designed by Chief Warrant Officer Phil Raven during his time as RSM of 2 Service Battalion in the 1970s. (http://en.wikipedia.org/wiki/Service_battalion)
Eugene Ipavec, 29 September 2009
I guess this only leaves one flag to identify (Left photo, left flag) - UFE Editor
---
09-23. Unknown Turkish Flag

Positive ID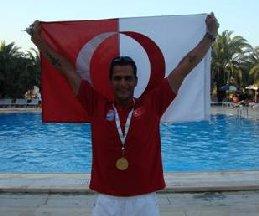 This is the flag of the Middle East Technical University - METU (Orta Doğu Teknik †niversitesi - ODTÜ).
---
09-24. Unknown German Shipping Company "S" Flag

Positive ID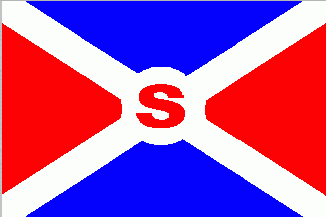 This is the House flag of Binnenschiffahrtskontor Sommerfeld, located in Buxtehude, and now on its proper FOTW page.
---
09-25. Unknown German Shipping Company "B" Flag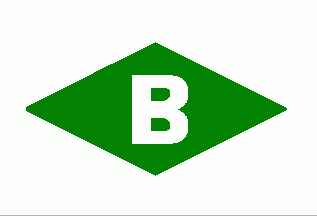 Image from Klaus-Michael Schneider, 21 April 2009
I also spotted this flag at Billwerder Bucht in Hamburg on 30 March 2007. It is a white flag with a green lozenge in its centre containing a white capital "B." The flag was said to belong to a co-owner/partner (German: Partikulier).
Klaus-Michael Schneider, 21 April 2009
---
09-26. Unknown German Shipping Company "PP" Flag

Positive ID

This flag has been identified and is now located on our Der Kapitän page as a fictional flag used on a German television series.
---
09-27. Unidentified Cuban flag

Some Speculation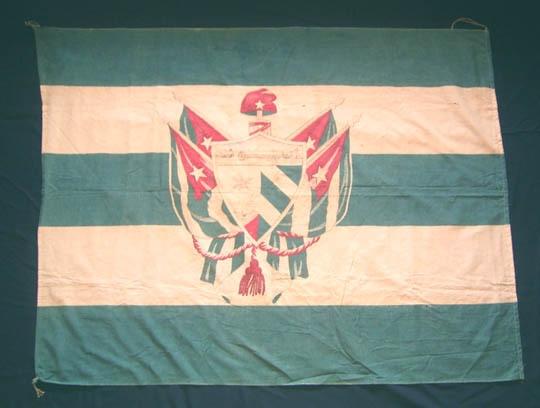 Image from Stan, 27 October 2009

Could you help me with identification of this Cuban flag? It is a simple five-striped blue and white flag, with the national arms centred.
Stan, 26 October 2009
Since it appears to have attachments along both left and right, instead just along a hoist edge, is it a flag at all? Perhaps it is a one-off podium or wall hanging, or some similar type of decoration.
Ned Smith, 27 October 2009
[Editor's Note] This still unidentified flag is also mentioned on the "República de Cuba, Republic of Cuba" page.
---
09-28. Argentinian UFE Political flag Positive ID
Image from Esteban Rivera, 10 October 2009
In the Spanish newspaper El País, there's a picture of a supporter flag of current Argentinian President Cristina Fernández de Kirchner. Can anybody identify this flag as a party flag, or is it simply a political "fan" flag for Cristina?
Esteban Rivera, 10 October 2009
Several of them appear to say Frente para la Victoria and appear to be party related.
Peter Hans van den Muijzenberg, 12 February 2012
As Peter Hans van den Muijzenberg mentions, it is indeed a campaign flag of the Frente para la victoria (Front for victory) used in the 2009 election. "The Front for Victory (Frente para la Victoria, FPV) is a Peronist political party (etablished in 2003) and electoral alliance in Argentina, although it is formally a faction of the Justicialist Party. It is formed by the Partido Justicialista (Justicialist Party), the Partido de la Victoria (Victory's Party) and the Partido Nueva Dirigencia (New Leading Party). Both the former President Néstor Kirchner (2003-2007) and the current President Cristina Fernández de Kirchner (2007-present) belong to this party, located on the left-wing of the mainstream Argentine political spectrum. The party was led by Néstor Kirchner until his death in 2010". Source: Front for Victory (Wikipedia).
Some other coallition members are: Partido Humanista, Frente Grande (Broad Front), Partido Comunista (Communist Party), Partido Comunista de la Argentina - Congreso Extraordinario (Argentinian Communist Party - Extraordinary Congress), Partido Intransigente (Intransigent Party), Proyecto Popular (Popular Project), Partido Verde (Green Party), Convergencia K (K Convergence) - the last K for Kirchner, among others. Other coallition members who later split in 2007 were: PAIS (Country), which joined Coalición Cívica (Civic Coalition) and Libres del Sur (Free Southerners) which currently is part of the Frente Amplio Progresista (Progressist Broad Front). Source: Frente para la Victoria (Wikipedia).
For additional information please see the Frente para la victoria´s (FpV) official website.
Esteban Rivera, 15 September 2012
[Editor's Note] This still unidentified flag is also mentioned on the "República de Cuba, Republic of Cuba" page.
---
09-29. RFA Flag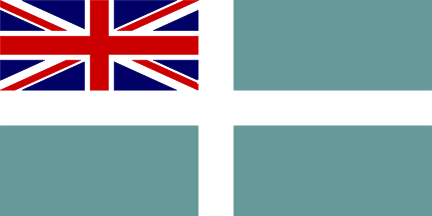 Image from Chris Stewart-Moffitt, 26 September 2009
I live in Rothesay Scotland and we have a NATO fuel jetty nearby. The RFA Tanker Wave Ruler has just left. She was flying her usual ensign from the stern and pilot flag and pennant from her main halyards but also had another smaller "ensign" flying from her forward halyards.......pale blue background with white cross [same confguration as the cross of St George] and a union flag in the top corner.....any idea what flag that is?
Chris Stewart-Moffitt, 26 September 2009
---
Anything below the following line isnt part of the Flags of the World Website and was added by the hoster of this mirror.
---
Bei fahnenversand.de erhalten Sie eine Vielzahl an günstigen Flaggen, Pins und Aufnähern, zum Beispiel: