Bestellen Sie Ihre Fahnen / Flaggen im Flaggen-Shop bei fahnenversand.de

Diese Website beschäftigt sich mit der Wissenschaft der Vexillologie (Flaggenkunde).
Alle auf dieser Website dargebotenen Abbildungen dienen ausschließlich der Informationsvermittlung im Sinne der Flaggenkunde.
Der Hoster dieser Seite distanziert sich ausdrücklich von jedweden hierauf u.U. dargestellten Symbolen verfassungsfeindlicher Organisationen.

---
This is a mirror of a page that is part of © FOTW Flags Of The World website.
Anything above the previous line isnt part of the Flags of the World Website and was added by the hoster of this mirror.
Unidentified Flags or Ensigns (2010) - Page 1
Flags submitted in 2010 - 1 of 3 pages
Last modified: 2023-06-03 by

zachary harden
Keywords: ufe | unidentified flags |
Links: FOTW homepage | search | disclaimer and copyright | write us | mirrors

---
Please note our Policy for Submissions and Enquiries.
Below is a series of images of flags that have been provided to FOTW; some we have recognized, and some we have been unable to recognize. If you can help us identify any of these flags, please let us know! Contact the: UFE Editor.
Identification Key:
= Positive ID (Positive Identification)
= Tentative ID (Tentative Identification)
= Some Speculation
Unidentified Flags located on THIS PAGE

Unidentified Flags located on PAGE 2

Unidentified Flags located on PAGE 3

Unidentified Flags on other pages
---
10-1. European Union Flag with Red Field

Positive ID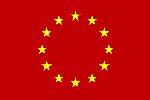 This flag has been positively identified and moved to its permanent location on FOTW at "European Union: Use of the flag in art."
---
10-2. Communist Flag with Blue Field

Positive ID

This flag has been positively identified and moved to its permanent location on FOTW at "European Union: Use of the flag in art."
---
10-3. Blue Chinese Flag

Positive ID

This flag was positively identified and moved to its permament location on the FOTW European Union: Protest flags page.
---
10-4. Unknown Carlist Flags

Positive IDs


These flags have been identified as some used by the Spanish francoist-like group Bases Autónomas and are now located at their proper location.
---
10-5. Spanish neo-Nazi Flag

Positive ID
This Flag has been identified as another used by the Spanish Francoist-like group Bases Autónomas and is now located on their proper page.
---
10-6. Spanish neo-Nazi Flag 2

Positive ID

This Flag has been identified as another used by the Spanish Francoist-like group Bases Autónomas and is now located on its proper page.
---
10-7. Unknown Spanish NATO Flag

Positive ID

This flag was identified, and has been moved to the NATO page as the Joint Command Southwest (JCSW) command flag.
---
10-8. Institutional Flag from Maryland

Some Speculation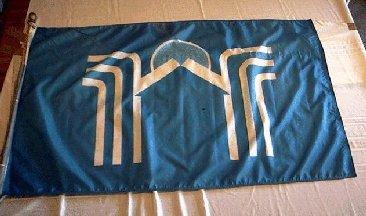 Image provided by Jim Ferrigan, 8 January 2010

Here is an UFE identified only as an institutional flag from Maryland, made by Annin. The image of this flag was sent to me by a staff person at the Star-Spangled Banner Flag House & Museum of Baltimore, Maryland; and was identified only as an unknown "institutional flag?." Presumably the photo was taken there. Presumably sometime in the 1990s as that is when it was acquired. The Annin connection is provided by the Annin makers mark visible on the upper hoist obverse of the flag.
Jim Ferrigan, 8 January 2010
Sorry, no help on this one. Except to say it is clearly a House in the center. Searching under "federal housing flag" came up with logos for various federal home funding agencies, but no flag or similar logo. Did anyone try contacting Annin?
Nick Artimovich, 20 January 2010
It looks like some sort of bridge to me.
Jack Lowe, 29 January 2010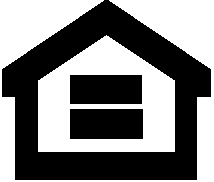 Image from Paul Grubb, 29 January 2010
It also resembles the logo used for Equal Housing Opportunity. See the attached logo.
Paul Grubb, 29 January 2010
I inquired at Annin Flag Company and received this reply from Kathleen Lubanski (Sales, Administrative Assistant): "Unfortunately I have no information for the flag that is pictured. If it was from over five years ago we would no longer have the information in our system. Sorry I could not be of better assistance." So it still remains a mystery, even to the company that manufactured the flag. I also asked Kathleen to hang-up a picture of it on their bulletin board to see if any of the "old-timers" might remember it, so perhaps something will come of that.
Pete Loeser, 2 February 2010
If it were a bridge, we would probably see the circle continue under it. That's not the case, though.
Peter Hans van den Muijzenberg, 27 February 2011
---
10-9. Religious Flag in Rome

Some Speculation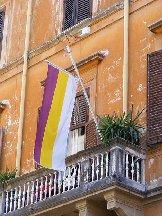 Image from Aleksandar Nemet, 9 January 2010

Here is a photo of an unidentified purple, yellow, white horizontally striped flag photographed in Rome, Italy. The original uploader of this photo to Wikimedia Commons (Joan Lewis, 22 July 2009) said that it might be a religious flag.
Aleksandar Nemet, 9 January 2010
Yellow and white are the colors of the Vatican or "Holy See". The color purple is associated with royality, nobility and spirituality, and may stand for the Pope, although today scarlet red would be a better match. Purple is also the color for penitence and mourning, and is the liturgical color for the seasons of Advent and Lent. This may have been flown during a Vatican or Catholic religious holiday.
Pete Loeser, 4 April 2010.
The purple, yellow, and white striped flag looks like it might be a variation on the historic flag representing the battle for women's suffrage. If so, I have no idea how it would end up hanging from a Rome apartment.
Perry Dane, 30 June 2010
Joan Lewis did indeed publish a message about the flag on her blog. An American lawyer saw that on her blog on June 25 and suggested it was an American suffragette flag!
The flag does indeed look similar to the American suffragette flags, except that the order is reversed. I see that Perry Danes is quoted on the list as saying more or less the same. He might be that same lawyer, of course. I can't check whether he mentioned Joan's blog, though, as I can't find his message at all.
Perry already mentions that don't have any known reason for such a flag appearing in these times in Rome. Furthermore, we also don't have anything on known variations. I don't actually see anything on the American suffrage. Is there anyone who could write a good contribution on these?
Peter Hans van den Muijzenberg, 14 July 2010
I tried to search with Google Images and the only result is that Leola Corps (Korp! Leola), an Estonian student fraternity found in 1920, which is present also on Facebook. The reason why a flag of that fraternity is hanging from a Roman building is still a mystery (even if a motto of the fraternity is the Latin Age quod agis meaning "do what you are doing" or "to the business at hand"). Another possibility would be a flag of some historical or local happening: many Italian quarters/wards still have peculiar flags.
Paolo Montanelli, 25 January 2014
Another possibility: the flag of the Catalan town of Vinyols i els Arcs.
Paolo Montanelli, 2 February 2014
As for this last, I was already wondering why a flag belonging to an Estonian student fraternity would be displayed in Rome, so perhaps a flag of a Catholic Spanish town located in nearby Catalonia in Northeast Spain could make a little more sense?
Pete Loeser, 7 February 2014
Well, I guess that would depend on whether the fraternity traveled to Rome on occasion. As little sense as it makes, at face value, it's a better answer than a suggestion that doesn't have the stripes in the right order.
Peter Hans van den Muijzenberg, 7 February 2014
As per your earlier suggestion, perhaps the flag was accidentally hung the wrong way, i.e. upside down, inside out... where is Escher when you need him?
Pete Loeser, 14 February 2014

Wikipedia depiction (mentioned below)
The flag in question could hardly be that of Vinyols i els Arcs, owing to the stripes being in the wrong order. This suggestion makes more sense when using the Wikipedia depiction of the Vinyols i els Arcs flag, as there the purple is darker, and a closer match to the UFE's colour. Is there a reason for the difference in shade? Since the UFE has the yellow in the middle, and Vinyols i els Arcs has the yellow on an edge, I don't think even Moebius can help flipping the one to show the other.
Peter Hans van den Muijzenberg, 14 June 2014
---
10-10. Canadian Plastic Stick-Pin

Positive ID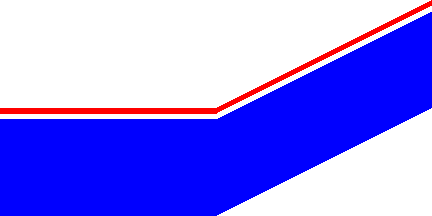 Image by Daniel Boese, 11 January 2010

I found a small plastic stick-pin in a pile of family souvenirs dating from the 1970's-1980's, in the form of a rectangular flag about a centimetre wide. I haven't been able to find it at FOTW; given what it was found among, I think that it might be from an airline, possibly a Canadian one, possibly Nova Scotian. It consists of a white field, with a broad horizontal blue stripe at the bottom, above which is a much narrower red stripe; halfway across, both stripes angle upwards, with the red stripe reaching the top-right corner.
Daniel Boese, 11 January 2010
This is pure speculation based on hazy memories, but the style and color reminds me of a design once seen on United Airlines planes, and didn´t Air Transat (an airline based in Montreal and Quebec) also use a similar tail design in the 1980s? Does anybody else remember seeing them besides me?
Pete Loeser, 24 January 2010
This was a logo used by the Progressive Conservative Party of Canada in the 1972 Federal election. In my political past I worked on that campaign. I remember the discussion about this new sort of branding, just using a symbol, not a name or initial. The traditional format was usually a political sign with candidate's name appearing above the stripes. However, they also gave out lapel pins just like these.
Ed Schollenberg, 13 April 2010
---
10-11. Flag on the Aral (UK)

Positive ID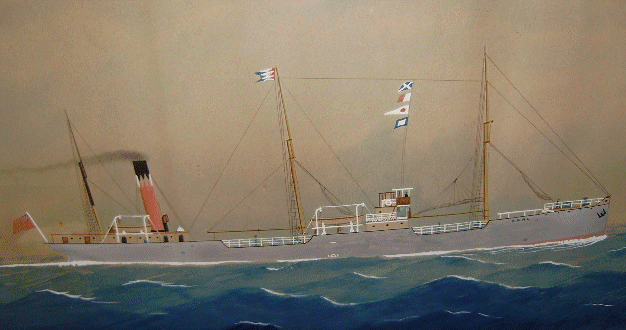 Image from Rodney Duggua, 25 January 2010
Can you help me in identifying the Shipping Line shown in the attached not very good photo of a painting of a ship called "Aral." This was a ship that a Great Uncle of mine may have been Master of. The painting was salvaged by my late Father upon the death of my Great Aunt and this must have been some 40 years ago. With thanks.
Rodney Duggua, 25 January 2010

Cropped Image, 26 January 2010
I am forwarding this inquiry about a flag shown in a painting of the Aral to the FOTW mailing list. The flag of concern appears to be the red-white-blue vertical tricolour swallowtail, with the white band taking the form of 4 elongate diamonds stretching horizontally almost from hoist to fly.
Rob Raeside, 26 January 2010
The "Aral" was a tanker built 1891 for W. Tapscott & Company of Liverpool being broken up at Inverkeithing 28/8/1929. In 1897, the Tapscott fleet was bought by Hamilton, Fraser & Company of Liverpool and operated under the name of the Rover Shipping Company. Hamilton, Fraser also operated as the Inch Shipping Company Ltd. (Their flag is shown on the FOTW page on British shipping companies). According to Lloyds 1904 the word "INCH" shown in Antönio's image was replaced by "ROVER." The painting image does not show the lettering which is not really surprising. Hamilton, Fraser sold the ship in 1908 together with 6 others and their last ship was sold in 1909 (nothing on the buyers) so the painting obviously portrays the ship in the period 1897-1908.
Neale Rosanoski, 13 February 2010
---
10-12. Flag drawings, old Islamic

Some Speculation/

Some Positive IDs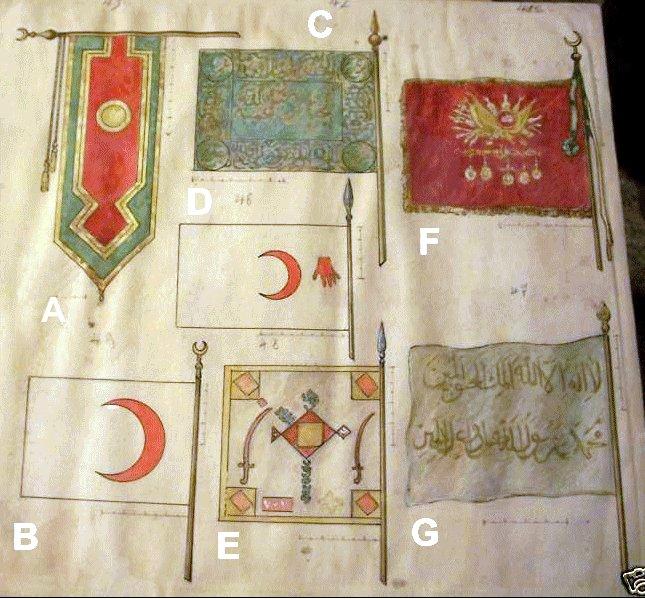 White letters added by UFE Editor to ease identification
(Click on Image to view larger size)
This appears to be a water color picture of different Islamic flags. I found it among my grandfathers research materials. He wrote and co-wrote several books and articles on flags. His name was Commodore Byron McCandless USN ret. He passed away in 1967. It is on a poster board weight paper. It measures apx 12 1/2 by 19 1/2 inches.
William Garrison, 26 January 2010
Flag "F" in the sketch appears to be charged with a somewhat modified (older) version of the coat-of-arms of the Ottoman Empire ( http://en.wikipedia.org/wiki/File:Osmanli-nisani.svg ). Of course, since every flag in the sketch is captioned, what we really need is a high-rez scan and someone who can read Arabic or pre-latinization Turkish...
Eugene Ipavec, 13 February 2010
The original captions are merely the numbers of the flags from the original source.
Peter Hans van den Muijzenberg, 8 March 2011
The "A" flag is the Standard of Pasha of Janissaires, the third highest rank in Otoman Janissaire Army (Sultan is the first as the Commandier in Chief, and the Janissary Aga is the second as the commander-general of the entire corps) Better drawn image on Turkish Wikipedia (source)
More vexillological information: A history of Ottoman military flags by Jaroslav Martykan (Proc. XVII International Congress of Vexillology, 1999, Southern African Vexillological Assn. Peter Martinez ed.) (PDF File)
Anonymous, 14 July 2021
The "G" flag is the pincipal flag of the Janissaires, the "İmâm-ı Âzam"; It was made of white (meaning the petrenence to sunni orthodox) silk and was embroidered with golden thread on one side with two verses of the shura 48 al-Fath ("Shura of the Victory") of Qur'an; first verse (and first of the shura) says "We have opened a clear victory for you" (in arab:: إِنَّا فَتَحْنَا لَكَ فَتْحًا مُّبِينً) and second (third verse of the shura) says "And may God help you with a mighty victory" (in arab: وَيَنصُرَكَ اللَّهُ نَصْرًا عَزِيزً)
I haven't images, only written sources.
Combining references of:
Yeniçeri Ocağı Kanun ve Kaideleri. İBB Atatürk Kitaplığı. No: 0097 (in turkish).
Turkish Wikipedia article about Janissary.
Anonymous, 17 July 2021

Can we get per flag links here between what is still open and what is identified?
Peter Hans van den Muijzenberg, 24 July 2021
---
10-13. Dutch KFZ Flag

Some Speculation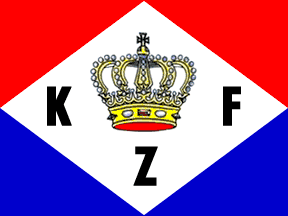 Image by António Martins-Tuválkin, 1 March 2016
This was sent by Andries van der Graaf from Nieuwpoort Z.H. It is like the Java-China-Paketvaart Flag of the Netherlands, with the crown surrounded by black letters K (left), F (right) and Z (bottom). There is a little label added charged with "A.J.A. Bartels, Telefoon 34303 Amsterdam." (Amsterdam got 6 digits only after World War II). It measures 75 x 100 cm. I'm quite sure that this one is Dutch, probably connected to water (houseflag, burgee, whatever...)
Jarig Bakker, 29 January 2010
I assumed that the original image was chopped off along the edge of the flag, i.e. with the white diamond filling up the whole height and width of the flag cloth, leaving only four tangent triangles as a residual background.
I assume that it is not a risky assumption to narrow its scope to a Dutch UFE related to Java-China Paketvaart as several related flags can be found; this might be one more family member.
Sorry for not having any new insight. Just GIFfin'.
António Martins-Tuválkin, 1 March 2016
Well, photograph or scan, and it looks like we see the brick wall behind it. Plus a scan would not have information on a label.
I can add, though, in 1915, Amsterdam apparently had two exchanges, as all numbers were either "Noord" or "Zuid" (North/South). Five numbers without an exchange mentioned must have been introduced after that. Also, none of the entries for Bartels in Amsterdam in the Name List for the Telephone Service have a number similar to this one.
In 1950 Amsterdam still had five digits, but no Bartels in Amsterdam in the Name List for the Interlocal Telephone Service has that telephone number. Maybe it should be noted that of the twenty entries with the name Bartels, four are listed as being in the textiles trade.
On 10 May 1968, the alarm number for Amsterdam changed from 5 digits to six. I don't know whether that was valid for all numbers at that time though.
Not really a big help, as you can see: The label is later than 1915 and probably no later than 1968, and not 1950. But we don't even know whether the label is an integrated part of merely an added marker.
Peter Hans van den Muijzenberg, 2 March 2016
You can now search by number:
1923: Coöp. Amst. Slachtproductenh. Abatoir, gebouw L.
1927: Kon. Pharm. Handelsver. v.h. d'Ailly, Gallenkamp & Pluygers
1929-1950: Kleefstoffenfabr. Deteka
None of them KFZ or KZF, or Bartels. If the label is related to the entity represented, then it would appear to be from after 1950.
Peter Hans van den Muijzenberg, 9 April 2019
---
10-14. Flag With Chain and Olive Branch

Tentative ID

This flag has been tentatively identified and moved to a more permanent location on FOTW as a possible "United Nations flag used before 1945."
---
10-15. Four UFE ICS Signal Flags from US Torpedo Boat Winslow

Some Speculation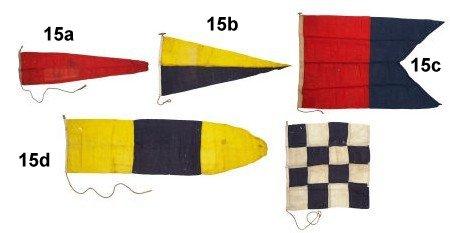 Image from James Ferrigan, 10 February 2010
(black numbers/letters added by UFE Editor to ease identification)
For enlarged images: [Flag Image 15a] [Flag Image 15b] [Flag Image 15c] [Flag Image 15d]
On 11 December 2009, Heritage Auction Gallery of Dallas, Texas, sold at auction Lot: 57298, which was a grouping of five signal flags from the US Torpedo Boat Winslow (1898). One of the flags is ICS "N" (checkered), but the others do not conform to any USN signals of which I am aware. The plain red one (15a) may be a variant "Speed" or "Crew´s Meal." The red & blue swallow-tailed flag (15c) is marked #4, and was made at the New York Navy Yard, the others are unidentified.
James Ferrigan, 10 February 2010
It looks like the mysterious yellow/black signal flag (15b above) has reared it's ugly head again. See UFE09-3 on the UFE 2009 page.
Pete Loeser, 11 February 2010
It is sometimes almost impossible to identify solitary signal flags without any provenance, as the same design has been used with different meanings in different systems. For example, the chequered flag is "November" in the current International Code of Signals, but was "Zulu" in the system used by the Royal Navy before it adopted the NATO signal flags. In the same RN system a red pennant was numeral pennant "8." A yellow/blue/yellow pennant (15d) in the October 1917 edition of the National Geographic Magazine, page 318, is a U.S. Navy call pennant "Oscar." I don't know how "call" pennants were used. The UFE10-16c (white over blue over white) pennant is probably USN, but in the pre-NATO RN a similar pennant, black instead of blue, was a Sub-Division Flag.
David Prothero, 16 February 2010
---
10-16. Three UFE Bunting Flags

One Tentative ID and

Two Positive IDs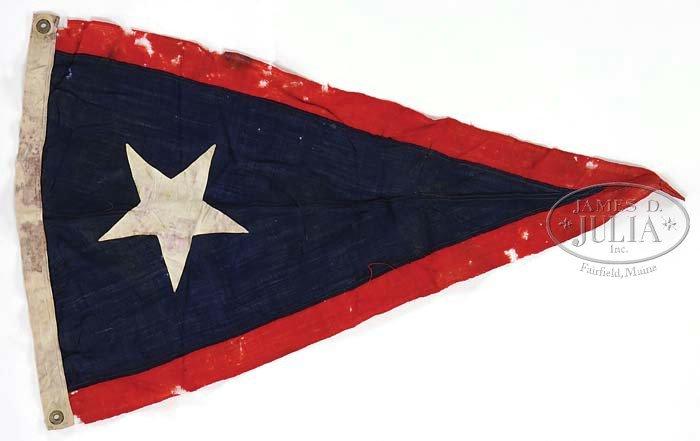 Flag 16a
Flag 16b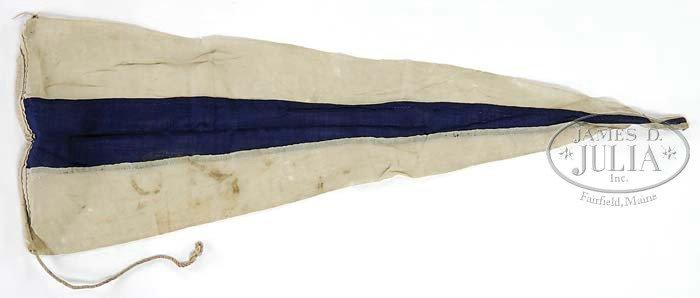 Flag 16c
Images provided by James Ferrigan, 10 February 2010

On 5 Feb 2010, James D. Julia sold at auction Lot 2095, which included three signal flags they claimed are: "Three bunting flags, including a naval designating flag. Naval regulations as to such flags have changed so often we are guessing that these are captain or commander's flags that were flown to show that an officer of that rank was aboard." These are also unknown to me as a part of any US navy signal system of which I am aware.
James Ferrigan, 10 February 2010
In February I submitted several pennants to the list. Several of you shared the difficulty of identifying lone signal pennants, and you were correct. David Prothero, speculated that UFE16c is from the US Navy and he was correct and his remark caused me to look there further.
I think I have identified this flag. In History of the Flag of the United States of America By George Henry Preble, 1880, pp. 671 to 674, this white, blue, white pennant is mentioned several times in orders promulgated in 1865, 1869 and 1870 as "Any officer, not authorized to wear the flag of a rear-admiral, or the broad pennant of a commodore, but appointed by an express order to command a division of a squadron, was to wear a divisional mark, of the size prescribed in the book of allowances (viz. five to eight feet hoist by from four to six feet length of fly), at the masthead, where the pennant is usually worn. These divisional marks were to be triangular in shape, with the middle part of a different color from the rest, in the form of a wedge, the base occupying one-third of the fly. For the first division, blue, white, blue; for the second division, red, white, red; for the third division, white, blue, white."
This is a Distinctive Mark of the US Navy, used by the commander of the Third Division of a squadron. Further research located an image in an 1872 edition of the same volume on p. 466; and although the proportions differ slightly, I am convinced that this is a ship made version of this pennant. It is the mid-19th century equivalent of the modern USN Burgee Command Pennant.
This pennant was sold by James D. Julia Auctions as an unidentified pennant from the Decatur family, one of the most distinguished American Naval families. Now, on to research as to if a descendant of Stephen Decatur may have displayed this pennant.
Jim Ferrigan, 19 March 2010
Note: UFE10-16c is the 3rd Substitute (Repeater) in the International Signal Code (ISC) and also used by NATO ships for the same purpose.
UFE-16a (blue pennant with red border and white star) is the burgee of the Williamsburgh (NY) Yacht Club. UFE-16b (similar with blue and red reversed) has the look of a burgee as well, but I didn't see it when glancing quickly through the 1972 Lloyd's Register of American Yachts.
Joseph McMillan, 4 April 2010
---
10-17. Unidentified Pennant (possibly Dutch)

Positive ID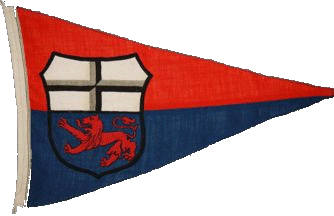 This flag has been identified as a pennant version of the Town flag of Bonn (Flagge Bonn Kernstadt), sometimes referred to as the "Bonn downtown flag."
---
10-18. Royal Visit Banner (South Africa)

Positive ID

Image from Jackie, 20 February 2010
I am hoping you may be able to help me identify this flag. The only information that I have is that it was supposedly used during a royal visit of the British Queen to South Africa. I'm not sure if this is so, and I'm also not sure of its age. I can find no pictures of it on-line.
Jackie, 20 february 2010
That crown sure looks like the one of Saint Edward, and, as I understand it, only the British sovereign is allowed to use it, so this is definitely a Royal British flag. I'm not sure what does the white-yellow banner means, as royal standards have different designs.
Alex Danes, 20 February 2010
This is merely my opinion, but I think it mostly likely that this was just a bit of decorative display for a royal visit, not an actual flag.
Ned Smith, 20 February 2010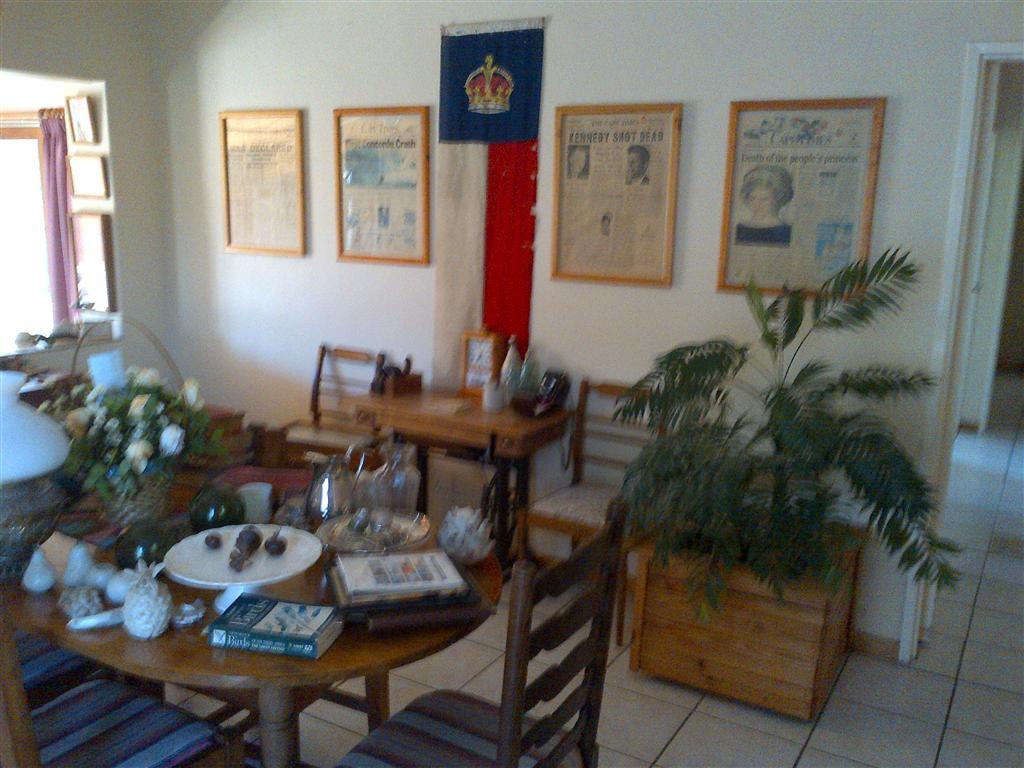 Image from Dave du Preez, 4 November 2013
I have the same flag with vertical colors red and white. It was used as a decoration and draped in front of shops for queens visit! Mine was draped in front of a shop named Northcotes in Kimberly, South Africa. My late mother-in-law was born in Kimberly and her father owned the shop and the flag hung in front of the shop for the visit of the queen! She passed on 3 weeks ago and when the family gathered to divide the household effects we opened up one of the yellowwood kists it was filled to the brim with newspapers, diaries, letters some dating back to the seige of Kimberly in 1899-1900! They are now displayed on this wall. [Notice the framed newspaper headline on the right hand side of flag! It says "Kennedy Shot Dead"]
Dave du Preez, 4 November 2013
---
10-19. Unknown Red Ensign from Down Under

Positive ID
faded original

color-corrected image
This flag has been identified as a New Zealand Signalling Red Ensign (1899) and is now at its proper location.
---
10-20. Unidentified African Muslim Corsair´s Flag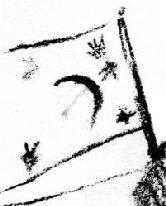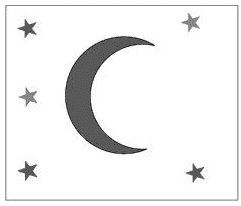 Image from Nuno Rubim, 28 March 2010

Sometime time ago I came across of an ancient painting (black and white) in a 16/17th century building, in a Portuguese coastal town. It is known that for centuries north African Muslim corsairs and pirates infested the Portuguese coast (the Portuguese themselves did exactly the same thing in north-African towns). In that painting it is portrayed what I think is a "Xebec," with a flag which seems to me being a Muslim one. I'm sending you a copy of the drawing and a reconstitution made by myself. Can you give some help in the identification of the flag?
Nuno Rubim, 28 March 2010
---
10-21. Fishy Red Ensign

Some Speculation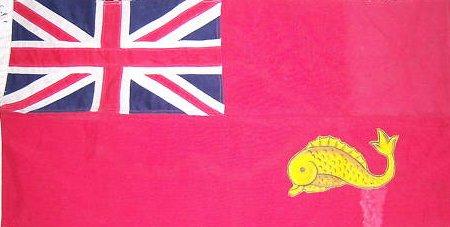 Image from Laird Keir, 10 March 2010

I've come across this ensign and can't manage to identify it, either through my copy of Bartram (indicating it's not current) or by google searching the operative words: red, ensign, yacht, fish.
Laird Keir, 10 March 2010
I think that this (embowed dolphin on a Red Ensign) is an unauthorized defacement. It is not, as you say, current UK. It is not current overseas. It is not among the obsolete yacht club special ensigns that I have ever come across.
David Prothero, 10 March 2010
The ensign might be a former Canadian Coast Guard flag. The current ensign, which we have on our pages, shows two dolphins having nearly the same shape..
Klaus-Michael Schneider, 20 May 2010
Unlikely. If it were it would be a Blue ensign.
David Prothero, 21 May 2010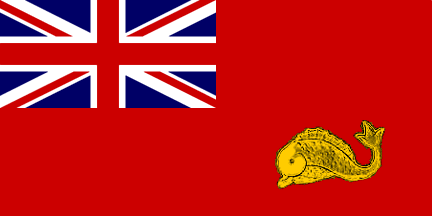 Image by António Martins-Tuválkin, 2 April 2016
A standard image for our site. Sadly I can offer nothing to help identify the flag, though.
António Martins-Tuválkin, 2 April 2016
The badge is the same as that of Poole Harbour Yacht Club, but that club has a warrant for a Blue Ensign defaced with the badge of the club.
David Prothero, 2 April 2016
That may well be, but that's not enough to identify the flag. Apparently the pre-war club didn't get a red ensign with the charge, they wanted, but would they have used it anyway? At a distance, would this dolphin(?) look like a crown?
Peter Hans van den Muijzenberg, 9 April 2016
---
10-22. UFE at Low Head Pilot Station

Positive ID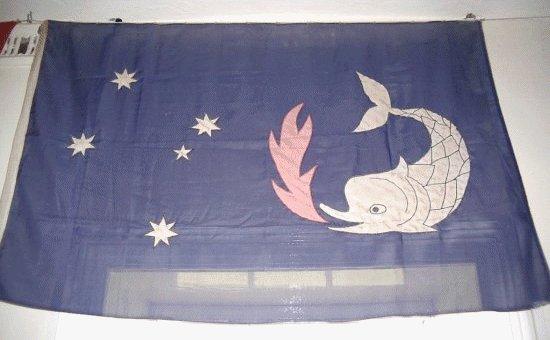 Image from Aleksandar Nemet, 13 March 2010

This interesting flag is displayed at the Low Head Pilot Station Museum (Tasmania, AU). Anybody know anything about it?
Aleksandar Nemet, 13 March 2010
The ensign at the Low Head Pilot Station is the house flag of Oceangas Services Australia Pty. Ltd..
Neale Rosanoski, 20 March 2010
---
10-23. Red and Blue Swallowtailed Pin

Some Speculation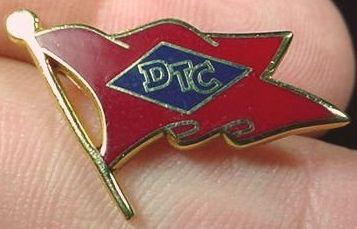 Image by Richard Hall, 29 March 2010
I have spent hours searching for the ID of this enamel flag shaped pin. It has a red swallowtail field with a blue diamond in the middle with the letters "DTC" inside.
Richard Hall, 29 March 2010
Could this be another spin-off from the defunct Deutcher Touring Club DTC (UFE06-21) that Richard discovered in his research?
Pete Loeser, 9 April 2010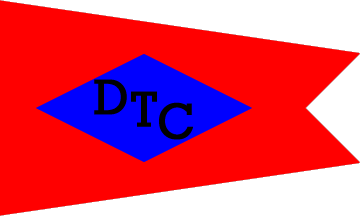 Image by António Martins-Tuválkin, 18 April 2016
All I can offer is a standard image, but no substantive information to help identify it. It is a red burgee (i.e. - a tapering flag with forked fly) with black capitals "DTC" on a centered blue lozenge. The letters are demi-bold with slab-serifs and constant thickness, and set in slanted descending alignment.
Looking at the original image, as much as it is possible to extract construction specs from an obviously stylized representation of a fluttering flag, I used the following conjectural measures for the attached: The lozenge is twice wider than high and its width is the same as the hoist height; it is centered on a vertical axis distant off the hoist 2/3rds of the flag's maximum height. The overall ratio of the flag (i.e. - of its inscribing rectangle) is 3:5, and the two fork tips are the midpoints of each horizontal half of the hoist height, the concave angle between them being orthogonal and symmetrical to the flag shape.
António Martins-Tuválkin, 18 April 2016
Might be a newer flag of "Deutscher Touring Club&quot, but I am not sure.
Klaus-Michael Schneider, 21 April 2016
---
10-24. Unknown Merchant Ship Flag

Positive ID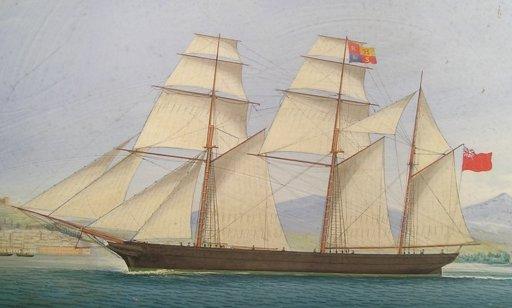 Image by Mike Turner, 20 April 2010

I'm searching for identification of a ships flag on a painting entitled "BEZALEEL H MORGAN MASTER ENTERING SMYRNA BAY 1864." The flag in question is quartered: Top left, red with Letter R in yellow; Top right, yellow with Letter H in red; Bottom Left, Blue with unknown symbol (fish?) in yellow; Bottom right, Red with letter S in yellow. The ensign at the stern is a Red Ensign. Are you able to help?
Mike Turner, 20 April 2010
The painting is by Raffaele Corsini, a mid-19th century Turkish painter well known for his nautical paintings. Most of his titles are in the form "Ship's name, master's name, entering Smyrna Bay, year". Unfortunately, a search for the Bezaleel and its master, H Morgan, drew a blank. As to the flag, this is a complete guess, but it's interesting that the colours and pattern are very similar to the British Royal Standard. The "R" could easily stand for "Royal."
James Dignan, 20 April 2010
This could be the sailing ship "Bezaleel" built 1856 at Salcombe of 200T gross and 188T net which was wrecked 30 January 1884, when owned by William Mackay of Greenock and under master William Francis Weymouth. If it were the same vessel the flag could indicate previous owners and possibly the unknown symbol in the 3rd quarter could be an ampersand which would be more logical to my thinking.
Neale Rosanoski, 12 May 2010
I found the following record in the British National Archives:
Bezaleel (6777) 1976/Bezaleel/6777 1863
[no title or ref.] 1863
These documents are held at Devon Record Office

Bezaleel
Registered Port: Plymouth, Devon
Tonnage: 204
Master(s): Morgan
Owner(s): Hockins
A bit of further research proved that the owner was a Plymouth based shipyard company as found on Hocking Brothers' shipyard at Stonehouse Creek
"One of the best known ship builders from that era was Messrs Richard and William Hocking, of Stonehouse Creek. The brothers were both Master Ship Builders and came from Cornwall. Another brother, Hugh, was born in East Stonehouse and was working with Richard in 1851. They was building vessels from 1823 until 1877 and also owned many clippers engaged in the tea trade from China. In 1871 they built the hull for a new Torpoint ferry. Mr Richard Hocking died at Whitehall, Stonehouse, on Thursday December 4th 1873. He was 69 years old."
I therefore think we can safely assume that the Bezaleel was one of the Hocking Brother's tea clippers, and that the "R H & S" refers to "Richard Hocking and sons," a usual way to define a company name back in the 19th century Britain.
Chris O'Prey, 23 September 2010
---
10-25. Red, White and Blue with a Single Star

Positive ID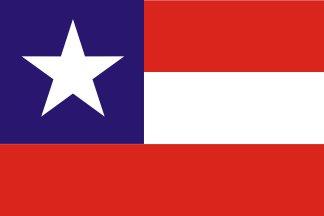 Speculative Image by Rob Raeside, 27 April 2010

I recently came across a picture of a flag that I cannot identify. I will try and describe it to you. The flag resembled an older version of an American flag but was not quite the same. It had three stripes lay horizontally with a red on top a white in the middle and another red at the bottom. On the far left upper corner was a blue filled quare -like the American confederate flag of 1861- but instead of having 12 stars, or 13 stars it only had one big single white star in the middle of the blue. I cannot find the origin, or even pictures of this flag anywhere, and am not even quite sure if it is American. It may have resembled Canadian, French or even British origin. Please, if you could help it would be very helpful.
James Schizoidman, 27 April 2010
I provided a speculative illustration of it (above) and asked him about where he saw it. It doesn't sound like it is a painting.
Rob Raeside, 27 April 2010
Yes, that is what it looked like. I honestly do not have any more information on this flag. I am trying to remember it from memory, but your design is what I saw. It is quite possible that this flag doesn't exist, but I am sure this was it. The only other thing I can remember is that it may have had something to do with World War II. Not sure on that though. Sorry, It was a long time ago, I do not have any information on it. Is it real or has my memory deceived me?
James Schizoidman, 27 April 2010
This is wild speculation rather than anything concrete, but the flags of the two main political parties in Honduras are an Austria-like red-white-red striped flag and a blue flag with a single white star. The flag you describe is a perfect combination of the two. It may be a pure coincidence, or it may be that what you have is some kind of Honduran political flag.
James Dignan, 27 April 2010
It also might be a variant of the Confederate First National "Stars and Bars."
Pete Loeser, 28 April 2010
At least one surviving CSA Flag generally meets this description, that of the 25th Virginia Regiment. In addition to the design described, however, the star was encircled with the word "VIRGINIA."
Dave Martucci, 29 April 2010
A flag like this, but with "Virginia" below the star, was captured at Phillipi in Western Virgina in 1861. I forget the unit it was offhand.
Greg Biggs, 30 April 2010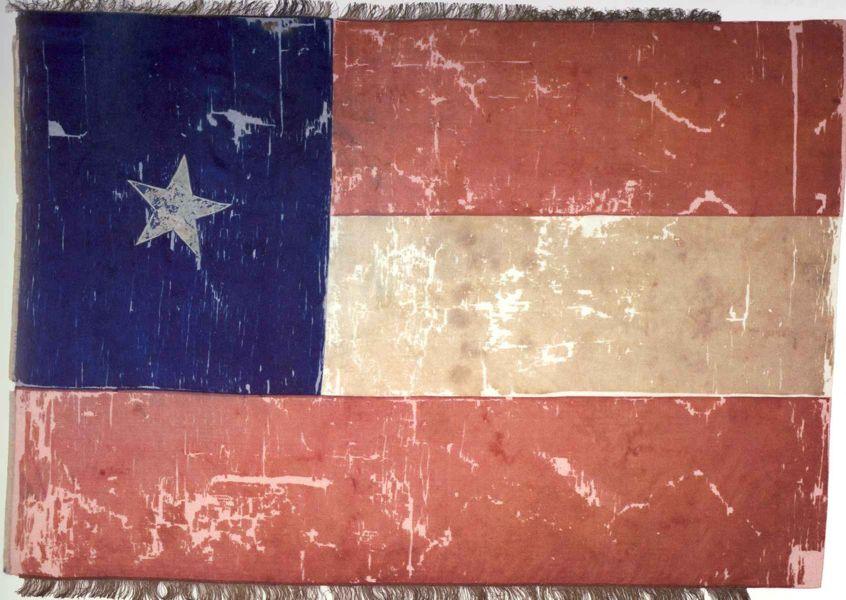 This is the flag of the "Volunteers of the Fifth Infantry Regiment, Hood's Texas Brigade," shown on the Center for Texas Studies website. According to them, the Fifth Infantry Regiment "...had this flag made in 1861 in Richmond, Virginia. A variant of the Confederate First National Flag, Republic of Texas, the volunteers of the Fifth Texas developed great affections for what they referred to as their 'lone-star flag'."
Peter Hans van den Muijzenberg, 5 July 2010
---
Anything below the following line isnt part of the Flags of the World Website and was added by the hoster of this mirror.
---
Bei fahnenversand.de erhalten Sie eine Vielzahl an günstigen Flaggen, Pins und Aufnähern, zum Beispiel: