---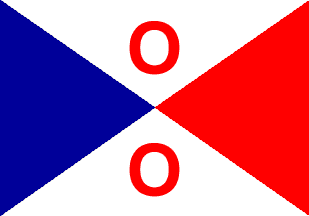 image by Joe McMillan
Occidental and Oriental Steamship Co, San Francisco (1874-1908)
The O&O was organized by the Central Pacific and Union Pacific railroads in response to the refusal of the Pacific Mail Steamship Company (then the dominant firm in the trans-Pacific trade) to handle cargoes from the newly completed transcontinental railroads. (Pacific Mail's owners also owned the Panama Railroad, whose business was threatened by the direct lines across the United States.) The O&O was originally operated under the British flag and manned by Chinese crews with British officers. O&O gave the better-established Pacific Mail several decades of stiff competition, but in 1893 both companies were acquired by the Southern Pacific Railroad. Southern Pacific merged the businesses, but retained the O&O trade name and flag until 1908. The flag was divided per saltire, blue in the hoist and red in the fly, with the upper and lower quadrants white, each inscribed with a red O. Not to be confused with the similarly named but much later Oceanic and Oriental Navigation Company.
Source: 1908 supplement to Flaggenbuch (1905)
Joe McMillan, 7 November 2001
---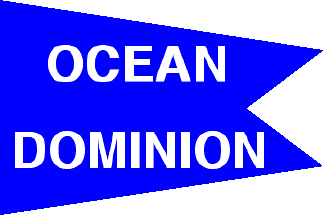 image by Ivan Sache, 18 March 2004
Ocean Dominion Steamship Co. Apparently this was an American company. According to an article in the May 1998 Marine News it was one of the services operated by the Aluminium Company of America for the bauxite trade from British Guiana to Canada from the 1920s. In 1940 it, together with the fellow companies Aluminium Line and the American Caribbean Line, were consolidated into Alcoa Steamship Co. Other sources refer to it as the Ocean Dominion Steamship Corporation with Talbot-Booth in his 1942/1944 Merchant Ships editions still noting it independently with no reference to Alcoa.
Neale Rosanoski, 26 February 2004
---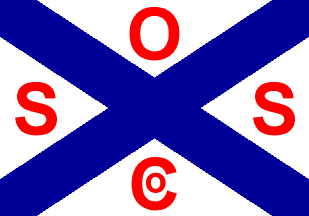 image by Joe McMillan
Ocean Steamship Company of Savannah (Savannah Line), Savannah, Georgia (1867-World War II)
A coastal passenger and freight line serving the southeastern United States, owned by the Central of Georgia Railway to feed freight to the railway's Savannah terminus. The flag was white with a blue saltire between the initials O, S, S, and Co in red.
Sources: Lloyds 1912, Talbot-Booth (1937), www.steamship.net (no longer available)
Joe McMillan, 7 November 2001
---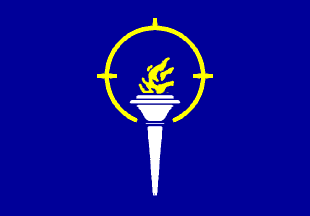 image by Joe McMillan
Ocean Transportation Co, New York
I know nothing about this company, but the flag was blue with a white torch with yellow flames, the upper part surrounded by a yellow circle and three short lines apparently representing rays.
Source: US Navy's 1961 H.O.|
Joe McMillan, 7 November 2001
This flag is the house flag of Maritime Overseas Corporation. They have/had big US and foreign fleet including tankers and bulk carriers.
Bob Engebretson, 19 December 2010
---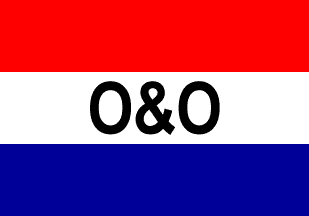 image by Joe McMillan
Oceanic and Oriental Navigation Co, San Francisco (1928-1938)
The Oceanic and Oriental (not to be confused with the similarly named Occidental and Oriental) was a joint venture by Matson Navigation Co. subsidiary and the American-Hawaiian SS Co. It was created to take over the operation of government-owned freighters in transpacific service from the financially troubled Swayne and Hoyt Company. Oceanic-Matson managed the ships operating from California to Australia and New Zealand while AHSS managed those going to China. Heavy government subsidies were not sufficient to keep the OONC in operation, however, and the line was disbanded in 1938. The flag was a red-white-blue horizontal tricolor with the initials O&O in black on the center stripe.
Source: National Geographic (1934)
Joe McMillan, 7 November 2001
---
Oceanic Steamship Company (Spreckles Line), San Francisco (1878-1976)
This company operated from California to New Zealand and Australia via Hawaii. It had its roots in a fleet of sailing vessels created in 1878 by Claus Spreckles, then a major sugar planter in Hawaii, to move raw sugar to his refinery in California. He switched to steam in 1881 and incorporated the Oceanic Steamship Company to operate his new ships under the Hawaiian flag (reflagged under the US flag when Hawaii was annexed in 1898). The large steamers gave him more cargo space than he needed for sugar, so he expanded into merchant shipping more generally. The line was economically dependent on trans-Pacific mail contracts from the US government, which at the time were awarded through a political process by act of Congress. Oceanic thrived when it had the contracts but fell into economic problems when it didn't. Meanwhile, the Spreckles family's position in the sugar business was overtaken by other firms, calling into question the basic reason for the shipping company's existence. As a result the line was sold to Matson Navigation Co. in 1926 and operated as a Matson subsidiary thereafter. I have found two flags; based on the dates of the sources, I would speculate that the change of flags coincided with the purchase of the company by Matson.
Sources: Lloyds 1912, Wedge (1926): white with a red border, and on the center a red star within a blue circle (or letter O).
National Geographic (1934), US Navy's 1961 H.O., Stewart & Styring (1963): divided horizontally red over blue, on the center a white diamond with a blue circle (or letter O).
Joe McMillan, 7 November 2001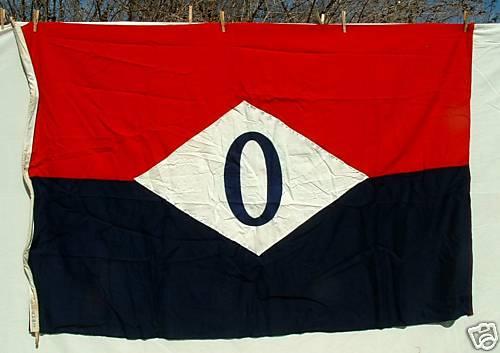 image located by James Ferrigan, 12 March 2009
Image of an actual flag offered for sale on eBay.
James Ferrigan, 12 March 2009
---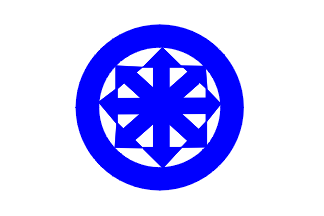 image by Jarig Bakker, 15 October 2005
Offshore Logistics International, Inc., Lafayette, LA - white flag, blue circle, containing 4 blue double-pointed arrows.
Source: Loughran (1995)
Jarig Bakker, 15 October 2005
---

image by Joe McMillan
David Ogden (Red Cross Line), New York (ca. 1850s)
From the design of the flag (a red St. George's cross on white), this was also known as the St. George Line. It was operating between New York and Liverpool by at least 1851 and was probably the fourth or fifth largest US-flagged carrier of Irish immigrants in the mid-19th century.
Source: chart of "Private Signals of the Merchants of New York", www.pem.org
Joe McMillan, 8 November 2001
---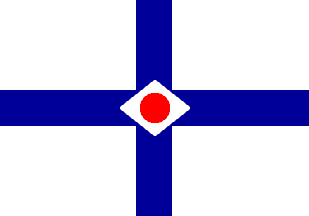 image by Joe McMillan
John Ogden Pioneer Line, New York (ca. 1850s)
This line operated primarily between New York and San Francisco during the California gold rush years. It later added service to Australia when the gold rush there began. The flag was white with a blue cross, and on the center a small white lozenge bearing a red disk. (Note the similarity of this flag to that of the Australia Pioneer Line of R. W. Cameron).
Source: chart of "Private Signals of the Merchants of New York"
Joe McMillan, 8 November 2001
---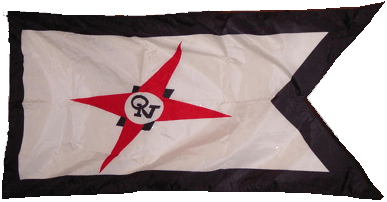 image located by Jan Mertens, 15 September 2005
The Oglebay Norton house flag (see this web page, third row, second flag) is a white swallowtail with a large black border; in the centre of the flag is a small black slanted rectangle on which is placed an equally slanted red four-pointed star with a white disk in its centre bearing black interwoven letters 'O' and 'N'.

We already learned that in 2002, American Steamship and the Oglebay Marine Services Company formed the United Shipping Alliance; as far as the number of ships was concerned both partners were of almost equal strength. This is the concern's website http://www.oglebaynorton.com/.

"Oglebay Norton has been active in the industrial minerals industry since our inception as an iron ore agency in 1854. The company entered into Great Lakes shipping in the 1920s, docks and terminals in the 1930s and other industrial minerals in the 1960s. Beginning in the late 1990s, we engaged in a series of acquisitions in order to capitalize on our core competencies in industrial minerals as well as to expand our scope of operations to include the mining and processing of limestone and the production of lime." A few years ago bankruptcy threatened but the Cleveland, Ohio based concern managed to avoid this and as far as I know it still operates ships.

Jan Mertens, 15 September 2005
On this page, just above the second picture, is a much better description: "a new design with what Ogelbay Norton refers to as its offset compass trademark on their stacks". So that's what it is!
Jan Mertens, 21 September 2005
With the sale of the fleet the Oglebay Norton flag – at least its waterbound use – has met its end (see the `News' section of the company homepage (18 Jan., 13 Feb., 12 May, 6 June, and 1 Aug. 2006 messages, respectively) at http://phx.corporate-ir.net/phoenix.zhtml?c=85957&p=irol-news. Done to "retire debt", the ships were sold to K&K Warehousing owned Integrated Shipping (two), American Steamship (six), and Wisconsin & Michigan Steamship Co. (three). A long-term freight contract and other agreements were signed with Lower Lakes Transportation Co. which now also operates the Wisconsin & Michigan vessels.
Jan Mertens, 21 November 2006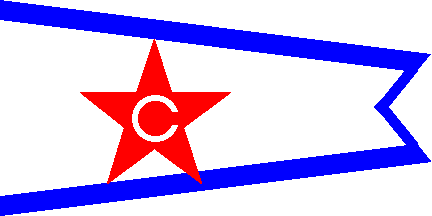 image by Ivan Sache, 17 October 2005
The house flag of – to give it its full name – the Columbia Transportation Division of the Oglebay Norton Co. can be seen on this page. The flag is a tapering swallowtail, edged blue (except at the hoist) and bearing a large red five-pointed star with a white letter 'C'. The upper and lower parts of the bordure do not get thinner towards the fly but the part bordering the swallowtail's tongues is markedly so. Also, the star's upper and lower points (i.e. three out of five) slightly encroach on the upper and lower bordure.

A bit of history gleaned from following http://www.bgsu.edu/colleges/library/hcgl/glms0047.html:
Established by Oglebay Norton in 1920 in order to have its own ore transport fleet, local shipping companies being too small, too slow, and operating at different rates. Named after the first vessel to use the Soo Locks in 1855, the Columbia Steamship Co. was later to be named Columbia Transportation Company the peak period of which was 1940 and following years when about two dozen ships were active. In 1995 – the division had eleven large ships then – it became the Oglebay Marine Transportation Co.

Jan Mertens, 21 September 2005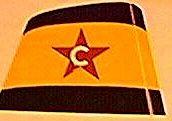 Image from Char, 28 June 2005
I was wondering if you would be able to help me identify this ocean liner/ships logo. I appreciate any help that you would be able to provide. (The file name was b137.jpg, in case anyone can find that in a listing.)
Char, 28 June 2005
This looks to be the old marking for the Columbia Transport Company out of Cleveland, Ohio, a company that sailed ships on the Great Lakes. This marking was phased out a few years ago and replaced with a new marking when the company consolidated its operations under the parent company: Oglebay Norton. The coloring of the new logo remained the same though. One very famous ship that sailed under the Columbia marking was the Edmund Fitzgerald. This boat sank in a terrible gale on November 10, 1975, will all 29 sailors lost. I have attached sketches of both the Columbia Transport logo and the newer Oglebay Norton logo for comparison.
David Marvin, 5 August 2005
In line with David's suggestion this was the funnel of Columbia Shipping Co. which later became Columbia Transportation Co being a subsidiary of Oglebay Norton & Co. with the group merging into the single entity of Oglebay Norton Co. in 1957. Their flag is shown under Oglebay Norton Co. on the page House Flags of US Shipping Companies: O.
Neale Rosanoski, 25 October 2008
---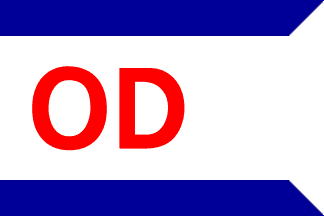 image by Joe McMillan
Old Dominion Line, New York (1867-WWII)
The Old Dominion Line was the post-Civil War successor of the earlier New York and Virginia Steamship Company, which had been founded in 1850. It provided service between Norfolk and New York. The name comes from Virginia's nickname, "the Old Dominion," a reference to the colony's loyalty to the Stuarts during the English Commonwealth period. After 1923, the Old Dominion Line was a subsidiary of the Eastern Steamship Co. The flag was a white swallowtail with blue upper and lower edges and the initials OD (sometimes shown with periods after the letters) in red on the center.
Sources: Manning (1874), Lloyds 1912, Wedge (1926), www.steamship.net (no longer available)
Joe McMillan, 8 November 2001

located by Jan Mertens, 12 October 2005
I landed on this page a short while ago showing the house flag of ODL with dots after the initials (zoom feature). In the advertisement, the firm is named 'Old Dominion S.S. Company' proposing return trips to Old Point Comfort or Virginia Beach. Appeared in the July, 1895 Cosmopolitan.
Jan Mertens, 12 October 2005
---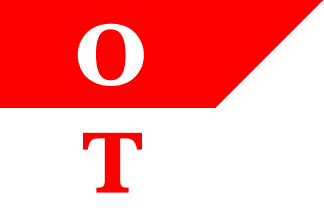 image by Joe McMillan
Olyphant, Talbot & Co, New York
One of the three or four most important companies in the mid-19th century China trade, this was the parent company of the well-known Olyphant & Co of Canton, whose offices were called "Zion's Corner" because of the firm's refusal to deal in opium--the only major trading house at the time not to do so. The house flag of the shipping firm was a red over white swallowtail with the countercolored letters O and T.
Source: chart of "Private Signals of the Merchants of New York"
Joe McMillan, 8 November 2001
---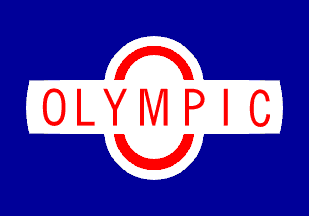 image by Joe McMillan
Olympic SS Co, Seattle
A small line (only four ships as of 1949) in the Pacific Northwest. The name undoubtedly has nothing directly to do with Greece but rather from the Olympic mountains of Washington state. The flag somewhat resembles that of the Standard-Vacuum Oil Company. It is blue with a white area inscribed with the company name surmounting a large letter O all in red.
Sources: US Navy's 1961 H.O., Stewart & Styring (1963), Styring (1971)
Joe McMillan, 8 November 2001
---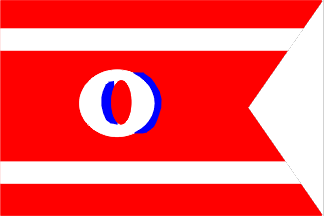 image by Jarig Bakker, 17 September 2005
O.M.I. Corp., New York - red-white-red-white-red swallowtail; in center white "o" shaded blue.
Source: Loughran (1995)
Jarig Bakker, 17 September 2005
---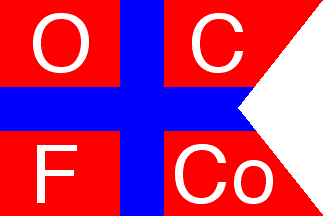 image by Ivan Sache, 16 October 2005
The house flag can be seen at http://members.aol.com/trackdogs/nautical.htm. Flag is a red swallowtail with blue cross throughout, white letters in upper hoist: 'O', upper fly: 'C', lower hoist: 'F' and lower fly: 'Co'.

"Jointly owned by the Buffalo Rochester & Pittsburg Railway (B&O) and the Grand Trunk Railway (CNR), the company operated two boats between Rochester, New York and Cobourg, Ontario. Both boats were named......Ontario." In fact the boats carried coal; ferries they became later, but in all they were active between 1907 (first boat) or 1915 (second boat) and 1950. The company itself was founded in 1905.

From a book blurb (Ted Rafuse: "Coal to Canada" A History of the Ontario Car Ferry Company):
Quote: "Coal to Canada traces the story of shipping coal from western Pennsylvania mines to destinations throughout central Ontario. From the ferry slip at Genesee Dock, N.Y., hopper rail cars of coal were loaded onto the Company's two ferries and transported across the lake to the ferry apron at Cobourg, Ontario. The demand for railway and commercial coal kept Ontario No.1 and Ontario No.2 sailing across Lake Ontario daily and throughout the entire year. In the summer months hundreds of passengers boarded the ships for memorable daytime or moonlight excursions on Lake Ontario."

Additional information (how it was in 1936) at http://www.rnews.com/Story.cfm?ID=18238&rnews_story_type=18.

Jan Mertens, 10 October 2005
---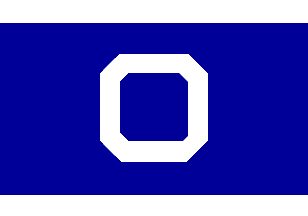 image by Joe McMillan

Ore SS Co., New York (1927-1976)
See also: Calmar SS Co., New York (pre-World War I through post-World War II) )
These two companies were subsidiaries of the Bethlehem Steel Company, the second largest in the United States and, at the time, the second largest in the world. Like US Steel, Alcoa, and other companies, Bethlehem found general shipping companies unresponsive to its needs. Ore was a purely proprietary company that carried only Bethlehem cargoes--ore to the mills and steel to markets--while Calmar operated between the Atlantic and Pacific coasts, taking steel products westbound and lumber eastbound. By the late 1940s, Bethlehem operated not only these but three other steamship companies. After closing down Calmar in 1976, Bethlehem still operated one remaining carrier, the Interocean Shipping Company, until 1986. Both Calmar and Ore flew blue flags with white upper and lower edges and the company initial, "C" or "O" in white stencil-style block letter.

Source: Stewart (1953)

Joe McMillan, 7 September 2001
---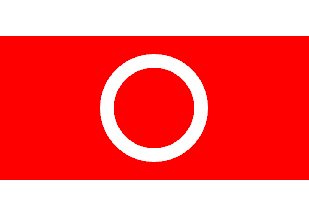 image by Joe McMillan
Oriental Exporters, Inc.
I have nothing on the company. The flag was red with white stripes along the upper and lower edges and a white O on the center.
Source: Styring (1971)
Joe McMillan, 9 September 2001
OMI Corporation claims to be a corporate descendant of Oriental Exporters. See www.omicorp.net and click on the "About Us" button (also note that since 1998 they have not operated US flagged ships). You can see at their website that OMI's funnel markings and logo are based on the Oriental Exporters' houseflag.
Unfortunately I was unable to find an image of the actual OMI houseflag in use.

Ned Smith, 11 November 2001
---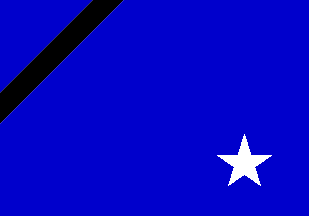 image by Joe McMillan
Orion Shipping & Trading
I believe this was a relatively small tramp operator. The flag is interesting and unusual: medium blue with a black diagonal stripe across the upper hoist and a white star in the lower fly.
Sources: Stewart (1953), US Navy's 1961 H.O.
Joe McMillan, 9 September 2001
---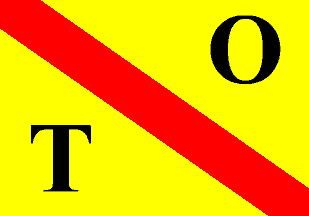 image by Joe McMillan
Thomas Owen & Co, New York
As with other flags from "Private Signals of the Merchants of New York", mid-19th century but no other information. A yellow flag with a red stripe from upper hoist to lower fly between the letters T and O in black.
Source: chart of "Private Signals of the Merchants of New York"
Joe McMillan, 9 September 2001
---
US shipping lines house flags - 'P' continued
Anything below the following line isnt part of the Flags of the World Website and was added by the hoster of this mirror.
---
Bei fahnenversand.de erhalten Sie eine Vielzahl an günstigen Flaggen, Pins und Aufnähern, zum Beispiel: