Bestellen Sie Ihre Fahnen / Flaggen im Flaggen-Shop bei fahnenversand.de

Diese Website beschäftigt sich mit der Wissenschaft der Vexillologie (Flaggenkunde).
Alle auf dieser Website dargebotenen Abbildungen dienen ausschließlich der Informationsvermittlung im Sinne der Flaggenkunde.
Der Hoster dieser Seite distanziert sich ausdrücklich von jedweden hierauf u.U. dargestellten Symbolen verfassungsfeindlicher Organisationen.

---
This is a mirror of a page that is part of © FOTW Flags Of The World website.
Anything above the previous line isnt part of the Flags of the World Website and was added by the hoster of this mirror.
Unidentified Flags or Ensigns (2012) - Page 1
Flags submitted in 2012 - Page 1 of 5
Last modified: 2023-11-25 by

zachary harden
Keywords: ufe | unidentified flags |
Links: FOTW homepage | search | disclaimer and copyright | write us | mirrors

---
Please note our Policy for Submissions and Enquiries.
Below is a series of images of flags that have been provided to FOTW; some we have recognized, and some we have been unable to recognize. If you can help us identify any of these flags, please let us know! Contact the: UFE Editor.
Identification Key:
= Positive ID (Positive Identification)
= Tentative ID (Tentative Identification)
= Some Speculation
Unidentified Flags on this Page.

Unidentified Flags on Page 2:

Unidentified Flags on Page 3:

Unidentified Flags on Page 4 :

Unidentified Flags on Page 5:

Unidentified Flags on other pages
---
12-1. UK Royal Standard displayed with uniform

Tentative ID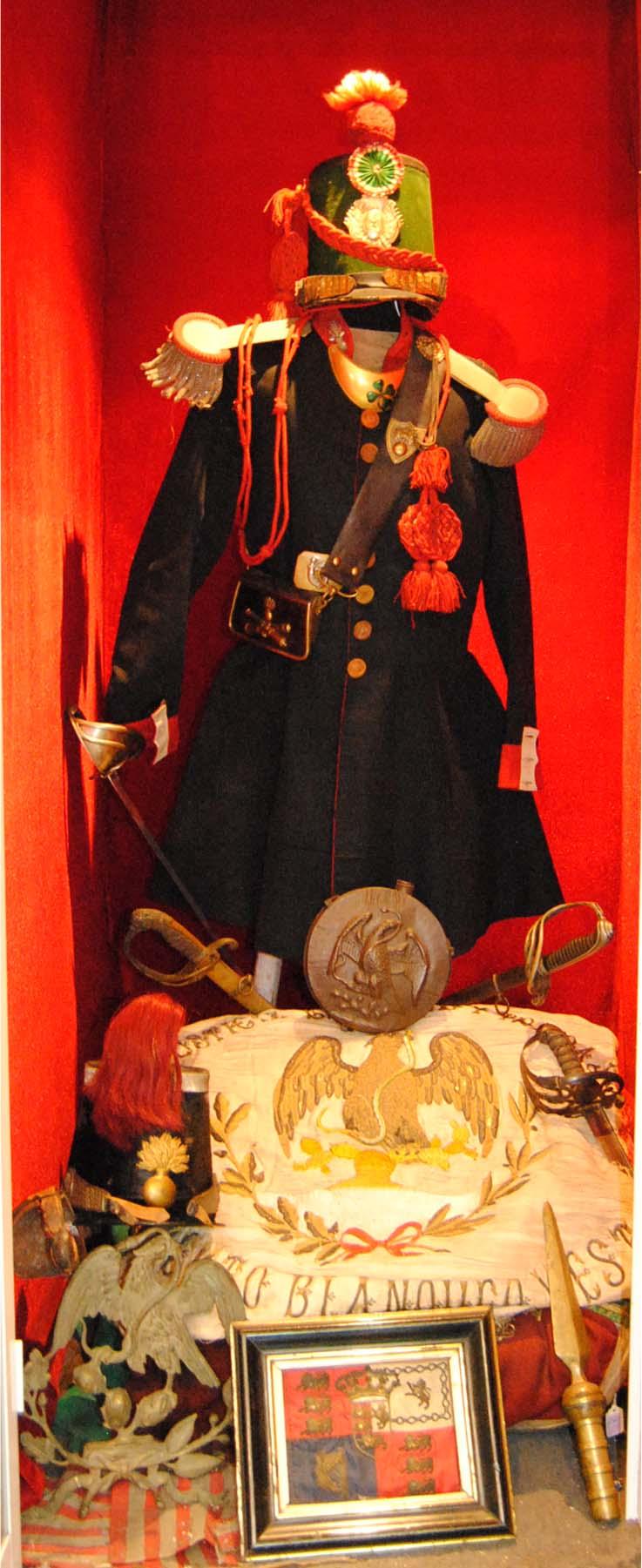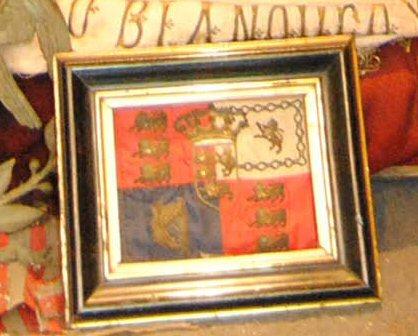 Image from Juanito C, 18 January 2012
[close-up provided by UFE Editor]
While searching the web, I came across Spanish website which dealt with Military stuff from the time of the 2nd Mexican Empire and the Mexican-American War (1846-1848), and while I looked through the images I saw one uniform of the Saint Patrick's Battalion in which they show a UK Royal Flag which I'm guessing is from the House of Hanover pre-Victoria, but can't be to sure because of the image quality of the flag itself.
Juanito C, 18 January 2012
At first glance it appears to be an 1801 - 1837 British Royal Standard with the inescutcheon of Hanover (although difficult to be sure of which version), however (and I could be wrong in this), the second quarter does not appear to contain the lion rampant of Scotland with double border, but rather the lion of Leon and chains of Navarre? The details of the inescutcheon are unclear as well, so that might not actually be (at least accurately) Hanover?
Christopher Southworth, 18 January 2012
I think this was George III's royal standard, in use from 1816 to 1820 according to the crown. Prior to 1816, there was no crown, but an electoral cap. But this standard was also used by his successors George IV and William IV, so we can't be sure.
Corentin Chamboredon, 18 January 2011
A very reasonable conjecture, IMHO. But another point which I find puzzling is why an Irish Catholic emigre unit would be associated with a British Royal Standard.
Ned Smith, 18 January 2012
I didn't notice that. This is indeed surprising. Maybe this flag has been realized in Mexico and its maker were not very familial with British heraldry... A misunderstanding of what a double treasure is, perhaps?
Corentin Chamboredon, 18 January 2012
It is difficult to tell from that image, but you could well be right about it being Hanoverian - though not necessarily pre-Victoria. It is very similar to the arms of Britain's King George III, which had the arms of Hanover on an escutcheon surmounted by a royal crown, as in this flag (divided in three, with two lions to the left, a blue lion on yellow upper right, and a white horse on red in base) - several; of his descendants also used similar arms (including George V of Hanover and his son Ernest Augustus II). One quibble, though, would be that these arms would have a smaller escutcheon in the centre of the larger, showing a gold crown on red. There doesn't seem to be any sign of that on the flag.
James Dignan, 18 January 2012
I believe it represents the Royal Standard of the House of Hanover and can be seen on Wikipedia as the Royal Standard from 1814 to 1837. I'm pretty sure that it is the same flag represented on the picture sent by Juanito.
Fihey, 13 September 2012
After 1837, the King of Hanover was Ernest Augustus, Duke of Cumberland. His arms were the British Royal Arms, three point label, two St George cross and one blue fleur-de-lis, the Hanover escutcheon, but with no Charlemagne crown escutcheon on the Hanover escutcheon.
The flag in the glass case appears to have no Charlemagne crown escutcheon. The crown at the top of the escutcheon is continental rather than British. This makes sense, since the crown is that of Hanover, not Britain, and may be the type of crown that appeared on British Royal Standards made between 1815 and 1837. That said, I think that the flag can't be identified for sure without finding a connection between the Batallon de San Patricio and the House of Hanover.
David Prothero, 17 September 2012
---
12-2. Yacht Club Burgees 2 Positive IDs Some Speculation

#2a

#2b

#2c


#2d



#2e

#2f

#2g


Images from John McDonald, 22 January 2012
Attached are images of some Yacht Club Burgees presented to our Howth Yacht Club by visiting sailors. Can you identify any of the Burgees for me please? Many thanks in anticipation.
John McDonald, 22 January 2012
I believe the basis for #2a is the San Raphael Yacht Club burgee. You might want to ask them whether they had a golden jubilee burgee?
Peter Hans van den Muijzenberg, 13 February 2012
Three naval crowns? Who would use three naval crowns? Hm, let's try and narrow things down a bit (on #2d): Which countries actually use naval crowns?
Peter Hans van den Muijzenberg, 16 February 2012
Number #2d flag is Burgee of the Cofradia Nautica del Pacifico, Chile.
Aidan Henry Sutton
---
12-3. Flag on a Brooch Some Speculation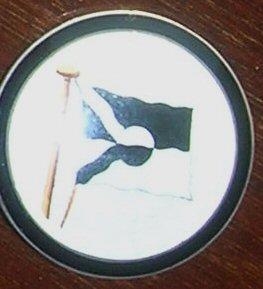 Image from Sue, 22 January 2012
I came across your page whilst trying to identify the flag on a brooch. Does it look familiar or can you put me in the right direction on how to identify it? I presume its a nautical one as it came from the Isle of Wight.
Sue, 22 January 2012
Vaguely familiar, but that's not going to help much. Let's at least notice that it's not a two-colour drawing: The staff uses several colours. So, these really are the colours it's supposed to be in.
Peter Hans van den Muijzenberg, 16 February 2012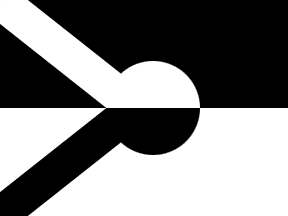 Image by António Martins, 6 March 2016
It has to be celebrated one of the few times we come across a flag depicted on a color plate which is actually a plate in the most usual meaning of the word. I have nothing to add after Sue's report and Peter Hans' comment, but a standard image, and a tentative description: Seems to be a somewhat squarish flag, around 3:4; a horizontal bicolor of black and white with conterchanged elements: a hoist chevron (with eight sides, i.e. tagent to both the upper and lower edges of the flag and also the hoist, its limits equidistant from the hoist side hemidiagonals; its thickness around 1/6th of the flag's height) and a centered disc (its diameter around 3/7ths of the flag's height); the chevron extends to meet the hoist side edge of the disc with its concave vertex; there's no division line marking the overlapping area.
António Martins, 6 March 2016
---
12-4. Five Unknown Shipping Company Flags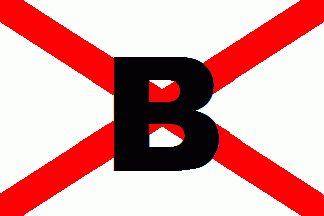 #12a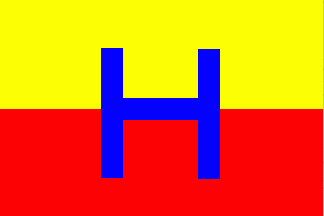 #12b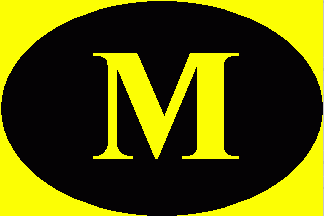 #12c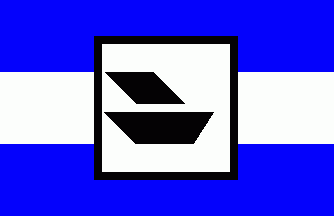 #12d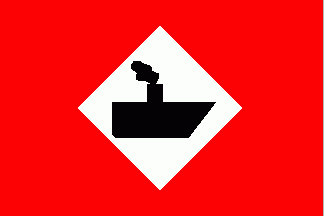 #12e
Images from Klaus-Michael Schneider, 30 March 2012

While walking along the dyke of Billwerder on 6 November 2010, I found seven flags on ships. Two of them I was able to identify, but five remained a mystery. Any of these look familiar?
- Flag #12a: A White flag divided by a red saltire superimposed by a black capital "B".
- Flag #12b: A Yellow over red horizontal bicolour with a big, blue capital "H" in its centre.
- Flag #12c: A Yellow flag with black ellipse touching all edges. In the ellipse is a yellow capital "M".
- Flag #12d: A red Flag with a white diamond in its centre containing a black steaming ship.
- Flag #12e: A blue over white over blue horizontal triband. In the centre is a white square fimbriated black. In the square is a black ship. Looks somewhat like a Rhenus flag.
Klaus-Michael Schneider, 30 March 2012
---
12-5. A Kuwaitian Political Party Flag? Some Speculation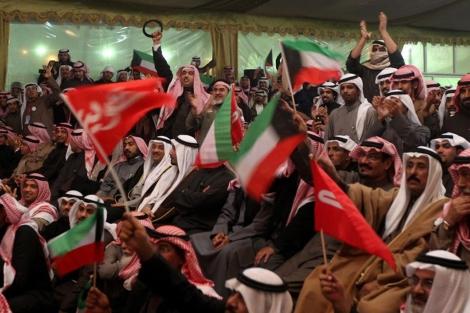 Image from Santiago Dotor, 2 February 2012
I just read an article La 'primavera' permanente de Kuwait in the news which show Kuwaitis "at a political rally of an opposition party" waving the national flag and another flag which is red with white arab characters. Maybe a political party flag? Maybe the former flag, as some kind of statement?
Santiago Dotor, 2 February 2012
I find this picture extremely interesting, has the "Arab Spring" arrived in Kuwait? In Kuwait there have been no officially political parties, but have they arrived "de facto" anyway, complete with party flags? This picture would indicate that indeed they have. In recent years, we have seen political disagreement between the government, outspoken deputies, and the public cause the Emir to dissolve the National Assembly several times, and popular protests like this one pictured have become more common. Perhaps a time has come in Kuwait that we will see the formation of official political parties and with them, a rich and fertile field for new (and some old) political flags. Interesting vexillological times ahead, I think.
Unfortunately, I haven't a clue to the identity of the blurred red flags, but the fact that there are multiple copies suggest they are indeed the product of an organized political group.
Pete Loeser, 2 February 2012
As a wild guess, and looking at the list of KW "parties" on Wikipedia the red flags might be affiliated with the Democratic Foundation of Kuwait, judging from the general design. But this is just a clue that might help someone to find more on it.
Željko Heimer, 2 Februrary 2012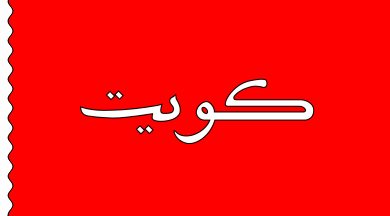 New image from Eugene Ipavec, 13 February 2012
Might not the blurred unidentified Kuwait Political Party flag actually be the Kuwait National flag of 1956-1961 and not a political party flag at all? See the text information originally posted by Jarig Bakker (4 May 2000), and the image of that flag just submitted by Eugene Ipavec (13 February 2012). A very similar looking flag, but with the thin white hoist band hidden by a crease caused by the waving and reverse side-obverse side motion? I'm afraid reading Arabic is not my thing and I can't be sure if the script is correct.
Pete Loeser, 14 February 2012
---
12-6. Unknown German Society Flag Tentative ID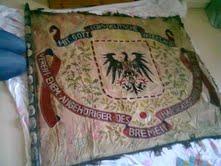 #6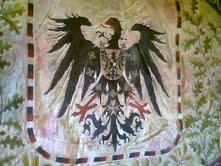 #6a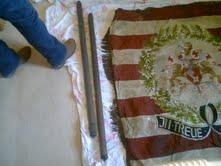 #6b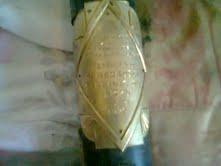 #6c
Images from Paul Murray, 6 February 2012

I found this flag/banner in my attic and wondered if you knew anything about it. I have found out it says "WITH GOD FOR GERMAN HOMELAND" (in German) on the side with eagle. On other side (striped red and white) it says "IN TRUE FAITH" (again, in German). It shows the Bremen coat-of-arms.
Paul Murray, 5 February 2012

I wonder if it might have been a flag used by a German Society in Britain?
Rob Raeside, 5 February 2012

The lower texts starts with VEREIN EHEM. ANGEHÖRIGER DES 1. HANSEATISCHES, probably meaning "regiment" or something like that, and maybe the number, and then centered below that: "BREMEN" so maybe "Society of former members of the 1st Hanseatic Regiment 'Bremen' [no.]". That would then refer to the Infantry regiment stationed in Bremen during the second German Empire, I expect. There were similar regiments in "Hamburg" and "Lübeck". On the reverse we see IN TREUE (in loyalty), but I wonder whether it's going to form "in Treue und Glauben". Our German members and military specialists might all know more. On the other hand, I hope that Paul can quote the exact German texts.
Peter Hans van den Muijzenberg, 13 February 2012

The full name of the oragnization probably is Traditionsverband des Ehemaligen Infanterie-Regiments "Bremen" (1. Hanseatisches) Nr. 75 (1939-1943) aka "75ers", a World War I veteran association. According to WIKI the regiment was incorporated into 16.Infantry Regiment of Reichswehr (could have happened hardly after 1934). The plate nailed upon the pole might be a battle honour.
Klaus-Michael Schneider, 27 May 2012

They might not have VEREIN EHEM. ANGEHÖRIGER DES 1. HANSEATISCHES ? BREMEN on their banner if they were called "Traditionsverband etc.". Besides, isn't that the same thing as the officers society "kameradschaftsbund der Funfundsiebstiger"? "Angehöriger" (o") might not be limited to officers.
As I recall it from when I looked into this, they were disbanded when they returned to Bremen in 1919. Did you find a military wiki that has other information? If so, what is its URL?
It might be interesting to find out what happened to their colours after that. Did they remain at the garrison church, which was St. Xx ? I wonder, though, whether this Verein existed before WWI: There would have been veterans even before the entire regiment was dissolved.
It might. But then: Would the veterans organisation be allowed to use it it were the honour of the regiment? There too, Paul Murray might help us. I still hope he's able to quote us the exact texts on the flag and the staff, so we in turn might be better able to identify his flag. (Not to mention the story of find a flag in his attic. I'm always curious how people can just discover flags.)
Peter Hans van den Muijzenberg, 27 May 2012
---
12-7. New Hampshire Regiment flag? Positive ID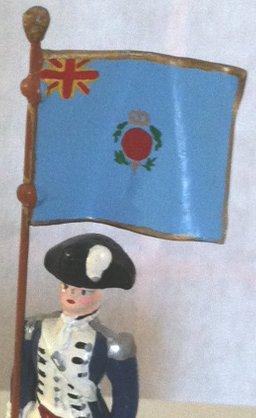 Image from Ken Kadag, 24 January
(Editorial Note: Sorry, I missed this one and it is posted a bit out of order.)
I have a flag which I though was an American Revolutionary New Hampshire Regiment flag, but now have no idea what it represents and would appreciate any guidance any expert may have, It has a light blue background, with an American colonial era British cross, (Queen Anne?) with addition four bars pointing at 90 degrees outward between the cross bars, and a red center circle, with a gold crown on top and gold triangular symbol of some kind below the red circle, also four green sprigs - two on each side of the circle, top and bottom between gold symbols. The soldiers with the flag appear to be Revolutionary, in blue coats and white facings.
Ken Kadag, 24 January 2012
I am no expert on the area in question (and no doubt will be corrected by those that are), but this does not appear to be an accurate representation of a captured colour? Leaving aside the fact that the light blue should be dark blue (the background of the flag should match the facings colour of the regiment concerned), as far as I am aware, a British military colour – and a British military colour this is almost certainly meant to represent - of this period should bear a regimental number (in addition – or as part of - to any device) in its centre. It should be said also (and more importantly), that the canton appears to consist of a post-1801 Union Flag (bearing the red saltire of St Patrick in addition to white one of St Andrew)?
As a matter of interest, the central device appears to be a red rose, and (also as matter of interest) is the uniform concerned not that of a general officer of the Continental army rather than that of a colour bearer – a sergeant or junior officer?
Christopher Southworth, 28 January 2012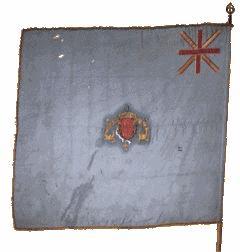 Image from Dave Martucci, 16 April 2018, courtesy of the New Hampshire Historical Society.
The flag appears to be a War Gaming supplier's bad interpretation of the 1777 2nd NH Continental Regiment Color and the figure is dressed in the 1779 regulation uniform for New England troops.
The flag was captured by HM Royal forces July 8 or 9, 1777 and the uniforms likely were never issued to the regiment, which was woefully undermanned by 1779. In 1781, the 3rd NH was disbanded and some of those troops were added to the 2nd. In 1783 the 2nd was also disbanded and the remaining troops transferred to the 1st NH, with that unit mustered out in 1784.
See also Second New Hampshire Regiment, Continental Line on FOTW.
Dave Martucci, 16 April 2018
---
12-8. Unidentified pennant on buckle or brooch Positive ID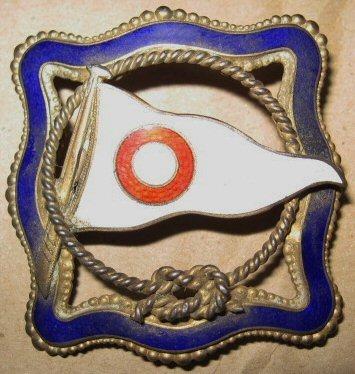 Image from Robert T, 12 February 2012
I looked around FOTW and on other sites to find which shipping company has this logo, found nothing. Any information is very helpful.
Robert T, 12 February 2012
I did browse through our collection of US, UK, Japanese, Canadian, German, Norwegian and Danish flags with marine associations, and found nothing. There are many house flags from Japan with a red ring, but always something else included.
Rob Raeside, 13 February 2012
I'm a bit pressed for time, but check the "Toronto Sailing and Canoe Club" website.
Peter Hans van den Muijzenberg, 13 February 2012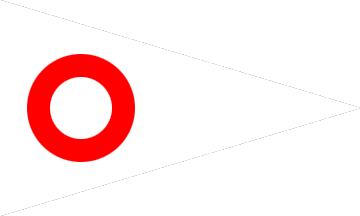 Image from António Martins, 9 June 2016
As reported by Peter Hans van den Muijzenberg on 13 Feb 2012, the Toronto Sailing and Canoe Club shows on its website its pennant: Triangular 3:5 white flag with a thick red ring; I suppose this is an "O" for "Ontario".
António Martins, 9 June 2016
---
12-9. German Flag found in The Netherlands Positive ID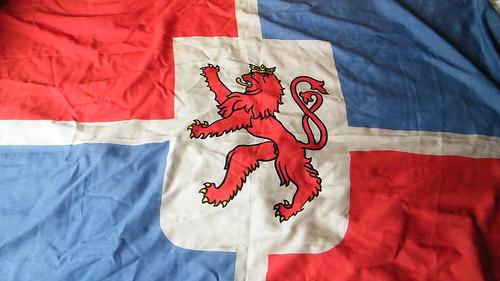 Image from Patrick van der Ende
A while ago I found a flag lying around in a charity shop in the Netherlands. I didn't know it from any country from the world and searched the internet for counties and cities but without any luck. It has a striking resemblance with the flag of the Dominican Republic, but it isn't. It has a label that says that it was made by the bonner fahnenfabrik, in Germany. That's all I know. Does anybody know this one from anywhere?
Patrick van der Ende, 24 Febraury 2012
The lion with forked tail is clearly that of Luxembourg, but beyond that I cannot help. It does not appear to be in the FOTW Luxembourg pages. The lion is also similar to that of Limburg [also Limbourg], but in this context that would seem to be purely coincidental.
T.F. Mills, 25 February 2012
The lion does seem to be that of Limburg, a territory nowadays spilt up between SE Netherlands, far western Germany and Eastern Belgium, maybe also Luxemburg. But the type of flag is really uncommon for munies (in Germany). My opinion therefore is, that it is probably no municipal flag, but perhaps a shipping company from the lower Rhine area. My main suspect is a Dutch shipping company (colours better match Netherlands than the other suspects).
Klaus-Michael Schneider, 25 February 2012
It's not from the Dominican Republic, also not Dutch, but a shipping company, a German one. Thanks to Klaus-Peter Bühne (maintaining www.marcollect.de) we can identify UFE12-9 as the house flag of Rheintrans- Reedere i- Transport- und Speditions GmbH & Co KG (shipping, transport and logistics). The company was located in Duisburg, established in 1959, inactive since 2001. Due to political and economic circumstances being not satisfactory the company dissolved itself on 23 March 2007. The foto added by Klaus-Peter shows a banner version, but it is definitely the same. We had that flag within our pages as simply Rheintrans , therefore it looked so familiar. The cross bars in the image within the R-shipping-company-list has however thicker cross bars.
Klaus-Michael Schneider, 28 February 2012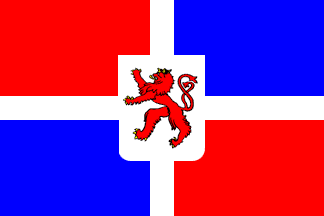 #9a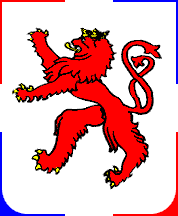 #9b (detail)
Images by António Martins-Tuválkin, 13 April 2016
Image #9a is a conjectural depiction of the flag cloth in full. Sadly the photo does not include the edges, and the cartoon-like image from the official website is unreliable. I put the central rectangle at half the flag's height and made it in ratio 2:3. Image #9b is a flattened and cleaned up version showing its central detail: a white shield shaped white area (tall rectangle with pointy corners at the top and rounded ones at the bottom) with a red Benelux-style lion on it. (The original image's size is such that this central detail is yielded by cropping it to 216 px height: A great coincidence!) The thickness of the cross sees to be around 2/9ths of the rectangle's height.
António Martins-Tuválkin, 13 April 2016
---
12-10. UFE from Barrow, Alaska Some Speculation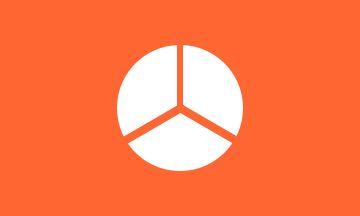 Image by James Dignan, 28 February 2012
I have just been watching the David Attenborough documentary series "The Frozen Planet". In the seventh and last episode, there's a scene of a traditional festival at Barrow, in northern Alaska. In the background of the scene is a flag, which appears to be salmon orange with a white disc divided into three segments in the centre (it's possible, of course, that it was originally red and white and has faded). I've searched the fotw-ws Alaska pages, but can find no similar flag. Anyone know what it might be? I've attached an approximate sketch of the flag.
James Dignan, 28 February 2012
Sound a bit like a whaling flag. Looks somewhat like this one used at the Whaling association demonstration [in Barrow, Alaska during the 2006 Inuit Circumpolar Conference], which I don't know either.
Peter Hans van den Muijzenberg, 28 February 2012
---
12-11. Sudan- Jebel Barkal UFE Some Speculation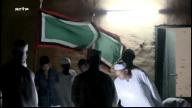 Image by Pascal Prince, 4 March 2011
While looking a TV report about old African Kingdoms, they showed a Religious Souffi Ceremony celebrating the inhumation of a Local Sheikh in the Jebel Barkal Mountains. There where two people flying flags during the ceremony. They look very close to the Islamic Citizen's Association flag described by Martin Grieve (8 Dec 2007) except that they aren't rectangular... So either it's a religious flag or a local Flag for the Jebel Barkal region (Wikipedia)...
Pascal Prince, 4 March 2011
I´m sorry, I cannot tell it from your screen shot. They are not rectangular, then, so what are they? Forked, triangular, tapering?
António Martins-Tuválkin, 4 March 2011
It's clearly not rectangular, altough I don't know the right name for it, a pennon?
Pascal Prince 14 March 2012
---
12-12. British Paratroop Flags Positive ID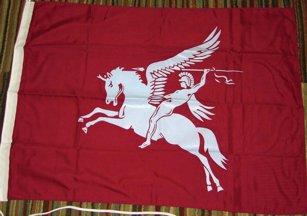 #12a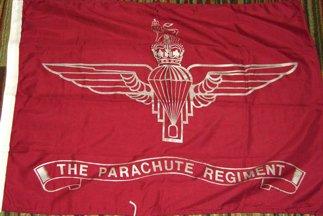 #12b
Images from Steve Trebs, 14 March 2012

I have these 2 paratroop pendents and I have been unable to find any info on them. If you could provide any it would help.
Steve Trebs, 14 March 2012

Both flags are indicated to be 38.5 x 26.5 inches.
Rob Raeside, 15 March 2012

They are both British, and are souvenir-type flags related to the Parachute Regiment. [Flag #12a] depicts Bellerophon mounted on Pegasus, and the design was used as the 'flash' (arm patch insignia) by all Airborne troops from the Second World War until 1999. (See: http://news.bbc.co.uk/1/hi/uk/402130.stm)
[Flag #12b] is similar to a flag sold by the Parachute Regiment for the use of veterans or soldiers´ families. (See: https://www.airbornepri.com/parachute-regiment-flag)
Ian Sumner, 15 March 2012
---
12-13. Unknown Arms with Two-headed Eagle Some Speculation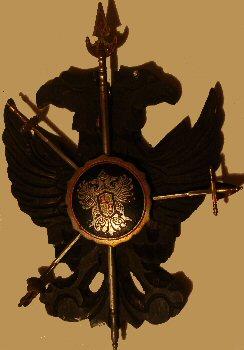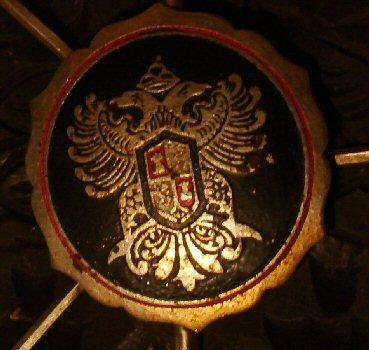 Image from Alen Duspara, 18 March 2012
I bought this few days ago, but I cannot recognize which country this item represent. It is double-head eagle with wings (up). The position of swords can be changed, so I am not sure if this is real one, but maybe you can recognize if you see the picture on this magnet (in center).
Alen Duspara, 18 March 2012
The device in the centre may be the arms of Castile and Leon, a province of Spain, but I don't know about the two-headed eagle. You indicate the badge in the centre is a magnet, so I presume it can be detached, and may not correspond to the mounting behind it?
Rob Raeside, 18 March 2012
Looks like a poor version of the old basic Spanish arms to me (Castile and Leon with Granada at the base) displayed on the Imperial Eagle. Having said that, however, the three swords and the overall low quality suggest to me some entrepreneur's efforts to cash in on "The Three Musketeers" which was made as a movie and a play at different times. Although the action takes place in France, when cashing in who cares about accuracy? This is just speculation on my part and I could be wrong.
Dave Martucci, 18 March 2012
This is similar to coat-of-arms of the City (or Province) of Toledo (autonomous community of Castile-La Mancha, Spain). Toledo has a great tradition of the manufacturing of swords and knives of "Toledo steel" (acero toledano) which are sold as souvenirs.
Luismi Arias, 18 March 2012
In the case of No 13, the coat of arms on the spread-eagle, I suggest a far more prosaic explanation. A great many such items are sold to the public for decorative purposes. In some cases the shields have more-or-less accurate pictures of real coats of arms; in more cases they are entirely fanciful. This seems to be one such, not a serious attempt at arms, just an approximation for the tourist trade.
Michael Faul, 20 May 2012
---
12-14. Unknown Houseflag 1862 Tentative ID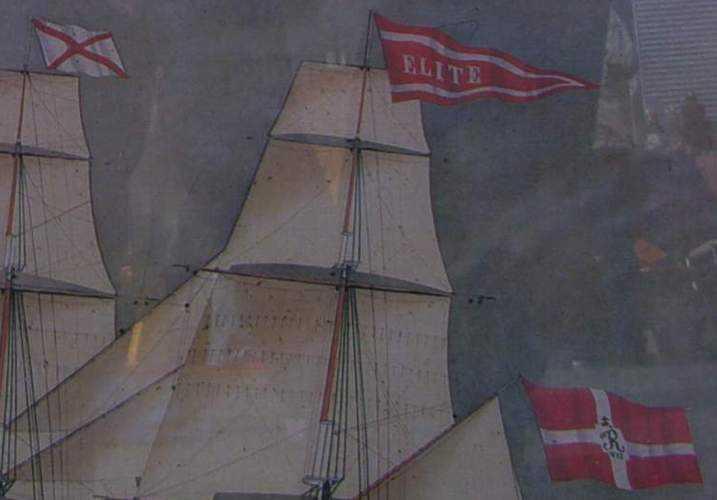 #14a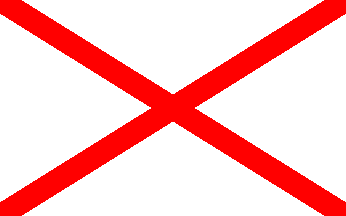 #14b
Image #14a from Klaus-Michael Schneider, 2 Apr 2012
Image #14b drawn by Peter Hans van den Muijzenberg, 2 Apr 2012

This image shows the brigg ELITE from Blankenese (today Hamburg) in 1862. There are three flags/pennnants hoisted: foremast: white flag divided by red saltire (probably the housflag), mainmast: red name pennant cotized white with ship's name upon mizzenmast: Danish ensign with cypher. Probably the ship was trading with the mediterranian (cypher as distinguishing mark to Knights of Malta, although those had been already history then). Can somebody assist in order to identify the houseflag?
Klaus-Michael Schneider, 2 Apr 2012

At that time and for one year more, Blankenese was, as part of Holstein, ruled by the Danish king Frederik VII, whose cypher can be seen in the flag. Formally, though, Holstein was not part of Denmark, and I've sometimes wondered whether this is the actual reason for Danish flags with a Royal cypher in this area, rather than such a flag being a requirement for the Mediterranean trade. (The more so, as the requirement for the North African treaties was that the flag was clearly distinguishable from the Maltese flag. With such a small box as we see here, you'd probably have to hold the flag out to the pirates as they climbed aboard to point out the difference. The Cypher is discussed at as Christian VII (1766-1808), Frederik VI - 1808-1839, Christian VIII (1839-1848) though the entry heading doesn't actually mention FR VII.
According to Danmarks Skibsliste 1883, Moses & Sön, G. Melchior had as their "Kontor-Flag": Hvidt med rødt diagonalt Kors, white with a diagonal cross. I expect this was already the case in 1862, but the ships lists don't go back that far.
Although formally, ANMARKS HANDELS-FLAADE i Aaret 1883, the company was Copenhagen-based. Are we certain the ship is not merely "seen" at Blankenese? Then again, there might have been an advantage in owning ships from Holstein, as counter to Denmark it was part of the German Confederation. Blankenese, on the Elbe and close to Hamburg, would have been a good choice in such a case, especially since the company name suggests Jewish descent and Blankenese had a large Jewish community, which could not live in Hamburg under the city's rather strict laws on that matter.
I'm not good at drawing cyphers; I hope someone else will do that flag, but the house-flag I can draw. It may be that in the image the diagonals are not exactly of equal width, but no mention of that is made in the description - Danish, water-based Copenhagen business Moses & Sön, G. Melchior flag.
Peter Hans van den Muijzenberg, 2 Apr 2012
---
12-15. Two Red Roses on a white field Positive ID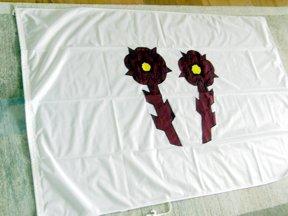 Image from Martin Ruppert, 4 April 2012
Information has been moved to Rapperswil-Jona commune (St. Gallen canton, Switzerland)
---
12-16. Two Flags on an Egg Cup Positive IDs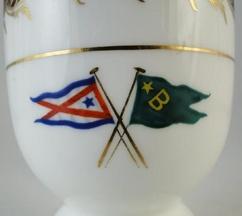 Image from Robert J. Mackidd, 1 April 2012
These two flags were on an eggcup, apparently the flags of shipping companies. Can you give me any information?
Robert J. Mackidd, 1 April 2012
Dexter [left flag] is the burgee for the Portland Yacht Club, Maine. I can't place the other one, but as this is likely to be the private signal of the owner, there's possibilities are rather large, even if it's likely that either the vessel or the owner has a name starting with a "B". Is there a time frame, to reduce the field a bit?
Peter Hans van den Muijzenberg, 1 April 2012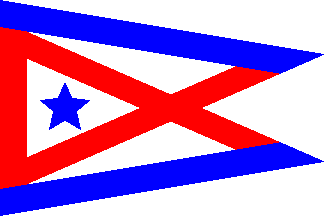 #16a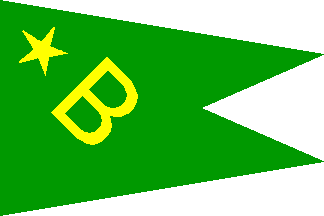 #16b
Images by Peter Hans van den Muijzenberg, 17 November 2012
Robert replied that the "Egg Cup" had no date or marks on it, and he had bought from someone in Wisconsin, USA, not quite next door to the Portland Yacht Club. Using his own expertise, however, he set a likely time frame of 1898-1920 for the piece. He contacted the PYC, but as they lost a lot of their early history in a 1921 fire, they had no records of the flag. They did come up with the suggestion that the star and B might stand for "Starling Burgess", as William Starling Burgess had been active in the PYC in that time frame. This was a good suggestion, but I eventually found WSB's private signal as used in 1903, and it turned out that it didn't match.
Robert had in the mean time contacted the Main Maritime Museum, and they were eventually able to identify the flag: Their documentation showed it to be the private signal of Edward Harward Blake (1856-1922) of Bangor, Maine, used for his steel auxiliary schooner yacht Aria (built 1903, still in the Blake estate in 1925). Their documentation didn't show the burgee for 1907, but did show it for the next documented year, 1916.
Consolidated Shipbuilding are listed as having built the first Aria for Edward H. Blake in 1899, and having built him the second Aria in 1903, so if his signal possibly wasn't registered right away, the cup may have been made at any time from 1899 onwards, once EHB decided upon a signal. (As far as I could find, he's only listed for the Aria('s).)
Edward Harward Blake died in 1922, and though the Aria may have remained in his estate for a while longer, it's unlikely anyone would have used his private signal for her after that; the signal belongs with the owner, not with the ship. That makes the interval for the flags 1899-1922.
Robert's 1898-1920 time frame is uncanny. On 17 May 1903, the New York Times reported the launch of the Steam Yacht Aria: It describes "Edward H. Blake of Bangor, Me." as "a member of the Portland Yacht Club". This then connects the two flags on the cup.
I've tried to picture the flags as they appear on the cup, though they may not represent exactly what actual flags looked like. I've used general colours as I have no idea whether the shades are significant. Image #16a is the Burgee of the PYC as depicted on an "egg cup". Image #16b is the Signal Flag of Edward H. Blake as depicted on the "egg cup".
Peter Hans van den Muijzenberg, 17 November 2012
---
Anything below the following line isnt part of the Flags of the World Website and was added by the hoster of this mirror.
---
Bei fahnenversand.de erhalten Sie eine Vielzahl an günstigen Flaggen, Pins und Aufnähern, zum Beispiel: