---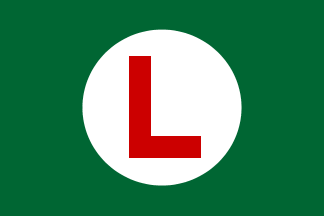 image by Eugene Ipavec, 25 August 2009
Lachmar Corp., Inc., Lake Charles, La. - green flag, white disk, red "L".
Source: Loughran (1995)
Jarig Bakker, 5 February 2006
Lachmar or Lake Charles Marine - these names, short and full, stand for a Moore-McCormack subsidiary which operated two liquid gas tankers, 'Lake Charles' and 'Louisiana'. For details, consult this page for 1980 when both ships were launched: http://moore-mccormack.com/Cargo-Liners/Cargo-Ship-Timeline.htm. Unfortunately two years later Moore-McCormack had to close down due to heavy losses so this particular house flag flew very briefly (clickable photo): http://moore-mccormack.com/images/LNG%20House%20Flag.JPG (in context: http://moore-mccormack.com/Cargo-Liners/Lake_Charles.htm).

The Moore-McCormack archivexillum is a dark green field, large white disk with red initial – here, a sans serif "L". Loughran (1995) shows this flag, but the green colour is too bright.
Jan Mertens, 24 August 2009
---
Lafarge company flag can be seen on this picture (source here), no. 4, counting top down. White, large green slanted 'L' and black name 'LAFARGE' which we encounter on the firm's website.
Jan Mertens, 25 September 2005
The Great Lakes chart shows Lafarge (US). Lafarge is really a French firm, but the ships seem to be American. Company websites are at http://www.lafarge.com/cgi-bin/lafcom/jsp/home.do?lang=en (Lafarge Group) and http://www.lafargenorthamerica.com/wps/portal/ (North America). On the first of these, click 'Our Group' then 'History' for a thorough history lesson. Much easier to digest is the 'Lafarge at a glance' section (menu top of page) from which I quote:
"World leader in building materials (…) Located in 76 countries. A workforce of 80.000 people. (…) Lafarge was founded in 1833. (…) 2005 sales: 16 billion euros. (…) Headquarters address: (in Paris)".
Jan Mertens, 15 November 2006
---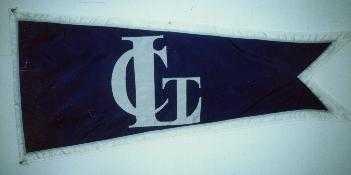 located by Jan Mertens, 18 October 2005
Source: http://www.clothncanvas.com/images/lct_banner.JPG
A blue tapering swallowtail, completely bordered in white, bearing the intertwined initials 'LCT' (in decreasing order of magnitude: L- C- T) - nice serifs, by the way. The blue is rather dark on this last picture compared to the others.
From the website of this Burlington, Vermont based firm:
"Lake Champlain Transportation Company has provided reliable, safe and friendly transportation to the surrounding lake community and to area visitors since 1826. (…) Currently there are three crossing locations and 8 ferries."

We learn that goods transportation once was very important, especially lumber as Burlington was an important lumber port. Technical evolution meant the appearance of steel ships, for instance, but also the disappearance of steam. Nowadays the firm essentially ferries tourists and commuters. More historical details from the 'About LCT / Past to Present' section:
Founded 1826 as the Champlain Transportation Co., acquired the Lake Champlain Steamboat Co. in 1833 and the Champlain Ferry Co. in 1835. Although in 1852 the Rutland and Burlington Railroad bought all the ships and real estate, the firm continued to exist only to buy everything back two years later. Owned controlling interest in Lake George Steamboat Co. from 1868 on but itself bought by the Delaware and Hudson Canal Co. (1870); Lake George Steamboat Co. independent again in 1872. 1899, name change of the above Delaware etc. to The Delaware and Hudson Co. Temporary suspension of operations in critical year 1933 followed by the sale of the firm to H.W. Corbin. In 1948, sold again to a group of entrepreneurs changing the name to Lake Champlain Transportation Co. Last steamboat on the lake ceases operations in 1953. In 1976, LCT is bought by R. Pecor Jr.

Bailey University has a collection about this firm dated 1812-1947, 1812 being the year a navigation grant was issued at this page. Have a look at the LCT wallpapers ('Fun Stuff' section), especially nos. 5 and 6. We already catch a glimpse of the house flag on the flag-bedecked boats (US, Vermont…). Other photos offering a better view can be seen at:
http://www.viewfrombaxter.net/archives/2004/09/on_the_lake_cha.html
http://www.personal.psu.edu/faculty/a/x/axf/StoweMarch2004/2.html
and finally, the flag as it appears on a flagmaker's site (image above).

Jan Mertens, 18 October 2005
---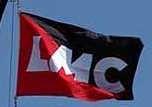 located by Jan Mertens, 13 October 2005
Source: http://www.boatnerd.com/pictures/special/badgerchr/Christen2.jpg
The flag is divided by a falling diagonal into a red field (diminishing towards the fly) and a black one (increasing towards the fly); large stylized initials 'LMC' in white, over all.
This firm, launched in 1991 by entrepreneur and carferry enthusiast Charles Conrad, was then the latest in a venerable line of Lake Michigan ferries – in fact, that year saw its rebirth. The fleet comprised three vessels of which only the S.S. Badger was to become active again in 1992. Although ferrying had been going on locally since 1875, its direct predecessor was the Lake Michigan Car Ferry Association 1918-1920, pooling the ships of the Ann Arbor, Grand Trunk and Pere Marquette railway firms for a short period; getting somehow through the Depression, ferry activity (taking on cars as well as freight) on the lake went on and knew its busiest year in 1955. In 1952, one of the ships launched by the Pere Marquette railroad was the S.S. Badger referred to above and – with its sister ship S.S. Spartan – the largest ever in the region. Sold in 1983 with two other ships by Chesapeake and Ohio railroad, new owner of Pere Marquette and averse to expensive ferrying, the S.S. Badger was to sail for the Michigan Winsonsin Transportation Co. till the end of 1990. The end had come or so it seemed till Charles Conrad's rescue operation. Still active, the coal-fired ship travels daily (or twice daily) the 60 miles between Ludington, Michigan – the company seat - and Manitowoc, Wisconsin between May and October. The company was sold to some of Conrad's executives in 1994; Conrad died in 1995.

Sources (and interesting they are, too):
http://www.carferries.com/history/history.html
http://www.ssbadger.com/badger/history.html
http://nbiermafile.blogspot.com/2002_11_01_nbiermafile_archive.html (check out 25 Oct., 2002)
http://www.jsonline.com/news/state/apr05/318582.asp
http://www.libertyhaven.com/theoreticalorphilosophicalissues/economics/freeenterpriseandentrepreneurship/sinkcarferry.shtml

Yet another page provides the source for the attached flag and shows the special S.S. Badger 50th anniversary flag made for the occasion (2003). See first and third pictures on second row, respectively
Jan Mertens, 13 October 2005
The Great Lakes chart shows this flag with the initials seen somewhat smaller.
Jan Mertens, 15 November 2006
---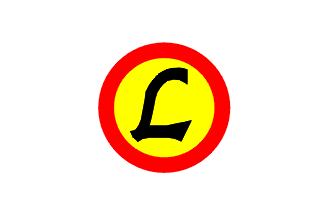 image by Jarig Bakker, 15 October 2005
Lasco Shipping Co., Portland, Oregon - white flag, yellow disk bordered red, black italic "L".
Source: Loughran (1995)
Jarig Bakker, 15 October 2005
---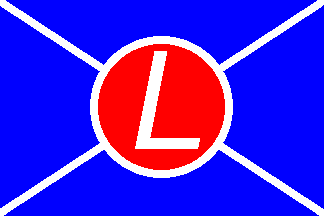 image by Ivan Sache
Blue with a thin white saltire charged with a red circle bordered white with a white L inside.
Source: http://www.laurinmar.com/
Dov Gutterman, 11 October 2003
---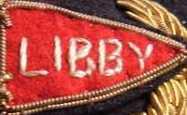 image from Bill Johnston, 15 March 2005
The "Libby" cap badge could relate to a ship of that name, but a stronger possibility would seem to be Libby, McNeil & Libby of Chicago ( for details see http://www.encyclopedia.chicagohistory.org/pages/2751.html ) as they were also shipowners as can be seen from http://www.kenailanding.com/History.html.
Neale Rosanoski, 3 January 2010
---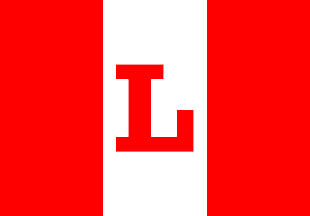 image by Joe McMillan
G. C. Lord & Co., Boston
No information beyond the flag, a red-white-red vertical triband with the letter L in red on the center.
Source: Flaggenbuch 1905
Joe McMillan, 25 October 2001
This flag is shown by Griffin 1895 as sailing ship operators but with the fly band being blue.
Neale Rosanoski, 23 November 2003
---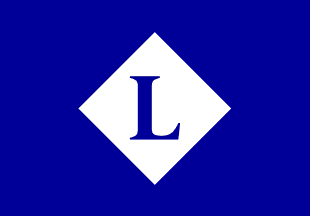 image by Joe McMillan
Lorillard Line, New York (?)
I'm not altogether sure this is an American company since Manning did not list home ports on his chart. I have assumed it to be a New York firm, however, as the Lorillards were a prominent and wealthy family from that city in the 19th century. The flag was blue with a white diamond bearing a blue L.
Source: Manning (1874)
Joe McMillan, 25 October 2001
---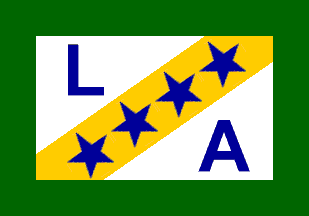 image by Joe McMillan
Los Angeles Steamship Co., Los Angeles (1920-1930)
This company was inspired by an initiative of the Los Angeles Chamber of Commerce to counter San Francisco's dominance over Pacific coast shipping. Initially successful in coastwise trade, LASSCo overextended itself in a failed attempt to expand into the Hawaii market. It was forced to merge with Matson Navigation, the dominant house in the Hawaii trade, in 1930. Because the image here is based on a photograph of the house porcelain, the colors may not be accurate, but the flag appears to have been white with a green border and a yellow stripe from lower hoist to upper fly bearing three blue stars, the stripe flanked on either side by the blue letters L and A.
Source: www.steamship.net (no longer available)
Joe McMillan, 25 October 2001
---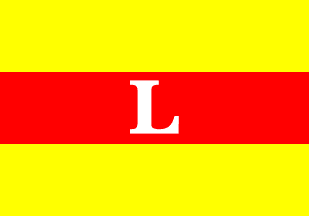 image by Joe McMillan
A. A. Low & Brother, New York (1841-late 19th century)
With Howland & Aspinwall, A. A. Low was one of the dominant shipping houses in the China trade in the mid-19th century. The company's founder, Abdiel Abbot Low, had learned the business with the Canton-based, Boston-owned trading firm of Russell & Co, which was the leading U.S. trading firm in Canton from the 1820s to the 1870s. Along with Howland & Aspinwall, A. A. Low pioneered the use of the new clipper ships in the 1840s, and its clipper "Oriental" was the first non-British ship to deliver a cargo of tea from China to England after the 1848 repeal of the British Navigation Acts. The Low flag was yellow with a red horizontal stripe bearing the letter L in white, although the L was often replaced by the initials of the ship name, such as H for "Houqua" and NBP for "Nathaniel B. Palmer." The Nathaniel B. Palmer for whom this ship was named was a captain in the service of A.A. Low & Bro. and a distinguished explorer who was credited as the discoverer of Antarctica. (The U.S. National Science Foundation now has a ship of this name supporting its Antarctic program. Lloyd's Register of American Yachts for 1972 showed this flag, with the initials "MSL," still in use as the private signal (house flag) of Malcolm S. Low.
Source: chart of "Private Signals of the Merchants of New York"
Joe McMillan, 25 October 2001
---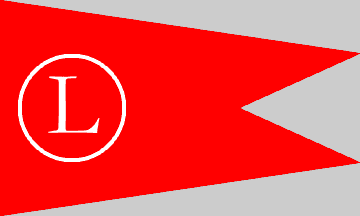 image by Joe McMillan
Luckenbach Steamship Co. (1850-1974), New York
This was one of the longest-lived and most successful of US shipping companies. Lewis Luckenbach started with a single tugboat in New York and initially built his fortune by pioneering tug-and-barge transport of coal from Norfolk, Virginia (the outlet for the coal fields in what is now West Virginia), to New England. Luckenbach was later a major force in the intercoastal trade. The flag was a red burgee with the letter L inside a ring in white.
Sources: Lloyds 1912, Wedge (1926), Talbot-Booth (1937), Stewart (1953), US Navy's 1961 H.O., Stewart & Styring (1963), Styring (1971)
Joe McMillan, 25 October 2001
---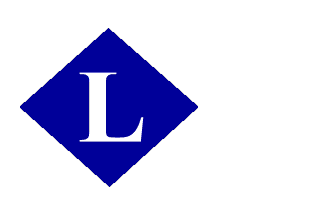 image by Joe McMillan

Lykes Brothers SS Co (Lykes Lines)(1898-present) originally New Orleans, now Tampa
Since its founding, Lykes Brothers has been the most important U.S. firm operating in and from the Gulf of Mexico. Its first large profits came from transporting lumber and cattle from Lykes estates in the southern US to Cuba after the Spanish-American War. Shortly after World War II, Lykes Brothers was operating 50 ships totaling 364,000 gross tons. Now known as Lykes Lines, the company website lists 92 vessels under Lykes ownership or management, although only five are under the American flag. The Lykes flag is a white swallowtail with a blue diamond bearing a white L.
Sources: National Geographic (1934), US Navy's 1961 H.O.

Joe McMillan, 25 October 2001

According to Talbot-Booth (1937) Lykes Bros. Steamship Co. Inc. resulted from a 1938 merger of Lykes Bros. Lines and Lykes. Bros.-Ripley S.S. Co. Inc. who would appear to have been associate companies owned by the Lykes family. Sources tend to be contradictory however with the Lykes Bros. S.S. Co. name being noted earlier than this and both these latter two names being associated with this flag. Somewhere along the line the flag seems to have become a normal rectangle. Brown 1995 describes this as a 'recent change' though Talbot-Booth 1949 and Stewart 1957 both show this form (Stewart 1963 then reverts to the swallowtailed version). There is similar uncertainty over just which of the Lykes companies operated services in the name of Southern States Line, Texas Star Line, Dixie Mediterranean Line and Dixie U.K. Line and what their actual relationship was i.e. I get the impression they were Lykes owned but no one has spelt this out. The Southern States Line did have a similar flag to that of Lykes with a white swallowtail bearing a smaller blue diamond without a letter and some sources show it in the Lykes name. Texas Star Line was red with a yellow star whilst the other two Dixie companies used a white tapered swallowtail with a blue border except at hoist and the red legend 'DIXIE' [see Dixie UK Line]. Lykes Brothers S.S. Co. was sold by the Lykes family in 1979 and then repurchased back 1983. However in 1997, following Chapter XI bankruptcy, it was sold to CP Ships where it continued life as a subsidiary, presumably retaining its flag.

Neale Rosanoski, 23 November 2003

The company website at http://www.lykeslines.com/index.asp merely shows a logo and the well-known red & white Canadian Pacific flag. Things, in fact, are going to change soon. A page dated May 11, 2005: "Farewell Lykes Line" ( http://ports.co.za/news/article_2005_05_11_5340.html ) states "parent company CP Ships has decided in its wisdom to do away with the well-established brand names of seven shipping companies under its umbrella. In future the likes (no pun intended) of Lykes Line, ANZDL, Canada Maritime, Cast, Contship Containerlines, Italia Line, and TMM Lines will all simply become part of CP Ships. The change is due to take place during the course of this year because, says CP Ships' chairman Ray Miles, "We are listening to our customers and our own people. They have told us they prefer us to simplify our business and trade under a single brand."

Miles acknowledges that multiple branding was a key element of CP Ships' core strategy, which helped maintain customer loyalty and build further on strong regional positions following each acquisition. "Our aims, which we achieved, were not to lose any business when we acquired a new line and then make the business grow. But now that our acquisitions are fully integrated and will be on the same operational and financial systems later in the year, it is time to move on." Ho hum…" (end quote)

Re-branding, in fact, which will undoubtedly cause the lowering of the subsidiary house flags, some of which are old and well-known.

Jan Mertens, 8 July 2005
image by Jarig Bakker, 17 September 2005
Lykes Bros. Steamship Co., inc., New Orleans, La - white flag, blue diamond, white "L". (This flag version complements the swallowtail version).
Source: Loughran (1995)
Jarig Bakker, 17 September 2005
---
US shipping lines house flags - 'M' continued
Anything below the following line isnt part of the Flags of the World Website and was added by the hoster of this mirror.
---
Bei fahnenversand.de erhalten Sie eine Vielzahl an günstigen Flaggen, Pins und Aufnähern, zum Beispiel: