Bestellen Sie Ihre Fahnen / Flaggen im Flaggen-Shop bei fahnenversand.de

Diese Website beschäftigt sich mit der Wissenschaft der Vexillologie (Flaggenkunde).
Alle auf dieser Website dargebotenen Abbildungen dienen ausschließlich der Informationsvermittlung im Sinne der Flaggenkunde.
Der Hoster dieser Seite distanziert sich ausdrücklich von jedweden hierauf u.U. dargestellten Symbolen verfassungsfeindlicher Organisationen.

---
This is a mirror of a page that is part of © FOTW Flags Of The World website.
Anything above the previous line isnt part of the Flags of the World Website and was added by the hoster of this mirror.
Unidentified Flags or Ensigns Page 1 (2017)
flags submitted in 2017 - Page 1 of 4
Last modified: 2023-11-25 by

zachary harden
Keywords: ufe | unidentified flags | 2017 |
Links: FOTW homepage | search | disclaimer and copyright | write us | mirrors

---
Please note our Policy for Submissions and Enquiries.
Below is a series of images of flags that have been provided to FOTW; some we have recognized, and some we have been unable to recognize. If you can help us identify any of these flags, please let us know! Contact the: UFE Editor.
Identification Key:
= Positive ID (Positive Identification)
= Tentative ID (Tentative Identification)
= Some Speculation
---
17-1. China - Two UFEs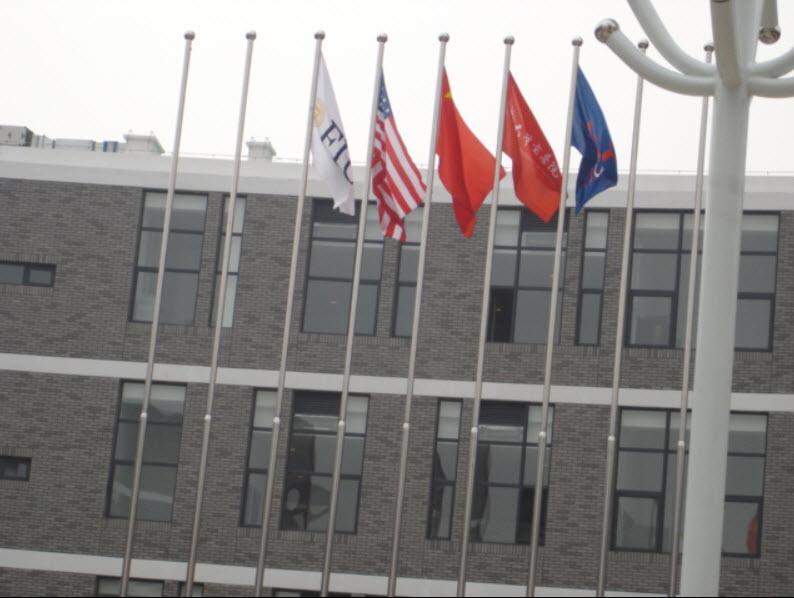 Image from Esteban Rivera, 4 January 2017
In this picture (source) one can see a set of five flags (from left to right):
FIU (Florida International University) (old logo version)
Chinese UFE # 1
Chinese UFE # 2
The picture caption reads: "The flagpoles at the FIU School of Hospitality & Tourism Management (official website), Tianjin Center are adorned with the U.S. Flag, the P.R.C. Flag, the FIU flag, and the TUC flag." One can infer that the two flags (Chinese UFE #1 and #2) may well be the TUC (Tianjin University of Commerce) flag mentioned in the picture caption, however, I cannot make the connection and establish for sure that either one of the two UFE's are the TUC flag.
The same five flags are seen in these pictures:official website) "from which a branch of the FIU School of Hospitality &amo; Tourism Management (official website operates" (source) but I am not sure what those two flags stand for.
Esteban Rivera, 4 January 2017
---
17-2. Two More Chinese UFEs 1 Positive ID 1 Tentative ID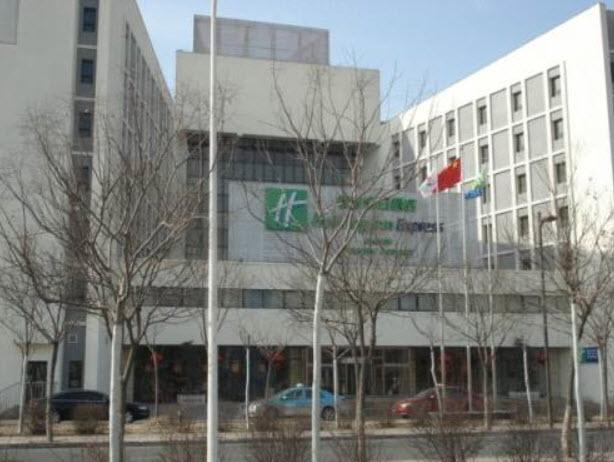 Image from Esteban Rivera, 4 January 2017

Outside the Holiday Inn Express hotel at Tianjin, China, one can see the Chinese flag, plus two other UFEs: (source)


Esteban Rivera, 4 January 2017

The UFE that is to the right of the PRC flag, that is the flag of the Holiday Inn Express hotel chain. I have work meetings at this hotel a lot and it is just their logo on a background.
Zachary Harden, 2 March 2017

Indeed, one of them is the Holiday Inn. Please notice that they changed their logo (both attached as alternate views): - older version and newer version. Since they changed their logo, of course they have updated the flag as well. The query is now more related to the "other flag" and my guess is still that the third flag is related to Tianjin Industrial Park, but I'm not sure. If you ever pass by again, could you take a closer look? I haven't found any clear references online that point for certain that it is indeed the flag of Tianjin Industrial Park.
Esteban Rivera, 2 March 2017

The photographs seem to form two pairs, with different flag and different front. Are these the earlier and later flags of HI?
Peter Hans van den Muijzenberg, 13 March 2017
---
17-3. Three gold stars on blue Positive ID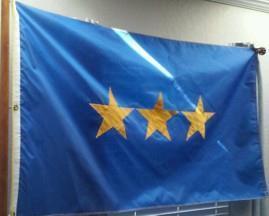 Image from Clayton Horner, 7 January 2017
I found this online, and the seller says it is a US Navy Vice Admiral flag. There are several problems with this.
The stars are yellow not white.
The blue is too pale.
The stars in the wrong pattern.
Any ideas what this could be?
Clayton Horner, 7 January 2017

It is indeed a Rank Flag (that's for sure). However, I would not be that sure that it is a U.S. service flag because the star arrangement and color. The closest I can find doing a quick search (at least by the color of the stars, not its location and other additions, like the anchor) is that of the Naval Rank Flags 1960-1990 (East Germany) "Admiral's Flag (Admiralsflagge)". Another very similar flag is the Italian Squadron Admiral Ensign.
Esteban Rivera, 9 January 2017

Could it be the flag of the Deputy Director General of the National Philippine Police or the USAF Lieutenant General Flag (though the stars are not the same colors)
Matt Lewis, 18 January 2017

[This is one of those situations where we will never be 100% sure which flag we are looking at, but since it is a design match for the flag of the "Deputy Director General of the National Philippine Police" - except perhaps in star sizes - I'll call it a "Positive ID" and a closed case. - Ed.]
---
17-4. Two Unrecognized Spanish Military Flags in Tucson Positive ID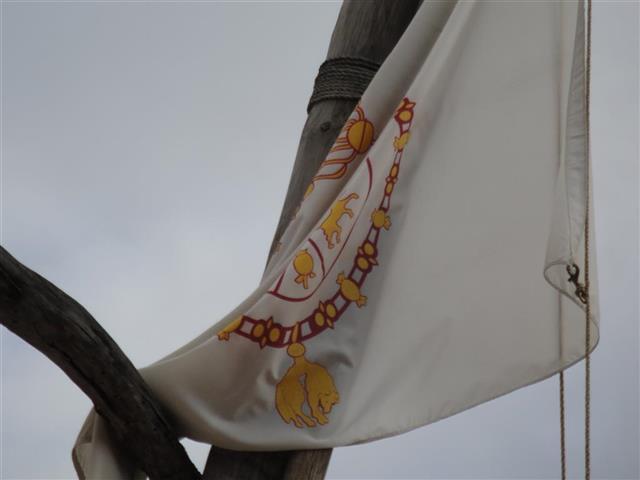 #4a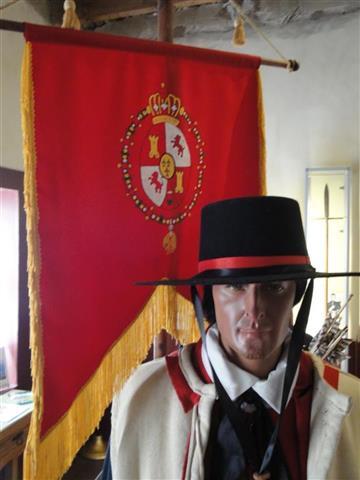 #4b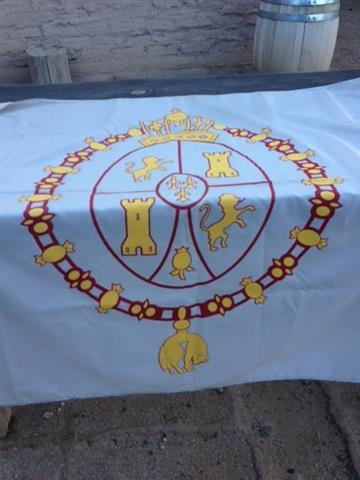 #4c
Images from Pete Loeser, and Jenifer Potter, 8-12 January 2017
On my most recent RV excursion I spent a couple days exploring Tucson, Arizona. While visiting the Presidio San Agustín del Tucson I spotted two replicas of Spanish colonial military flags I did not recognize. One flew from the wall of the restored portion of the presidio, the other was displayed in the museum. They are pictured here as #4a and #4b. When I asked a very helpful docent, Jennifer Potter, she replied that she didn't know about their origins, but she'd ask and get me more information. She'd also take a picture of the flag and send it to me. She followed through and sent me several pictures, including #4c. I was later contacted by a very helpful museum board member and historian, Rick Collins, and he provided me the following information in a series of short informal e-mails between 8-10 January, including where I asked him if the Cross of Burgundy was used at the Tucson Presidio, as it was sometimes in New Spain and California.
Pete Loeser, 12 January 2017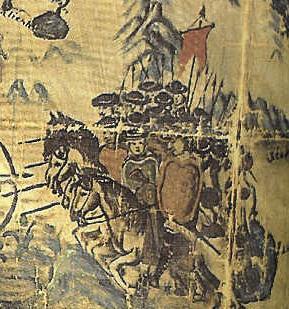 #4d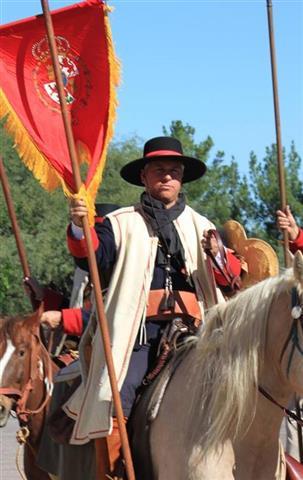 #4e
Images from Rick Collins, 10 January 2017
That flag (#4a and #4c) is not a complete design. When the replicas were made we couldn't afford the extra colors. They represent the Carlos III flag. It was a King's flag. Each part of the flag represented the Provinces of Spain at that time.
The red and yellow flag's design (#4b) dates from 1785 and was used as a naval ensign and then by presidios on the coast. The first actual national flag of Spain dates to around 1845.
The explanation of the flags design would be the Lion is Leon, the Castle is Castille, the red and yellow are Aragon, the necklace is Navarra, the pomegranate is for Granada, the sheep represents the golden fleece...basically the Holy Roman Emperor. The three fleur de lis are for the Carlos III. I'm doing this from memory, so I may not have it exactly correct.
The Cross of Burgundy was a colonel's flag or regimental flag and not the King's color. You would not have seen them on the frontier. The presidios, being at company strength only, never carried them. In fact, you won't find them outside of the 5 regiments in Mexico city. You might see them at a fort like the Castillo de San Marcos in Florida, but that's a garrison town. At any one time, Spain only had 5 Regiments in Mexico City, and although they constantly debated the efficacy of leaving them there to get them immune to yellow fever, malaria and other tropical diseases, they generally rotated them out. Each regiment would carry the Cross of Burgundy flag. A 50 man piquet of the Dragoons of Spain and Dragoons of Mexico, and two dragoon units from Mexico City, were sent north, but there is no suggestion they carried flags, though may have carried an pennon since it was used in the same way as a guidon. They were treated as independent companies.
Full elaborate crests usually were limited to members of Court and certain government institutions. Simpler designs are were usually used for King's Colors. Everyone carried the royal standards. A red pennon (vertically hanging guidon) was carried by the Ensign or Alferez. Here are images of a reproduction pennon (#4e), The Ensign carries this, as you can see in this original drawing of one in a line of battle in miera y Pacheco (#4d). A large movement of troops, several companies brigaded for a campaign would carry a King's Colors, one red pennon per company and a colonel might have a family flag, or if in an order of knights, then a flag of the order. Generally the King's Colors were on white backgrounds, but individual cavalry or dragoon units might add the color.
The Second Catalonian Volunteers were at company strength while on the frontier. To the best of our knowledge they would not carry a flag on campaign, but if they did parade inside a Garrison they might carry a King's colors. They would not carry a Regimental with a Burgundy cross. They were modeled after the Metropolitan unit in Spain, but had no direct affiliation and were a colonial unit.
Rick Collins, 10 January 2017
Does anybody have any additional input on the subject of which flags were carried on the Spanish frontier of the American Southwest, especially related to my original discovery of the unrecognized flags?
Pete Loeser, 12 January 2017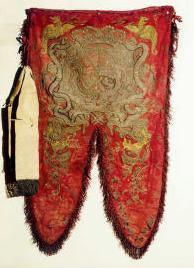 #4f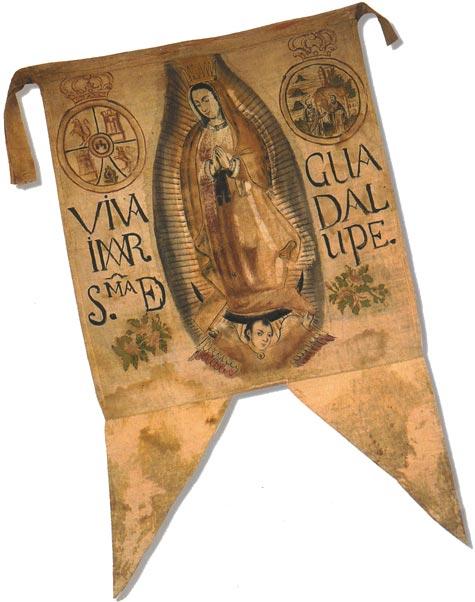 #4g
Images from Rick Collins, 16 January 2017
Here are two more pennons for you. One is a dragoon pennon (#4f) and one is a religious pennon (#4g).
Rick Collins, 16 January 2017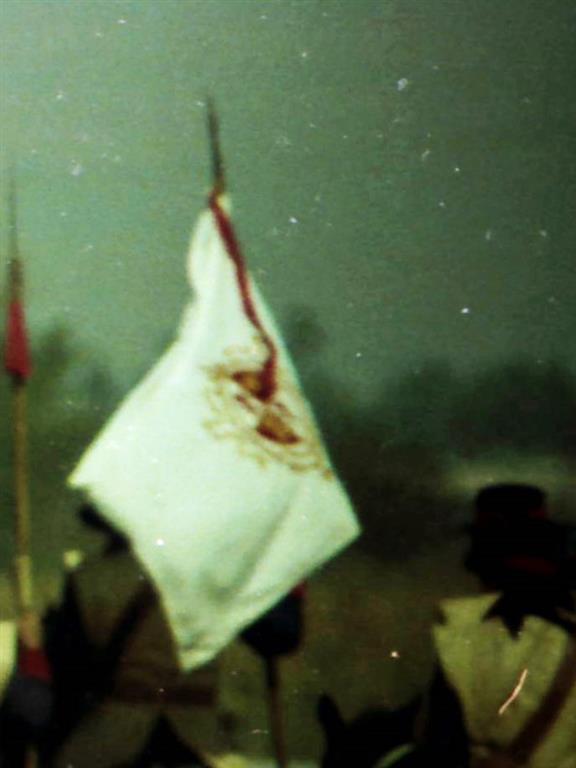 #4j
#4k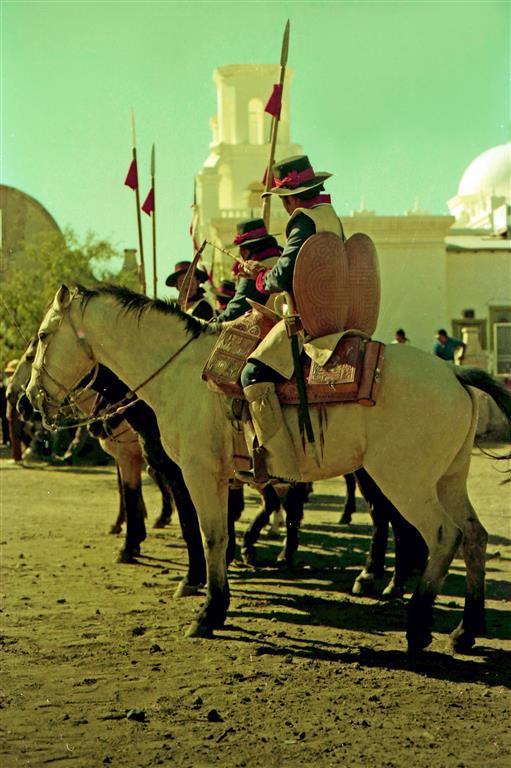 #4l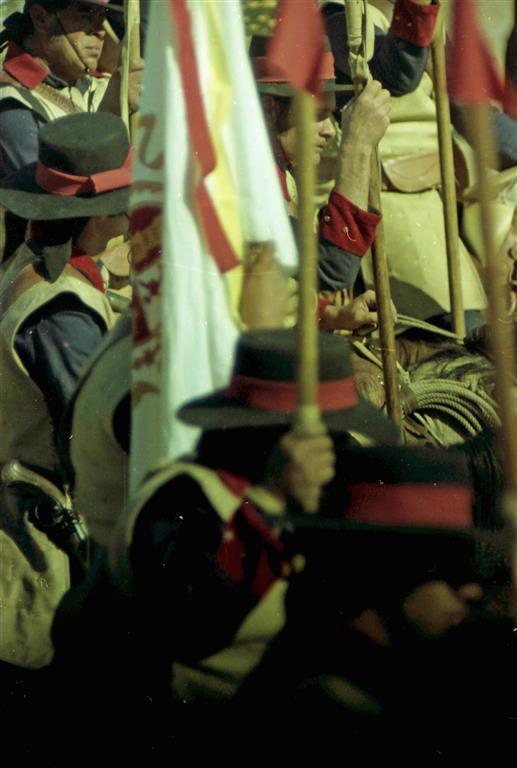 #4m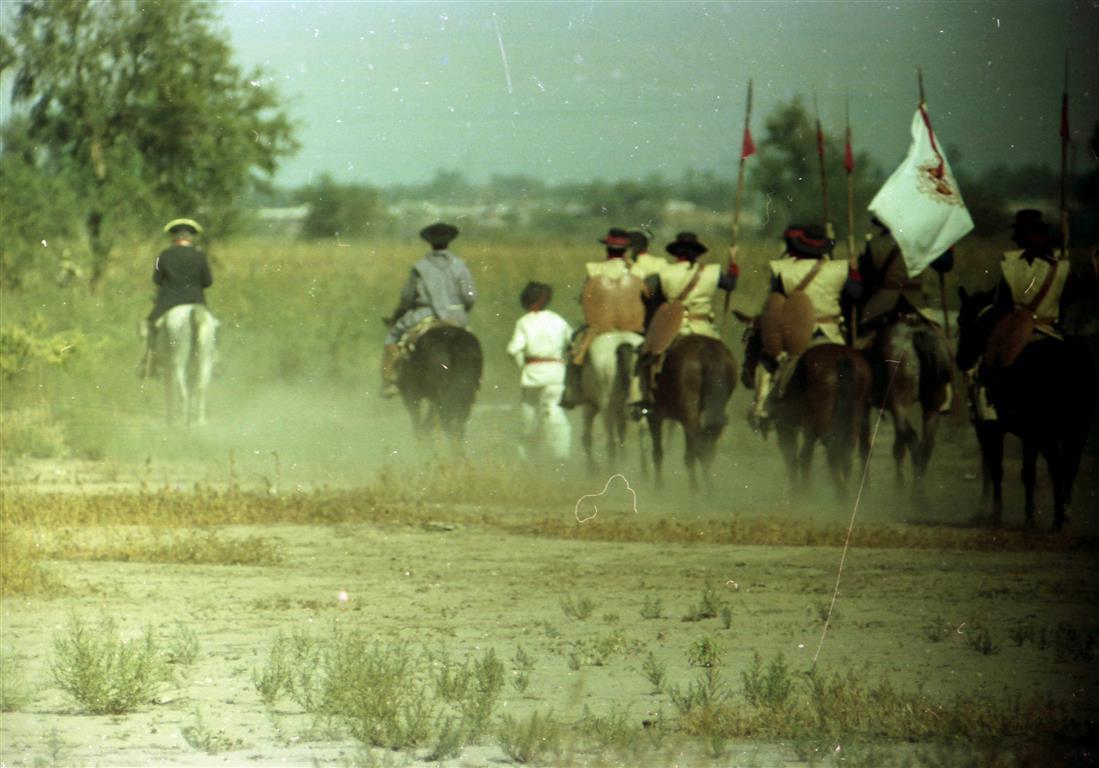 #4h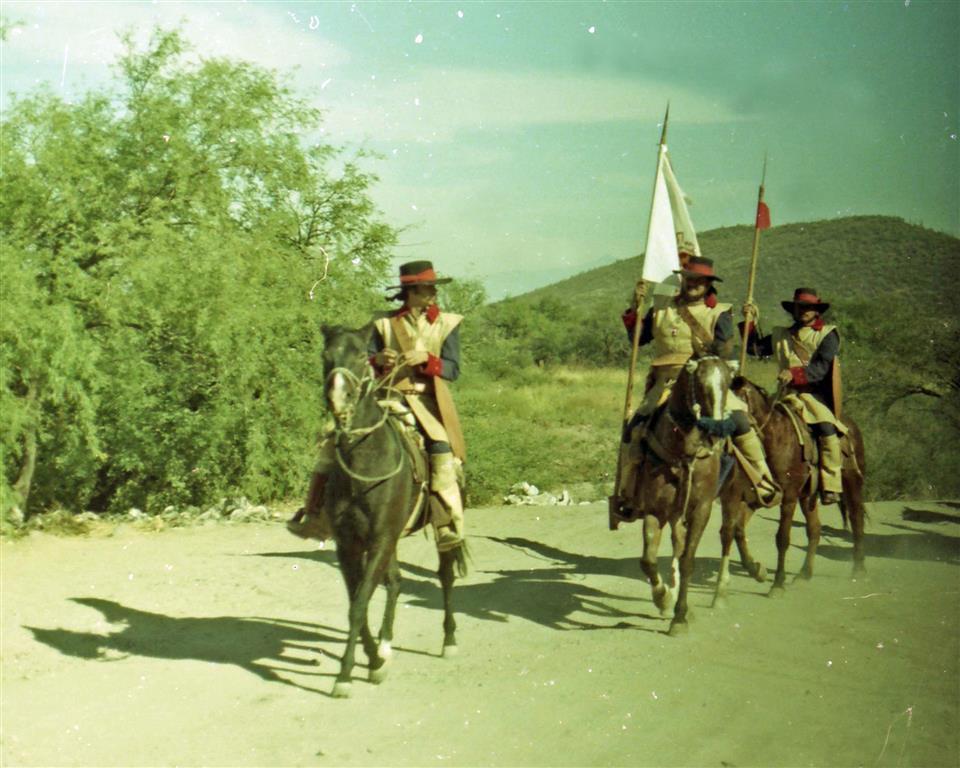 #4i Photos by Todd Mills, 21 January 2017
On the question of which flags were carried on the Spanish frontier of the American Southwest, as Rick Collins indicated, probably none.
The problem is mostly re-enactors. They all want to have a flag and get over-zealous inventing them and carrying them. The same thing happened with the Compagnie franches de la marine (French colonial troops in America), and now every little re-enactor group has the same flag that almost certainly none originally carried. Again as Rick Collins indicated, there has to be a full regiment for there to be a flag, and the frontier was garrisoned by detached and independent companies.
In 1774 Juan Bautista de Anza was sent to claim the northern California San Francisco Bay area for Spain. He stopped at Tubac Presidio along the way, now near the present Sonora-Arizona border. The presidio had been established in 1752 and was the first European settlement in what is now Arizona. About 50 miles further north he stopped in October of 1775 at the Tucson presidio that had been established 2 months earlier (founding what is now the city of Tucson.) Arriving in San Francisco in 1776, he established a presidio there.
In 1975-76 re-enactors followed the march from Mexico to San Francisco, carrying a similar "Carlos III flag" to the one now flying over the restored Tucson Presidio Museum. The 1975 flag, unlike the current Tucson one, was full colour, and probably ended up somewhere in the Bay Area. Each lancer in the detachment had a small red lance pennon. There was nothing in 1975 like what Rick Collins has identified as a naval ensign (#4b and #4e.)
I attach a few photos I took of the 1975 re-enactment at San Xavier del Bac mission (now part of the Indian reservation on the southern edge of Tucson.) Apologies for the poor quality - the negatives are a bit damaged.
Useful links: Juan Bautista de Anza and Anza National Historic Trail.
T.F. Mills, 21 January 2017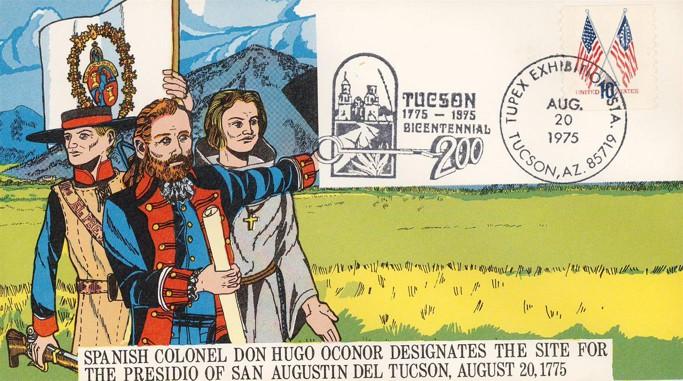 First Day Cover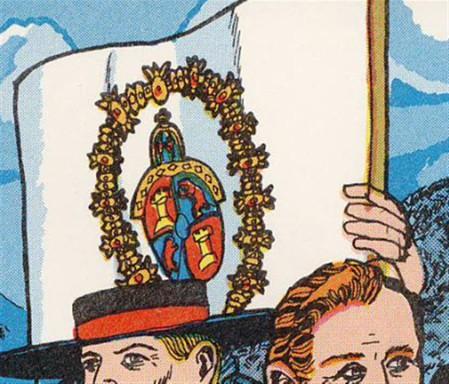 Detail of flag
Image from T.F. Mills, 27 January 2017, [detail enlargement added by UFE Editor]
Following on my earlier, here is a self-explanatory first day cover from 1975. The flag in the drawing is smaller than the one actually in the bicentennial activities, but it gives a better idea of the full-colour design (Carlos III flag.) I'm not expert in things Spanish and colonial, but I strongly suspect this flag was nowhere to be seen in expeditions such as De Anzas. Additionally, a flag that size would certainly not be carried by mounted troops. For at least a century earlier, European mounted troops carried much smaller flags (cornets, guidons, standards), and by the mid-18th century gave them up completely as too unwieldy. They might be used for important formal parades, but never in combat or an expedition across deserts. "Showing the flag" becomes rather meaningless if the very few people who might see it have no idea what it is.
T.F. Mills, 27 January 2017
Photo by Pete Loeser, 1 Feburary 2017
I'm finding this mention of Juan Bautista de Anza's (at the time, I believe actually "Colonel" [approximate rank?] Juan Bautista Anza, since he wasn't actually a nobleman) amazing accomplishment of leading 240 setters almost 1500+ miles from the Tucson area in Arizona to the San Francisco Bay area without the usual loss of lives associated with such early attempts - I believe he actually arrived with one more settler than he left with, losing one, but having two born on the way - interesting on several levels. The first is the question of which flag he would actual carry, if any, and the second is his route since one of his camp sites (Campsite #92 on Llagas Creek - March 24, 1776) is one block from my home in Morgan Hill, California, which was nearly at the other end of his historic trek from Arizona. [This was also where the 1975-76 re-enactors mentioned by Todd camped and left a plaque which went missing (another story), but explains this 2015 ceremony 40 years later.]
After delivering the colonists safely to Monterey, Anza then set out on March 23, 1776, with Lieutenant Joaquin Moraga, Father Pedro Font, a corporal and two soldiers from the Monterey Presidio and eight of his soldiers, to find a safe inland route for his party to take to the great San Francisco Bay described by Portolà. Thus the Anza Expedition of 1775-1776 was very significant to our early California history because it marked the beginning of Alta California's colonization by common families, and the establishment of the first Spanish civilian city in California at San José.
Anza would select the future sites of the Pueblo de Guadalupe de San José (the above mentioned future City of San José), the Mission Santa Clara de Assìs, the Pueblo of San Francisco (future village of Yerba Buena, which became San Francisco), Mission San Francisco de Assìs (Mission Dolores) and the Presidio de San Francisco on this little side trip. He also in the process established a reliable overland route by which supplies could be provided to Alta California's settlements until they could be self-sufficient, and descendants of the 240 colonists who journeyed with Anza are still a part of California life today.
In fact, I was honored to attend the placing of a memorial commemorate the 240th anniversary of the Anza Expedition's occupation of the campsite along the banks of Llagas Creek a block from my house. Perhaps the most amazing part of the ceremony for me was when some the attending descendants of the Anza Party stood behind the monument for this picture, many of whom are still very active in education, government, and other positions of responsibility in our area, a very cool day for my neighbors and I.
But I digress, we should get back to the flags.
Pete Loeser, 1 February 2017
The flag in question that T.F. Mills wrote in his original message shows a flag on a postcard commemorating the expedition headed by Irish Hugh O'Conor Cunco and Fali (full name, naturalized Spaniard) (in representation of the King Carlos III) in which Juan Bautista de Anza Bezerra Nieto (full name) participated. These expeditions were usually part of (or planned by) the Spanish Missions in the Americas (21 total) (source), of which California along (Spanish missions in California (source) comprised by itself 21 missions as well. The Spanish missions in the Americas were Catholic missions established by the Spanish Empire during the 12th to 19th centuries in an area extending from Mexico and the southwestern portions of what today are the United States, southwards as far as Argentina and Chile. In California these missions were established by Catholic priests of the Franciscan order between 1769 and 1833 to expand Christianity.
Having lived in Spanish Fork, Utah, I learned that other expeditions derived from the first Missions, trying to communicate one Mission with another, as the Dominguez-Escalante Expedition (more correctly called the Dominguez-Vélez expedition) (source), which was an expedition led by two Catholic missionaries of the Franciscan order (called friars) Silvestre Vélez de Escalante and Francisco Atanasio Domínguez on July 29, 1776, who followed the stream down Spanish Fork canyon with the objective of opening a new trail from Santa Fe (source), New Mexico, to the Spanish missions in California, such as the Spanish presidio (fortification, or fort, derivedd from the Latin word praesidium meaning protection or defense) at Monterey in Las Californias (Province) along a route later followed by fur trappers which became the Old Spanish Trail (official website), a trade route from Santa Fe to Pacific Coast settlements." (source)
&quot:This expedition (the one led by "De Anza") was closely watched by Viceroy and King, and on October 2, 1774, Anza was promoted to the rank of lieutenant-colonel, and ordered to lead a group of colonists to Alta California. The Spanish were desirous of reinforcing their presence in Alta California as a buffer against Russian colonization of the Americas advancing from the north, and possibly establish a harbor that would give shelter to Spanish ships. The expedition got under way in October, 1775, and arrived at Mission San Gabriel Arcángel in January, 1776, the colonists having suffered greatly from the winter weather en route. Today this route is marked as the Juan Bautista de Anza National Historic Trail (official website) (source)
I believe the postcard portrays a (poorly detailed) version of the (Lesser or abbreviated ) Coat-of-Arms of Castilla y León ( source) (CoA); on top there's a silhouette that looks like the Virgin Mary and everything is surrounded by (what seems to be) the collar of the Order of the Golden Fleece (source).
Bear in my mind that "The flag of the military navy was introduced by the king on 28 May 1785. Until then, Spanish vessels sported the white flag of the Bourbons with the arms of the sovereign (in this case a lesser version). This was replaced by Charles due to his concern that it looked too similar to the flags of other nations (i.e. the French, as seen here (the similarity was even more so, whenever the French flag did not display the version with fleur de lys (source) on the background, specially when spotted from a far distance since the flag was also used on ships, as seen here. Its resemblance derives since both Kingdoms (as well as other territories) were under the House of Bourbon (in the Spanish case, it was under the House of Bourbon-Anjou).
So, up to that time when the expedition by O'Conor took place, in 1775, the old flag was still in use. That being said, the flag depicted in the envelope commemorating the bicentennial is more likely the State and War Ensign 1759-1785 of Spain.
As a notice, there's a town in Colombia called Anzá (official website). Maybe its name derives from another Spaniard of similar last name.
Esteban Rivera, 1 February 2016
Pete, I had no idea you were also on the De Anza trail. Only in the internet age do we make these connections. We (the historically minded) are a minority, but it is indeed amazing and important to have this awareness - and a privilege to participate in the memorials to what preceded us. If only De Anza and his people knew. We can't possibly imagine the world after us any more than he could. Did De Anza even know of the sparks beginning to fly on the east coast that would become the USA, and less than a century later swallow up the fruits of his labours?
Feel free to not include my words if not sufficiently flag-related.
T.F. Mills, 3 February 2017
---
17-5. Unidentified flag from New Zealand Harbour Positive ID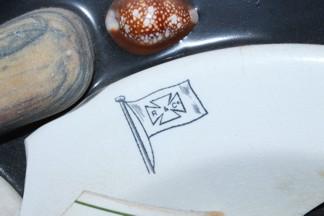 Image from Peter Hill, 17 January 2017.
I submit this unidentified flag found on a broken crockery plate recovered underwater in Wellington harbour, New Zealand, for possible identification. The age is unknown but likely to be middle 20th century. It could possibly belong to a shipping company because it was in an area where ships undergoing maintenance were berthed.
Peter Hill, 17 January 2017.
It does. It's Richardson & Co. Ltd.: The flag is blue, the cross red, and the letters are white.
Peter Hans van den Muijzenberg, 21 January 2017
---
17-6. Nazi Flag Inquiry Positive ID
Image from Mitch McDonough, 20 January 2017
I work at the Archives of the Los Angeles Museum of the Holocaust. I am inquiring about a flag that was donated to the museum recently, supposedly a wartime souvenir for an American soldier that was brought back to the States following the European theater of the war.
Perhaps you can help me out. The flag is about a ¼ of the size of a standard flag and it is predominantly white with a red rectangle inside with your standard white circle and black swastika.
I couldn't find one similar to mine on your website, but I've attached a photo of the flag for you to see for yourself. The donor says that they believe it was a marine flag. Perhaps you can help?
Mitch McDonough, Researcher-Archivist, Los Angeles Museum of the Holocaust, 20 January 2017
Described in a different way, this would be a national flag with a white border, which was the general pattern for a pilot flag.
Peter Hans van den Muijzenberg, 20 January 2017
It looks like the lotsenflagge used between 1935-1945. It was flown when a ship was being piloted in dangerous waters either in a harbor or on a river by a specially trained or experienced maritime pilot. Another source of information can be found here on Historical Flags of Our Ancestors.
Pete Loeser, 20 January 2017
---
17-7. Mystery Flag 1918 Some Speculation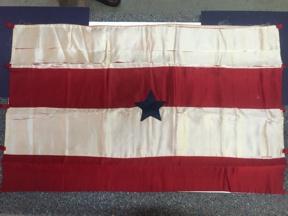 Image from Jon Fazenbaker, 1 February 2017
My wife's Uncle found this flag that was from 1918 supposedly and was placed on his Grandmother's husbands casket. He was military.
Jon Fazenbaker, 1 February 2017
Do we know what country we're talking about?
Peter Hans van den Muijzenberg, 13 March 2017
Do we know where the husband of the grandmother of the uncle of the wife of the poster lived? Served?
I think I've seen too many flags in my life: Too many...
Peter Hans van den Muijzenberg, 20 March 2017
---
17-8. French Flag with Rooster? Positive ID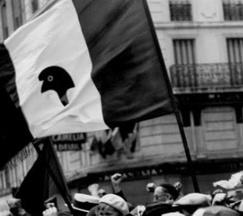 This detail is from a photo by Willy Ronis and the symbol is a Phrygian cap. The flag is associated with the Front populaire, a French political group.
---
17-9. Unknown Shipping Company (Hamburg?) Some Speculation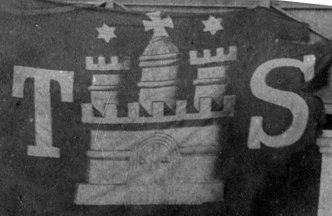 Image from David Zeitlyn, 9 February 2017
The attached flag is from a 19th Century photo taken perhaps in Ghana. I wonder if you have any idea of the company? I am told the castle logo is that of Hamburg.
David Zeitlyn, 9 February 2017
This may be just a strange coincidence, but there was passenger ship named the TS Hamburg built in 1969 for the German Atlantic Line. She was the first major passenger liner built in Germany since 1938, but she was renamed the TS Hanseatic in 1973 (TS means turbine ship). Then, in 1974, she was sold to the Black Sea Shipping Company and became the first four-star cruise ship operated under the Soviet flag. During her Soviet years, she was renamed the SS Maksim Gorkiy, also written as "Maxim Gorkiy" or "Maxim Gork" (the SS means steamship), and was still in service for years after the collapse of the Soviet Union. However, her long story ended in 2009 when she was sold for scrap and dismantled in Alang, India.
My thought is this may have been an early ensign used sometimes during her five years sailing out of Hamburg (1969-1974). If this is true, then the background color would have been most likely red and the lettering and castle most likely either gold or white.
This is, of course, pure speculation, but based on the established traditions of Hamburg Maritime flags, of which there were many. See the "1861 Hamburg Naval Ensign" for a good example of a very similar flag.
Pete Loeser, 18 February 2016
I would say that is indeed a mere coincidence. I don't think people built turbine ships in the 19th century. And anyway, it flew the Hanseatic star. (Except before the handover; shipbuilder HDW have their own flag.) Still, there's some merit in the suggestion, in that there have been several cruise ships called Hamburg over time. I don't know about the TS, though. My impression remains a shipowner TS from Hamburg. Do we know what the photograph was actually about?
Peter Hans van den Muijzenberg, 18 March 2017
Although hardly flag related (although she did fly a red ensign) but the first steam turbine powered ship, the Turbinia, was demonstrated in 1897 so one could accurately say that turbine powered ships were not built throughout the vast majority of the 19th Century.
Christoher Southworth, 18 March 2017
Thanks, I'll modify to: "I would say that is indeed a mere coincidence. I understand people first didn't built turbine ships before the last few years of the 19th century."
Peter Hans van den Muijzenberg, 18 March 2017
---
17-10. European Flag with Stars in Shape of Heart Positive ID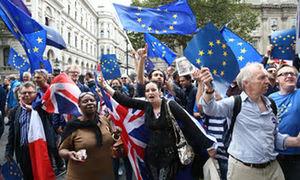 Image from David Phillips, 17 February 2017
From today's Guardian. Caption: Anti-Brexit march in London, September 2016. Blair argues that May's government 'abused' patriotic ideas to back an EU exit. Photograph: Justin Tallis /AFP/ Getty
David Phillips, 17 February 2017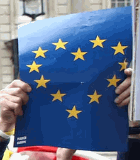 Image from Pete Loeser, 18 February 2017
Actually I believe there are actually no EU flags with a heart shaped constellations of stars shown in the picture. There are several posters being held up in this Anti-Brexit march in London (a demonstration about the UK leaving the EU) showing that star pattern, but no actual flags. I can't make out the two words in white at the bottom left corner of the posters, but I imagine they might have some connection to the Open Britain organization. See attached enlargement.
This conservative change in the UK is almost as strange as the USA electing Donald Trump president. [Like a replay of the early 1900s, and we all know how well that turned out.] One might badly paraphrase the Chinese warning proverb as "we now live in interesting times..."
Pete Loeser, 18 February 2017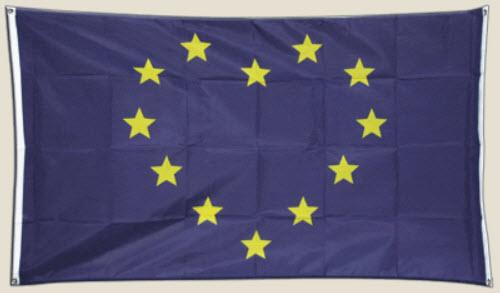 Image discovered by Peter Hans van den Muijzenberg, 18 February 2017
Don't know whether those were actual flags, but [the flags now exist]. (source)
Peter Hans van den Muijzenberg, 18 March 2017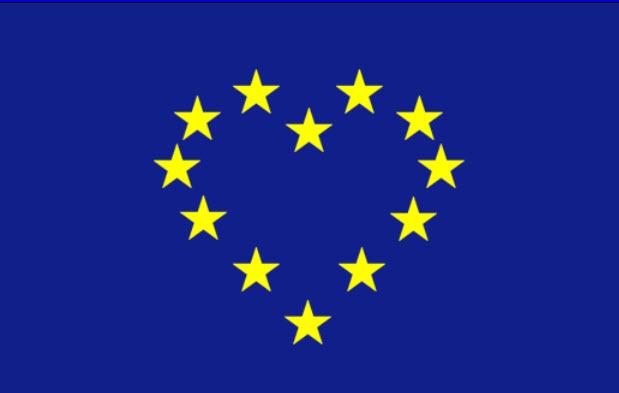 EU Heart Flag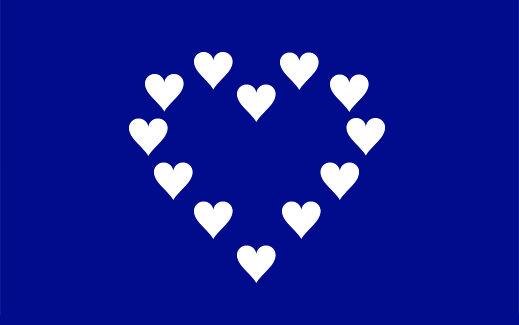 Belgian Heart Flag
Images from Ivan Sache, 4 April 2017 and Pete Loeser, 13 April 2017
The European Union heart flag was designed in 2007 by Jacques de Selliers, designer of the Belgian heart flag, once commonly seen in Belgium, and other heart flags whose actual use has yet to be documented. Accordingly, the flag is not specifically related to Brexit. Its actual use has yet to be documented, too
Ivan Sache, 4 April 2017
---
17-11. Flag of Gabon Some Speculation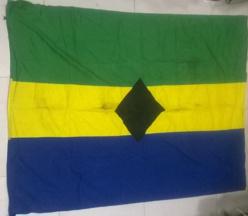 Image from Clayton Horner, 24 February 2017
This looks like the flag of Gabon with a black diamond. Any ideas?
Clayton Horner, 24 February 2017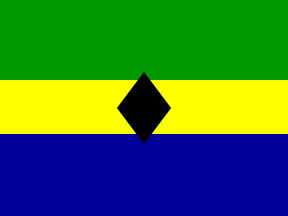 Image from António Martins, 9 March 2017
I've provided an image in FotW standards. Here's some ideas:

What's the origin/source of this photo?
It surely does look like the flag of Gabon, specifically, due to the narrower middle stripe, the pre-independence flag, devoid of the France canton.
It should be noted that this flag's overall ratio seems to be the same infamous 3:4, but the yellow stripe thicker than reported 1/9th, being instead seemingly 1/4th. [Conjectural overall proportions being 3:4=(9+6+9):32=(8+1+6+1+8):(14+6+14), the latter including the ersatz rectangle inscribing the lozenge.]
A black diamond/lozenge is usually a token of coal mining - that same convention is used for some Gabonese sub-national coat-of-arms.
The convention that the bottom stripe of the Gabonese national flag should be medium/light, interpreted from the fact that, at least, the modern presidential flag contrasts it to a darker shade of blue, seems to have not been present back at the time this flag was used/designed, judging from its clearly dark shade of blue.
So, maybe this was a pre-1958 coal shipping company house flag?
António Martins, 9 March 2017

Not the current flag, obviously, but the argument that the earlier flag had such a middle stripe has merit. I feel like we already have this one, but I can't recall where. (Work on a replacement colour comparison script continues.)
Peter Hans van den Muijzenberg, 13 March 2017

Clayton replied to me, with an alternative insight on this flag. The plot thickens and the game's afoot - and we now need to broaden the searches to both sides of the Atlantic!
"The flag arrived a couple days ago, and I found that someone had written 'Kingstown' in the hoist. This makes me think it might be the flag of Kingstown, St Vincent & the Grenadines. I have not been able to find any confirmation of that city even having a flag. The colors would be the same, and a diamond would also make sense.", he commented.
While I'm a bit skeptical about this being a Kingstown city flag (as opposed to interpreting the scribble on the hoist to mean, say, "I got this one in the Kingstown port"), the SV&G connection seems very likely, especially in the light of the post-1985 national flag with 3 such lozenges and of the blue-yellow-green chromatism in use for/in SV&G since at least 1967, with the three similar flags of/for the constituents of the British West Indies: Grenada, Saint Christopher, Nevis and Anguilla and Saint Vincent and the Grenadines itself - indeed the UFE at hand could be a simplified/alternate depiction of the latter flag: The same basic arrangement and a lozenge.
António Martins, 17 March 2017
---
Anything below the following line isnt part of the Flags of the World Website and was added by the hoster of this mirror.
---
Bei fahnenversand.de erhalten Sie eine Vielzahl an günstigen Flaggen, Pins und Aufnähern, zum Beispiel: