Bestellen Sie Ihre Fahnen / Flaggen im Flaggen-Shop bei fahnenversand.de

Diese Website beschäftigt sich mit der Wissenschaft der Vexillologie (Flaggenkunde).
Alle auf dieser Website dargebotenen Abbildungen dienen ausschließlich der Informationsvermittlung im Sinne der Flaggenkunde.
Der Hoster dieser Seite distanziert sich ausdrücklich von jedweden hierauf u.U. dargestellten Symbolen verfassungsfeindlicher Organisationen.

---
This is a mirror of a page that is part of © FOTW Flags Of The World website.
Anything above the previous line isnt part of the Flags of the World Website and was added by the hoster of this mirror.
Unidentified Flags or Ensigns Page 1 (2016)
flags submitted in 2016 - Page 1 of 5
Last modified: 2023-06-03 by

zachary harden
Keywords: ufe | unidentified flags | 2016 |
Links: FOTW homepage | search | disclaimer and copyright | write us | mirrors

---
Please note our Policy for Submissions and Enquiries.
Below is a series of images of flags that have been provided to FOTW; some we have recognized, and some we have been unable to recognize. If you can help us identify any of these flags, please let us know! Contact the: UFE Editor.
Identification Key:
= Positive ID (Positive Identification)
= Tentative ID (Tentative Identification)
= Some Speculation
---
16-1. French Saint Martin UFE Positive ID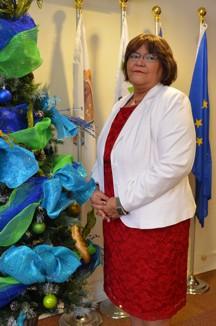 This has been identified as the Flag of the Collectivity of Saint-Martin and can be found on its perminent page.
---
16-2. UFE Seen In Music Video Positive ID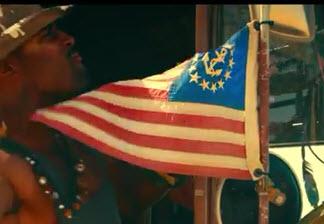 Image from Esteban Rivera, 3 January 2016
Yesterday while watching the music video of "Hey Mama" by EDM (Electronic Dance Music) artist David Guetta, and featuring Nicki Minaj, Bebe Rexha and Afrojack, I noticed at the 0:48 mark there's a flag resembling a US flag (featuring an anchor within 13 stars in a circle) very similar to the U.S. Betsy Ross flag that I didn't recognize. The video was directed by Hannah Lux Davis and released on May 19, 2015, according to this Wikipedia article.
Esteban Rivera, 3 January 2016
I think that is just be the reverse side of a US Yacht Ensign. As to why this particular flag is used in this video is unclear to me.
Pete Loeser, 3 January 2016
---
16-3. US Protest Flags in Oregon Tentative ID
Image from Pete Loeser, 4 January 2016
While watching the CNN report on the protestors occupying a Federal building in the Malheur National Wildlife Refuge in Oregon, the footage also showed a group of supporters protesting in Burns, Oregon. I spotted three flags on a flag pole. The one in the middle is one I didn't recognize and unfortunately it was very hard to see. Maybe somebody else got a better look at it?
Pete Loeser, 4 January 2016
In the photo that you attached, it looks to me like: Top - Gadsden flag, Middle - Iowa state flag, and Bottom - III Percent flag. What do you think?
Randy Young, 7 January 2016
I think you may be correct about it being the Iowa Flag, but I wonder what the heck it is doing there? Out-of-town visitors?
Pete Loeser, 8 January 2016
---
16-4. Kosovar Protest Flag (Kosovo) Positive ID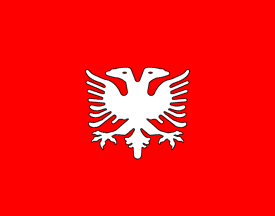 Now located at a permanent location as a Kosovar Protest Flag.
---
16-5. UFE at Western Samoa Independence Ceremony Some Speculation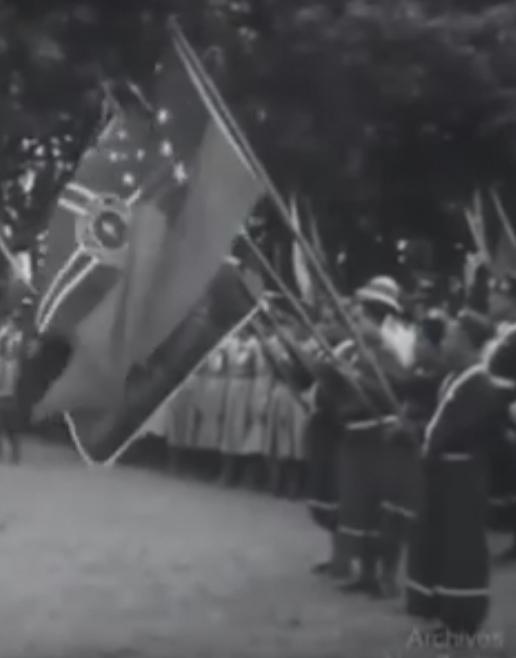 Screenshot from Jens Pattke, 5 January 2016
In a YouTube video of the Western Samoa Independence Ceremony, New Year's Day 1962, at 3 minutes 12 to 15 seconds there appears a flag which bears striking semblance to several historic German flags, particularly the Third Reich Kriegsflagge. What is it - I presume it is the flag of a church youth group? Could the design be influenced by the "Second" Reich Kriegsflagge, due to the fact that Samoa was a German colony from 1900 to 1914?
Miles Li, 5 January 2016
Or perhaps the flag of the Germany Colonial Society - based on the star pattern that seems to be on the flag.
Pete Loeser, 8 January 2016
---
16-6. Unknown Shipping Line Flag Positive ID


Images from Marc L. Hendon Sr., 9 January 2016
Recently I acquired a cup with this flag. I have searched and cannot find it. I think it is a shipping Line, but not sure from what country?
Marc L. Hendon Sr., 9 January 2016
The red flag with three white stars is the rank flag of a lieutenant general, and the hourglass-like symbol with the Roman numeral I is the patch for the South Korean Army's I Corps, which is commanded by a lieutenant general. Interestingly, the rank flag is for a US Army lieutenant general, not a South Korean. Also, the maker's mark on the cup - Mokpo China - points to South Korea as Mokpo is a city in southwestern South Korea.
Randy Young, 16 January 2016
---
16-7. Unknown Flag on RV Positive ID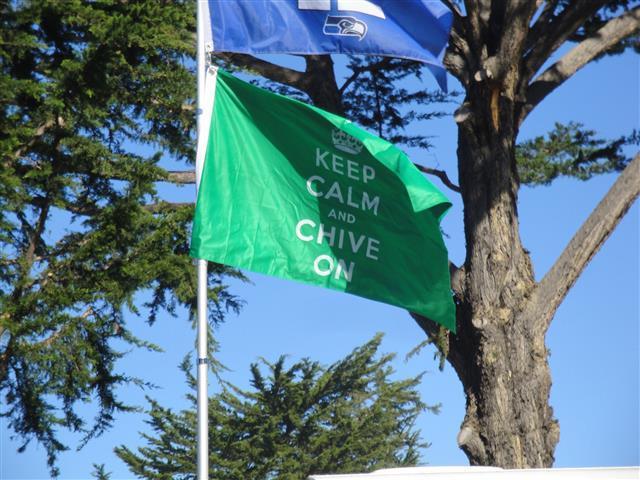 Image from Pete Loeser, 18 January 2016
While staying at a RV Park in Pismo Beach, California, I noticed this green flag flying from a RV underneath a blue Seattle Seahawks Flag (American Football Team). It had the words "KEEP CALM AND CHIVE ON" written in block grey letters under a crown. The owner left before I could ask what it was. Obviously a play on the "Keep Calm and Carry On" British slogan from World War II, but any ideas? It looked a bit "punn-ish" to me.
Pete Loeser, 18 January 2016
This flag is related to the Chive website. Apparently, there are numerous items with this slogan.
Rick Wyatt, 18 January 2016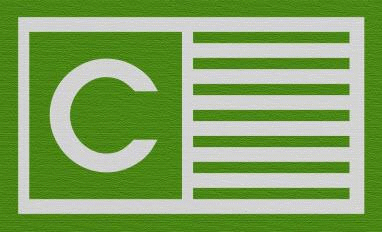 Image from Pete Loeser, 18 January 2016
Apparently social media has left me behind once again. Not only does the flag I posted exist, there are others. See this second flag. You can see it flying at Chive Nation or at their shop and on their FaceBook page. I understand it is also on Twitter, what can one say. Now if I only understood what it was? It appears somebody is making a lot of money once again; everybody have your T-Shirt yet?
Pete Loeser, 18 January 2016
Further research has discovered that The Chive is a photo-entertainment website independently owned and operated by Resignation Media. Two brothers, John and Leo Resig, launched Registration Media in November of 2008. The Chive name was born from combining the names of the two cities in which the brothers lived. Leo lived in Chicago (CHI) and John was lived in Venice Beach, California (VE). They went on to create additional entertainment websites, all of which are staffed and managed by members of the Resig family. The headquarters for Resignation Media, the parent company of The Chive, is located in Austin, Texas.
The Chive has been responsible for a series of embarrassing internet hoaxes that were later reported as true stories by some mainstream media outlets. On the plus side, The Chive is also responsible for Chive Charities, in which they raise awareness and funds for specific individuals in need of assistance. They have donated to veterans, children with birth defects, shooting victims, fire departments, rescue squads, and many others in need. The community of people who regularly visit the Chive, known as Chivers, have donated over $100,000 to several causes within hours. (Source: Wikipedia)
Pete Loeser, 21 January 2016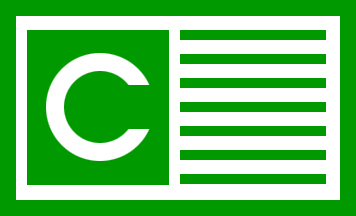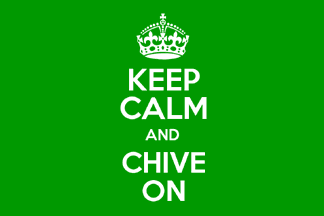 Images from António Martins-Tuválkin, 30 January 2016
Both flags redrawn to standards based on Pete's image and from the Keep Calm and Posters website with only slight cleanup and adjustment of color shades involved. As said, there are other flag versions of the Keep Calm theme, and also other themes, one including the likeness of Bill Murray. Mostly these seem to be mainly white lettering and iconography on plain backgrounds - green or black.
António Martins-Tuválkin, 30 January 2016
---
16-8. Unusual flag spotted in London Positive ID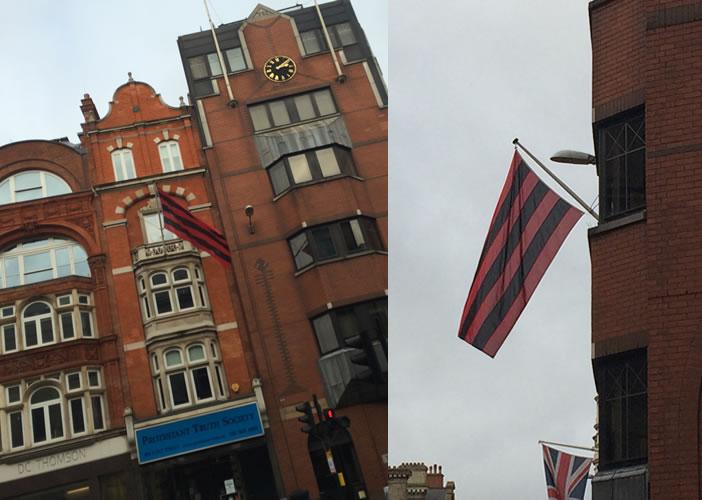 Images from Martin Dix, 26 January 2016
Here is an image of an unusual flag I thought might be of interest to you. It was spotted in Fleet Street in London on Sunday, 24 January. It was on a building with no obvious plaques or notices indicating what it might be for although there is a religious book shop of the "Protestant Truth Society" on the ground floor. As you can probably see, it is three black stripes on a red background. I have been along this road in the past but have never seen this before.
Martin Dix, 26 January 2016
Perhaps an AC Milan Fan?
Marc Pasquin, 29 January 2016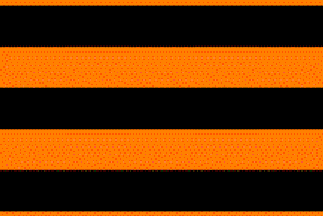 Image by Mallefotz, 28 February 2014
The background looks orange, rather than red, to me. Reminds me of the Saint George's Ribbon [often used by pro-Russian protestors in Ukraine] which has been reported earlier. However, that flag seems unlikely to appear in the said location.
Tomislav Todorovic, 29 January 2016

Image by Ivan Sache, 14 December 1999
Or perhaps the Canterbury (NZ) rugby team? Or Manchester City (though it's their reserve strip, so less likely)? Any number of top sports teams have red and black stripes. It's also the city flag of Kihelkonna in Estonia. [Note: Dieter Mayr also reported the similarity of this flag to that of the Estonian municipality of Kikelkonna, but couldn't see any connection to London - Ed]
James Dignan, 30 January 2016
This flag is identified in Flagmaster, Issue 156, on page 5. To quote them: "A red and black flag flies from the London office of DC Thomson in Fleet Street. The Dundee-based publisher is responsible for a range of titles, including The Beano, whose front cover has been graced since the 1970s by the red-and-black jumper wearing Dennis the Menace and his canine sidekick Gnasher."
Pete Loeser, 22 July 2016
---
16-9. Russlanddeutsche Flagge Positive ID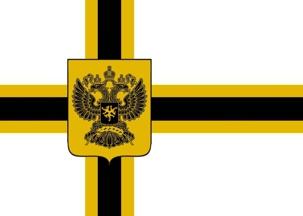 Determined to be a fantasy flag, comments removed by request
---
16-10. Strange Hungarian Flags Positive ID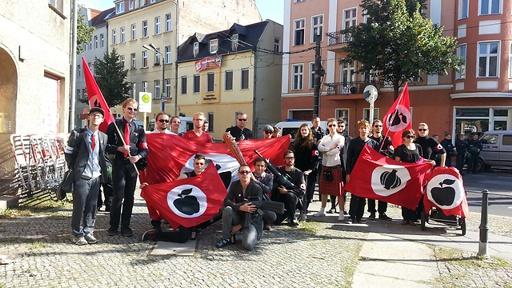 The unidentified flags were those of the Hungarian Garlic Front.
---
16-11. Unidentified World War II Era Flag Positive ID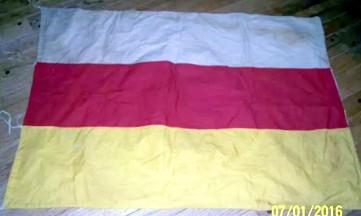 Obverse side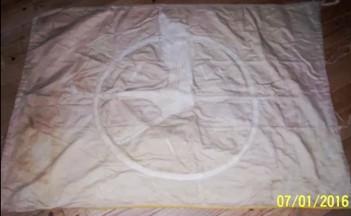 Reverse side
Images from David Green, 4 March 2016
Could you help me identify this flag. It was brought back from a soldier during the World War II era. It's two sided and has the letters A W G on the side with the bird or dragon. Not sure exactly what it is. Any help is appreciated.
David Green, 4 March 2016
The flag might be related in some way to South Ossetia or North Ossetia (Georgia). Not sure if there is any evidence of it being used by any groups back then.
Marc Pasquin, 4 March 2016
The colours of Ossetia was designed in 1980s. The flags did not exist in World War II
Victor Lomantsov, 4 March 2016
Any idea where the man fought, his units, details like that?
Marc Pasquin, 4 March 2016
I finally found out what the flag was after a lot of research. It is an old flag from the German youth group before the Nazi regime took it over before World War II. It is called Wandervogel. It predates the war because it does not display any of the symbols used by them.
David Green, 1 April 2016
I agree it's similar to a Wandervogel flag, but I haven't encountered this specific emblem yet. I also don't know about the three colour side as yet.
Peter Hans van den Muijzenberg, 9 April 2016
Basic information about Wandervogel movement can be found here, more details here in German. In the German version it says that Alt-Wandervogel (AWV) existed from 1904 until 1926. It had been a local movement, founded in Berlin-Steglitz, but developed to more than 300 local groups. It was finally absorbed by NS-organization HJ. If we change obverse and reverse and flip the tricolour vertically, we have a tricolour matching the city flag of Münster (with yellow on top). We might assume, AWG (which I can't see in our photo) means a local Group of AWV. If so, the logo of the organization would be on the obverse and the local colours (Münster in this case) would be on the reverse.
Thus in my opinion we have not yet positively identified that flag. Especially as the bird doesn't match that one displayed in WIKIPEDIA.
Klaus-Michael Schneider, 29 October 2016
Indeed as David Green mentions, it shows indeed the logo of one of the Wandervogel organizations. "Wandervogel is the name adopted by a popular movement of German youth groups from 1896 onward. The name can be translated as rambling, hiking, or wandering bird (differing in meaning from Zugvogel or migratory bird) and the ethos is to shake off the restrictions of society and get back to nature and freedom. Soon the groups split and there originated ever more organisations, which still all called themselves Wandervogel, but were organizationally independent. Nonetheless the feeling was still of being a common movement, but split into several branches.
The Wandervogel movement was officially established on 4 November 1901 by Herman Hoffmann Fölkersamb, who in 1895 had formed a study circle at the boys' Berlin-Steglitz grammar school where he was teaching. The Wandervogel soon became the pre-eminent German youth movement. It was a back-to-nature youth organization emphasizing on freedom, self-responsibility, and the spirit of adventure as well as other hobbies, and took a nationalistic approach, stressing Germany's Teutonic roots.
After World War I, the leaders returned disillusioned from the war. The same was true for leaders of German Scouting. So both movements started to influence each other heavily in Germany. From the Wandervogel came a stronger culture of hiking, adventure, bigger tours to farther places, romanticism and a younger leadership structure and physical fitness. Scouting brought uniforms, flags, more organization, more camps, and a clearer ideology.
The Wandervogel movement was re-founded after World War II and exists in Germany to this day with around 5,000 members in many different associations, as well as in neighboring countries." (Source#1) (Source#2)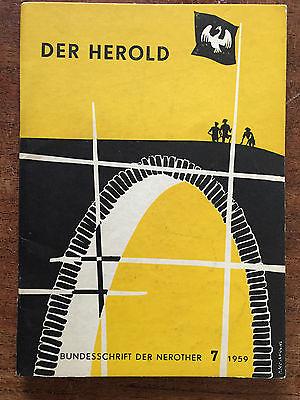 #11a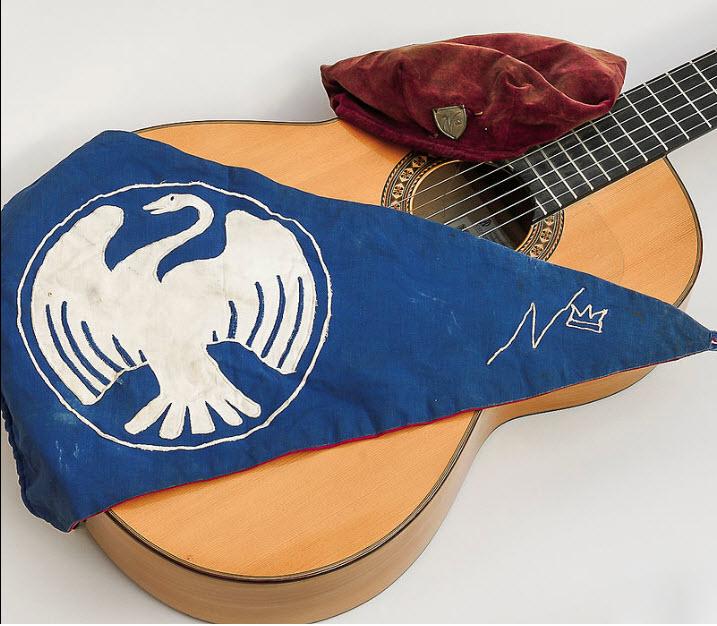 #11b
Images from Esteban Rivera, 1 April 2016

Here are examples of some of these organizations' flags and pennants:

For additional information go to Wandervogel (official website that encompasses the current Wandervogel version and gathers several of these associations within Germany and one in Austria.
Esteban Rivera, 1 April 2016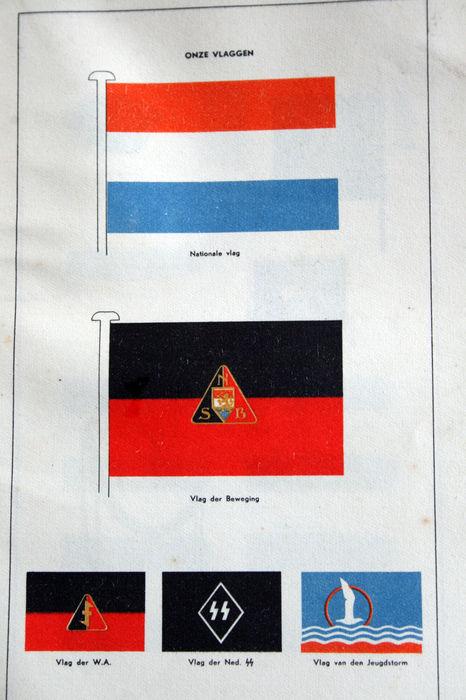 Image from Peter Hans van den Muijzenberg, 8 April 2017
As it happens, after weeks of uninteresting hits, if any, Catawiki have now sent me another one worth sharing: This NSB yearbook 1942 has a page showing these flags:
Nationale vlag (national flag). The printing and scanning together have not been kind to the orange colour, but it can be seen to differ from the red in the movement flag)
Vlag der Beweging (flag of the Movement)
Vlag der W.A. (flag of the W.A. - the "Weer-Afdeelingen" - storm divisions)
Vlag der Nederlandse SS (Flag of the Dutch SS)
Vlag van den Jeugdstorm (Flag of the Youth Storm)
I don't have the time right now; does anyone want to pursue this further?
Peter Hans van den Muijzenberg, 8 April 2017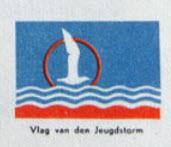 Detail by UFE Editor, 8 April 2017
Very nice find. The interesting new item from that image is that of the Nationale Jeugdstorm (NJS), usually refered to as simply Jeugdstorm (bottom right flag). The flyings seagull is very similar to other Wandervogel movements of the era. It is also considered a scouting-inspired youth organization.
It was officially "established on May 1, 1934 by Cornelis van Geelkerken and ceased existence in 1945 with the end of WWII. Membership was for boys and girls aged between 10 and 17 years". (source)
Here are pictures and video of the actual flag :
Here's a video that shows the flag (also shot in 1938)
They also had a pennant (seen here) and (source) described as "Screen-printed in orange and steel blue inks on white cotton, hoist sleeve in white rayon with a 630 mm long string fed through the sleeve, each end of the string tied in a knot, reinforced stitching along all three edges, 137 mm x 285 mm". There's also a vertical pennant. (source)
Esteban Rivera, 8 April 2017

[Currently a discussion is being held among the Dutch, South West African, and German editors as to where this and similar flags and information should reside. If indeed it is a flag of the "Dutch Youth Storm", is it German or Dutch? Was it another scouting organization incorporated into Hitler Youth, or a independent organization? Should it be included under German Scouting or under Nazi HJ as is the South West African Colonial Pathfinders, etc.? - Ed.]

In all this speculation on this flag, I don't think anybody has stated the obvious, the front (obverse) side of the flag is that of the German City of Iserlohn in North Rhine-Westphalia. If the reverse side is, in fact, a flag of the Youth Storm, then it would indicate the troop was from Iserlohn wouldn't it?
Pete Loeser, 22 April 2017
---
16-12. Unknown Shiite Militia Flag Positive ID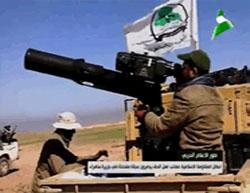 This flag has been identified as one of the The League of the Righteous and moved.
---
16-13. Panamanian Political flag Some Speculation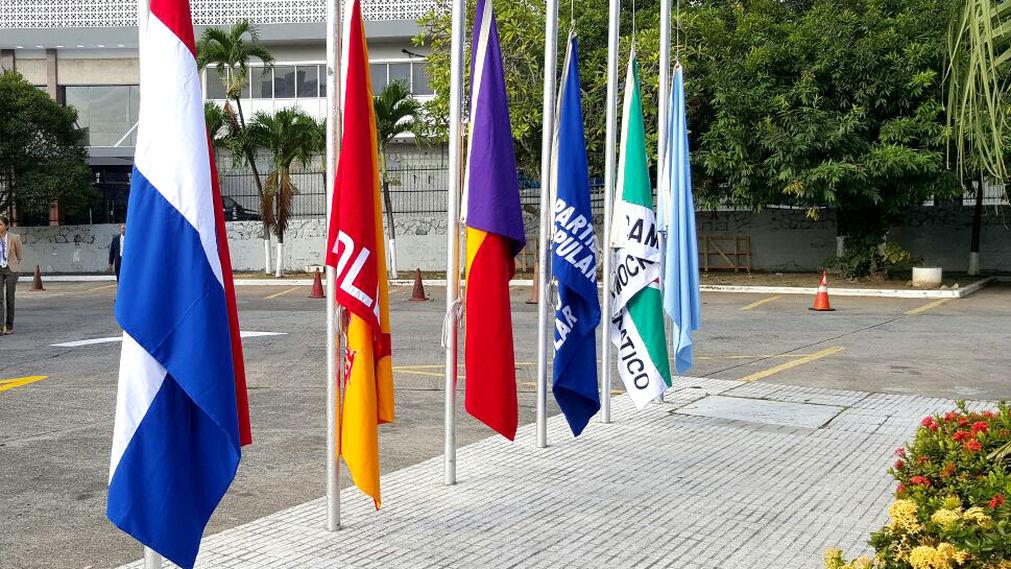 Image from Esteban Rivera, 14 March 2016
In this picture one can see a sky blue flag at the end of the row of a total six flags. If the National Assembly currently has five political parties, does anybody know the sky blue flag at the end of the above mentioned picture, to what party does it belong to, or what it stands for?
The same flag can be seen: Source here (image here) - First flag from left to right). On the electoral ballot (source here) for Presidential Elections of 2014 we can see that candidate number 7 is labeled as Libre postulación (Independent) and has the sky blue color assigned, and that other independent candidates (#8 and #9) also have a color to be distinguished from the other candidates, but that is no official movement nor political party.
Is this common practice to denote an independent candidate with a color and issue a flag, or that is just mere coincidence?
Esteban Rivera, 14 March 2016
I think I remember reading somewhere that the Electoral Tribunal (TE) of Panama represents independent, or free applicant candidates (Libre Postulación), who are running in an election by using a plain undecorated flag like that sky blue one. I'd guess for other independent candidates they'd use other colors. If I'm not mistaken they had three independent candidates running in the last general election for President (Esteban Rodríguez, Juan Jované and Gerardo Barroso) and perhaps they were assigned the same color? Hopefully somebody can verify this (only an "educated guess" or hypothesis, right now) for us.
Pete Loeser, 18 March 2016
---
16-14. Greek UFE 1949 Positive ID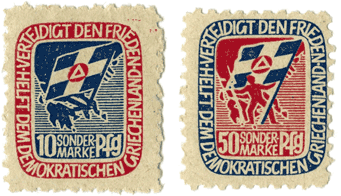 Now identified as the Flag of the Greek Democratic Army as shown on a stamp.
---
16-15. Unidentified Flags on Tea Cup Some Speculation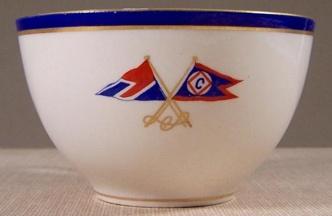 Image from Kathy and Lynn Dale Touchtone, 16 March 2016
We have a cup with two flags on it and we have been unable to locate either of these flags. We would appreciate your knowledge again if you can identify either one.
Kathy and Lynn Dale Touchtone, 16 March 2016
Just a remark: The flag on the left is like the (unidentified) one posted as UFE10-30 - "Flag on a Zippo Lighter", but with reversed colours.
Jeroen van Leeuwen, 29 March 2016

Image from the Sarasota Yacht Club Website, 11 April 2019
I finally realised what was wrong: It's Sarasota Yacht Club, but with all the white depicted as separation. Apparently, the person decorating the lighter didn't realise part of the white was not just separating blue and red, but more importantly formed the white "S". UFE10-30 has the colours correct, with blue in top.
The style of two crossed pennants will usually display a burgee of a club and a private signal for one of its members. With the Sarasota as the club, the other flag would normally be the private signal of a member of the club, with the cup being part of the inventory of the member's yacht.
Your quest then becomes finding specifically the one owner that used that one flag. As your information for locating the owner you have: The distinguishing signal, the letters formed by the flag lines, anything information printed on the cup, the club's register, if they keep one, and overviews of distinguishing signals like the Lloyd's Register of American Yachts.
The manufacturer of the cup - and the style of the cup - would give you an era for the cup. In general, that's end 19th century and 1st half 20th century, but manufacturers didn't usually last that long. Knowing the approximate age would allow a more specific search. Still, your best chance, especially with a more limited era, would be the club's member register, if their archives include such information.
Peter Hans van den Muijzenberg, 11 April 2019
---
16-16. Egyptian Sultanic Standard? Some Speculation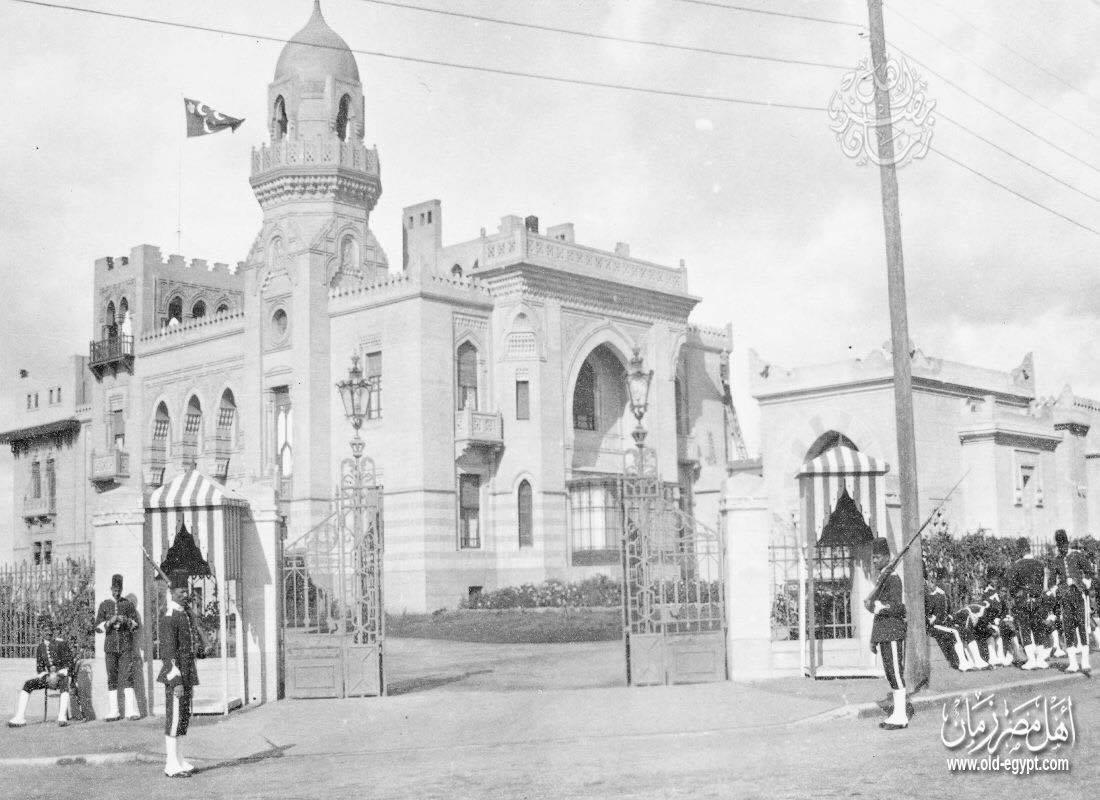 original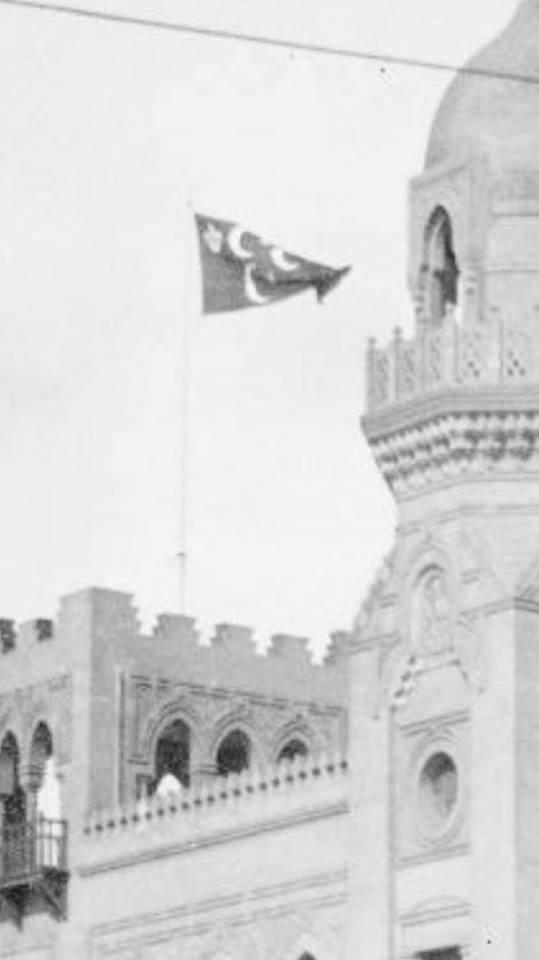 detail
Images from mabdelr, 20 March 2016
I found a photo on Facebook page for Egyptian history enthusiasts. It shows the palace of Sultana Melek, consort of Sultan Hussien Kamel of Egypt (ruled 1914 - 1917). Flying atop the palace is the "national" flag of the Egyptian sultanate at the time, (Red, with three crescents each with a star, in white) with what appears to be a crown in the canton. According to the caption, the photo is from 1915. I have never seen this flag before, but if it is indeed a royal standard of some sort, it would be the direct inspiration for the later royal standard on land, which was also the national flag with a crown in the canton. Attached are the original photograph, and a detail showing the flag.
mabdelr, 20 March 2016
I couldn't help but notice the relationship between this flag and that of UFE08-17 "Three White Crescents on Green Field" first posted by David Kendall on 11 September 2008. At least it gives us a hint on the colors of the flag.
Pete Loeser, 26 March 2016
Ah, yes, about that other one: It's never mentioned in the film, The Wind and the Lion, but the shots it is in are usually shots of Raisuli and his people. Either he is in the scene, often with the flag flown by the rider next to him, or it flies over their location. The one exception is when it is flown during an attack to free Raisuli. Does that make it a flag for Raisuli, his followers, his family? I don't know, but it's certainly a flag of status in the film, more than a flag that just happens to be present in one scene.
Peter Hans van den Muijzenberg, 26 March 2016
---
16-17. US Minuteman flag with Three Stars Positive ID
Image from Fred Schwan, 21 March 2016
My area of interest and specialty is World War II. In particular right now I am working on US Treasury Minuteman flags and Army-Navy E award banners/flags. I just purchased this Minuteman flag on e-Bay that I cannot find among the many great images that you have in a section on these flags. The one that I bought has three stars at the lower right corner. Two are gold one white. I suspect that this flag is for the the 11th year of qualifying for the Minuteman flag. I would like confirmation of this idea or contradictory or supplemental information.
Fred Schwan, 21 March 2016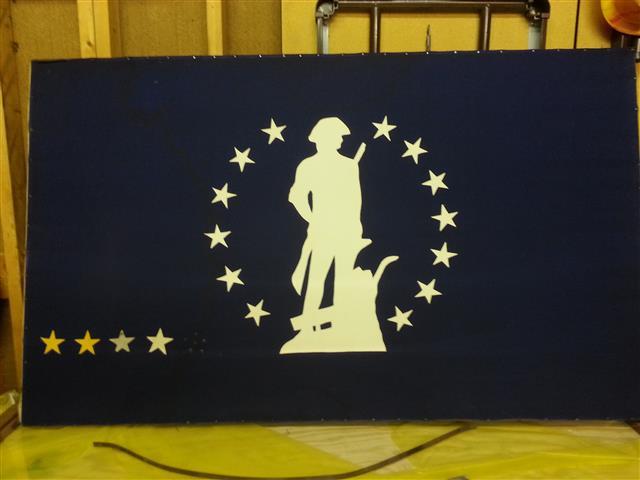 Image from Zachary Harden, 22 March 2016
This is the closest that I can find. Each gold star is for 5 consecutive years of Bond sales by at least 50% of employees participating, the white star is for 1 year of at least 50% of employees participating. (Source: US Militaria Forum.)
Zachary Harden, 22 March 2016
[On our US Savings Bond page,] we have the charge slightly larger, and the stars all upright. We might want to check those details with other ""Minuteman flags"; they could e.g. be specific for a specific period of time, but it does look like it's the same basic design. For the stars: we have one and below it we have five. As "The size and placement of the star varies.", the flag from Ebay would fit the pattern.
Peter Hans van den Muijzenberg, 21 March 2016
---
Anything below the following line isnt part of the Flags of the World Website and was added by the hoster of this mirror.
---
Bei fahnenversand.de erhalten Sie eine Vielzahl an günstigen Flaggen, Pins und Aufnähern, zum Beispiel: