Bestellen Sie Ihre Fahnen / Flaggen im Flaggen-Shop bei fahnenversand.de

Diese Website beschäftigt sich mit der Wissenschaft der Vexillologie (Flaggenkunde).
Alle auf dieser Website dargebotenen Abbildungen dienen ausschließlich der Informationsvermittlung im Sinne der Flaggenkunde.
Der Hoster dieser Seite distanziert sich ausdrücklich von jedweden hierauf u.U. dargestellten Symbolen verfassungsfeindlicher Organisationen.

---
This is a mirror of a page that is part of © FOTW Flags Of The World website.
Anything above the previous line isnt part of the Flags of the World Website and was added by the hoster of this mirror.
Unidentified Flags or Ensigns (2010) - Page 2
Flags submitted in 2010 - 2 of 3 pages
Last modified: 2023-06-03 by

zachary harden
Keywords: ufe | unidentified flags |
Links: FOTW homepage | search | disclaimer and copyright | write us | mirrors

---
Please note our Policy for Submissions and Enquiries.
Below is a series of images of flags that have been provided to FOTW; some we have recognized, and some we have been unable to recognize. If you can help us identify any of these flags, please let us know! Contact the: UFE Editor.
Identification Key:
= Positive ID (Positive Identification)
= Tentative ID (Tentative Identification)
= Some Speculation
Unidentified Flags located on PAGE 1

Unidentified Flags located on THIS PAGE

Unidentified Flags located on PAGE 3

Unidentified Flags on other pages
---
10-26. Blue Ensign with two Ws

Some Speculation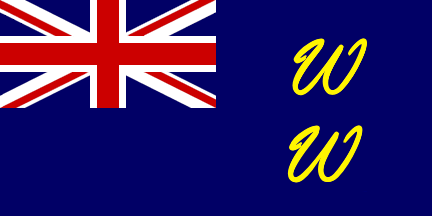 Speculative Image by Rob Raeside, 20 April 2010

Can you tell me the significance of a blue ensign with 2 large yellow Ws on the blue part?
Erica Utsi 20 April 2010
How clearly did you see this flag? I suspect you have the flag of the Training Ship Worcester, or its yacht club descendant, the Old Worcesters Yacht Club. While the lower W is definitely a W, the upper one is actually a naval crown. From a distance it would probably look quite like a W.
Rob Raeside, 20 April 2010
The answer to your question is very clearly indeed. It's being hoisted by a local eccentric in his front garden. This gentleman has taken to referring to himself as a "commodore" although he has no RN experience. He gave a talk to a local society on one of the major naval battles a couple of years back. I believe he does have a small boat of his own. It was flying yesterday and also a few months ago. Very distinctive - blue ensign with 2 large yellow Ws, one above the other taking up the majority of the rhs (as you face it). The Ws are identical. My description is confirmed by one of my work colleagues, the Ws are more flamboyant than that used by TS Worcester. They take up more physical space and there is a short tail to one side, shorter than but reminiscent of the tail on the W used by Wayfarer dinghies. I think the tail is on the opposite side to that of the Wayfarer but my colleague is not sure of this.
Erica Utsi, 20 April 2010
I'm inclined to think this may a personal design, if the two Ws really are both Ws. Could that be his initials? However, now that I have confirmed you had a good clear close-up sighting of it and that it is not the Worcester flag, I will ask further in a group of flag enthusiasts that discuss such matters on the internet. I take it from your message that the W is written in a scripted form, not a plain uppercase letter W?
Rob Raeside, 20 April 2010
That's absolutely right - it's scripted. The placing is also interesting. Looking through your website and then the material you sent links for, the placing of any additional emblens is very central i.e. the margin to the upper and lower edges of the flag are greater than the gap in the middle e.g. between the crown and the W on TS Worcester's flag. I'd say that these Ws are equally spaced relative to each other and the top and bottom of the flag. I guess that also suggests a private enterprise initiative. Does yesterday's date have an significance? I've seen the flag once before but he doesn't fly it on a daily basis. I didn't see it this morning but a colleague assures me it's still on the flagpole, just not as visible since the wind has dropped.
Erica Utsi 20 April 2010
I am, of course, unable to add anything of substance to the resolving of the WW mystery flag, but I am wandering of legality of display of such flag in his own back yard. From my (casual and lay) understanding of the English flag related legislation, it may indeed be quite legal thing to do. It would be different if used on a ship/boat instead of an ensign/jack (although it may possibly pass off as a private signal/house pennant), where the skipper would have to be able to produce a warrant of other document that may confirm his right to use it on the boat/ship. But on land, if I understand correctly, one can hoist more or less whatever he want in his back yard, providing that he has planning permission for the flagpole. And as I understand, this is much to difference with the legislation regarding the flags in your back yard in the most of the countries on Continent (of Europe, of course), where the laws in general much more strictly prescribe what can be hoisted.
Željko Heimer, 21 April 2010
Since this isn't an official Blue Ensign, the only way you can find out what it is all about, as a friend suggested, is to knock on the door and ask him what the two "w" stand for. If you do please let us know what you find out.
Pete Loeser, 22 April 2010
---
10-27. Two UFEs in Valais Switerland

Positive IDs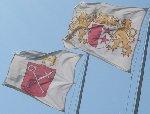 These flags have been identified as those of the Bourgeoisie de Sion and the Diocese of Sion and are located on their proper page.
---
10-28. Unknown Nigeria Flag

Positive ID
Image from Knut Berg, 6 May 2010

In this photograph of President Goodluck Jonathan being sworn in, two flags can be seen in the background, one is the Nigerian national flag, the other is horizontally striped red-black-white-green. Anybody have any idea of what it can be?
Knut Berg, 6 May 2010
Interesting puzzle. At the inaugration of President Jonathan's predecessor, Umar Musa Yar'Adua, on May 29, 2007, there was a red-blue-white-green flag present. (http://www.msnbc.msn.com/id/18927763/)
Ned Smith 6 May 2010
The same flag was shown behind Yar'Adua several times.
Peter Hans van den Muijzenberg, 6 May 2010
I was wondering about this for a long time. My conclusion is that the flag here reported by Knut is the Presidential Flag of Nigeria or the flag of the Presidential Office. Of course, we need further investigation and concrete proof. On the other hand, the flag that we show as the presidential flag is not that at all. On countless photos it is shown with high Federal or State officials. I assume that this flag is the official office flag, reserved for high ranking officials like State Governors, for example.
Valentin Poposki 6 May 2010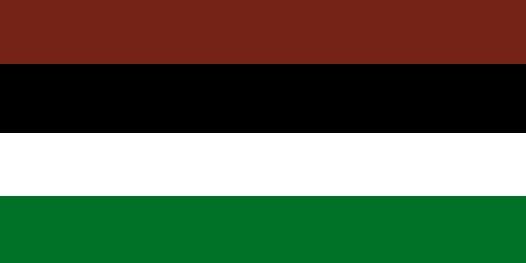 Image by Tsadori Kai (Wikipedia), 17 June 2007
At Wikipedia the red-black-white-green flag is identified as the flag of the Commander-in-Chief of the Nigerian Armed Forces. See http://en.wikipedia.org/wiki/President_of_Nigeria .
Ned Smith, 6 May 2010
---
10-29. Unknown Christian Flag

Some Speculation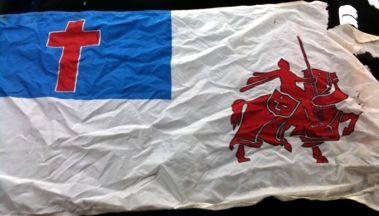 Provided by Andrew Bienhaus, 8 May 2010

Any idea on what this flag might stand for? The image is from http://www.1stBinbrook.org/photo.jpg, which is on a Canadian Scouting group's website called Binbrook.
Andrew Bienhaus, 8 May 2010
This is a variant of the Christian flag shown on FOTW, and quite widely used across North America, at least in Protestant churches. I have never seen it with the red mounted knight in the fly, and I am not sure if that is a local addition or if it has any other meaning.
Rob Raeside, 9 May 2010
It's only a guess, but the flag might have been made up as a flag for a local Christian school, probably somewhere in the US. I would also guess that the emblem in the fly would be that of a "Crusader" which used to be a popular mascot name among Christian schools. For obvious reasons, the "Crusader" nickname has fallen out of vogue. I found the white fimbriation around the cross interesting as it doesn't exist on any Christian flag that I have ever seen. And, the blue is too "royal blue" compared to most Christian flags which are generally made with a darker US flag blue or UK flag blue. The flag does appear to be printed, meaning that a bunch of them would have been made.
Clay Moss, 9 May 2010
---
10-30. Flag on a Zippo Lighter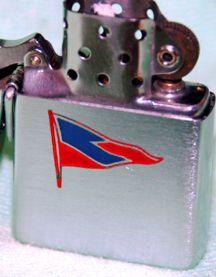 Image From Ron Laubenheimer, 7 May 2010

I was wondering if you can identify the flag on this Zippo lighter?
Ron Laubenheimer, 7 May 2010
[Note: This flag is the same design as UFE16-15, although with the colors reversed]
---
10-31. Japanese Youth Flag

Positive ID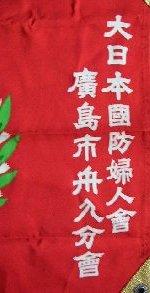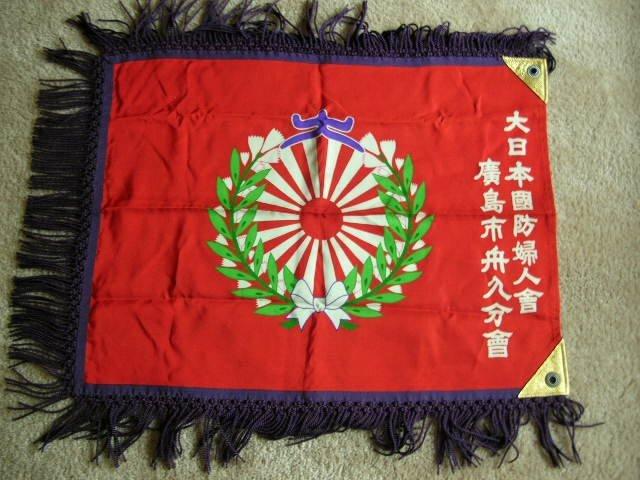 Images From Jim Smith, 16 May 2010
Any help identifying this flag for me would be appreciated. The flag is 20" by 28" long. The flag was purchased in Japan in the mid-1950s.
Jim Smith, 16 May 2010
The flag says: dai nippon kokubou fujinkai (line closest to fly), which means "Great Japan National defense Sisterhood." The second line is: Hiroshimashi Irifune bunkai, which means "Hiroshima Irifune Branch." The characters are the type of character (kanji) used up until the 1950s Educational reforms began use of simplified characters.
John Udics, 17 May 2010
With this information I now believe the flag was for the women shipyard workers at the huge shipyards near Hiroshima in World War II.
Jim Smith, 18 May 2010
That is a flag of Imperial Japan National Defense Women's Association, Hiroshima City Huneiri Branch.
Nozomi Kariyasu, 18 May 2010
---
10-32. Unknown Danish Ship Flag

Positive ID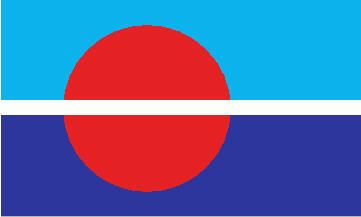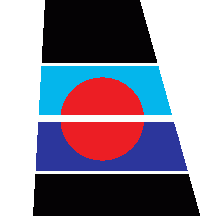 Images from Klaus-Michael Schneider, 18 May 2010
The flag is horizontally divided into celestial blue over dark blue with a red disc in ist centre. The whole is superimposed by a horizontal white fimbriation. I also send an image of the funnel, which is repeating the flag in the middle of a black funnel with white fimbriations. I don't know, whether it is flag of a shipping company or of an association in order to keep museum ships. I spotted this flag in summer 1995 in Roskilde Fjord just opposite to the Viking Ship Hall. Flag and funnel belonged to a very old steamer named SAGAFJORD, which was mooring there.
Klaus-Michael Schneider, 18 May 2010
No help in answering the question, but a picture of the ship in question can be seen on its M/S Sagafjord website.
James Dignan, 18 May 2010
This has been positively identified by James Dignan, it is some kind vintage tourist shipping company, running just one vessel in the Roskilde Fjord. Maybe, they have taken the house flag of a former Danish shipping company, but that doesn't matter. It's simply a club, running a vintage ship.
Klaus-Michael Schneider, 15 July 2019
---
10-33. UFEs in Naashik (Maharashtra, IN)

Some Speculation on #33a

/ Positive ID on #33b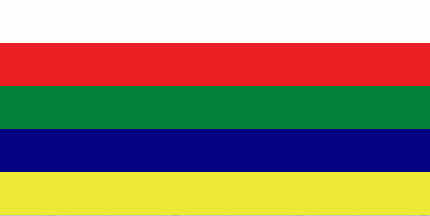 #33a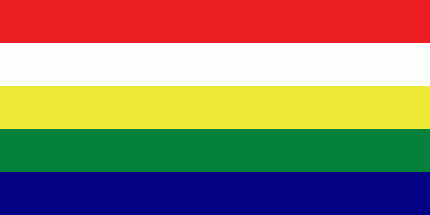 #33b
Images by Klaus-Michael Schneider

Theses UFEs were spotted in Naashik Naashik is located in the State of Maharashtra, half way between Mumbai and Aurangabad. The location had been the exile of Lord Raama, his wife Siita and his brother LakSHmana. There happened little since then, until in 1818 the Peshwas, the Brahmin Prime Ministers of the Maratha Kings gained control of the place, naming it Naashik since then. The control was lost however in the very same year to the British and the city finally became part of Bombay Presidency. Every 12th year here a Kumbh Mela is celebrated, a Hindu mass pilgrimage. Flag #33a: The ratio is 1:2. It is a red over white over light pale yellow (y--) over green over dark blue(b+) horizontal 5-stripes flag. Flag #33b: The ratio is 1:2. It is a white over red over white over green over dark blue(b+) over light pale yellow (y--) horizontal 5-stripes flag. Source: I spotted these flags in October 2003 in Muktadhaam Temple. Flag #33a, which was bigger was stuck upon the central tower, Flag #33b was stuck upon both side towers. The design is that of a former princely state flag. According to our pages, we have a Nasik, which may be another transliteration of the name or more probable another city, within the former Baroda, Western India and Gujarat Agency. Due to the little information available it seems however, that Naashik never was an independent state. So the context of the flag is doubtful and it might turn out a religious flag in the end, symbolizing the five bhuutaani, the gross elements earth, water, fire, air and ether.
Klaus-Michael Schneider, 28 May 2010
All these multiple-striped flags put me in mind of an unidentified flag from several years ago which was, to the best of my knowledge, never identified. See UFE03-10 Unknown Boxer flag.
James Dignan, 29 May 2010
The second flag (#33b) is that of the Vijaynagar State, known as Pol State before 1934, a princely state under the Mahi Kantha Agency, Bombay Presidency in NE Gujarat during the British Raj. The capital of the state was in Vijaynagar taluka, Sabarkantha district. The state's last ruler signed the accession to the Indian Union on 10 June 1948. (Wikipedia: Vijaynagar State).
Anonymous, 16 July 2021
---
10-34. Two Flags from Texas

Positive IDs

These flag have been identified as faded versions of the Texas Pilot Flag (left) and Burnet's Flag (right) and are located on their proper FOTW pages.
---
10-35. Unknown German Imperial Flag

Positive ID

This flag has been identified and is now located on its correct page as the False War Ensign 1990.
---
10-36. Unknown Private Signal Flag

Tentative ID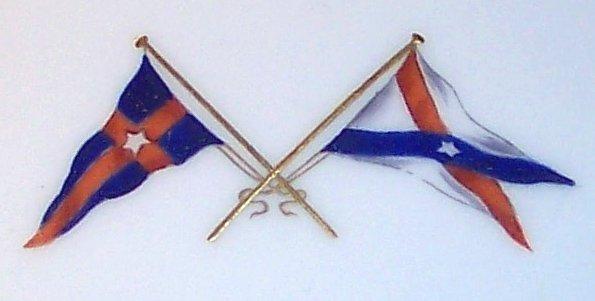 Images from Ann Crone, 7 July 2010

I have a flag I am attempting to identify. It appears on a tureen dish. I know that the pennant at left is the Burgee of the New York Yacht Club. The flag on the right would be the private Signal Flag of the actual Yacht. The tureen dish has china markings indicating it was made between 1895 and 1900. So, if there is a Pictorial List anywhere of the Private Flags of American Yachts that were members of the New York Yacht Club circa 1895 - 1900, then I may be able to figure out which yacht this dish belonged to. Can you help?
Ann Crone, 7 July 2010
The pictorial listings are the "American Yacht List" or "Lloyd's Register of American Yachts." The former stopped publishing somewhere around 1900 while Lloyd's ceased in the late 1980s I think. "American Yacht List" does not show this flag in the 1874-1891 annual issues. Lloyd's for 1903 shows this flag without a star (#202, on plate 21) for the yacht "Muriel" owned by C. Smithers of New York. It is also shown as #266 on plate 13 in the 1906 edition. I have the 1938 edition (flag #500, plate 27) and it is credited to C. F. Smithers of New York whose yacht at that time was named "Typhoon." In none of these publications is this flag shown with a star. Perhaps it belonged to some unregistered yacht, but then why would the New York Yacht Club flag be shown?
Dave Martucci, 16 July 2010
The New York Yacht Club's burgee is shown because Charles F. Smithers was (according to the 1913 edition of Lloyd's Register of American Yachts) a member of the NYYC. It is not unusual for owners of large boats ("Muriel" was 99 feet overall) to justify having a personalized set of china displaying their yacht club's burgee and their private signal. This display may also be found painted on the boat's stern and/or funnel. What is unusual here is that the staff of the (senior) burgee being placed behind that of the private signal's. This china manufacturer's error suggests they are also responsible for incorrectly including the star on the private signal.
Peter Edwards, 2 February 2019
Either several yachts are sailing with erroneous china, or there is a reason for giving the yachts' burgees a more prominent position. As I've mentioned before, the china belongs to the world of the yacht, rather than that of the club. Hence, the owner's flag is more important. Commonly, the owner does respect the club indicated enough to show it dexter, but there is something to say for at least placing the private signal's staff in front.
Peter Hans van den Muijzenberg, 10 February 2019
---
10-37. Unidentified Rwandan Flag

Positive ID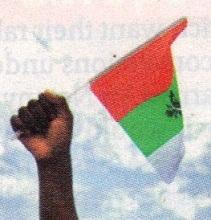 Image from Al Kirsch, 26 July 2010

The Economist has a photo of Rwandan president Nkurunziza holding a flag, a vertical tricolor R-V-W with a N design on the center stripe. I suppose it is a political flag, but did not see it listed on our website. Anybody know?
Al Kirsch, 26 July 2010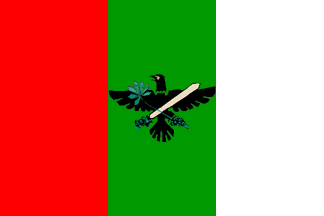 Image by António MARTINS-Tuválkin, 7 August 2010

Here's a better image of the flag.
António MARTINS-Tuválkin, 7 August 2010
I guess this image was wrongly labeled from the beggining, since it is not a flag from Rwanda, but from Burundi. And also the person named there, "a photo of Rwandan president Nkurunziza", refers to Pierre Nkurunziza ( http://en.wikipedia.org/wiki/Pierre_Nkurunziza ), President of Burundi.
The flag is seen here:
http://www.burunditransparence.org/images/CONGRES_16.jpg (source: http://www.burunditransparence.org/revelations_congres.html )
http://www.burunditransparence.org/images/CONGRES_1.jpg (source: http://www.burunditransparence.org/coulisse_congres.html )
http://homepage.mac.com/stazon/iblog/C288856830/E20070208142959/Media/salle2.jpg (source: http://homepage.mac.com/stazon/iblog/C288856830/index.html )
The National Council for the Defense of Democracy–Forces for the Defense of Democracy (French: Conseil National Pour la Défense de la Démocratie–Forces pour la Défense de la Démocratie, NCDD–FDD) was the most significant rebel group active in the Burundi Civil War and became a major political party in Burundi. The NCDD was the political wing of the organization, while the FDD was the military wing. It was founded in 1994, a year after the assassination of Hutu President Melchior Ndadaye. The political wing was dominated by Hutu intellectuals from the southern region of Bururi led by Leonard Nyangoma, while the fighting wing was composed of troops drawn from throughout the country, which led to a split in the group in 2001.
The rebel group was often referred to simply as Forces for the Defense of Democracy (FDD). In 2001, the CNDD–FDD consisted of about 15,000 rebels led by Jean-Bosco Ndayikengurukiye. However a schism in October 2001 led to the overthrow of Ndayikengurukiye by Pierre Nkurunziza. The Nkurunziza-led faction, consisting of 10,000 to 12,000 troops signed a ceasefire with the government in December 2002, but continued fighting. The faction led by Ndayikengurukiye became the lesser of the two with about 5,000 fighters. It also signed a ceasefire with the government in October 2002 to which it has roughly held.
At an official ceremony in January 2005, the group registered as a legal political party. In largely peaceful parliamentary elections on 4 July 2005, the CNDD won an estimated 60 to 80 percent of the vote, making it likely that a CNDD representative would be chosen president in August. Pierre Nkurunziza indeed was elected President of Burundi unopposed on August 19. At the legislative elections, the party won 57.8 % and 64 out of 118 seats.
Source: http://en.wikipedia.org/wiki/National_Council_for_the_Defense_of_Democracy-Forces_for_the_Defense_of_Democracy
So this flag should be included in this section "Political flags of Burundi"
Esteban Rivera, 21 August 2010
---
10-38. Nine striped flag from Southwestern Ohio

Some Speculation


Speculative Image by Pete Loeser, posted 17 August 2010

A friend of mine found a flag similar to what is described as a variant of the Prinvelag flag. It has 9 horizontal stripes with following color pattern: red-white-blue-white-red-white-blue-white-red. It is 144 inches in length by 30 inches in width. It also has brass grommets and a stamp, but I can't make out a lot of detail on the stamp. It was found in southwestern Ohio in the US. Any thoughts on what this could be?
George Krisanda, 15 August 2010
Judging by the dimensions presented here (144 x 30 inches) this sounds to me more like decorative bunting than an actual flag. The colours are obviously in line with US flag colours.
Rob Raeside, 15 August 2010
No, it's definitely a flag. I was thinking with the dimensions maybe a naval flag? I think the stamp says Waverly, NY.
George Krisanda, 17 August 2010
This is another UFE which I'm not sure is a flag. Although it is not bunting per se, the dimensions could be consistent with the related product called a "pulldown." From browsing vendors catalogs it is clear that they often have grommets, so their presnce here doesn't necessarily mean this is a flag. I haven't seen a catalog with this specific design, but repeated red-white-blue stripes would be appropriate for patriotic decorations.
Ned Smith, 6 September 2010
It could be a 12 foot patriotic curtain used to cover a plaque before it's unveiled, or part of a curtain backdrop from the stage of a political convention. I think we need to know more about the hoist for example, does it have standard attachments as you might expect for a flag, or are there other possible clues to its uses (like as a curtain) there?
James Dignan, 30 September 2010
---
10-39. Unidentified Flag seen at New Smyrna Beach

Some Speculation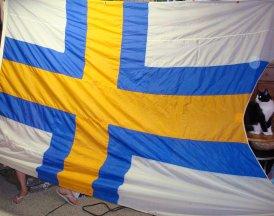 Image from David Prothero, 2 August 2010
This flag looks familiar but I cannot place it. It was found in the sea off New Smyrna Beach, Florida, some years ago. White flag with shallow swallow-tail. Yellow cross with broad pale blue edge. The vertical arm is off-set towards the hoist. Appears to be artificial materials, sewn together, not printed. About 5'6" x 11' (1.7 x 3.4m).
David Prothero, 2 August 2010
Since this posting David has received some off-list speculation, which he shares with us:
1. Possibly a swallowed-tailed variant of a flag proposal for Norrland, Sweden.
2. It has been suggested that the yellow is faded orange and that the flag is the House flag of Safmarine, a South African shipping company.
UFE Editor, 7 August 2010
Since the page on the Norrland proposal says the flag appears to have been in use, that would make the identification likely, however, I sent in an Åland Islands Flag Proposal Chart (see first image) which shows another possibility. Since the two are so similar, maybe the two pages should be cross-linked?
Ned Smith, 8 August 2010
The flag resembles the most common unofficial flag for the northern half of Sweden, Norrland, though this UFE has different proportions and is said to have a swallowtail without tongue. Official Swedish flags normally have a swallowtail with tongue. The Norrland flag I mention above is already listed on this site as the First Proposal for the region, though it really is the third and most recent proposal (1992).
Daniel Lundberg, 11 August 2010
---
10-40. Unknown Family Hierloom

Some Speculation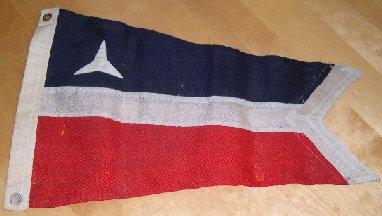 Image from Harvey Rothstein, 7 August 2010

A friend of mine asked for my help in ID´ing this family heirloom. Her forbear was a Pennsylvania Civil War vet (14th Regiment Cavalry Volunteers), but the grommets and machine stitching seem more modern. Also, her ancestor did live into the 1900's. We would appreciate any assistance.
Harvey Rothstein, 7 August 2010
I'm afraid that I cannot identify the pennant in question, but it certainly isn't Civil War vintage since the grommet and Inglefield clip method of attaching flags was not introduced - by Lt (later Admiral) Inglefield RN to speed up flag signalling - until the 1880's. It has the look of a modern (or perhaps comparatively modern) yacht club burgee.
Christopher Southworth, 8 August 2010
---
10-41. Red, White, and Blue Stripes with large Blue Star

Some Speculation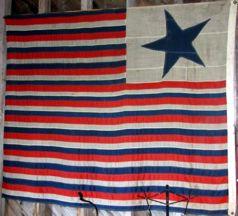 Image from Dr. David J. Clarke, 11 August 2010

The former Loyal Orange Lodge in my hometown (Twillingate, Newfoundland, Canada) has a large flag on display, but no one, including myself, is certain of its origin. Having done my graduate studies in maritime history, the flag suggests the house flag of some shipping line, possibly of American origin. I am attaching a jpeg of the flag, and was wondering if you might have any suggestions about it. Thank you in advance for any help you could give me on this matter.
Dr. David J. Clarke, 11 August 2010
I don't recognize the flag myself, but the multiple blue, red and white stripes suggest a Dutch origin to me, but the blue star is not expected there.
Rob Raeside, 11 August 2010
Looking at the page to which you referred me, the likeness to the Dutch Princevlag is rather obvious, although ours has well over thirty stripes. The flag now hangs in the local Orange Hall, and may have been found there. Our branch was started in the late-1800s, and the hall was built in 1907. If you know the background of the Orangemen, the possible connection to these flag colors becomes more obvious. The Orange order has always revered that William of Orange who became William III of England - "King Billy" - for his victory over King James at the battle of the Boyne (and thus a presumed victory of Protestantism over Catholicism). The Dutch colors may have been their way of paying tribute to King William. I also know that a Sons of Temperance chapter operated next door to the old hall way back in the day. Their designation was the "North Star Division." If our local Orange Lodge had a similar title, it might explain the star in the canton! This is not conclusive of the flag's origin, but certainly suggestive.
Dr. David J. Clarke, 11 August 2010
---
10-42. Mysterious Cajon Pass Flag

Some Speculation
Speculative Image by Rob Raeside, 23 August 2010

We were hiking in the Cajon Pass in Southern California today and came across a flag that we have never seen. It's been there for a while (I could see it from the freeway during my commutes) and is in bad shape now. I've attached an image of this worn out flag. It appeared to me that the blue stripe became vertical in the middle (see attached). The picture I sent did not show this, but I've attached another picture that does. I've also attached an image of the flag on the makeshift pole. What's strange to me is why someone spent so much time putting a flag pole in such a difficult to get to location, complete with guy wires for support, and then flies a flag that most people wouldn't recognize! I guess I'm like a cat...the curiosity is killing me!!
Dave Johnston, 23 August 2010
The above reconstruction is based on several photos, although I think all photos indicate the lower fly quarter is completely lost to the wind.
Rob Raeside, 23 August 2010
Suggested by James Ferrigan, 23 August 2010

This appears to me to be a pleated Red-white-blue Stripe and Stars Half Fan hoisted like a flag which has become tattered through use.
James Ferrigan, 24 August 2010
---
10-43. Unidentified Logo on Shipping Line (?) Cutlery

Tentative ID

Image from Fred, 2 September 2010

I have had in my possession for a number of years some cutlery which dates c1850. The logo or crest on the terminals, to me, resembles what I believe could possibly be that of a shipping line. Can anybody throw any light on solving what has been a mystery for me for a long time.
Fred, 2 September 2010
From "Fairbarin's Crests of the Leading Families in Great Britain and Ireland and their kindred in other lands" (New York, 1911; republished facsimile by the Genealogicql Publishing Co., Baltimore, 1963), p. 223: "Haley, Suss[ex], on a crescent ar[gent], a cross patonce, gu[les]." It further references a drawing with a different cross, but then references the cross patonce. Following this yields the exact drawing on the UFE page. Thus we have the crest that appears over the arms of someone whose last name is Haley and who hails from Sussex in England. Of course, crests being what they are, this may not be the only such combination, there may be others with different colors, but this is the only one I find in Fairbarin's.
Dave Martucci, 27 February 2011
Dave's message raises serious doubts about whether this has anything to do with a UFE. So far it is just UC (Unidentified Cutlery). The inquirer speculated it "might" be silverware from a shipping line, but there is nothing indicating it really was. This is followed by an unspoken presumption that if it was then, it would reflect the line's house flag. This is a second bit of unsupported speculation. Dave's message also raises the very plausible possibility that the silverware was personal property of some armorigenous family or individual instead. There really is no indication yet that there is any F or E to be Identified in the first place. My own opinion would be that things like this shouldn't be on the UFE pages until there is some indication there is a flag connection.
Ned Smith, 6 March 2011
---
10-44. A Good Candidate?

Some Speculation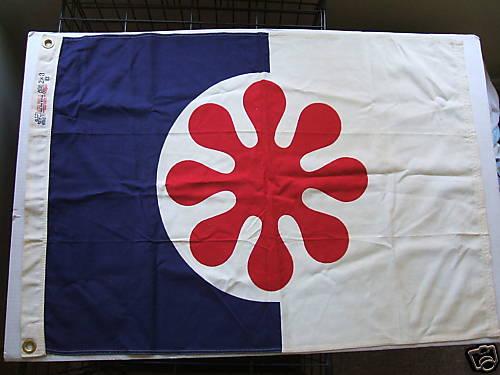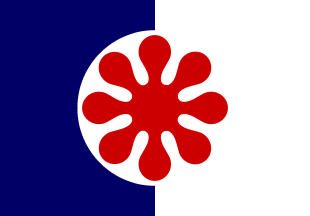 Image from Fred Drews, 13 September 2010
Standard Image by Eugene Ipavec, 19 September 2010
I came across this flag, and I remember seeing it before, but I do not seem to place it, Maybe someone will know, or it might be a good candidate for the UFE page.
Fred Drews, 13 September 2010
This is not a result, but merely a standard image.
Eugene Ipavec, 19 September 2010
Can anybody make out what it says on the hoist band? My old eyes fail me, yet again...
Pete Loeser, 25 September 2010
Looks like it's either Chinese of Japanese...and the eightfold symmetry of the central image reminds me of one of the Taiwan Independentist flags... perhaps there's some connection?
James Dignan, 25 September 2010
Maybe you're thinking of this Independentist flag.
António MARTINS-Tuválkin, 25 September 2010
Mmmm. That could be what I'm thinking of. In a completely different direction entirely, there are Northern Italy flags which also have a similar symbol, so there may be no Taiwanese connection at all.
James Dignan, 26 September 20010
Zooming in on the image makes it look to me that the items on the hoist band are pictographs showing how to attach the clips so that the flag is hoisted right side up.
Ned Smith, 25 September 2010
I can't tell you more than that the last bit says 2x3 above some mark. The rest looks like some logo with the name running through the middle of the red part. But unless Fred can tell us more, or has access to the flag (or a higher resolution photograph), it might not be easy to find.
Peter Hans van den Muijzenberg, 27 September 2010
---
10-45. Unknown White-Red-Blue Label Pin

Positive ID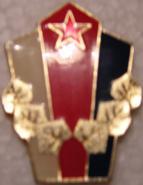 Image from Mike Polo, 17 September 2010

My name is Mircea Chioreanu, from Romania, Europe, EU member. I have a question for you: I have a small lapel pins (badges) of flags of the world collection, and I have a badge, whose country I don't know,: it is WHITE + RED (WITH A RED 5 STAR) + BLUE. I hope that you can help me find out whose flag is it. Best regards,
Mike Polo, 17 September 2010
My own speculation is it might be connected with the former Yugoslavia (red star), although the colours are in the wrong order (white should be in the middle). I also wonder if the colours are true - is it possible it might be yellow-red-black (thinking possibly East Germany)?
Rob Raeside, 17 September 2010
It's certainly most likely communist era, but the red star with gold border - but that doesn't necessarily mean Yugoslavia. It could be Albania (which would make some sense with the black rather than blue), or any of half a dozen countries in that area. The leaves are a clue,though, surely. They're not olive or pine, which (assuming it's the national plant) would cut out about half the countries in the Balkans. They don't look like oak, either, though they could be alder or birch (both of which are national plants in parts of central and eastern Europe). They look like ivy, but I don't know of any country which has that as a national symbol. What was the national tree of Yugoslavia?
James Dignan, 17 September 2010
Looks Communist Czechoslovak to me. Almost all Slav tricolores of red, blue and white have blue in the centre with the exception of Croatia (red-white-blue), the Sorbs in Germany (blue-red-white) and Czechoslovakia (not: Slovakia), now Czechia, where white-red-blue stripes are used if the design of the flag is not appropriate. The leaves would then be linden-tree leaves.
Jeroen van Leeuwen, 12 November 2010
It is the pin for distinguished companies (vzorna rota) of the army of the Czechoslovak Socialist Republic. See image: vzorna_rota.
Jeroen van Leeuwen, 16 November 2015
---
10-46. Unknown Municipality (Serbia) Flag

Positive ID

This flag has been identified as the flag of the town of Požarevac and is at a permanent location.
---
10-47. Unknown Panzer Flag

Tentative ID
This flag-type has been moved to Presumed "General Göring" Division and Regiment flags and is discussed there.
---
10-48. Unknown Commissioning Pennant

Positive ID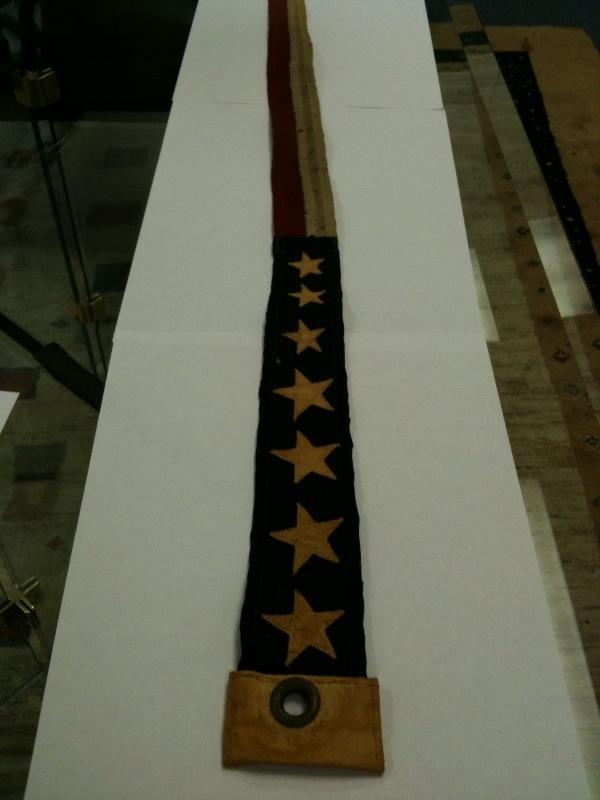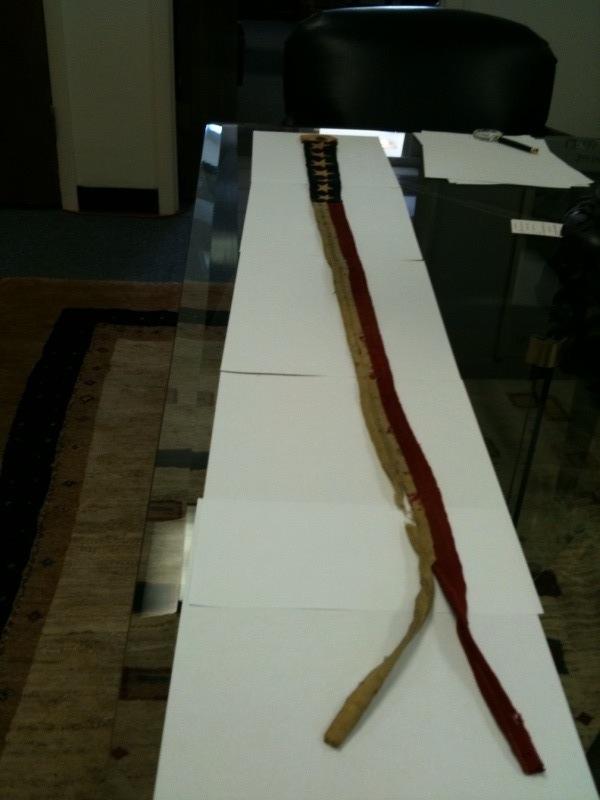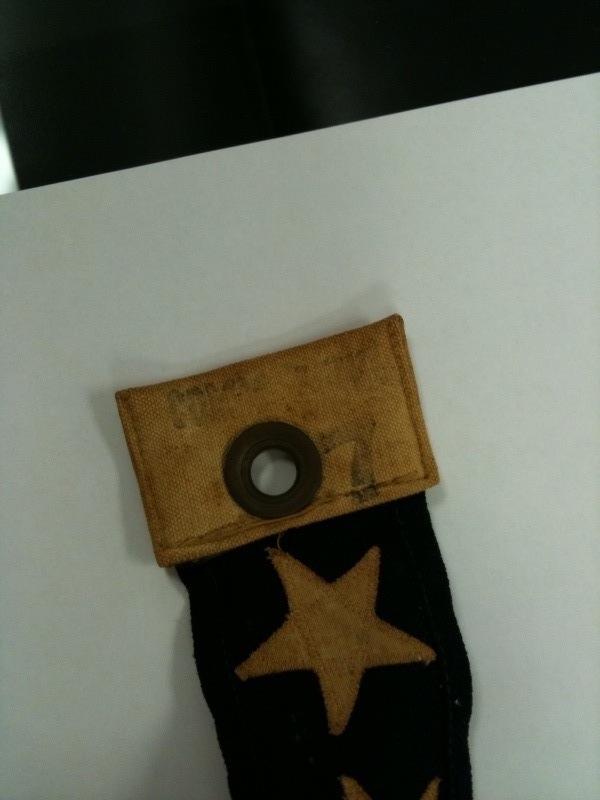 Images from Penny Moody, 25 September 2010

My father died recently and I found among his things a commissioning pennant. It is from one of the 3 destroyers he served on, but is there anyway for me to determine which one? It is a 48 inch long pennant. I'm pretty sure it is made from a wool fabric. There are some very faded numbers, but we can't make them out even with a magnifying glass. Dad was the Ex. O, not the Commanding officer, so I believe it to be a "retired" pennant. My instinct is that it is from the USS Lowry – DD770 from the Korean War. Thanks for any help you might be able to give me
Penny Moody, 23 September 2010
Unless there any distinguishing marks on the pennant it doesn't seem possible to identify a particular vessel (and I'm certainly no expert where the customs of the USN are concerned), however, it does strike me that there are two likely possibilities here? Since in the RN a commissioning pennant is never lowered whilst the vessel remains in commission (as a warship), it might have belonged to a vessel taken out of commission during the gentleman's service aboard? Or possibly (and as indicated above), it may have belonged to the last vessel upon which he served, and was presented to him on retirement?
Christopher Southworth, 24 September 2010
By custom, a Commissioning Pennant (and an Ensign as well for the Captain) are presented to a retiring officer when leaving the ship. Note the size stamp on the pennant, 7. I don't have the most recent US Navy specs, but in the older ones I have this is the smallest Commissioning Pennant there is. So whichever ship he retired from is which flag locker the flag came from. Likely the flag was ordered special when his upcoming retirement was known.
Dave Martucci, 26 September 2010
Same custom in the USN (except when the pennant is replaced by a flag officer's flag or command pennant), but old commission pennants are replaced by new ones from time to time. This one is heavily soiled, probably from spending 24/7 in the smoke emitted by a heavy-oil fired steam plant. It may well have been replaced by a clean one. I would not expect an XO to be given a commission pennant upon retirement or transfer; that's typically the symbol of a commanding officer. But keeping one that was no longer serviceable was probably not unheard of.
Joe McMillan, 27 September 2010
Editor's Comment: So most likely, the pennant was presented to Penny's father on his retirement from active duty from the Navy as Executive Officer on the USS Lowry. Just for information, Penny informs me that after serving on the Lowry he stayed active in the Naval reserves until he retired as Captain with 20 years service. We'll consider this a Positive ID.
Pete Loeser, 26 September 2010
---
10-49. Unknown Dutch Military Flag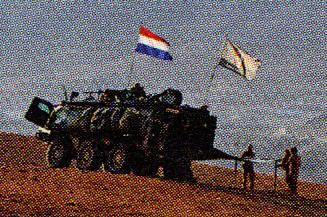 Image by Eugene Ipavec, 1 October 2010

A photo appeared in the May 8, 2010 issue of Time magazine, captioned "Dutch soldiers in Uruzgan province, Afganistan." The second flag is not that of NATO, ISAF, or Afghanistan, although I suppose it could be anything, like a Rotterdam football club...
Eugene Ipavec, 1 October 2010
---
Anything below the following line isnt part of the Flags of the World Website and was added by the hoster of this mirror.
---
Bei fahnenversand.de erhalten Sie eine Vielzahl an günstigen Flaggen, Pins und Aufnähern, zum Beispiel: