Bestellen Sie Ihre Fahnen / Flaggen im Flaggen-Shop bei fahnenversand.de

Diese Website beschäftigt sich mit der Wissenschaft der Vexillologie (Flaggenkunde).
Alle auf dieser Website dargebotenen Abbildungen dienen ausschließlich der Informationsvermittlung im Sinne der Flaggenkunde.
Der Hoster dieser Seite distanziert sich ausdrücklich von jedweden hierauf u.U. dargestellten Symbolen verfassungsfeindlicher Organisationen.


Die Flagge "Flagge der Vereinigten Arabischen Emirate (150 x 90 cm)" ist bei fahnenversand.de erhältlich.
Klicken Sie hier, um den Artikel anzuzeigen.

Die Flagge "Stockflaggen Vereinigte Arabische Emirate (45 x 30 cm)" ist bei fahnenversand.de erhältlich.
Klicken Sie hier, um den Artikel anzuzeigen.
---
This is a mirror of a page that is part of © FOTW Flags Of The World website.
Anything above the previous line isnt part of the Flags of the World Website and was added by the hoster of this mirror.
United Arab Emirates
Al-Imarat al'-Arabiyyah al-Muttahida, formerly Trucial Coast, Trucial Oman or Trucial Sheikdoms
Last modified: 2023-07-22 by ian macdonald
Keywords: united arab emirates |
Links: FOTW homepage | search | disclaimer and copyright | write us | mirrors

---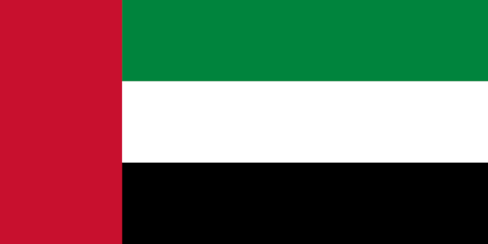 1:2

image by António Martins
Flag adopted 2nd December 1971
---
See also:
Other sites:
---
Description
From this United Arab Emirates webpage:
The National Flag of the United Arab Emirates as adopted by Federal Law No. (2)/1971 on 4th Dhu Al-Qedah 1391 A.H. corresponding 21st December, 1971, is rectangular in shape and consists of four colours: Red, Green, White and Black.

Description of the flag. It is rectangular in shape, its length double its width, and is divided into four rectangular parts. The first is red in colour consisting the area nearest to the mast, its length being equivalent to the height of the flag, while its width is one quarter of the length of the entire flag. The other three parts constitute the remaining area of the flag which are in the shape of three equal horizontal rectangles. The top most rectangle part is green, the middle is white and the lower is black in colour.
Santiago Dotor, 11 July 2000
This webpage contains a nice historical photo of the first hoisting of the UAE flag on "2 December 1971". Smith 1975 (and Smith 1982) state "officially hoisted 2nd December 1971". Znamierowski 1999, p. 166, says "Adopted 2nd December 1971, officially hoisted 1st January 1972". So what happened actually in December 1971, and what happened on 1st January 1972, if anything? Crampton 1990f does not give information on when the flag was adopted but gives 2nd December 1971 as the date of effective independence of the country (and 2nd December as the national holiday).
Željko Heimer, 30-31 July 2001
In January 2002 I saw in Abu Dhabi a new —no more than two months old— big pole with a giant size national flag. It is located in the artificial waterfront near Marina Mall, and you can see it almost from anywhere of the frontal coastline of the island-city.
Santiago Tazón, 6 February 2002
Allegedly this [was] the biggest flagpole in the world [until surpassed in 2003 by the Amman (Jordan) 126.8 m (410') one].
Elias Granqvist, 7 February 2002
Our company, Trident Support Corp., built that large flagpole. The Abu Dhabi flagpole stands at 123 meters tall and flies a flag measuring 20 × 40 meters. It was classified [in 2002] in the Guinness World Records as the World's Tallest Unsupported Flagpole. We are now in the process of building three other big poles in the region, all of which will beat the Abu Dhabi pole. The next one will be 125 meters and will fly a 30 × 60m flag!
David Chambers, 7 January 2003
---
In "The National", 1 November 2011, Rym Ghazal interviews the designer of the UAE flag, who remembers the genesis of the design and explains the meaning of the colors of the flag:
"[...]
Abdullah Mohammad Al Maainah had no idea that his design for the national flag had been selected until it was hoisted high above Mushrif Palace in Abu Dhabi.
The few designs that had been nominated from 1,030 entries had appeared in local newspapers, but the photos were in black and white, and Mr Al Maainah could not recognise the green, white, red and black colours that marked his design. On December 2, 1971, the day that the Emirates unified, his winning flag was raised. One was hoisted at the palace in the capital and the other at Union House in Dubai. But no one bothered to contact Mr Al Maainah, who was then only 19. "I didn't know that my flag was chosen until I ran to the Mushrif Palace and from behind its fence, I stood on my toes and peeked," he said. "There was no wind that day, so I waited until there was a draft to make sure that the flag up there at the pole was mine." When the breeze finally came and he could see the full flag, he was on
top of the world. "I can't describe to you that feeling," said Mr Al Maainah, who is now 59 and the country's newly appointed ambassador to Chile. It was several months later that he received official notice of his winning entry, and there was no major ceremony or any festivities. The country was busy establishing itself. Mr Al Maainah, an Emirati from Abu Dhabi, was simply thanked and received the prize for winning the competition: 4,000 riyals. The UAE dirham had not yet been introduced.
[...]
Three months before the UAE united, Mr Al Maainah saw an advertisement in Al Ittihad newspaper, seeking submissions for a flag. The advertisement came out of Sheikh Zayed's royal diwan, and when Mr Al Maainah stumbled upon it, it was only two days before the deadline. He rushed and got rolls of colourful paper, a photo album, scissors and a case of measuring tools. All his designs had the same colours but in different angles and shapes.
The colours were not just a coincidence.
"Sometimes people have mistaken the UAE flag for another country, because it has the same colours as other Arab countries that adopted the pan-Arab colours of the 1916 Arab revolution," said Mr Al Maainah. Black represents the early years of Islam, which saw many wars as it spread across the Middle East during the time of the Prophet Mohammed and the first two caliphates: the Umayyads based in Damascus followed by the Abbasids based in Baghdad. The latter's rule continued from 750AD to 1258AD, and reached as far west as modern-day Algeria to as far east as India.
Green represents the Fatimids Caliphate, which ruled out of Egypt from 909AD to 1171AD over an area that spanned all of North Africa, the west coast of the Arabian Peninsula, the Levant, as well as Malta and Sicily.
Red was the colour of the Ottoman flag, and is often said to be symbolic of sacrifice and blood. White has several meanings, from peace to purity to charity. It is the colour for peace across the world, and a white flag was raised after the Prophet Mohammed's first victory on the battlefield, in the Battle of Badr, when he overpowered his opponents in Mecca.
"But meanings change over time, and my own reasons for picking those colours are driven from a more local stance," he said. For him, black stands for the oil that helped transform his country. Green is for fertility and its green gardens. "And white and red were already present in separate emirate flags, so I added on what was already there to signify our expansion into a unified entity," he said."
Source: http://www.thenational.ae/thenational/news/uae-news/teen-who-designed-uaes-national-flag-was-in-a-flutter
Ivan Sache, 05 November 2011
---
Flag use
"The Nation", 1 September 2009, reports:
"All government and private schools in the UAE must raise the UAE flag and play the national anthem during the daily morning assembly or before the start of the school day, it was announced on Tuesday. Schools must implement the decision as of the beginning of academic year 2009-2010 in line with the directions of His Highness Shaikh Mohammad Bin Rashid Al Maktoum, Vice President and Prime Minister of the UAE and Ruler of Dubai, said Humaid Al Qutami, Minister of Education. In a ministerial circular, Al Qutami urged all education councils, authorities and zones to take the necessary measures to oblige government and private schools to implement the directives, which aim to enhance the national identity among the students. [...]"
Source: http://www.gulfnews.com/nation/Education/10345252.html
Ivan Sache, 03 September 2009
A few items about flags found here and there in Arab newspapers and websites:
Since 25th May 2011 the six GCC countries decide to fly the GCC flag alongside their national flags according to the decision by the organization.
News with/without pictures, from Arabic websites (can be translated!):
Bahrain: http://gulfnews.com/news/gulf/bahrain/bahrain-to-fly-gcc-flag-alongside-its-own-1.811541
Kuwait: http://alwatan.kuwait.tt/ArticleDetails.aspx?Id=113125
Oman: http://www.arrouwad.net/news/2011-01-17-21-12-19/2011-01-17-21-16-01/6324-2011-05-25-23-45-28.html
Qatar: http://www.alarab.com.qa/details.php?docId=189552&issueNo=1257&secId=16
Saudi Arabia: http://www.aleqt.com/2011/05/25/article_542200.html
UAE: http://www.alittihad.ae/details.php?id=50338&y=2011
Various pictures: http://www.3rabpet.com/vb/showthread.php?t=310995&page=1
Jalal Muhammed, 11 February 2012
---
The protocol manual for the London 2012 Olympics (Flags and Anthems Manual London 2012 [loc12]) provides recommendations for national flag designs. Each NOC was sent an image of the flag, including the PMS shades, for their approval by LOCOG. Once this was obtained, LOCOG produced a 60 x 90 cm version of the flag for further approval. So, while these specs may not be the official, government, version of each flag, they are certainly what the NOC believed the flag to be.
For UAE: PMS 355 green, 032 red and black. The vertical flag is simply the horizontal version turned 90 degrees clockwise.
Ian Sumner, 10 October 2012
---
Alternative Civil Ensign
Barraclough and Crampton 1981 said that the United Arab Emirates had taken into use a red flag with the flag of the United Arab Emirates in the canton.
Calvin Paige Herring, 9 June 1998
Album des Pavillons 2000 labels this an alternative civil ensign. Red ensign with the national flag, fimbriated white, in the canton. Do we know if there is legislation about this ensign (or allowing both it and the national flag) to be used by merchant vessels?
Željko Heimer, 31 July 2001

1:2


image by Ivan Sache, 24 May 2009
A photo added to Flickr on 27 November 2008 shows the ensign hoisted over a motor boat. On this copy of the flag, there is no fimbriation separating the canton from the main red field of the flag.
Ivan Sache, 24 May 2009
---
Other Flags
About Trucial Oman I have only the flag of the [Boy] Scouts. I think that no other flags were in use (except the emirates' flags in use since 1820 or 1830). I know of no personal flags for the Emirs.
Jaume Ollé, 14 June 1999
---
Unidentified Flag
In French television yesterday, in a report about Dubai, appeared what looked like an official United Arab Emirates vessel with at aft a national flag and at the bow a red and white saltire-wise quartered jack. Anybody has information on that jack?
Armand du Payrat, 27 March 2001
May be it was influenced by the similarly saltire-wise divided admirals' flags of Saudi Arabia?
Željko Heimer, 27 March 2001
This pattern is quite dissimilar to other Arab jacks —Saudi Arabia, Kuwait, Qatar— that are usually blue with the Navy emblem, even in states whose symbols are derived from the red-white flags.
Jan Zrzavy, 7 September 2001
I saw an unidentified flag in one of the traditional wooden boats that cross Dubai Creek as public transport. I am not sure if it was an official flag or just a home-made personal one. It was a square flag divided in saltire forming four triangles, the upper and the bottom ones were red and the side ones white. (...) The flag was flying from the stern of the ship.
Santiago Tazón, 6-7 February 2002
If it was flying from a wooden public transportation boat, could it be some kind of house flag belonging to the company that operates the transport? Otherwise it may be some kind of signal flag, for example similar to the Croatian privileged navigation signal.
Željko Heimer, 7 February 2002
Flying from the stern doesn't fit well with either a house or a signal flag. It would rather imply some kind of ensign. However, Armand du Payrat said that the boat he saw on TV in March 2001 flew a national flag as ensign and the unidentified flag as jack.
Santiago Dotor, 7 February 2002
---
Air Force Roundel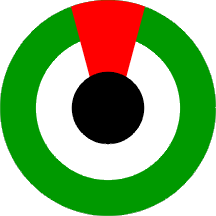 image by Željko Heimer
Green-white-black roundel with red sector over the outer two disks. The sector is apparently not with center in the center of the roundel, but in the lowermost point of the black disk, covering approximately 30 degrees towards top. Source: Album des Pavillons 2000. A note explains that the Union flag is painted on the fin. According to Cochrane and Elliot 1998 this marking is used since 1976, before that Abu Dhabi used another roundel 1968-1976 (red-white-sand colour with green inscription) and Dubai used two: 1971-1974 (coat-of-arms-like emblem) and 1974-1976 (same emblem on white disk bordered red).
Željko Heimer, 31 July 2001
The Abu Dhabi Army Air Wing of the Abu Dhabi Defense Forces was formed in 1968, became Abu Dhabi AF in 1976 and united into UAE AF in 1976. Air Wing of the Union Dubai Defense Force Wing was formed in 1971 and united into UAE AF in 1976. Both used national flag as fin flash. ADAF marking can be seen at http://www.hunty.com.au/Reborn/images/abudhabihuntpic1.jpg. The regular marking can be seen in use at http://www.airliners.net/open.file/382627/L/. UAE AF adopted an all-black low visibility roundel as seen at http://www.airliners.net/open.file/058435/L/. Naval air arm planes use an anchor on a white disc - see http://www.airliners.net/open.file/565657/L/. VIP planes use the national flag on tail with the white stripe charged with the coat of arms - see http://www.airliners.net/open.file/203126/L/. See also http://www.scramble.nl/ae.htm.
Dov Gutterman, 27 June 2004
Anything below the following line isnt part of the Flags of the World Website and was added by the hoster of this mirror.
---
Kunden, die diese Flagge gekauft haben, haben auch folgende Flaggen gekauft: