---
image by Joe McMillan
Edward Moltenius, New York (ca. 1855)
Flag was red with a black cross. No further information.
Source: chart of "Private Signals of the Merchants of New York"
Joe McMillan, 31 October 2001
---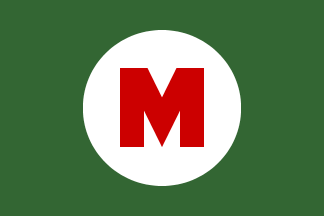 image by Eugene Ipavec, 24 August 2009
Moore & McCormack Co, New York (1913-1982)
Moore-McCormack (also known for short as Mooremack) was one of the leading US-flag carriers to South America and, from 1926 on, the leading US-flag carrier to Scandinavia and the Baltic. The company diversified into land, energy, and natural resources businesses in the 1960s and became Moore-McCormack Resources. Shipping gradually became a sideline. In 1982, United States Lines bought out the shipping subsidiary and merged it into its own operations. The Moore-McCormack flag was green with a white disk bearing a red letter "M". See also Mooremack's Gulf [of Mexico] Line
Source: US Navy's 1961 H.O.
Joe McMillan, 7 September 2001
Moore & McCormack Co. (Mooremack). Their main shipping interests were through Moore-McCormack Lines Inc. and this was the company taken over by United States Lines Inc. in 1982 being renamed United States Lines (S.A.) Inc. However in 1973 they had established Moore-McCormack Bulk Transport Inc. to operate their tanker interests and this continued to operate until early 1987 when it was sold to the ex chairman of the company, James R. Barker, who set up Mormac Marine Group Inc., and was renamed Mormac Marine Transport Inc. Moore & McCormack Resources Inc. continued as a ship operator, albeit of one vessel only, until going bankrupt in 1998.
Neale Rosanoski, 5 March 2004
This 1997 reunion photo (clickable) shows a large white disk and a fat initial "M": http://www.moore-mccormack.com/images/Reunion%20Flag%202.jpg (in context: http://www.moore-mccormack.com/Enchanted-Isle/Reunion-Cruise.htm). Another related item on this interesting site is the story of how the company HQ flag was not hoisted so as not to disturb a pigeon's nest (first half of right column): http://www.moore-mccormack.com/The-Company/MooremackNewsJun51.htm.
Jan Mertens, 23 August 2009
Fleet Commodore
image by Ivan Sache
Their fleet commodore used a yellow bordered flag.
Neale Rosanoski, 5 March 2004
See also:
---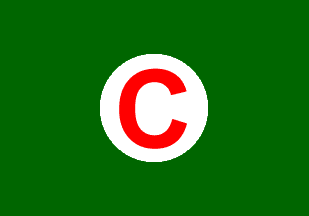 image by Joe McMillan
According to Talbot-Booth (1937), Mooremack's Gulf [of Mexico] Line used the same flag as Moore-McCormack but with a "C" in place of the "M."
Joe McMillan, 31 October 2001
Moore & McCormack Co. and Mooremack's Gulf [of Mexico] Line. To keep things in perspective, these relate to the same company and the Mooremack's Gulf Lines flag with the "C" shown by Joe is the first company flag shown by the flag books being given against Moore & McCormack Co. Inc. by Brown 1926 and 1929. Lloyds Reedereiflaggen of 1933 also ascribes it to Mooremack Gulf Line and Honolulu Steamship Co. [this latter was a Government company post WW1 presumably operated by Moore McCormack]. The explanation of the "C" is still not clear to me but it may be related to Commercial SS Co as associated by Talbot-Booth 1942 and 1944 books. However the Commercial South American Line has been established as existing and was being operated by Moore McCormack by at least 1920 so it fits the time frame as a possibility for the origin. The flag use by Moore McCormack also included American Scantic Line and the entry for that company includes it being shown on a timetable and surmising by Jan which could do with a link to this page.

The replacement of the "C" by an "M" starts with Brown 1934 and the National Geographic magazine of 9/1934. Possibly this arose from the expansion from around 1926 as Moore McCormack acquired various fleets with a subsequent desire to use their own brand.

The problem with the "M" flag then becomes one of the shade of green, size of circle and exact shape of "M". Jan has given a link to an actual flag which was used in the 1997 reunion cruise but the same source also links to another flag said to have been owned by an employee (see http://moore-mccormack.com/The-Company/House-Colors.htm where there may be a difference in the shade of green – my monitor can be misleading on shades I have found – but there is definitely a difference with the "M" between a short and deep "v". This source also shows a funnel and flag photo where the funnel has a deep "v" and a flag has a shallow one. Checking funnel photos most have the deep "v" but a shallow one has also been found. It may mean that there have been alterations in the flag, on the other hand such detail may have been of no concern and as a long as it stuck to the fundament green, white circle and red "M", variations were of no interest to the company. In this latter case Ivan's shade for the fleet commodore would be quite in order.
Neale Rosanoski, 21 April 2011
---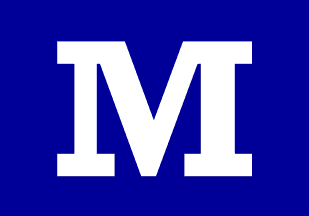 image by Joe McMillan
Moran Towing & Transportation, New York (1860-present)
Moran is the most important tug and barge company on the U.S. east and Gulf coasts. The company was founded with a single tug in New York harbor in 1860 and now serves 13 ports with 91 tugs and 26 barges. The house flag is dark blue with a large white M, although I have never seen this flag actually flying from any of its tugs--they are instead identified by the white M on their black stacks.
Source: Styring (1971)
Joe McMillan, 31 October 2001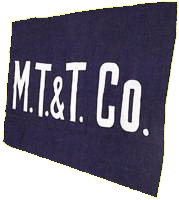 The Mariners' Museum of Newport News, Virginia holds a house flag for the Moran Towing & Transportation Company presented to the museum by Eugene Moran in 1944. The dark blue rectangular flag measures 46" at the hoist with a length of 75". In white block lettering, 18" high and 2 1/4" thick, is "M. T. & T. Co."
Marc Nucup, 9 March 2004
Moran Towing & Transportation Co. The 2nd flag provided by Marc can only apply to this company but from what I can trace it was only part of a group of companies so perhaps the first flag with its single "M" relates to Moran Towing Corporation dating back to 1860. Lloyds from at least 1953-4 list the fleet under Moran Towing Co. with Moran Towing & Transportation Co. being designated as the operators with the fleet being registered under many one, two or three ship subsidiary companies. By the late 1970s Moran Towing & Transportation are no longer mentioned in Lloyds but they again surface in the mid 1980s in a minor role and then in the early 1990s they became the group's operators in New York. Finally Lloyds state that in 1998 Moran Towing Corporation and Moran Towing & Transportation amalgamated with the Turecamo Group to form the current Moran Towing Corporation based in Greenwich CT with 3 other subsidiaries in other parts of the country.
Neale Rosanoski,15 November 2004
---
Morgan Steamship Co., New York
Morgan Line (Southern Pacific SS Co.) (1834-ca. 1942), New York
"Morgan Line" was the trade name for a variety of shipping companies founded by Charles Morgan, who first entered the shipping business by investing in shares of cargoes in 1819. By the 1830s, he no longer owned cargoes but specialized in owning and managing the ships themselves. In 1834, he opened the first scheduled steam service along the US east coast with a line connecting New York and Charleston. By 1838 he had shifted his focus to the Gulf of Mexico and Caribbean, steaming among New Orleans, Galveston, and Havana, eventually returning to the New York-to-Gulf business after the American Civil War. In addition to shipping, Morgan owned major interests in railroads in the South and essentially controlled all transportation, including the port facilities, in the Houston-Galveston area. In 1877, he consolidated his diverse holdings into the Louisiana and Texas Railroad and Steamship Company. For a short time after Morgan's death in 1878, his company continued in operation, but in 1882 his heirs sold a controlling interest to Collis P. Huntington of the Southern Pacific Railroad. The Morgan Line thus became a subsidiary of the newly formed holding company, the Southern Pacific Company, but continued to do business under its own name and flag. Over time, however, it increasingly became known as the Southern Pacific Steamship Company, its official title. Early in World War II, Southern Pacific decided to leave the ocean shipping business and, after more than 100 years in business, the Morgan Line passed from the scene. I have found two flags for this company. The first, in the 1905 Flaggenbuch, was white with a red M. The second, in the 1934 National Geographic flags issue, was a blue burgee with a white star bearing a red M.
Sources: Flaggenbuch 1905, National Geographic (1934)
Joe McMillan, 31 October 2001
---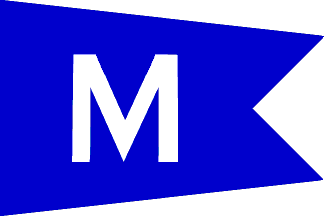 image by Joe McMillan
Munson Steamship Company (Munson Line), New York (1899-39)
Walter D. Munson opened a sugar and molasses business in Havana after the American Civil War and first began chartering ships to carry his products to the United States in 1873. In 1882, he relocated his headquarters to New York and bought his first three steamships in 1893 to connect New York with ports in Cuba, the American Gulf coast, and Mexico. He incorporated the Munson Steamship Company, or Munson Line, in 1899. Although he expanded somewhat into the South American market, his main business remained hauling the Cuban sugar harvest to the United States. When the profitability of the sugar trade began to wane, Munson got into financial trouble. Munson attempted to recover by establishing cruise voyages to the Bahamas and Bermuda, but without success. The company was hit hard by the Great Depression. It went into bankruptcy in 1934, had its vessels repossessed in 1938, and was dissolved by its shareholders in 1939. The flag of the Munson Line was a blue burgee with a white M.
Sources: Lloyds 1912, National Geographic (1934), Talbot-Booth (1937)
Joe McMillan, 1 November 2001
Munson Steamship Co. (Munson Line). National Geographic is the only source I have found that shows a tapered swallowtail. Lloyds, Brown and Talbot-Booth all show an ordinary rectangular swallowtail.

Neale Rosanoski, 5 March 2004
---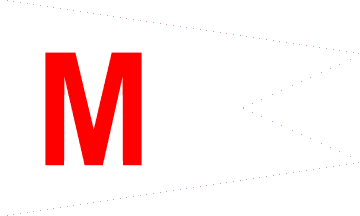 image by Joe McMillan
Mystic Steamship Company, Boston (later Mystic SS Div of Eastern Gas & Fuel Associates)
I know little about this company. It was a member of the American Steamship Owners' Association, which existed from 1919-1938 and apparently represented the established liner companies on the Atlantic coast. So Mystic was evidently a company of some significance. The flag was a white burgee with a red M.
Sources: National Geographic (1934), Wedge (1951), US Navy's 1961 H.O.
Joe McMillan, 1 November 2001
A brief entry with some historical detail on this line can be found at www.tugboatluna.org/history/boston_harbor2.htm:


"...the Mystic Steamship fleet -- commercially known as the Boston Tow Boat Company -- ....The Mystic Steamship Company can trace its roots to the Boston Tow Boat Company, which had been founded by Boston's maritime executives to assure salvage, icebreaking, and ship towing services in 1854."

"The Mystic Steamship Company operated coal-carrying colliers and coal barges to transport coal from railroad piers in New York Harbor, Philadelphia, Baltimore and Newport News. This coal was used as a fuel, and as the raw material to make lamp gas from coal and coke. Later, Boston Towboat was operated by Eastern Enterprises, owners of Boston Gas and various maritime operations, which is active to this day as Eastern Enterprises."
Ned Smith, 2 November 2001
---
US shipping lines house flags - 'N' continued
Anything below the following line isnt part of the Flags of the World Website and was added by the hoster of this mirror.
---
Bei fahnenversand.de erhalten Sie eine Vielzahl an günstigen Flaggen, Pins und Aufnähern, zum Beispiel: