---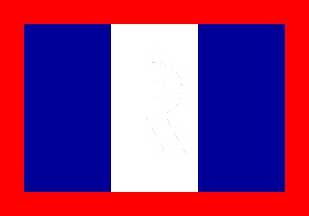 by Joe McMillan

De La Rama Steamship Co.
This was a Philippine Islands company that switched to the US flag when the Philippines gained independence. The flag was a blue-white-blue triband with a red border.
Source: Wedge (1951)

Joe McMillan, 30 September 2001
---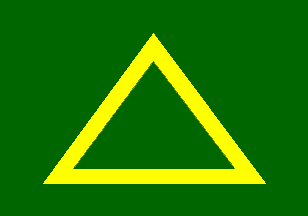 by Joe McMillan
Delta Line (Mississippi Shipping Co.), New Orleans (1919-85)
Service from Gulf of Mexico and east coast of South America; originally established by coffee merchants to ship Brazilian produce directly to the Mississippi Valley through New Orleans, bypassing New York. Officially the Mississippi Shipping Company until 1962, but was already known unofficially as the Delta Line long before that. The line's management failed to buy container vessels in the 1970s, lost so much money that its owners (by then the Holiday Inn Corporation) sold out to Crowley Maritime, the largest US barge and tug operator, in 1982. Crowley tried to modernize the fleet, but decided to cut its losses by selling Delta to United States Lines in 1985, which subsumed Delta's ships into its own fleet before going bankrupt in 1986. Flag green with a yellow Greek letter delta (a triangle). In 1949, Delta owned 14 ships, with a total of 98,000 grt.
Sources: Stewart (1953), US Navy's 1961 H.O.
Joe McMillan, 30 September 2001
---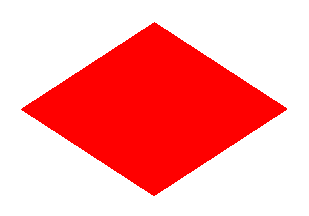 by Joe McMillan
R. M. Demill, New York
Mid-nineteenth century. Flag white with a red diamond.
Source: chart of "Private Signals of the Merchants of New York"
Joe McMillan, 2 October 2001
---
by Joe McMillan
Detroit & Buffalo Steamboat Co., Detroit
A Great Lakes company in the early 20th century. Flag blue with the inscription D&B Line in a monogram form in white.
Source: 1909 update to Flaggenbuch 1905
Joe McMillan, 2 October 2001
---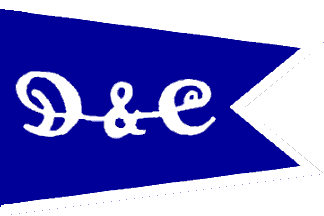 by Joe McMillan
Detroit & Cleveland Line, Detroit
Another Great Lakes company, still in business in 1949 when it was operating 7 ships with a total of something over 30,000 grt. Blue burgee with white upper and lower edges and the script initials D&C in white.
Source: National Geographic (1934)
Joe McMillan, 2 October 2001
---

image located by Jan Mertens, 30 September 2005
Diamond Jack's River Tours (a family business) is based at Lincoln Park, Michigan, offering public as well as private tours showing the Detroit River and other interesting places. As could be expected, a (red) diamond is the company logo and appears on a white flag, touching the edges. The logo is in fact an upright diamond and the flag seems to contain one as well, being higher than long – see another picture.

Quote from the site's history section, part of which already served illustrating Gaelic Tugboat Co.:

"With the change in the economy in the late 80's and early 90's, Bill (Hoey, jm) planned for the future. Harbor tours worked in other cities and Detroit was ideal for this type of activity. In 1991, he purchased a 65 foot former Arnold Line Mackinac Island ferry, the Diamond Jack, outfitted it as a sightseeing vessel, and launched Diamond Jack's River Tours. The company's two hour tours present highlights of the Detroit and Windsor, Ontario, Canada skylines, along with historical anecdotes about both cities(…)
In early 1993, Hoey purchased another Arnold Line ferry, christened the Diamond Belle. This 91 foot mini ship is used exclusively for group charters. These charters have become so popular that Bill added yet another Arnold Line vessel to the fleet, the Diamond Queen. (…) Also, longer cruises to Port Huron, Toledo, Sans Souci and Wallaceburg Ontario depart on scheduled dates throughout the summer season and are available to the public."
Jan Mertens, 30 September 2005
---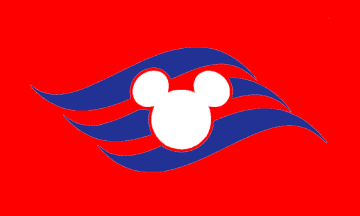 image by Randy Young, 5 March 2015
Disney Cruise Line is a subsidiary of The Walt Disney Company. Founded in 1998, the company is headquartered in both Celebration, Florida, and in London. The line features four ships (Disney Magic, Disney Wonder, Disney Dream, and Disney Fantasy) operating Caribbean routes, trans-Atlantic, European, and even Alaskan cruises. The ships are all custom-designed as "family destinations," with no gambling on-board and plenty of costumed Disney characters everywhere.

There are plenty of photographs online showing the Disney Cruise Line house flag flying from their ships (registered in the Bahamas):
https://c2.staticflickr.com/8/7188/6812934722_850a4458a4_z.jpg
http://thedisneyblog.com/wp-content/uploads/2012/02/Disney-Fantasy-Delivery_21.jpg
http://www.mouseplanet.info/gallery/d/115592-1/DCL_Dream_turnover_flags-disney.jpg

The house flag for Disney Cruise Line shows the line's logo centered on a red field. The logo itself is a white Mickey Mouse head silhouette overlaid on three blue, wavy lines.
Randy Young, 5 March 2015
---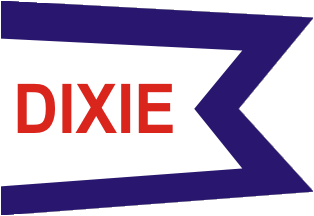 by Rob Raeside
One of the Lykes companies operated services in the name of Dixie UK Line.
Neale Rosanoski, 23 November 2003
---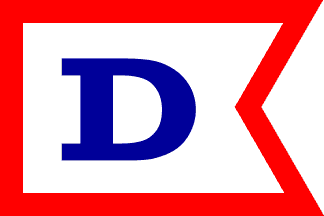 by Joe McMillan
E. J. Dodge Co., San Francisco
White swallowtail bordered in red with a blue D on the center.
Sources: Lloyds 1912 and the 1913 supplement to Flaggenbuch 1905
Joe McMillan, 4 October 2001
---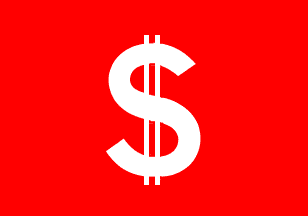 by Joe McMillan
Robert Dollar & Co. (Dollar Line), San Francisco (1900-38)
The Dollar Line was the main US trans-Pacific shipping line in the early 20th century. It originated as a schooner fleet in late1890s carrying lumber from Robert Dollar's sawmills in the Pacific northwest to markets in California. Dollar entered the regular merchant shipping business after the Spanish-American War, originally using British-flagged ships. He was very successful in the trade between the US west coast and the Far East and initiated around-the-world service in 1921. However, the company became heavily indebted while trying to expand in late 1920s and could not recover once the Great Depression set in. The line was bought out by the US Government in 1938 and the assets were then used to establish American President Lines. The two lines share red and ! wh! ite livery. The Dollar Line flag was red with a white dollar sign ($).
Sources: Lloyds 1912, Wedge (1926), National Geographic (1934), Talbot-Booth (1937)
Joe McMillan, 4 October 2001
---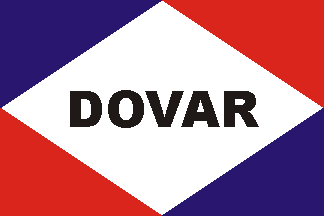 image by Bill Sullivan, 27 Nov 2000
Dovar. Dovar Line Inc. of New York said to have been a charterer of the "Paola d'Amico" but dates not given though it was sometime in the 1960-1980 period.
Neale Rosanoski, 19 October 2008
---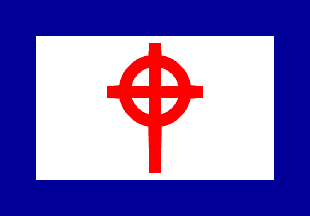 by Joe McMillan
Donald Steamship Co., New York
I know nothing about the company, but the flag is interesting--a Celtic cross (obviously connoting the Scottish origin of the Donald name) in red on a white field with blue border all around.
Source: Lloyds 1912
Joe McMillan, 4 October 2001
---
The mid-19th century New York firm of Dunham and Dimon operated coastwise service to Savannah, Georgia, and later a packet line connecting New York and Glasgow. I believe much of the Irish immigration that went through Glasgow in the 1850s went on Dunham and Dimon's ships. All these come from the chart I have been relying on extensively, Private Signals of the Merchants of New York, reprinted in the Time-Life book The Clipper Ships.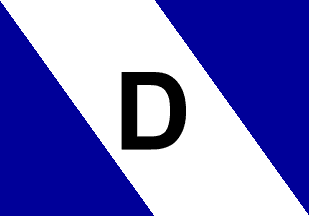 by Joe McMillan
Dunham & Dimon, New York
Blue with a white band running from upper hoist to lower fly and on the center a black letter "D."
Joe McMillan, 6 October 2001
---
Dunham & Dimon Savannah Line, New York
"Private Signals of the Merchants of New York" shows two flags labelled as belonging to the D&D Savannah line. The first is a burgee-shaped pennant, white at the hoist and red at the fly. The other is a white field with two red disks side by side.
Joe McMillan, 6 October 2001
---

by Joe McMillan
Dunham & Dimon Glasgow Line, New York
A plain blue-white-blue vertical triband.
Joe McMillan, 6 October 2001
---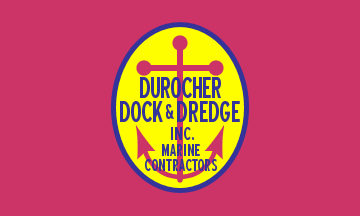 image by Eugene Ipavec, 21 August 2008
Durocher is a US marine contractor established in Cheboygan, Michigan. Website sporting the logo, a stylized anchor within an oval is at http://www.durocher.biz/.
"Durocher Marine, A Division of Kokosing Construction Company Inc., is a premier contractor specializing in difficult marine and heavy construction projects throughout the United States and the Caribbean. [These] include ocean piers and breakwaters; environmental site remediation and clean up; tanker and ship terminals; U.S. Navy and Army Corps projects; dredging; intake and outfall pipelines; marinas; sheet pile wall and bulkheads; dam repairs; diving services; salvage operations; foundation piling; piers and caps; heavy concrete foundations; submarine power and communication cables; stone breakwaters and shoreline stabilization projects; casino foundations and a road tunnel in the Bahamas."

Although Durocher operates a number of tugs, photos of which may be found on the web, I have not spotted any flying the house flag. So for the moment we will have to settle for yet another eBay offer… This was item no. 230195750547 (end 01 Nov 2007) put up by "glboatboy" who added: "3x5 house flag from the Great Lakes company Durocher Dock and Dredge of Cheboygan, MI. Flag has been used and has wear along the edge. Red has faded a bit (…). Nylon."

The red flag bears a yellow oval in the centre; upon the oval is placed a red anchor rendered as shown on the site; over all is the full name and occupation in blue (varying character sizes; no serifs): 'DUROCHER / DOCK & DREDGE / INC. / MARINE / CONTRACTORS'.

Jan Mertens, 19 June 2008
---
US shipping lines house flags - 'E' continued
Anything below the following line isnt part of the Flags of the World Website and was added by the hoster of this mirror.
---
Bei fahnenversand.de erhalten Sie eine Vielzahl an günstigen Flaggen, Pins und Aufnähern, zum Beispiel: