---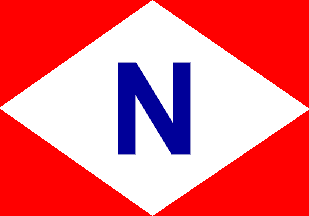 image by Joe McMillan
Naess Shipping Co, New York <us~$naes.gif> (Source: [u9s61a])
As Naess was one of the members of the American Committee for Flags of Necessity, I assume it did not operate under the U.S. flag but under flags of convenience. As it evidently did not belong to the successor organization, the Federation of American-Controlled Shipping, I would assume it was out of business by the time FACS was formed in 1974. The house flag was red with a large white lozenge and a blue N.
Source: US Navy's 1961 H.O.
Joe McMillan, 2 November 2001
Naess Shipping Co. According to Loughran (1979) the company had an extensive fleet of tankers and bulk carriers and was taken over by Zapata Marine Services Inc. of Houston who operated the new fleet as Zapata Naess Ltd. out of Hamilton, Bermuda. This was a short lived venture as by the end of the year it was acquired by P&O. Whilst operating the ships were not registered in their name but under assorted companies. They appear to have been part of an international grouping with others being Naess, Denholm & Co. Ltd. of the U.K. and Nederlandse Norness Scheepvaart Maatschappij N.V. of Holland with the latter having a similar flag but the diamond being smaller.
Neale Rosanoski, 9 March 2003
---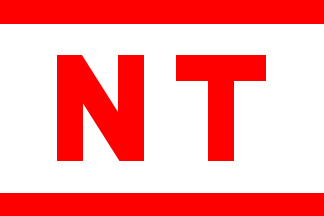 image by Eugene Ipavec, 13 June 2011
This modest webpage, apparently no longer maintained, briefly presents Nassau Terminals operating Fernandina, northernmost port of Florida (US), "Providing skilled stevedoring & terminal service for forest product exporters and independent container lines": http://www.ameliamaritime.com/pof.html. As the facility is now listed as controlled by Kinder Morgan of Dallas, Texas: http://www.kindermorgan.com/business/terminals/southeast/SE-Nassau2009-Mar.pdf, the house flag (drawing) on the first page is bound to disappear. White field edged by two thin horizontal stripes and large initials "NT" in the centre (no serifs). Coincidence or not, red and white are Florida's colours.
Jan Mertens, 12 June 2011
---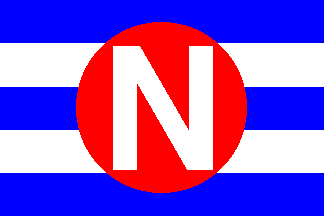 image by Ivan Sache
Navios - a horizontal blue-white-blue-white-blue flag charged with a red circle and a white 'N'.
Source: www.navios.com/navios_company/index.html
Dov Gutterman, 11 October 2003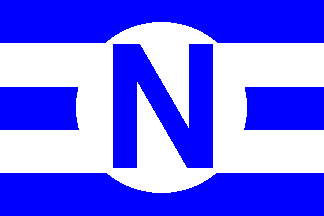 image by Ivan Sache
Navios Corporation. They appear to have recently changed their flag going by the current image appearing on their website.
Neale Rosanoski, 9 March 2004
This looks very much like the house flag of Montemar, Uruguay.
---
Charles Nelson Steamship Company
Primarily a coastwise firm serving the Pacific coast, Nelson also went into the intercoastal business for a time but in 1934 was shut out of the group that fixed rates for the Pacific-to-Gulf of Mexico traffic on the grounds that it was too small to sail a regular schedule. I have found two flags. The first (ca. 1908) was white with red stripes along the upper and lower edges, with a blue lozenge on the center bearing the letter N between two white stars. The later flag was blue with a yellow N.
Source: 1908 update to Flaggenbuch 1905, Wedge (1926), Talbot-Booth (1937)
Joe McMillan, 2 November 2001
---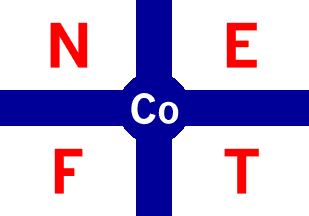 image by Joe McMillan
New England Fuel Transport Company, Boston (?-1926)
The flag was more interesting than most of tonight's set: white with a blue cross separating the letters N,E,F, and T in red, and on the center a blue disk inscribed "Co" in white.
Source: www.steamship.net (no longer available)
Joe McMillan, 2 November 2001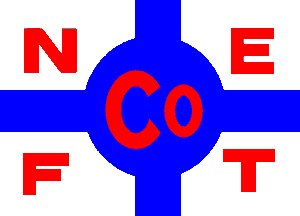 image by Jarig Bakker
New England Fuel & Transport Company, Inc., Boston, Mass. - as Joe McMillan's gif, but red "Co".
Source: Brown's Flags and Funnels of British and Foreign Steamship Companies [Wedge 1926]
Jarig Bakker, 12 February 2005
---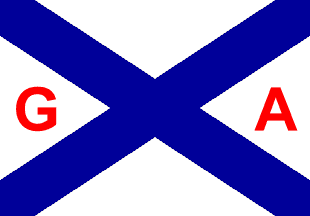 image by Joe McMillan

New York & Brazil Mail Line, New York
Although listed under this name in Manning, the only line serving New York and Brazil during this period seems to have been the U.S. and Brazil Mail Steamship Company, which was the name for three different entities that operated from 1865-1875, 1878-1881, and 1883-1893. The line was viewed by the British government as an intruder on the British monopoly over mail service to and from Brazil, and was consequently driven out of business by heavy British government subsidies to the Royal Mail West Indies Company. Manning also labels the same flag as representing the "Empire Line." The flag was white with a blue saltire and the red letters G and A in the hoist and fly. No information on what the letters stood for, but I'm struck by the presence of the blue saltire, which also appears in the city flag of Rio de Janeiro.
Source: Manning (1874)

Joe McMillan, 5 November 2001

New York & Brazil Mail Line. This flag is given by Griffin 1895 as being that of Ocean Steamship Co., also known as the Savannah Line, of New York, and according to Loughran (1979) it is the original for that company, preceding that shown in the "O" page of this series, bearing the initials of the managers. Unfortunately he does not give the managers name but it seems that there may be a connection with them between the two and the reference to the Empire Line may refer to another company handled by said unknown managers.

Neale Rosanoski, 8 March 2004

The Directory of Private Signals (see very last flag on that page 1.6.15) is described as 'Garrison & Allen, New York (1850)' the source being ref. 51 which is "Shipping House Flags" by H. Percy Ashley.

Jan Mertens, 26 August 2005
---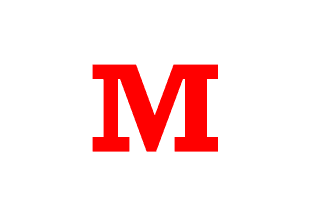 image by Joe McMillan
New York & Charleston Steamship Co.
Based on the fact that the flag was white with a red M, and that the Morgan Line served Charleston at several times, this may be one of the various companies making up Charles Morgan's coastwise empire, but I'm not sure of that.
Source: Manning (1874)
Joe McMillan, 5 November 2001
The New York and Charleston S.S. Co. was founded in 1875, and ran wooden-hulled steamers in coastal service to and from Charleston until it folded in 1885. It was better known as the Quintard Line or the Charleston Line. George W. Quintard was the son-in-law of Charles Morgan (hence the M?) and worked in the ironworks business. Like most men in the business, he dabbled in steamship routes. When the line was dissolved in 1885, the ships CITY of COLUMBIA (1881) and CITY of ATLANTA (1875) passed to the Alexandre Line, while the CITY of PALATKA (1883)passed to the Clyde Line (under charter to the Ward Line.) Ward changed their house flag after the MORRO CASTLE (1930) disaster in 1934, and adopted at least two more under AGWI until they were liquidated in 1953.
Michael Alderson, 6 May 2003
---
image by Joe McMillan
New York, Havana & Mexican Mail Line (Alexandre Line), New York (1867-1888)
The Alexandre Line provided the first regularly scheduled steamship service between New York and Veracruz, later expanding to other Mexican ports and Cuba. Purchased by the Ward Line in 1888. The flag was red with a white lozenge bearing the black initials F.A.
Source: Manning (1874), Flaggenbuch 1905
Joe McMillan, 5 November 2001
---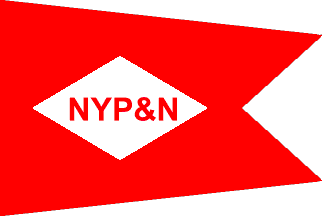 image by Joe McMillan
New York, Philadelphia & Norfolk Railroad Co, Philadelphia
No information on this company; presumably it served the Philadelphia-New York-Norfolk area. The flag was a red burgee with a white lozenge bearing the company initials in red.
1909 update to Flaggenbuch 1905
Joe McMillan, 5 November 2001
I would guess that the NYP&NRR's marine operations were probably only between Maryland and Virginia across Chesapeake Bay. I say that in order to distil down the statement, "presumably it served the Philadelphia-New York-Norfolk area" (above). This is an excerpt from the National Railway Historical Society web site ( www.nrhs.com/spot/eastern_shore_rr ):
"The Eastern Shore carfloat is one of two float operations left on the East Coast. It owes its existence to former Pennsylvania Railroad Executive Alexander J. Cassatt and Partner William L. Scott. They saw the operation as a way to link the Norfolk area to the Northeast, bypassing the congested trackage through Washington, D.C. while tapping local business from Virginia's Eastern Shore.

"Cassatt and Scott organized the New York, Philadelphia & Norfolk Railroad to build from the existing end-of-track in Pocomoke City, Md. to a new port created by the NYP&N, Cape Charles. Construction was completed into Cape Charles on October 25, 1884 and the first NYP&N passenger steamer left Cape Charles for Norfolk two weeks later. By 1885 a new innovation, car barges, allowed shipment of freight cars across Chesapeake Bay between Cape Charles and Norfolk. The barges, or floats, reportedly were designed by Cassatt.

The NYP&N was leased to the Pennsylvania Railroad in 1920. Its prosperous years ended with the Great Depression. Passenger service was hit hardest: the passenger steamer was discontinued in 1953 and the last passenger train from Cape Charles ran in 1958."
It appears the Eastern Shore Railroad's name mentioned above has been changed to the Bay Coast Railroad: www.delmarvanow.com/easternshore/stories/20060331/2268764.html. I wonder if they have a company flag for their present operation: http://varail.com/es/Es1.jpg.

Howard Laker, 14 March 2007
---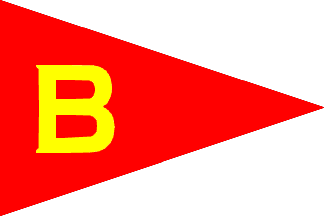 image by Joe McMillan
New York & Porto Rico Steamship Co (Porto Rico Line), New York (1885-1949) <us~nypr.gif> (Source: Lloyds 1912, [gsh34])
The roots of this company, like those of the Bull Line, go back to Archibald H. Bull's fleet of sailing vessels that operated from New York to Puerto Rico beginning in 1873. In 1885, Bull incorporated the New York & Porto Rico [sic] Steamship Company, along with other investors, operating under the British flag. When Puerto Rico became a US possession after the Spanish-American War, the U.S. cabotage privilege was extended to the new territory, forcing Bull to sell his British ships and buy American ones instead (until 1912, a ship had to be U.S.-built to fly the U.S. flag). The expense involved caused Bull's other shareholders to seek a buyer for their shares. The man they found, John Berwind, proposed an all or nothing deal and Bull was forced to sell his shares as well. Bull went on to found another company, known as the Bull Line, while Berwind sold out to Charles Morse's Consolidated Steamship Lines in 1907. Consolidated went broke in 1909 and the NY&PR was taken over by the Atlantic, Gulf & West Indies Steamship Lines holding company. However, AGWI continued to operate it under its own name and flag until 1949, when the Bull Line bought the Porto Rico Line and ended its separate identity. The flag for most of the lines existence was a yellow B (for Bull or Berwind) on a red triangular pennant. I have also seen occasional renderings with the B in white.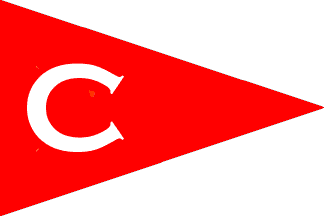 image by Joe McMillan
During the period when it was owned by the Consolidated Steamship Lines, a C rather than a B appeared on the pennant.
(Sources: www.steamship.net (no longer available), Flaggenbuch 1905
Joe McMillan, 5 November 2001
New York & Porto Rico Steamship Co. The dates do not tie up very well. Lloyd 1904 show the version with a "C" (and a yellow one at that) and as Flaggenbuch 1905 also shows the "C" version this does not appear to be a connection with Consolidated Steamship Lines if they did not take over until 1907. Bull left in 1900 so the subsequent adoption of a "B" would seem to favour Berwind but it all seems uncertain.
Neale Rosanoski, 8 March 2004
---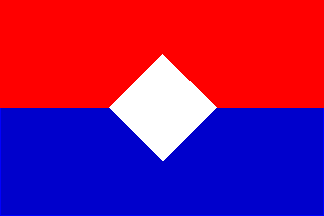 image by Ivan Sache, 12 July 2005
The New York & South American Line ( http://www.cabinclass.com/dinnerinthediner/pages/archives/steamship/nysa_01.htm ) is shown on a sauce boat produced about 1905: horizontally divided red above blue, a white diamond in the centre; the diamond takes up half of flag height. The NY&SAL was an offshoot of the more famous Farrell Lines.

A page, dedicated to Isthmian Steamship Co., has some details to offer: http://www.isthmianlines.com/ . In 1903, in collaboration with Dunn & Co. in Liverpool, Farrell Lines chartered two ships for the newly established New York & South American Line. Soon four more ships were built by Dunn as trade to South America flourished. Sent out were iron and steel produce, back went nitrate and ore. It seems ships were UK flagged: some were requisitioned during WWI, others transferred to the US flag if I understand correctly.

Jan Mertens, 9 July 2005
---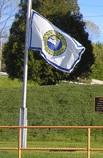 image located by Jan Mertens, 26 May 2011
On this page appears the flag of the New York State Canal Corp. (US) below that of its home state, see photo captioned "Lock E-12": http://pelicanpassage.com/pages/IntracoastalTowing/Pages/Shenandoah/tugphotos28.htm

Official website (url followed by quote from the 'Welcome' section): http://www.canals.ny.gov
"The New York State Canal Corporation is a subsidiary of the New York State Thruway Authority (...) since 1992 (...) the Canal Corporation is the proud steward of this great, historic 524-mile waterway, a legacy that was born more than 175 years ago. The tradition of navigation on New York's Canals continues uninterrupted, and the resurgence of development in the historic communities begins again, as it did in the mid-1800s .(...) preserving the legacy of this marvelous waterway and the towpaths that now make up a portion of the Canalway Trail, a multi-use recreational network of trails."

As explained on the site, the system comprises four canals (Erie Canal, Oswego Canal, Champlain Canal and Cayuga-Seneca Canal) which link the Hudson River to several lakes (Champlain, Ontario) and the Niagara River. See also this clickable map: http://www.eriecanal.org/maps/canal_map2.jpg.

A photograph shows a white flag with a blue orle, bearing the logo or seal in the centre. This page presents the logo in various formats and sizes: http://www.canals.ny.gov/news/media/index.html
Blue disk bearing a white map of the state and a vessel with passengers seen head-on at upper left, also white; broad yellow rim bearing name "New York State / Canal Corporation" in blue; outer wreath in blue and yellow. Direct link to example: http://www.canals.ny.gov/news/media/canalrope.bmp
Jan Mertens, 26 May 2011

A little NY State Canal System promotional flag is offered for sale on this page (fourth article): http://www.ess-kayyards.com/catalog/page19.html
Also called a burgee (sic), this nylon item measures 8" by 13.5" and "features unique artwork for the New York State Canal System".

White field, parts of name "NEW YORK STATE" (dark blue serifed letters, first and last larger and lower aligned) and "CANAL SYSTEM" (white serifed letters on dark blue rectangle within double border) encase a yellow rectangle featuring a boat being pulled by two horses (the nearest with horseman) along a towpath, directed towards the hoist, all in dark blue. For good measure the date "18 / 25" (split by the towpath scene) is placed under the large "N" and "E" letters, respectively. Lastly, there is a "C in a circle" copyright sign at right of "25".
Jan Mertens, 27 May 2011
---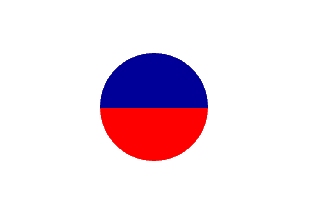 image by Joe McMillan
New York & West Indies Steamship Co, New York
A distinctive flag, white with a central disk divided blue over red.
Source: Manning (1874)
Joe McMillan, 6 November 2001
---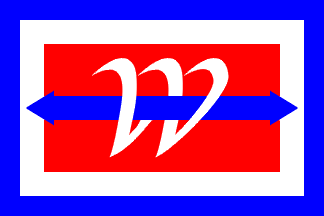 by António Martins-Tuválkin, 22 January 2006
A ferry operator in the New York area, New York Waterway presents itself at http://www.nywaterway.com/index.html. Two quotes from this website:

"In 1986, Arthur E. Imperatore and his family rejuvenated the NY Harbor with the launch of the first NY Waterway boat. Since then, NY Waterway has carried over 65 million passengers. NY Waterway has the largest ferry and excursion fleet in the NY Harbor, but it is still a family business..."

"NY Waterway is a subsidiary of Arcorp which also holds ownership of Port Imperial Marina, Dry Dock Restaurants and Imperatore Landscaping."

The firm does not only operate a ferry service, it also offers harbour and sightseeing cruises.

A flagoid shown on the website and turns out to be a flag, see as shown here and here. A red rectangle within a double border, the outer one blue and the inner one
white, bears a white written initial 'w' traversed by a red horizontal arrow with two arrowheads, which slightly extend into the white border.
Jan Mertens, 7 January 2006
Could the New York Waterways flag be a deliberate pun? It resembles Flag WHISKEY in the ICS without the arrow and W.
Andries Burgers, 25 January 2006
---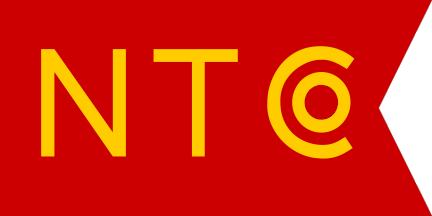 image by Rob Raeside, 7 June 2018
The Nicholson Transit Company, based at Ecorse, Michigan from c. 1920 until 1961.
Image based on a photo of the flag.
Bill Worden, 6 November 2001
---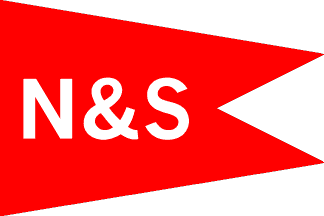 image by Joe McMillan
Norfolk & Southern Steamship Co (ca. 1905-07)
A red burgee with the white initials N&S.
Source: www.steamship.net (no longer available)
Joe McMillan, 6 November 2001
---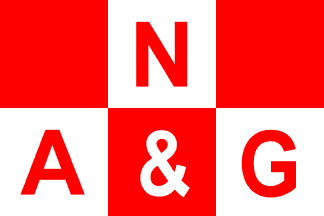 image by Joe McMillan
North Atlantic & Gulf Steamship Co, New York
A tramp company dating back to at least the late 1940s. (Tramp companies dispatch vessels to pick up cargoes as orders for transportation arrive rather than keeping to fixed steaming schedules.) This company flew a red and white checkered flag (two rows of three rectangles each) with the initials NA&G in counterchanged letters.
Source: US Navy's 1961 H.O.
Joe McMillan, 6 November 2001
---
North Pacific Steamship Co, San Francisco
Evidently this line functioned in the early 20th century, but I have no other information. I have two flags under this name: Flaggenbuch 1905 shows a red flag with a white chevron extending from the lower edge to the center of the upper edge. Lloyds (1912) shows a blue flag with a white disk bearing a red star. As the contemporary Great Northern SS Co. used a similar flag with the addition of a white saltire, there may well have been a corporate relationship, especially as another company under the same ownership as the GNSS was called the Great Northern Pacific SS Co.. But this is speculation.
Flaggenbuch 1905, Lloyds (1912)
Joe McMillan, 6 November 2001
North Pacific Steamship Co. Lloyds 1904 also shows the 2nd blue version although at that point it domiciles at Eureka.
Neale Rosanoski, 8 March 2004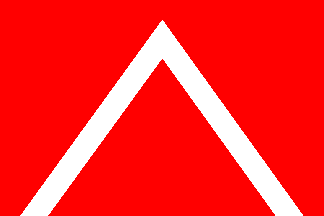 image by Ivan Sache
A flag plate from the German Brockhaus encyclopedia (1902 edition) here at http://www.heliotextil.at/go/download/reedereiflaggen.pdf shows the very last item, the 'North Pacific Steamship Co., Hong-kong'. Here the chevron is wider and shows an angle which is not so sharp as the image we have; also, its top does not touch the flag's upper edge.
Jan Mertens, 15 June 2005
---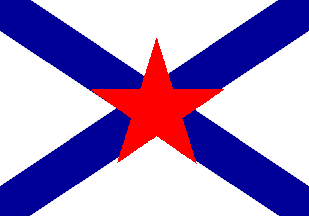 image by Joe McMillan
Northwestern Steamship Co, Seattle (1904-08)
This company provided service between Seattle, Vancouver and Alaska. It was taken over by the Alaska SS Co. As in the case of the 1912 flag of the North Pacific Steamship Co, this one seems to have features in common with the Great Northern SS Co flag--it was white with a blue saltire and a red star overall.
Source: 1909 update to Flaggenbuch 1905
Joe McMillan, 6 November 2001
---
US shipping lines house flags - 'O' continued
Anything below the following line isnt part of the Flags of the World Website and was added by the hoster of this mirror.
---
Bei fahnenversand.de erhalten Sie eine Vielzahl an günstigen Flaggen, Pins und Aufnähern, zum Beispiel: