---
The 'Fall River Line' is a shipping company mentioned on the 'Steamship China Patterns' page ('Cabin Class Collectibles' site) but not presented there.

Three house flag variants can be seen in the following files: us~flr1.jpg, us~frl2.jpg and us~frl3.jpg but this order is not chronological.

Jan Mertens, 31 August 2005

This company was not the first one to engage in passenger and cargo transport between New York and Boston. Sailing at night, the steamers would arrive early in the morning; stops at places like Fall River and Newport would be included. It all started in 1847 with the 'Bay State Steam Company' and after various takeovers in the course of the years the 'Old Colony Steamboat Company' founded the 'Fall River Line' (1871). The important role of the railway companies, both in providing capital and connections, should be stressed.

For decades, the FRL's floating palaces were a familiar sight. It is said that the line eventually lost out against the competition from land transport (railroads and trucks) and that it suffered from the closing of the cloth mills which used to be good customers. The end actually came through a labour conflict as the FRL closed down following a union strike about wages; this happened in 1937. Now there's still the Fall River Marine Museum and the Fall River Pier.

Sources (nautical, social, historical...):

Links to pictures (sources of previously sent images): It looks as if the flag was horizontally striped red-white-blue with the line's initials 'F.R.L.' in the middle stripe (simple variant, perhaps the first version?); we also find (on a later version?) the words 'FALL RIVER' on the red stripe, 'LINE' on the white stripe and 'BOSTON' on the blue one in contrasting colours… not very clear
in the pictures I found.

Jan Mertens, 2 September 2005
---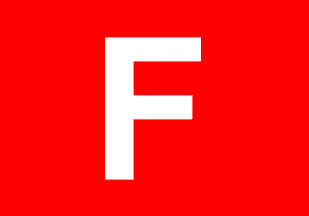 image by Joe McMillan
Fargo Shipping Corp., New York
Red with a white "F."
Source: Styring (1971)
Joe McMillan, 8 October 2001
---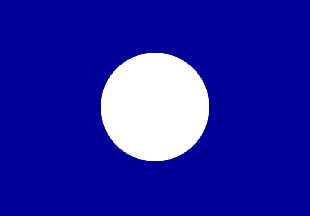 image by Joe McMillan
S. C. Farnham & Co.
Blue with a white disk.
Source: Flaggenbuch (1905)
Joe McMillan, 8 October 2001
---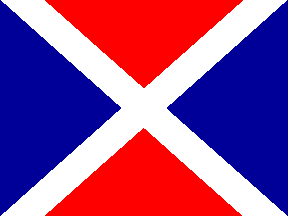 image by Joe McMillan
Farrell Lines is a privately held steamship corporation controlled by the Farrell family, which owns, charters and operates vessels of the United States registry in the ocean borne foreign commerce of the United States.

Formed in 1925, the company, then known as American South African Line, began serving South Africa from Eastern U.S. ports in January of 1926, and continued to operate in that trade until August of 1980. In 1947, upon the commencement of regularly scheduled liner service to West Africa from the U.S. east coast, the name of the company was changed to Farrell Lines Incorporated. Farrell Lines expanded its trade range to Australia-New Zealand from the U.S. east Coast in 1965 and from the U.S. west coast in 1975. These two services were terminated in 1983 and 1982, respectively.

In March of 1978, Farrell Lines purchased American Export Lines, which was then serving the Far East, South Asia, North Europe and the Mediterranean from U.S. North Atlantic ports.

Farrell Lines currently operates five fully containerized vessels in the U.S./Mediterranean trade. These include three new E-Class vessels acquired by the Company in November and December 1997. Farrell's share of the commercial market in the Mediterranean trade is substantial.
Source: www.farrell-lines.com/history.html
Phil Nelson, 27 August 2001
Farrell Lines (1922-2000), New York
Farrell Lines was founded as the American-South African Line by James Farrell and was the leading US-flag company serving Africa. It expanded into US-Australia routes in the 1970s. It briefly became the second largest US merchant line by buying American Export Line's equipment when AEL went bankrupt in 1978, but went heavily into debt doing so. Farrell was forced to retrench throughout 1980s and 1990s. By 1991, the entire line consisted of only four ships serving the Mediterranean and Persian Gulf and the remaining operation was sold to the mega-line P&O Nedlloyd in 2000. The Farrell flag, one of the more distinctive designs, was a white saltire dividing the field into alternate red and blue quarters.
(Sources: National Geographic (1934), Stewart (1953), US Navy's 1961 H.O. and www.farrell.com (no longer on line the last time I checked)
Joe McMillan, 12 October 2001
---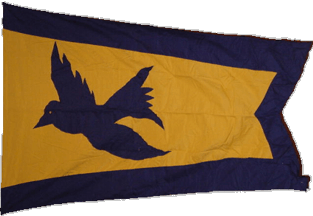 image located by Jan Mertens, 14 September 2005
This striking flag, a tapering swallowtail, is yellow and has a broad blue border; a bluebird, eye yellow, is shown flying towards the hoist on this site. A book was written about this company at http://www.nauticalmind.com:
"Ford Fleet: 1923-1989. The story of one of the most visible fleets on the Great Lakes - that of the Ford Motor Company. Describes the commandeering of the fleet by the U.S. government and the virtual destruction in enemy action of most of Ford's ocean vessels and a goodly portion of their Great Lake fleet during World War II." Written by Clare Snider & Michael Davis, published in 1994.

More on the bluebird can be found on this Google cache:
Relevant quotes, text by Keith Steffke:
"It may interest you to note that one of the first Ford personal yacht's was named the "Sialia"....This name was specifically chosen because "Sialia sialis" is the scientific/Latin name of the Eastern Bluebird...........Mrs. Ford was a bit of an amateur naturalist (…) and Mr. Ford, of course, associated with these beautiful birds as he remembered them nesting and feeding along the fields & meadows on the local farms of his childhood memories........ That is why this bird (a thrush, related to the American Robin) was also chosen for the Ford Fleet house flag - the proverbial ""Bluebird of Happiness""........the house flag was originally only flown when Mr. F himself was on board (usually on his way to their summer home near Marquette)....after he passed away at Fairlane Manor in Dearborn in 1947, it was adopted by the fleet to be used on all their vessels while underway."
Jan Mertens, 14 September 2005
---

image by Joe McMillan
Foreign Tankship Corp., San Francisco
Another in the boring series of letters-on-bedsheets, this time a white FT on blue. I seem to recall that this may have been a Panamanian-flag subsidiary of one of the Standard Oil companies, possibly Standard of California given the San Francisco home-port.
Source: Wedge (1951)
Joe McMillan, 12 October 2001
---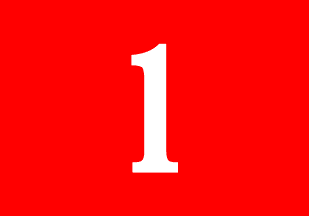 image by Joe McMillan
A. Foster & Sons Rio de Janeiro Line, New York
Not a terribly interesting flag, red with a white 1, but a company of historic interest as an early (circa 1850) line serving New York and Rio.
Source: chart of "Private Signals of the Merchants of New York"
Joe McMillan, 12 October 2001
---

image by Joe McMillan
Joseph Foulke & Sons, New York
A nice design of five alternating blue and white stripes.
Source: chart of "Private Signals of the Merchants of New York"
Joe McMillan, 12 October 2001
---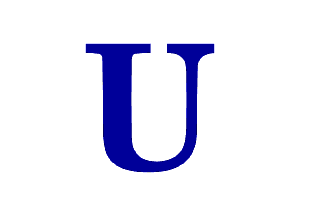 image by Joe McMillan
Fox & Livingston Union Line (1820s-1862/63), New York
One of first regular services between New York and Le Havre; originally called the Havre Line, then the "Old" Havre Line and finally the Union Line after it was merged with other services to Le Havre in 1845. After that point, it flew a blue U on a white field.
Source: chart of "Private Signals of the Merchants of New York"
Joe McMillan, 12 October 2001
---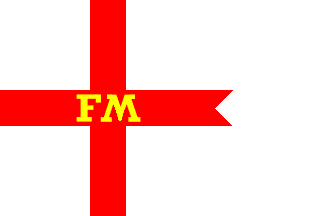 image by Joe McMillan
Funch & Meinke, New York
A white swallowtail with a red cross bearing the initials of the firm in yellow.
Source: Painting of a ship in "The Clipper Ships"
Joe McMillan, 12 October 2001
---
US shipping lines house flags - 'G' continued
Anything below the following line isnt part of the Flags of the World Website and was added by the hoster of this mirror.
---
Bei fahnenversand.de erhalten Sie eine Vielzahl an günstigen Flaggen, Pins und Aufnähern, zum Beispiel: