---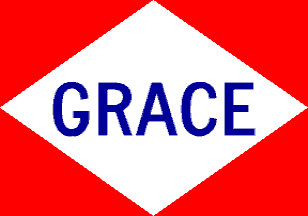 image by Joe McMillan
Grace Line (W. R. Grace & Co), New York (1882-69)
W. R. Grace and Co. was founded in Peru in the mid-19th century to engage in the guano trade. William R. Grace relocated to New York in 1866. What later became the Grace Line originated in 1882 as a line of sailing vessels between Peru and New York. Grace established regular steamship service in 1893 with a subsidiary called the New York & Pacific Steamship Co., operating under the British flag because ships built outside the United States were banned from US registry until 1905. US-flag service began in 1912 with the Atlantic and Pacific Steamship Company. The activities of both companies and the parent firm were consolidated into the Grace Steamship Company beginning in 1916. The firm originally specialized in traffic to the west coast of South America; then expanded into the Caribbean. After World War II, the company gradually withdrew from holdings in Latin America and finally abandoned the shipping business altogether to concentrate on chemicals in 1969. It is still in business, but not as a shipping concern. At its peak, the Grace Line was a major force in American merchant shipping. Shortly after World War II it owned 23 ships totalling 188,000 gross tons, plus 14 more on bareboat charters. The Grace Line flag was red with the word "GRACE" in blue on a white lozenge.
Sources: Wedge (1926), National Geographic (1934) (showing letters with serifs), Talbot-Booth (1937), US Navy's 1961 H.O.
Joe McMillan, 16 October 2001
image by Rob Raeside
US Navy's 1961 is the only one of the quoted sources to show this flag with diamond reaching the edges. Wedge (1926) (Brown Series) and Talbot-Booth (1937) both show a red flag bearing a smaller white diamond within the field charged with the black legend "GRACE" within a black orle. In 1938 Talbot-Booth noted that this had been changed to a plain diamond bearing the blue legend "GRACE" and he continues to show this through to and including his Merchant Ships 1949. The explanation for this earlier flag may be explained from comments in Loughran (1979) from which it appears that the flag was used by the UK subsidiary, the New York & Pacific Steamship Co. The flag as shown here, with the diamond either being throughout or nearly so, appears in Brown 1934 as well the National Geographic of 9/1934 [where it is clearly within the field] and would appear to be that of the parent company. For real confusion one can peruse the "All About Ships & Shipping Series" by Harnack where, for example, the 1938 and 1949 editions show the diamond with orle and letters, though blue and not black, in the image section, but in the fleet list section show the plain diamond within the field and letters version of Talbot-Booth.
Neale Rosanoski, 24 June 2004
---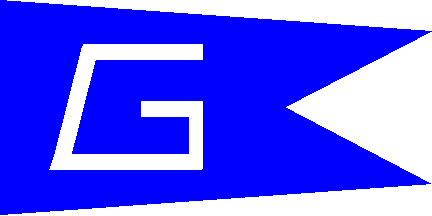 image by Ivan Sache
Company based in Cleveland,Ohio. The flag is a blue swallowtail burgee charged with a white G
Source: www.thegreatlakesgroup.com
Dov Gutterman, 11 October 2003
See also:
---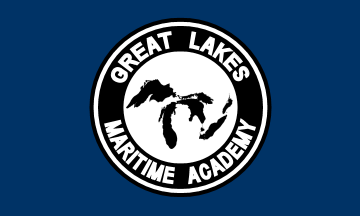 by Eugene Ipavec, 7 December 2006
On the Great Lakes chart (third of second row) is the flag belonging to the Great Lakes Maritime Academy at Traverse City, Michigan:
"Maritime provides a professional training environment with hands-on career skills needed for a career in Marine Transportation. (…) Great Lakes Maritime Graduates earn two college degrees, Maritime (deck or engineering) and Business Administration. Sea Project time accumulated aboard commercial ships of the Great Lakes and Oceans in addition to T/S State of Michigan. (…) A beautiful new Maritime Campus and Harbor facilities on the shores of Grand Traverse Bay of Lake Michigan (...). The T/S State of Michigan, 225' of floating classroom and laboratory is utilized by cadets, faculty, staff and guests year around."

GLMA is part of Northwestern Michigan College and was founded in 1969. The logo seen on the homepage is a white disk bearing a map of the Great Lakes (in blue); a blue rim within a small white one bears the words 'GREAT LAKES' / 'MARITIME ACADEMY' in white letters. The logo, placed on a blue flag, may not only represent the Academy on land but is certainly used as a house flag. See it flying alongside the Michigan state flag on above ship (photo is clickable): http://www.boatnerd.com/news/newpictures03/satateofmich5-25-03-mvm-(5).jpg
Jan Mertens, 9 November 2006
---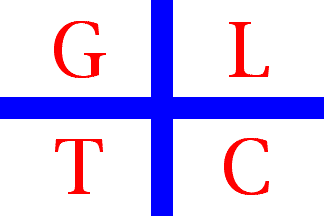 image by Jarig Bakker
Source: http://www.timetableimages.com/maritime/images/gltc.htm which shows the exterior of a 'Great Lakes Transit Corporation' brochure (Sailings June-September 1925). Besides the US jack waving from a ship in motion there's the house flag: white with a blue cross throughout and the company's initials GLTC, in red, one in each corner.

This Buffalo, N.Y. based firm is briefly mentioned in connection with Western Transportation. A bit of history based on the following sources: http://www.retrocom.com/retromilw/clipper1.htm,
http://www.duluthport.com/99spring/youautospr99.html, and http://ah.bfn.org/a/main/785/.

It seems that the Panama Canal Act prohibited railroad companies from operating steamships so in 1916 William J. Conners, a self-made man already involved in loading and unloading ships, founded the GLTC active in goods and passenger transport all over the Lakes; once it was the chief shipping company in the area. Typical examples of goods transportation were passengers' cars – also newly built ones - and dairy products; passenger transport included tourists. (I don't know when the firm ceased activities.)
Jan Mertens, 6 September 2005
---
Great Northern Steamship Co. (Great Northern RR subsidiary)(1900-17)
Great Northern Pacific Steamship Co., Portland, Oregon (1913-17)
Both lines these lines were founded by John Jay Hill to promote business for his Great Northern Railroad, of which they were subsidiaries. The GNSS was a trans-Pacific line out of Portland, while the GNPSS ran coastwise steamers from Portland to San Francisco. The two lines were highly publicized and promoted, but ultimately were business failures owing to Hill's lack of understanding of the shipping business. Their flags resembled each other, the GNSS flying a blue flag with a white saltire and overall a white star on a red disk, while the GNPSS flew the same flag with the red and blue reversed. The Northwestern SS Co of Seattle flew a similar flag during the same timeframe--white with a red star superimposed on a blue saltire--but as far as I know was not related to these companies.
Source: Lloyds 1912
Joe McMillan, 16 October 2001
---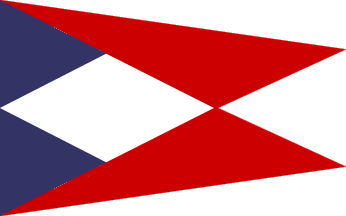 image by Eugene Ipavec, 18 February 2008
Chiquita Great White Fleet (formerly United Fruit Company), Boston, then NY (1899-present)
I list this under "G" rather than "U" because the line's official name is now Great White Fleet. United Fruit, a merger of several smaller Italian-American-owned firms in Boston, began operating its fleet of ships in 1899 to bring tropical fruits, especially bananas, and sugar from Central America and the Caribbean to the United States. Its ships also carried passengers as a sideline. In its heyday, United Fruit was a dominant political and economic presence in several Central American countries. The parent company eventually adopted the identity of its best-known brand name, Chiquita, although it maintained the United Fruit name for its shipping line until 1990. At that time, United Fruit was dissolved as a separate entity and the shipping line was formally named the Great White Fleet,! from the long-time Spanish nickname, La Gran Flota Blanca, that it had had for many years because of the paint scheme of the ships--the white paint helped keep the cargo cool and prevent it from ripening too quickly. The flag of the Great White Fleet has been in use since the very beginning of the line. It is a distinctive burgee-shaped pennant, with blue triangles based on the hoist, a white lozenge between them, and red scalene triangles along the upper and lower edges and forming the points of the swallowtail. Easier to depict than to describe.
Sources: Wedge (1926), Stewart (1953), US Navy's 1961 H.O., www.greatwhitefleet.com
Joe McMillan, 16 October 2001
---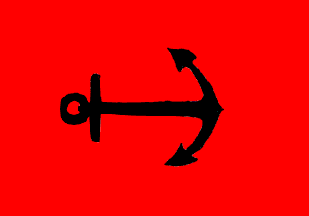 image by Joe McMillan
Green & Co., New York
No information. Flag red with a black anchor arranged horizontally.
Source: chart of "Private Signals of the Merchants of New York"
Joe McMillan, 17 October 2001
---
Grinnell, Minturn & Co.
This very prominent transatlantic packet company, which later had great success in the California clipper trade, was founded in about 1822 as Fish, Grinnell & Co (the senior partner of which had the memorable and improbable name of Preserved Fish) and remained active until 1880. Its first major endeavor was its Liverpool Line, known as the Blue Swallowtail Line (1822-1880) from its distinctive blue and white swallowtailed house flag (in which the dividing line between blue and white followed the shape of the swallowtailed fly) was originally started by Fish, Grinnell and Co. in cooperation with Thaddeus Phelps and called the "Fourth Line of Liverpool Packets." It originally sailed monthly and, like the other Liverpool-New York packet lines, did a thriving business in the wave of Irish immigration. The company entered the London market a y! ear later with its London (Red Swallowtail) Line, which also endured until 1880. The flag was the same as for the Liverpool line, but with red at the hoist instead of blue.
Joe McMillan, 17 October 2001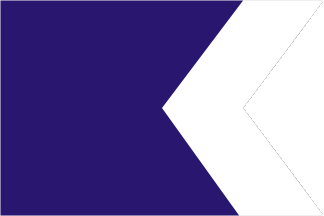 image by Rob Raeside
Loughran (1979) when dealing with the period stresses that the records of this era can be misleading particularly with paintings etc. He shows a different version of the blue-white flag of the Liverpool Line with the blue occupying most of the field.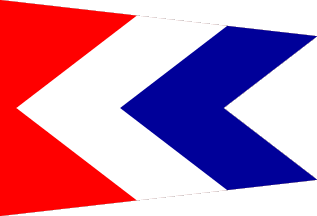 image by Rob Raeside
On the other hand Richard McKay in South Street, who show 4 flags for the company, all tapered swallowtails, shows a triband of red-white-blue. As is quoted the
shown blue-white for Liverpool and the red-white for London services originated under Fish, Grinnell & Co. in 1822, Fish resigning in 1825 and the Grinnell brothers forming Fish, Grinnell & Co. which became Grinnell, Minturn & Co. in 1832 when Robert Bowne Minturn became a partner [details from McKay]. These changes may well have resulted in changes to the original flags as shown by McKay who for the London Line gives a yellow-blue-white version: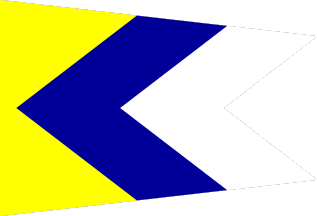 image by Rob Raeside
Neale Rosanoski, 24 June 2004
On The Lore of Ships, page 136, A: House flag from Sailing ship days
5 "Grinnell, Minturn & Co., New York, Swallow Tail Line for Liverpool"
6 "Grinnell, Minturn & Co., New York, Swallow Tail Line for Londen"

The image shows the blue flag close to Rob's drawing though, the flags being something like 5:9, the angles are different. The blue flags is drawn in the standard blue, which may have been considered dark enough. The London flag is exactly the same, with standard red.
Peter Hans van den Muijzenberg, 15 March 2012
---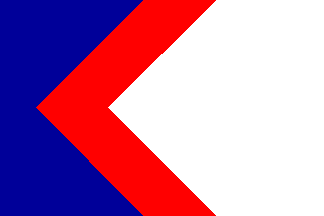 image by Joe McMillan
After the start of the gold rush in 1849, G&M started a California Line of clipper ships to take advantage. This line flew a flag that combined the other two flags into a swallowtailed tricolor of blue, red, and white.
Source: chart of "Private Signals of the Merchants of New York"
Joe McMillan, 17 October 2001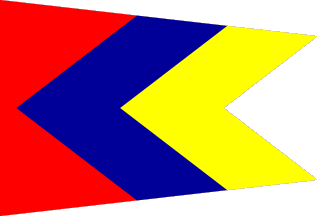 image by Rob Raeside
Loughran (1979) disagrees with the colours making them red-blue-yellow and McKay agrees though he shows a tapered flag. There is also a lithograph in McKay's book of the "Flying Cloud" [such illustrations being indicative rather than conclusive] which looks (it is B&W) supportive of his version. On the other hand Whipple in The Clipper Ships quotes a verbal description of a white-red-and blue flag [a backwards description?] for the clipper "Flying Cloud" in 1851 for her maiden voyage on the Californian run though also includes a painting supporting the blue-red-white version shown here.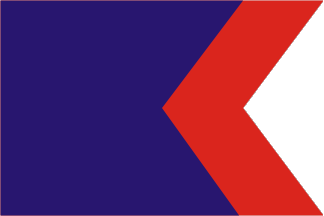 image by Rob Raeside
Loughran (1979) gives a further flag of blue-red with the blue taking most of the field for the China service.
Neale Rosanoski, 24 June 2004
---
image by Joe McMillan
N. L. & G. Griswold, New York
Another prominent and profitable firm, also founded in 1822. Nathaniel Lynde Griswold had earlier been a partner with John L. Griswold in a merchant house in New Orleans. He and his brother George then set up this shipping firm, beginning with West Indies routes. They later branched out into the China tea trade and finally into supporting the California gold rush trade. The company initials were jokingly said to stand for "no loss and great gain." The house flag was a blue and white checkerboard flag resembling the modern "N" signal flag except for having five blocks in each horizontal row rather than four.
Source: chart of "Private Signals of the Merchants of New York"
Joe McMillan, 17 October 2001
This version is shown by the website on USA Houseflags but is not that of the Private Signals Chart as shown by Whipple because that version shows 5 rows of 5 blocks in each horizontal row. To help confuse matters a painting of the 'Challenge" then shows a flag of 4x4 for what became the International "N" signal flag but this was not published by the British Admiralty until 1857 and the painting refers to the maiden voyage in 1851. Such a flag did appear in the Marryat Code which preceded it for British use but would an American ship use that code? It is probably 'painters licence' as is another black & white lithograph also shown by Whipple of the launching where the blue and white blocks are reversed in 5 rows of 5, along with other anomalies. McKay however in South Street shows the 5x5 version of 13 blue and 12 white and another lithograph of the "Challenge" launching is in support.
Neale Rosanoski, 24 June 2004
---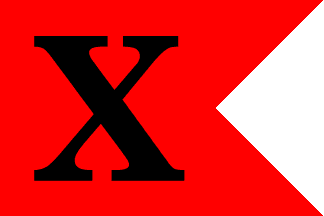 image by Joe McMillan

Griswold's Black X Line, New York (1846-67)
The Griswolds were a major force in New York shipping in the 19th century. Their Black X Line served the New York-London route and, as in the case of the Black Ball Line, was so called from the flag design, a black X on red.
Source: chart of "Private Signals of the Merchants of New York"

Joe McMillan, 30 August 2001

Operated by John Griswold as a London Line of packets dating from 1823 according to McKay. Again sources vary with their shape portrayals. Loughran (1979) shows a tapered swallowtail whilst McKay has an ordinary rectangle.

Neale Rosanoski, 24 June 2004
---
US shipping lines house flags - 'G' continued
Anything below the following line isnt part of the Flags of the World Website and was added by the hoster of this mirror.
---
Bei fahnenversand.de erhalten Sie eine Vielzahl an günstigen Flaggen, Pins und Aufnähern, zum Beispiel: