---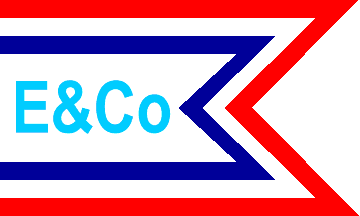 image by Joe McMillan

John J. Eagle & Co, New York
I think this company descends from the mid-19th century Eagle & Hazard, which operated the Eagle Line between New York and Mobile, Alabama, primarily for the cotton trade. The flag is swallow-tailed with a red, white, and blue border and the abbreviation E & Co in light blue on a white field.
Source: www.steamship.net (no longer available)

Joe McMillan, 6 October 2001

See also:
---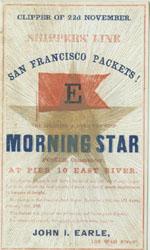 image located by Jan Mertens, 21 August 2005
The house flag of John I. Earle can be seen on a card at http://www.tenpound.com/clippercard.htmlll (last of section 'Also Available'). We see a red, tapering swallow-tailed flag bearing a black serifed 'E' in the centre. The same flag is listed in the on-line Directory of Private Signals as no. "32.1.5 John I. Earle, New York (18 ) 18 Shippers' Line
See also burgee 14.2.14; swallowtail 27.1.7"
Ref. 18 is, I believe, the finding place "House flags on sailing ship cards, etc. Peabody Essex Museum, Salem" and 'Shippers' Line' the commercial name. But if we look up the other Directory flags indicated we see different flags:
http://www.mysticseaport.org/library/initiative/SignalImage.cfm?PageNum=2&BibID=36294&ChapterNo=14
and
http://www.mysticseaport.org/library/initiative/SignalImage.cfm?BibID=36294&ChapterNo=27
which are in fact two forms (straight and tapering swallowtail, respectively) of the John J. Eagle & Co. flag. The Directory twice calls them 'John I. Earle' adding '(1850)'. The letters are black.

So now we have some riddles to solve:
did one firm, always called Earle, operate two shipping lines: the Shippers' Line and the Eagle Line?

If the above is true, does this explain the use of two different flags?

Are these really two different firms, the one Earle, the other Eagle, and is the Directory mistaken?

Lastly, is the red-white-blue version the successor of the red swallowtail of Earle, now having gone into partnership?
Well, it seems 'John I. Earle' flew the red flag and 'John I. Earle & Co.' the white one. The fifth card on the page at http://www.anmm.gov.au/gold150/sail1.htm is dated 1859 and mentions '& Co.' (hence the white flag) but at the same time, uses the commercial name 'Shippers' Line':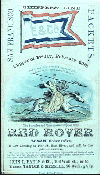 image located by Jan Mertens, 21 August 2005

On another page of the same site, at http://www.anmm.gov.au/gold150/sail2.htm, a similar card (fifth, again) is shown, only this one is dated 1858.

So in view of these cards (no doubt there are others) and on the strength of the Directory of Private Signals may we assume, for the time being, that the 'John E. Eagle' company name is a conflation of 'John I. Earle' and 'Eagle Line'?
Jan Mertens, 21-22 August 2005
---
The Eastern Steamship Company was founded in 1901 by the Wall Street financier C. W. Morse by consolidating six small New England coastwise lines. It provided service between New York and New England and later branched into winter cruises to Florida. The line stopped operating during World War II, then resumed business briefly after the war with summer cruises to Nova Scotia. The company suspended operations again in 1954 and was bought by F. Leslie Fraser. Fraser shifted the vessels to the Panamanian flag and again conducted a cruise service along the New England and Canadian Maritimes coast until 1962, when he sold the line to W. K. Lovett. Lovett sold it in turn to the Norwegian company Gotaas-Larson in 1970, after which the Eastern name and house flag passed out of use. The present-day Royal Caribbean Cruise Line is in part the corporate descendant of the Eastern Steamship Co.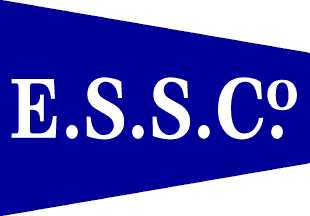 image by Joe McMillan
The first flag I have found was in [ruh09], a blue trapezoid with the initials of the company in white.
Source: 1909 update to Flaggenbuch 1905
By 1912, the house flag was a blue swallowtail with a red E inside a red circle. This flag appears in Lloyds Flags and Funnels (1912) and Talbot-Booth (1937). National Geographic (1934), however, showed a blue burgee-shaped flag with a plain white E, which remained in use into the early 1950s Wedge (1951) until F. L. Fraser bought the company in 1954.
Under Fraser, Eastern sailed under a red flag with a blue lozenge throughout and a white F for the owner's last name. W. K. Lovett kept this design but changed the initial to an L when he took over in 1962. (Source: Web history of Eastern SS. Co--for which I've lost the URL--and (I believe) images of company memorabilia at www.steamship.net (no longer available)).
Joe McMillan, 6 October 2001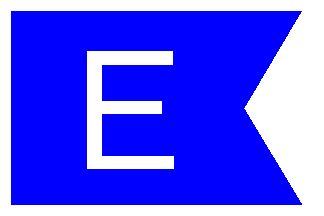 image by Ivan Sache
This company not only had plenty of owners and flags but also of names and moved around the country it seems with sources noting it in Portland, Boston, New York and Miami over its lifetime. Names appear to have started with Eastern Steamship Co., then Eastern Steamship Corporation, Eastern Steamship Lines Inc. and finally ending back as Eastern Steamship Corporation by 1962. As well as the flags shown here, Talbot-Booth in his Merchant Ships 1942 adds another with a normal blue swallowtail bordered white and bearing a white "E" but he also notes that for a short time previously the letter was red. There is one discrepancy, I feel, in that the flag he shows on the funnel is a tapered swallowtail and it is thus possible that there is a connection with the plain blue version shown by National Geographic and Brown 1951, both of whom also show a white bordered flag on the funnel even if not for the flag itself.
Neale Rosanoski, 9 March 2004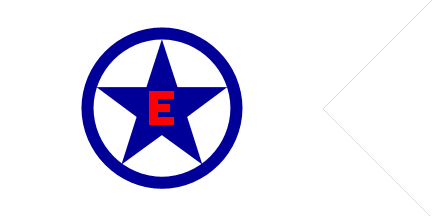 image by Eugene Ipavec, 27 July 2010
A black-and-white photo (or black-and-white item...) shows yet another one for "Eastern Steamship Lines Inc.": http://img.auctiva.com/mgdata/4/6/8/1/9/3/webimg/300302654_tp.jpg. As luck would have it, an eBay offer last year concerned such a flag: offer no. 130342437038 (end 12 Nov 2009), put up by "captaincarlone".

Edited quote: "Original houseflag of Eastern Steamship (later Admiral Cruises) which flew from the masts of EMERALD SEAS, BAHAMA STAR and ARIADNE in their hayday (sic, jm) sailing from Miami to the Bahamas. Full ship's flag measures 3' x 5" - nylon. Excellent condition, no cuts or tears."

White field bearing blue five-pointed star within a blue ring, a red sans serif initial "E" in the centre of said star (national colours). We do not see the item completely – it should be a swallowtail. It would be nice to have this confirmed by a house flag book or any other source going beyond the black-and-white picture linked to, as the present line of conjecture is rather thin.
Jan Mertens, 21 July 2010
Concerning this flag, I suggest that the proportions of the image are a bit out at 1x2 when Jan states the source says 3x5. However the connection to "prove the flag" is easy enough. The company was acquired by Gotaas-Larsen of Norway in 1970 who ran it under the same name until 1981 when it was restyled Eastern Cruises and was later merged into Admiral Cruises. According to the source "US Passenger Liners Since 1945" the old colours went out of use in this 1970 sale and what Jan has discovered is the adoption of the Gotaas-Larsen flag with the addition of a red "E" on the star. To confuse the issue another actual flag on offer appears to show a normal 4x6 rectangular flag version without a swallowtail at http://www.worthpoint.com/worthopedia/eastern-steamship-lines-flag-emerald-seas-cruise-1 but all the various offers showing on the internet show the same flag logo - see an ashtray flag logo at http://www.rubyplaza.com/item/677830-105-RP/Vintage-Eastern-Steamship-Lines-Glass.
Neale Rosanoski, 4 June 2011
---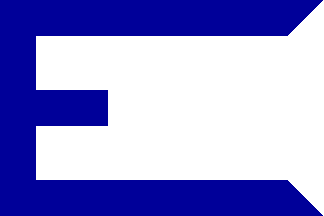 image by Joe McMillan
Earn-Line Steamship Co., Philadelphia
A white swallowtail with blue edging at the hoist, upper, and lower edges and a short blue strip in the center forming a letter "E."
Source: Reed (1896)
Joe McMillan, 6 October 2001
---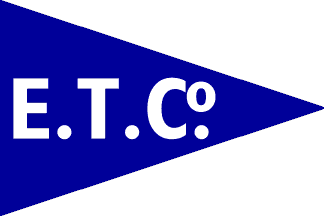 image by Joe McMillan
Eastern Transportation Co., Baltimore
A blue triangular pennant with the company's initials in white.
Source: Wedge (1951)
Joe McMillan, 6 October 2001
---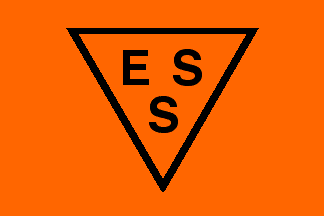 image by Ivan Sache, 15 October 2005
This company based in Erie, Pa. flew this flag, as seen on this page. It is an orange flag with black company initials 'ESS' inscribed in a triangular black border, point downwards. The house flag in a rigid form (painted?) can be seen here. This company belonged to Erie Sand and Gravel Co. but was bought by Oglebay and Norton in January 2003. At that time: "Erie Sand & Gravel Company operates a dock, a Great Lakes Flag vessel, a ready-mix concrete facility and a trucking company that distributes construction sand and aggregates in the northwest Pennsylvania/western New York region."

Source:
http://phx.corporate-ir.net/phoenix.zhtml?c=85957&p=irol-newsArticle&ID=542802&highlight=

Jan Mertens, 23 September 2005
---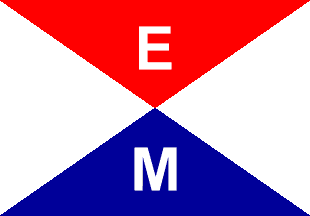 image by Joe McMillan
Eschen & Minor Co., San Francisco
One of the last companies operating under sail. Flag divided per saltire, white in the hoist and fly, red in the upper quadrant and blue in the lower, with the letters E and M in white, arranged vertically.
Source: Lloyds 1912
Joe McMillan, 6 October 2001
---
US shipping lines house flags - 'Exxon' continued / 'F' continued
Anything below the following line isnt part of the Flags of the World Website and was added by the hoster of this mirror.
---
Bei fahnenversand.de erhalten Sie eine Vielzahl an günstigen Flaggen, Pins und Aufnähern, zum Beispiel: