---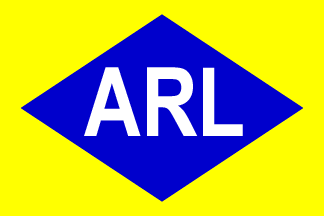 image by António Martins-Tuválkin, 28 July 2007
Discovered on the Nautiques auction website, a lapel flag of the American Republics Line – direct link:
"American Republic (sic, jm) Line: A brass tie tack in the shape of the line flag with blue and yellow enamel. 1" across…"

Operating passenger ships named after Latin American countries and presenting itself as the "Good Neighbor Fleet", US shipping company Moore-McCormack once had a subsidiary named 'American Republics Line'. It seems good neighbourship was President F.D. Roosevelt's initiative taking form from 1936 onwards; in fact the ships were owned by the U.S. Maritime Commission, serving the East coast of South America. There were freight vessels as well I believe. American involvement in WWII led to the ships being used for the transportation of troops; afterwards, Mooremack used its own livery.

Although a logo was used consisting of a globe showing the Western Hemisphere with the words "The Good Neighbour Fleet" (or its equivalent in Spanish or Portuguese) written across it, above house flag resembles the funnel design of a blue diamond on a yellow ground. Added to it are white initials 'ARL'

Some sources:
http://moore-mccormack.com/The-Company/American-Republics-Line-Service.htm
http://www.timetableimages.com/maritime/images/mml.htm

Jan Mertens, 11 March 2007
---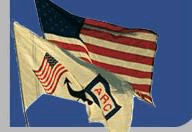 images located by Neil Rosanoski, 17 April 2011
American Roll-On Roll-Off Carrier (ARC). The logo which appears on the flag contains two flags: a blue-edged white flag with ARC in red centred and the American flag. Seen on their home page at http://www.arrcnet.com which shows the whole of the logo appearing on a white field.
Neil Rosanoski, 17 April 2011
---

image by Joe McMillan
American Scantic Line, New York
One of the nicer house flags: A green field with a large white square bearing a red cross. The green, white, and red colors apparently come from the parent company, Moore & McCormack. American Scantic Line (like many other lines of similar American ------ Line nomenclature) was one of a number of companies set up by the U.S. Shipping Board to revive the merchant marine after World War I. American Scantic was the line serving Scandinavia and the Baltic, an area in which Moore-McCormack Co. was already well established when it bought American Scantic in 1927. It is not clear how long the flag survived; Talbot-Booth records that shown (which matches the description in "The Atlantic Seaway") in 1937, but in 1934 National Geographic had already shown the flag of Moore-McCormack itself as that for the American Scantic Line.
Source: E. C. Talbot-Booth, House Flags and Funnels of British and Foreign Shipping Companies. NY & London: D. Appleton-Century, 1937
Joe McMillan, 7 September 2001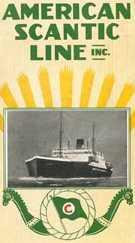 Maritime Timetable Images has a piece about 'American Scantic Line Inc.' at http://www.timetableimages.com/maritime/images/asl.htm#asl30c. The brochure on the first picture shows a green flag with a white disk bearing a red letter 'C'. A pity the date of issue is not quite known ("undated; c. 1930"). Conjecture: the 'C' flag was in use between 1926 (or 1927) and 1934 at the latest?
Jan Mertens, 8 August 2005
---

image located by Jan Mertens, 11 March 2011

American Shipping and Chartering of Houston, Texas (US), founded in 1980, is a maritime firm starting out as a port agency (steel transportation) evolving into a general logistics company with special attention paid to project cargo. Prime destinations are Europe including Russia, the Caribbean, and South America, and the Far East. Homepage: http://www.americanshipping.com/.

Shown as a drawing on the site, the house flag is dark blue bearing a white horizontal arrow, wavy and pointed at both ends; the lower line of the left arrow continues to become the upper line of the right one. A sort of broken-up, or dispersed, double arrow. Luckily the white version of said house flag appears in the image carrousel to provide a better view of this striking logo.

Although there is not even a table flag picture to grace this message, we should nevertheless record the item. Ideally, of course, each and every firm using a flag logo without there being proof of its actually being used in the cloth should be contacted for information.
Jan Mertens, 11 March 2011
---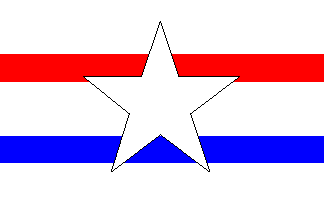 image by Ivan Sache, 4 February 2006
One of the house flags on the Kennedy, Hunter & Co. sheet is that of the American Star Line, New York. Traces are found on the 'net concerning ships bought in 1918 and 1921, plus a 1926 court case. Then there is a gap till we get to the 'eighties. See a Federal Maritime Commission ruling, 1990 reachable via http://www.fmc.gov, i.e. "American Star Line, Inc. National Transatlantic Lines of Greece S.A., and Dimitri Amminos - Possible Violations of Passenger Vessel Certification Requirements - Initial Decision" where we learn that Mr Dimitri Amminos was President of both American Star Line (incorporated Delaware, 1986) and the National Maritime Line of Greece S.A. (inc. Panama, 1986), later named National Transatlantic Line of Greece, firms which were to operate and market cruises on a passenger vessel to be named the 'Betsy Ross' with a capacity of more than 300. ASL represented NT, which also used ASL as a trade name. Both advertised cruises in 1987 but none were forthcoming. At last the ship – at least that one existed – was chartered to Star Lauro in 1989.

My somewhat shaky conclusions: there must have been two American Star Lines…And supposing – with some reason - Kennedy, Hunter & Co. to have been agent to the modern one, its house flag was white, bearing a horizontal middle stripe divided, again horizontally, red-white-blue; and a large white star over all. The star is rendered visible using black holding lines and it slightly encroaches upon the upper and lower white stripes.
Jan Mertens, 1 February 2006
---
The American Steamship Company, known as the American Line, was established by the Pennsylvania Railroad in 1873 to attract traffic to Philadelphia away from the New York terminals of its archrival, the New York Central Railroad. It operated under several different ownerships until about 1925.
First Flag (1873-84)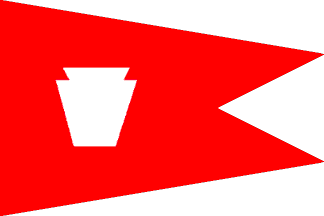 image by Joe McMillan
First Flag (1873-84) A red burgee with a white keystone, which was the trademark of the railroad. It derives in turn from Pennsylvania's nickname as the "Keystone State" and is a widely used symbol of the state.
(Source: description in North Atlantic Seaway III:920)
Joe McMillan, 22 August 2001
Second Flag (1884-93)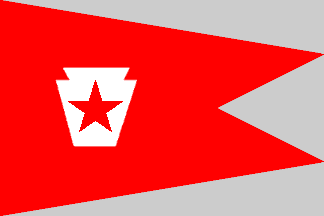 image by Joe McMillan
Second Flag (1884-93)
A red star was added to the keystone after the company was sold to the Red Star Line, the Belgian-flag subsidiary of the US holding company International Navigation.
(Source: description in North Atlantic Seaway III:920; I have also seen this flag depicted on American Line china)
Joe McMillan, 22 August 2001
Shown by Griffin 1895 and Loughran (1979) as being a normal swallowtail it would seem that their versions are incorrect in view of the china providing there is no
distortion.
Neale Rosanoski, 21 January 2004
Variant Second Flag (1880s)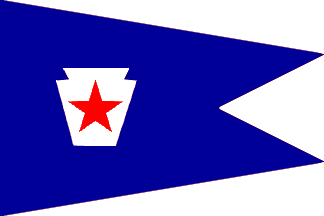 image by Joe McMillan
Variant Second Flag (1880s)
An 1880s poster advertising American Line service from Philadelphia to Liverpool shows this same flag with a blue field.
(Source: John and Alice Durant, Pictorial History of American Ships (New York: A. S. Barnes, 1953), p. 192)
Joe McMillan, 22 August 2001
Third Flag (after 1893)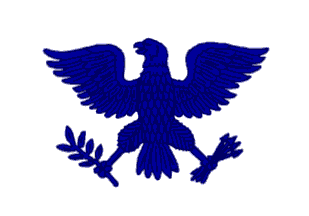 image by Joe McMillan
Third Flag (after 1893)
Finally, the blue eagle on white was adopted when the Red Star Line passed into the ownership of J. P. Morgan's International Mercantile Marine. The IMM revived this flag for the United States Lines when it acquired that company in 1931.
(Sources: [wed26], www.greatoceanliners.net/index.html (click on St. Paul))
Joe McMillan, 22 August 2001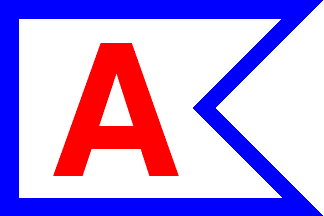 image by Ivan Sache, 3 December 2005
The house flag of this firm (not to be confused with the 'American Line') is the last one on the second row, here, and an enlargement here. It is a white, blue-bordered swallowtail bearing a red 'A' (no serifs) near the hoist.
Some history from the firm's webpage :
Founded in 1907 by J.J. Boland and A.E. Cornelius, partners since 1903. Steady expansion, even during the Great Depression – as often happens
in a crisis - was a courageous choice (self-unloading vessels) and paid off. Further expansion occurred thanks to the opening of the St Lawrence Seaway after WWII. The firm became the property of the Oswego Shipping Co. in 1967 (see note). At that time, American Shipping operated about thirty vessels but sold off
its classic freighters in the next decade, keeping the self-unloading ships. It was bought up again, this time by GATX Corp. (leasing and financial services) in 1973. During the eighties, the steel decline resulted in ships being sold off to cut losses. But the next decade saw an expansion of operations towards the Gulf of Mexico. In 2002 American Steamship and Oglebay Norton Marine Services pooled their fleets under the name United Shipping Alliance.
Note: an expansion drive in the late sixties (http://www.hhpl.on.ca):
"…the era in which the American Steamship Co., under the direction of the late H. Lee White, engaged in a remarkable program of expansion, gobbling up the fleets of the Reiss Steamship Co. and the Gartland Steamship Co., as well as the smaller Red Arrow Steamship Co. and the Redland Steamship Co., and making efforts to acquire several others."

Jan Mertens, 13 September 2005
---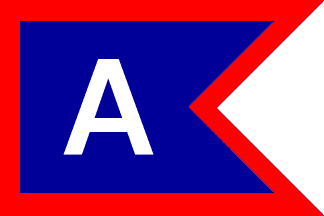 image by Joe McMillan
A red-bordered blue swallowtail with a white A. No other information on the company.
Source: Wedge (1951)
Joe McMillan, 12 October 2001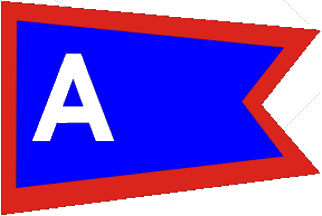 located by Neale Rosanoski
According to Talbot-Booth (1936) the company was formed in 1928 and also used a pennant version which is probably that given for America-West Africa Line by Brown 1929. This version of Brown had A.H. Bull & Co. Inc. as operators and the format is similar to their flags. By Brown 1934 the plain swallow-tailed version is shown under the American West Africa Line title with the company now being operated by Barber Steamship Lines Ltd. After WW2 the trail is cold.
Neale Rosanoski, 21 January 2004
---
Amoco has its origins in the Standard Oil Company (Indiana), a subsidiary of John D. Rockefeller's Standard Oil Trust. When the trust was broken up in 1911, it became the Standard Oil Company of Indiana. In 1918 the company adopted red, white and blue as the corporate colors and in 1926 the torch as its principal trademark. (Corporate headquarters in Chicago; ships registered in New York.)
(Information on history of logos from www.bp.com/about_bp/history/amoco/torch_oval.asp )
1932 flag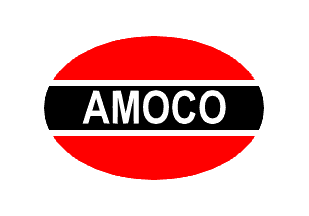 image by Joe McMillan
In 1910, a group in Baltimore formed the American Oil Company, which came under the partial ownership of Standard (Indiana) in 1923. However, the new owners did not require Amoco (as it was called for short) to give up its existing identity, and in 1932 Amoco adopted a red, white, and black oval with the word "Amoco" across the center as its trademark.
Source: US Navy's 1961 H.O.,
Joe McMillan, 25 August 2001
See also:
Pan American Petroleum & Transport Co (In 1925, Standard (Indiana) purchased the Pan American Petroleum and Transport Company, which continued to operate under its own name. Pan Am operated as a subsidiary under its own name as Standard's main transportation arm. Only in 1954 was it subsumed into Standard's corporate identity.)
1946 flag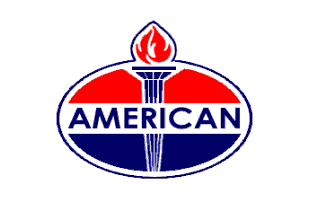 image by Joe McMillan
Standard adopted a combination of American's oval and its own torch as a logo in 1946, but American continued using the logo without the torch until 1960. In that year, all assets of Standard (Indiana) were transferred to American and the company officially became Amoco. British Petroleum recently bought out Amoco and has indicated its intention to end Amoco's separate identity, and the torch and oval emblem, within the next few years.
Source: Stewart & Styring (1963), Styring (1971)
Joe McMillan, 25 August 2001
---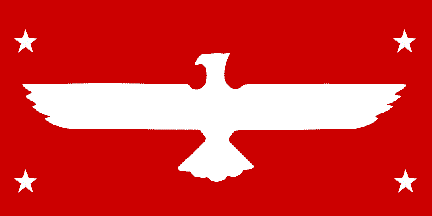 image by Joe McMillan, 25 August 2001
APL, Inc. (formerly American President Lines) (1938-), San Francisco
Formed by the US Maritime Commission in 1938 to head off the impending bankruptcy of the Dollar Line, the leading carrier between the US west coast and Asia. The flag, red with a white eagle and a white star in each corner, was intended to continue the use of the Dollar Line's red and white colors while evoking the US Presidential flag, which at the time was blue with an eagle and four white stars. The unusually long proportions are as shown on the APL website. American President Lines officially changed its name to APL, Inc., several years ago and is now a subsidiary of NOL (formerly Neptune Orient Lines) of Singapore.
Source: Stewart (1953), www.apl.com
Joe McMillan, 25 August 2001
The flag design was updated about 25 years ago, and features a more modern-looking eagle against a red background. The corner stars were removed. The eagle is the one in the logo at the bottom of this page: http://www.apl.com/history/html/overview_innovate_logos.html
Jahan Byrne, 25 August 2004
"APL's House Flag" published in the Dec.1969 issue of the company magazine (vol.6, num. 5) informs the following:
The company flag adopted its contemporary design in 1938, upon name change name from Dollar Steamship Lines, and the chosen design was inspired by the US presidential flag. This article is available on line in full-color facsimile at http://content.cdlib.org/ark:/13030/tf000000tf. The usage dates we know for this flag (red with eagle and stars) is therefore 1938-1980.
António Martins-Tuválkin, 22 May 2008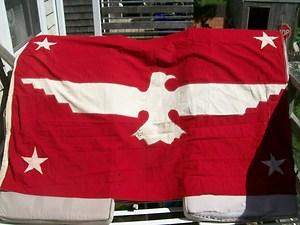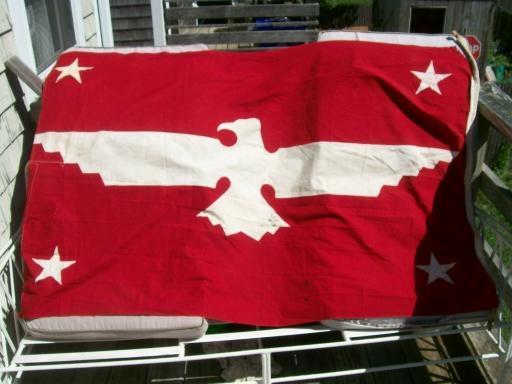 images (obverse and reverse) located by Neale Rosanoski, 11 September 2012
I have just come across an item [since sold apparently but the link
http://www.ebay.com/sch/sis.html?_nkw=AMERICAN%20PRESIDENT%20LINES%20APL%20vintage%20glass%20ashtray%20&_itemId=120740144614 may still bring it up] on E-Bay and it struck me that the eagle was facing the fly instead of the hoist (attached as us~apl38o.jpg ). There did appear to be a sleeve on the viewers left but there were some further photos including one which is definitely the reverse as the sleeve can be made out and this confirms the eagle is facing the fly too. But all other showings of the flag/logos etc have the eagle facing the hoist so the question is, was this an incorrect manufacture or was there a period when the eagle looked the other way. In case the link stops working I enclose two images in support.
Neale Rosanoski, 11 September 2012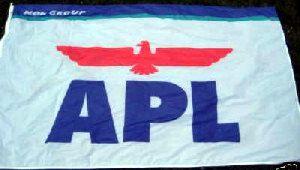 image located by Jan Mertens, 22 October 2009
APL, Inc. (formerly American President Lines) shows a large eagle-bearing flag (aquilaferous – ha!) which once appeared on eBay is attached as the image above (reduced). Source: German eBay, offer no. 130305128176 (end 15 May 2009) put up by "glashaus6", dimensions given as 1,20 m x 2,00 m .

No doubt reflecting the present situation, its field is white bearing the red stylized eagle above fat dark blue initials "APL" (no serifs) but more importantly, horizontal stripes are added to the top: a dark blue one sustained by a narrow green one, the first bears the name "NOL GROUP" near the hoist in white letters (italic, it seems). So the Japan based MOL (Mitsui O.S.K. Lines) Group is now involved with APL: both together with Hyundai formed The New World Alliance in 1998, joining forces to expand their maritime container traffic: http://www.naukri.com/gpw/mol/services.htm.
Jan Mertens, 22 October 2009
The flag shown by Jan from EBay, showing "NOL" at the top, standing for Neptune Orient Lines Ltd. of Singapore who acquired American President Lines Ltd. in 1997 renaming it APL Ltd. and continuing to use the eagle trademark. The current APL logo as seen at http://www.apl.com is the eagle in red over APL in blue as per the flag. The use of red eagle dates from c.1955.
Neale Rosanoski, 24 April 2011
---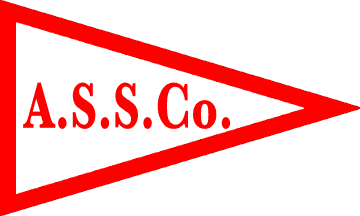 image by Joe McMillan
American SS Co, Boston (1863-67)
Company founded during the Civil War but did not begin operations until hostilities were over; an effort to draw some of the trans-Atlantic traffic away from New York and restore Boston's stature as a major center of the oceanic trade. It didn't work; the firm was undercapitalized and ran out of money before it even got a second ship into operation. House flag was a white pennant with a red border and the company initials in red.
(Source: description in North Atlantic Seaway II:1075)
---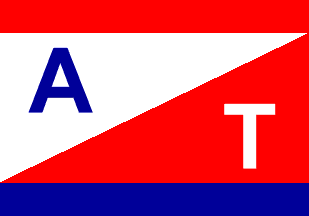 image by Joe McMillan
American Trading & Production Corp, New York
No information except the flag: divided diagonally white over red, with red and blue upper and lower edges and the letters A in blue and T in white on the two halves of the field.
Sources: US Navy's 1961 H.O., Stewart & Styring (1963), Styring (1971)
Joe McMillan, 26 August 2001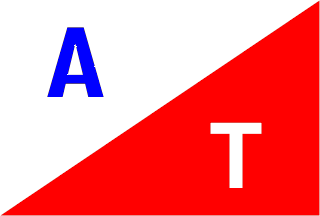 located by Neale Rosanoski
Involved in the tanker trade being shown with 1 vessel, "American Trader" at 1939, being sunk 1940. Continued in business but from the early 1970s is shown as American Trading Transportation Co. Inc., ceasing operations in the early 1990s. Sources vary as to the width of the red and blue bands at top and bottom and Brown 1951 deletes them entirely.
Neale Rosanoski, 21 January 2004
---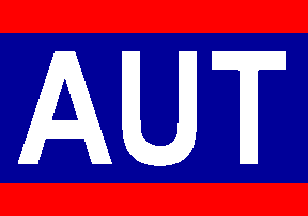 image by Joe McMillan
American Union Transport, New York
No information except the flag, blue with red upper and lower edges and the initials AUT.
Sources: US Navy's 1961 H.O., Stewart & Styring (1963)
Joe McMillan, 26 August 2001
---
US shipping lines house flags - 'A' continued
Anything below the following line isnt part of the Flags of the World Website and was added by the hoster of this mirror.
---
Bei fahnenversand.de erhalten Sie eine Vielzahl an günstigen Flaggen, Pins und Aufnähern, zum Beispiel: