Bestellen Sie Ihre Fahnen / Flaggen im Flaggen-Shop bei fahnenversand.de

Diese Website beschäftigt sich mit der Wissenschaft der Vexillologie (Flaggenkunde).
Alle auf dieser Website dargebotenen Abbildungen dienen ausschließlich der Informationsvermittlung im Sinne der Flaggenkunde.
Der Hoster dieser Seite distanziert sich ausdrücklich von jedweden hierauf u.U. dargestellten Symbolen verfassungsfeindlicher Organisationen.

---
This is a mirror of a page that is part of © FOTW Flags Of The World website.
Anything above the previous line isnt part of the Flags of the World Website and was added by the hoster of this mirror.
United Kingdom: regulations for blue ensigns
Last modified: 2023-06-24 by rob raeside
Keywords: naval ensign | blue ensign |
Links: FOTW homepage | search | disclaimer and copyright | write us | mirrors

---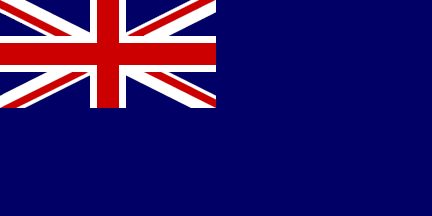 by Clay Moss
See also:
---
Regulations concerning the use of the Blue Ensign
I have accumulated some information on this subject from the Public Record Office. Here is a summary:

In 1864 it was announced that a British merchant ship would be allowed to fly the plain Blue Ensign providing that the ship's master was an officer of the Royal Naval Reserve (RNR) and the crew contained a specified number of reservists. Ships were to carry two guns for drill purposes, but this requirement was modified in 1865, and abandoned in 1866. The necessary number of reservists in the crew was one quarter of the crew, increased to one third when guns were made optional and reduced to master plus ten in 1866. Permission to fly the Blue Ensign was in the form of a warrant, issued in the name of the ship by the Registrar General of Seamen, for one voyage only.

1884. The warrant was made personal to the master and effective for subsequent voyages providing that the crew requirements were fulfilled.

Masters who were on the Retired List of the Royal Navy became entitled to apply for the Blue Ensign, and reserve obligations were eased so that more seamen qualified as reservists. In the same year Admiralty subvented liners that could be fitted with guns for use as Armed Merchant Cruisers became entitled to fly the Blue Ensign with no conditions relating to the master or crew.

1903. Masters were allowed to retain their warrant if transferred to another ship in the same shipping company.

All Blue Ensign warrants were cancelled on 21 August 1914, and the system re-introduced, "with some reluctance" on 19 May 1919. The crew requirement was still master plus ten but subject to variation under the Quota System. This made the qualifying number of reservists in the crew proportional to the total number of reservists employed in foreign-going merchant ships, with a maximum of ten and a minimum of six.

"The system was not only a privilege, prized by shipping companies and masters, but also an inducement to men to join the reserves, as it helped them to obtain employment afloat. Eligible masters favoured a low quota number which made it easier for them to qualify for the warrant, while other officers and ratings wanted the number to be high, as it increased their value to the master, making it easier to obtain employment."
David Prothero, 31 August 2001

1916. When the Ministry of War Munitions requested a Blue Ensign in 1916 the Head of Naval Law Department wrote on the file that was raised.

'The Blue Ensign to be carried by all vessels employed in the service of any public office with the seal and badge of the office to which they belong' in the Order in Council of 9th July 1864, is considered to constitute a warrant from His Majesty within the meaning of Section 73(2) of the Merchant Shipping Act 1894, and to dispense with the need of a warrant from the Admiralty under the same section." 30th July 1916. [National Archive (PRO) ADM 1/8464/183]
David Prothero, 25 June 2003

From 1927 until 1938 the qualifying number was either 6 or 7. Between 1923 and 1939, 162 warrants were issued and 48 cancelled.

All Blue Ensign warrants were cancelled in 1939 (see explanatory note) and the system re-introduced on 24 January 1947, with a qualifying crew of master plus six. Only 38 warrants were issued between then and January 1951, with 11 cancelled.

1951. Qualifying crew reduced to master plus four. Commodores on Active or Retired List of RNR or Commonwealth Naval Reserves were entitled to Blue Ensign in their own right.

1952. Qualifying crew reduced to master and two if the crew were mainly Asian. Applications accepted from Home Trade vessels and the Fishing Fleet.

1953. No applications from Home Trade or Fishing Fleet. Time-expired RNR ratings could be counted towards qualifying number of reservists in crews.

1958. RNR merged with Royal Naval Volunteer Reserve. RNR masters permitted to fly Blue Ensign if just one other officer was RNR.

1965. Captains RNR qualified to fly Blue Ensign in their own right.

David Prothero, 31 August 2001

During an investigation of the wreck of the Empress of Ireland in 1914, I have made a search to determine what flag was at the Empress stern during her last voyage: the red ensign or the blue ensign? I found at McGill University the regulations for the use of the naval reserve flag. I'm happy to share with you this information.
The ship, if a sailing vesel, must not be of less burden than 800 register tons: and if a steamer, she must not be of less burden than 1000 tons gross register tonnage.
The Officer Commanding and Chief Officer of the ship must be Officers of the Naval Reserve.
These Officers must be bon‰ fide officers of the ship appointed for the voyage and entered in the agreement accordingly.
One-third part of the seamen of the crew must be belonging to the Royal Naval Reserve.
Before hoisting the blue ensign the ship must be provided with an Admiralty Warrant.
Source: Regulations respecting the Blue Ensign, Prepared and issued by the Admiralty and Board of Trade, London. Printed by George E. Eyre and William Spottiswoode, For Her Majesty's stationery office, 1865
Alain Vézina 25 August

In the past, warrants were not required for defaced Blue Ensigns of United Kingdom Government Departments or Public Bodies. They had general authorisation under the Order in Council of 9 July 1864, which abolished Royal Navy squadron colours. All the warrants that I have seen (not very many) were extremely vague. Nothing about the appearance, size, or position of the badge. Just, "... with the badge of .............. on the fly thereof."
David Prothero, 6 June 2003

The only authority to create British Colonial Blue Ensigns (that I have found) is in the Order in Council of 9 July 1864, which amended Queens Regulations and Admiralty Instructions of 1862, which had been created by a previous Order in Council of 25 July 1861; " The Red Ensign and Union Jack, with a White border, continuing as at present the national colours for all British Ships, with such conditions in favour of Yachts and other vessels as we may from time to time authorise to bear distinguishing flags."

The Admiralty had authorised defaced Red, White and Blue Ensigns for some yacht clubs between 1829 and 1864, when all three ensigns were still used by the Navy. The warrants read; "Whereas we deem it expedient that the ............... shall be permitted to wear the distinguishing flag described below : We do therefore by virtue of the power and authority vested in us hereby warrant and authorise the said colour to be worn on board the respective vessels of the ......... accordingly. By command of their Lordships."

The Colonial Naval Defence Act of 1865 had only ten articles, none of which referred to flags. The passage about defaced White Ensigns was in a letter about the Act written by W.G. Romaine (Second Secretary at the Admiralty) to Sir Frederic Rogers (Under Secretary of State, Colonial Office), on 10 May 1865. The total references to flags in this letter are:

"In reply to your letter of 3 May requesting to be informed what my Lords Commissioners of the Admiralty would require in regard to Colonial Ships of War, I am commanded by my Lords to state for the information of Mr. Secretary Cardwell (Edward Cardwell, M.P., Secretary of State, Colonial Office) that they will require, in order that the Flag of a Colonial Vessel of War may be recognized as a lawful cruizer, that she should be commanded by a properly Commissioned Officer. Any vessel of war fitted out by a colony and commanded by a properly commissioned officer of the Royal Navy should wear a Union Jack in the usual place, and the White Ensign with either the arms of the colony or such other distinguishing marks as may be chosen by the colony and approved by the Colonial Office and Admiralty.
[ ]
My Lords would suggest to Mr. Cardwell that whenever the privilege created by this Act are actually conferred upon any Colony, due notification should be made to Maritime Powers, informing them of the mode in which such colonial vessels will be commanded, and acquainting them with the Flag which will be worn by the said Colony, and that my Lords have accorded to such War Vessels of the Colony in question, the status and rights of a Vessel of War of the United Kingdom of Great Britain."

David Prothero, 23 June 2005
---
Cancellation of Blue Ensign warrants in 1939
This cancellation in 1939 sounds like the Admiralty didn't want merchant ships flying the blue ensign in time of war. Any idea why? Are there perhaps different laws of naval warfare that would put a ship flying the red duster into a different target category than one under the blue?
Joe Mcmillan, 31 August 2001

I suppose that as reservists were called-up there would have been no eligible RNR Blue Ensign warrants left, and it was easier to cancel them all at once than one by one. Yacht club special ensigns were also cancelled, possibly because it was thought that a vessel flying a Blue Ensign was more likely to be attacked. At the beginning of WWI (1914) "auxiliaries flew the Red Ensign to lessen their exposure to enemy attack. Experience showed that this made no difference and Blue Ensigns and Red Ensigns were flown indiscriminately. [ADM 1/8612/171]

In 1918 Royal Fleet Auxiliaries, (manned by civilians but Admiralty owned) were ordered to fly a Blue Ensign defaced with the Admiralty anchor, and Mercantile Fleet Auxiliaries (merchant ships chartered by the Admiralty) the Red Ensign. Admiralty Fleet Order 2575 of 8 August 1918. [ADM 1/8530/205]

1916. Ensign staffs had been removed on armed merchant ships in order to give the gun, a clear field of fire. It was proposed that the ensign staff should be removed from all merchant ships and that the ensign should be flown from the fore or main mast. There were objections that this would identify British ships to the enemy, that masters would ignore the instruction, and that it would unfairly give the impression that unarmed ships were armed. It was decided that staffs that had been removed would be replaced with hinged staffs as on naval vessels, and that when in action Armed Merchant Vessels should fly their ensign from the triatic stay, where the ensign should be kept bent-on for immediate hoisting. [MT 23/545]

31 Jan 1915. Admiralty to all ships in Home Waters.
Watch for submarines and display the ensign of a neutral country, or no colour, anywhere in the vicinity of the British Isles. British ensign must be displayed to British and Allied men of war. House Flags should not be flown and identity marks should be obscured.

12 Mar 1915. Director of Transport.
Instructions for Transports and Merchant Fleet Auxiliaries.
Long distance transports and those on regular routes around the United Kingdom should be supplied with neutral flags provided they carry valuable cargoes. Names may be obscured but false names should be painted only in exceptional circumstances decided by Transport Officer at port of departure. Numbers should be carried on boards and exposed only when approaching Examination Grounds or Allied Ports.

9 March 1916. Admiralty Secretary's Department wrote that Owners and Masters had been advised that the use of false colours and disguises by merchant vessels in order to escape capture was permissible. Exceptional methods of painting and conspicuous funnel marks not resembling those of neutrals should be avoided. Red Ensign must be hoisted when a British merchant vessel is ordered to stop by a British or Allied warship.
Recommended flags.
Bristol Channel and southern Irish Sea; Norwegian, Greek or Italian.
Liverpool, Glasgow and northern Irish Sea; Spanish or Norwegian.
East Coast north of Hartlepool; Scandinavian.
South of Hartlepool; Dutch or Spanish.
Cross Channel transports fly no colours.

In February 1916 the Admiralty collier Vittoria was stopped for flying the Spanish flag in an area designated for use of Scandinavian flag. The master explained that he had been supplied by the Admiralty with US, Norwegian, Danish and Argentine flags but preferred to hoist the Spanish flag as few Spaniards could speak German. [MT 23/516]

David Prothero, 2 September 2001
---
Blue Ensigns used by yacht clubs
Yacht clubs allowed to use the plain blue ensign are:
Royal Albert Yacht Club
Royal Brighton Yacht Club, Australia
Royal Cinque Ports Yacht Club
Royal Cruising Yacht Club
Royal Dorset Yacht Club
Royal Engineer Yacht Club
Royal Geelong Yacht Club, Australia
Royal Gourock Yacht Club
Royal Highland Yacht Club
Royal Marine Sailing Club
Royal Melbourne Yacht Club, Australia
Royal Motor Yacht Club
Royal Naval Club
Royal Naval Sailing Association
Royal Naval Volunteer Reserve Yacht Club
Royal New Zealand Yacht Squadron Rooms, New Zealand
Royal Northern and Clyde Yacht Club
Royal Perth Yacht Club of Western Australia, Australia
Royal Port Nicholas Yacht Club, New Zealand
Royal Queensland Yacht Club, Australia
Royal Scottish Motor Yacht Club
Royal Solent Yacht Club
Royal South Australia Yacht Club, Australia
Royal Southern Yacht Club
Royal Sydney Yacht Squadron, Australia
Royal Temple Yacht Club
Royal Thames Yacht Club
Royal Welsh Yacht Club
Royal Western Yacht Club of England
Royal Western Yacht Club of Scotland
Royal Yacht Club of Tasmania, Australia
Royal Yacht Club of Victoria, Australia
Sussex Motor Yacht Club
Source: The Navy List (2006) (p. 287)
Andrew Thomas, 14 November 2005
To know to which one, you need to see the burgee of the club (either on top of the mast, or under a spreader), or the club's initials under the name of the boat (if the burgee is not flying).
Jose C. Alegria, 1 September 2001
Blue ensign defaced by badge of the club:
Aldeburgh Yacht Club
Army Sailing Association
Bar Yacht Club
City Livery Yacht Club
Conway Club Cruising Association
Cruising Association
Cruising Yacht Club of Australia, Australia
House of Lords Yacht Club
Household Division Yacht Club
Little Ship Club
Little Ship Club (Queensland Squadron), Australia
Medway Cruising Club
Medway Yacht Club
Old Worcesters Yacht Club
Parkstone Yacht Club
Poole Yacht Club
Poole Harbour Yacht Club
Portsmouth Yacht Club
RAF Yacht Club
Rochester Cruising Club
Royal Akrana Yacht Club, New Zealand
Royal Anglesey Yacht Club
Royal Armoured Corps Yacht Club
Royal Artillery Yacht Club
Royal Australian Navy Sailing Association, Australia
Royal Bermuda Yacht Club, Bermuda
Royal Bombay Yacht Club, India
Royal Burnham Yacht Club (defaced by crown on fly)
Royal Canadian Yacht Club, Toronto (1875 - 1937) (defaced by crown on fly)
Royal Channel Islands Yacht Club
Royal Clyde Yacht Club
Royal Corinthian Yacht Club
Royal Cornwall Yacht Club
Royal Dee Yacht Club
Royal Forth Yacht Club
Royal Freshwater Bay Yacht Club of Western Australia, Australia
Royal Gibraltar Yacht Club, Gibraltar
Royal Harwich Yacht Club
Royal Hong Kong Yacht Club, Hong Kong (Blue Ensign with a yellow Chinese dragon)
Royal Irish Yacht Club
Royal Jamaica Yacht Club, Jamaica
Royal North of Ireland Yacht Club
Royal London Yacht Club
Royal Malta Yacht Club, Malta
Royal Mersey Yacht Club
Royal Motor Yacht Club of New South Wales, Australia
Royal Nassau Sailing Club, Bahamas
Royal North of Ireland Yacht Club
Royal Northumberland Yacht Club
Royal Ocean Racing Club
Royal Plymouth Corinthian Yacht Club
Royal Prince Alfred Yacht Club, Sydney, Australia (1869 - current) (defaced properly with a Ducal Coronet, but usually represented by a crown.)
Royal Prince Edward Yacht Club, Australia
Severn Motor Yacht Club
Royal Southampton Yacht Club
Sussex Yacht Club
Royal Suva Yacht Club, Fiji
Royal Torbay Yacht Club
Royal Ulster Yacht Club
Royal Welsh Yacht Club
Royal Western Yacht Club
Royal Yorkshire Yacht Club
Severn Motor Yacht Club
Sussex Yacht Club
Thames Motor Yacht Club
Source: The Navy List (2005) (p. 287)
Andrew Thomas, 14 November 2005
Clubs which have been granted a special ensign are recorded in the Navy List, an annual publication of administrative matters relating to the Royal Navy. In 1985 the system for British clubs was changed and is now administered by the Royal Yachting Association for the Ministry of Defence. Eligible clubs now issue permits, not warrants, to their members.
David Prothero, 4 February 2006
See also:
Royal Nassau Sailing Club, Bahamas.
Royal Jamaica Yacht Club.
Royal Bombay Yacht Club.
Royal Hong Kong Yacht Club.
Royal Malta Yacht Club.
Royal Suva Yacht Club, Fiji.
Royal Irish Yacht Club, Dublin.

All defaced Blue Ensigns. Probably none in use.
Between 1977 and 1980 a British yacht in Jamaica used to fly the R.Jamaica YC ensign.

David Prothero, 3 February 2006
---
Current rules on merchant ships entitled to fly the Blue Ensign:

ROYAL NAVAL RESERVE AND OTHER VESSELS AUTHORISED TO FLY THE BLUE ENSIGN IN MERCHANT VESSELS (FOREIGN OR HOME TRADE ARTICLES) AND FISHING VESSELS.
A list of Royal Naval Reserve and other vessels authorised to fl y the Blue Ensign will no longer be published in the Navy List.
Its inclusion was intended for the information of Captains of Her Majesty's Ships with reference to the provisions of Article 9153 of the Queen's Regulations for the Royal Navy under which they are authorised to ascertain whether British Merchant Ships (including Fishing Vessels) flying the Blue Ensign of Her Majesty's Fleet are legally entitled to do so.
However, the usefulness of this list serves only a limited purpose as the list of vessels that could fl y the Blue Ensign can change frequently. British merchant ships and fishing vessels are allowed to wear the plain Blue Ensign under the authority of a special Warrant, subject to certain conditions being fulfilled, and which are outlined below.
Vessels registered on the British Registry of Shipping may wear a plain Blue Ensign providing the master or skipper is in possession of a warrant issued by the Director of Naval Reserves under the authority of the Secretary of State for Defence, and the additional conditions outlined below are fulfilled. The Blue Ensign is to be struck if the officer to whom the warrant was issued relinquishes command, or if the ship or vessel passes into foreign ownership and ceases to be a British ship as defined by MSA 95.

Vessels on Parts I, II, and IV of the Register. The master must be an officer of the rank of lieutenant RN/RMR or Captain RM/RMR or above in the Royal Fleet Reserve or the maritime forces of a United Kingdom Overseas Territory or Commonwealth country of which Her Majesty is Head of State, or an officer on the Active or Retired Lists of any branch of the maritime reserve forces of these countries or territories.
Vessels on Part II of the Register. This part of the Register is reserved for fishing vessels. The skipper must comply with the same criteria as for sub-Clause 4.a. above, however the crew must contain at least four members, each of whom fulfils at least one of the following criteria: Royal Naval or Royal Marines reservists or pensioners Reservists or pensioners from a Commonwealth monarchy or United Kingdom Overseas Territory Ex-ratings or Royal Marines who have completed twenty years service in the Reserves Members of the Royal Fleet Reserve.

Action on sighting a merchant ship wearing a Blue Ensign. The Commanding Officer of one of HM ships on meeting a vessel wearing the Blue Ensign may send on board a commissioned officer to confirm that the criteria outlined above are being met in full. If it is found that the ship is wearing a Blue Ensign, without authority of a proper warrant, the ensign is to be seized, taken away and forfeited to The Sovereign and the circumstances reported to the Director Naval Reserves, acting on behalf of the Commander in Chief Naval Home Command, who maintains the list of persons authorised to hold such warrants. However, if it is found that, despite the warrant being sighted, the ship is failing to comply with the criteria in some other particular, the ensign is not to be seized but the circumstances are to be reported to the Director.
Source: The Navy List (2006) (p. 287)
Andrew Thomas, 14 November 2005

Anything below the following line isnt part of the Flags of the World Website and was added by the hoster of this mirror.

---
Bei fahnenversand.de erhalten Sie eine Vielzahl an günstigen Flaggen, Pins und Aufnähern, zum Beispiel: