Bestellen Sie Ihre Fahnen / Flaggen im Flaggen-Shop bei fahnenversand.de

Diese Website beschäftigt sich mit der Wissenschaft der Vexillologie (Flaggenkunde).
Alle auf dieser Website dargebotenen Abbildungen dienen ausschließlich der Informationsvermittlung im Sinne der Flaggenkunde.
Der Hoster dieser Seite distanziert sich ausdrücklich von jedweden hierauf u.U. dargestellten Symbolen verfassungsfeindlicher Organisationen.

---
This is a mirror of a page that is part of © FOTW Flags Of The World website.
Anything above the previous line isnt part of the Flags of the World Website and was added by the hoster of this mirror.
Polish miscellaneous flags
Last modified: 2020-12-05 by rob raeside
Keywords: dar pomorza | ufe | salt mines | buttons museum | bialowieski national park |
Links: FOTW homepage | search | disclaimer and copyright | write us | mirrors

---
See also:
---
Flag of the Salt Mines

image by Zach Harden, 22 Mar 2002

Salt mines near Krakow - in the underground chapel there are Polish,Vatican and miners green over black flags, There is also a white-yellow vertical banner.
Dov Gutterman, 22 Mar 2002

Adam Kromer was recently in Wieliczka, in the salt mines (as a tourist, not as a condemned one) and talked to some people in authority about the Dov's flag on your Polish pages. That flag is not only for the salt mines but for all the miners, primarily the coalminers, so numerous in Poland. To confirm it, he saw (on TV) a lot of recent demonstrations protesting closures of those mines (Welcome to European Union) where these flags were in abundance.
Chrystian Kretowicz, 19 Nov 2002

---
Flag of the Salt Mines #2

image by Zach Harden, 22 Mar 2002

Salt mines near Krakow - there is also a white-yellow vertical banner.
Dov Gutterman, 22 Mar 2002
---
Buttons Museum flag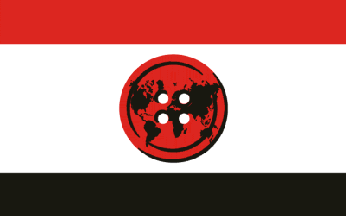 image by Chrystian Kretowicz, 20 Nov 2002

There is, most likely one of a kind, Museum of Buttons in Lowicz, Poland run by one Jerzy Rutkowski, great authority on ... buttons. The Museum has its own flag, even if it is rather small institution. The entire collection fits into a suitcase and is stored in the closet in Mr. Rutkowski's apartment in Lowicz. The best way to view the significant collection is by the way of Internet at this webpage, where the information is presented in both, Polish and English.
The flag is pictured and described at this webpage.
Chrystian Kretowicz, 20 Nov 2002

---
Białowieski National Park flag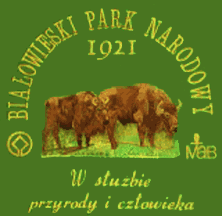 image by Jens Pattke, 11 Jan 2006, after image on this site, spotted by Valentin Poposki.

The cited cite states:
"We workers of the Białowieski National Park granted with the holy flag vow to:
- protect nature, all living in Białowieski National Park plants and animals,
- guard the reputation of park, win over followers and friends. With dignity fulfill professional duties,
- protect and defend our flag, symbol of our unity and devotion to the service of our Country Rzeczpospolita Polska

On the third of September 2005, the 83rd anniversary of establishment of the Białowieski National Park, the 75th anniversary of European bison restitution in Białowieża Primeval Forest, the 25th anniversary of receiving by our National Park the World Heritage Title the ceremony of awarding and blessing of the Białowieski National Park flag in front of the administrative-museum building took place.

The flag was founded by the Association of Local Government of "Puszcza Białowieska" Euroregion (Starostwo Powiatowe w Hajnówce, Miasto Hajnówka, Gmina Hajnówka, Gmina Białowieża, Miasto and Gmina Kleszczele, Gmina Czeremcha, Gmina Czyże, Gmina Dubicze Cerkiewne, Wójt Gminy Narew, Gmina Narewka, Gmina Bielsk Podlaski, Orla Gmina).

Włodzimierz Pietroczuk the chairman both of the Hajnówka Administrative District and the Association handed the flag to managing director Józef Popiel. The blessing act was performed by archbishop Leszek Sławoj Głódż - the catholic ordinary of the Polish Army and bishop Miron the orthodox ordinary of the Polish Army. In the ceremony many representatives of the Local Government, the Ministry of Environment, The National Found of Environment Protection and Water Management, Ekofundusz Fund, Pekao S.A. Bank (co-organizer of "Żubr Year" celebration), "Żubr" Brand ("Żubr Year" sponsor) and Białowieża inhabitants participated. In the name of BNP workers vowed: Anna Gierasimiuk and Andrzej Karczewski.

The flag was designed by a visual artist Lech Z. Nowacki from Białowieża. On a green face side there is a picture of two first European bison brought to Białowieża Primeval Forest in 1921, above them the inscription- Białowieski National Park, and under it the year 1921 (the year of BNP establishment). There were placed also signs of BNP affiliation to the World Heritage Site (since 1979) and to the World Network of Biosphere Reserves (since 1977). On the bottom of the flag there is the inscription: "In the service of nature and mankind". On the reverse there is the image of the Piast eagle. The flag was made in Suwałki by Mrs Krystyna Brzezińska`s company.

The Białowieski National Park is the third national park (after Biebrzański and Tatrzański National Park) that can take pride in possessing a flag."
Valentin Poposki, 1 Jan 2006

By sheer coincidence, I took my dog today morning for an outing in Ronald Reagan Park in Diamond Bar. There, we met a nice American-Filipino man with a beautiful Pekingese, who just returned from a trip to Poland. While there, he visited the Białowieża Forest National Park and told me a story about riding in a horse-driven carriage all around the forest with a highly knowledgeable, English-speaking, guide, who also possessed a hilarious sense of humor.

This guide, most likely, received his training in the Forestry Schools Complex (named after "Polish Foresters") in Białowieża, which standard is presented here.

There is one more national park in Poland with own standard, namely Kampinos National Park (Kampinoski Park Narodowy) near Warsaw:
obverse at: <http://kampinoski-pn.gov.pl/images/stories/sztandar-a.jpg>
reverse at: <http://kampinoski-pn.gov.pl/images/stories/sztandar-b.jpg>
Chrystian Kretowicz, 17 Sep 2009
---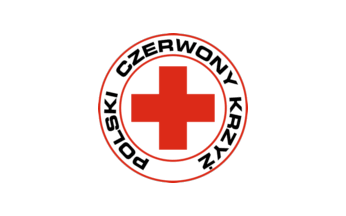 image by Tomislav Šipek, 1 September 2018
The flag of Polish Red Cross is white with logo.

http://www.pck.org.pl/plock/?news=56
Tomislav Šipek, 1 September 2018

---
Union of Poles in Germany 1922-39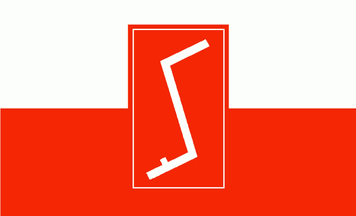 image by Chrystian Kretowicz, 30 Sep 2009
adopted in August 1932

Union of Poles in Germany (1922-1939) - Związek Polaków w Niemczech - Bund der Polen in Deutschland e.V.
"Union of Poles in Germany is an organisation of the Polish minority in Germany, founded in 1922. The union initiated collaboration between other minorities, including Sorbs, Danes, Frisians and Lithuanians. From 1939 until 1945 the Union was outlawed in Nazi Germany. After 1945 it had lost some of its influence; in 1950 the Union of Poles in Germany split into two organizations:
the Union of Poles in Germany (German: Bund der Polen in Deutschland e.V.), which refused to recognize the communist Polish government of the Polish United
Workerś Party, and the Union of Poles "Zgoda" (Unity) (German: Bund der Polen "Zgoda" (Eintracht)), which did recognize the new Communist government in Warsaw and had contacts with it. The split was healed in 1991.

The union was intended to express the views of the Polish minority in Germany, This partly comprised the Polish-native population of the former East German provinces which remained with Germany under the conditions of the Treaty of Versailles (Upper Silesia, East Brandenburg, Pomerania, Warmia or areas where Poles settled in Middle Ages (East Prussia) - mostly farmers and workers - and partly the Polish immigrants in Ruhr area.
This constituency of the Union was calculated to number approximately 1,500,000 people. However, the Polish minority was only legally recognised as such in Upper Silesia, where they possessed international status due to Treaty of Versailles. In other areas Poles were subject of assimilationist policies that did not recognize their distinct ethnicity.
In Nazi Germany Poles faced increased problems as the Nazis attempted to force cultural unity on the country. Poles outside of the Upper Silesia were forced to declare German nationality; activists of the union were subject of persecutions. However, the union was kept legal in the hope to avoid escalations of ethnic conflict that would create problems for the German minority in Poland (mostly in the autonomous Silesian Voivodeship, in Wielkopolska and former West Prussia in the Polish Corridor, 1919-1939).

The leaders of the Union found it necessary to invent new symbols for the Union to avoid the possibility that Poles would adhere to the new "national" symbols, such as the Nazi salute and the swastika. This led to invention of the symbol of the Union, the Rodło, a stylized representation of the Vistula river. The reason for its adoption was that the Polish national symbol, the White Eagle, was not allowed by Prussian law. The Nazi swastika provided an inspiration for the Poles' own alternative symbol that was designed to be a challenge for Nazi Germany." (wikipedia)
The Polish national emblem, the White Eagle, having been banned in Nazi Germany, the Rodło was invented as a new symbol that Poles in Germany could rally around. The name, "Rodło," is a portmanteau of "ród" ("folk") and "godło" ("emblem").
The Rodło graphics was conceived in 1930's by the graphic designer, Janina Kłopocka, who sketched the "emblem of the Vistula River, cradle of the Polish people, and royal Kraków, cradle of Polish culture". (marked on the lowest arm) [CWK].
The white emblem was placed on a red background - the Polish national colors. It was adopted in August 1932 by the leadership of the Union of Poles in Germany.
Chrystian Kretowicz, 30 Sep 2009
---
Dar Pomorza
Polish state flag (with coats of arms), with DAR POMORZA in black letters on the red stripe.
Luc Baronian, 18 May 1999

Isn't Pomorze "Pomerania"?
Pascal Vagnat, 19 May 1999

DAR POMORZA is a Polish sail training ship, so I guess that must be the flag of the ship...
Robert M J Czernkowski, 21 May 1999
---
A medieval Polish Flag?
Do you know of a Polish flag with a light blue background and yellow stars? I've seen a flag which almost has the same insignia as our family crest! The picture I saw with this flag is used in a castle joust. Any info would be greatly appreciated.
berezikp, 16 Dec 1998

I think, that it could be some flag of Świętokrzyskie voyevodship. It had a coat of arms with 7 vertical red/white stripes on right (heraldic) side of shield and eight golden stars on blue field on left side.
O. Myszor, 20 Nov 2001
---
A Polish Unidentified flag in New York
In New York my girlfriend recently saw a flag that I can't identify from her description. She said it was divided vertically red at the hoist, white at the fly, with a white eagle on the red section. The colors and charge say Poland to me, but the arrangement is unlike any Polish flag I can recall. I've just had a look at the website and couldn't find anything matching it under Poland or under the keywords "eagle (white)".
She says they were in mid-town Manhattan when they saw it, and she thinks they were on Broadway.
Roy Stilling, 7 Aug 2000

If I understand the description clearly, looking at the flag attached to the pole (on the left for arguments sake) the flag is red on the left side, white on the right, with a white eagle on the red part. Lodge or club flags tend to have local symbols, most clubs revolve around a town or region. If it is Polish, it sounds more like some sort of battle or naval flag. It wasn't until later centuries, probably about the 18th -19th that the current colors of white on top and red on the bottom were codified. Tradition says that the early Polish flag was red on top white on the bottom, until so much blood was shed on Polish soil that it soaked into the land leaving the sky white. One hint on the identity of the flag in question would be how the eagle is represented. The stylization of the eagle seems fairly consistent over long periods so that it should look similar to the current version. Those are my best guesses. When I have some time, I'll see if I have any pictures of flags that look like this one. It might help to know where this flag was seen.
Michael J Cwik, 8 Aug 2000

My understanding of the description tallies with your supposition: the flag is divided vertically, the red to the hoist, the white to the fly. I asked my girlfriend tonight about the eagle charge and she's pretty sure that it was not holding anything in its claws, but equally she doesn't think it was crowned, which would tend to identify it as Polish if it was.
Roy Stilling, 8 Aug 2000

The absence of a crown may make this a communist-era flag, if indeed it is Polish. Unless and until some New Yorker reports more detail on this flag, we'll have to live with Cwik's guess as a working hypothesis.
Al Kirsch, 9 Aug 2000

I went researching about this flag, & other polish flags, while doing this I visited FOTW's polish flag page. I discovered this flag to match the description of the unidentified Polish flag: Banner of President of Republic of Poland 1945-1952.
Joshua Horn, 30 Sep 2001

What would a Polish president be doing in Broadway?
Rob Raeside, 1 Oct 2001

---
An UFE: swastika-flag with Hammer and Sickle
I am looking for a particular flag. I saw it in a documentary recently and I am hoping you can help me locate a picture of it. It is a standard swastika flag with a small hammer and sickle in the top right hand corner. It was flown over Poland during the period of the Non-aggression pact between Germany and Russia.
Jason O Callaghan, 2 Sep 2005
---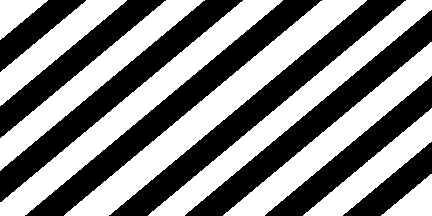 image by Ivan Sache, 23 November 2020
Republika was a Polish rock band established in 1981 in Toruń, succeeding an earlier band founded in 1978 as Res Publica. Original members were Paweł Kuczyński (bass), Zbigniew Krzywański (guitar), Sławomir Ciesielski (drums) and Grzegorz Ciechowski (vocal, piano, flute). Republika winded up in 1986 after the departure of Ciechowski and re-formed in 1991 as a trio, without Kuczyński. Ciechowski's sudden death in December 2001 definitively ended Republika.

Republika's fame spread out of Poland thanks to the band's original music, anti-conformist posture, and black and white universe inspired by the artist Ina Koneczna.

The official video of the song "Mamona" (1998) features a flag diagonally divided black and white, modeled on the band's emblem.

Republika has a seminal song called "Biała Flaga" (White Flag), whose title is explained in the last verses:

"Where are my friends
Fighters from those years
There have always been few of them
I'm alone now
Here they are, here they all are
My friends on many sides
What a procession, what a beautiful step
They march side by side straight ahead
And in slippers and suits
With pajamas under the arms
With jobs, taxes, and white flags
Their multitudes are coming
Their multitudes, their multitudes
Their multitudes, their multitudes
Crowds of them."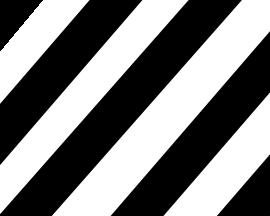 images by Ivan Sache, 23 November 2020

On 17 December 2011, the 10th anniversary of Ciechowski's was celebrated in Od Nowa (Akademickie Centrum Kultury i Sztuki "Od Nowa"), the Toruń's legendary culture club managed by the Nicolaus Copernicus University, which was the place of Republika's first rehearsals and performances.
Different artists offered covers of Republika's songs to a public waving black and white striped flags.
Maja / Mayka Babyszka, who has since then been growing as a multi-talented classical and jazz pianist and singer, was only 12 years old when she offered this performance.
("Ah, have no fear, though.
Young I may be; but in the noble heart
Valour's no need of years, a thing apart.")

https://www.youtube.com/watch?v=ltmfg8FGJcs
https://www.youtube.com/watch?v=DbUQ4XUxA-4
https://www.youtube.com/watch?v=OyLijBD5jmw
https://www.youtube.com/watch?v=QKFqRrgeim4
https://www.youtube.com/watch?v=5AMtb31hDMs
Ivan Sache, 23 November 2020
Anything below the following line isnt part of the Flags of the World Website and was added by the hoster of this mirror.
---
Bei fahnenversand.de erhalten Sie eine Vielzahl an günstigen Flaggen, Pins und Aufnähern, zum Beispiel: