Bestellen Sie Ihre Fahnen / Flaggen im Flaggen-Shop bei fahnenversand.de

Diese Website beschäftigt sich mit der Wissenschaft der Vexillologie (Flaggenkunde).
Alle auf dieser Website dargebotenen Abbildungen dienen ausschließlich der Informationsvermittlung im Sinne der Flaggenkunde.
Der Hoster dieser Seite distanziert sich ausdrücklich von jedweden hierauf u.U. dargestellten Symbolen verfassungsfeindlicher Organisationen.


Die Flagge "Nationalflagge Nicaragua (150 x 90 cm)" ist bei fahnenversand.de erhältlich.
Klicken Sie hier, um den Artikel anzuzeigen.
---
This is a mirror of a page that is part of © FOTW Flags Of The World website.
Anything above the previous line isnt part of the Flags of the World Website and was added by the hoster of this mirror.
Nicaragua
República de Nicaragua, Republic of Nicaragua
Last modified: 2020-04-19 by rob raeside
Keywords: nicaragua | america | volcano | corn islands |
Links: FOTW homepage | search | disclaimer and copyright | write us | mirrors

---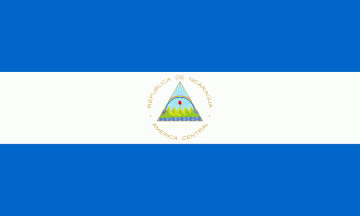 image by Željko Heimer, 3 July 2002
---
Official Name: Republic of Nicaragua (Republica de Nicaragua)
Capital: Managua
Location: Central America
Government Type: Republic
Flag adopted: 27 August 1971 (First adopted 4 September 1908)
Coat of Arms adopted: 21 August 1823
ISO Code: NI
---
See also:
---
The blue-white-blue pattern is common to all the central American states, being a reminder of the union from the beginning of the 19th century. Each of the five original countries found a way to differentiate the flag. Costa Rica put a red stripe in the middle, Nicaragua and El Salvador their coats of arms, Honduras five stars, and Guatemala turned the stripes vertically. All of the states (except Guatemala) have common elements on their coat of arms - mountains (volcanoes) with a sea on each side, secessionist cap, spectrum, stars, and the inscription 'America Central'. The triangle symbolizes equality. Civilians on the land may use, also, the flag without the arms.
Željko Heimer, 24 February 1996
From <www.foonet.net>:
The National Flag: The white stripe stands for the territory of our nation and represents the purity of our fatherland. The two blue stripes mean our territory is bathed by two oceans.
translated by Santiago Dotor, 4 January 1999
According to [smi75], Honduras entry (page 241) "The blue-white-blue horizontal striped flag of the United Provinces of the Center of America, based on the Argentine flag, was first hoisted in the independence struggle against Spain on 4 July 1818, when the commodore of the Argentine squadron, Louis Aury, proclaimed the first independent Central American state on islands off the eastern coast of Nicaragua. Aury's government lasted until 1821... ...(in 1823) when complete independence was established the new national flag had stripes similar to, and apparently based on, those of the first free state.."
Ned Smith, 14 May 1999
At "Nouveau Petit Larousse Illustre" (1924) - Nicaragua: An emblem without circle of text, without rays, with a sea in the foreground and a thin black line around the triangle to distinguish it from the white background.
Peter Hans van den Muijzenberg, 29 October 2000
I remember that Nicaragua used silver letters in place of gold for lesser government offices. Is this practice dropped?
Pier Paolo Lugli, 18 April 2001
I would rather say that escudo was reportedly written in black (cf note of Album 1990). Yet all photos received from Nicaragua (and also infos from vexillological sources) all showed escudo in full colour (and letters in gold); this is why I dropped the note of Album 1990.
Armand du Payrat, 18 April 2001
According to [pay00] - National Flag (CSW/CSW 3:5) - Blue-white-blue horizontal tricolour with the coat of arms in the middle. The coat of arms is that inherited from the Central-american union, five vulcanoes, two oceans, freedom hat, sun-rays, rainbow, all within a triangle and surrounded with the name of the state.
The ratio 3:5 is found in [smi75] [smi82] [vdv00] so also in [pay00] and probably in some other sources. However [neu92] has the images (this and next one) pictured as 1:2.
Flaggenbuch also explains how the lower governmnet offices display the flag with silver inscriptions. IIRC, the FOTW suggests that such notion is more a "vexillological mith" then anything else.
For the national flag above I used coat of arms from Corel Clipart. At that size the minor differences shell not be visible. However, the coat of arms is pictured in various sources in rather noticable (though probably unimportant, heraldically
irrelevant) differences.
Željko Heimer, 3 July 2002
The current version of the flag is adopted 27 August 1971 even if the flag is originally that of the United Provinces of Central America of 1821. In 1970 Evans [eva70] writes, after discussing first the flag of Honduras and then the flag of El Salvador:
"The national and merchant flag and ensign of Nicaragua also places the national arms at the centre of a flag striped horizontally, blue, white, blue, but the flag itself is considerably longer than those of either Honduras or El Salvador."
This is a bit curious as Honduras is 1:2 as well, but the important part would be to distinguish it from El Salvador which it closely resembles, especially as he pictures El Salvador and Nicaragua with a lighter shade of blue. And indeed, where he pictures El Slavadoe approximately 3:5, Nicaragua is pictured approximately 1:2 (and so is Honduras).
This would suggest the ratio of the flag changed when with that 1971 adoption.
Peter Hans van den Muijzenberg, 6 July 2002
The Constitution of the Republic of Nicaragua, adopted on 19 November 1986 and published in La Gaceta, diario oficial of 9 January 1987, says:
"Title II
The State
Chapter I
Article 13. - The symbols of the nation are the National Anthem, the Flag and the Official Seal as established by law that determines their characteristics and use.
Sources: Spanish: Georgetown University's Political Data Base of the Americas<www.georgetown.edu>,
Translation: P. Vagnat & J.Poels book on Constitutions and flags [vap00].
Ivan Sache, 19 March 2003
This flag was originally that of the United Provinces of Central America (independent 1821) from which Nicaragua succeeded in 1838. It was re-established by a Decree of 4 September 1908, and regulated by Chapter II, Article 2 of Decree No. 1908 dated 23 August 1971 (which laid down the ratio as 3:5 and defined the colour as 'cobalt blue'). A plain triband without arms is in widespread use, it is officially tolerated but has not been formally sanctioned by law.
The arms, originally adopted on 21 August 1823, are those of the former United Provinces of Central America.
Christopher Southworth, 23 March 2003
The stripes are officially defined as "cobalt blue", which is translated by the UK Flag Institute, BRR20 and the Album des Pavillons as PMS 300C. No recommendaaations appear to be given by any source for the arms.
Christopher Southworth, 4 Maech 2005
---
The protocol manual for the London 2012 Olympics (Flags and Anthems Manual London 2012 [loc12]) provides recommendations for national flag designs. Each NOC was sent an image of the flag, including the PMS shades, for their approval by LOCOG. Once this was obtained, LOCOG produced a 60 x 90 cm version of the flag for further approval. So, while these specs may not be the official, government, version of each flag, they are certainly what the NOC believed the flag to be.
For Nicaragua: PMS 281 blue, 125 gold, 292 blue, 109 yellow, 355 green, 277 grey and black. The vertical flag is simply the horizontal version turned 90 degrees clockwise.
Ian Sumner, 10 October 2012
---

image by Željko Heimer, 3 July 2002
According to [pay00] - a plain flag (blue-white-blue, no coat of arms) is used as an alternative civil ensign.
Ivan Sache, 14 January 2001
According to [pay00] - Alternative Civil Flag (C--/--- 3:5) - The same triband without the emblem. Again Flaggenbuch disagrees. Apart from the thing with the ratio, there this is captioned merchant flag, (i.e. at least ---/C--). Obviously something has changed about the Nicaraguan flags since WWII.
Rectangular Triband is used also as Aircraft Marking.
Željko Heimer, 3 July 2002
The present form of the flag was established by a Decree of 4 September 1908, and this stipulates that the national emblem shall appear in the centre of the flag but makes no mention of a civil or merchant flag without arms. Such flags are, I am told, widely used in Nicaragua, they are apparently officially tolerated but unofficial.
Christopher Southworth, 26 February 2003
Whitney Smith presents flag with coat of arms as national flag and civil flag, and plain BWB flag as alternate civil flag.
Armand du Payrat, 27 February 2003
There is some legal authority for the Civil Flag of Nicaragua witthout the arms:
Chapter 1, Article 36, of the Decree No. 1908 of 25 August 1971, states
"Artículo 36.-La Bandera Nacional podrá usarse sin escudo para manifestaciones y embanderar casas y plazas con motivo de las fiestas Patrias, y días festivos nacionales."
Article 36.- The National Flag may be used without a coat of arms for demonstrations and flagging houses and plazas on the occasion of patriotic holidays, and national holidays.
James Liston, 1 June 2017
---


image from <www.foonet.net>, located by Dov Gutterman, 2 Jaunary 1999
The national coat of arms: The five volcanoes in the republic's coat of arms stand for the five Central American countries, the rainbow for peace and the Phrygian cap for freedom.
translated by Santiago Dotor, 4 January 1999
This image of the coat of arms from a Dutch scouting encyclopedia (<www.scouting.nl>) is slightly different. However, when compared with Smith (1975b), Smith (1980) and Crampton (1989) (which are the same apart from black outlines of the gold letters in Crampton and minor shade differencies) the following discrepancies can be identified: 1) the upgoing ray is "under" the rainbow 2) relative position of the five rays touching the sea is tighter (so they all come "within" the volcanos 3) rays are thinner (but that might not be of importance due to smaller images) 4) the cap is somewhat smaller (but as above again) 5) volcanos seem to be (only slightly) higher and steeper 6) two dots in inscription are smaller 7) the spaces between words in the inscriptions are much smaller (a much bolder font would solve this).
&#x017Deljko Heimer, 17 May 1999
The coat of arms of Nicaragua was basically adopted on 21 August 1823 (as coat of arms of Central America), but it underwent several changes, until the last version (1999) was introduced in 1971. The coat of arms mentioned by Mr Heimer are from a "third class source" and is completely incorrect.
Before Nicaragua became one state (in 1825) there were two governments: Leon and Granada.
Ralf Stelter , 13 June 1999
Here is the present coat of arms of Nicaragua
Fred Drews , 20 November 1999
In the french flag book [pay00] there is a different coat of arms figured for Nicaragua than on the above as also in older books like Smith (1980). Anybody knows when the new coat of arms was adopted?
Klaus Günther, 14 May 2002
W. Smith in his FSS 1993/66 features the new coat of arms. Yet in a 1998 note, French naval Commander in Antilles adds to a photo with that new coat of arms a leaflet of Nicaragua Tourism department featuring a national flag with a simplified black and white coat of arms.
Armand du Payrat, 15 May 2002
In the center of Nicaragua coat of arms I see there several rays but as an "aureola" of the phrygean cap, not a sun. In the Spanish text they say: "Bajo el arco iris, el gorro frigio de color encarnado, esparciendo luces...", which means that it is not the sun but the phrigean cup who "brights". I agree that they seams like the rays of a sun but I think that they are not. It seems that this Phrygean cap is traced by the old engravers who designed that "brightness" as rays of a sun, the same rays that we can "see" when we see directly to the sun or a turn on lamp...
Luis Havas, 16 and 19 November 2004
Old Coat of Arms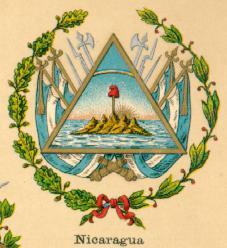 image by Fred Drews , 20 November 1999
---

_


image by Eugene Ipavec and Francisco Gregoric, 25 January 2010
The sash is composed of the colors of the flag plus the Coat of Arms of Nicaragua.
Source: <www.presidencia.gob.ni>.
E.R. and Eugene Ipavec and Francisco Gregoric, 25 January 2010
---
Anything below the following line isnt part of the Flags of the World Website and was added by the hoster of this mirror.
---
Kunden, die diese Flagge gekauft haben, haben auch folgende Flaggen gekauft: