Bestellen Sie Ihre Fahnen / Flaggen im Flaggen-Shop bei fahnenversand.de

Diese Website beschäftigt sich mit der Wissenschaft der Vexillologie (Flaggenkunde).
Alle auf dieser Website dargebotenen Abbildungen dienen ausschließlich der Informationsvermittlung im Sinne der Flaggenkunde.
Der Hoster dieser Seite distanziert sich ausdrücklich von jedweden hierauf u.U. dargestellten Symbolen verfassungsfeindlicher Organisationen.

---
This is a mirror of a page that is part of © FOTW Flags Of The World website.
Anything above the previous line isnt part of the Flags of the World Website and was added by the hoster of this mirror.
Nicaragua - Historical Flags
Last modified: 2021-08-25 by rob raeside
Keywords: nicaragua |
Links: FOTW homepage | search | disclaimer and copyright | write us | mirrors

---
---
See also :
Other Sites:
---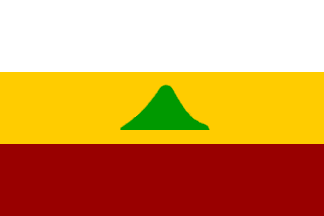 image by António Martins-Tuválkin, 13 December 2017
This flag is attributed to Nicaragua by Emil Dreyer, W. Crampton and The Catalan Encyclopedia. Crampton said that it was adopted in April 1854, but this is a mistake. If exist, the flag should be in use between 1852 and 1854.
Jaume Ollé
The 1852 flag is wrong, but there was a quite similar one in use.
Ralf Stelter, 7 November 2000
This flag came from Emil Dreyer (in FM 22) and Crampton (in Flags of the World). Crampton dated it in April 1854 but I moved the date because I have the law of the flag of 1854. IMHO in1849-1854 the federal flag was used, but I can't suppress the flag reported by Crampton because I don't have proven information about the years 1849-1854
Jaume Ollé 11 November 2000
---

image by António Martins-Tuválkin, 13 December 2017
National Flag - Adopted: 21 April 1854. Abolished: After some years. Readopted: c. 1857. Abolished temporary: c. 1869. Adopted again: c. 1873. Abolished 1889.
Jaume Ollé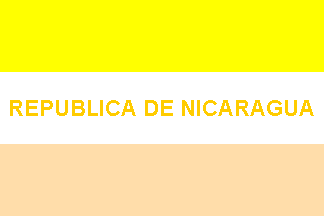 image by António Martins-Tuválkin, 13 December 2017
Civil (Merchant) Ensign - Ratio 2:3. Adopted: 21 April 1854. Abolished: After some years.
Jaume Ollé
The 1854 flag was not readopted in 1857 as it was still in legal use. The constitution of 1858 under President Tomas Marti'nez readopts the B-W-B flag for Nicaragua.
Ralf Stelter, 7 November 2000
I believe that between 1856 and 1857, the 1854 flag was de facto out of use. Martinez (1857-67) , in general, maintained the old style. I believe that B-W-B flag was readopted by president Guzman, a liberal, c. 1969
Jaume Ollé, 11 November 2000
The color of the bottom stripe is defined in the law as "nacar".
Jaume Ollé, 17 December 2017
Spanish "nácar" is English "nacre" a.k.a. "mother of pearl", which is the whitish, gleaming inner surface of most seashells. Its use as the color of a flag area precludes a satin-like fabric, I suppose; its non metallic equivalent would be a very light, slightly ochre tinged, light grey — maybe RGB:255-255-204?
António Martins-Tuválkin, 17 December 2017
---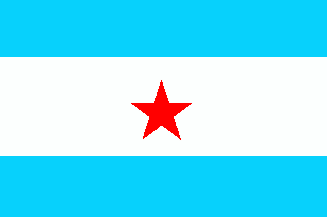 image by Jaume Ollé
Ratio 2:3 Adopted: c. July 1856. Abolished: May 1857. The flag was used by a government which was in struggle against the legal one. The President was the American W. Walker
Jaume Ollé
The Walker flag is correct but the dates given are in question. But it was not a national flag, as even Mr. Walker used the Blue-White-Blue flag as national flag! He even used a Coat of Arms similar to the later arms. Political reasons!
Ralf Stelter, 7 November 2000
I agree. In fact in this era, the B-W-B flag wasn't not national flag at all, but only a flag of one of the parties in the civil war
Jaume Ollé, 11 November 2000
I just saw a bit bizarre movie named "Walker". It was supposed to tell the story of William Walker who invaded Nicaragua in 1855 with small group of soldiers, took the capital Grenada and appoint himself president in 1856. The film was made in 1987 and was more then an hint to Ronald Reagan policy in central America. In some scenes you can see a Mercedes going by and the 1855 soldiers drink Coca Cola and smoke Marlboro. There is even an Helicopter coming to rescue in a Saigon evacuation style.
Nevertheless, Walker troops had a flag. a 1:4:1 red-white-red horizontal triband, charged with 7 red stars bordered gold in semicircle around a device (volcano?) and unreadable inscription on the bottom red stripe. I checked the net, and the story in the film was not following the historical facts and the film-makers took a lot of liberty in their script. I may expect that film-makers who send American troops in Mi-8 Helicopter, won't be to keen to find out what flag was really used if any, and therefore I think that the flag is more "fiction" then reality.
About the film see www.imdb.com.
About W. Walker see www.costarica-net-guide.com and www.geocities.com/blackntan43/walker.william.html.
Dov Gutterman, 18 April 2005
According to www.geocities.com/blackntan43/walker.william.html, William Walker previously was active in Mexico and "The flag of the Republic of Sonora was raised on the corner of Kearny and Sacramento streets". This is the Republic of Lower California (1853-1854)/ Republic of Sonora (1854) Flag.
António Martins-Tuválkin, 18 April 2005
---

image by Jaume Ollé
Ratio 2:3. Adopted: c. 1869 Abolished: c. 1873.
Jaume Ollé
---

image by Jaume Ollé
Ratio 2:3. Adopted: 1889 . Abolished: officially it wasn't abolished at least until 1898.
Jaume Ollé
The flag of five stripes was shown first in Le Gras' album in 1858!! It was reproduced in several encyclopedias around 1890! So the flag was used much earlier. But when it was shown in the 1858 Album des Pavillons it must have been in use even earlier! I assume that this flag was mistakenly shown for Nicaragua, but was a flag of Costa Rica, when this state intervened in the Walker affair in 1855.
Ralf Stelter, 7 November 2000
Is possible. But I read that under this flag there was an attempt to unity the liberal and conservative parties, dated in 1889.
Jaume Ollé, 11 November 2000
The flag's use as an ensign was reported in Flags of Maritime Nations, 1882, published by the U.S. Navy.
Ned Smith, 18 December 2007
---

image by Jaume Ollé
Ratio 2:3 . The flag of the Zelaya liberal revolt, in unofficial use since 1893. In 1896 a shield was adopted and added to the flag.
Jaume Ollé
---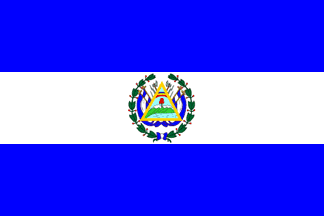 image by Jaume Ollé
Ratio 2:3 Adopted: 1896. Abolished: 1 November 1898. Readopted: 1899 Abolished: 4 September 1908, when the current national flag was adopted.
Jaume Ollé
The 1896 flag was not a Nicaraguan flag, as Nicaragua was part of the Republica Mayor de CA since 1895, and from 1 November 1898 part of the Estados Unidos de CA. This greater state existed until 30 November 1898, and the old B-W-B was readopted.
Ralf Stelter, 7 November 2000
I believe that B-W-B flags was imposed after the liberal revolution of 1893. Arms were adopted 1896 and included in the flag. RMC was created in 1895 but dissolved after some months. The supra state of 1898 was short lived; flag of 1895 was hoisted 1-11-1898 but some days later, after a revolt in Salvador, the 1896 flag was in use. B-W-B flag was not officialized until 4-9-1908
Jaume Ollé, 11 November 2000
---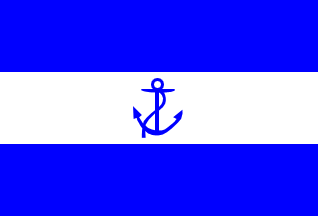 image by António Martins-Tuválkin, 11 July 2010
NEVA recently received a collection of 38 small flags (11" x 17" or 28cm x 43cm) that once belonged to MIT and probably date from the late 1950s or early 1960s. In the collection are two custom-made copies of a flag labeled "Nicaragua" that is three horizontal stripes of B+-W-B+ with a B+ fouled anchor in the center.
I have found an illustration of this flag in a book by the Hydrographic Office of the U. S. Navy, the "International Code of Signals, American Edition" (Washington: Government Printing Office, 1923).
W. J. Gordon says in his book "Flags of the World Past and Present-Their Story and Associations" (London: Warne, 1915) [gor15] p. 202, "Nicaragua hoists the pale blue, white, pale blue, horizontal, never with the white plain but with a blue anchor in the merchant flag ..."
Does any one know more about this flag? What dates was it used?
Dave Martucci, 15 April 2009
I have only an incomplete text of the Decree dated 4 September 1908 that re-established the blue-white-blue triband, but what I have makes no mention of any flag other than one with the re-adopted arms in its centre.
The 1939 Flaggenbuch [neu39] gives a plain triband as the civil ensign, but if this ever was actually (which, although certainly used, I personally doubt) official then Law No. 1908 of 23 September 1971 (which, as far as I can find out, is the most recent) effectively abolished same since such is not mentioned?
On the other hand, in the 50's and 60's (and before of course) a flag containing the arms would be comparatively expensive to purchase, so the existence of simpler designs - coming into unofficial favour by popular demand - makes sense, do it not?
Christopher Southworth, 15 April 2009
The anchor bearing flag is shown in the on-line 1912 Lloyds Flags & Funnels for "Merchant Vessels" [llo12].
It still appears in the 1923 French 'Album des Pavillons Nationaux et des Marques Distinctives" [f9r23].
The 1934 Italian 'Raccolta delle Bandiere...' [i9t32] also shows it.
Earliest use found was 1907 in 'Drawings of the Flags in Use at the Present Time by Various Nations' [hms07].
Jan Mertens, 15 April 2009
The B-W-B Nicaraguan flag with the blue anchor was produced in Germany. Yes, in around 1905 a German manufacturer produced flags for Nicaragua, and one of them was that civil ensign with an anchor. But while on the way the manufacturer realised that this flag was not correct, and so on board of that ship all anchors had to be removed. This was told to me by Dr. Otfried Neubecker who helped me to build up my Archiv für Flaggenkunde.
Ralf Stelter, 01 March 2014
---
I came across this link on the Nicaragua Living site about a Sandino flag which seems to precede the "rojonegra" flag with the skull & bones.
http://www.nicaliving.com/node/15682
James Ferrigan, 26 September 2011
It is a bit strange that if this so called "captured flag" was indeed used by Sandino himself or his militia, one can read the inscription "COCO RIVER" in English, inside the black star, when the native official language of Nicaragua is Spanish. Below "COCO RIVER" one can also read a date, to me it looks like "1928", part of the era when the occupation occurred (1927-1933).
Esteban Rivera, 26 September 2011
That might be related to the "REGT" and "USMC" above it. I don't know anything about what happened at that river, but might the marines have added the text to the flag after they capture it? Or might the commander who kept it have added it later to indicate what it was?
I can't see whether there is a number for this regt., nor do I know whether there should be one. Or it must be whatever it says below the year, that can't make heads or tails of. Anyone with good eyes? I don't know. Hanging them in churches seems to keep flags in one piece longer. But then again, they tend to lack such little explanatory notes that way.
Peter Hans van den Muijzenberg, 26 September 2011
The inscription reads, "5 REG'T USMC COCO RIVER 1928 NIC'A" Presumably put there to mark the trophy after capture.
My question is when did the red & black flag with the skull & bones evolve? The one that was captured in 1932 The summer of 1928 operations on the Coco River resulted in a large capture of materiel & presumably this flag. We also know the Sandino guerrillas utilized red & black scarves and kerchiefs. Was a flag prescribed for Sandino's Ejército Defensor de la Soberanía Nacional de Nicaragua?
James Ferrigan, 27 September 2011
Anything below the following line isnt part of the Flags of the World Website and was added by the hoster of this mirror.
---
Bei fahnenversand.de erhalten Sie eine Vielzahl an günstigen Flaggen, Pins und Aufnähern, zum Beispiel: