Bestellen Sie Ihre Fahnen / Flaggen im Flaggen-Shop bei fahnenversand.de

Diese Website beschäftigt sich mit der Wissenschaft der Vexillologie (Flaggenkunde).
Alle auf dieser Website dargebotenen Abbildungen dienen ausschließlich der Informationsvermittlung im Sinne der Flaggenkunde.
Der Hoster dieser Seite distanziert sich ausdrücklich von jedweden hierauf u.U. dargestellten Symbolen verfassungsfeindlicher Organisationen.


Die Flagge "Flagge UDSSR / Sowjetunion (150 x 90 cm)" ist bei fahnenversand.de erhältlich.
Klicken Sie hier, um den Artikel anzuzeigen.

Die Flagge "Flagge UDSSR / Sowjetunion (90 x 60 cm)" ist bei fahnenversand.de erhältlich.
Klicken Sie hier, um den Artikel anzuzeigen.

Die Flagge "Stockflagge UDSSR / Sowjetunion (45 x 30 cm)" ist bei fahnenversand.de erhältlich.
Klicken Sie hier, um den Artikel anzuzeigen.
---
This is a mirror of a page that is part of © FOTW Flags Of The World website.
Anything above the previous line isnt part of the Flags of the World Website and was added by the hoster of this mirror.
Soviet Union
Советский Союз
Last modified: 2018-10-29 by

zoltán horváth
Keywords: soviet union | ussr | sssr | cccp | communism | hammer and sickle (yellow) | serp i molot | hammer | sickle | red flag | star: 5 points (fimbriated) | earth |
Links: FOTW homepage | search | disclaimer and copyright | write us | mirrors

---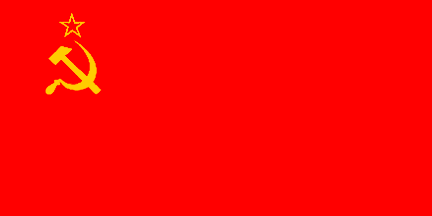 image by António Martins, 01 Nov 2002
---
See also:External links:
---
About the flag
The Soviet national flag, as most soviet flags, used a medium, bright shade of red. Soviet flag laws clearly distinguish between this shade of red, or scarlet (alyĭ | алый

), and a darker shade (krapovyĭ | краповый or purpurnyĭ | пурпурный

) used only on a few flags.
António Martins, 28 Jan 2001
History and symbology
The hammer and sickle itself, originate from the unique Russian unity of the peasants (the sickle) with the workers (the hammer) who together formed the Soviet Russian state. The Red field is symbolism of the blood that has been spilt by workers the world over in the fight for their emancipation, and was directly inherited from the red banner flown at the Paris Commune; the original and hitherto "base" symbol of a worker's government flag. The single yellow star is both the representation of the life and immense energy of the sun, empty because within is the blood or production of workers struggle; and also the five points of the star symbolize the single unity and international representation of the government — each of the five points is representative of the five (up to then known/recognized) continents.
Brian Basgen (Marxists Internet Archive Director), 07 Jul 2000
Soviet flag with hammer, sickle and star was not created in 1918! It was adopted in 1923. The star on the flag was red with yellow border (not plain red). Only the coat of arms and some military colours were with hammer and sickle in 1918. Hammer and sickle existed in soviet symbolism since 1917.
Victor Lomantsov, 08 Jul 2000 and 09 Jul 2000
Pre-communist red symbolism in Russia
See also:
Traditionally, red has always had very positive connotations in Russian language and culture. The word "red" ("красный") is etimologically related with the words "прекрасный" ("very good", "the best") and "красивий" ("beautiful"). A Russian proverb says that «красивий — самы красный» («the more red, the better»).
Thus Moscow's Red Square has a double meaning, referring not just to its colour but also meaning "Beautiful Square". Furthermore, the most important Russian Orthodox festivity is the so-called Red Easter, when the priests wear red vestments.
All this can help to understand why the red flag became the most popular symbol from the first moments of the 1917 revolution, being widely used even by non-Communist elements. People often ripped the white and blue stripes from the tri-colour Russian flags to make very narrow, unravelled red flags that were shown everywhere.
José Manuel Erbez, 12 Jun 2001
---
Reverse of the flag
| | |
| --- | --- |
| image by António Martins, 08 Dec 2005 | | |
No hammer, sickle and star on the reverse side.
Mark Sensen, 25 May 1997
Officially reverse looked like obverse without star and hammer-sickle. But in fact I never saw these flags without star, hammer-sickle. Real flags usually were either with reverse analogous to obverse (but with star and hammer-and-sickle near the hoist) or with reverse = mirrored obverse.
Victor Lomantsov, 30 Nov 2002
---
Vertical hoisting
Special flag for vertical hoisting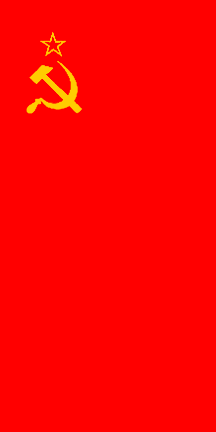 image by Al Kirsch and António Martins, 08 Nov 2001

In USSR vertical flag hanging of flags was very rare. I never saw it. But I saw a foto of 1980'ies with vertical flag of USSR, with an upright hammer and sickle on the upper "hoist" (dexter). I think this foto was from the Olympic Games of 1980.
Victor Lomantsov, 20 Nov 2000

This is a special flag for vertical display.
Al Kirsch, 08 Nov 2001
Normal flag hanging from the hoist showing obverse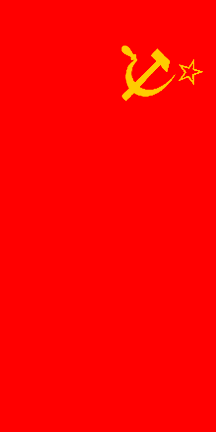 image by António Martins, 20 Dec 2005

If [a regular] flag was simply rotated 90 degrees clockwise, the hammer and sickle moved to the upper right and faced "down". If the flag was "flipped" as the US flag is, the hammer and sickle faced "down" and was reversed.
Al Kirsch, 08 Nov 2001

According to my understanding, the hammer and sickle appeared only on the obverse of the Soviet flag and the reverse was plain red. If so, then flipping [a regular] flag over like the US flag would give you only a vertically hoisted plain red cloth.
Joe McMillan, 08 Nov 2001
Incorrect flag hanging from the hoist showing reverse with emblem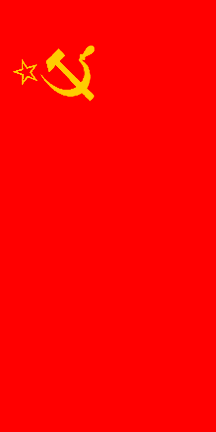 image by António Martins, 20 Dec 2005

I found a photo of a vertical hoisted Soviet flag in the background.
Greg Shevchenko, 18 Oct 2003

It seems to be a soviet national flag flipped and rotated (following the US practice for hanging flags), showing the reverse and on it the hammer-and-sickle emblem, which, according to the relevant legislation, should not be there (only on the obverse). It would be interesting to know the location of this event and, if possible, the provenience of the flag.
António Martins, 11 Nov 2003
---
Typical finial

image by Zach Harden, 09 Sep 2001, and António Martins, 15 Nov 2002

This finial was used in the Soviet Union. Belarus is currently using this finial as their own.
Zach Harden, 09 Sep 2001
---
Coat of arms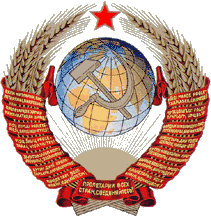 image by António Martins, 23 Jul 2004

The state emblem of the Soviet Union (corresponding to a coat of arms) had the Earth superimposed by the hammer and sicle.
Elias Granqvist, 25 Nov 2000

Two bundles of corn ears heavily draped with a scroll, reading in all the 15 SSR languages the motto «workers of the world, unite thee»; the bundles encirle an earth globe (viewed approx. from the vertical of the Black Sea) showing solid continents and coordinate lines in 20° intervals. On it a hammer and a sickle, crossed per saltire, in naturalistic look. Under the globe a rising sun with alternating long and short rays made of single lines (approx. 30 visible rays); above the globe a double fimbriated dense star.
António Martins, 05 Aug 1999

Victor Lomantsov, 21 Mar 2001

The 1956-1991 version, with the motto «Workers of all countries, unite!» in all 15 official SSR languages (here showing the original hyphenation and with transliterations for Cyrillic, Armenian and Georgian); from dexter top, anti-clockwise:
ӘХЛИ ЮРТЛАРЫҢ ПРО-
ЛЕТАРЛАРЫ, БИРЛЕШИҢ!
Ạqli ûrtlaryn̩ proletarlary, birleŝin̩!
ПРОЛЕТАРҲОИ ҲАМАН
МАМЛАКАТҲО, ЯК ШАВЕД!
Proletarq̩oi q̩aman mamlakatq̩o, âk ŝaved!
VISU ZEMJU PROLETĀ-
RIEŠI, SAVIENOJIETIES!
VISŲ ŠALIŲ PROLE-
TARAI, VIENYKITĖS!
პროლეტარებო ყველა
ქვეყნისა, შეერთდით!
Prolet̛arebo qvela k̛veqnisa, s̄eertdit!
БУТУН ДУНЁ ПРОЛЕ-
ТАРЛАРИ, БИРЛАШИНГИЗ!
Butun dunë proletarlari, birlaŝingiz!
ПРОЛЕТАРІ ВСІХ КРАЇН,
ЄДНАЙТЕСЯ!
Proletarị vsịq kraị̈n, ẹdnaĭtesâ!
ПРОЛЕТАРИИ ВСЕХ
СТРАН, СОЕДИНЯЙТЕСЬ!
Proletarii vseq stran, soedinâĭtesh!
ПРАЛЕТАРЫІ ЎСІХ
КРАІН, ЯДНАЙЦЕСЯ!
Praletaryị ŭsịq kraịn, âdnaĭcesâ!
БАРЛЫҚ ЕЛДЕРДІҢ ПРОЛЕ-
ТАРЛАРЫ, БІРІГІҢДЕР!
Barlyk̩ elderdịn̩ proletarlary, bịrịgịn̩der!
БҮТҮН ӨЛКӘЛӘРИН ПРО-
ЛЕТАРЛАРЫ, БИРЛӘШИН!
Bụtụn o̶lkạlạrin proletarlary, birlạŝin!
ПРОЛЕТАРЬ ДИН ТОАТЕ
ЦЭРИЛЕ, УНИЦИ‑ВЭ!
Proletarh din toate cêrile, unici‑vê!
БАРДЫК ӨЛКӨЛОРДҮН ПРО-
ЛЕТАРЛАРЫ, БИРИККИЛЕ!
Bardyk o̶lko̶lordụn proletarlary birikkile
ՊՐՈԼԵՏԱՐՆԵՐ ԲՈԼՈՐ
ԵՐԿՐՆԵՐԻ, ՍՒԱՑԵ՚Ք
Proletarner bolor erkrneri, swac̣e'ḳ
(Note: There is no exclamation mark, and a Latin script comma "," is used instead of the expected Armenian comma "՝".)
KÕIGI MAADE PROLE-
TAARLASED, ÜHINEGE!
(Note: Some depictions include typo "PROLETAAPLASED".)
Anything below the following line isnt part of the Flags of the World Website and was added by the hoster of this mirror.
---
Kunden, die diese Flagge gekauft haben, haben auch folgende Flaggen gekauft: