Bestellen Sie Ihre Fahnen / Flaggen im Flaggen-Shop bei fahnenversand.de

Diese Website beschäftigt sich mit der Wissenschaft der Vexillologie (Flaggenkunde).
Alle auf dieser Website dargebotenen Abbildungen dienen ausschließlich der Informationsvermittlung im Sinne der Flaggenkunde.
Der Hoster dieser Seite distanziert sich ausdrücklich von jedweden hierauf u.U. dargestellten Symbolen verfassungsfeindlicher Organisationen.

---
This is a mirror of a page that is part of © FOTW Flags Of The World website.
Anything above the previous line isnt part of the Flags of the World Website and was added by the hoster of this mirror.
Principality of Wallachia
Last modified: 2015-07-28 by alex danes
Keywords: wallachia | moldavia | romania |
Links: FOTW homepage | search | disclaimer and copyright | write us | mirrors

---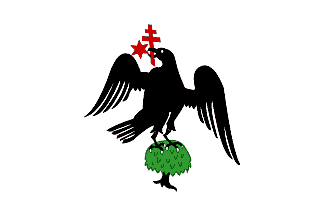 image by Alex Danes, 14 September 2008, after a design by Dan Cernovodeanu
---
---
See also:
---
About the Principality of Wallachia
Located on the lower Danube River, the principality of Wallachia was founded in 1290 by Radu Negru (Ralph the Black). Initially dominated by Hungary, Charles I Robert was defeated in 1330 by Basarab Ist , securing the independence of Wallachia.
In 1391, the principality was forced to pay tribute to the Ottoman Empire and later Turkish suzerainty was acknowledged by Prince Mircea the Ancient in 1417. This allowed Wallachia to keep its own dynasty, territory and religion, even though domestic and foreign policy was handled by the Ottomans.
Resistance continued over time, resulting in an unstable political structure that caused the Turks to select Greek administrators (Phanariote) to govern. Increasing influence by Russia resulted in the principality to be placed under Russian protection in 1774, despite the Turkish suzerainty.
In 1821, an uprising caused the end of the Turkish Phanariote. The area was under Russian protectorate until 1856 and in 1859, Wallachia voted to unite with Moldavia to form the state of Romania.
---
About the state flag
There are few documents which describe the ancient standards of Wallachia. It is known that Michael the Brave (1593-1601) used a yellow flag with a black raven standing on a green juniper branch, with a silver and gold cross in its beak. Some sources say that he added to the yellow also the red for Moldavia and the blue for Transylvania. Radu Şerban (1602-1611) used a white flag with an eagle having a cross in its beak.
Mario Fabretto, 9 September 1996
We have three early descriptions of the flag of Wallachia, all made by the Italian knight Ciro Spontoni in his work, "Historia della Transilvania", published in 1638 at Venice:
On 13 November 1593 Michael the Brave unfolded the state flag which was a white damask flag with a raven (sic!) sitting on a juniper leaf and bearing a silver double cross in its beak. The cross had been powdered with gold.
During the battle of Mirăslău (18 September 1600), between Michael the Brave and Giorgio Basta, the former had "a white damask flag, with a raven (sic!) over a green juniper, bearing a red double cross in its beak".
Three years later, in 1602, Spontoni describes the flag again: "a white damask flag over which was painted a raven (sic!) with a red double cross and star in its beak, standing over a green juniper".
The Romanian heraldist Dan Cernovodeanu has drawn a reconstituted model of this flag, based on the descriptions above and contemporary heraldic compositions. The "raven" was in fact a hybrid between an eagle and a raven, a matter which I've explained in the "Coat of arms" chapter.
Alex Danes, 14 September 2008
---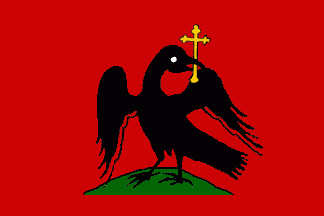 by Alex Danes, 17 September 2008

The presidential site of Romania sais that the oldest description of the Wallachian flag dates from the reign of Vlad Vintilă of Slatina (1532-1535). It was a red flag with the Wallachian coat of arms on it: an eagle Sable, holding a cross Or in its beak, sitting on the top of a mountain peak.
Alex Danes, 17 September 2008

It seems that the reverse had the embroided portraits of Vlad Vintilă of Slatina and his family. The link below shows just a part of the reverse, with the prince and his son:

Alex Danes, 2 January 2008
---
Coat of arms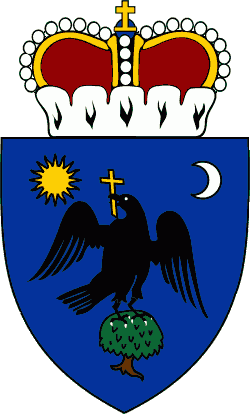 by Alex Danes, 9 September 2008
Azure, an eagle Sable, head towards dexter, holding a cross Or in its beak and siting on a juniper branch Vert. At dexter a moving sun Or, at senester a crescent Argent. The shield is crowned with a princely crown.

The coat of arms of Wallachia always had the eagle holding a cross in its beak. In the XIVth - early XVth centuries, the coat of arms was more complex: the eagle had its wings folded and it was actually the crest of the princely family's coat of arms, sitting on the helm. The original species of the eagle had dark feathers which gave the heraldic charge its Sable tincture. In the process of time, the princely coat of arms and the helm dissappeared and the eagle's appearence was changed. The eagle became an aquila chrysaëtos, a bird with golden feathers, yet the heraldic tincture remained Sable. This was the source of a confusion that lasted for centuries: from 1508 on, the heraldic bird portrayed a hybrid species: half eagle, half raven. The head and beak were oftenly a raven's one, while the position and appearance of the wings and claws were of an eagle. This hybrid bird was called an aquila valahica.

The first coloured version of this coat of this coat of arms dates back to 1639-1645. The eagle was Sable, the cross and sun were Or and the crescent was Argent.

The shield started to be crowned at the end of the XVIth century and, from the XVIIth century had two rampant lions Or as supporters. In the XVIIIth century the supporters were replaced by two young pages blowing a trumpet, sometimes represented as angels.
Alex Danes, 9 September 2008
---
War flag, 1683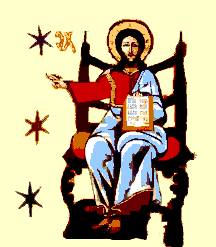 by Alex Danes, 14 September 2008
One of the war flags of Wallachia, left by prince Şerban Cantacuzino on the battlefield near Vienna, in 1683, as a gift for the Christians: www.cimec.ro
Alex Danes, 18 January 2008
In 1683 Vienna has been besieged by the Ottoman Empire and its vassals. Among them, the Wallachian Army, led by prince Şerban Cantacuzino himself. Cantacuzino hated the Turkish suzerainty and secretly helped the Austrians in Vienna with intelligence and free passage to their messengers. The Wallachian prince delayed the construction of bridges over Danube by having his men ruining at night what they built at day. When they were forced to attak, they did so by filling their cannons with straws. At one crucial point, when the Viennese defenders were prepared to surrender due to heavy attak, prince Cantacuzino send them a message to resist, because the Turkish army had gunpowder for only two more hours. When the battle was over, Şerban Cantacuzino had to leave with his army, unwilling to rise more suspicions of the Turkish leaders. But he left, as a gift for the winners, a wooden cross with an inscription (a copy of it can be found today in Vienna, inside the "Moldauer (sic!) Kapelle") and one of his war flags.

The flag was made of three silk pieces sewn together (175 cm high and 156 cm wide) on which was painted Jesus Christ, sitting on a throne. In his left hand there is a book with an Old Church Slavonic text. Jesus is blessing with his right hand. On his right there are three stars and an inscription in Romanian (not depicted in the image above): "Vitejia dreaptă să biruiască", meaning "May the righteous bravery win!". The flag was kept in the museum of Dresden, then, in the first half of the XXth century, was brought to Romania.
Alex Danes, 14 September 2008
---
War and naval ensign before 1830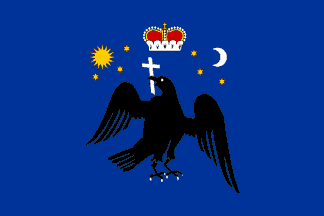 by Alex Danes, 14 September 2008
A code of laws from 1640 describes the naval ensign of Wallachia: "a blue flag with the coat of arms of Wallachia: an eagle Sable bearing a cross Argent in its beak, with a princely crown above his head. At dexter a sun with three stars Or and at senester a crescent Argent with three stars Or". The masthead pennant was yellow.

An engraving from 1672, ilustrating among others the Dutch book "Aeloude en Hedendaegsche Scheeps-Bouw en Bestier" by Nicolaes Witsen, shows a Wallachian floating battery with two war ensigns and one naval ensign on the main mast. The war ensigns depict Saint George slaying the dragon (identical with the XIXth century war ensign) and the naval ensign shows the Wallachian eagle. The engraving has no colours.
Alex Danes, 14 September 2008
---
Flag of the 1821 uprising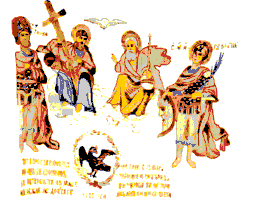 by Alex Danes, 15 September 2008
In 1821 the Wallachians from the middle and lower classes started an uprising against the abuses of the Phanariote leading class. The rebellion was led by Tudor Vladimirescu, a charismatic and skilled negotiator and military man. This uprising was eventually defeated by the Ottoman troups; however, the sultan decided to put an end to the Phanariote reign in Wallachia and Moldavia and named instead local rulers.

The flag of the uprising was painted in Bucharest by the monk David from Antim monastery, who learned painting in Russia. It is a white flag (185 cm long and 152 cm wide), made of silk, with the Holy Trinity painted in the middle: Jesus at dexer, sitting on a cloud and bearing a cross over his right shoulder, God at senester, sitting on a cloud with a scepter in his left hand and blessing with his right hand, and the Holy Spirit, as a white dove, above them.

At Jesus' right is painted saint Theodor Tiron, patron of Tudor Vladimirescu, like he would hold the flag's rod, as a spear. At God's left is painted another military saint, George of Hozeva, holding an olive branch in his left hand and a moon-shaped shield in his right hand. He is the patron of Gheorghe Lazăr, another Romanian leader of the uprising fighting for the political rights of his people. Both saints were supporters of agreement trough Word and negociations, before taking up arms, and their particular depiction on this flag suggest the same thing.

The lower field of the flag holds the coat of arms of Wallachia in the middle, surrounded by a green laurel wreath tied with a red ribbon. Below it, with cyrillic letters, the date "January 1821" and on its sides a short poem with political meanings (probably composed by educator Gheorghe Lazăr): "Tot norodul românesc / Pe tine te proslăvesc / Troiţă de o fiinţă / Trimite-mi ajutorinţă / Cu puterea ta cea mare / Şi în braţul tău cel tare / Nădejde de dreptate / Acum să am şi eu parte", meaning in English: "All the Romanian people / praise you, / one being Trinity. / Send me help, / trough your great power / and your strong arm, / so that hope for justice / may I have now."

The flag also had three tassels: one with long red threads and blue short ones, one with yellow long threads and red short ones and one with blue long threads and yellow short arms. These are actually the Romanian colours: blue, yellow and red. This could mean that they had a special meaning for the Romanians, long before the first tricolour flags were made. Regarding this matter, I've seen a while ago an exaggeration on wikipedia (unsourced, of course) which said that the first blue-yellow-red tricolour was made, under French influence, by the Romanian inventor Petrache Poenaru and used in 1821 as the revolutionary flag of Tudor Vladimirescu's uprising. Needless to say, I haven't met this statement anywhere else in my sources.

In the tempestuous days of the uprising, Tudor Vladimirescu gave this flag to his commander of cannon battery, Ianache Cacaleţeanu. The latter's son, George I. Cacaleţeanu was convinced in 1871 to donate this flag to a museum but this did not happend until 1882. That same year, the flag was sewn to a blue silk lining, as an enforcement, and some years before 1937 in double tulle for better preservation. This, however, did not prevent its further degradation, today being almost completely destroyed: www.cimec.ro.
Alex Danes, 15 September 2008
Police flag, 1822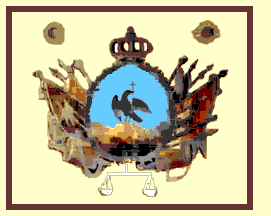 by Alex Danes, 15 September 2008
A yellow silk flag (240 cm long and 210 cm wide) with a simple frame around it and a painting on each side, in the middle: the icon of Annunciation on obverse and the coat of arms of Wallachia, with an inscription below, on reverse. The rest of the elements are identical: both paintings are surrounded by a wreath crowned with a royal crown and having a balance below. On the wreath's sides there are flags, spears, drums and scepters. The crown has a moon on dexter and a sun on senester.

The inscription with cyrillic letters below the coat of arms of Wallachia, today unreadable, was: "Făcutu-s-au acest steag al Agiei la prefacerea Domnilor dintre pămanteni ai Ţări-rumănesci Măria Sa Grigore Dimitrie Ghika voevod, cu anii 1822, prin epistasia Domnului vel Aga Mihăiţă Filipescu" meaning "This flag of the Police was made when prince Grigore Dimitrie Ghika has been named as ruler of Wallachia, in 1822, by the order of the police prefect Mihăiţă Filipescu". Here is a picture of the flag which is found at the National Museum of History in Bucharest: www.cimec.ro.
Alex Danes, 15 September 2008
Anything below the following line isnt part of the Flags of the World Website and was added by the hoster of this mirror.
---
Bei fahnenversand.de erhalten Sie eine Vielzahl an günstigen Flaggen, Pins und Aufnähern, zum Beispiel: