Bestellen Sie Ihre Fahnen / Flaggen im Flaggen-Shop bei fahnenversand.de

Diese Website beschäftigt sich mit der Wissenschaft der Vexillologie (Flaggenkunde).
Alle auf dieser Website dargebotenen Abbildungen dienen ausschließlich der Informationsvermittlung im Sinne der Flaggenkunde.
Der Hoster dieser Seite distanziert sich ausdrücklich von jedweden hierauf u.U. dargestellten Symbolen verfassungsfeindlicher Organisationen.

---
This is a mirror of a page that is part of © FOTW Flags Of The World website.
Anything above the previous line isnt part of the Flags of the World Website and was added by the hoster of this mirror.
Neo-Nazi flag symbolism
Last modified: 2021-08-07 by randy young
Keywords: nazi | neonazi | politics | swastika | cross: swastika | cross: celtic | celtic cross | sun cross | rune: odal | werewolf | 88 | eighty eight | sun (black) | tiwaz rune | tyr | mjölnir |
Links: FOTW homepage | search | disclaimer and copyright | write us | mirrors

---
See also:
---
Nazist movements from different parts of the world have quite similar flags. They usually are red, white and black, that are the "Bismark colors" upon which was also based Hitler's flag. The scheme is always the same: red background, a white circle in the middle and a black symbol. As in many countries it is forbidden to use fascist or Nazist symbols, they use new symbols reminescent of swastika.
Anon.

All these are flags resembling the German flag of 1933-1945. Here's a list:

António Martins, 1 February 2003

I think these are mostly beautiful flags, though politically, I strongly oppose what they stand for.
Elias Granqvist, 24 April 2001

That's completely possible. Tyrants, with their devotion to "bread and circuses," are often masters of manipulation, including symbols. The German Nazis were absolute masters of this; if they were just another political party, their flags would be considered works of art. Indeed, the swastika itself now has a meaning that no Buddhist would put on it, it being found often in their iconography and elsewhere. (I recall maps in Japan being marked with swastikas to indicate Buddhist temples. Took me a while to get used to that!)
Al Kirsch, 25 April 2001

The texts about this symbol [the so called hurricane on the P.N.S.S. flag] illustrate quite well the interesting phenomenon of Neo-Nazi symbology worldwide: The flags, symbols, salutes, etc. are clearly influenced by Hitler and Mussolini and based on them — however the "official" explanations refer most everything except that fact. This symbol is "hurricane," then? Yeah, as much as South Africa's AWB three-legged swastika was based on the number "777," and similar explanations. I simply don't get it. If these people use symbols reminding of their ideological idols, why don't they say so? There sure don't hide their intentions in other situations… Saying "our symbol looks like a swastika out of a coincidence, as it was originally designed by my mother-in-law's cat" is being plain coward — something Neo-Nazis don't like to be called at…
António Martins, 27 July 1999

It would be inconsistent with the nationalist part of the ideology, I think. The nebulous explanations also fit in with the use of the swastika — there is no link between the ancient and the Nazis, other than the swastika itself.
Ole Andersen, 28 July 1999

It is interesting to note that most mock versions of the swastika flag feel much more "Nazi" than the flags of real Nazi-sympathetic entities, and that many of the listed sympathetic regimes of the pre-WWII era end up in quite "unsympathetic" relations with Germany (the Cutch-cross Austrians, Horthy, the Rumanian what's-his-name, etc.).
António Martins, 10 February 2003

---

image by Tomislav Todorović, 9 May 2021

The name "Nazi eagle" nowadays denotes a variety of designs derived from the emblems of the Third Reich and the Nazi Party: an eagle with spread wings, standing upon an oak wreath which surrounds a swastika.[1] The national and party emblems differed in the stance of eagle - more precisely, the position of its head, which was facing dexter in the national emblem and sinister in the party emblem.[1] A variety of flags derived from this basic design, varying the details of emblem and the colors, is offered for sale by numerous Web shops founded by ultra-rightist activists. The variants sometimes omit the wreath, placing the eagle directly atop the swastika, as was often used by the armed forces of the Third Reich.[1] A typical design displays the emblem in white on black field, with a very simplified wreath which looks more like being made of laurel. A photo of such a flag in use was taken in California in April 2021;[2] the users were members of the Proud Boys Movement, as can be identified by the emblem displayed on their T-shirts.
Tomislav Todorović, 9 May 2021
Sources:
[1] Coat of arms of Germany at Wikipedia - Nazi Germany: https://en.wikipedia.org/wiki/Coat_of_arms_of_Germany#Nazi_Germany
[2] American Iron Front at Reddit - Photo of a flag with Nazi eagle, taken in California, April 2021: https://www.reddit.com/r/IronFrontUSA/comments/m4apy1/california_proud_boys_second_flag_is_that_of_the/

---

image by António Martins, 18 April 1998

(With and without the white and black lining/fimbriation, both usual forms).
António Martins, 18 April 1998


image by António Martins, 18 April 1998

The Celtic cross is probably the most popular symbol among (seemingly not only) European Neo-Nazis, even more than the traditional swastika (but that's maybe because the swastika is banned or has its use "protected" in many countries). They base it in that Celts are "true" Europeans (i.e., of "pure" breed).
António Martins, 18 April 1998

The circle/cross design has (like the swastika) a long and honourable usage before it was associated with modern Nazism. The circle/cross is another variation of the solar disk, and is found in ancient American, Asian, and European cultures. It was also associated with Celtic Christianity. The symbol also has various meanings in alchemy and hermetic studies.
Anon.

I suspect that the present users care less for the actual symbolism involved than they value its similarity to the swastika design, and substitute it for a swastika when such a design is illegal.
Anon.

The Celtic cross somehow resembles the cross on the Ku Klux Klan flag.
António Martins, 10 February 2003


image by António Martins, 18 April 1998

This white power cross is a popular symbol amongst Europe's hardcore Nazis. It is molded after the Celtic cross, seeking to make an heritage issue of it.
António Martins, 27 May 1998, quoting Nazism Exposed | Flags and Symbols (Pål's site)


image by António Martins, 18 April 1998

Black Celtic cross on white, as opposed to the more usual white celtic cross on black, used on European Neo-Nazi flags.
António Martins, 4 October 1998

See also:
External links:
---

image by Tomislav Todorović, 3 February 2007

In an episode of the TV series "Pop Music and Politics," which was broadcast on Viasat History channel several times during the year 2006, a very short interval (less than two minutes, as I estimated) was dedicated to the music of extreme right-wing rock bands, without any comments or naming of the performers (so as to show that they exist without advertising them), just illustrated with black and white photos of performances, magazines and posters. One of these photos showed the cover of a magazine named Blood and Honour, illustrated with the picture of a Neo-Nazi flag charged with a large, broad, black sun cross on a white disc. The field looked gray on the photo, which means it certainly was red.
Tomislav Todorović, 3 February 2007



image by Tomislav Todorović, 3 February 2007

When David Duke, former Imperial Wizard (national leader) of the Ku Klux Klan, unsuccessfully ran in the elections for the governor of Louisiana in 1991, a number of photos showing his connections with Neo-Naziism were published. One of these was published in the Serbian magazine Vreme. It showed Duke dressed as a high official of the Ku Klux Klan and sitting at a desk with a Neo-Nazi flag on the wall behind him. The flag was charged with the sun cross, narrower than the one on the flag described above. The photo was in black and white, but, just like the flag described above, the colours were obviously black (sun cross), white (disc), and red (field).
Tomislav Todorović, 3 February 2007

See also:
---

image by Tomislav Todorović, 23 May 2015

Black Sun (German: Schwarze Sonne) is an occult symbol which is also used by some neo-Nazis. It is modeled after the central pattern of the floor mosaic in a hall of Wewelsburg Castle, Germany, where the construction of a planned cult center (never completed) for the SS forces and whole Reich, as envisaged by Heinrich Himmler, was being performed. It is not known with any certainty whether the mosaic was placed into the floor during the works in the hall (1938-1943) or was there previously, nor it is known what name, if any, the Nazis used for the symbol; its present name came into the use some time after WW2.

Flags charged with the Black Sun usually show it in white, on black field. Photos of a flag from the United Kingdom, taken in 2013, can be found here. A photo from Russia, taken in 2014, can be found here. More photos from Russia, time of making not specified, can be found here. (WARNING: This website and others like it regarding Naziism and neo-Naziism show photographs of people giving the Nazi salute.) While the Russian sources give incomplete views of the flag, still they make it possible to reveal its complete design.
Tomislav Todorović, 23 May 2015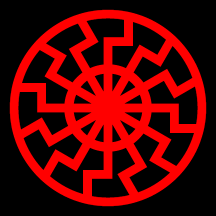 image by Tomislav Todorović, 2 May 2016

The symbol may also appear in red color on black field. Such a flag, in square or nearly square shape, was photographed somewhere in Roussillon, France, on 24 April 2016. The symbol also seems to be larger than generally used.
Tomislav Todorović, 2 May 2016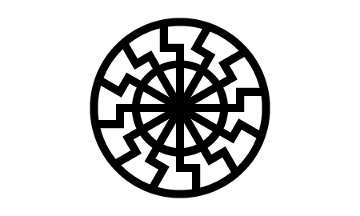 image by Tomislav Todorović, 29 May 2021

A flag with black symbol on white field was seen in Boston at an ultra-rightist rally which took place on 27 June 2020. The symbol shape differs from the one typically used, being its-mirror image and having an inner ring with a greater diameter. The flag was brought there by the people who seem to be the members of neo-Nazi organization named Nationalist Social Club (NSC) - some of them certainly are, for they bear the NSC badges. However, not all of the people with the flag bear them, so there is the possibility that some of those are not the members. Because of that, as well as the fact that the NSC has distinctive flags of its own, none of which display the Black Sun, the flag cannot be identified as their own, so it shall be classified as a "generic" neo-Nazi flag instead. Also, it is clear that this is a flag, not a demonstration poster, because the photos with larger resolutions reveal the existence of the grommets for flag hoisting.
Tomislav Todorović, 29 May 2021
Sources:
[1] American Iron Front at Twitter - Status on Ron Slate at Twitter - Status on 27 June 2020: https://twitter.com/Iron_FrontUSA/status/1276946084733030400
[2] Danny McDonald at Twitter - Status on 27 June 2020: https://twitter.com/Danny__McDonald/status/1276925771077033986
[3] Ron Slate at Twitter - Status on 27 June 2020: https://twitter.com/ronslate/status/1276965065648898050
[4] Boston Globe newspaper website: https://www.bostonglobe.com/2020/07/14/metro/fairly-devout-group-neo-nazis-local-white-supremacist-group-has-been-active-recent-weeks/
[5] Universal HUB website: https://www.universalhub.com/2020/out-under-their-rock-nazis-fly-their-flag-outside
[6] Dig Boston website: https://digboston.com/photo-recap-white-nationalists-back-the-blue-in-boston/
[7] Daily Mail newspaper website: https://www.dailymail.co.uk/news/article-9446059/Staffer-showed-neo-Nazi-symbol-cop-training-video-lifted-white-supremacist-doc.html

---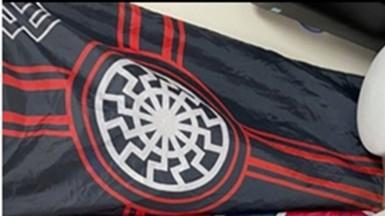 image located by William Garrison, 24 June 2021

A neo-Nazi flag (black with a white othala rune incorporated as a sonnenrad) with a white/black swastika in the upper corner, with a red cross in the middle—mimicking the WWII German War Ensign (Reichskriegsflagge); c. May 2021.
William Garrison, 24 June 2021
Source: MEMRI (Middle East Media Research Institute), 24 June 2021 online email—which located the image at: Photo from Kerr County Sheriff's Office announcement of an arrest on Facebook. Source: http://www.Facebook.com/permalink.php?story_fbid=4367463569952275&id=489002431131761, May 30, 2021

Variations of this flag are being offered for sale online. This particular one is known to have been used in the UK, but seems not to be attributed to a particular organization. An example can be seen here: https://network23.org/bristolantifascists/tag/national-action/ (photo: https://antifascistnetwork.files.wordpress.com/2015/08/cmeulfnwuaanfw0-e1439742830192.jpg)
Tomislav Todorović, 25 June 2021

The report on Kerrville case, including the flag photos, can be found here: https://news4sanantonio.com/news/local/kerrville-man-arrested-after-officials-intercept-plans-for-mass-shooting-at-walmart. It reveals that the flag design is the same as was used in the UK—not the one shown in the image below, but the one in the image above—that variant is thus verified to be used in both the USA and the UK. Still the other flag does exist, for the online shop did present its photo, so both variants are worth presenting at the FOTW-ws.
Tomislav Todorović, 25 June 2021



image located by William Garrison, 24 June 2021

Several hours ago I sent you emails regarding a new neo-Nazi flag. The picture showed a draped flag, so its overall image was not very clear. My main blunder was noting that there was a black/white swastika in the upper corner; instead of being a swastika, it is an othala rune. I have now found a source of this flag, with a very clear image of the overall flag.

A neo-Nazi flag with a black field, with a white "othala rune" in the canton, with a black/white "sonnenrad" or "black sun" (or "Schwarze Sonne") in the middle of a red cross—mimicking the WWII German War Ensign (Reichskriegsflagge); c. May 2021. This flag had been seized in the house of an alleged "white jihad" racist plotting an alleged terrorist attack in Kerrville, Texas, in late May 2021. [There probably is a technical "term" for the circular red/white cross on the WWII Reichskriegsflagge, but I cannot locate it; it possibly might be simply referred to as the "Balkenkreuz" ("beam cross" or "bar cross").]
William Garrison, 24 June 2021
Image source: https://dixiegiftshop.com/product_info.php?products_id=206

This variant differs from the previous one in the shape of Black Sun, which has a central disc here, and in the colors of the othal rune, which is white here, with a double fimbriation in black and white.

Conclusion: the flag does qualify to be presented at FOTW because it is used in more than one country and no details of the design are related to any of them. It is important to present both variants, as well as to add any other whose use is to be verified in future.
Tomislav Todorović, 25 June 2021

---

image by António Martins, 18 April 1998

Another popular rune among Neo-Nazi organizations is "ᛟ," the odal rune (notably the by the South African African Student Federation). It is the last letter of futhark, the "modern" 16-letter Viking rune set. (Here with and without the white and black lining/fimbriation, both usual forms).
António Martins, 18 April 1998


image by António Martins, 18 April 1998

The odal was originally used by ethnic Germans (Volksdeutsche) from Yugoslavia SS-regiment (the 7. SS Freiwillingen-Gebirgs — Division Prinz Eugen) operating during the WWII in the Nazi Germany-sponsored State of Croatia. According to FlagMaster 073 [flm], it may have been used by ethnic Germans in other countries.
António Martins and Mark Sensen, 18 April 1998

Another version (with arrows at the end) was used by the 23. SS-Freiwilligen-Panzer-Grenadier-Division "Nederland".
Mark Sensen, 19 April 1998

---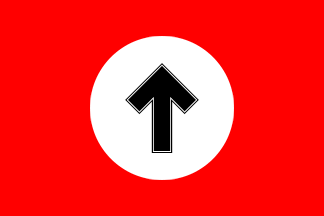 image by Tomislav Todorović, 27 November 2016

Tiwaz rune (also called Tyr) is another popular neo-Nazi symbol. It is used, among others, by the Swedish Resistance Movement. Another example of its use is from Germany, in several photos from early 1990s which can be found at this website: https://ephemerajpp.com/2012/04/23/alemanha-freiheitliche-deutsche-arbeiterpartei-fap-manifestacao-inicio-dos-anos-90-freiheitliche-deutsche-arbeiterpartei/. There, the rune was depicted in black, with inner white and outer black fimbriations, in center of a white disc on red field. On almost all photos, the flag was carried together with those of the Liberal German Workers' Party, but it does not mean that it was one of their flags, since other groups' presence can be identified - most notably, that of Germany's National List, whose demonstration posters can be seen in some of the photos. For these reasons, until more information is revealed, the flag cannot be attributed to any organization yet.
Tomislav Todorović, 27 November 2016

---

image by Tomislav Todorović, 21 May 2021

The symbol which is nowadays called "life rune" was originally a letter of Elder Futhark, the oldest form of runic script, under the name of Algiz. In the 5th century, it began to appear in upside-down form, first used interchangeably with the upright one. By the 9th century, only the upside-down form remained in use and was included into the Younger Futhark, the succeeding form of the script, under the name of Yr, while its earlier form was included under the name of Maðr as the replacement of another earlier letter.[1] Both Maðr and Yr were included, the first having been renamed into Man, among the Armanen runes which were introduced in 1906 by Guido von List, one of the founders of Germanic neo-paganism.[1,2] The Armanen runes have quickly become popular symbols among contemporary German nationalists, many of whom were also favouring the neo-paganism, and it was in these circles that Man rune came to be used as the symbol of life, the term "life rune" having first appeared in the early 1920s, while the Yr, looking like the inverted "life rune", was interpreted as the "death rune."[1] Both symbols were also used in that capacity by the Nazis, especially the SS forces, which extensively used them to mark the birth and death dates in documents and on grave markers.[1,3] Such use was continued by the neo-Nazis as well, while the "life rune" has also been used alone, including its appearances on the flags.

A rather generic design displays a large red rune, fimbriated white, on black field.[4] The photo of the flag in use [5] has been appearing at several sites, some of which identified it as having been taken in the USA, but did not link to a particular organization.

Other flags, with different designs, are also offered for sale online. One of those,[6] while not being attributed to a particular group, can be identified as one of the flags which were originally used in the USA by the National Alliance.

Other groups known to have used the flags with the "life rune"/Algiz are the Scottish Dawn, and several groups from the USA, such as the National Vanguard, and Volksfront.
Tomislav Todorović, 21 May 2021
Sources:
[1] Algiz at Wikipedia: https://en.wikipedia.org/wiki/Algiz
[2] Armanen runes at Wikipedia: https://en.wikipedia.org/wiki/Armanen_runes
[3] Runic insignia of the SS forces at Wikipedia: https://en.wikipedia.org/wiki/Runic_insignia_of_the_Schutzstaffel
[4] WorthPoint website. https://www.worthpoint.com/worthopedia/liferune-flag-tree-life-odinist-isd-1773821422
[5] CVLT Nation website: https://cvltnation.com/why-pagans-need-to-reclaim-runes-from-nazis/
[6] Dixie Gift Shop website: http://dixiegiftshop.com/product_info.php?products_id=37

---

image by António Martins, 27 July 1999
I found a brief but interesting description of a symbol that appears on some current Nazist flags:

A fascist sign, used in for instance Sweden in the 1990s, meaning werewolf. According to ancient superstitions, men were sometimes transformed into beings - half men, half wolves - extremely blood-thirsty and ferocious. These beings were called werewolves. Werwolf, German for "werewolves," was the name chosen for the guerilla fighters Hitler and the Nazi top had planned should continue the fight against the invading Allies when Germany's Wehrmacht was defeated and the German territory was occupied.
Giuseppe Bottasini, 29 July 1998, quoting from www.symbols.com

A complete history of the Werwolf organization can be found at this site. The symbol was also used by a number of organizations in German-occupied Netherlands.
Marcus Wendel, 7 August 1999

This symbol is the ancient german rune Wolfsangel. In past it was a magical means to frighten away the wolves. In WWII this sign was used by Division Waffen SS Das Reich. Source: [mux97]
Viktor Lomancov, 1 January 2000

See also:
---
What's the connection between Neo-Nazism and "88"? It's not the first time I notice this (f.i., NZ's Unit 88). I imagine that, since "88" looks a bit like "SS" (especially if on a flag with different sides seen in backlight, hmm), and might be used as a surogate for it in the lines of what happend with the Celtic cross and other substitues for the swastika, but I'd expect to see it more prominently displayed and sported, namely on flags.
António Martins, 8 July 2002

Nothing to do with the SS, nor with the famous German 88mm gun. As far as I know, each "8" stands for the eighth letter in the (German, English, etc.) alphabet, "H." Thus "88" stands for "HH," which in turn is an abbreviation for "Heil Hitler."
Santiago Dotor, 9 July 2002

See also:
---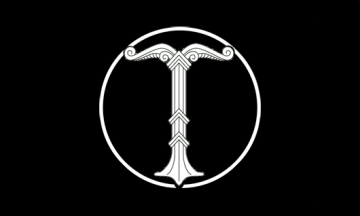 image by Tomislav Todorović, 2 May 2016

Irminsul1 is a Germanic neo-pagan symbol which is also frequently used by the neo-Nazis. Its name probably meant "mighty pillar" in Old Saxon. The name originates from Old Saxony (roughly corresponding to present-day Lower Saxony), where it was denoting a wooden pillar, or a simple tree trunk, raised in the open air at a place of worship. While all the original objects were destroyed with the spread of Christianity and little is known about their exact appearance, modern symbol is generally based on the Externsteine relief2, a depiction of the Descent from the Cross scene which is carved into the side of the Externsteine rock formation, situated near Detmold, Germany. The scene, generally thought to be dating from 12th Century, contains a symbol which vaguely resembles a bent palm tree and is sometimes explained as such. This symbol was first described as an irminsul in 1929 by archaeologist Wilhelm Teudt, who believed that the Externsteine site was a pre-Christian place of worship centered around an irminsul and that the relief was created in order to commemorate the victory of Christianity over paganism. While no evidence for Teudt's hypothesis has ever been discovered, it caught on among the Neo-Nazis to such an extent that most of their depictions of irminsul are modeled after the symbol from Externsteine relief, although the details may vary somewhat.

A popular version of the flag with irminsul depicts the white symbol within a white ring, all on black field.3 Such a flag was photographed somewhere in Roussillon, France, on 24 April 2016.4

Sources:
1 – Irminsul at Wikipedia
2 – Externsteine relief at Wikipedia
3 – Flag with irminsul at eBay
4 – Facebook - Photo gallery of French Nationalist Party, Roussillon branch
Tomislav Todorović, 2 May 2016

---
| | |
| --- | --- |
| | |
| image by Tomislav Todorović, 6 August 2018 | photo provided by Pete Loeser, 6 August 2018 |

The symbol of Mjölnir appears on this black flag carried in 2017 by an alt-right protester in the violent "Unite the Right" Rally held in Charlottesville, Virginia. In Norse mythology, Mjölnir is the mythical Hammer of Thor, the Norse god of thunder. Similar hammers (Ukonvasara) were a common symbol of the god of thunder in other North European mythologies.

Today, practitioners of Germanic neo-Pagan faiths wear Mjölnir pendants as a symbol of their faith and various renditions of Mjölnir are commonly used by these groups and individuals. Its more modern use as a neo-Nazi symbol is not as widespread, and often quite misunderstood.
Pete Loeser, 6 August 2018
Sources: Historical Flags of Our Ancestors
Photo source: https://i2.wp.com/wausaupilotandreview.com/wp-content/uploads/2017/09/1-inside.jpg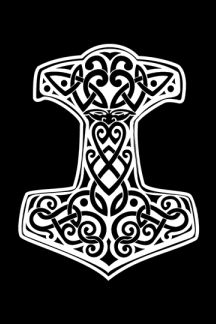 image by Tomislav Todorović, 6 August 2018

In Norse mythology, Thor was not only god of thunder, but also the protector of mankind, which is why Mjölnir, his weapon, became an important pre-Christian Norse symbol: the hammer with short handle, its representation, was used in a variety of rituals; its miniature copies were worn as amulets, varying from plain-surfaced metal pieces to elaborately decorated ones; even a "hammer sign" has appeared later, possibly under the influence of Christian cross sign1,2,3. These uses were adopted by followers of Germanic neo-Paganism1 and the United States Department of Veterans Affairs (USVA) has also approved the symbol for use on the headstones and grave markers4 (its appearance on runestones had probably had a similar meaning1). For most neo-Pagans, all this has purely religious connotation, but a growing number of neo-Nazis adopts the religion for political reasons, rejecting the Christianity as "Jewish" teaching. As their variants of neo-Paganism are adapted to their political beliefs, Mjölnir is also being turned into a political symbol.

The flag photographed in Charlottesville is just one of numerous variants offered for sale online, which differ in ornaments decorating the symbol, as well as in presence of other charges, related to it in religious and/or political terms. This particular flag, bearing only a large, heavily ornamented depiction of Mjölnir, is actually meant to be hung vertically, as seen in a number of onlline shops, very few of which5 offer the assortment of goods which is not too problematic to prevent their use as a source. (That, of course, does not prevent the users to hang it horizontally, as was done in Charlottesville.) The vertical, handle-above-head orientation of the symbol is typical for the flags, regardless of intended way of hanging.
Tomislav Todorović, 6 August 2018
Sources:
1 - Mjölnir at Wikipedia
2 - Thor at Wikipedia
3 - Cavendish, Richard (ed.); Ling, Trevor O. (ed.): MITOLOGIJA: Ilustrirana enciklopedija; Zagreb: Mladost, 1982. Original title: MYTHOLOGY: An Illustrated Encyclopedia; © 1980. Orbis Publishing Limited, London
4 - USVA headstone symbols at Wikipedia
5 - Mjolnir Flag at Dixie Gift Shop website (photo: http://dixiegiftshop.com/images/DGS-hammer.jpg)

Isn't the image showing the reverse of the one in the photograph?

The one in the photograph is itself the wrong way round in that the head of the hammer points towards the hoist and up. Mjolnir is the lightning we see when we hear Thor's chariot rattle over the clouds. It should therefore point downwards: Lightning as we see it doesn't usually strike upwards.

I can't really think of a way in which this could be a correct flag which is merely used the wrong way. Tomislav's image is correct for how the flag ought to be (if used horizontally); it's just that that's not what the flag in the photograph looks like. (Well,it could be if the image was sinister hoist.)
Peter Hans van den Muijzenberg, 11 September 2018

No, the photo is showing the reverse of the flag.

The flag is actually designed for vertical hoisting, head pointing downwards, just as you pointed out. But on the source photo, it is not the head pointing towards the hoist - it is the handle (compare the ornaments), so nothing is wrong with the image, if we consider the left-hand side the hoist, which is its default position.

As you can see, my original image shows vertical flag - Pete Loeser has rotated it (having changed no credits) to illustrate the Charlottesville use.
Tomislav Todorović, 12 September 2018

That wouldn't change it: The photograph looked like it showed a flag with Mjolnir's head towards the hoist. It looks to me like the drawing shows a flag with Mjolnir's head sinister. Looking at the photograph again, I think we're missing more of the flag in the folds than I originally figured, and the head is the other end from what I thought at first. How did you even gather all that detail from such an image. I couldn't ever draw a flag like that, but in this case I couldn't even discover all such details.
Peter Hans van den Muijzenberg, 12 September 2018

---
Anything below the following line isnt part of the Flags of the World Website and was added by the hoster of this mirror.
---
Bei fahnenversand.de erhalten Sie eine Vielzahl an günstigen Flaggen, Pins und Aufnähern, zum Beispiel: