Bestellen Sie Ihre Fahnen / Flaggen im Flaggen-Shop bei fahnenversand.de

Diese Website beschäftigt sich mit der Wissenschaft der Vexillologie (Flaggenkunde).
Alle auf dieser Website dargebotenen Abbildungen dienen ausschließlich der Informationsvermittlung im Sinne der Flaggenkunde.
Der Hoster dieser Seite distanziert sich ausdrücklich von jedweden hierauf u.U. dargestellten Symbolen verfassungsfeindlicher Organisationen.

---
This is a mirror of a page that is part of © FOTW Flags Of The World website.
Anything above the previous line isnt part of the Flags of the World Website and was added by the hoster of this mirror.
Padania - Flags of Padania "Nations" - Part 1 (Italy)
Last modified: 2021-08-24 by rob raeside
Keywords: italy | padania | lega nord | lega piemontese | lega liguria | lega lombarda | emilia | friuli | liguria | lombardy | marche | aosta valley | piedmont |
Links: FOTW homepage | search | disclaimer and copyright | write us | mirrors

---
---
See also:
---
First of all, the secessionists want to found a federal republic, composed by many lands and/or peoples: Lombardi, Piemontesi, Liguri, Trentini, Veneti etc. more or less one people for each of the Northern Regions of Italy. Every 'people' has its own flag: that's why on 'independence day' there were a lot of different flags.
Giuseppe Bottasini, 19 September 1996
Lega Nord is a federation of many regional movements. Both the symbol and the boss of Lega Nord are those of Lega Lombarda. Lega Nord is not the only autonomist movement of Northern Italy, neither the oldest: e.g. Liga Veneta is older that Lega Lombarda; in Alto Adige there is the Süd Tirol Volks Partei, that is an autonomist (but not indipendentist) party.
Currently, according to the official site of Lega Nord at <www.leganord.org>. Lega Nord is formed by the following regional movements:
Lega Nord Alto Adige-Südtirol
Lega Nord Emilia
Lega Nord Friuli
Lega Nord Lombardia (Lega Lombarda)
Lega Nord Liguria
Lega Nord Marche
Lega Nord Piemont
Lega Nord Romagna
Lega Nord Toscana
Lega Nord Trentino
Lega Nord Trieste
Lega Nord Umbria
Lega Nord Valle d'Aosta
Lega Nord Veneto (Liga Veneta)

Note that the names of these movements changed after joining Lega Nord: e.g. Lega Nord Liguria was named "Union Ligure", Lega Nord Toscana was "Alleanza Toscana".
For the Region "Trentino-Alto Adige" there are two movements, because Trentino is the Italian spoken part and Alto Adige is the German spoken one. Also for the Region "Emilia Romagna" there are two movements, maybe for historical reasons but currently there are no differences between these two parts.
Note that there are also Umbria and Marche, even if these Regions are not in the Po Valley and belong to Center Italy.
Giuseppe Bottasini, 30 August 2000
I received news from Italia. 41 issue of thed Quaderni Padani, supplement of "La Libera Compagnia padana", show a "official chart" of the historic Padania (inspired by the League leader Gianfranco Miglio) with several flags pictured by Alberto Filippi. Luckely Filippi can be contacted by Massimo Bonini, corresponsal of Flag Report for Padania, and one of the better padanian flags expert , who recently discovered a new historical flag for Italia: the Flag of the repubblica Cremasca (one of the republics proclaimed following the arrival of the french troops) whose details will are issued in Flag Report 31.
The chart show the countries that belong to Padania: Arpitania (Aosta, Small Arpitania and Manfra, and a portion of Walser lands), Occitania Piamontesa (with the Valdese valley), Piamonte (enclosed two regions populated by Walser and Valsesia), Liguria (enclosed Seborga and Briga), Insubria (enclosed remaining Walser lands, Ossola Valley, and Valtellina), Austrasia, Emilia, Romagna, Veneto (enclosed tewo cimbri regions), South Tirol and Trentino (enclosed a small enclave of Cimbri), Ladinia (enclosed Sappada), Friule (enclosed Slavia -Slovenian regions- a three Carinziani small regions) and Trieste (enclosed Gurizie and two small regions populated by
slovenians). Curiosely in the "Cartina Ufficiale" theres not the Padanian flag, but the Vessilio de San Giorgio (red cross on white) and the "bandiera di mare" that is the Lombardy swallow tailed flag with a square red hoist part bearing the venecian lion of St. Mark
In the Filippi pictures theres many well know flags, but also some new flags:
Arpitania has (at less) four flags in use: the well know flag of Apitania for the whole territory (not pictured); the flag of North Arpitania (Aosta and West Walser lands) or Great Arpitania; the flag of the Small Arpitania; and the flag of South Arpitania or Munfra. In great Arpitania its used also the flags of Aosta and Walser In Small Arpitany theres used also the flag of Piamontese-provenzale. In South Arpitania its used also the flag of Small Arpitania In Valttellina (a Valley in North Italia) theres also a flag in use. Autonomist from Emilia have adopted a new flag an call now their region also Southern Lombardy (Wester Lombardia is called Insubria and Eastern Lombardia is called Austrasia). Autonomist from Eastern Lombardy/Austrasia have adopted also a new flag. Sappada region, a land in Veneto with carinthian population, has flag own. I found a flag for Sappada in the web that has same colours but different arrangement, and I presume that, as habitual, theres at less two flags: the one from the Leghistes (League fans) and the one from the remaining autonomist people. Slovenians in Italy have a flag in use. A banner of arms is displayed in Gorizia. Theres two flag for Cimbri And finishing, a flag for Valcamonica, a territory in North Insubria. Theres not flag for the Carinziani (the carintian people in Friule) excluding the flag of Sappada (Ploden) that is located in Ladinia region. The plate show at side the (Austrian) Carintian colours but at less three small separate regions have Carinziani population and
we can expect three more flags later
Also I received photos of two more flags:
-The autonomist flag of Piacenza used by the Leghiste (League fans) that call the region Piaseinza Celtica
-The autonomist of the region (Province) of Turin. This flag was manufactured in several exemplars but manufacturer made a mistake and all the flags currently in use have a color that is wrong according the official design, but I assume that for the real flags the mistake will are not corrected until the next path of manufactured flags (from other flag manufacturer, surely!). While we have two flag: the prescribed but not used one, and the really used one.
Jaume Ollé, 1 September 2002
Lega Nord is certainly a flag-loving and flag-using party. However, in a number of cases these flags are really existing on paper only (or in silico). In a number of years researching Italian political flags I have never seen the flag of Umbria or Marche or Romagna, as shown here.
I've been to Valle d'Aosta this year and I haven't seen this Valdostanian flag either (only the well-known bicolour).
Certainly in use are: Piemonte, Lombardia, Trentino, Toscana, Veneto, Friuli Venezia Giulia (the flag is actually for Friuli only) and Emilia.
I am not really sure (i.e. perhaps in use, but rarely) about Liguria.
And I haven't seen this particular version of the South Tirolean flag either. Not even the local Lega Nord branch is using this flag (I have visited them twice).
M. Schmöger, 11 October 2008
---
Valdostani use a red - black flag.
Giuseppe Bottasini, 19 September 1996
Val d'Aosta - white cross and the upper two quarters red; the lowers black.
Jaume Ollé, 29 December 1998
This is the flag of Val d'Aosta/Aosta Valley used by autonomists of Lega Nord. I saw it in some Lega Nord meeting.
M.C., 3 October 2000
see also: Aosta Valley Region
---
Emilia (Lega Nord Emilia)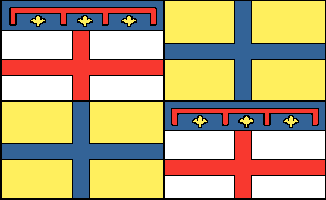 image by M.C., 29 September 2000
Emilia - quartered flag, 1 and 4 blue cross on yellow; 2 and 3 red cross on white; above is a blue stripe with red label and three golden lys.
Jaume Ollé, 29 December 1998
The Lega Nord flag of Emilia Romagna - the blue cross on yellow is traditional of Emilia, St.George cross is typical of Emilian (and Padan) municipal heraldry.
M.C., 29 September 2000
I think that the 2nd and 3rd parts of the flag (argent, a cross gules, a chief azure charged with three fleur-de-lys or) are the CoA of Bologna.
Victor Lomantsov, 30 September 2000
see also: Emilia-Romagna Region
---
Friuli (Lega Nord Friuli)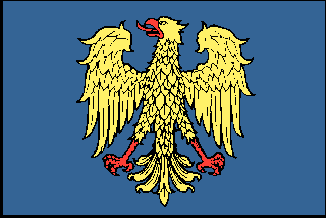 image by M.C., 28 September 2000 (for another version click here)
Friuli uses a blue flag with a golden eagle.
Giuseppe Bottasini, 19 September 1996
Friuli - blue (dark) with golden eagle tongued and armed red.
Jaume Ollé, 29 December 1998
The so-called "Acuile tal Friul" (Friul's Eagle), symbol of this nation from 3rd April 1077, when in Pavia Enrico IV, Emperor and King of Germany gave to Patriarca Sieghard d'Aquileia the title of Duche. But the first eagle on flag in Friul was seen in XIV century; it was the symbol of Patriarca Baltram de St. Genie's; that eagle was taken as a model for the several future graphic elaboration. The eagle painted as a fresco with the Boemia's Lion on Palace de' Puppi and the one on Palace of san Giacomo place in Udine, are dated during the government of Patriarca Nicolo' di Lussemburgo (1351-1365). The ore eagle in blue field is also the CoA of Aquileia and Udine's province.Nowadays are used two different version of the "Acuile"; the first one has proportions 1:1 and it is the most used one, not only by autonomist political parties, but also by common people. The second one is the one officially adopted by Lega Nord Friul, proposed by G.Oneto in 1992.
M.C., 28 September 2000
see also: Friuli - Venezia Giulia Region
---
Liguria (Lega Nord Liguria - Lega Ligure - Union Ligure)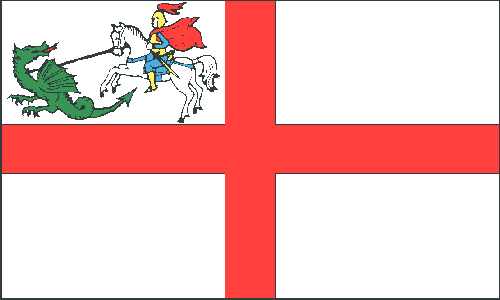 image by M.C., 28 September 2000
Ligurian's flag is the red cross on a white backgrounf. On the top left, there's an image of St. George while he's killing a dragon.
Carlo Stagnaro, 5 March 1999
The red cross with St. George killing the dragon is only a party flag of Lega Nord Liguria.
Francesco Murialdo, 18 November 1999
The exact denomination is "Union Ligure" and the flag is really the S.George one, as shown above. See <members.xoom.it/liguriaind/movaut.htm>.
Giuseppe Bottasini, 30 August 2000
This is a better version of the same flag sent by the famous padanist Carlo Stagnaro. The flag used by Ligurian autonomists is a modern elaboration of St.George flag. The Red Cross was adopted by Genova in December 1138, when the city produced its first coins with this image; in the same period St. George became the new patron (the old was S. Lorenzo). In 1198 a red flag with St.George on an horse while killing a drake was adopted by the admiral of Galera Capitana of Genova's navy; on land a similar vexill is reproduced in 1227 as "Vexillum Universitatis Januensis" (Flag of Genova University). Probably, in XIII century, when the city was in peace with Venice, the flag was used "in association" (?) with San Marco's Lion. Then the cross was charged with latin iscriptions "Justicia" or "Janua"; in XVIII the heraldic style created a white flag with the complete CoA of Genova in the middle. The flag ceased to be used in the traditional versions from 1798 (Napoleonic occupation), and re-proposed by some eminent padan vexillogigists some years ago; Gilberto Oneto proposed this flag in his book "Bandiere di Liberte'" in 1992. Flag proprtions are 12 (5-2-5) : 20 (9-2-9)
M.C., 28 September 2000
see also: Liguria Region
---
Lombardy (Lega Nord Lombardia - Lega Lombarda)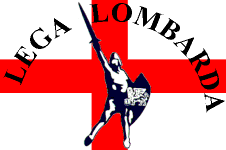 image by M.C., 29 September 2000
Lombardi uses the flag of Milano (white with red cross) with the blue medieval warrior superimposed on it, that is the flag of Lega Lombarda, the main part of the secessionist party Lega Nord.
Giuseppe Bottasini, 19 September 1996
Lombardy - the well known red cross on white.
Jaume Ollé, 29 December 1998
This flag is listed under number 53 at the chart "Flags of Aspirant Peoples" [eba94] as : "Lombard League (Lega Lombarda) - Lombardy, North Italy."
Ivan Sache, 19 September 1999
The medioeval warrior is Alberto da Giussano, the Lombard leader ofn Compagnia della Morte in Lega Lombarda that defeated the Emperor Federico Barbarossa in Legnano Battle (29th May 1176). The profile of this popular hero, symbol of the modern Lega, was designed by Umberto Bossi ispirated by the statue of Alberto da Giussano in Legnano (MI). For more information visit the site of "Alberto da Giussano" at <albertodagiussano.virtualave.net>.
The San Marco lion superimposed exists in some variants:
1) with the book with the inscription, from upper left to down-right: "P A X E";
2) with a sword on his right leg and the book under his paw, symbolizing a period of war;
M.C., 29 September 2000
The cross fimbreated white is the flag of the "Lega Lombarda", not of Padania: in the Middle Age it was a league that joined 36 cities of Northern Italy (the "Commons"), during the war against the German Empire. The name "Lega Lombarda" and its symbols has been retaken in the '80s by a political party led by Umberto Bossi, which aims vary from a federal system in Italy ("devolution") to a secession of the northern Italy (called "Padania"). The red cross in white field then stands only for the historical and political "Lega Lombarda", not for all the peoples of Padania.
Fabio Facoetti, 26 June 2003
The flag of the political party "Lega lombarda" is the red cross on white background with the warrior superimposed.
Paolo Montanelli, 4 July 2003
see also: Lombardy Region
---
Marche (Lega Nord Marche)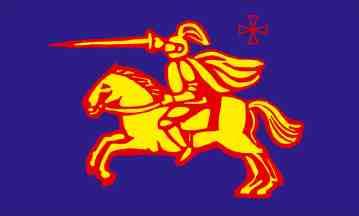 image resized from <www.leganord.org>, located by Jan Mertens, 5 October 2008
Marche - blue (dark) with golden horse-knight with sword, all pointed to the hoist; in the fly, near the upper corner, a golden maltese cross
Jaume Ollé, 29 December 1998
YouTube (film added 8 Apr 2008 by "telepadaniatgnord") showing the Marche flag. However the entire emblem, including the cross, is rendered in yellow.
Jan Mertens, 11 October 2008
see also: Marche Region
---
Piedmont (Lega Nord Piemont - Lega Piemontese)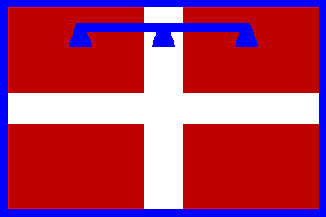 image by Giuseppe Bottasini, 19 September 1996
The Piemontese flag is quite obvious: a white cross on red field (Savoia) with an azure lambel. It is the official flag of Regione Piemonte.
Giuseppe Bottasini, 19 September 1996
Piemont: white cross on red with blue label and all bordered blue (dark).
Jaume Ollé, 29 December 1998
This flag is listed under number 50 at the chart "Flags of Aspirant Peoples" [eba94] as :"Piedmont (Piemonte) - North Italy."
Ivan Sache, 19 September 1999
Nowadays el Drapo' is used with and without the blue edging. The simpliest one is used by Padan Indipendentist Movements).
M.C., 24 August 2000
see also: Piedmont Region
---
Anything below the following line isnt part of the Flags of the World Website and was added by the hoster of this mirror.
---
Bei fahnenversand.de erhalten Sie eine Vielzahl an günstigen Flaggen, Pins und Aufnähern, zum Beispiel: