Proposed New States
---
See also:
---
Indian states officially do not have flags of their own, except for Jammu and Kashmir. However, some unofficial flags have been reported:

Jaume Ollé, 23 November 1996

It seems that the status of "unofficial state flag" should be revised. They are more likely to be revendicative or seperatist flags
Ivan Sache, 16 Sep 1999

I can remember reading somewhere (a long time ago) that all the commissioners of Indian states have saffron flags depicting the Indian COA (3 lion piller) in red above an inscription of the name of the state in ? language.

Nitesh Dave, 7 Jun 1999
---
Proposed New States
Even more fluid than unofficial flags for existing states are existing flags for unoffical states: the map "possible new states" gives tantalizing notions in this field:

António Martins, 28 June 1999
---
State Governors' Flags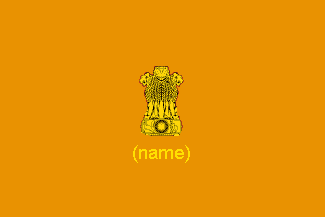 by Nitesh Dave

Saffron charged with the lions of Sarnath above name of state in Devanagri script.
Nitesh Dave, 19 Feb 2000

Summarised from "Flags of the World" (EMC Barraclough 1971):
During British rule the governors of the following 'provinces' has special flags, "saffron with the Edward crown above the name of the province in English on a slight curve" - Bombay, Madras, Berar, United Provinces, Central Provinces, Orissa, E Bengal, W Bengal. After the republic was declared the crown was replaced by the Government Seal and State Emblem (lions of Sarnath) and the name of the states was changed to Devenagri script.

The book also comments that this script is less understood than the original English. It does not mention the colour of the emblem or text, whether the text is or is not on a slight curve as previously or if any other languages are used in some states. It also mentions that all Indian flags have the ratio 3:2 (except the air force ensign), so I guess this is the correct ratio.
Nitesh Dave, 29 Feb 2000
Bihar Governor's Flag (as example of modern style)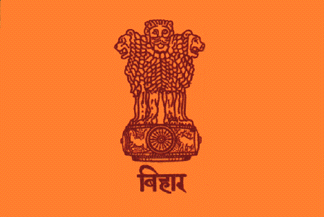 by Jaume Ollé

Source: Flags of All Nations 1955
Jaume Ollé, 27 Feb 2000

The maroon colour of the Ashoka lions shown here is erroneous, although the style of text is accurate.
Joe McMillan, 27 January 2003

Das (1981) says that on 15 August 1971, it was decided that the President and the state governors would fly the national flag rather than personal flags. This decision was presumably still in effect when Das published his book in 1984. Whether it has been reversed since then I don't know.
Joe McMillan, 27 January 2003



Anything below the following line isnt part of the Flags of the World Website and was added by the hoster of this mirror.

---
Bei fahnenversand.de erhalten Sie eine Vielzahl an günstigen Flaggen, Pins und Aufnähern, zum Beispiel: