Bestellen Sie Ihre Fahnen / Flaggen im Flaggen-Shop bei fahnenversand.de

Diese Website beschäftigt sich mit der Wissenschaft der Vexillologie (Flaggenkunde).
Alle auf dieser Website dargebotenen Abbildungen dienen ausschließlich der Informationsvermittlung im Sinne der Flaggenkunde.
Der Hoster dieser Seite distanziert sich ausdrücklich von jedweden hierauf u.U. dargestellten Symbolen verfassungsfeindlicher Organisationen.

---
This is a mirror of a page that is part of © FOTW Flags Of The World website.
Anything above the previous line isnt part of the Flags of the World Website and was added by the hoster of this mirror.
British Privateers
Last modified: 2013-07-30 by rob raeside
Keywords: privateers | brocklebank |
Links: FOTW homepage | search | disclaimer and copyright | write us | mirrors

---
See also:
---
It is noted on our page about Thos. and Jon Brocklebank Ltd. shipping line that the company was founded about 1770. Their first houseflag was altered in 1820 to the white/blue one which flies today. The reason usually given for this is that many of Brocklebank's early vessels were privateers, whose mainmasts were reserved for the letters-of-marque pennant, so the houseflag was relegated to the fore. In books it is asserted that Brocklebank's is the only houseflag worn thus - however Sandbach, Tinne & Co. did it too.

Source: Loughran (1979) "A Survey of Mercantile Houseflags & Funnels"
Jarig Bakker, 28 February 2004
I know, of course, that privateers sometimes flew a pennant in imitation of the RN, and of the 1694 "Distinction" (or privateering) Jack, but I've never heard of a special "letters-of-marque" (or privateering) pennant? May I ask what this looked like, and when/if it was authorized?
Christopher Southworth, 28 February 2004
Letter of Marquee: Another name for a privateer or corsair vessel, but apparently distinct in that its crew received regular wages "as any merchant marine sailor", in addition to shares from captures, while privateersmen served for booty alone. Up until 1701, English merchant and privateering vessels both flew a Union Jack "with a white escutcheon in the center". This was later changed so that letter-of-marquee and letter-of-reprisal vessels wore a two-pointed red burgee flag "with the Union Jack described in a canton at the upper corner near the staff". Only Royal Navy warships were allowed to fly the full Union Jack.
Source: Pirates and Privateers of the Americas, by David F. Marley, 1994, quoting Chapin's "Privateer Ships and Sailors: the First Century of American Colonial Privateering, 1625-1725, 1926
Jarig Bakker, 28 February 2004
It is certainly true that both of the types described above existed - the difference between a "special" and "general" issue of the licence I presume - but the carrying of "Letters of Marque and Reprisal" was common to both and was the difference between the privateer and the pirate. On the other hand they may well have been an 17th-18th Century distinction I don't know about?
Christopher Southworth, 28 February 2004
The Union Jack with a white escutcheon in the centre was only established in 1701; it was an apparently short-lived variant and was intended for ships commissioned by colonial governors for official business By "two-pointed" I assume the author mean 'swallow-tailed', and that certainly doesn't describe the "burgee", "Distinction" or "privateering" Jack (all three names are variously used) established in 1694, which had a rectangular red field with a Union canton occupying up to two-thirds of the flag, and which lasted until 1856. I think that perhaps Mr Chapin got a little bit confused about his dates and facts, which perhaps explains (if the original information came from the same source) why we appear to have a hitherto undiscovered "privateering pennant"?

It would appear therefore, that if Brocklebank ships originally flew their houseflags from the foremast, then they were illegally flying a RN-type (probably red) pennant from the maintop in order to masquerade as warships (a not uncommon practice amongst privateers)?
Christopher Southworth, 28 February 2004
According to the Oxford Companion to Ships & the Sea, 1979, the first mention of a Letter of Marquee dates from 1293; the privateers had a very lucrative line of business, if only they could carry their spoils to their native shores. There all was sold by the Admiralty, usually involving huge gains for the privateer's crew. Cited as one of the most illustrious is Sir Francis Drake - after he got back in England with his spoils I guess it was highly "unpatriotic" to question his use of flags. The same is probably true of Dutch and French privateers. The Dutch West Indische Compagnie was in fact a privateer's company, and I guess that its letter of marquee was the WIC-flag, while it seems to me that all Dunkirk flags in old flag charts were none other that just that. Other instances may be the flags of Ostend (Belgium) and some northern German city-flags, like Enden and Norden.
Jarig Bakker, 28 February 2004
In the English then British marine there was no real difference in the flags flown by royal and private ships before 1634 (although if I remember rightly use of the Royal Standard required a special Warrant which might or might not be granted?). Sir Francis would have little problem in the 16th Century, but despite the huge amount of plunder he 'shared' with Her Majesty, the embarrassment he caused her (with the Spanish) would probably have made the wearing of the Royal Standard a bit risky (at least when not in command of a "queen's ship")?
Christopher Southworth, 28 February 2004
Theoretically "privateers" should not have worn a pennant. Their distinctive flag was a jack:

"Saving that for the better Distinction of such Ships, as shall have Commissions or Letters of Mart or Reprizals against the Enemy, [...] Our Royal Will and Pleasure is, That all such ships as have Commissions of Letters of Mart or Reprizals shall besides the Colours or Ensign hereby Appointed to be Worn by Merchant Ships, Wear a Red Jack with a Union Jack Described in a Canton at the upper Corner thereof next the Staff;".
From the Royal Proclamation of 28 July 1707.

Those Letters of Marque themselves, that I have seen, make no reference to flags of any sort. However even merchant ships were allowed to wear pennants in certain circumstances:

"His Majesty's sloop 'Columbine', Demerara, 16th March 1814.
Sir, I have to acknowledge the receipt of your letter of yesterday's date, detailing the gallant defence of the ship 'Liverpool', under your command, on the 3rd inst. against the American privateer 'Snap Dragon', and send you herewith a pendant which you will be pleased to carry on this coast, during the time I may have the command, as a mark of distinction for your meritorious conduct; as also the enclosed protection for your gallant crew from impress by any of His Majesty's vessels under my orders. I am, Sir, your most obedient servant, R.H. Muddle, Captain."

"To Mr. Wm. Hill, Master of the ship 'Liverpool' of Liverpool. By R. Henry Muddle, Esq., Commander of His Majesty's sloop 'Columbine'.
In consequence of the very gallant defence of the ship 'Liverpool', Mr. W. Hill Master, against the American privateer 'Snap Dragon', on the 3rd of March, off Surinam River, I have thought proper to permit her to wear a pendant, during the time of my command on this coast, and to grant her a protection for her crew, during the said time. The commanders of His Majesty's vessels under my command are hereby required and directed to respect the same.
Given under my hand, on board His Majesty's sloop 'Columbine', in the River Demerara, 16th March, 1814. R.Henry Muddle, Commander."

From "History of Liverpool Privateers" by Gomer Williams, Heinemann 1897.

David Prothero, 29 February 2004
The "letter of marquee" is the equivalent of the French "lettres de marque".

According to "Le Grand Robert de la Langue francaise", the word "marque" comes from Provencal "marca", from the verb "marcar", to seize as a reprisal, cognate to Gothic "*markon", to delimit so. property. In ancient law, "marque" meant reprisal. In the XVth century, the "lettres de marque" appeared as the authorisation given to a private individual to take the law into his own hands. In maritime affairs, the "lettres de marques" were the commission given to a privateer or a corsair, who were distinguished from pirates by those letters. In his biography of Chateaubriand (I, I), Andre Maurois wrote : "Le corsaire, pirate legal qui recevait de l'Etat ses lettres de marque..." - "The corsair, legal pirate who was granted his lettres de marquee by the State." The expression seems to be used always in plural.
Ivan Sache, 29 February 2004
Colombos in "International Law of the Sea" gives the legal citation for these requirements. It is the 1907 Hague Convention VII. To fill out the background on this issue in general, let me offer a couple of points from Colombos that illuminate some of the issues discussed in this thread:

P. 513: "The terms 'privateers' or 'private men of war,' and 'letter of marque ships' were in the latter part of the eighteenth century convertible. It is true that there was at one time in England a distinction between privateers and merchant vessels furnished with letters of marque, the one being entitled to head-money, and the other not, but as Lord Stowell said in _The Fanny_ [1814] 'that distinction has been entirely done away with.'"

p. 514: By the 1856 Declaration of Paris, most countries agreed to abolish privateering, although Spain did not accede to the treaty until 1908 and Mexico until 1909. The United States (which ironically was the first country to propose abolishing privateering) has never officially renounced the right to issue letters of marque, although in fact it has not exercised that right since the Civil War.
Joe McMillan, 1 March 2004
It seems that privateers did use pennants, or at least, it was supposed that they used them. "9 September 1758. Boats wear a pendant and pretend to be privateers, but we apprehend are smugglers." Letter Book of the Comptroller of Poole Customs House.

In Britain letters of marque were written for ships that were not privateers. In 1780 and 1801 the Customs Board issued a General Order that Commanders of Customs Cruisers were permitted to provide themselves with letters of marque at their own expense. At the end of the 18th century 'hired armed vessels' had letters of marque. They were private ships but under the orders of the officer in charge of the station to which they were attached.
David Prothero, 3 March 2004
C. J. Colombos' "International Law of the Sea" notes that East Indiamen were also equipped with letters of marque. HEIC ships were armed to defend themselves against attack. Letters of marque gave them legal standing to share in the value of the prize in cases where they defended themselves successfully and captured their attackers.
Joe McMillan, 3 March 2004
---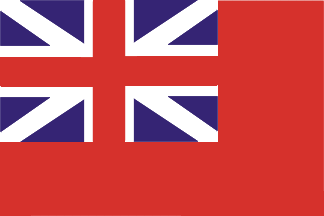 by Jarig Bakker
From Wilson's Flags at Sea, 1986:
Privateers were "private men of war", privately owned ships that carried "letters of marquee" licensing them to raid enemy commerce and take prizes. In the reign of Elizabeth I, Drake and Hawkins, along with many others, were in effect privateers much of the time; their flags had much in common with those flown on the queen's own ships. In the 17th century, despite the proclamation of 1634, privateers often used the "King's Jack", whether or not they had special warrant to do so, and tended to make themselves look like naval vessels. Official efforts to stop them were made from time to time, but ineffectively. The Proclamation of 1694 (in Appendix C of Wilson's book) introduced a special "privateer jack" (the so-called "budgee jack") in which the Union appeared as rather a large canton in a red field. This jack, together with the red ensign, remained the official colours of a British privateer until privateering was finally abolished in 1856. It appears, however, that 18th-century privateers continued to use both the Union Jack and the naval pennant. Eighteenth-century illustrations of privateers regularly show the Jack and pennant.
Jarig Bakker, 29 February 2004

Anything below the following line isnt part of the Flags of the World Website and was added by the hoster of this mirror.
---
Bei fahnenversand.de erhalten Sie eine Vielzahl an günstigen Flaggen, Pins und Aufnähern, zum Beispiel: