Bestellen Sie Ihre Fahnen / Flaggen im Flaggen-Shop bei fahnenversand.de

Diese Website beschäftigt sich mit der Wissenschaft der Vexillologie (Flaggenkunde).
Alle auf dieser Website dargebotenen Abbildungen dienen ausschließlich der Informationsvermittlung im Sinne der Flaggenkunde.
Der Hoster dieser Seite distanziert sich ausdrücklich von jedweden hierauf u.U. dargestellten Symbolen verfassungsfeindlicher Organisationen.

---
This is a mirror of a page that is part of © FOTW Flags Of The World website.
Anything above the previous line isnt part of the Flags of the World Website and was added by the hoster of this mirror.
Northern Ireland: Political Flags
Last modified: 2023-04-08 by rob raeside
Keywords: northern ireland | uda | uvf | apprentice boys | vanguard movement | orange order |
Links: FOTW homepage | search | disclaimer and copyright | write us | mirrors

---
See also:
Other sites:
---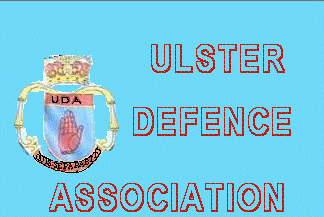 image by Santiago Tazon
FLAG: cyan background, with the UDA's emblem of the crown and the red hand at the left side of the flag and the big wordsof the name of the association filling the rest of the flag.

MOTTO: "Quis separabit?" (Who will set us apart?)
The UDA born in 1971 as an umbrella body of the vigilante groups which had sprung up in loyalist areas across Belfast against IRA attacks (the largest was the Woodwale Defence Association -WDA-). In 1991 Ulster Volunteers Force (UVF) and UDA formed the Combined Loyalist Military Command (CLMC).
Source: "Loyalists" by Peter Taylor (1999)
Santiago Tazon, 10 December 2001
There is a book on the subject of flags in Northern Ireland: Lucy Bryson and Clem McCartney, Clashing Symbols? A report on the use of flags, anthems and other national symbols in Northern Ireland. Bryson and McCartney say that:
The Ulster Defence Association has pale blue flags with the UDA shield: The red hand of Ulster on a white background, surmounted by a crown and underneath the words 'Quis Separabit' or 'who will make us separate'. It sometimes includes a Cross of St George in the top corner.
Because there is no illustration, it is difficult to determine exactly what this flag looks like. Bryson and McCartney also refer to the use of regimental flags in the UDA. Jan Oskar Engene, 3 March 1996
---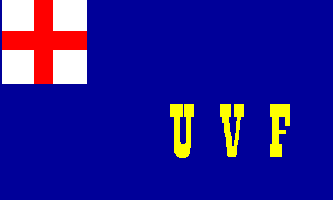 image by Jan Oskar Engene
Bryson and McCartney also mention another flag for the UVF which is 'crimson or maroon in colour and bears the cap badge of the UVF, with the motto 'For God and Ulster':
Jan Oskar Engene, 3 March 1996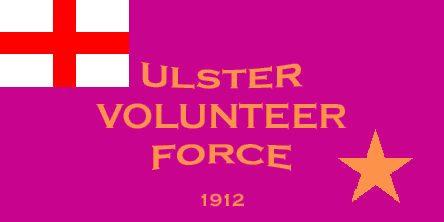 image by Frank George Valoczy
This flag was obtained by a mate of mine who was stationed in Northern Ireland when he was in the British Army, and he brought me this flag back, a flag of the Ulster Volunteer Force.
Frank George Valoczy, 17 April 2003
On the nationalist and republican side, the tricolour of the Republic of Ireland is probably the most used flag. However, two other flags are worth mentioning. The first is the Starry Plough, a blue field with seven white stars in the pattern of the Starry Plough (Big Dipper, Ursa Major) constellation. This flag originated with the Irish Citizen Army in the Easter rebellion of 1916, originally with a green field and a representation of a plough in addition to the stars. The field was changed to blue and the plough drawing dropped when the flag was adopted by the Irish Transport and General Workers Union in 1934. The other flag is the Sunburst flag, a golden sun bursting from the lower hoist corner. The flag is used by Fianna Éireann, the youth wing of the IRA.
Jan Oskar Engene, 3 March 1996
---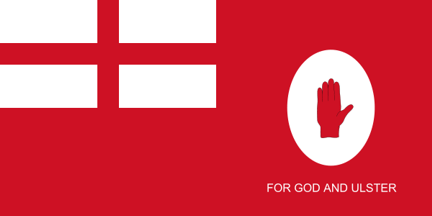 image located by Esteban Rivera, 3 October 2008
Source: http://en.wikipedia.org/wiki/Image:Flag_of_the_Loyalist_Volunteer_Force.svg
For more info on the Loyalist Volunteer Force please refer to http://en.wikipedia.org/wiki/Loyalist_Volunteer_Force
Esteban Rivera, 3 October 2008
---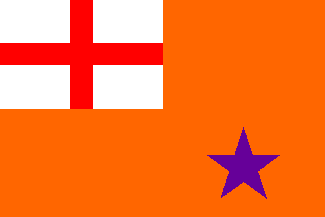 image by Vincent Morley, 24 September 1996
The above flag of the Orange Order is depicted in its typical proportions of 2:3 but I don't know if these are official. It is often seen with a gold fringe on three sides.
Vincent Morley, 24 September 1996
The Orange Order is a Protestant fraternal association dedicated to maintaining Protestantism. It was founded in Northern Ireland in 1795 and is an important organisation there. It spread throughout the British Empire and was very important in Canada, remains influential in Scotland and Liverpool (in England) and has branches in Togo, Ghana, Australia, NZ, USA, Republic of Ireland, NI, England, Scotland and Canada. The Orangemen parade on 12th July. They are called Orangemen because they commemorate the time in 1690 when King William of Orange (a Dutchman and Protestant) defeated King James II (a Catholic) at the battle of the Boyne thereby ensuring that the British crown was once again Protestant (which it remains today).
Ian Christopher Taylor, 26 September 1996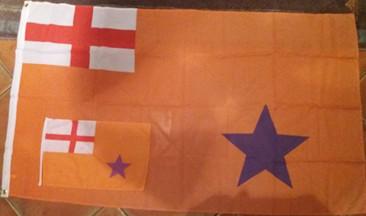 image by Stan Zamyatin, 6 November 2017
These are the official flags of the Orange Order, given to me from an Orange Lodge in Northern Ireland. As you can tell, they pretty much keep to the British 3:5 land ratio but do not have exact specifications.
Stan Zamyatin, 6 November 2017

image by Jorge Candeias, 29 May 2006
The Crimson Flag was first used by the Protestant supporters of William of Orange who were besieged in Derry by an Irish Jacobite army in 1688-9. It is currently used by the 'Apprentice Boys of Derry', a loyalist organisation similar to the Orange Order, which holds an annual commemoration every August to mark the lifting of the siege. While Derry is the main focal point of this commemoration, smaller marches are held throughout Northern Ireland on the same day.
Vincent Morley, 5 November 1997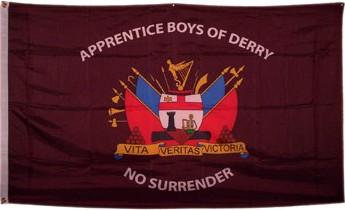 image located at www.abod.info by Santiago Tazón
The general Committee of Apprentice Boys of Derry have recently commissioned a new Apprentice Boys of Derry flag. It is a crimson background with the Apprentice Boys crest in the centre with "APPRENTICE BOYS OF DERRY" across the top and "NO SURRENDER" along the bottom. Information obtained in the official website: www.abod.info.
Santiago Tazón, 27 June 2005
---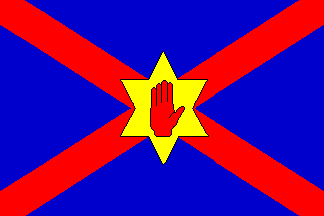 image by Vincent Morley
I was interested in your articles on flags. In the correspondence there is a mention of a flag used by advocates of Ulster independence. This Ulster national flag is the St Patrick's saltire overlaid on the blue field of the St Andrew's saltire. The device in the centre of the saltire is a golden six-pointed star bearing a red hand of Ulster. The flag's colours, blue, gold and red, feature in ancient Irish and Scottish flags and represent the merging of the Irish and Scottish elements to form the Ulster nation.
David Kerr, (Chairman, Ulster Independence Movement), 25 October 1998
---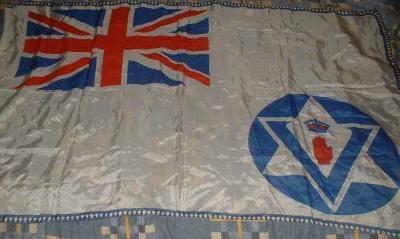 image by Mattias Hansson
This flag can be described as a White Ensign (no St George's cross) with a Blue disc in the lower fly. On that disc there is the outline of a white Star of David within which a blue V or V-shape can be seen. Inside the V is the Red Hand of Ulster surmounted by an Imperial Crown. The aspect ratio of the flag itself and of the Union Jack suggests that this flag is not official. The choice of material (looks silky) confirms this and a puzzling blue and white hem can be found all around the flag.
Mattias Hansson, 2 December 2003
From http://cain.ulst.ac.uk/othelem/organ/uorgan.htm, the Ulster Vanguard movement was essentially a political pressure group within unionism. It was formed on 9 February 1972 and was led by William Craig (former Minister of Home Affairs at Stormont); deputy leaders were the Rev. Martin Smyth and Captain Austin Ardill. Other members included David Trimble and Reg Empey. Ulster Vanguard advocated a semi-independent Northern Ireland. It was also the intention that Vanguard would provide an umbrella organisation for Loyalists. Ulster Vanguard had close links with, and strong support from Loyalist paramilitary groups. Vanguard had its own paramilitary grouping called the Vanguard Service Corps (USC) whose main function seemed to be to provide escorts for Vanguard speakers attending rallies. Vanguard held a large rally on 18 March 1972 in Belfast's Ormeau Park at which Craig said that "We must build up the dossiers on the men and women who are a menace to this country, because one day, ladies and gentlemen, if the politicians fail, it will be our duty to liquidate the "enemy". Vanguard also staged a two-day strike in protest at the prorogation of Stormont. In April 1972 Vanguard issued a policy statement 'Ulster - A Nation' which said that Northern Ireland might have to consider Independence. Vanguard was wound up in March 1973 with the formation of the Vanguard Unionist Progressive Party (VUPP) - the word 'progressive' was later dropped from the title. However, Ulster Vanguard reappeared in 1978 when the VUPP ended as a political party. (See also: Vanguard Unionist Progressive Party; VUPP)
James Dignan, 3 December 2003
---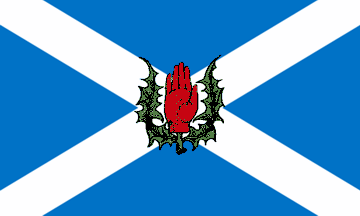 Source: http://commons.wikimedia.org/wiki/Image:Ulster_Scots_flag.gif
I've seen an "Ulster Scots" flag popping up lately among Americans of Scotch-Irish (as we say it) descent. The flag is the Scottish saltire, with thistle leaves surrounding the red hand of Ulster centered at the crossing of the saltire. I assume this to be a relatively recent flag, but Google found no history of its origins or prevalence. It appears that Americans, whose ancestors left Ulster 300 years ago, are beginning to "discover their roots" and adopt symbols and organizations that their ancestors never knew.
Mark Reed, 24 October 2008
---

image by Charles Ashburner, 15 March 2004
I believe there is a group of Ulster separatists (i.e. supporters of an independent Ulster, neither British nor Irish) who use a flag with the red hand of Ulster on a St Patrick's cross.
Stuart Notholt, 3 March 1996
A short news clip from the current peace talks showed a rather large and well-made Northern Ireland flag with a Union Jack in the canton. Is this at all a widespread design?
Kjell Roll Elgsaas, 21 January 1998
No, and it's not official either. It was designed by the Unionists to fly at rallies and marches. I've seen it hanging from houses occasionally, and I asked the shopkeeper at a flag shop in Belfast about it. He said that it was created as a political statement by Ulster Defence Association types. It's been around for about fifteen years.
Ryan Fennell, 21 January 1998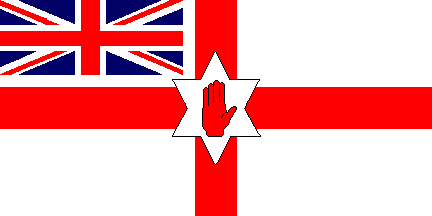 image by Vincent Morley
Here is a drawing of the flag in question. It can be seen both with a crown (as on the former official flag of Northern Ireland) and without.
Vincent Morley, 22 January 1998
This flag has been around for a lot longer than fifteen years. I purchased one while on holiday in Belfast in 1974 although the copy I bought had the crown over the star and not as per your illustration sans crown. There was a strong Protestant backlash at the time against what was perceived as the British Labour government pandering to Irish nationalists culminating in the closing of the Stormont Assembly. As a result, the red and white Ulster banner became very popular and Protestant rallies at the time displayed it widely to the exclusion of the union jack.
Geoff Caruth, 11 January 2004
See also: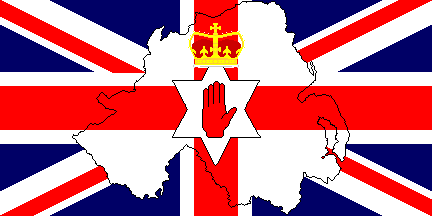 A video item appeared on BBC News online about the 'centre-ground' Alliance Party suggesting a neutral flag be designed for Northern Ireland. They offered three designs themselves: a blue flax flower on a white ground, a yellow silhouette of Northern Ireland on a blue ground, and three hexagonal steps like from the Giant's Causeway in blue on a white ground. The party's former leader Lord Alderdice designed a safe symbol for the Northern Ireland Assembly in 1998 -- a bunch of six blue flax flowers. NI has six counties and linen-making was a major industry.

The clip also showed a flag in use by loyalists I haven't seen before. It appeared to be an amalgamation of the Union flag and the old Government of Northern Ireland banner. The latter seemed to be inside an outline of Northern Ireland which was then superimposed on the former. I've attempted to draw it using Graham Bartram and Vincent Morley's flags. I couldn't make out whether the crown was present.
Adam McKenna, 10 January 2003
A variant of this flag is posted on travel.webshots.com. Many other images of flags, many on murals, are shown on the collection in that page.
Elias Grandqvist, 23 July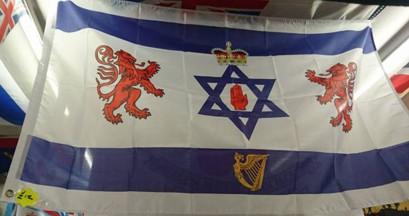 image located Bill Garrison, 7 March 2023
From https://www.reddit.com/r/vexillology/comments/qxontg/a_combination_of_the_israeli_and_ni_flag:
The "Israel-Ulster" flag: being the national flag of Israel with "Unionist" Northern Ireland imagery on it. Pro-Ireland (anti-UK), re-unification "Nationalist" Northern Islanders frequently wave Palestinian flags at football/soccer matches. Some claim that the pro-UK "Unionist" or "Loyalist" community in N.I. hold a lot support for Israel, if for no other reason than the "Nationalists" seem to favor Palestine. This pro-Israel flag is being sold in a Northern Ireland flag shop as the "Israel-Ulster" flag. Some may find the "Christian cross" atop the British crown upon this Israeli flag as being a little unusual/controversial (others may critique that the artwork is rather "gaudy" overall anyway).
Bill Garrison, 7 March 2023
See Youtube video from the Israeli news channel i24 that gives a bit context to that matter:
https://www.youtube.com/watch?v=gCoVJrQCsE0
Martin Karner, 8 March 2023
Anything below the following line isnt part of the Flags of the World Website and was added by the hoster of this mirror.
---
Bei fahnenversand.de erhalten Sie eine Vielzahl an günstigen Flaggen, Pins und Aufnähern, zum Beispiel: