Bestellen Sie Ihre Fahnen / Flaggen im Flaggen-Shop bei fahnenversand.de

Diese Website beschäftigt sich mit der Wissenschaft der Vexillologie (Flaggenkunde).
Alle auf dieser Website dargebotenen Abbildungen dienen ausschließlich der Informationsvermittlung im Sinne der Flaggenkunde.
Der Hoster dieser Seite distanziert sich ausdrücklich von jedweden hierauf u.U. dargestellten Symbolen verfassungsfeindlicher Organisationen.

---
This is a mirror of a page that is part of © FOTW Flags Of The World website.
Anything above the previous line isnt part of the Flags of the World Website and was added by the hoster of this mirror.
Dettmer Group (German Shipping and Logistics Companies)
Bernhard Dettmer Reederei GmbH und Co. KG Bremen
Last modified: 2019-08-11 by

klaus-michael schneider
Keywords: dettmer | dettmer logistics | magdeburger umschlag tanklager | detra sk | main-donau utg | tonne logistics | bsk beck | lozenge |
Links: FOTW homepage | search | disclaimer and copyright | write us | mirrors

---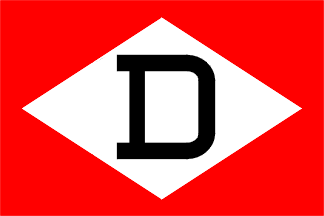 image by Jarig Bakker, 10 Sep 2006 See also:
---
B.Dettmer Reederei GmbH und Co. KG Bremen
Bernhard Dettmer was working for an old and well known shipping company in Bremen. Therefore he knew much about the business of inland shipping and short sea shipping as well. On 1 August 1947 he established his own company, Nordwestdeutscher Frachtverkehr B.Dettmer und Co. Bremen, together with his brother Wilhelm Dettmer. The company first was established as a mere freight company, loading and deloading the vessels of private shipowners. The shipowners give their ship, their crew and their know-how. The freight company is in charge of the loading, the financial transactions, the treaties and the publicity, a business based on knowing and trusting one another. After the break-even the Dettmers began to build up an own fleet and in 1954 the company had 12 ships, building up another three new ones.
Source: company website, based on primary source: Chronik Freie Hansestadt Bremen 1955.
Klaus-Michael Schneider, 3 June 2007
Dettmer certainly deserves a presentation but today I'll just send an image of the flag, drawn, as it appears on the company website: white diamond (almost touching the flag edges) bearing a black serifed initial "D".
As the Dettmer shipping company conveniently presents itself in English, let us profit by it: Highlights from the Company section:
B. Dettmer Reederei GmbH & Co. KG, founded at Bremen in 1947 by the brothers Bernhard and Wilhelm Dettmer, is still a family business engaged in inland navigation, transporting bulk goods as well as liquids. Local offices are established at Duisburg, Nürnberg and Hamburg. Over the course of the years, Dettmer has developed a complete logistics chain including stevedoring and container packing.
As regards shipping, vessels between from 1000 until 3000 metric tonnes as well as larger ones under a joint venture scheme ply the waterways of the Rhine and Danube rivers (and their hinterlands), connecting them to the German seaports, etc. Dettmer tankers serving the oil industry centre on Magdeburg which an intermodel transport centre; the firm?s own bunker boat operates at Duisburg.
The History section is extensive and interesting. We learn for instance that the firm was originally known as Nordwestdeutscher Frachtverkehr B. Dettmer & Co., (i.e. North West German Transportation B. Dettmer & Co.) and that during the difficult pioneer period barges were chartered, not owned.
More needs to be said but I think it is better to split up various Dettmer related firms according to name. However in general it may be said that the Dettmer funnel, where available, resembles the house flag which itself is often found painted on the steering cabin, as many Binnenvaart site photos show.
Jan Mertens, 8 Sep 2006
---
B.Dettmer pennant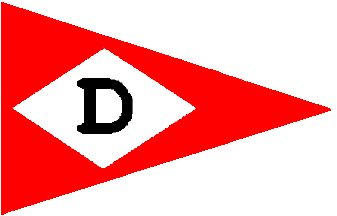 image by Klaus-Michael Schneider, 3 June 2007

I spotted both, flag and pennant in Hamburg, Billwerder Bucht on 6 April 2007. The flag is hoisted on the mast, the pennant is stuck upon the prow.
Klaus-Michael Schneider, 3 June 2007
---
Dettmer Logistics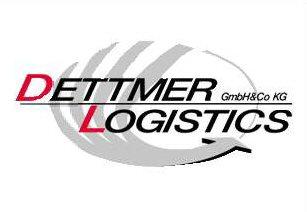 image located by Jan Mertens, 10 Sep 2006

Umbrella company to Dettmer (inland shipping) and a whole host of others, Bremen-based Dettmer Logistics has a web presence of its own ? see the English version here:
Self-laudatory quote from this page: "DL DETTMER LOGISTICS today represents the whole range of logistical service performance without which any economy operating on a global level would not be able to exist. We have turned our many years of experience in the field of cargo handling into a logistics potential by means of modern management to the benefit of industry and economy."

Founded in 1967 as "Dettmer Lagerhaus ("warehouse", jm) GmbH & Co. KG" this Dettmer related firm changed name in 1968 to express involvement in the growing container business: "DCP" or "Dettmer Container Packaging GmbH & Co. KG". Assuming its present name in 1998, Dettmer Logisitics kept expanding in Germany as well as abroad (Great Britain and Belgium). In addition there are various partnerships.
What Dettmer Logistics does exactly is listed in the Service Activities section under Scope of activities, and an impressive list it is, covering as it does many kinds of logistic activities.
The specific flag flown shown on the site and a rather modern creation at that, does not have a wave in the code as I suppose all business areas are represented, not only shipping which is of course adequately symbolized by the traditional "D" flag.
Basically white with the company logo, the flag bears the name DETTMER / LOGISTICS in an italic font (no serifs), the "D" and "L" in red and the other letters in black; both words are shifted away from each other. Difficult to see on the photo, four grey arrows starting above the first word turn around behind the company name to conjoin in one arrowhead (highlighted by shadowing) pointing at the second word. A thin grey line divides both words but also serves, to the right of "DETTMER", as a base line for the abbreviations "GmhH & Co. KG" in the same font only much smaller. A further detail is a thin bowed line, grey, completing as it were the general ovoid shape formed by the arrows and a thin vertical (interrupted) line in the centre, also grey, recalls a crosswire or possibly a globe.
Some of these details can hardly be seen on the photo, but the logo is reproduced for instance in the section dedicated to The Company, see Strategy.
Jan Mertens, 10 Sep 2006
---
Magdeburger Umschlag und Tanklager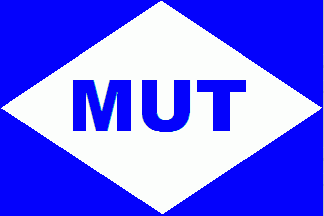 image located by Jan Mertens, 11 Sep 2006

A flagoid until further notice, the company emblem of the Dettmer related MUT company at Magdeburg is a blue rectangle with a white lozenge bearing blue initials 'MUT' - the same basic form as Dettmer's house flag, but not, I suppose, flown on waterways - possibly on buildings. Real flag or not, in any case it is the symbol of 'Magdeburger Umschlag und Tanklager KG -Dettmer GmbH & Co.' (i.e. Magdeburg Reloading and Fuel Depot?).
Situated just South of the junction Elbe-Mittellandkanal, MUT was founded in 1994 and has a number of tanks, docks for inland shipping, railroad tracks and fuel truck facilities. Stored are heating oil, diesel, and gasoline; the 'Partners' section lists a number of firms many of which are world famous such as BP or Shell, or at least important on the domestic market. Within the Dettmer group, MUT is listed among the cargo handling firms.
See here (English version).
Jan Mertens, 11 Sep 2006
---
Main-Donau-Umschlags- und Transport GmbH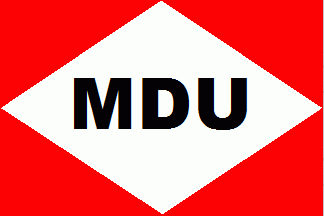 image by Klaus-Michael Schneider, 21y Jul 2012

One of the photos poses a riddle, the first one (clickable) in the "Dry Cargo Shipping" section, specifically Nürnberg: we see two Dettmer "D" house flags but also two similar ones each bearing more than one black initial, possibly three. I cannot quite make them.
Jan Mertens, 9 Sep 2006

Meanwhile I found the solution on the provisional page of www.dettmer.group.com. The company is: Main-Donau-Umschlags- und Transport GmbH. Thus it is a red flag with a white lozenge in the centre touching the edges and containing a black inscription "MDU".
Klaus-Michael Schneider, 21 July 2012
---
Schiffahrtskontor Detra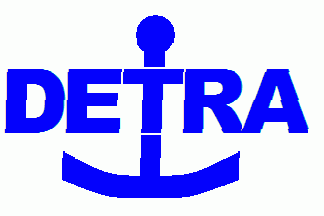 image by Klaus-Michael Schneider, based on an image located by Jan Mertens, 11 Nov 2006

Schiffahrtskontor Detra (i.e. Shipping Office Detra) is one of many firms belonging to the Dettmer Group: See here and here
Quotes from the Information section: "Schiffahrtskontor Detra has taken on the task to provide shipowners shippers/consignees, and forwarders with a modern and efficient service for clearing and loading of ships of all sizes and types. Our enterprise was founded more than 35 years ago with headquarters in Bremen and Hamburg comprising today a network of branch offices in Berlin, Duisburg, Emden, Nürnberg, Oldenburg, Stuttgart, and Wilhelmshaven."
Select Address (left menu) which leads to a photo of the Bremen office showing tiny flags on the roof, among them Dettmer and - probably - Detra. The company logo - in blue - consists of the name DETRA in italic letters which form the stock of a stylized, reclining anchor. See attachment showing a table flag, white, bearing said logo. This was part of a German eBay offer (item 6608921700, end 5 March 2006), always worth checking out (for instance, üReedereienü or shipping companies).
Jan Mertens, 11 Nov 2006
---
Tonne Logistics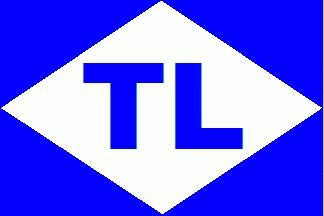 image by Klaus-Michael Schneider, 21 July 2012 Tonne Logistics, established and renamed in 1990 and in times of GDR in the 50ies of the 20th century being a coffee roaster. The company is part of Dettmer Group and located in Magdeburg and Hamburg (sic!), but it is not likely that there is any connection to Gebr.Tonne (1897/1898) also located in Magdeburg and Hamburg. Special thanks to Mr. J.Asmus. For further information click: company webpage (page will be restructured acc. to Dettmer Standards in next future)
Klaus-Michael Schneider, 21 July 2012
---
Dettmer regional Subsidiaries
In 1953 Dettmer co-founded Gelsenkirchener Reederei, which shortly after was incorporated into Dettmer.
In 1963 three other regional subsidiaries were established. Stuttgarter Reederei, Nürnberger Reederei and Mainzer Reederei. The location of the company in Mainz was destroyed by fire and never rebuilt. The Stuttgarter Reederei had two bases: Stuttgart and Duisburg. The latter was overhanded to Dettmer itself.
The flags were all more or less inspired by the Dettmer flag. All were red with a white lozenge, but instead of the "D" of Dettmer there had been the arms of the cities in the company name, flanked by black captions "SR", "MR" and "NR". The arms of Mainz were modified with black charges on a white field.
The flag of Gelsenkirchener Reederei was different, a black-white-green horizontal tricolour, the city flag of Gelsenkirchen, over all a red lozenge charged with a white inscription, a circular white "G" surrounding a white "R".
Source: information provided by Klaus-Peter Bühne
Klaus-Michael Schneider, 29 July 2019
Stuttgarter Reederei:German inland shipping company Stuttgarter Reederei (established at Stuttgart, on the River Neckar) flies - or flew - a striking house flag:
A red field contains a white diamond, rimmed black, bearing, again within a black rim, the Stuttgart city arms (showing a black horse forcene on yellow) between black intials "S" and "R" (no serifs).
Jan Mertens, 17 Sep 2009
Gelsenkirchener Reederei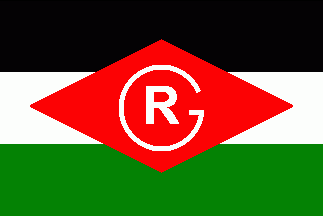 image by Klaus-Michael Schneider, 29 July 2019
Stuttgarter Reederei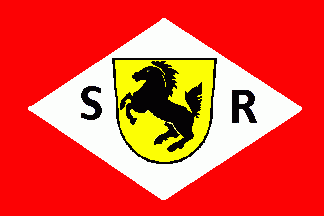 image by Klaus-Michael Schneider, 29 July 2019
Nürnberger Reederei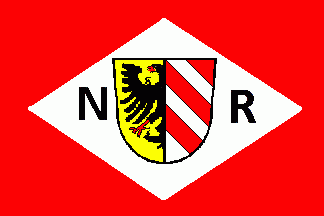 image by Klaus-Michael Schneider, 29 July 2019
Mainzer Reederei
image by Klaus-Michael Schneider, 29 July 2019
---
Binnenschiffahrtskontor Beck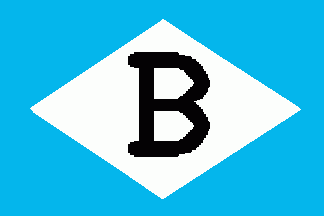 image by Klaus-Michael Schneider, 25 Aug 2008

The company is located in Hamburg-Eidelstedt. It is a celestial blue flag with a white rhomb in its centre, containing a black capital, serifed "B".
Source: I spotted this flag as jack of a ship of Dettmer company passing by at Billwerder Bucht on 13 April 2007. Another skipper told me, that flag belonged to a former member of Dettmer Reederei Bremen, who had established his own subsidiary. (The flag hoisted on top of the mast was that one of Dettmer). On 1 April 2009 a captain of a DTG vessel gave me the important hint and showed me the address in some kind of almanach. The father of the owner is said to be a high rank employee of Dettmer (Bremen).
Klaus-Michael Schneider, 25 Aug 2008 / 3 April 2009
---
Gebr. Tonne
| | | | |
| --- | --- | --- | --- |
| image by Klaus-Michael Schneider, 29 May 2012 | 3:5 image by Klaus-Michael Schneider, 18 June 2012 |   |   |
The company was located in Magdeburg and Hamburg. In the centre of the yellow flag (see left image above) is a blue 5-point star containing a white capital "T".
Source: Gratis Beilage zu Deicken und Behrmann's Neuen Monatsheften Neue Ausgabe Sommer 1897
Klaus-Michael Schneider and Jörg M. Karaschewski, 29 May 2012
The quartered flag (see right image above) is divided per saltire into red and white. In the centre superimposing a black, upright anchor, is a yellow shield containing blue initials "C" superimposing a higher "T". The flag looks similar to the old flag of HAPAG and EVAG (Emder Verkehrs AG), but red instead of blue.
Source: Flaggenkarte, Hrsg.: H. Carly, Hamburg, c.1898
Klaus-Michael Schneider and Jörg M. Karaschewski, 29 May 2012 / 18 June 2012
Editorial note: Probably the company was socialised in times of the GDR, and Dettmer just bought the brand name of this company after German re-unification / kms
---

back to D-companies main page click here

Anything below the following line isnt part of the Flags of the World Website and was added by the hoster of this mirror.

---
Bei fahnenversand.de erhalten Sie eine Vielzahl an günstigen Flaggen, Pins und Aufnähern, zum Beispiel: