On this page:
Luftwaffe division and regiment command flags
See also:
---
A series of presumed Luftwaffe Division and Regiment Command flags, popularly called "General Göring " Flags, have flooded the market in recent years, many of which are unconfirmed with any historical documentation. We do know that historically there was an elite German Luftwaffe armored division named the Fallschirm-Panzer-Div 1 HG (1st Paratroop Panzer Division - Hermann Göring) which saw action in North Africa, Sicily, Italy, and in the East. Also, after 1942, ground combat divisions began to be raised from surplus Luftwaffe personnel, and therefore it is conceivable that special new command flags and pennants were introduced for them.
Pete Loeser, 28 March 2011
Counter to what most people believe, Hitler didn't come to power as part of an ever increasing popularity of his party, but as the winner of a battle in a political war. It involved the major German parties and something like a million Germans in party militias, and the war was in danger of turning against him. Once in power, if he wanted to utilise the stamp of "legality" for his actions, he needed official tools to eliminate the opposition before he would be ousted. A special "police unit" under command of Herman Göring, was such a tool, created in 1933 (merely days before the Reichstag was set on fire by an unknown group of people, possibly by the Nazis themselves).
The unit remained under Göring´s control, and changed as he was repositioned. From a local Berlin police unit, it changed into a national police unit. In 1934, as a para-military unit, it was involved in the "Night of Long Knives." In 1935, it followed Göring, who became air commander as an air-force regiment, though apparently more anti-air than airborne, part of which was split off as a parachute regiment. As elite forces, the units were used both in the invasion of the surrounding countries and to protect Göring and Hitler. After Göring had become Reichsmarschall, the unit become a motorised regiment, that was first sent to the South-East of Europe, and later to Africa. There it was to be enlarged and restructured into a larger unit, but before that had happened, it was lost in Tunesia.
The unit was "reformed" (which appears to be military parlance indicating a unit is created from scratch to take the place and identity of a no longer existing unit), and then was applied several times as the rear guard in Italy. It was then sent to the Eastern Front where it was to get a sister unit. Its last heroic efforts were attempts to reach the American lines to surrender, but it eventually was forced to surrender to the Russian army.
As the character and structure of the unit changed several times, and it even was lost once, it may well have had several sets of flags. I know the book Hermann Göring - From Regiment to Fallschirmpanzerkorps, by Roger James Bender and George A. Petersen does mention at least two such sets.
Peter Hans van den Muijzenberg, 29 March 2011
[Note: This page is a bit unusual in its approach, since it contains a mixture of reference flags, designed to help shed light on what one would expect a "presumed" General Göring-type ground support division and regiment flag to be like. - Ed.]
---
Standard for Armoured Units (Standarte für die Panzertruppe)
Typical "Panzer" Battalion Colours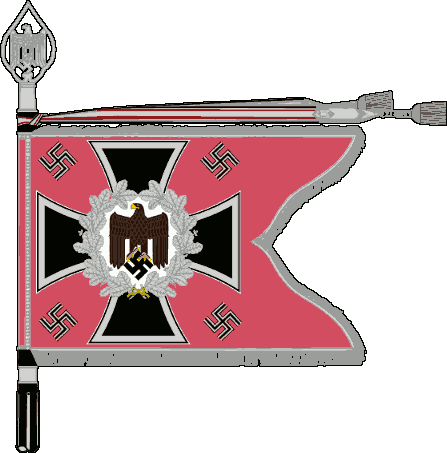 Image by Fornax, 20 March 2011,
(Image outlined by Peter Hans van den Muijzenberg to solve background contrast problem)
The typical "Panzer" Battalion Colours (Standard for Armored Units) were always a swallow-tailed standard, never a square flag. It also should be noted that the pink swallow-tailed standard was not a flag for a division, but represented a battalion. Moreover, it was not a command flag. An understanding of the differences between command flags, which were flown by the leader of a military unit, and the unique standards which represented the unit itself, is helpful. Command flags like the three-striped versions for a regiment or a battalion were used on a vehicle during the battle, whereas swallow-tailed standards for a battalion were carried on a vehicle, but held by a soldier, and not during a battle. An example would be in front of the whole unit during a victory parade, but they were never attached to a vehicle or used as a command flag.
Pete Loeser (text from "Historical Flags of Our Ancestors" website), 20 March 2011
[Note: If interested in identifying Luftwaffe ground forces branch-of-service colors (Waffenfarbe), you can find further information at "Command Flags and Pennants of Army Units" on this website. - Ed]
---
Lower Command Pennants (Niedere Kommandowimpel)
Typical Luftwaffe design used before 1942.

Images by Fornax, 20 March 2011
[Note: These two examples are placed here to demonstrate the normal pattern of Luftwaffe command flags - Ed.]
Notice in these examples that the upper and lower stripes consist of the "Waffenfarbe" (color of the type of the unit) with the central stripe black on these command pennants. This stripe arrangement is identical to the pattern used by the German Army (Heer). The one on the left is an Anti-Aircraft Detachment Command Pennant (Wimpel einer Flak-Abteilung) and the one on the right is a Flying Unit Detachment Command Pennant (Abteilungswimpel für Fliegende Einheiten)
Pete Loeser (text from "Historical Flags of Our Ancestors" website), 20 March 2011
---
Lower Command Pennants (Niedere Kommandowimpel)
Typical Luftwaffe designs used after 1942
Note: These two examples are placed here to demonstrate the normal pattern of Luftwaffe command flags after 1942 - Ed.]

The command flag on the left is a presumed Luftwaffe Reconnaissance (Aufklärung) Battalion Command Flag, the command flag on the right is a presumed Luftwaffe Antitank (Panzerjäger) Battalion Command Flag. Normally, a battalion commander used a pennant-shaped command flag.
Pete Loeser, 11 May 2011

In 1942 ground combat divisions began to be raised from surplus Luftwaffe personnel, a new range of command flags and pennants was introduced for them. Again, they were similar to the Army pattern, but with the color scheme reversed: a black field with a broad horizontal stripe in the Waffenfarbe. This not only helped to distinguish these Luftwaffe Field Divisions from Army divisions, but enabled a distinction to be made between flak units and regular artillery units within the divisions.
Text from Tom Gregg's Archive of the Colors website
---
Luftwaffe Light Infantry Regiment Command Flag (presumed)
Luftwaffe Jäger-Regiment Befehlsflag
Image by Fornax, 20 March 2011
[Note : A good example of the reversed Waffenfarbe stripe pattern used on post-1942 Luftwaffe command flags.]
It should be noted here, that motorized battalions always carried swallow-tailed standards. The only square flags used as standards were those for the non-motorized infantry units (white), the non-motorized engineer units (black), and the non-motorized rifle and mountain infantry units (green). For example, this is a presumed Luftwaffe non-motorized rifle and mountain infantry flag, whose design's existence is presently unconfirmed with any historical documentation. If genuine this most likely would be a vehicle flag for a Luftwaffe Regiment Commander.
Pete Loeser (text from "Historical Flags of Our Ancestors" website), 20 March 2011
Or rather, those three types of units had square flags, but had standards (swallowtails) if they were motorised. Schlag nach!, 1939, shows the colours for the 'Regiment "General Göring"', as it was known before Göring became Reichsmarschall. The colours are square and have a green field. They differ in one aspect depending on the battalion: The colours are depicted bearing a small shield below the central emblem, but it is noted that the colours of the I and II battalions don't have this shield.
Peter Hans van den Muijzenberg, 29 March 2011
The title "Rifle and Mountain (Light Infantry) Regiment Command Flag (presumed)," would maybe work better if we simply used "Light Infantry" as the translation for "Jäger", if that's what is meant by that long description.
Peter Hans van den Muijzenberg, 7 April 2011
According to Tom Gregg's Archive of the Colors website: "In 1942 ground combat divisions began to be raised from surplus Luftwaffe personnel, a new range of command flags and pennants was introduced for them. Again, they were similar to the Army pattern, but with the color scheme reversed: a black field with a broad horizontal stripe in the Waffenfarbe. This not only helped to distinguish these Luftwaffe Field Divisions from Army divisions, but enabled a distinction to be made between flak units and regular artillery units within the divisions. As with the parachute troops, the Fliegerdivision pennant was used at the division level." Apparently, regiment command flags were rectangular, and battalions used pennant-shaped command flags.
Pete Loeser, 11 May 2011
---
Luftwaffe Artillery Regiment Command Flag (presumed)
Luftwaffe Artillerie Regiment Befehlsflag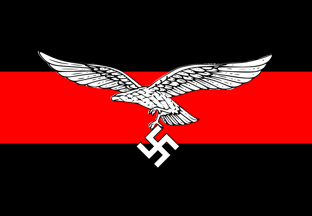 Image by Fornax, 15 May 2011
[Note: Another good example of the reversed Waffenfarbe stripe pattern used on post-1942 Luftwaffe command flags.]
Command flags, which were flown by the leader of a military unit, were mainly used as car and/or vehicle flags. They never replaced the unit's colours, or standard, and represented only the commanding officer as his personal vehicle flag.
Pete Loeser, 17 May 2011
---
Luftwaffe FLAK Regiment Command Flag (presumed)
Luftwaffe Fliegerabwehrkanonen-Regiment Befehlsflag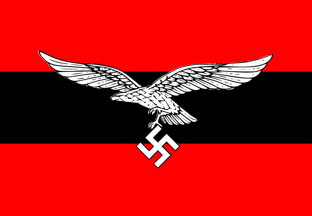 Image by Fornax, 15 May 2011
Flak was an abbreviation for Fliegerabwehrkanonen (anti-aircraft guns). At the beginning of World War II the Luftwaffe had nearly a million men trained for anti-aircraft batteries for static home defense. As the war progressed able-bodied men were moved to mobile field Flak units and their positions on the home defence batteries were replaced by crews consisting of older men, school age boys, women auxiliaries, Italian and Hungarian volunteers, and even some Russian prisoners of war.
Pete Loeser, 17 May 2011
---
Hermann Göring Panzer Division Command Flag
(very questionable)

Panzer units all used the color pink as their color designation, and the rational for the unusual use of a Luftwaffe type eagle on this replica army flag was that this division was named after the Reichmarshall Hermann Göring, and apparently one of the duties of this Division HG ("HG" for Hermann Göring) was to protect Luftwaffe ground installations and air fields from ground assault. The actual period existance of this particular modern replica flag is presently unconfirmed with any historical documentation.
Pete Loeser (text from "Historical Flags of Our Ancestors" website), 20 March 2011

The most popular of the presumed "General Göring" command flag designs seems to be this rectangular-shaped horizontal tricolor, usually black-pink-black in pattern, with a Luftwaffe-type eagle centered on it. It is true that some German regiments did use rectangular "command flags" with three equal stripes, and it is also equally true that Air Force units used flags and pennants on which the upper and lower stripe consisted of the "Waffenfarbe" (color of the type of the unit) with the central stripe black. Moreover, these command flags had a big Luftwaffe eagle in silver displayed on them. Therefore, it might be possible, although no reliable source confirms the supposition, that special armor units which had some connection to the name "Göring," had unofficial flags made on which the colors were reversed, i.e. the "Waffenfarbe" was in the center. It is also possible that the letters "HG" might also have been added by the unit without official permission. In the end, however, we simply lack any evidence to prove that this modern replica flag is anything but a modern fantasy design.
Pete Loeser, 28 March 2011

Was wondering if you could help me identify this flag. My father brought it back from the second war. He said it was taken from a German staff car. The flag is encased in plastic.
Rob Arbuckle, Toronto, 30 May 2006

A World War 2 Hermann Göering Panzer unit flag - the Panzers colors were Pink and Black.
Rick Prohaska, 9 July 2006

I believe it to be the Car Ensign for the Commanding Officer of an Army or SS Battalion or Regiment, possibly Artillery (although they use Red-Black-Red with a number).
Matthias Bautt, 25 July 2006

OK, here we go again, this flag is from the Herman Göering Panzer division which was a Luftwaffe division, assigned as a Panzer type division to provide security to the airfields used by the Luftwaffe. The pink colors in the center of most main unit flags were to signify the panzer unit status, the Red in this case was from the vehicle of a commander of an artillery sub unit of this division. The Unit found itself engaged in more and more ground assault as air superiority shifted to the allied powers.
Rick Prohaska, 30 January 2010

Hmm, if we use pink to identify this as Panzer, we can't use red to identify it as artillery. The middle stripe has only a single colour, so it must be either pink or red. "Schlag nach!" (1939) shows the colours red and pink indeed were used as field for the standards for the Artillery and the Kraftfahr-kampftruppe, but it also shows the Regiment "General Göring" as having a green standard. That's not all that surprising, since it was Luftwaffe, but it does go a bit against your interpretation. Do you have a reference that shows this specific unit used those colours, rather than the documented green? I fear we don't yet have any references that positively identify this flag, other than our speculation.
Peter Hans van den Muijzenberg, February 2010

Plastic cases was in common usage for vehicle flags so they didn´t wear out quickly in the wind. The green coloring (definitly not army or SS) was in early use as Herman Göring was originally the head of the police, and green was the historical color of the police units, he used the color as a way of showing multiple titles.
Rick Prohaska, 6 May 2014

I tried to explain that this red-striped pennant was, in fact, a Luftwaffe Ground Defense Unit flag, a sub-unit of a Luftwaffe Panzer ground support and defense unit. Remarks were made asking for proof, and the illustrations at this German site support my categorization and statements.
Rick Prohaska, 20 July 2017

My grandfather brought this and a lot of other authentic things back. He was a medic. I can't find this flag anywhere. I saw UFE06-24 on this site, but it was red. All other flags I see are repros with HG on them. Please help.
Lou Bell, 21 September 2010

Unfortunately, we only see pictures of this flag. I would very much like the following information. What material is the flag made of (wool, nylon, polyester, etc.)? Is it sewed together, or one piece? Is the eagle stitched or painted on? How is the detailing done? What is the hoist like, how was the flag hung (rope, grommet, etc.)? Can you provide close up pictures? Is there any identifying numbers or marks anywhere?
Pete Loeser, 30 October 2010

Though I have only little knowledge about World War II flags, just a few details: The sinister facing eagle is that of the Luftwaffe (Air Force). Therefore, I don't believe that it is a flag of a (light) tank regiment (which had the colour pink, but used swallow-tail pennants in Hussar's cut in tradition of the light cavalry). It just could be the red has faded to pink, then it could be the flag of a unit of the FLAK (Air Raid Defence Forces). This is, of course, only speculation.
Klaus-Michael Schneider, 31 October 2010

Your UFE10-47 is very similar to one that I have, the one I saw was green and black, the one that I have is black with a gold/dark yellow centre bar, and is made of heavy material with a rope loop. The measurements are in the old imperial scale of feet and inches, I can work with this a lot easier than metric. The measurements are: 37" x 24-1/4"
Tony Jones, 3 May 2011

The color of the center stripe could indicate the gold-yellow of a command flag of a Luftwaffe cavalry unit or the lemon-yellow of a command flag of a Luftwaffe motorized signal unit depending on the tints of this image and the fading of the flag itself. Other than that it is impossible to determine what unit or the actual authenticity of this flag.
Pete Loeser, 4 May 2011