Bestellen Sie Ihre Fahnen / Flaggen im Flaggen-Shop bei fahnenversand.de

Diese Website beschäftigt sich mit der Wissenschaft der Vexillologie (Flaggenkunde).
Alle auf dieser Website dargebotenen Abbildungen dienen ausschließlich der Informationsvermittlung im Sinne der Flaggenkunde.
Der Hoster dieser Seite distanziert sich ausdrücklich von jedweden hierauf u.U. dargestellten Symbolen verfassungsfeindlicher Organisationen.

---
This is a mirror of a page that is part of © FOTW Flags Of The World website.
Anything above the previous line isnt part of the Flags of the World Website and was added by the hoster of this mirror.
German Vehicle Recognition Drapes (World War II)
Used for aerial recognition of land troops
Last modified: 2013-07-11 by pete loeser
Keywords: vehicle recognition drapes | balkenkreuz | iron cross | cross: fimbriated (black) | disc (white) |
Links: FOTW homepage | search | disclaimer and copyright | write us | mirrors

---


Images by Eugene Ipavec, 15 March 2011
---
On this page:
See also:
---
Description
These German Vehicle Recognition flag/drapes were supposedly placed on vehicles so that German planes could tell where the German front line was, but according to some German flag experts the second design, commonly (and incorrectly) called the "Balkan Cross" (from "Balkenkreutz"), is merely a postwar invention that was never actually used by the German Armed Forces during the war. Others claim that it was used for a very short time by German "SS-Totenkopf" units on the Eastern Front, but soon abolished because it was too noticeable by the enemy. The Germans did, early in the war, use signal drapes to identify German armor for the Luftwaffe, but the only officially documented ones were simply the national flag with the swastika emblem. These drapes could be identified because they lacked loops for hoisting and had loops on all four corners making them suitable for fixing on tanks and even on the front deck of warships.

The Balkan Cross version (Balkenkreutz), meaning that the cross consists of two "Balken," the German word for bars or "balks," may also have been manufactured, but apparently was never widely distributed before the war's end. One suggestion was that they had been warehoused, and Allied occupation troops found them and brought them home as souvenirs. However, several compelling period photos do exist with what appears to be Balkan Cross versions of the German Vehicle drape being used on the Eastern Front during 1944, and there are reports of its use during the Battle of the Bulge in 1945, both late in the war. Since most Allied troops picked up the majority of their souvenirs at the end of the war or immediately after its end (it is unwise to carry items looted from your enemy when there is danger of being captured yourself), the extent and use, of this drape is hard to determine.
Pete Loeser (Text from Historical Flags of Our Ancestors website)
---
Use of German Vehicle Recognition Flags or Drapes
I am fairly certain that I did not see this flag [Balkenkreutz] during 1944-1945. Furthermore the implicit symbolism would be wrong unless it represented something like a flag of the July 1944 attempted coup or the Freiheitsaktion in Bayern attempted coup at the end of April 1945. Neither of these had a distinctive flag that I know of. I am sure I would have run into the latter if it existed. I am strongly inclined to believe that this is a post-war fantasy.
Norman Martin, 13 January 2003
Up to now, we have had several reports of similar flag specimens, mostly from the US. The fact that this flag is not documented in any source — at least none has been reported in FOTW — and that most reports came from people browsing or moreover selling such items on the Internet (e.g., eBay) raised suspicion that it was a modern concoction of a flag which was never produced before 1945. However, I came across the following in Roger James Bender and Warren W. Odegard, "Uniforms, Organization and History of the Panzertruppe", R. James Bender Publishing, San Jose CA, 1980, p. 284:
"In anticipation of recognition problems between the Army and Luftwaffe support units during the upcoming invasion of France and the Netherlands, the German General Staff issued the following order in March 1940.(3)
... A swastika flag and orange smoke are to be utilized by all troops for recognition purposes when in a combat zone. The swastika flag is, according to circumstances, to be spread out on the ground, to be waved to and fro, or to be stretched across a vehicle...
The swastika flag discussed above was either a standard national flag or a special issue flag with a metal grommet at each corner for tying down purposes. Later in the war, the use of the Balken cross flag (white circle with a Balken cross in its center rather than a swastika, on a red field) gradually replaced the swastika flag. It should be noted that these flags were rarely used in the final stages of the war because the Allies held undisputed air superiority over most fronts."

Footnote (3) says: Ob.d.H./Gen.St.d.H./Ausb.Abt. (Ia) Nr. 450/40g vom 8.3.1940. This order was altered slightly by Order #363, dated April 2, 1941, in AHM, April 21, 1941"
So it appears that the so-called Balken cross flag (a) actually did exist, though it was never hoisted as a proper flag, (b) its use started after the 1940 campaign in France, possibly during or after the 1941 invasion of Russia and (c) was not used after, say, mid 1944. (This is probably a reason why Allied veterans could not spot it after Normandy, except for those held as POWs at Stalag Luft camps.)
Santiago Dotor, 25 March 2004

These flags are frequently available at militaria shops and at eBay. They are not proper flags, rather signal drapes used to identify German armour by the Luftwaffe, and lack loops etc. for hoisting, having instead loops on all four corners, suitable for fixing on tanks. However, there is no photographic evidence of such "flags" being used: all Luftwaffe pictures of similarly identified troops show them bearing the national (swastika) flag, seldom the Reichskriegsflagge. The widely disseminated appearance of these signal cloths implies a falsification or something similar.
Jörg M. Karaschewski, Deutsche Gesellschaft für Flaggenkunde, 19 March 2004

Swastika flags were the [only] ones used to identify armour and were also painted on the front deck of warships. See also Symbole und Zeremoniell in deutschen Streitkräften, Militärgeschichtliches Forschungsamt, p. 180, ill. 85.
Hans-Ulrich Herzog, 20 March 2004

This must consist of a very widely disseminated falsification. All photographic material I know of only shows the swastika flag, as on this picture and this picture from Marcus Schmöger's website.
Jörg M. Karaschewski, 20 March 2004

A 'falsification' or a variant [of the swastika flag] in order to comply with paragraph 86 of the [German] Penal Code [banning the use of the swastika and other symbols].
Friedrich Rackow, 20 March 2004, translated by Santiago Dotor, 30 June 2005

My only question would be, where did Bender and Odegard get their information about the German Vehicle Recognition Drapes for their self-published book? It was published in 1980, and it is my understanding that the only contemporary (1945 era) sources we have that mention any German Vehicle Recognition Drapes indicate only a very brief use of the swastika type. (Bender and Odegard's cited source actually only mention the swastika-type drape) The Balkan Cross version has yet to be historically documented, and began to appear in numbers on the American market in the late 1990s and early 2000s, along with a whole rash of claims of "my grandfather" bringing it home to America "after" the war. All one can safely say at present is if they were manufactured in the 1940s, they were never distributed in large numbers before the war's end. I have seen a post-war picture taken during the years of the Allied occupation of Germany that does show a Balkan Cross flag, but it dates from 1945 or later. One interesting suggestion made is that the originals had been warehoused, and Allied occupation troops found them and brought them home as souvenirs.
Pete Loeser, 27 December 2009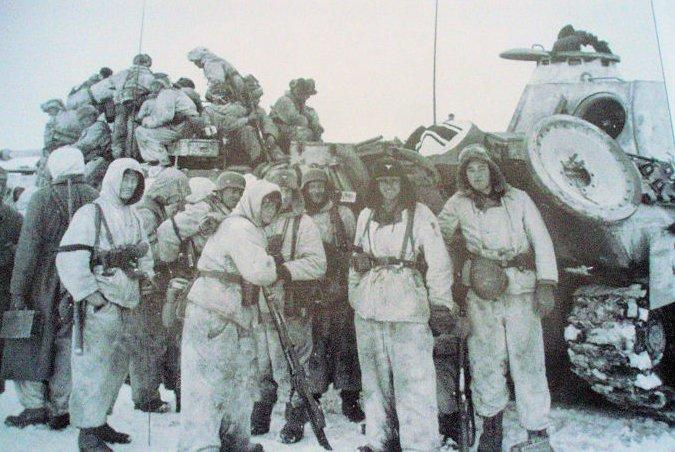 Image from Flag Forum, 17 July 2010
They say a picture is sometimes worth a thousand words. Marcus Wendel posted this picture on the Flag Forum on July 17, 2010. It is a photo taken in January of 1944 on the German Eastern Front. Note the drape on the top of the tank. This photo is from page 41 of "SS Armor On The Eastern Front 1943-1945" by Velimir Vuksic. So we now have a picture of it being used.
Pete Loeser, 18 August 2010
Please note that this cross has nothing to do with "Balkan" - the mountain range and peninsula in SE Europe, but it is a "Balkenkreutz" - a beam cross.
Željko Heimer, 20 August 2010
Yes, indeed, it is misnamed. As Željko Heimer correctly points out it has nothing to do with the "Balkans." The correct name would be something like "Balkenkreuz," which means that the cross consists of two "Balken," the German word for bars or "balks." The name Balken Cross (meaning two Balks crossed) came from attempts to come up with an English translation, and unfortunately has become commonly used for this symbol. This is the problem faced in attempting direct translations.
Pete Loeser, 21 August 2010
We (the Editors, that is) are presently debating the inclusion of this term into the DoV, and the latest suggestion is that the definition should go (uniquely) under the German term ("balkenkreuz") as being the most used, with both the correct (now possibly including both "bars" and "balks" as well as "beams") and incorrect translations referred to it? The final decision has not yet been made, and can of course, be altered depending upon future usage.
Christopher Southworth, 21 August 2010
Well, Balkan Cross seems to be the most common. But I'm also not sure about the definition. Quite often, there's again a black "fimbration" to the white, for lack of a better word. Though sometimes the white shows even if the background is not white, in other cases the primary cross is just accompanied by that secondary fimbration, on whatever the field colour might be. And some planes had the colours the other way around: White cross and secondary lines on darker background. I'd say it's not so much a specific fimbration and colour as the line thus accompanying the edge of the cross.
Humm, a cotice? But then, in some cases of negligible width. A solid cross on top of a voided cross? And then something to cut off the ends? Is there a herald on the list?
Peter Hans van den Muijzenberg, 2 January 2012
In my humble opinion, "beam cross" would be a most precise tranlsation of the German word Balkenkreuz.
Tomislav Todorovic, 3 January 2012
I found your site looking for information on the vehicle Balkenkreuz I have. The example I have is from my father, who grabbed it sometime before 1946. It appears unused, no stains. He was in the southern theater of the war, from North Africa, through Italy, into southern France and then into southern Germany. Unfortunately, he passed away a couple years back, so I can't ask him where exactly he got it.
After the war, for a period, he was an MP based in Sonthofen, where the SS had an academy. Perhaps it was in this area that he obtained the covering.
Hue Miller, (re: Warren Miller, 410th AA Btn, U.S.A.), 21 October 2012
Image from Karl Longenbach, 30 June 2013
This banner was found by my father, Foster G. Longenbach, who fought in World War II. He is alive and well at age 89. He was drafted in 1943 by the Local Board No. 2, Northampton County, PA, and earned the rank of Tech 4 with the 217th Field Artillery Bn (Formerly, the 220th F Bn), part of the 44th Infantry Division. He served 2 years and ten months as a radio operator. He landed on D-21 as part of the 7th Army. His first battle was at Emberniel, France. He then went through Etampes and Bar Le Duc on his way to Lunneville and Strasbourg. His unit next moved north to cross the Rhine and capture Manheim, Heidelberg and Darmstadt. Then eastward to the Wurzburg area and south to Ulm where he crossed the Danube. After crossing, they traveled down to Fussen, Innsbruck, Imst, Landeck and into Italy where they met other US troops. Ultimately they backtracked from there to Austria until orders were received to travel back to the United States for deployment in the Pacific. I will find out the exact circumstances surrounding the banner and other flags which I believe came into his possession in Ulm.
Karl Longenbach, 30 June 2013
Image from Karl Longenbach, 2 July 2013
My twin brother spoke to my father today. He is not certain as to the city in Germany, but definitely recalls that the banners were hanging from windows in a German town and that he was reprimanded for taking them down. I have attached a photo of one of the three other banners each with the swastika having the same approximate size of 3 ft by 6 ft. A smaller flag (2 ft by 2-3 ft) is also depicted. Every banner has a grommet in each corner. They are in pristine condition.
Karl Longenbach, 2 July 2013
Apparently what we have been calling vehicle identification drapes may have served a dual purpose in some cases, both as vehicle recognition drapes and also as simply decorative banners.
Pete Loeser, 7 July 2013
I doubt that they were intended as decoration. The fact that they have grommets in all four corners indicates they were manufactured as identification drapes, and their use on buildings where the battleline was passing through was probably to keep the buildings from being shelled by their own side.
Ned Smith, 11 July 2013
---
Anything below the following line isnt part of the Flags of the World Website and was added by the hoster of this mirror.
---
Bei fahnenversand.de erhalten Sie eine Vielzahl an günstigen Flaggen, Pins und Aufnähern, zum Beispiel: