Bestellen Sie Ihre Fahnen / Flaggen im Flaggen-Shop bei fahnenversand.de

Diese Website beschäftigt sich mit der Wissenschaft der Vexillologie (Flaggenkunde).
Alle auf dieser Website dargebotenen Abbildungen dienen ausschließlich der Informationsvermittlung im Sinne der Flaggenkunde.
Der Hoster dieser Seite distanziert sich ausdrücklich von jedweden hierauf u.U. dargestellten Symbolen verfassungsfeindlicher Organisationen.

---
This is a mirror of a page that is part of © FOTW Flags Of The World website.
Anything above the previous line isnt part of the Flags of the World Website and was added by the hoster of this mirror.
Flags used by Musicians
Last modified: 2020-02-14 by rob raeside
Keywords: music |
Links: FOTW homepage | search | disclaimer and copyright | write us | mirrors

---
Please note that flags in this sections are used in various ways (live concerts, music videos, paraphernalia, etc...) and while they might be meant to represent fictional entities, they are nonetheless not considered to be part of the fictional flags section unless they have also been used in a work of fiction (book, game, etc...).
On this Page:
see also:
---
Black Eyes Peas
Elephunk Flag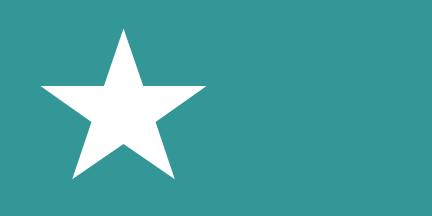 image by Eugene Ipavec , 8 July 2007
The Black Eyed Peas in Somalian mode? at least on the cover of their album Elephunk.
Jan Mertens, 7 July 2007
---
Blue Oyster Cult
Chaos Flag
image by Eugene Ipavec , 5 July 2007
In an old issue of the magazine "Creem" was a feature on the Heavy Metal band Blue Oyster Cult. It had a photograph of the band performing live with a large Nazi-style banner or backdrop behind the band. It had a red field and white disc, but had in place of the swastika the symbol of the Blue Oyster Cult which is something like this: with a vertical line above the dot and a horizontal line on either side of the dot.
As at least one member of the band is Jewish, IIRC, they were almost certainly not making any nod to a band crypto-fascism. Rather, the band emerged in the wake of the so-called "Summer of Love" and their dark and brooding style was in direct opposition to the hippie notions of love and peace of that time.
You can see the flag here
For a closer look at the symbol, look here
John Evosevic, 18 October 2002
Their symbol was supposedly the Greek symbol of chaos and had nothing to do with neo-fascism or Nazis. I have been a Blue Oyster Cult fan since 1971 and all of us have known this since then.
Greg Biggs, 18 October 2002
Some further comments on Blue Oyster Cult, as listed on that page. Yes, at least one of their core members is Jewish (Eric Bloom and Sandy Pearlman both are, IIRC), and the logo is not intended to be antisemitic/neonazi. The symbol is featured somewhere (even if hidden) on each of the band's album covers. On one album - "On your feet or on your knees" - it is shown on a car flag (a la the flags of presidents and other high ranking officials). On this cover, the flag is white with the symbol in red, as shown here
The symbol, according to Wikipedia, is "that of Kronos , the king of the Titans and father of Zeus in Greek mythology, and is the alchemical symbol for lead, one of the heaviest of metals."
James Dignan, 3 July 2007
---
Burning Spear
Rastafarian Flag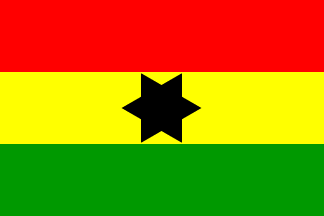 image by António Martins-Tuválkin, 7 June 2007

A long time ago, back in 1999 or so I reported and GIFfed a flag I glimpsed on TV: It was a red-up Rastafarian flag (Ethiopian-based red-yellow-green horizontal tricolor) with a black sold David star on the yellow stripe, standing on two points and tangent at the stripes edge. The screen caption read Burning Spear, and may have been archival footage. I'm persistent enough to send it a second time after eight years.
According to the English Wikipedia, Burning Spear is the name of a reggae band, and later the stage name of its lead singer, Winston Rodney (born 1948).
I tried to find online the Rasta flag with solid black David star, but I found none (but see last link below). I recall a large flag hanging on the stage background during concert; the David star symbolism should have obvious connections to the interpretation of the Bible in Rastafarian religion.
I found however other uses of flags by Burning Spear, in what may be typical Rastafarian and/or reggae musician usage, some photos showing:

Ethiopian tricolor with golden lion:
Ethiopian tricolor with silver lion:
Rasta (plain) tricolor, green up:
Rasta (plain) tricolor, red up:
National flag of Jamaica:
Some UFEs (including solid black David star):
António Martins-Tuválkin , 7 June 2007
---
Disturbed
Land of Confusion Flag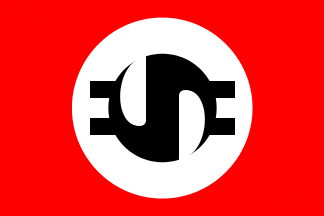 image by Eugene Ipavec, 2 September 2006
This is a flag that appears in an animated music video by the group Disturbed for their cover of the song "Land of Confusion," originally by Genesis. Detail of screen-grab here.
The video shows the masked allegorical figure of Anarchy leading a mob into battle against the forces of the repressive, warmongering world order, represented by caricatures of the leaders of the great powers and presided over by a similarly allegorical Corruption. (I seem to recall that the original 1980s Genesis music video did something similar with foam puppets of Reagan, Thatcher and Mitterand.)
The flag of the world order appears several times - flying in front of the UN, in particular - and is a rather unimaginative Nazi knockoff with an oddly angular "$" sign in place of the swastika.
Eugene Ipavec, 2 September 2006
---
Green Day
American Idiot Flag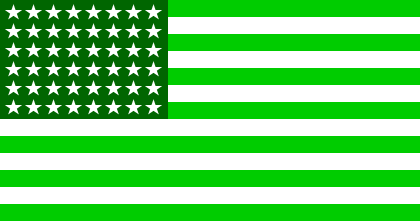 image by Eugene Ipavec, 16 February 2006
I recall vaguely a Green Day video where the band were standing in front of a melting black and white US flag. unfortunately, I cant' remember what the song was.
James Dignan, 3 July 2007
A band which has made use of altered S&S imagery is a video by Green Day for their song "American idiot", which has the band performing in front of a giant green and white American flag.
James Dignan, 13 February 2009
The flag can be seen attached as here. Oddly enough this is the pre-1959 flag, with 48 stars.
Eugene Ipavec, 16 February 2009
---
Iron Maiden
Life and Death Flag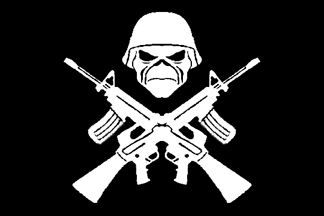 image by António Martins-Tuválkin , 4 July 2007
A flag can be seen here
Esteban Rivera, 30 June 2007
You can have access to information about the image, in context, here as said the cover of 2006 album A Matter of Life and Death, described here. It is a black pirate-like flag with the typical "Eddie, the head" facial features and army helmet in the skull, and crossed sub-automatic rifles(?) under it (instead of the classical bones).
António Martins-Tuválkin, 4 July 2007
---
Laibach
image by Olivier Touzeau, 10 July 2007
Some of you may have heard of the musical band Laibach, a group from Slovenia which makes parodic and industrial music and uses totalitarist and fascist symbols and aesthetics in a provocative way. Remember that Laibach is the German name of Ljubljana... The band began its career in the early 1980ies.
Laibach uses a black vertical banner during its concerts, with its logo (cogwheel and Malevitch cross). I send the gif, you can see it in use here and here for example.
The group website can be access here
Olivier Touzeau, 10 July 2007
---
Anni-Frid Lyngstad
Former member of Abba

image by António Martins-Tuválkin, 10 February 2016
Former member of ABBA, Anni-Frid Synni (Princess Reuss of Plauen), widely known as Frida, or by her maiden name of Frida Lyngstad, did some solo works. This flag is from an album all sung in Swedish in the 1990s. The video pictures are part colour and part black/white, and the lyrics are unfortunately not in sync with the pictures. The flag is vertically white-red-white-red, with a soldier in Napoleonic-era gear next to it. A screen capture can be seen here.
Elias Granqvist, 28 April 2009
---
Marylin Manson
Shock Symbol Flag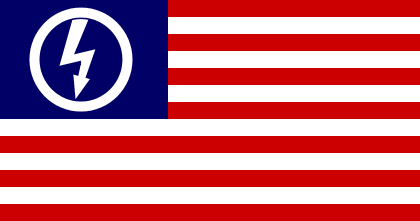 image by Eugene Ipavec & Joseph McMillan, 5 July 2007
Marilyn Manson used a huge altered American flag in his concerts a few years ago. It featured his "shock symbol", a downward-pointing lightning-bolt arrow in a circle, in place of the 50 stars in the blue field. As far as an image is concerned, I can only point you to the website of one of his T-shirt makers
Sean Wilkinson , 14 April 2003
It reminds me of the logo used by the British Union of Fascists.
Marc Pasquin, 2 July 2007
Black Shock Symbol Hanging flag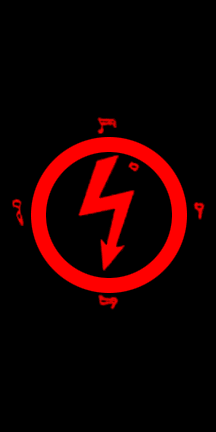 image by António Martins-Tuválkin, 23 January 2008
I think he has also used the symbol on long vertically hanging flag- like draping on his concerts. These were black with the symbol in red and white, IIRC, and reminded me slightly of the German flag of 1935-1945.
Elias Granqvist, 15 April 2003
I remember another flag of Marilyn Manson, by the way. It was a long vertical hanging in black with a white circle with red bordure in centre. In the white circle was a back symbol which I am not sure of, but if I recall correctly it was one lightning bolt looking almost like the S used in the emblem of Nazi-German SS; perhaps it was a stylized M though. Manson had this on stage at some show.
Elias Granqvist, 1 July 2007
I believe that what Elias is talking about is this image located here
Esteban Rivera , 2 July 2007
This image is a first-class example of how not to combine colours: red and black do not provide adequate contrast for a clear emblem. The tincture rule does make sense, after all. The combination also carries strongly negative emotions.
Mike Oettle, 2 July 2007
Tell that to the Albanians!
Mind you, it is true that the red/black combination is particularly common in fascist and fascist-inspired flags.
James Dignan, 2 July 2007
Funny, I always associated red-black with leftist anarchists, not with fascists. Go figure...
Albert S. Kirsch, 3 July 2007
Actually. that combination of colours isn't at all common in fascist flags.
Simply fascist flags come in all sorts of colours and designs. It's the nazi and nazi-inspired variant that have some uniformity in colours and designs, and those are not black and red: they are black, red and "white", the colours the original nazis took from the German imperial flag.
Red and black, without white, are connected instead with two quite different ideological trends: the anarchists, especially of the anarcho-syndicalist variant, and the Trotskyites, the followers of the 4th International.
Jorge Candeias, 3 July 2007
As I recall it, the field within the red circle was white, and there were no small objects beside the lightning bolt (the small objects which are so small in this picture it is hard to figure out what they are). However, it was a long time since I saw it and it was on a small screen TV showing parts of a concert, so I might be mistaken.
Elias Granqvist, 27 January 2008
---
Outkast
Prototype Flag
image by Pete Loeser, 29 May 2015
A flag appears in the music video Prototype, that sort of tells a love story between an alien and a earth woman. The flag is white with a small black 8-pointed star in the middle, which also appears in the clothes (some kind of uniform) of the aliens. So it's meant to be the flag of the aliens, I guess.
Jorge Candeias, 4 January 2006
Outcast Black and White Flag with Upside down Stars
image by Pete Loeser, 29 May 2015
The Outkast also uses black and white US flags [similar to the ones used by Young Jeezy and Kanye West], pictured on their album covers and used as a stage backdrop. There were two types of this flag. There was one where the stars were upright and one where they were upside down [as shown here].
Zachary Harden, 4 January 2006
What was meant with this design? Anything to do with Marilyn Manson who used/uses a similarly described variation of the US flag? What was the exact change? Blue and red as black?, or blue as white with black stars?, and/or black and white stripes but starting (and ending) with a white stripe?
António Martins-Tuválkin, 7 January 2006
---
Pearl Jam
Do the Evolution Flag

image by Eugene Ipavec, 16 February 2009
I was looking at these things recently: A video by Pearl Jam ("Do the evolution"), in which a red background banner with a white disc on (resembling a Nazi banner) is displayed.
Esteban Rivera, 5 December 2006
The Pearl Jam video is a extremely dark and misanthropic 5-minute animated recap of the last few billion years or so; the band does not appear in it (they stopped out of bitterness after their video for the song "Jeremy" was unfairly accused of encouraging teen suicide, if I remember correctly.)
The flag which appears was as Esteban notes obviously meant to be a Nazi banner; the animators probably used the S-like stand-in symbol because a swastika would have limited the video's broadcast opportunities. A screencap detail (from YouTube) can be seen here.
Eugene Ipavec, 15 February 2009
---
Pink
Trouble Flag
image by Pete Loeser, 29 May 2015
In the music video for the song "Trouble", performed by American singer Pink, there is a red flag with three black six pointed stars in the centre. Obviously it is a flag for the people Pink fights in the video, because at the end she rips the flag down.
Elias Granqvist, 1 January 2004
---
Prince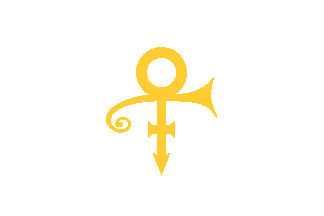 image by Jorge Candeias
From 1993.06.07 to 2000, US music perfomer Prince Rogers Nelson (born 1958), used as his career name an unpronounceable symbol, replacing the former denomination "The Artist" (a.k.a. "The Artist, formerly known as Prince"), which itself replaced the original name "Prince". This artist is now Prince again.
Following a hazy recollection of this symbol on flags in a Prince clip, I used the symbol I found here and put it in yellow on a purple background. This is how I seem to recall having seen this symbol used in flags, though I might be (quite) away from the truth. For what is worth, the color purple is widely used in the layout of the "artist's"website.
António Martins-Tuválkin, 27 July 2002
Well, my not so fuzzy recollection of this video (a music clip produced as if it was a live concert, or a real live concert, I don't really remember) tells me that the symbol was golden on a white flag, waved proudly by TAFKAP (The Artist Formerly Known As Prince). The symbol itself was reflecting light as if it was made of little pieces of glass, I suppose to give the idea of gold.
Jorge Candeias, 29 July 2002
---
Rage Against the Machine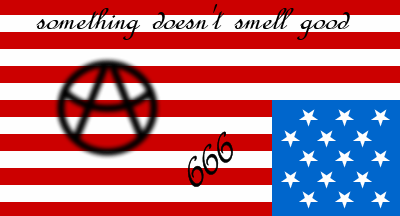 image by Eugene Ipavec & Joseph McMillan, 5 July 2007
The music band Rage Against The Machine uses a flag (image taken from here) based on that of the United States) during almost every concert as can be seen here (image taken from musicfanclubs.org). The sentence on top of the upside-down flag reads "something doesn't smell good."
Esteban Rivera, 27 June 2005
Rage Against the Machine Type #2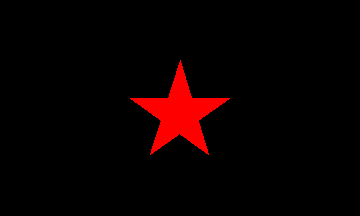 image from Esteban Rivera, 23 January 2007
I saw on a July 29th concert held at Randall's Island in New York that the band "Rage Against The Machine" used another flag different than the one featured on the website. This flag is a plain black flag with a red star in the middle.
Esteban Rivera, 23 January 2007
---
Sabaton
image by Eugene Ipavec , 8 July 2007
A flag appears on the cover of an album of Swedish war-metal band Sabaton as can be seen here - a blue flag with a pair of crossed rifles surrounded by three fleurs-de-lys, all white.
Eugene Ipavec, 7 July 2007
To read more about this band check the following: Official website and the wikipedia page
Esteban Rivera, 7 July 2007
---
Type O Negative
Flag for Vinnland

image by Jitse Verwer
The flag for Vinnland, or more precisely "the people's technocratic republic of Vinnland" appears on the back of the three latest albums of the Goth-Rockgroup Type O Negative as well on numerous t-shirts. The flag is supposed to symbolize the republic of Vinnland situated in north America. Vinnland and it's flag are the brain child of the hulking black-haired front man of the band Type O Negative: Peter Steele. Steele incorporated his idea's of paganism, left/right wing political flirtations and his own heritage (his mother was part Icelandic) into a concept of a republic named after the first name the Vikings gave to north America: Vinland. The Vikings landed in Newfoundland around 1000 AD. and built a colony there. Steele takes this idea and tries to imagine what America would be like if the Vikings had actually stayed, and built a civilisation there. Based on that he designed a new flag in a Scandinavian cross pattern and gives it his favorite colours: green, black and white (which coincidently remind me of the German war cross). The concept of the people's technocratic republic only appears once in the song title "The glorious liberation of the people's technocratic republic of Vinnland by the combined forces of the united territories of Europa". In one of his interviews Steele says that he thinks the world would be better off if it were governed by scientists, hence technocratic. for more information see here
Jitse Verwer, 8 December 2000
It is a historical fact, that vikings really got to what now is called Newfoundland, and probably to Labrador and perhaps even more to the south of the North American coast too. However, they did not call that land "Vinnland" but Vinland. It is thought that the name came from the presence of currants ("vinbÀr" in modern Swedish), not of a supposed presence of vine or grapes.
Elias Granqvist, 9 December 2000
---
Xzibit
The X Flag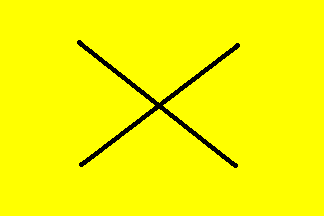 image by Zachary Harden
This flag is from a rap artist named Xzibit. He used this flag in his video "X", and it has a gaunt X on a yellow background. Four of these were seen, all on cars owned by Xzibit.
Zachary Harden , 9 February 2001
---
Wu-Tang Clan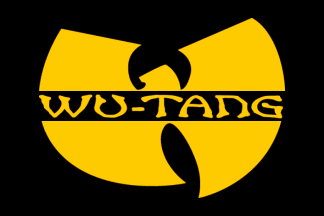 image by Eugene Ipavec, 8 January 2008
Here's yet another flag, this time for Rap artist/band Wu-Tang Clan, located here.
Esteban Rivera, 2 July 2007
---
Young Jeezy and Kanye West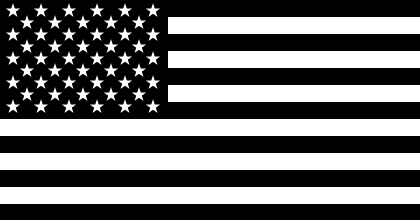 image by Joseph McMillan, 20 August 2008
I recently happened across a music video which featured - both as a backdrop and in regular use - many black/white US flags [These black and white US flags are also used by the musical group OutKast]. According to Wikipedia: "Put On" is a song by rappers Young Jeezy and Kanye West, from the album "The Recession." Its music video is "aimed at the recession." In the video, Silver & Black American Flags are hung up around neighborhoods and businesses, representing change.
The flags in the video are quite striking in appearance; the context makes them a combination protest/mourning/campaign flag, "change" being the slogan of the Obama campaign. West in particular is known for being politically outspoken, having famously berated the current president on live TV during a Katrina benefit.
Esteban Rivera, 2 July 2007
More recently, the flag came to be used by the Black Lives Matter movement. It was seen in Washington, DC at the November 2014 protests following the killing of Michael Brown in Ferguson, Missouri [1]. In 2015, it was used in Baltimore, Maryland in April, during the protests following the death of Freddie Gray from injuries he received while in police custody [2], and again in Chicago, Illinois in December, during the protests following the killing of Laquan McDonald [3].
Sources:
[1] Getty Images photo archive - Photo of the flag taken in Washington, DC on 2014-11-25.
[2] Getty Images photo archive - Photo of the flag taken in Baltimore, Maryland on 2015-04-12.
[3] Getty Images photo archive - Photo of the flag taken in Chicago, Illinois on 2015-12-11.
Tomislav Todorovic, 3 November 2019
---
X Clan
image by Tomislav Todorovic, 9 May 2015
X Clan is a hip-hop group from Brooklyn, New York, which was founded in 1989. From the beginning, their lyrics have been containing references to ancient Egyptian subjects. Because of that, their symbol is a red-black-green horizontal striped flag with a large yellow/golden ankh centered on it. They wear shoulder and breast patches with this pattern, as seen in the video for their song "Weapon X" and a number of promotion photos, but there also are examples of its use as their flag.
Sources:
Tomislav Todorovic, 9 May 2015

Anything below the following line isnt part of the Flags of the World Website and was added by the hoster of this mirror.

---
Bei fahnenversand.de erhalten Sie eine Vielzahl an günstigen Flaggen, Pins und Aufnähern, zum Beispiel: