Bestellen Sie Ihre Fahnen / Flaggen im Flaggen-Shop bei fahnenversand.de

Diese Website beschäftigt sich mit der Wissenschaft der Vexillologie (Flaggenkunde).
Alle auf dieser Website dargebotenen Abbildungen dienen ausschließlich der Informationsvermittlung im Sinne der Flaggenkunde.
Der Hoster dieser Seite distanziert sich ausdrücklich von jedweden hierauf u.U. dargestellten Symbolen verfassungsfeindlicher Organisationen.

---
This is a mirror of a page that is part of © FOTW Flags Of The World website.
Anything above the previous line isnt part of the Flags of the World Website and was added by the hoster of this mirror.
Discussions about Unidentified Flags Appearing in Movies
Flags in movies, both real and not so real.
Last modified: 2018-03-30 by pete loeser
Keywords: film | movie | movies | non-fictional | tv |
Links: FOTW homepage | search | disclaimer and copyright | write us | mirrors

---
On this Page
See also:
---
Discussions about Unidentified Flags Appearing in Movies
(Real places or organizations, but unrecognized flags.)
These flags appeared in movies, were at first either unrecognized or questioned. Being obscure flags, badly recreated ones, or simply fiticious in nature they proved to be difficult to recognize. Some turned out to be real and others not so real, and some have yet to be identified.
Pete Loeser, 23 October 2017
---
55 Days at Peking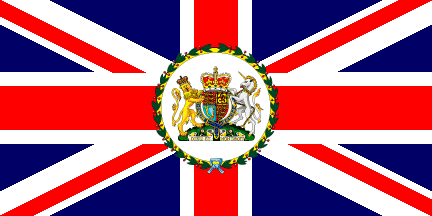 Image by Graham Bartram, 11 December 1999
The movie stars David Niven and Charlton Heston. The film opens with the hoisting of the various foreign legation flags in the Foreign Compound next to the Forbidden City. A Royal Marine Band played "God Save the Queen" while a Union Jack was raised. It had a central device which I could not make out, surrounded by a green garland, rather like the Colonial Governor's standards from that epoch. But, of course, no Governor in Peking. What could it have been? A special legation flag? (Always assuming, of course, that the film makers knew what they were doing)
Andre Burgers, 19 July 2004
I believe the flag in question is that of an British Ambassador or High Commissioner. Since 1869, these defaced Union Jack could also be used by governors of colonies, military authorities, diplomatic officers and consular agents at sea. In 1940, this was changed so that the defaced ensigns were approved for use at all Government Houses. So the film makers may have been correct in this case.
Pete Loeser, 24 October 2017
---
Angels and Demons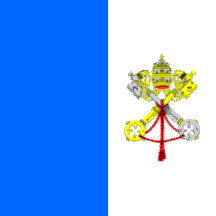 Image from Peter Hans van den Muijzenberg, 24 October 2017

I've seen the movie "Angels and Demons." It shows several flags, one of which looks like that of the Vatican but with a light blue stripe at the hoist. This is similar to the Virgin Mary flag in FOTW, but has the Papal badge on the white stripe. Do you know anything about this?
David, 20 May 2009

I've not seen the film "Angels and Demons", as that genre of conspiracy theory film isn't really my cup of tea. However, I might be able to offer a hypothesis, based on my previous experience in this industry.
Funnily enough, this very subject of Papal flags has come up on the FotW list before, in respect of a dramatised documentary about the Pope - I don't remember whether it was John Paul the Great or the present one, but I think probably the present one - where a variation was also used. I also happened to be in the beautiful city of Krakow on the day of the late Pope's funeral and there were many different varieties of Papal and Vatican flags on display there, in the real world.
In general, if an item to be shown in a film is known to represent a specific person or entity, then permission will be sought from the entity concerned for it to be included. To cite another example, Inspector Morse - in which I can be seen on multiple 1980s and 1990s episodes - served in Thames Valley Police, the real police force serving Berkshire, Buckinghamshire and Oxfordshire. However, by the time the follow up series Lewis came about, the name of the police force had been changed to "Oxfordshire Police" , a non-existent entity. This was because Thames Valley Police withdrew permission for their name to be used in fictional media, as a future policy decision. Many local businesses, however, do give permission for their premises and trademarks to be used, for the publicity value.
With flags which can be specifically identified with a corporate entity such as the Vatican, I am quite sure that the makers of this film will have taken a decision to make up something resembling a Vatican or Papal flag and thus avoid the need for protracted and undoubtedly ultimately pointless discussion or even legal problems, with the authorities regarding the use of their flags.
You'd have to ask the film makers, to confirm this, but I'd advance this as the most likely explanation. It is always interesting to get this kind of question from someone not on the list, as it is somewhat of a niche interest and can get somewhat esoteric.
Colin Dobson, 25 May 2009

The only problem with this hypothesis is that zero effort was made to otherwise conceal the fact that it is the Vatican we are dealing with. It would be sort of like setting an unflattering film in Russia, having everybody speak Russian, showing the Kremlin and the statue of the Motherland, "say" it is Russia, etc. but show lots of white-blue-"green" flags - I don't think anyone who wasn't going to be offended anyway would be mollified by it. And there surely can't be legal problems with the use of flags to identify a state that is identified otherwise anyway - the filmmakers could get sued for libel for the content of their film, maybe, but not for props.
Eugene Ipavec, 26 May 2009

All this brings to mind again the vexing (!) question of the legal rights of flags, as designs which may or may not be protected by explicit or implied copyright. Setting aside corporate LOBs, which almost always use registered corporate trademarks, what of national states and political entities?
In the first place, virtually all national flags are "published" without copyright designation when they are run up a pole or a mast, are they not? The design is "owned" by a public entity, the state or nation. Under copyright law in the USA, for example, government publications are specifically NOT copyright-protected - does this principle apply generally? (This doesn't include "classified documents" and "state secrets," of course, but that's beside the vexillological point; flags may be obscure, but they are not clandestine - not even the CIA flag!)
Secondly, most flag designs have been around long enough that even if international copyright law applied, it would have expired a long time ago for flag designs. There have been a number of legal decisions in the USA, at any rate, that point in the general direction of no copyright protection for flag designs.
Elias, and other legal minds, how does this this play out in other nations? Is an exception made, perhaps, for the Saudi flag with the shahada, as a matter of blasphemy? For that matter, is it blasphemous to put something that sacred on a flag? (Recall the suit against McDonald's, I think it was, for printing the Saudi flag, complete with sacred Quranic scripture, on Olympic-themed hamburger bags; when you throw the bag in the trash, you defame the flag and the holy writ. It probably violates the U.S. flag code to do the same to a piece of paper with the Stars and stripes, but we just ignore it, as Joe McMillan has pointed out regarding the District of Columbia flag-desecration law, which "says" [in a roundabout description of the action] that the Postal Service may not print a cancellation over the image of the Stars and stripes on a postage stamp.)
Can we not say that as a matter of legal practicality, flag designs are solidly in the public domain. Although a specific rendering for illustration (say on FOTW) could be copyrightable, we've already seen how hard that is to enforce, and probably fairly useless as well: is there any vexillographer whose living depends on royalty income from the use of gifs made of flags for FOTW? I doubt it, but dpeak up if I'm wrong. Copyright on a whole book of collected flag designs and factual information is quite another matter, of course.
William Dunning, 26 May 2009

I have no idea about the mourning custom. But for the flag I recoloured our Vatican City (Holy See) - Part I at with the blue of the flag of Our Lady of Virtue
Peter Hans van den Muijzenberg, 24 October 2017
---
Caine Mutiny

N

H

K

U
Images by António Martins-Tuválkin
I just watched the classic, "The Caine Mutiny". Wonderful movie—don't know how I went so long without seeing it! Anyway, at the very end, as a ship heads out to sea from San Francisco, you can see that it is flying four signal flags. I tried to find their meanings on the Internet, but couldn't one of them. The movie was released in 1954, so perhaps the meanings are different, or some flags no longer used? The flags in this order from top down were:
A square 4x4 checkered flag, blue and white (though this one is difficult to tell; it could be red and white). Apparently this now means N, but did it always mean that?
A square flag divided vertically down the middle, white to the left, red to the right. H now, and/or "pilot on board"; did it mean something different then?
A square flag divided vertically down the middle, yellow to the left, black to the right. This is the one I couldn't find a meaning for.
A square quartered flag, red and white. This now means U, or "you are running into danger."

Can you point me to a site or a reference book that tells what these meant in World War II? Thanks!
Marina Michaels, 27 June 2008

My own impression of US signal practice during World War II is somewhat impressionistic, and we have several members of the FOTW List who are far more qualified than I to answer this, but I believe that a warship leaving a naval base in the Continental United States during the summer of 1944 might simply be flying her alphanumeric identity, although this term would not have been in existence in 1944. For example, if the vessel were a destroyer, she might simply fly either DD598 (sorry, while the ship bearing this number actually did exist I can't dig its name out at present), or simply the number since her type and probably her class (e.g., Allen Sumner class) would have been known to all USN personnel who saw her. The "Standing Into Danger" signal might have been a personal observation or even an ironic remark by the ship's captain since the vessel would be departing on an operational mission during which she mould be likely to engage the IJN and thus would literally be "Standing Into Danger."
Ron Lahav, 27 June 2008

The third one might be K (yellow-blue). In any event, there may not be a hidden meaning or signal, rather simply that the Caine was "dressed" leaving port. I don't mean to exclude the possibility that the sequence is meaningful; I just mean to include the possibility that it isn't


Albert S. Kirsch, 28 June 2008
The first one is the giveaway to the meaning of the four flags. They would be the ship's call sign. US Navy ships have four letter call signs starting with "N", and they are displayed as part of the standard routine when entering or leaving port. See further discussion at my Sea Flags page.
In fact, a little digging reveals that the ship that LTJG Keith is seen taking out to sea in the final scene in the movie was "played by" the USS Richard B. Anderson (DD 786), whose call letters were "NHKU" (blue-white checks, vertical white-red, vertical yellow-blue, quartered red-white) - sounds to me like the combination Marina is talking about. See here.
Joe McMillan, 28 June 2008
---
Crimson Pirate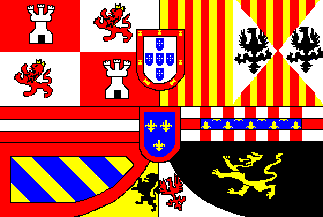 Image by Jaume Ollé, 6 May 1998
Variant Royal Banner of 1700-1759
I recently viewed the movie "The Crimson Pirate" (1952), starring Burt Lancaster. While liking the movie will depend on your tastes, it does show a lot of flags and banners. The main flag on the ship of "The King" is a many divided variation of a flag of Spain. Castile and Leon dominate the upper left with at least 6 other divisions.
Michael P. Smuda, 16 April 2004
Possibly a variant of the Royal Banner of 1700-1759 as illustrated by Jaume Ollé.
Pete Loeser, 23 October 2017
---
Glory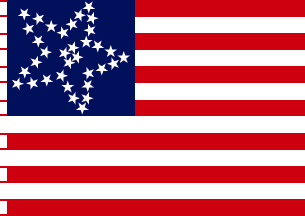 Great Flower Flag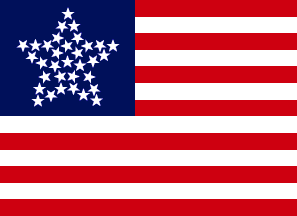 Great Star Flag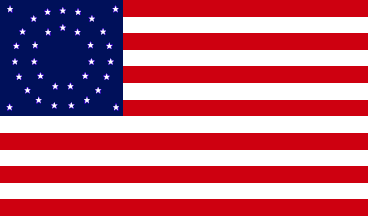 34-Star Concentric Circle - Images by Blas Delgado Ortiz, in summer of 2001

I am trying to obtain information on the U.S. flags shown in the parade scene of the 1989 motion picture "Glory" starring Matthew Broderick. As far as I can tell, they could either be the Lincoln Parade Flag (but I don't know when this flag was created) or the Great Flower Flag (which fits the time period), but may also be a different flag altogether.
Terry Sackett, 4 April 2005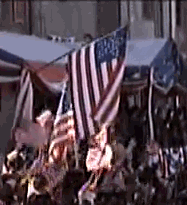 Great Star Flag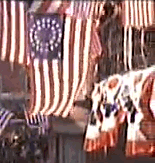 Concentric Circle Flag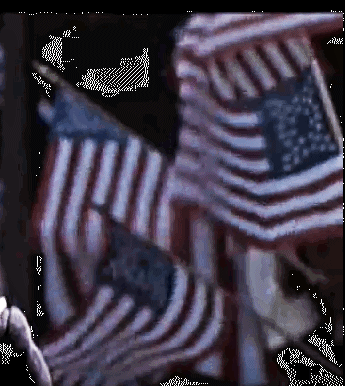 Mystery Parade Flag
[Enlargements from the parade film clip]
Several "Grand Luminary" flags from the period come to mind. The first, known as the Great Star Flag, had 33 Stars and historically was used between 1859-1861. The second, called the "Great Flower" Flag, or "Candy Stripe" Flag, had 34 Stars and was used from 1861-1865. However, looking at the film clip it appears that only the Great Star flags were used in the parade scene, along with a variant 34-star concentric circle flag with stars placed in each corner. I didn't see a Great Flower Flag used at all. However, historically near the end of 1865 a new 36-star Great Star flag did appear. Later that year a black bordered variant of it became known as the Lincoln Funeral Train Flag. All these designs were all used during the Civil War era and could easily have been used for props when making the movie parade scene.
There were a lot of flags waving in that scene, including the strange Mystery flag that seems to be similar in design to the McNamara 39-Stars Flag, but without the single larger star in the center of the union and I must assume with fewer stars in the concentric circles. It is currently a mystery to me.
Pete Loeser, 29 October 2017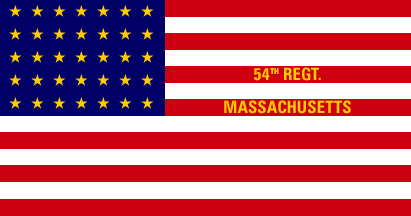 Tentative image of prop flag by António Martins-Tuválkin, 14 November 2017


What also comes to my mind is that a flag from this movie (not in the Grand Luminary style) was among the first things I reported to FOTW back in early 1996 or so. I saw it on a photo published in a TV Guide style magazine (there was internet back then, of course, but no Google images and most web search engine hits for "flags" were about mathematics and computer science), which caught my eye. It is seemingly a regular 1863-1865 United States flag with 35 stars in a rank-and-file pattern, not in Grand Luminary style, but the stars are "golden" and there is writing on the short red stripes - as can be seen in many stills and promo imagery:

United States national flags with white stars can be seen in the movie, and the golden star flag is said to be the regimental color of the 54th Massachusetts Infantry Regiment. However the stars of this regimental color are depicted as white in other renditions, perhaps more reliable than the 1989 move, such as this 1890 lithograph, or this survivors' union commemorative flag. A modern "replica" of the 54th Regiment Color does use golden stars (perhaps influenced by the movie?), but the original 55th Regimental Colors do not. (See also a contemporary (sepia) photo of the actual flag) I would say that the 54th color had 34 stars when the regiment was raised. I have no idea if a new color was reissued to match the new total of 35 stars in 1863.
The movie prop flag, as evidenced by this still, bore the inscription "54TH REGT." on the third red stripe and on the fourth "MASSACHUSETTS", both centered, set in compact serifless capitals; the stars, apparently always 35 (3x7) seem to be relatively small and sparse. The actual regimental color(s) of the 54th might have been more alike the known preserved 55th Regimental Colors.
António Martins-Tuválkin, 14 November 2017
---
Gorillas In the Mist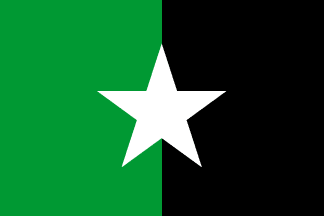 Image by António Martins-Tuválkin, 23 June 2008
I've seen a flag of some non-descript African country or guerilla group in the 1985 movie Gorillas In the Mist (1988). The flag they have is green on top, black on the bottom and has a white star in the center, basically the same pattern as the Viet Cong but with different colors as can be seen here. This group arrested Dian Fossey on the allegations of being a "British Spy." Does anybody recognize this flag at all? Is it a fictional one, or was it real?
Daniel Timothy Dey, 15 June 2008
Where's the flag?
Robert Hunt, 15 June 2008
There's a flag graphic on the right side of the jeep door.
Colin Dobson, 15 June 2008
---
Tarzan, the Ape Man
A few days back, I was waiting for my email to download and turned the TV on for a little zapping while I waited...and all of a sudden, there was a flag floating on a ship. It was on screen for a very short time, but looked like this: a light green treefoil (of sorts) on white. I learned later, after checking the TV programming in the newspaper, that it was a Portuguese movie named Tarzan, o Homem Macaco (Tarzan, the Ape-man), It's a John Derek motion picture, with the very blonde Bo Derek as Jane.
Jorge Candeias, 31 March 2001
The R rated movie that Jorge was referring to is not Portuguese, unfortunately it was American made by MGM in 1981. Besides proving that Bo Derek couldn't act, although she did attempt to do so with some embarrassingly bad monologs - the worst being in waste deep water, wearing a see-through dress, peeling and eating a banana, as she apparently tried to seduce, or be seduced by, an intense, sculpted and bare-chested Miles O'Keeffe. This movie should have been billed as a comedy. O'Keeffe, an ex-football player didn't appear in the first 45 minutes of the movie, didn't have one line, and even his Tarzan yell was recorded from the earlier 1931 Tarzan movie. Derek also makes one of her trademark slow motion water exits, in this case from a river. What can one say after that, other that her director-husband was an very-talented photographer. Considered the worst Tarzan movie ever made, it also starred Richard Harris as Jane's rather villain-like and troubled father.
Pete Loeser, 29 October 2017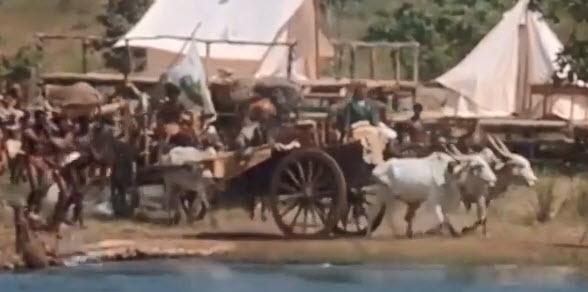 Image located by Esteban Rivera, 30 October 2017
I found the flag in this trailer (screenshot at 0:46). In the scene, there's a caravan featuring a white horizontal flag with what seems to be a green logo of some sort. Hopefully someone can get a better image.
Esteban Rivera, 30 October 2017
[Editor's Note: Also see Tarzan, the Ape Man.]
---
To Be Or Not To Be
Image by Tomislav Todorovic, 24 October 2017
The banner appears in the Mel Brooks remake of "To Be Or Not To Be." It was a rectangular banner, hanging on an office wall. At the top (in chief?) was the Nazi flag (a horizontal red bar with the white circle and black swastika). The rest of the banner was a vertical black-white-red tricolor. A real banner or just a movie prop?
Phil Cleary, 24 November 1999
A Nazi German would-be flag from the movie "To Be Or Not To Be" (remake by Mel Brooks) is attached herewith and is intended to represent the said flag.
Tomislav Todorovic, 24 October 2017
---
Master And Commander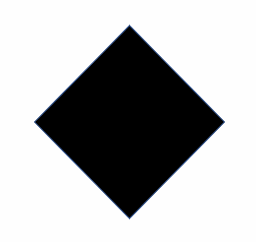 Speculative image by Pete Loeser, 23 October 2017
In the film (set in 1805), there is a scene where the British warship disguises itself as a whaler, hoisting a white flag with a black diamond (not touching the edges). Can someone shed some light on this?
Nathan Lamm, 23 August 2004
If you're familiar with the film, when Russell Crowe/Captain Aubrey has the Surprise disguised as the Syren, late in the film, they are flying a flag showing a horizontal diamond on a white field. The way the flag was filmed, I can't be certain of the diamond's color. However, I'm fairly certain it's not the red of the R. M. Demill flag I found on your site. Other than the color issue, the R. M. Demill flag is substantially similar to what I see in the movie. My question to you, if you don't mind, is if you know what flag they actually used for the disguise. The movie's entry in IMDb suggests Peter Weir put a great deal of effort into authenticity, so I'm inclined to believe the flag they used is historically accurate. Any ideas?
David Barr, 24 November 2005
I cannot identify the flag (although I think that the diamond is black), given Peter Weir's attention to detail however, we may be reasonably sure that it was (if nothing else) typical of whaling company house flags of that period? The only caveat I have is that in the film the disguised Surprise flew it from the gaff - a position normally reserved for the ensign - and merchant vessel's ensign would, in fact, have been the same Red Ensign flown by the Surprise in her normal guise, with any house flag flown from the mainmast.
It is a long time since I read O'Brian's book, but I seem to recall that Captain Aubrey replaced his commissioning pennant with the house flag (since it was the commissioning pennant which - in the absence of a jack at sea - defined a naval ship), but my memory could be at fault here?
Christopher Southworth, 25 November 2005
I believe that in the original book the flag was described as a Pappenberg flag.
Ron Lahav, 25 November 2005
I think in this case it would not be fighting under false colors in the sense of piracy. The French ship hails the "English whaler" twice, so the black diamond flag indicates it was a whaler, and does not conceal the nation. As for EIC ships fighting French ships, sure. With the appropriate ensign...
Joseph McMillan, 26 November 2005
Not when Surprise was disguising itself as a whaler in the Pacific. The Pappenburg ensign was used in the first book, when Aubrey was in command of Sophie (IIRC) in the Mediterranean.
The other thing wrong with the battle scene in the film is that the black diamond flag remained at the gaff throughout the battle. Any captain would be risking his neck if he opened fire under false colors, since if he lost the battle he could be hanged as a pirate.
Joe McMillan, 25 November 2005
I think in this case it would not be fighting under false colors in the sense of piracy. The French ship hails the Surprise using the phrase "English whaler" twice, so the black diamond flag indicates it was a whaler, and does not conceal the nation of origin. And the French fired first. For it to be considered piracy, wouldn't the purpose of the false flag have to have been to hide the nationality of the ship? Since France and England are at war, any British ship could engage a French ship, not just one known to be a man-of-war. East India Company ships fought French ships on many occasions. And in fact, as I write this I am watching the DVD and the red ensign is flying from the stern of the Surprise.
Michael P. Smuda, 26 November 2017
Joe is right, of course, in that a ruse de guerre was (and is) perfectly acceptable providing one raised one's own colours prior to the commencement of hostilities, however, in this instance Michael is right also since the fictional Captain Aubrey was not disguising the "nationality" of his ship only her nature, and a merchant vessel was (and is) perfectly entitled to resist capture by an enemy if she has the means to do so. Since the two countries were at war who fired first was irrelevant, the Acheron was simply following the normal procedure for the capture of a merchant vessel - chase then warning shot or shots.
The fact that the disguised Surprise flew her house flag from the gaff in the film is probably a bit of artistic licence, since in reality if she flew a flag at the gaff it would be the same Red Ensign she would have worn as herself (except that a cunning Captain would have made it an old and tatty one).
Christopher Southworth, 26 November 2005
As Chris pointed out, the problem is that the black diamond flag is flying from the gaff. By the time the movie is set, the gaff of the mizzenmast was firmly established as the place to fly the flag of nationality, not some kind of house flag, or whatever the black diamond thing is supposed to be.
Although yes, I take the point that Surprise did hoist the red ensign before going into action, which probably gets Aubrey off the hook for piracy. (Of course, if he had lost the fight because the flagstaff aft had not been stowed and therefore interfered when Surprise had to tack, Lieutenant Pullings probably would have had something to answer for.) As for EIC ships fighting French ships, sure. With the appropriate ensign (red or striped) at the gaff, of course.
Joe McMillan, 26 November 2005
---
Max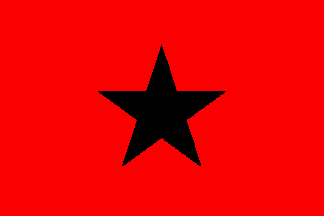 Speculative image by Pete Loeser, 23 October 2017
I went to see "Max" a movie about Hitler's early years. A couple scenes show a red flag with a dark (black?) star in the center. The year was 1918 and I assume the country was Germany. What flag would this be?
Ted LeBlond, 03 March 2003
Only a guess, but in 1918 Germany was wracked by civil disorder after the Kaiser abdicated; the flag you describe might be (authentic or not) a political flag of some kind.
Al Kirsch, 03 March 2003
Given the coloration, this may be an anarchist flag, but that is only speculation. It also brings to mind socialist and communist groups.
Steve Kramer, 04 march 2003
Just to let you know, that flag is also the flag of the Army of Guinea-Bissau. I have this flag on our site under the category of Military Flags/Other Military Countries.
Kevin McGinn, 24 October 2017
The question remains, why use this flag in the film unless it was also a German political flag we don't recognize?
Pete Loeser, 24 October 2017
---
Rainbow Warrior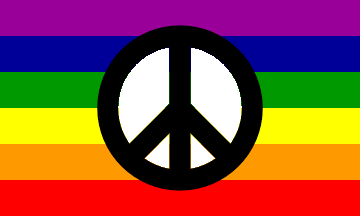 Speculative image by Pete Loeser, 10 October 2017
The movie Rainbow Warrior was shown last night on national TV in Croatia. I was asked by several people about a flag seen there in final scenes. I have not seen the movie, but the flag was described to be as white, with black peace sign encircled in the rainbow colours. What's that flag, and what flag was used really on the ship?
Željko Heimer, 2 June 2000
This 1993 TV film reportably tells the "true story" of the sinking of the Greenpeace ship, the Rainbow Warrior (commanded by Jon Voight in the movie), in Auckland Harbor in 1984, and the subsequent investigation by the New Zealand Police (led by Sam Neill in the movie) which revealed French government responsibility. The ship was on its way to protest French nuclear testing in the Pacific.
Based on the description by Željko and existing Rainbow Peace flags I've made this really speculative image of the flag reported near the end of the documentary feature "Rainbow Warror". I did not see the documentary, so this is just a space holder until we can get a real image drawn. The actual known flags used by the ship Greenpeace can be found on our Greenpeace page.
Pete Loeser, 30 October 2017
---
The Talented Mister Ripley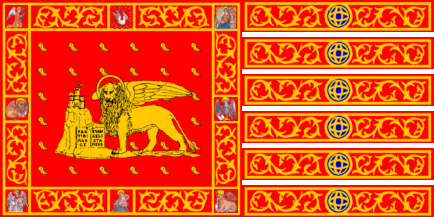 Image by M. Schmóger, 14 August 2002
The trailer I just saw on TV of the movie "The Talented Mr Ripley" (Matt Damon) shows a scene in which the star is piloting a gondola (or something like that). Behind him is a large red flag with yellow ornate, oriental type design on it.
Steve Stringfellow, 06 January 2000
It is the flag of Venice
Antonio Martins, 07 January 2000
---
Speed 2

Image by Jorge Candeias, 1 September 1997
Yesterday I went to the cinema to see the film "Speed 2", in which appear three different flags: the flag of France, the Norwegian Naval Ensign and a flag I couldn't identify: a black-purple-yellow horizontal tricolour. It appears when the ship crashes into the island of Saint Martin in the Caribbeans, probably in the French half of it, since there is also the French Tricolour flying.
Jorge Candeias 1 September 1997
[Editorial Note: later contributions, now misplaced, speculated that it might be a faded or oddly lit German flag]
---
K-19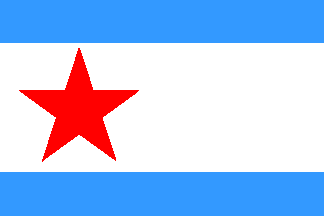 Image by Nelson Román
The following flag appeared in the film "K-19" as one of the Soviet naval flags flown on the submarine or presented during the film associated with the ship.
Blas Delgado Ortiz, 25 January 2003
This is a fictional flag, not a real one, or a prototype.
Victor Lomantsov, 26 January 2003
It is either based on, inspired by, or mistaken for the Soviet ensign of 1935-1991 - with a second blue stripe at the top and missing the hammer-and-sickle emblem. The approximate similarity may be thus intentional or not, but either way this is not your typical "fictional flag", even if these frequently resemble real flags (especially when the typical cinema South American, Central European, Southeast Asian, or whatever country, is usually inspired by a very specific single-country reality) - as it (I assume) is intended to be a Soviet flag, not the flag of an unnamed fictional country so much alike the Soviet Union.
António Martins-Tuválkin, 28 Jan 2003
The movie is based on a true story about a cold war Soviet sub. It starred Harrison Ford and was National Geographic's first feature film, made with Paramount.
Nathan Lamm, 28 January 2003
---
Colossus (also used in The Ugly American)
Image from Eugene Ipavec, 15 November 2017
I saw a flag in a brief flash of archival footage included near the end of the 1970 film Colossus - The Forbin Project which I ALMOST know from somewhere, perhaps it was in the FLAG plate section of our old Encyclopedia Britannica, I'm not sure (and don't have that EB set anywhere close). The sequence contains "ethnic" crowds around the world listening to the first solo broadcast on all media by the supercomputer Colossus. The flag is some sort of horizontal split two-color, salmon-orange above and red below, with a triangular pennant at left extending from the top to the bottom, as in the Czech, Philippines and Djibouti flags. This triangle contains an iconized tree or plant symbol in red apparently. At first glance I wanted to say it must be one of the old Sulu Republic, Molluca, Malaya or Indonesian regional flags, but I didn't come up with anything searching those. The crowd is obviously SE Asian and a sign in the back is almost sharp enough to make out what looks like Thai or Burmese, or Cambodian, one of those sorts of scripts, but I can't really tell.
HC Storage, 11 May 2017
This is the flag of the fictional SE Asian nation of Sarkhan from the 1963 movie "The Ugly American," adapted from the 1958 book of the same name. The makers of "Colossus" presumably wanted foreign location shots of the global reaction to the supercomputer's ultimatum. Stock footage from "The Ugly American" would have been a low-cost alternative to shooting their own, and availability would not have been a problem as both films were made by Universal Pictures.
Eugene Ipavec, 22 June 2017
Eugene is absolutely right. That is the flag of Sarkhan and indeed, both movies were made by Universal Pictures. "The Ugly American is a 1958 political novel (in which the 1963 movie was based on) by Eugene Burdick (an American political scientist, novelist, and non-fiction writer, who served in the Navy during World War II) and William Lederer (an American author and captain in the U.S. Navy who served as special assistant to the commander in chief of US forces in the Pacific and Asian theater) which depicts the failures of the U.S. diplomatic corps in Southeast Asia. The book caused a sensation in diplomatic circles, and had major political implications. The Peace Corps was established partly as a result of the book. It was one of the biggest bestsellers in the country, has been in print continuously since it appeared and is one of the most politically influential novels in all of American literature.
The novel takes place in a fictional nation called Sarkhan (an imaginary country in Southeast Asia that somewhat resembles Burma or Thailand, but which is meant to allude to Vietnam and includes several real people, most of whose names have been changed. The book describes the United States' losing struggle against Communism due to the ineptness and bungling of the U.S. diplomatic corps stemming from innate arrogance and their failure to understand the local culture. The book implies that the Communists were successful because they practiced tactics similar to those of protagonist Homer Atkins. The title of the novel is a play on Graham Greene's 1955 novel The Quiet American and was sometimes confused with it.
According to an article published in Newsweek in May, 1959, the "real" Ugly American was identified as an International Cooperation Administration technician named Otto Hunerwadel, who, with his wife Helen, served in Burma from 1949 until his death in 1952. They lived in the villages, where they taught farming techniques, and helped to start home canning industries. Another of the book's heroes, Colonel Hillandale, appears to have been modeled on the real-life U.S. Air Force Lieutenant General Edward Lansdale, who was an expert in counter-guerrilla operations." (Source)
All through the movie trailer one can see images of the flag of Sarkhan (at 1:40, 1:51, 2:36, 2:46). The symbol featured on the flag is very similar to the hammer, sickle and ink brush seen at of the Korean Workers' Party (North Korea).
Esteban Rivera, 22 June 2017
I have screen shots of the movie and they show the Sarkhanese flag is horizontally divided yellow over red, with a white hoist triangle containing a five-headed snake or dragon in yellow and red. It appears to have been intended as a national rather than a royal or regime symbol - the movie's leftist insurgency uses it as enthusiastically as the government.
The charge does not particularly resemble Chinese dragons, which never have multiple heads and always have feet. Its heads do resemble the stylized rendition of local (Thai) mythological beasts, though.
The Sarkhanese coat of arms also makes a few (blurry) appearances; it is very Thai-looking, an irregular lozenge-like hexagon charged with a rotated version of the flag (though the colors meet in a T, not a Y). The hexagon is surmounted by a distinctive conical crown and decorated with a two pairs of flourishes resembling the distinctive gable finials found on Southeast Asian palaces.
Eugene Ipavec, 15 November 2017
---
Tibet: The Bamboo Curtain Falls (documentary)

image #1

image #2
Images from Corentin Chamboredon, 7-8 December 2017
"Tibet: The Bamboo Curtain Falls" is a 1981 episode of the TV documentary series "The World About Us". It documents the history of political struggle between Tibet and China through archival film shot by western travellers in the early part of the century. It was broadcasted on BBC2 on 8/4/1982. The first flag (image #1) in question appears from 21:00 to 21:05 first (the Dalai lama travels to Beijing in 1954), then from 12:55 to 13:02 (the Dalai lama visits monasteries to pass his buddhist studies degree in 1959). Sadly, I was unable to find the origin of this footage, but given the context, those images were very likely taken by the Dalai Lama's photographer, Jigme Taring. Here are my "best" shots. None of them seem good enough to me, but that's all I could get.
I have not much to say about the flags, given the poor quality of the footage, but it's still quite luck to find these moments were taken with a color camera. The first flag itself looks square and has a yellow field and a reddish border. And that's it for the sure things.
Now, I will speculate a little. I took a few screenshots in frame by frame with the hope I could maybe distinguish some more details. At first I thought the first flag looked very much alike an unidentified military flag I had reported before (UFE17-23 - a red field and yellow border), but in fact, its colors are inverted. Then, after taking a long look in full screen, I wonder if, maybe, this flag couldn't be the Dalai Lama's Personal flag. The video is either too blurry, too dark or too bright to be sure, but it seems to me there is some big emblem on it, with some unfilled space in the upper fly. Which is also the case on the two photographs of the Dalai lama flag. But maybe I'm just imagining things.
Two other flags (image #2) appears from 19:29 to 19:33 (on the extreme left). They have a red field with some white emblem in the middle. Again, the video does not allow me to be sure of anything, but I think those are flags of the Tibetan army.
(Sources : 1. Tibet Rare Footage - Complete Version, 2. Tibet: The Bamboo Curtain Falls, and 3. The Bamboo Curtain Falls).
Corentin Chamboredon, 7-8 December 2017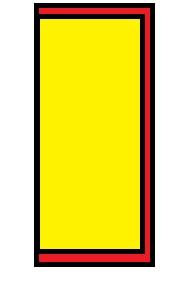 image #3

image #6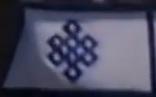 image #4

image #5
Images from Esteban Rivera , 21 December 2017
Indeed, it is a very interesting documentary. It is important to notice, is that when Corenting submitted the flags, he missed several other flags appearing before in the video. A set of (at least) 4 square flags, being: purple, red, green and yellow (image #6). These look like parade flags (maybe Buddhist-related?). Then there are other flags seen in the film footage, not mentioned by Corentin: a horizontal flag with emblem in the middle (image #4 - 18:19 to 18:22) and another horizontal flag with emblem in the middle (image #5 - 18:19 to 18:22). Also a rectangular red flag with what seems to be a white flower in the middle, both on the obverse and reverse (from 19:28 to 19:32) which looks very similar to the flag of Hong Kong.
Getting back to the first flag mentioned (image #1), indeed, it is a rectangular yellow flag with a red fimbriation, I attach attach it as image #3 (please excuse my giffing, since I'm only trying to recreate what I can observe, and I'm pretty sure there are many others who can do that work much better). No other features are observed in this flag (no inscription nor emblems whatsoever). I'm inclined to think that this is some sort of Buddhist related flag. The one thing that caught my attention though, is the finial of this vertical flag, since it looks pretty much like a spear on top, with feathers hanging, pretty much like a Tug Banner (a banner used by the Mongols, for example)..
Esteban Rivera , 21 December 2017
Oh, nicely done ! How did you manage to get these images ? Did you use a specific software ?
Sorry for the mislabelling, I thought this was the same flag so I didn't bother to differentiate the various sequences. Indeed, it could be a prayer flag. I was myself unsure of how to describe it. There were either plenty of such flags, usually in important ceremonies or a few around monasteries and holy places, but I'm not sure about occasions such as this travel.
As for image #4 and image #5, those are merely decorations (chakra wheel, neverending knot) you will find in almost every Tibetan monastery and even on tents (image example)
Image #6 is displayed by a Chinese delegation, so I'm not sure what it may represent. If it was displayed by Tibetans, I would consider them as a sort of prayer flags which can represent the five Tathagatas or Dhyani Buddhas, each of them having a specific color (source).
Corentin Chamboredon, 21 December 2017
Let me start by saying first that I'm very impressed with your work on Tibetan flags. Not only is your research very detailed, but also the sources are indeed quite amazing. And so are your drawings. I'm truly humbled.
As for the mislabelling, don't worry. That has happened to me countless of times when trying to pinpoint such specific information. So hopefully, you all got it right when uploading the content. Regarding the screenshots I attached, no, I just paused in a frame-by-frame manner on YouTube (no special software really, just done on a click-by-click basis).
Regarding the prayer flags, perhaps you as Tibetan Editor could create a page regarding decoration flags/banners. It is of interest since those of us who are not familiar (as you are) with Tibetan culture, can tell the difference. I remember not a long time ago, that when accessing video footage of 1930's Germany, there were several decorative Nazi banners that at first we were trying to identify as being part of a specific offshot party organization, and they ended being just that, "Podium and Decorative Banners of the Third Reich". So, that would be a nice starting point for begginers like myself.
In the end, one has to take into account that the events portrayed on the Tibetan film you mentioned were when the armed dispute between China and Tibet took place. Nevertheless, it is amusing to see parade flags for the reception of the Dalai Lama (indeed a Head of State) in China, even if those were merely prayer/decorative flags of some sort.
Again, my congratulations for your great work and can't wait to see that documentary again (with more time) and also the following update.
Esteban Rivera, 21 December 2017
I had thought a few months ago to start some research on the prayer flags, but when I got into it I discovered than even in Chinese-controlled Tibet they had now modern technology, which allow for much more diverse prayer-flags. And that render studying them a little more difficult since new models seem to appear more easily than back in the past. Plus the fact that artistic license and symbolism subtleties generate still more diversity. For example, see these different Gesar flags (Gesar is a mythic hero, whose name ultimately comes from Byzantium through a Turk ruler of Afghanistan : "Caesar" became "Gesar") Image #1, Image #2 and Image #3.
Corentin Chamboredon, 21 December 2017
I have become aware of some new information regarding this topic. One of the flags (Image #4) appears displays a symbol called the "Endless knot". The endless knot (Sanskrit: śrīvatsa; Tibetan: དཔལ་བེའུ་, THL: pelbeu) denotes "the auspicious mark represented by a curled noose emblematic of love". It is a symbol of the ultimate unity of everything. Moreover, it represents the intertwining of wisdom and compassion, the mutual dependence of religious doctrine and secular affairs, the union of wisdom and method, the inseparability of sunyata (emptiness) and pratityasamutpada (interdependent origination), and the union of wisdom and compassion in namkha (enlightenment). This knot, net or web metaphor also conveys the Buddhist teaching of interpenetration". (source)
"The endless knot or eternal knot (Sanskrit: srivatsa; Tibetan དཔལ་བེའུ།; dpal be'u; Mongolian Ulzii) is a symbolic knot and one of the Eight Auspicious Symbols (source). It is an important cultural marker in places significantly influenced by Tibetan Buddhism such as Tibet, Mongolia, Tuva, Kalmykia, and Buryatia. It is also sometimes found in Chinese art and used in Chinese knots". (source)
Hence, it is a decorative flag.
Esteban Rivera, 26 March 2018
---
Anything below the following line isnt part of the Flags of the World Website and was added by the hoster of this mirror.
---
Bei fahnenversand.de erhalten Sie eine Vielzahl an günstigen Flaggen, Pins und Aufnähern, zum Beispiel: