Juba and Shabelle

image by
Jaume Ollé, 16 October 2014 and Peter Hans van den Muijzenberg, 18 Nov 2014
The flag of Juba and Shabelle is white over green with blue triangle bearing a white star at hoist. In the white part near the hoist is a circle of nine dark red or maroon stars and in the part near the fly a tree. In the base of tree, from left to below part, an undulated line of light blue, and from the right to the below part other undulated line of light blue. There's a Facebook page for this state with a pair of drawings of the flag (ratio c. 1:3), but still no photograph to confirm.

In Flaggenkourier (No. 39, June 2014) the design if the flag is same but the tree is slightly different and the circle is black with ten stars. The light blue undulated lines are not pictured and the ratio of the flag is given as 1:2.
Jaume Ollé, 16 October 2014
---
Juba-Jazira
image by Jaume Ollé, 16 October 2014 and Peter Hans van den Muijzenberg, 18 Nov 2014
Juba Jazira (Jubba Jazira) was created at end of 2010 with its president, Abdi Ahmed Osman, being welcomed in Nairobi (Kenya) on 03 January 2011. It's flag has a white background with the state emblem in the centre, with a Somali flag below, which is confirmed by photographic evidence.

Flaggenkourier (No. 39, June 2014) illustrates the Somali national flag for this state.
Jaume Ollé, 16 October 2014
---
Juba-Raas
images by Jaume Ollé, 16 Oct 2014 and Peter Hans van den Muijzenberg, 18 Nov 2014
Juba-Raas was created 08 January 2011 in Scandinavia. The militia of Ras Kamboni was initially allied to al-Shabab and then created their own state loyal to the Transitional Government with its capital at Jilib.

Two variants of the flag can be confirmed in photographs following the same basic design of two horizontal stripes of green (three quarters) and light blue (one quarter) with the regional emblem in the centre and the Somali flag in the canton. One variant has the name of the state inscribed in white in the centre of the light blue stripe. The blue stripes appear to have slightly different shade. Flaggenkourier (no. 39, July 2014) illustrates only the first variant.
Jaume Ollé, 16 October 2014
---
Juba Shabelle (Shabelle Juba)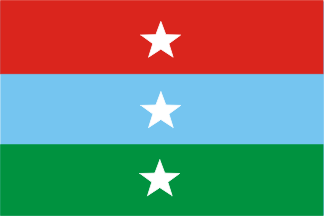 image by Jaume Ollé, 24 October 2014
Juba Shabelle (also called Shabelle Juba) State was created on 05 July 2011.

All sources are agree that it has a flag of three equal horizontal stripes of red, blue and green. In the centre of each stripe is a white five-pointed star.
Jaume Ollé, 24 October 2014
---
Juba Valley Regional State

image by
Jaume Ollé, 16 October 2014
Juba Valley Regional State originated in the Juba Valley Alliance, together with other allied forces. Its president is Hussein Abdi Baaleey. Its flag comprises three vertical stripes of light blue, red and green with a white five pointed star in the centre of the flag on the red stripe.
Jaume Ollé, 16 October 2014
---
Khaatumo State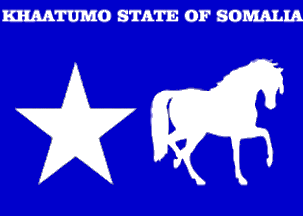 image by Cai Zhenyuan, 03 May 2012

Khaatumo was announced in January 2012 after a meeting in Taleh town of Sool and it comprises the Sool, Sanaag and Eyn regions. Khaatumo was established during a conference known as Khatumo2 and supports the Transitional Federal Government (TFG) rather than Somaliland. The Dhulbahante clan, a sub clan of Darod clan, is dominant in the regions of Sool, Sanag and Eyn and has maintains the SSC militia fighters who fought against Somaliland in Buuhoodle. Major politicians including Ali Khalif Galeyr, a former Somali prime minister and lecturer at US universities, backed the conference. The Khatumo state of Somalia will have three presidents, rotating on a six month basis, and a Supreme Council comprising of three members, and a cabinet of six members. The three routine presidents are: Ahmed Elmi Osman (Amed Karash), Mohmaed Yusuf Jama (Indhasheeel) and Nur Elmi (Biindhe). In March of this year, the TFG officially recognized Khaatumo. In March 2012, the TFG recognized the state, but rescinded this few days a later.
Cai Zhenyuan,16 July 2013

Khaatumo State is a newly formed semi-autonomous state located in north eastern Somalia. It was formed after a conference held in the Taleh district of Sool region in December 2011. The conference was attended by representatives from Sool, Sanaag and Cayn regions.

Based on a photograph on flickr, the state flag has a dark blue background with a large white five-pointed star in the hoist half and a horse in the fly half, also in white. The name of the state (in English) is written at the top of the flag in white.
Cai Zhenyuan, 03 May 2012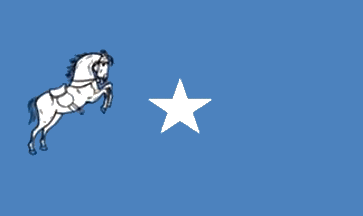 image by Cai Zhenyuan, 27 May 2013
According to this source, Khaatumo has a new flag which is blue with a white five-pointed star in the centre. Near the hoist, to the left of the star, is a jumping white horse. No further information is provided.
Cai Zhenyuan, 27 May 2013
---
Maayland
An image of the flag of Maayland / Southern Somali Union is shown here. This flag has already been reported as the flag of South-West Somalia.
Olivier Touzeau, 02 Aug 2008
---
Mareeg State

image by
Jaume Ollé, 17 October 2014
Mareeg state was established in 2011. It is a region in Galgadud that was the base of the old sultanate of the Ajuuran. The flag has a blue triangle at the hoist with a large five pointed star rotated left, and three equal horizontal stripes of light blue, white and green in the fly.
Jaume Ollé, 17 October 2014
---
Marka
image by Jaume Ollé, 16 October 2014
The status of the city of Marka is unclear. I have a photo showing people bearing two flags - the Somali flag and one as illustrated above. The latter also appears on two posters, one with a local leader and the other promoting education.
Jaume Ollé, 16 October 2014
---
Middle Shabelle (Dhexe Shabelle)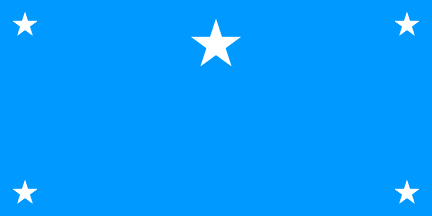 image by António Martins-Tuválkin , 06 June 2006
Middle Shabelle (or Dhexe Shabelle) State appears to have two flags; a light blue flag bearing a central white five pointed pointed star and with four smaller white stars in each corner. There is also a flag of with horizontal stripes of green, red, green. In the center, mainly in the red but also crossing into the green stripes is a yellow ring within which is the state emblem (probably laurel branches on each side of a palm tree).
Jaume Ollé, 24 October 2014
---
Midland
image by Jaume Ollé, 17 Oct 2014 and Peter Hans van den Muijzenberg, 18 Nov 2014
The flag of Midland has a white border. In the centre is a blue background with a five pointed star surrounded by a circle of 14 smaller white pointed stars. On either side of the central device is a palm tree. The existence of the flag is confirmed in photographs.
Jaume Ollé, 17 October 2014
---
Northland

Northland State is an autonomous state in the disputed Sool, Sanaag and Cayn regions of Somalia between the self-declared republic of Somaliland and the autonomous Somali states of Puntland and Maakhir. Northland State was declared autonomous on 01 May 2008. Currently it appears as if the Somali national flag is still being used.
Chrystian Kretowicz, 13 July 2008
The Northland State (01 May 2008 - 11 January 2009) was an autonomous state in the disputed Sool, Sanaag and Cayn regions of Somalia. While Northland's official capital was Las Anod, its parliament never met due to Las Anod being under the control of Somaliland.
Cai Zhenyuan, 04 Dec 2013
---
Anything below the following line isnt part of the Flags of the World Website and was added by the hoster of this mirror.
---
Bei fahnenversand.de erhalten Sie eine Vielzahl an günstigen Flaggen, Pins und Aufnähern, zum Beispiel: