Bestellen Sie Ihre Fahnen / Flaggen im Flaggen-Shop bei fahnenversand.de

Diese Website beschäftigt sich mit der Wissenschaft der Vexillologie (Flaggenkunde).
Alle auf dieser Website dargebotenen Abbildungen dienen ausschließlich der Informationsvermittlung im Sinne der Flaggenkunde.
Der Hoster dieser Seite distanziert sich ausdrücklich von jedweden hierauf u.U. dargestellten Symbolen verfassungsfeindlicher Organisationen.

---
This is a mirror of a page that is part of © FOTW Flags Of The World website.
Anything above the previous line isnt part of the Flags of the World Website and was added by the hoster of this mirror.
Italy - Minorities
Last modified: 2020-11-13 by rob raeside
Keywords: italy | cymbr | furlans | roma | cimbri | catalonia | alghero | sardinia | arberesh | tzimber | croatia | campobasso | walser |
Links: FOTW homepage | search | disclaimer and copyright | write us | mirrors

---
See:
---
See also:
---
Minorities in North Italy are:
- Occitani
- Franco-Provenzali (in Piedmont, Valle d'Aosta) - I suppose they are using the flags of Movimento Harpytania and the red-black flags of Aosta
- Walser (a germanic people, in Valle d'Aosta, Piedmont and C.Tessin-CH) - Has an own (very elaborated) flag
- Sudtiroler (AltoAdige/Südtirol)
- Tzimber/Cimbri (Veneto, Trentino)
- Ladins/Ladini (Veneto, Trentino, Friuli)
- Furlans/Friulani (Friuli)
- Slavi (or Sloveni) (Friuli)
Matteo Colaone, 11 November 2000
---
Also called "Arbe Risht". They fly the Albanian flag, I guess.
Antonio Martins, 1 August 1999
Arberesh (Italy) - These are ethnical Albanians in Puglia and Basilicata. They most certainly use the Albanian flag, undefaced, if anything.
Antonio Martins, 14 September 2000
---
Local "Catalanists" in Alghero (Sardinia) may use the "quatre barres", but As far as I know this town is not claimed as a part of "Greater Catalonia", just a place where catalonian happend to live.
Antonio Martins, 14 September 2000
Alghero was populated by people from Catalan region named CAMP (Reus, my city, is the main city) as a position to assure the control over Sardinia where four Judges (Lords) sometime revolted against Catalan domination. Ethnic pure catalan was maintened until XX century. Currently Sardinian and Italian population are the majory in the city. The concept of Greater Catalonia is out of the Catalonian views. Some months ago I watched a report in catalan TV from Algher. Catalan flag is hoisted in the port, in the fishing ships and in some building from cultural associations, but catalans in Algher don't have special rights (school, radio, TV, books...) and in few generations the catalan will be merged and will cease to exist as seperate community.
Jaume Ollé, 15 September 2000
---
I wanted to add information about the centuries old Croatian community that lives in Molise. The live in the province of Campobasso.
They live in three villages and arrived in Italy at the beginning of the Ottoman conquest of the region. Today they number some 2000. The villages are: Aquaviva Collecroce (Cr. Ziva Voda-Kruc), Montemitro (Cr. Mundimitar) and San Felice del Molise (Cr. Filic). The Molise Croatians are recognized as one of Italy's minority groups and have the right to teach their language see Eurolang.net for more details.
The arms for these villages can be found at the sites of cquaviva Aquaviva Collecroce (Ziva Voda-Kruc), Montemitro (Mundimitar) and San Felice del Molise (Filic)
As for using the Croatian flag, I do not know. Both the Republic of Croatia flag and the Italian flag are shown during a presentation of the Molise Croatian dictionary. The flag may be there because the Croatian Embassy was there...see <digilander.libero.it/montemitro/Fondazione.files/diz.montemitro.hr.htm>.
Marko Puljic, 4 February 2001
I e-mailed the webmaster of the Molise Croatian website, and she confirmed that the Croatians in Italy do not have their own flag.
Marko Puljic, 6 December 2002
---
I guess all these are Gypsies (Roma), using the usual gypsy flag - if any at all.
Antonio Martins , 1 August 1999
Italian "Cimbri" have nothing to do with Rom (Gypsies). This is the self-denomination of little minorities scattered throughout Northern Italy and coming from Austria or Southern Bavaria (XII-XIV centuries): the major Cimbre communities are the ones of the 13 Communes ("13 Comuni") on the mounts over Verona, the 7 Communes ("7 Comuni") in the mpuntains N of Vicenza, and a few villages in the Provinces of Trento (Luserna), Belluno (Sappada/Ploden), Udine (Sauris and Timau). Their peculiar dialects - directly deriving from Middle German are still preserved in some of the villages.
Though there are general conventions of all the Cimbri, I don't know of any flag common to all of them. They use the flags of their single villages or confederations of communes (Verona and Vicenza). The name "Cimbri" has nothing to do with the Cimbri and Theutones defeated by Marius in North Germany in the first Century BC. It is, on the contrary, to be tied with modern German Zimmer (room < hut made of wood) or with English Timber (wood for construction). These Germanic peoples were called to Italy because they were good wood-cutters and carpenters and especially because they knew how to obtain coal from wood and therefore how to get the high temperatures that were needed for smelting metals. As a consequence when a North Italian Lord wanted to open a mine almost always called Cimbri settlers.
Alberto M. Mioni, 13 April 2000
They call themselves Tzimbar, and they speak a Germanic language called "Tauch". The modern version of the origin of this mysterious people could be this: in 1287 Bartolomeo della Scala, bishop of Verona asked some families of woodcutter, "tzimberer" in german, to work in a wide forest, Lessinia. So They settled in this area, the so-called "die Dreizehn Gemeinden/Tredici Comuni". The names of the "thirteen communes" are (tauch and italian names):
1- Kalwein (it: Badia Calavena)
2- Nuagankirchen (it: Bosco Chiesanuova)
3- Silva Hermanorum (it: Cerro Veronese)
4- ? (it: Erbezzo)
5- ? (it: Rover?)
6- San Moritz (it: San Mauro delle Saline)
7- Prugne and Ljetzan (it: Selva di Progno)
8- Vellje-Feld (it: Velo Veronese).
The last 5 are no more indipendent communes, but the italian administration included them in the previous ones. They are:
9- Kampsilvan
10- San Bortolo
11- Tavernole
12- Porrental
13- Azzarino.
All in Verona province, Veneto region.

Tzimbar also live in the area of "Die Sieben Gemeinden/Sette Comuni" in Vicenza province, Veneto region. The seven communes should be:
1- Schlage (it: Asiago) - now a beautiful touristic village -
2- ? (it: Gallio)
3- Robaan (it: Roana)
4- Canove (?)
5- Vallorch (?)
6- Pich (?)
7- Pian Osteria (?)

Other little Tzimber "islands" in North Italy in the previous comment.

Tzimber don't use any national flag; but Selva di Progno (VR) has an interesting Coat of Arms: every star stand for one of the 13 communes. In Asiago Coat of Arms 7 human heads stand for the 7 communes; the cross is the so-called "Schio cross". It seems that yellow and red are the colours of Asiago; I saw a flag Y-R (divided vertically?) in that city in december 1999.
Tzimber have really nothing to do with Gypsies or Rom peoples!
Matteo Colaone, 11 November 2000
I received information that there is a Flag of the Seven Cimbri Comunes, and flag of the historical territorial militia of the Seven Communes.
Jaume Ollé, 25 November 2001
It is relatively well established by now that the present-day Cimbri have nothing to do with the ancient, proto-Germanic tribe of Cimbri of Jutland. They are the settlers from the German lands, who arrived to what is now Northern Italy in the early Middle Ages. Their languages (or dialects) are related to old Bavarian and old German, but being more isolated, are therefore less recognizable as German. Their name derives from the word "Tzimberer"(carpenter).
Sometime in the 12th and 13th centuries, the various settlements in the Veneto mountains formed themselves into self-governing federations. These were the 13 communes in the northern Verona Hills and the 7 communes in the Asiago plateau. There are smaller Cimbri communities in Belluno and Trento Provinces. Both of the larger groups formed loose aliances with the city of Venice, mostly for trade purposes.
The Sette (Seven) Comuni federation is known to have been fully organized between the years of 1270 and 1339, but the Document of Federation was destroyed in fires due to hostilities around 1500. The federation lasted until the Napoleonic invasions around 1807. The territory was under the Austrian rule from 1815 to 1866 and was annexed to Italy by the international accord in 1866.
Chrystian Kretowicz, 20 July 2007
See also:
---
See: Friuli - Venezia Giulia Region
---
Occitani (in Piedmont) use the Occitania flag (with yellow Toulouse cross on red) and white flag with a red Sun of the Alps (the same used by Padanian autonomist).
Matteo Colaone, 11 November 2000
---
Slovenes are present in the eastern part of the region of Friuli Venezia Giulia along the Italian-Slovenian border, mostly in and around cities of Trieste (Trst), Gorizia (Gorica) and Tarvisio (Trbiž). There are some ten thousand Slovenes. They are native inhabitants of the region. As far as it is known to me, they don't use any common flag or coat of arms to represent themselves, except of course signs of many cultural and economic societies they are organised within.
Uroš Herman, 7 October 2004
Slavia Veneta - Beneška Slovenija is Inhabited by a significant number of Slovenians, this small area alongside the Italo-Slovene border in Friulia (Udine Province, Friuli-Venezia-Giulia Region) has a long history quite well presented at wikipedia. Its Coat-of-Arms is described at Heraldry Of The World site and the flag is shown at: <www.laliberacompagnia.org> and <galloromanzi.splinder.com>.
Since 2001, the Slovenians of Slavia Veneta are a recognized minority people of Italy and enjoy all the rights due to them as such.
Chrystian Kretowicz, 19 July 2008
If I understand the mentioned sites well, this is supposedly the flag of the Slovenian people living in the Itaian region next to the Slovenian border. For what I know, the Venetian Slovenes (if that is the proper name in English, being literal translation of Slovene term "Beneški Slovenci", that Slovenian language uses for this minority group), are not organized politically in such way and do not have any particular flag of their own - and if they use any flag to symbolize them they are using the Slovene tricolour (with the Slovenian Coat of Arms or possibly without it as well).
It seems to me that the mentioned two sites are politically coloured for the Padanian movement, and this flags seems to me to be the invention of this movement. I would be very cautious with reporting of this flag and would like to see some other sources about it and its actual use.
On the other hand, the flag seems to be nothing else but the banner of arms of the Duchy of Carniola (Krain); (see wikipedia). Considering that the Carniola has never reached in size the territory of the Venetian Slovenia, it makes no much sence.
Anyway, much caution and more research should be given to this flag.
Željko Heimer, 20 July 2008
What intrigues me more is why the scheme from the historic coat of arms of the region wasn't utilized for "Padanian" or otherly inspired flag of Slavia Veneta, if any. I would speculate that the Slovenes of Venetia felt an affinity with the Duchy of Carniola, as the only autonomous unit of Slovene people of the time in 19th century to cherish its symbol, but this would be probably difficult to prove.
The Slovenes of Slavia Veneta are indeed very well organized in the form of the party of Slovenska Skupnost (Slovene Union) and have the representation (albeit not direct) in the Chamber of Deputies and Senate of the Italian Republic and (direct) at the legislature of Friuli-Venezia -Giulia. See <www.slovenskaskupnost.net> and Wikipedia, although, it seems, the party doesn't have a flag.
Chrystian Kretowicz, 21 July 2008
This is a clever speculation, but while not impossible, it sounds unlikely. I've spent time in Friuli and Benecija, (albeit not recently) and I don't recall seeing any popular use of the Carniolan eagle.
Eugene Ipavec, 21 July 2008
One of the first (the first?) source for most of these flags is "Bandiere di libertà" by Gilberto Oneto. This book is a somewhat problematic mixture with true historical flags, old flags somewhat revived, a few totally invented, some mistaken flags etc.
For the Italian Slovenians (I would not call them "Venetian" Slovenians, as they live in the region Friuli Venezia Giulia, not Veneto), the book contains two images and about one page of text. The images are the current national flag of Slovenia (fig. 56a) and the Carnian banner-of-arms (fig. 56b) as sent by Chrystian (red legs on the eagle, though).
The text correctly describes the history of the Slovenian national flag. The Banner-of-Arms text reads as follows (my translation from Italian): "The arms of the ancient Hapsburgian duchy of Carniola, on the other hand, had an eagle Azur on a field Argent, armed and langued Gules, crowned Or, and covered on the breast with a crescent checkered Or and Gules." - That is all, i.e. nothing about a possible current usage, not even about the usage as flag, just the description of the arms.
Slovenska Skupnost holds one seat (out of 57) in the Friuli Venezia Giulia regional legislature (since 2008). It has, however, never had any seat in the national parliament. In 1992 a coalition of small minority parties won a seat each in both of the chambers; however, the seat was gained by a member of the PSd'Az (Partito Sardo d'Azione) and an independent [see Italian wikipedia]. In the following elections there was nothing even close to this success.
I am not totally sure about the flag of the party. I had asked them three years ago for a flag and the reply was (24 March 2005): "we do not have a flag for sale." From my experience with Italian party flags since then I would conclude that they quite probably have a flag, but only a few copies of them, so they would not give away any of them. However, we would have to find out for sure. An educated guess for the flag would be the party symbol (as found on their website) on a white background.
Marcus E.V. Schmöger, 22 July 2008
---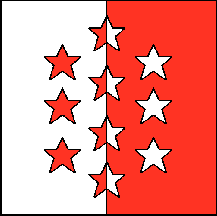 image by Matteo Colaone, 6 October 2002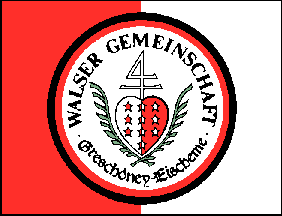 image by Matteo Colaone, 6 October 2002
Walser people is an important german-speaking minority (Walser Gemeinschaft) in Piemonte and Valle d'Aosta regions. Nowadays they live in these towns In Verbania-Cusio-Ossola province: Pomatt/Formazza, Z'Makána/Macugnaga. In Vercelli province: Im Land/Alagna, Fubely/Fobello, Rémmalyu/Rimella, Rimàsk/Rimasco. In Aosta province: Greschòney Oberteil/Gressoney-la-Trinité; Greschòney Onderteil òn Méttelteil/Gressoney-Saint-Jean, Eischeme/Issime; Walser also live in Canton Ticino (CH) in Bosco Gurin village.
FLAGS:
Above - flag of Walser communities, adopted in 1815, it reminds Canton Vallese (CH) flag, as Walser people comes from that land. White and red stand for "Legione Tebana"'s martyrs that died in Martigny in 287 d.C.; the ten stars stand for the number of communities in the valley (nine in Piemonte and Valle d'Aosta and one in Canton Ticino).
Below - flag used by Aosta province Walser communities. The hearth-shaped emblem represents the flag of Walser communities; the other symbol is called Winkelkreutz ("cornercross"), used by Gressoney's merchants in '600, and it reminds Odin-Wotan's rune (Odin was the protector of merchants). Palm leaves simbolize the Legione Tebana. Black and red in the borders are the well-known Valle d'Aosta colours.
Matteo Colaone, 6 October 2002
However, photo of the flag at <www.regione.vda.it> shows a small differencies in the ratio and in the size of the emblem on the flag. On the same page with the photo is shown the emblem.
Valentin Poposki, 13 February 2008
The emblem shown on the flag at <www.regione.vda.it> is different from the emblem shown alone (being elliptic instead of circular). So there are possibly different variants of the flag.
M. Schmöger, 23 February 2008
I think it is just a distorsion of the photo, being photographed from a strange angle.
Valentin Poposki, 23 February 2008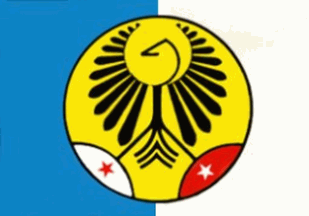 image from Flagonline
Flagonline report the flag of Walser:
"The flag of Valser or Walser People (from the german Walliser, that is to say valleyan, the inhabitant of the swiss Vallese canton), the population of germanic origins (Alemans) migrated during the VIII century in the area of the actual Berne (High Valley) and during the XIII century in different places of Italy, Switzerland,
Liechtenstein and Austria. Walser houses are present in Pedemonte (Alagna Valsesia) in Ossola valley and in the Valley of Aoste (Lys Valley and Ayas Valley).
Formal Country Name: Walser
Local Country Name: Walser
Capital City of Walser : Alagna "
As a proof this flag is not a fantasy, but really exists and is actually displayed (in this case in the parochial church in Alagna), at <www.comune.alagnavalsesia.vc.it> showing it between the flags of Italy, Switzerland, Austria and Liechtenstein. (photo at the bottom of the page).
Chrystian Kretowicz, 29 July 2009
See also: Valais / Wallis canton (Switzerland), Valsesia
---
Anything below the following line isnt part of the Flags of the World Website and was added by the hoster of this mirror.
---
Bei fahnenversand.de erhalten Sie eine Vielzahl an günstigen Flaggen, Pins und Aufnähern, zum Beispiel: