Bestellen Sie Ihre Fahnen / Flaggen im Flaggen-Shop bei fahnenversand.de

Diese Website beschäftigt sich mit der Wissenschaft der Vexillologie (Flaggenkunde).
Alle auf dieser Website dargebotenen Abbildungen dienen ausschließlich der Informationsvermittlung im Sinne der Flaggenkunde.
Der Hoster dieser Seite distanziert sich ausdrücklich von jedweden hierauf u.U. dargestellten Symbolen verfassungsfeindlicher Organisationen.

---
This is a mirror of a page that is part of © FOTW Flags Of The World website.
Anything above the previous line isnt part of the Flags of the World Website and was added by the hoster of this mirror.
Kingdom of the Two Sicilies (Italy)
Due Sicilie
Last modified: 2020-12-28 by rob raeside
Keywords: italy | two sicilies | sicily | naples |
Links: FOTW homepage | search | disclaimer and copyright | write us | mirrors

---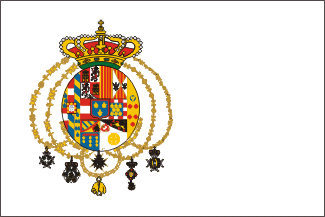 State Flag and Naval Ensign (1829-1861)
image by Jaume Ollé, 23 April 2003


Land Flag
image by Jaume Olle and Jorge Candeias, 5 January 1999
---
---
See also:
Other Sites:
---
Sicily and Naples (i.e. all of the southern Italian peninsula) were a joint kingdom during many periods: 1130-1282, 1435-1458, 1503-1713, and 1720-1860 (except for the Napoleonic interlude). Naples was often the dominant power, and the terms "Kingdom of Naples" and "Kingdom of the Two Sicilies" are often interchangeable. How Naples came to be known as a second Sicily is a mystery to me too. During much of its history the Two Sicilies were under Spanish (Bourbon) domination. After the war of the Spanish Succession, Naples was ceded in 1713 to Austria, and Sicily to Savoy. In 1720 Austria exchanged Sardinia for Sicily (politics were different then!), and after the war of the Polish Succession in 1735 Austria ceded the Two Sicilies back to Spain under condition that they should never be united with Spain as a single kingdom. In 1860 Garibaldi invaded Sicily with a Piedmontese army, and then crossed the straits and defeated the Neapolitan army. Naples and Sicily voted by plebiscite to join the north, and in 1861 the Kingdom of Italy was proclaimed with Piedmontese Victor Emmanuel as its first king.
T. F. Mills, 5 August 1997
Naples and Sicily were in Angevin hands when Charles I (1268-1282) lost Sicily in the war of the "Sicilian Vespers". Sicily offered its crown to Peter III of Aragon in 1282 (husband of Constance, Hohenstaufen heiress). Peter repulsed the Angevins, and then Frederick (1295-1337) married the daughter of Charles I Angevin and promised that Sicily would return to the Angevins at his death. The promise was not kept and the war resumed. In 1373 Giovanna I of Naples surrendered the Sicilian claim in return for tribute, and Sicily was ruled as a viceroyalty of Naples. In 1409 Sicily was reunited with Aragon, and Alfonso (1435-58) reunited it with Naples. In 1504 Spain conquered Naples, and held it until the war of the Spanish Succession, when Austria occupied it (1707). Austria ceded Naples & Sicily to Spain in 1735 on condition that they never be united with Spain under the same crown.
T. F. Mills, 24 March 1999
The roots of the conundrum go back to the Norman conquest of Sicily, by which the Muslim Arab rulers of not only Sicily and Malta but also of southern peninsular Italy were expelled by a band of Norman adventurers seeking to emulate William of Normandy's conquest of England. The Norman kingdom eventually covered roughly the same territory as the Muslim conquest, but it posed too much of a threat to both the Pope and the Emperor to be allowed to continue at its full territorial extent. The result was that when the first king died, leaving only daughters, the descendants of both daughters laid claim to the inheritance, which eventually devolved on the House of Aragon and the House of Anjou. The Angevins were for the most part reasonably secure in their possession of Naples, but although their realm was often called the Kingdom of Naples, it derived its right to exist from the Norman conquest, a conquest which was always associated with Sicily. So the king in Naples bore the title King of Sicily, and when Naples and Sicily were united, it was seen as a reunification of the Sicilian realm - hence the Two Sicilies. It is nonetheless interesting that out of the two rival houses, only the Aragonese continued the arms of the Norman king of Sicily: a black eagle on silver, which was quartered per saltire with the arms of Barcelona to create the arms of the Aragonese kingdom of Sicily. Incidentally, when the Spanish prince Felipe went to England to woo
Queen Mary Tudor, his father made sure that Felipe would be of equal rank with Mary by creating him King of Sicily. They were married, but she was unable to bear him children - probably the result of the syphilis she inherited from her father, Henry VIII. If there had been offspring from that marriage, they would have been heirs to Spain, Sicily, the Duchy of Burgundy (including present-day Belgium and the Netherlands), England, Ireland and South and Central America.
An interesting side-effect of the Norman conquest was that after it was secured, two bands of adventurers broke away from it to conquer parts of Greece, so creating the dukedoms of Corinth and of Athens. Only in this period of history have there been dukedoms in Greece.
Mike Oettle, 7 March 2002
---
The Kingdom of Naples (later of the Two Sicilies), didn't have its own flag until 1735, when it become fully independent. The State flag was, from that time on, the white Bourbon flag charged with the Kingdom coat of arms. These arms were very complex and some of the details, expecially for the collars, changed during the times.
The State flag, as already said, was white, in the proportions of 2:3, with the coat of arms, while the Royal flag, in the proportion of 6:7, was deep crimson with the same coat of arms in the middle.
Mario Fabretto, 29 March 1997
If I am not wrong, the first flag of Dos Sicilias (1734) was white with full arms. I believe that the first designs were differents from the latest ones. I saw an image without collars dated c. 1750. I don't know if the royal standard (red with full arms) was the same design in the first years , but I assume that the arms in both flag are the same.
Borbon Dinasty was restored in Naples after 1815 and white and dark red flag with full arms was in use. The image posted by Mario is according flag introduced after 1829 in use until 1860, except for 1848-49
I dont know when the blue and white land flag was adopted, but perhaps it was after 1849. After this date the Royal Flag had narrow bordered (or fringed?) of white or gold except at hoist.
The white flag was abolished on 23 June 1860 when a Italian flag was adopted. In the central white stripe the full arms (the same that was on the white flag) were added (1860 Flag). This flag flow until March 1861 when the last Borbonic fortress surrendered.
Jaume Olle , 16 October 1998
At J.W Norie - J.S. Hobbs: Flaggen aller seefahrenden Nationen, 1971[ nor71] (original print 1848):
224 Naples War & Merchant - As the above state flag, but centered and with the orders and the crown (and the sinister most field of the shield) yellow. The orders are drawn in slightly wider arcs which allows following which chain goes where.
Peter Hans van den Muijzenberg, 12 November 2001
---
1738-1829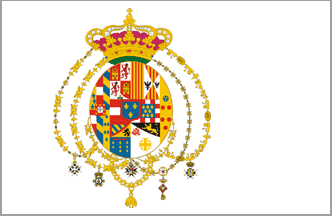 image by Jaume Ollé, 23 April 2003
1829-1861 (except for 1948-49)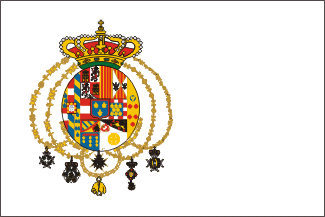 image by Jaume Ollé, 23 April 2003
State and Naval ensign - I can't establish yet with security what medals were changed in 1829, but except for two medals the flag must remain unchanged from 1829-48 and 1849-1860.
Jaume Ollé, 23 April 2003
---
1829-1861

image by Jaume Ollé, 26 April 2003
1849-1861 (probably variants)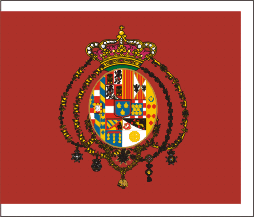 image by Jaume Ollé, 26 April 2003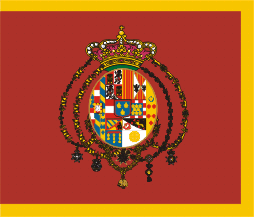 image by Jaume Ollé, 26 April 2003
At J.W Norie - J.S. Hobbs: Flaggen aller seefahrenden Nationen, 1971[ nor71] (original print 1848):
223 Standard of Naples -
As 224 (Naples War & Merchant, see above), but a red flag. That's probably meant as the Royal Flag, though it's (more) rectangular.
Peter Hans van den Muijzenberg, 12 November 2001
Royal Standard - from 1825 (?) to 1829 with two medals, changed 1829-1849, and then reported with white border and also with yellow border, probably no new flags but variants.
Jaume Ollé, 26 April 2003
---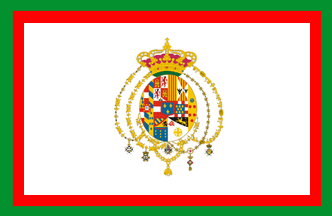 image by Jaume Ollé, 26 April 2003
Two Sicilies flag from June 1848 to April 1849.
Jaume Olle , 16 October 1998
---
Adopted: 21 June 1860. Abolished: March 1861
---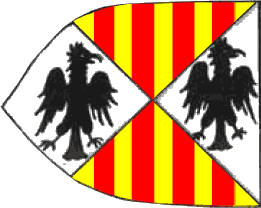 image by António Martins-Tuválkin, 17 November 2007
The 31th flag mentioned and illustrated in the Book of All Kingdoms [f0fXX] is attributed to Sicily. This as depicted in the 2005 spanish illustrated transcription [f0f05], a banner of the lesser arms of the Two Sicilies (quartered per saltire: Aragon and Argent an eagle displayed), shown in the ogival default shape of this source.
The anonymous author of [f0fXX] describes the flag thusly: "E el rey d'esta Cecilia á por señales un pendón a cuarterones, los dos cuartos son blancos con dos águilas prietas, e los otros dos cuartos bastones bermejos e amarillos, por que el rey es de la Casa de Aragón." (And the king of this Sicily has for sign a quartered pendon, the two quarters are white with two black eagles, and the other two quarters red and yellow poles, because the king is from the House of Aragon).
António Martins-Tuválkin, 17 November 2007
---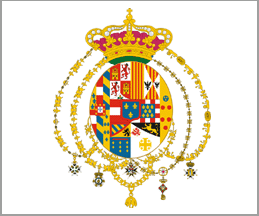 image by Jaume Ollé, 1 May 2003
No. 525 - Naples (Two Sicilies) State, Navy and merchantmen. Steenberg say: "Ancient (before 1860), is still used by the exiled royal family and their party".
Source: [stb62]
Jaume Ollé, 1 May 2003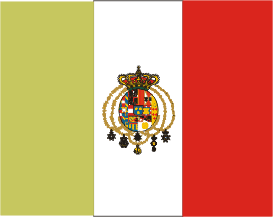 image by Jaume Ollé, 7 November 2003
No. 1145 - Naples, Merchantmen 1860.
Source: [stb62]
Jaume Ollé, 7 November 2003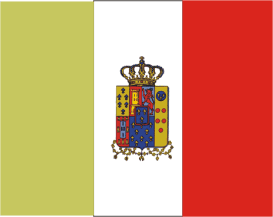 image by Jaume Ollé, 7 November 2003
No. 1146 - Sicily, Merchantmen 1860.
Source: [stb62]
Jaume Ollé, 7 November 2003
---
At <story.news.yahoo.com> (defunct) there is a photo of the state flag of the Kingdom of the Two Sicilies with the text: "Demonstrators burn a House of Savoy flag in front of Naples' Duomo where Victor Emmanuel, the son of Italy's last king, his son Emmanuel Filiberto and his wife Marina Doria were scheduled to attend a Mass, southern Italy, on Saturday, March 15, 2003. Italy's former royal family got a mixed reception Saturday on a return visit to the nation they once reigned, due to the House of Savoy's support for Fascist dictator Benito Mussolini. (AP Photo/Andrew Medichini)". The use of this flag is explained in another photo at <story.news.yahoo.com> (defunct), with the text: "A supporter of rival royal dynasty, the Bourbons, burns a Savoy flag in protest against Prince Vittorio Emanuele of the Savoy royal family and son of Italy's last king, in Naples, March 15, 2003. Scuffles broke out between the two groups of supporters outside Naples cathedral on Saturday, forcing the heirs to the Italian throne to cancel attending a mass there on their first visit to the city after 57 years in exile. (REUTERS/Mario Laporta)."
Mark Sensen, 17 March 2003
The Kings of the Two Sicilies (current pretender one Charles, Duke of Calabria, b. 1938 and his son Peter, b. 1968) are descendants of the offspring of Maria Theresa, a Spanish Hapsburg, with Louis XIV of France (a Bourbon). The last king was Francis II, who was offered a split of Italy by Victor Emanuel of Savoy (who, with the French, had driven the Austrians out of the north), and who turned it down. In 1860 Garibaldi landed at Marsala (in Sicily) and took over the south. Victor Emanuel was proclaimed king the next year; Francis never renounced his claim, hence the scuffles, apparently.....
Al Kirsch, 17 March 2003
At the photo the arms are centered, and above the arms are towards the hoist.
Zachary Harden, 17 March 2003
Some Kingdom of the Two Sicilies supporters say that Savoy kingdom destroyed Southern Italy economy and society. So they are called "Neoborbonici" (= New bourbonists), because the royal family ruling the K2S was in fact the Bourbon one. They protested against the decision of Vittorio Emanuele and Emanuele Filiberto to choose Naples to come back to Italy after a long exile and waved Bourbon flags last Saturday. Some news say that two or three Savoy flag were burned or trampled on. However I don't trust those news.
Paolo Monatnelli, 17 March 2003
---
Anything below the following line isnt part of the Flags of the World Website and was added by the hoster of this mirror.
---
Bei fahnenversand.de erhalten Sie eine Vielzahl an günstigen Flaggen, Pins und Aufnähern, zum Beispiel: