Bestellen Sie Ihre Fahnen / Flaggen im Flaggen-Shop bei fahnenversand.de

Diese Website beschäftigt sich mit der Wissenschaft der Vexillologie (Flaggenkunde).
Alle auf dieser Website dargebotenen Abbildungen dienen ausschließlich der Informationsvermittlung im Sinne der Flaggenkunde.
Der Hoster dieser Seite distanziert sich ausdrücklich von jedweden hierauf u.U. dargestellten Symbolen verfassungsfeindlicher Organisationen.

---
This is a mirror of a page that is part of © FOTW Flags Of The World website.
Anything above the previous line isnt part of the Flags of the World Website and was added by the hoster of this mirror.
Worlds Fairs: New York 1964-65
New York
Last modified: 2021-08-27 by

zachary harden
Keywords: worlds fair | bureau international des expositions | bie | buffalo |
Links: FOTW homepage | search | disclaimer and copyright | write us | mirrors

---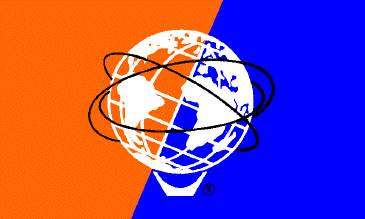 image by Dave Martucci, 4 July 2010
---
See also:
---
"The 1964/1965 New York World's Fair was the third major world's fair to be held in New York City. Hailing itself as a "Universal and International" exposition, the fair's theme was "Peace Through Understanding," dedicated to "Man's Achievement on a Shrinking Globe in an Expanding Universe"; although American corporations dominated the exposition as exhibitors (which also included several countries as well). The theme was symbolized by a 12-story high, stainless-steel model of the earth called Unisphere. The fair ran for two six-month seasons, April 22-October 18, 1964 and April 21-October 17, 1965.
Source: http://en.wikipedia.org/wiki/1964_New_York_World's_Fair
Esteban Rivera, 4 July 2010
Over the years several of us have partnered to map (from thousands of photographs) all of the flags that were on the Meadow Lake Bridge, all the flags on the Court of Nations, all the flags on the Court of States, and all the flags on top of the New York State Pavilion (a flag represented each county in New York). When I say mapped, I mean we were able to specify each flag by flagpole on an overhead map (the Fair Corporation assigned each flagpole a pole number in their maintenance drawings). The leader of this endeavour was Kevin Carsh in Oregon.
Randy Treadway, 15 May 2014
Well, while we'd probably cover the county pennants if we could, and might cover the state and international flags in more detail if information was available, I'd say our main unsolved question is actually the other type of flags: What decorative flags there were at the fair, in various locations. But I guess having pole-numbers would at the least allow us to talk about these. And, of course, these being the fair experts, they may know more about the versions of the fairs flags.
Anyway, I tried to register, and found that to register I'm required to read the Term of Use (or lie), but to read the Terms of Use, apparently I'm required to register (as the link to the Terms of Use brings me to the registration form). Something tells me this would be a very time consuming process if I were to follow through.
Peter Hans van den Muijzenberg, 16 May 2014
---
Divided diagonally unequally orange and blue, with a white outline globe encircled by three black satellite orbits.
"The Unisphere is a 12-story high, spherical stainless steel representation of the Earth. Located in Flushing Meadows - Corona Park in the Borough of Queens, New York City, the Unisphere is one of the Borough's most iconic and enduring symbols. It was called the Miracle in the Meadow, weighing 900,000 pounds. The Unisphere is the largest representation of the earth ever made: 140 feet high, 120 feet in diameter. The capitals of the major nations (of the existing countries back then) are marked by lights.
Sources: http://en.wikipedia.org/wiki/Unisphere and http://nywf64.com/unisph01.shtml
The Unisphere was selected among several proposals, such as "Journey to the stars" and the "Galaxon". The Unisphere was built by United States Steel Corporation.
Source: http://nywf64.com/unisph03.shtml
The Unisphere ceremony was held on March 6, 1963. The official booklet describes the "Unisphere, symbol of New York World's Fair, is donated at the exhibit of United States Steel Corporation. It will tower 140 feet above a gigantic 340-foot reflecting pool, with its land masses of stainless steel supported on an open grid of latitudes and longitudes. It will dramatize the interrelation of the peoples of the world and their hopes of "Peace Through Understanding". The credits at the end of the booklet do not mention any designers nor architects, but the sponsoring company's main executives.
Source: http://www.worldsfairphotos.com/nywf64/booklets/unisphere-ceremonies-5-6-63.pdf
The flag is based on the Fair's symbol and logo (early logo: http://nywf64.com/Image/logoearly.jpg and later logo: http://expomuseum.com/imagebucket/1964-logo.gif). For the correct use of the logo please see: http://nywf64.com/unisph04.shtml.
One can also see what may also be an early logo from this 1960 booklet with early Fair plans and outline (page 16). The entity in charge of the organization was the New York World's Fair Corporation, which had its own Board of Directors, Committees, Chairman, and staff (page 12-15), along with the respective government authorities (mainly the Mayor of New York City back then) plus respective sponsors, many of which had their own pavilions (stands) and were American corporate businesses, many of which still exist today.
Source: http://www.worldsfairphotos.com/nywf64/fair-corp/1960-fair-corp-doc.pdf
For additional information on the Fair please visit:
http://www.nywf64.com/
http://expomuseum.com/1964/
http://www.worldsfairphotos.com/nywf64/index.htm (Main Index)
http://www.worldsfairphotos.com/nywf64/fair-corp/index.htm (Fair Corporation Publications)
Esteban Rivera, 4 July 2010
New information about the Unisphere:
- Sponsor: US Steel.
- Location: Federal and State Area. Fountain of the Continents. Flushing Meadows, Corona Park
- Designer: Peter Muller-Munk Associates (Agency created by Peter Müller-Munk (Born in Germany, nationalized American, 1904-1967), located in Pittsburgh, Pennsylvania.
- Landscaping: Gilmore Clarke.
- Creator: Gilmore D Clarke (American Civil Engineer (1892-1982) of New York City.
- Cost: $2,000,000. (1960's)
- Size: 140 feet (12 stories) tall, 120 feet in diameter.
- Base: 20 feet.
- Pedestal Construction: Cor-Ten Steel.
- Stainless Steel: 470 tons.
- Structural Elements: 500.
- Reflecting Pool: 310 feet in diameter.
- Framework: approximately 7,700 feet of Stainless Steel.
- Bolt Construction: T-1 Steel.
- Land Masses, Parallels and Meridian Construction: Stainless Steel.
- Earth Tilt: 23.5 degrees.
- Orbital Rings (3): 3 tons.
- The Orbital Rings symbolized the first man-made satellites.
- Was built on the same "foundation" that supported the Perisphere.
- Enormous stresses would be put on the structure because the Continents are not evenly distributed. High-speed computers were needed to process the large numbers of mathematical equations necessary for construction. One problem alone required the use of 670 equations processed simultaneously.
- US Steel funded the construction in exchange for the publicity.
- The Unisphere had the dimensions of the Earth as viewed from 6000 miles in space.
- Capitals of prominent nations were illuminated with lights.
- One additional light was placed at the Caughnawage Indian Reservation (off the St Lawrence River between the US and Canada). This was to honor the 50 Mohawk Indians who built the Unisphere. And without a single injury.
- Was the World's Largest fabricated structure made with Stainless Steel.
Source: http://www.earthstation9.com/1964_new2.htm#Unisphere
Here are actual pictures of the flag:
- Banner: http://public.fotki.com/Peirce/ny_worlds_fair_1964-1965/1-banner.html
- Flag: http://www.earthstation9.com/Pictures/Ford_Bridge_Flags.jpg (First flag on the left hand side, of a series of flags).
Esteban Rivera, 5 July 2010
One can see the real flag pictured here:
http://www.stefford.com/jjmsr/images/64wf_BSA_PostcardSet_Front_3.jpg and http://www.stefford.com/jjmsr/images/64wf_BSA_PostcardSet_Front_6.jpg at the U.S. Pavilion at the Fair.
Esteban Rivera, 10 July 2010
The "E" Flag is the President's Award for Manufacturing Excellence, a direct descendant of the World War II "E" Production Award Flag. The flag is still technically awardable, although I do not believe it has been awarded for many years. NAVA NEWS covered this flag in issue #191. See http://www.vexman.net/nnpdf/NN191.pdf (p. 9 - you can read the other issues of NAVA NEWS I edited by dropping that last part).
Dave Martucci, 8 July 2010
---
Looking for further information on the 1964-1965 Fair's flag, I came across this website, showing the AMF Monorail (first picture from top to bottom): http://www.worldsfairphotos.com/nywf64/monorail.htm. In the picture on the left, there's a big "E" on a white horizontal background. (See note on "E")
Sources: http://en.wikipedia.org/wiki/Monorail and http://en.wikipedia.org/wiki/Maglev_(transport)
On the right of the above mentioned picture, one can see most likely the AMF flag (logo on a white horizontal background flag). Other pictures and postcards show the monorail and/or the flag, and even the company's logo:
http://www.nostalgictimewarp.com/New_York_Worlds_Fair_AMF_Monorail_PC_2.jpg
http://www.flickr.com/photos/hollywoodplace/4264745688/
http://worldsfairphotos.blogspot.com/2009/12/i-liked-it-better-then.html
http://images115.fotki.com/v662/photos/4/41513/212534/94monorail-vi.jpg?1047616659
http://www.mrbalihai.com/goof/WorldsFair/images/64worldsfair_7.jpg
http://www.flickr.com/photos/34443508@N08/3285472587/
http://i147.photobucket.com/albums/r293/VIEWLINER/1001%20VLTD/NYWF64E.jpg

This would be then a company flag, the flag of AMF.
"American Machine and Foundry, or AMF was founded in 1900 and was once one of the largest recreational equipment companies in the United States. In 1963 AMF tried to enter the monorail business by purchasing French company SAFEGE (an acronym for the French consortium Société Anonyme Française d' Etude de Gestion et d' Entreprises (in English, French Limited Company for the Study of Management and Business) (http://www.safege.com) design, construct, and market a monorail for American cities. The firm managed to build a demonstration line for the 1964/65 New York World's Fair. The original Safege concept was however abandoned and instead of the characteristic "concrete box girder" in which the Safege bogies ran an I-beam was used. This monorail gained a lot of attention at the World's Fair as one of the few real attractions there, but was subsequently not built anywhere else. While AMF never sold or built any Safege Monorails, this installation was responsible for many of today's enthusiasts first ride on monorail. By the late 1970s, the company had fallen on hard times. The absence of stable management (the company had seven presidents between 1972 and 1982), aging production facilities, rising labor costs, and the inability of AMF to efficiently operate and control its numerous corporate product divisions from its headquarters in White Plains, New York, contributed to a steady decline in sales and profits. In 1985 AMF was bought out by Minnesota based MINSTAR, Inc but continued to trade as AMF. In 2005, the company became known as QubicaAMF Worldwide (http://www.qubicaamf.com) when it partnered with Italian based Qubica Worldwide. The partnership takes advantage of Qubica's expertise in automatic scoring technology and AMF's technology in lane equipment and pinsetters. AMF's sole remaining asset is the AMF Bowling Corporation (http://www.amf.com), founded in 1936, and headquartered in Richmond, Virginia."
Sources:
http://en.wikipedia.org/wiki/American_Machine_and_Foundry
http://en.wikipedia.org/wiki/SAFEGE
http://www.alweg.com/alweghome/alwegcompetition.html
http://www.monorails.org/tmspages/history2.html
Esteban Rivera, 7 July 2010
---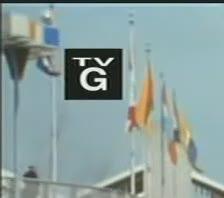 image located by Peter Hans van den Muijzenberg, 29 May 2012
In the first season of the Batman television series, episode 1 starts with views of the Gotham City World's Fair. After the overview, comes a shot of Entrance 1, with flags that reminded me of the flags we mention for the New York World's Fair 1964-5. [Hm, that situation reminds me of the film Highlander.] It's not surprising that they do, as the Gotham City World's Fair of 1966 bears a close resemblance to the New York World's Fair, probably in its 1964 lay-out. Still, to get that view at the NYWF, you'd have to be standing at, yes: "Gotham Plaza".
I enclose a cropped image of the flags, for those with skills in extreme flag viewing, but I myself can't make out any flags for certain. However, there's also a view from Gotham Plaza at this page. The part of GCWF we're seeing would match the part of the NYWF that is in the middle photograph, between the tower-like structure and the entrance number with clock slightly to its right. (Extreme flag viewers are advised to use zoom here.)
While it's hard to be sure about those from the TV series, the NYWF photograph clearly shows this pattern for several flags, with varying colours. Such triangles also appeared in the wining design for the New Guyana flag, but I doubt they are related; it would appear the intention was that the flags should not use national flag patterns. There's another pattern there, that I can't quite make out, though. It has three colours at the hoist, but I can't determine what happens to them. They wouldn't be as simple as three stripes now, would they?
Then there's a pattern also seen at the Ford Bridge, the bridge of the Avenue of the United Nations North across the Grand Central Parkway, that we link to, here. This pattern has a hoist triangle throughout charged with a lozenge throughout the triangle. Also on Ford Bridge is this flag, divided per chevron and chevron reversed, with the central lozenge in one colour and the hoist and fly triangles adjacent to it in a second colour. And likewise this flag, which has a bi-coloured hoist triangle throughout, excepting a smaller hoist triangle in the field colour.
Now, all these patterns have three colours. However, at this page there is a photograph of the other bridge, the bridge of the Avenue of the United Nations South across the Grand Central, which also appears to have a Fair flag dexter on either side and a wind coming in sinister hoist-wise. In this photograph the decorative flags have four-colour patterns, which is this flag with the smaller triangle having a separate colour, and this version, which is a bi-coloured hoist triangle throughout with the field colours above and below the triangle differing as well. Why the patterns in this photograph are different, I don't know. It may be each display was given, in part, unique design, or it may be that this photograph shows 1965 patterns. More research seems indicated.
Anyway, these are some of the patterns of the NYWF 1964/5 flags, obviously meant to be a joyous display. There may be a few more that can not be recognised for being hoisted mostly on the other end of the bridge, but this is a fair representation.
Apart from those, the Fair also had a display of nation flags at the Court of Nations, South of the Unisphere, and a display of state flags at the Court of States, mirroring it on the North side.
Apparently, at the New York World's Fair the Dynamic Maturity pavilion included a display of historical flags.
Peter Hans van den Muijzenberg, 29 May 2012
---
Anything below the following line isnt part of the Flags of the World Website and was added by the hoster of this mirror.
---
Bei fahnenversand.de erhalten Sie eine Vielzahl an günstigen Flaggen, Pins und Aufnähern, zum Beispiel: