Bestellen Sie Ihre Fahnen / Flaggen im Flaggen-Shop bei fahnenversand.de

Diese Website beschäftigt sich mit der Wissenschaft der Vexillologie (Flaggenkunde).
Alle auf dieser Website dargebotenen Abbildungen dienen ausschließlich der Informationsvermittlung im Sinne der Flaggenkunde.
Der Hoster dieser Seite distanziert sich ausdrücklich von jedweden hierauf u.U. dargestellten Symbolen verfassungsfeindlicher Organisationen.

---
This is a mirror of a page that is part of © FOTW Flags Of The World website.
Anything above the previous line isnt part of the Flags of the World Website and was added by the hoster of this mirror.
Banner of England
Last modified: 2017-11-11 by rob raeside
Keywords: banner of england | england |
Links: FOTW homepage | search | disclaimer and copyright | write us | mirrors

---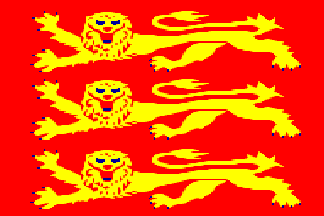 image by Vincent Morley
---
See also:
---
In the book by Crampton Crampton (1990), there is shown at the beginning a banner of England. Is this still in use or an historical banner? The arms of England are gules three leopards or.
Pascal Vagnat, 7 May 1996

I suspect it remains a royal flag, like the Scots one, and can only be used by the Queen.

Originally the arms were supported by two gold lions rampant guardant, the sinister was changed by the Tudors to a gold dragon rampant to symbolise the union of England and Wales (the Tudors were a Welsh dynasty).
Roy Stilling, 7 May 1996

Henry VII's supporters were a greyhound and a red dragon (to be seen above the entrance to Brasenose College in Oxford). I suspect it was Henry VIII who showed the greyhound the door and it was definitely Elizabeth I who turned the dragon gold. The dragon vanished with the arrival of the Stuarts. I've always lamented its passing as it would be nice to have a Welsh aspect to the royal arms, though I'm aware that as a principality it has no right to be there.
Andy T. Fear, 7 May 1996

Heraldry hit Europe during a thirty-year period in the mid-12th century. How the rules became so rapidly codified and so widely accepted still has historians baffled. Lions were among the earliest and most frequent charges - probably due to their Christian allegorical significance. Lions passant guardant (the most common pose) were originally called leopards (lupars in early Norman English), and the lions of England are still occasionally called leopards. In early iconography they lack manes and look a lot more like leopards. By the 14th century the leopards had definitely evolved into lions (at least in art if not in heraldic terminology). A two-lion shield was retrospectively (during the 13th century) assigned to the early Norman kings of England, but there is no evidence that William I and his immediate heirs knew anything about this.

The earliest solid evidence for the English heraldic lion is both textual and iconographic. Henry I knighted his son-in-law Geoffrey of Anjou in 1127 on the occasion of the latter's wedding, and bestowed on him a blue shield painted with gold lions (according to the chronicler Jean de Marmentier). The shield can be seen on Geoffrey's tomb (now in a museum in Le Mans), and the lions are also found on the shield of Geoffrey's grandson William Longespee - one of the earliest evidences that these heraldic devices had become hereditary. The earliest known example of a heraldic shield depicted on a seal is 1136, and there is some speculation that battlefield heraldry evolved from seals (rather than the conventional wisdom that heraldry was a military invention).

Henry I (1100-1135) was known as the 'Lion of Justice' and started a royal menagerie at Woodstock, which included lions (allegedly the first seen in England - at least since Roman times). His seal had no lions, but his shield may have borne one and later two. Some have conjectured that the second lion came from his marriage to the daughter of Godfrey of Louvaine, whose seal had a lion. The theory that the third lion came from Eleanor of Aquitaine, wife of Henry II (1154-1189) is now somewhat discredited, but her seal certainly is known to have had three lions on a shield. (The joining of devices through marriage is called 'marshalling'.) Matthew Paris, the earliest chronicler of a Roll of Arms, credits Henry II's eldest son Henry with three lions on his shield. Henry II's son John had two lions, and the three lions as royal arms first definitely appear in the second royal seal of Richard I late in his reign (1198). That this redesign of the seal came after Richard's crusading escapades may be significant. (Richard's shield during the crusades is conjectured to have been red with two gold lions, like his father's. All artistic portrayals of Richard with three lions are derived from the royal seal at the end of his reign, but there is no solid evidence of Richard's lions prior to the second royal seal.) The lions remained thereafter a symbol of England (soon quartered with the French fleur de lis, 1340-1801, to represent England's claim to the French throne).

Sources: Stephen Friar and John Ferguson, Basic Heraldry (1993), Thomas Woodcock and John Martin Robinson, The Oxford Guide to Heraldry (1988), Heather Child, Heraldic Design (1965), C.W. Scott-Giles, Boutell's Heraldry (1966).
T.F. Mills, 3 August 1998

Within heraldic circles (on the Net at any rate) there is considerable debate on the subject, and François Velde's site Heraldica (regarded as authoritative on many aspects of heraldry) takes the view that there can be no debate on this subject: suddenly, over a 30-year period between the First and Second Crusades, all the knights across Western Europe suddenly became armigerous (my abstraction of his argument, not his words).

On the other hand there has been considerable attention devoted in recent years to the theory that it is in fact much older – some two centuries older, in fact. The theory is clearly stated in The Oxford Guide to Heraldry by Thomas Woodcock, Somerset Herald, and John Martin Robinson, Maltravers Herald Extraordinary (Oxford: Oxford University Press, 1990). It is also referred to frequently in The Baronage Press, and I make mention of it on my site.

The theory, broadly stated, is that heraldic devices – probably in origin banners rather than shield devices – were in use among a group of families in Flanders for some two centuries before the First Crusade. (The reference to banners could in fact bring this debate back to vexillology, but that's another matter.) Most of these families, it seems, were descended from Charlemagne, but no direct claim is made for Charlemagne himself having borne arms.

The use of such devices spread initially as aristocratic Flemings spread into other areas, particularly in the role of castle builders. William of Normandy's invading army of 1066 included many knights from other parts of France than simply Normandy, and certainly included some Flemings – some from Flanders, but also at least two from families that had settled (as castle-builders) in Normandy. The use of heraldic devices among the "Normans" of England and the parts of Wales, Scotland and Ireland that fell under Norman influence spread gradually as the usefulness of these devices became apparent, and also became associated with the new ruling class in the British Isles. Contacts with family on the Continent were maintained, and heraldic usage re-crossed the Channel in this fashion.

The phenomenon of the Crusades may or may not have originated among armigerous families, but service in the Holy Land appears to have been an incentive towards the adoption of coat-armour. The preponderance of heraldic lions in countries far from the natural range of these beasts is almost certainly a product of personal experience (or at least the telling of tales about) real lions, which were still to be found in certain parts of the Levant. Their symbolic significance no doubt hastened their adoption in heraldic devices.

A number of changes in European society seem to have accompanied the Crusades, and styles of artistic expression conducive to the preservation of heraldic evidence appear to have coincided with these. Thus it is seen that seals incorporating coat-armour become common, and many experts have argued from this premise that because coats of arms only appear on seals from this period, they did not exist before.
Mike Oettle, 13 January 2002
Are the lions armed or not?
Heraldic lions are usually armed -- whether the blazon specifies it or not, whether of a distinct tincture or not. What must be specified is the *lack* of claws, "a lion disarmed":
http://www.heraldica.org/shell/illustr.pl?281
http://www04.u-page.so-net.ne.jp/ta2/saitou/ie401/Jpglossl.htm#Lion
Santiago Dotor, 16 January, 2001

The British convention regarding the colouring of animals' claws, especially those of lions, uses the rule that the colouring of the claws need not be mentioned unless it is different from the conventional. The convention is that the claws are usually red, but that when either the lion or the field is red, the claws then become blue. Since you have red in both the field of the arms of England and the Scottish lion rampant, the claws of the three English lions passant gardant and of the Scottish lion are all blue. Because this follows the convention, the colour of the claws is not usually mentioned. This convention is generally unknown outside Britain, but it is the reason you will rarely find the colour of the claws mentioned in English-language blazon.
Mike Oettle, 6 January 2004
Supporters in the Royal Arms
From a booklet by J P Brooke-Little, Norroy and Ulster King of Arms (1981) entitled "Royal Heraldry: Beasts and Badges of Britain", and published by Pilgrim Press.
"During the second half of the 15th century artists and seal engravers began to augment coats of arms by placing two creatures on either side of the shield. At first these seem to have been chosen capriciously and were not regarded as an integral part of the coat of arms. However, as they increased in popularity and as they literally supported the shield, the heralds began to take notice of them and eventually formulated rules for their control and inheritance.
"It is both difficult and dangerous to make sweeping generalisations about the use of supporters, but it is fair to say that during the 15th century they were sometimes used but not taken too seriously. They consisted of favourite beasts and badges put to a new and attractive use. It was left to the Tudor heralds, emancipated from the blood bath of civil strife, peacefully to rationalise their use and bring them within the confines of strict armorial practice.
"It must here be appreciated that quite apart from formal armorial bearings, that is shield of arms, crest and later supporters, the greater nobility freely used armorial devices as motifs in decoration and as badges with which they marked their property and retainers. Such use was often free and fantastical, but it was as much part of the mediæval scene as the masque, miracle play, fair or tournament. It is therefore difficult to draw the line between an artistic embellishment and a truly armorial supporter.
"An heraldic antelope and a swan have been attributed to Henry IV and an antelope and a lion to him and his son Henry V. Antelopes, lions and panthers have all been associated with Henry VI. To Edward IV are accorded two white lions, a lion and a hart and a lion and a black bull. Richard III has two white boars, and a lion and a boar. It is not until the reign of Henry VII that there is good contemporary evidence for the more or less consistent use of supporters by the sovereign, although the actual beasts vary. Henry VII's grandfather, Owen Tudor, used a red dragon garnished with gold as a badge, claiming descent from Cadwalader, the last native ruler of Britain, to whom a dragon was attributed. It is not surprising, therefore, to find that Henry greatly favoured this beast. He used it as a badge and also as a supporter to his arms: he even created a new pursuivant (the junior rank of herald) whom he named Rouge Dragon. Henry used the dragon as his dexter supporter in conjunction with a greyhound. He also used two greyhounds, witness the representation of his arms at the Bishop's Palace, Exeter.
"The greyhound was a popular badge of the Lancastrian kings and when Henry VI created his half-brother Edmund Tudor, Earl of Richmond, he also assigned him a white greyhound badge as a supporter. It is not surprising that Henry should have attached especial importance to this royal beast, which he would have inherited from his father, for it symbolised, and perhaps in his eyes made more substantial, his tenuous links with the house of Lancaster.
"King Henry VIII, like his father, did not just use two supporters. He rang the changes but generally favoured the crowned golden lion as his dexter and the red dragon as his sinister supporter, which is probably why King Edward VI, Queen Mary I and Queen Elizabeth I, who made the dragon gold, all used these supporters: except that Mary, when her arms conjoined to those of King Philip gave her husband his black eagle in place of her dragon.
"In 1603 James VI of Scotland came to the throne as James I of England. As king of Scots his arms were supported by two silver unicorns with golden horns, manes, beards, tufts and hooves. About the neck of each was a golden circlet like that in the royal crown and attached to this was a gold chain reflexed over the monster's back. King James kept the English lion supporter but banished the red dragon in favour of one of his Scottish unicorns. The lion and the unicorn have been the royal supporters ever since."
Mike Oettle, 29 June 2002
Anything below the following line isnt part of the Flags of the World Website and was added by the hoster of this mirror.
---
Bei fahnenversand.de erhalten Sie eine Vielzahl an günstigen Flaggen, Pins und Aufnähern, zum Beispiel: