Bestellen Sie Ihre Fahnen / Flaggen im Flaggen-Shop bei fahnenversand.de

Diese Website beschäftigt sich mit der Wissenschaft der Vexillologie (Flaggenkunde).
Alle auf dieser Website dargebotenen Abbildungen dienen ausschließlich der Informationsvermittlung im Sinne der Flaggenkunde.
Der Hoster dieser Seite distanziert sich ausdrücklich von jedweden hierauf u.U. dargestellten Symbolen verfassungsfeindlicher Organisationen.

---
This is a mirror of a page that is part of © FOTW Flags Of The World website.
Anything above the previous line isnt part of the Flags of the World Website and was added by the hoster of this mirror.
Great Colombia Federate Republic (1819-1830) - Part 1
República de Colombia
Last modified: 2014-10-04 by zoltán horváth
Keywords: colombia | venezuela | ecuador | great colombia federate republic | gran colombia | south american colours | america | miranda | bolivar | spain | cundinmarca |
Links: FOTW homepage | search | disclaimer and copyright | write us | mirrors

---
---
See also:
Other Sites:
---



Copyright notice: Check the referred pages for image credits.
Colombia, Ecuador and Venezuela retained the tricolour of the Great Colombian Federate Republic when it broke up 1830-32. It was designed by Francisco Miranda and was carried by Simon Bolivar in all his battles to free South America from Spanish rule (he had hoped that the Gran Colombia would be a step towards federating all of South America).
The colours are said to symbolise golden America seperated from bloody Spain by the blue sea.
Paul Adams , 29 November 1995
The Gran Colombia Tricolour was originally the family/personal Flag of Francisco de Miranda. Miranda's flag had as much chance of becoming the flag for the Colombia/Ecuador/Venezuela revolution as Simon Bolivar's flag.
Miranda's was "chosen" because it was already in use by Miranda's militant faction before Bolivar (who at the time was taking a more diplomatic approach to the Spanish rule problem) actively joined the military effort.
This information is not based in any one published document, but on my general education (I grew up in Venezuela). If you wish, I can try to dig up Simon Bolivar's flag (red field with blue border, and - I think - a gold or silver star in the middle -- forgive my bad terminology), and any other historical flags related to this region.
Fabio E. Speciale, 13 March 1997
Concering the República de la Gran Colombia (the federation of Venezuela, Nueva Granada [Colombia] and Quito [Ecuador). I believe the information above about the Great Colombia is not correct. Its design is, indeed, based in Miranda's tricolori, adopted by the first Vednezuelan Government of 1811 and it was certainly used by Bolivar (with certain modifications) throughout his political carreer. However, the symbolism cited by Fabio Speciale is incomplete and the origin of the Miranda Tricolori itself, mentioned by Mr Speciale is inaccurate. The yellow, blue and red flag was not derived from Miranda's familya colours. Despite the fact that he toyed with the idea of a South Americna Kingdom, General Miranda was not a nobleman: he was not the descendant fo Spanish Officers or a member of the Criollo nobility which ruled. While white, General Miranda was the son of a well-off but not "honourable" craftsman. As a matter of fact, a controversy with the local upper class over his father's origins, led General Miranda to pursue a life abroad, away from the discriminating province of Caracas. In such life, he lived many adventures, joined the American and French Revolutions, was part of Europe's most important courts and, while gazing at the colours of a Hamburg Granadier's regime, got the idea for the tricolori (red-blue-yellow; depicted somehow in every flag he designed). Also, there is no such thing a Bolivar's Flag. Not what Mr Specially cites, at least. Bolivar designed a flag much similar to that of 1814 (shown in your pages), but adding one blue star to the seven which lied already on the yellow stripe, representing liberated Angostura.
Guillermo T. Aveledo, 23 September 1999
The image at the top of the page represents the flag of what is now known as the "Great Colombia" Republic, known then (in 1821), plainly as the República de Colombia. Current-day Colombia was then named "Nueva Granada", and had its own CoA and flag . This flag is not of Colombia (as we know it today) but of the union of the republics of Venezuela, Nueva Granada (Colombia) and Ecuador.
Guillermo T. Aveledo, 4 November 1999
Bolivar organized Angostura Congress in february 1819 and in August was he formed some kind of executive congress as a provisional government but mainly military. In this era was used the tricolor of Miranda, but it was never legislated and the its variants and devices if any, are uncertain
On 17 december 1819 the Republic of Colombia was proclaimed (historicaly known as Great Colombia but then called only Colombia), under the conservative leader Bolivar, with three departments (Venezuela, Cundinamarca and nominally Quito that was still in hands of royalists). Vice-Presidents were the New-Granadian Santander, liberal, and Roscio. By a decree it was stablished at the end of 1919 that the new republic will use the flag of Venezuela until another decree of General Congress, arguing that the ensign of Venezuela is the most known.
Venezuela used the Miranda flag in 1811-1812. It was under spanish domination but in 1813 Bolivar in the called "Campana Admirable" recover wide areas and declared war until death against the spanish, but seems that in this era the Miranda flag was not widely used. After defeated by Boves in 1814, Bolivar fought in New Grenada under venezolan or Cartagenian/Granadinian flag but in 1815/16, the Spanish recovered all territories. Rebellion restarted in 1817 under Miranda flag in Venezuela, and 1819 in New Granada. Venezuela-New Granada formed the Colombia republic at end of 1819 and adopted the tricolor. Generally used without arms (in Venezuela, stars were added temporary) the first pattern of the used state flag was based on the Venezuelan flag of 1811, with the arms in canton. This flag was in use officially until 10 January 1820 in the so-called Great Colombia (Venezuela-Nueva Granada) when it was changed in the department of Cundinamarca (but later in use in Venezuela). Is possible that the arms were also put in center instead canton
In 1820 Cundinamarca adopted arms that were put on the flag while Venezuela maintain the old flag. Some weeks later this arms were adopted as provisional arms of the whole republic and was put on flags (in all the republic of Great Colombia). In 1821 the first official arms of Colombia were adopted and put on flags in whole of the Republic. In 1822 second arms were adopted.
Jaume Ollé, 2 October 2001
On 10 January 1820, the department of Cundinamarca, one of the three official departments of the republic (in fact only two since the third was in hands of Spain) adopted arms of its own alleging that the arms of the republic (that was supposed to be used by in wholerepublic but was really used only in Venezuela) are not known in Cundinamarca (I assume that it was not known to the people and intermediate and minor autorities). This arms, put on flags, was the orign to a departamental flag. While Venezuela follow using the previous flag, that was the Republic one (but in fact was only the Venezuela departament flag). No indication was given where must be the arms in flag: following national flag it must be mainly in canton, but most comon is use in center.
On 12 July 1821, the national congress decree that the arms of Cundinamarca must be used on the national flag, as national arms until that new arms are decreed. Thus, the departamental flag of Cundinamarca was converted into national flag of the Great Colombia, and officially must be used in the department of Venezuela. A variant with the lower stripes of same size, was also used. (see: 1820 Cundinamarca Flags and Coat of Arms)
Jaume Ollé, 2 October 2001
Lucien Philippe reports flag with stripes 8:7:6 and centered arms dated 1821. I reconstructed this reports with the oval model (according plate and according Philippe), single emblem, and round model (from Philippe). (see: 1821 Flags and Coat of Arms).
Also Philippe mentions flags with stars. Restrepo don't believe that those are Colombian New-Granadian but Colombian Venezuelan. The sure fact is that in on 12 May 1817 the governmente called "Federal Pampatar government" was established in Venezuela that adopted the Miranda's flag with seven light blue stars. In 20 November 1817 a eighth star was added meaning Guayana. Philippe reports this flags as used in Colombia c. 1820, but this is probably a missinterpretation. Philippe even reports a flag with 9 stars it but must be a wrong hand made flag or a mistake. With three stars the models are well known. There are many variants and those were used probably between 1819 and 1921, only on flags with stripes 2:1:1. (see: Venezuela - Historical Flags)
Jaume Ollé, 4 October 2001
On 11 July 1822 Guayaquil was incorporated and Republic of Colombia (known as Great Colombia) reached its final configuration (Puerto Cabello was conquered some months later and on 1 June 1824 was the last battle against the pro-spanish forces. According Restrepo Uribe new arms were adopted c. 1822 and are shown in many official documents. The image from restrepo show 3 stars (surely for three original departments) but also show a variant with 10 stars, and quote the existence of others variants with different number of stars. The most appropiate designs must be of 3, 9 and 12 stars since the departments were changed from 3 to 9 (with two still in hands of Spain) and from 9 to 12. (see: 1822 Coat of Arms)
This arms were put on flags either in the canton or in the center. The first pattern must be used in flags with stripes in different proportions for each one, but I believe that the second and third pattern were used with stripes ratio of 2:1:1. (see: 1822 Flags)
From the creation of the republic surrounding forces worked against it. General Paez in venezuela directed the movement called "Cosiata" on April 1826 and denied the autority of the acting president General Santander. Bolivar, that was out the country, got back to Bogota, took the presidency on 1827 and stopped the attempt of separation of Venezuela and started the dictaturship. However, Paez remain in control of the military forces in Venezuela and neighbourghs departments. In 1828 liberals try to depose the conservative Bolivar in the "Revolution of September". On October 1828, the liberals Jose Maria Obando y Jose Hilario Lopez revolted in Cauca Valley, but were defeated. Then a war against Peru was started since Cundinamarca claimed Maynas and Jaen. On November 1829, Paez, for another time, didn't recognize the authority of the Congress and a new congress was assembled in Valencia nd on 21 January 1830 proclaimed the independence of Venezuela. Bolivar was dismissed and left to exile. A convention in Bogota (the "Congreso Admirable") in January accepted the end of the Republic. Guayaquil and Quito also separated. Departments of Boyaca, Cauca, Cundinamarca, Magdalena and Panama (renamed Istmo) created a new state named Colombia.
Jaume Ollé, 7 October 2001
Before 1834, the shade of blue in colobian flags was celeste (light blue) and not the same shade of the current national flag.
Jaume Ollé, 26 October 2001
At J.W Norie - J.S. Hobbs: Flaggen aller seefahrenden Nationen, 1971 [nor71] (original print 1848):
276 Colombia - Yellow over blue over white 2:1:1, with in the yellow in the hoist three five-pointed blue stars pointing down, placed 2 before 1. If the last stripe is supposed to be red, this looks like a Great Columbian flag, with the stars directly on the flag, instead of in arms on the flag. (see: Venezuela - Historical Flags)
Peter Hans van den Muijzenberg, 12 November 2001
I found in the following page <www.banrep.gov.co> an old flag of Great Colombia Federal Republic which has the three stripes with equal wide (like the original flag design by Francisco de Miranda and the current Flag of Venezuela). It called my attention so much because I thought that in Great Colombia the stripes with different wide were always used (even I know that in some cases appears flags with three different wides).
Francisco Gregoric, 13 Febuary 2003
According to which we have investigating until now, some Great Colombia' Military Corps used standards with equal stripes. In addition to which on the link provided to us by Francisco appears the Standard of the Battalion "VICTORIOUS IN AYACUCHO" which also shows equal stripes.
Raul Orta, 28 Febuary 2003
On February 15, 1819, the Congreso de Angostura (Congress of Angostura, see: Spanish wikipedia) gathered the representatives of Venezuela, Nueva Granada (New Granada, now Colombia) and Quito (now Ecuador) met in Angostura (full name Santo Tomé de Guayana de Angostura del Orinoco, changed to Ciudad Bolivar in 1846) in Venezuela. This was in the context of independence wars by the previously mentioned countries, as well as Peru, Bolivia and Panama (then part of Colombia).
The purpose was to establish basic princples for the era when the war will be over and they establish a Ley Fundamental (Foundation Law) or Constituion. At the end it was agreed to meet again. This new meeting was held between August 30 and October 3, 1821 in the City of Cucuta, Colombia. There, the Constitución de 1821 (known as the Constitución de Cúcuta, full text at <www.antiescualidos.com>) was proclaimed, establishing the República de Colombia.
Source: wikipedia.
E.R., 25 August 2008
---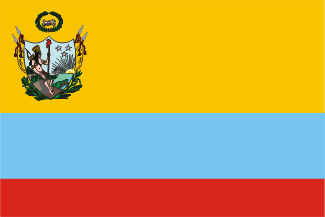 image by Jaume Ollé, 2 October 2001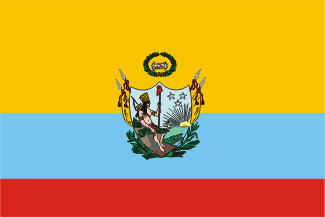 image by Jaume Ollé, 2 October 2001
Coat of Arms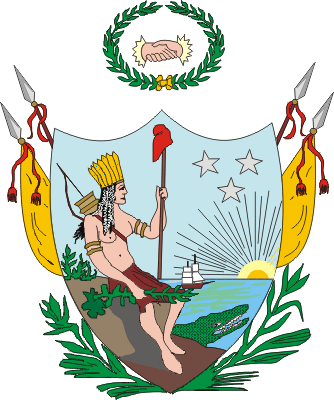 image by Jaume Ollé, 2 October 2001
I first draw the indian women in the 1820 arms from the drawing by Restrepo Uribe in Banderas 30. In fact seems to be an native man, but no doubt that correctly it is an native woman. I analyzed the details and it must be a woman in the image of Banderas (#30). I retouched it to give a more femenin aspect to it without changing the design from Banderas.
Jaume Ollé, 2 October 2001
---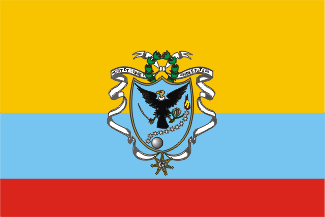 image by Jaume Ollé, 2 October 2001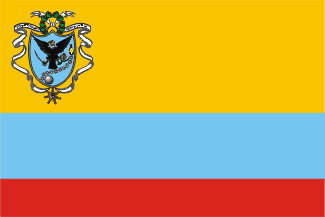 image by Jaume Ollé, 2 October 2001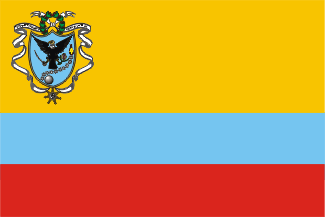 image by Jaume Ollé, 2 October 2001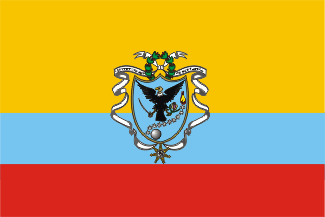 image by Jaume Ollé, 2 October 2001
Coat of Arms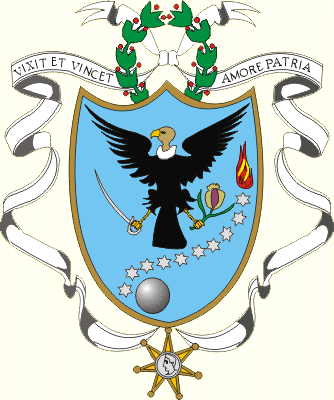 image by Jaume Ollé, 2 October 2001
---
Flags According Lucien Philippe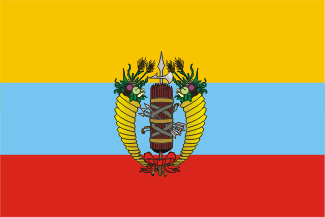 image by Jaume Ollé, 4 October 2001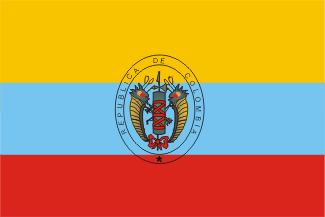 image by Jaume Ollé, 4 October 2001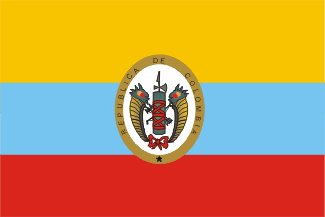 image by Jaume Ollé, 4 October 2001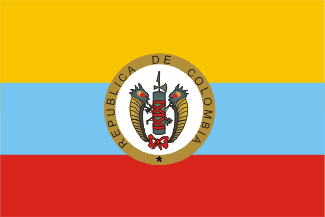 image by Jaume Ollé, 4 October 2001
Coat of Arms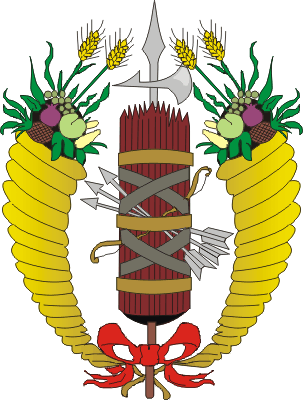 image by Jaume Ollé, 4 October 2001
I believe this Coat of Arms was based on France's emblem although a more elaborate version can bee seen here at Ralf Hartemnik's Civic Arms Heraldry website. This symbol is officially called "The National Symbol of the French Republic" (since 1953) and this version of the National Symbol of the French Republic was created under the 4th Republic by a ministerial commission meeting at the Ministry of Foreign Affairs, on June 3rd, 1953
Source: Robert Louis' website.
Colombia most likely adopted this Emblem as a Coat of Arms based on the Declaration of the Rights of Man and of the Citizen made in France in 1798, translated from French to Spanish for the first time by Antonio Nariño, a man who would be later be one of the leaders of Colombia's independence, having a Department named after him and also a General who participated in the early battles of Colombia's Independence waiving his own flag. Antonio Nariño himself was influenced greatly, as were other South American leaders of the time, by the French ideal of a Republic.
E.R., 25 November 2007
The Ministry of Culture of Colombia as well as the National Museum show the flag of the 1er Batallón de las Milicias Regladas de Cartagena (ca. 1823). The flag's dimension is 168 x 162,5 cm.
However both images are wrongly displayed: notice that the top color is blue, where it really should be a 90° rotation clockwise so the top color is yellow and the CoA is well read.
The flag has this coat of arms on the middle in gold, plus the name of the Battalion around it.
Esteban Rivera, 24 April 2010
---
Flag at Presidencia web site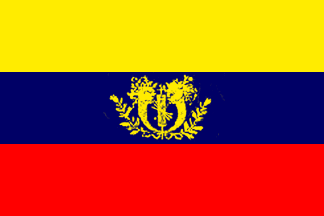 image by Eugene Ipavec, 25 August 2008
I believe there is a variant of this flag where the Coat of Arms on the flag is actually golden, based on a picture seen at presidencia web site.
E.R., 25 August 2008
---
---
Anything below the following line isnt part of the Flags of the World Website and was added by the hoster of this mirror.
---
Bei fahnenversand.de erhalten Sie eine Vielzahl an günstigen Flaggen, Pins und Aufnähern, zum Beispiel: