Bestellen Sie Ihre Fahnen / Flaggen im Flaggen-Shop bei fahnenversand.de

Diese Website beschäftigt sich mit der Wissenschaft der Vexillologie (Flaggenkunde).
Alle auf dieser Website dargebotenen Abbildungen dienen ausschließlich der Informationsvermittlung im Sinne der Flaggenkunde.
Der Hoster dieser Seite distanziert sich ausdrücklich von jedweden hierauf u.U. dargestellten Symbolen verfassungsfeindlicher Organisationen.

---
This is a mirror of a page that is part of © FOTW Flags Of The World website.
Anything above the previous line isnt part of the Flags of the World Website and was added by the hoster of this mirror.
Mistaken or Dubious Defaced Australian Flags
Last modified: 2022-01-29 by ian macdonald
Keywords: australia |
Links: FOTW homepage | search | disclaimer and copyright | write us | mirrors

---
See also:
---
Introduction
Below are listed examples of British ensigns misinterpreted as Australian ones, for which no hard evidence has been found for the Australian counterparts' existence.
Beneath these mistaken or dubious flags are further discussions concerning proposed, deduced and hypothetical British and Australian Blue Ensigns of both Australia and the former external territories. Please note that there is nothing to confirm that any of the flags listed in the further discussion ever existed in reality.
Jeff Thomson, 10 June 2019, 5 September 2021
---
Customs flag reported from Port Moresby in 1949. Although strongly suggesting a British Blue Ensign and itself incorrect, it could be alternately interpreted post-war as being based upon the Australian Blue Ensign, which was in effect the post-war Flag of Papua anyway (with a bold black HMC added in this case). Of course if it was ever to have been produced in reality, the black HMC letters would need some white fimbriation to make them stand out. For example, an Australian Customs flag of the time with the white HMC in the lower centre could have smaller black letters laid over the white ones to produce this effect.
Jeff Thomson, 10 June 2019
---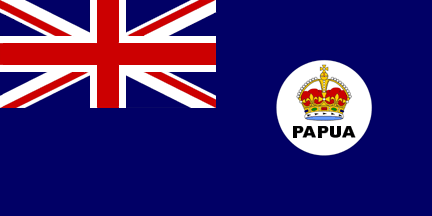 image by Clay Moss
Reported from Port Moresby in 1954. Means the British ensigns but taken by the Commonwealth government to mean Australian ensigns.
Jeff Thomson, 10 June 2019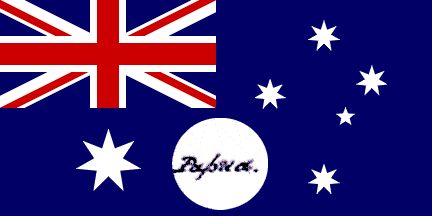 image by Ian MacDonald, June 2019
An Australian Blue Ensign version without the crown was known to exist circa 1908, and allegedly again around 1931 to 1942. A British Red Ensign counterpart of the British Blue Ensign version reportedly existed as a P&O Line courtesy flag, but there has been nothing found to indicate that an Australian Red Ensign version ever did.
Jeff Thomson, 10 June 2019
---
Flag report from Australian Army in 1954 includes an Army flag list with two Corps British Blue Ensigns (RAE and RAAOC) similar to their British Corps counterparts. Misinterpreted by Australian government as Australian Blue Ensigns but later corrected.
The PNG customs flag prescription of 1951 was not amended until well after PNG independence in 1975. Therefore the prescribed black letters on the Australian Blue Ensign's customs badge remained as T.P. & N.G.C. in law. Although certainly not impossible, assertions that such flags had the letters amended to T.P.N.G.C. or P.N.G.C. are not supported by the pre-PNG-independence legislation or any other reliable evidence. But in practical terms, as this just means deleting one or two characters, it's hardly a matter of profound importance.
Jeff Thomson, 10 June 2019
---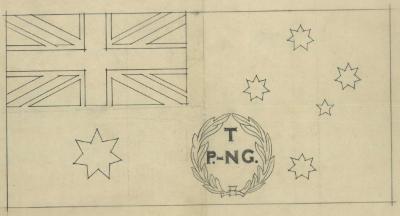 image provided by Jonathan Dixon, 20 November 2012

In two places in the FOTW PNG Historic flags pages, the 1949 drawing of an Australian blue or red ensign with a badge in the lower centre consisting of a garland-surrounded white disc with the bold black letters T over P.-NG. in the lower centre, but offset completely into the fly is shown. An alternative suggestion was to replace it with a bird of paradise badge. This was suggested as the first of a flag type to be authorised for any Australian territory with a separate administration, blue type for land and harbour craft use (and territory Administrator), red type for administration ships at sea. This suggestion was not put into effect as far as is known. In the early 1970s the territories began to introduce their own flags under their own authority, not in British Ensign format.

Also suggested was a Customs flag for the combined territories of New Guinea and Papua that had a white disc in the lower centre, upon which was the word CUSTOMS in bold black. Nearly forty years later the Australian Customs flag would have the word CUSTOMS in bold white, without the disc of course. This 1949 proposal faded away when the unified territory Customs Regulations 1951 prescribed a flag which was in effect the pre-war New Guinea Customs flag with two more letters (P and &) added.
Jeff Thomson, 10 June 2019
---
Flag researchers should be aware that the designs and appearances of most defaced Australian Blue Ensigns are uncertain and speculative. In several cases, it isn't even certain whether the defaced flag in question was an Australian Blue Ensign or a British Blue Ensign. In fact, it isn't even certain if some flags ever existed other than as a design prescription in legislation. Any descriptions or images for these flags should be taken with caution even if they are government-sourced, unless they are photographs of an actual flag in use. This especially applies to the more recent 'replica' flags produced by officers of government agencies whose boats (or boats of their predecessor agencies) once flew special ensigns. Despite generally being taken as authoritative because they are sourced from the agencies concerned, some replica flags are just an impression or a guess based upon a brief written or verbal description, and are most likely inaccurate.
Jeff Thomson, 7 December 2019
---
There are other Australian flags, mostly service ensigns, which probably never existed despite some assertions that they did exist. Some are reported in archived documents and have to be considered as a possibility, assuming the report is reliable. Other flags can be deduced by applying changed administrative circumstances to existing legislation involving the flag, particularly customs regulations. And still more flags, by speculatively applying design updates of related flags to dormant flags that had not been confirmed as formally withdrawn from use.

Jeff Thomson, 5 September 2021
1901-1904 AUSTRALIAN CUSTOMS FLAGS (Australian Blue Ensigns)
Although the 1901-1904 Customs flag prescription implies the British Blue Ensign, it could also have been interpreted as the Australian Blue Ensign. This would have meant the Australian Blue Ensign with the original-design Southern Cross and six-point Commonwealth Star to early 1903, and with the redesigned (current) Southern Cross and six-point Commonwealth Star from early 1903 to mid-1904. Both types defaced with 'H.M.C. Australia'.

Jeff Thomson, 5 September 2021
1911-1935 AUSTRALIAN QUARANTINE ENSIGN (British Blue Ensign)
The Quarantine ensign prescription was a 'generic' one of similar wording found in the quarantine laws of many British Empire nations. In most cases the parent flag was referred to as 'a blue ensign' implying a defaced British Blue Ensign that was effectively a standard Empire service ensign. No evidence of this particular flag being flown by Australian Quarantine launches has yet been found.

Jeff Thomson, 5 September 2021
1911-1935 AUSTRALIAN QUARANTINE ENSIGN (alternative design)
There is little reliable information available concerning the Australian Quarantine ensign, with only one known surviving example and one replica. Both have the quarantine badge in the flag lower centre. However it is possible that there were examples flown during the 1920s and 1930s that had the quarantine badge in the true fly centre within an expanded Southern Cross.

Jeff Thomson, 5 September 2021
1945-1951 PAPUAN CUSTOMS FLAG (Australian Blue Ensign)
Had the legally-prescribed Customs flag been flown in Customs service after the war, the changed administrative circumstances suggest that the flag could have been the Australian Blue Ensign with a bold black HMC in the lower centre. Perhaps the bold black H.M.C. letters could have been edged in white, or placed on a white disc for contrast. In reality the undefaced Australian Blue Ensign was flown for Customs purposes after the war.

Jeff Thomson, 5 September 2021
1945-1951 NEW GUINEA CUSTOMS FLAG (Australian Blue Ensign)
Unlike the Papuan case, the prescribed pre-war Customs flag defacement would have been suitable for continued use post-war as it's design was not specific to the discontinued administration. Yet whereas the pre-war flag appears to have had the defacement placed within the Southern Cross, a post-war flag would have been more likely to have the badge placed in the flag lower centre. In reality the undefaced Australian Blue Ensign was flown for Customs purposes after the war.

Jeff Thomson, 5 September 2021
1956-1973 COMMONWEALTH LIGHTHOUSE SERVICE FLAGS (Australian Blue Ensigns)
From the few available documents and photographs it would seem that the badged Australian Blue Ensigns flown at lightstations were replaced by undefaced Australian National Flags from 1956. However, badged Australian Red Ensign counterparts continued in use as ship ensigns until around 1973, having two design changes by 1963. Whether or not these two design changes can be taken as applying to the blue flag, would depend upon whether the blue flag was taken to be withdrawn in 1956 or it's supply suspended for the time being. As this blue flag status from 1956 to 1973 is unclear from the documentation, the design upgrade matter is purely academic.

Jeff Thomson, 5 September 2021
1951-1975 PAPUA AND NEW GUINEA CUSTOMS FLAG (Australian Blue Ensign)
Probably an on-paper flag only, this customs flag is used as a flag icon representing Papua and New Guinea post-war, as it was the only official distinctive territory flag 1951-1971. Until it became fully obsolete with PNG independence in September 1975 there was no change to it's prescription in the Customs Regulations, the defacing letters remaining as T.P.& N.G.C. Any images that may appear with the letters changed to T.P.N.G.C. have been inspired by questionable information in a 1964 letter and any with P.N.G.C. have come about due to misunderstanding when the current amended Customs flag prescription came into force. This Australian National Flag Customs flag, still with T.P.& N.G.C. became obsolete in September 1975 but from mid-1971, use of the PNG National Flag for Customs purposes would have been preferred under the transition to independence arrangements.

Jeff Thomson, 5 September 2021
---
In November 1949 the Prime Minister's Department hosted inter-departmental meetings to discuss an Australian national flag and Commonwealth flag matters in general. The report of these meetings included a recommendation that the Civil Air Ensign of the Commonwealth of Australia be re-designated the 'Australian Civil Air Ensign', and that the stars be oriented to comply with those in the 'Australian National Flag' (the report repeatedly referred to the Australian Blue Ensign by this name). As the Department of Civil Aviation had responsibility for the Civil Air Ensign, they rejected the recommendation to reposition the Southern Cross vertically as it would upset the design of the ensign (three of the stars would intrude onto the fly cross-arm). Thus the changes were never made. This proposal may have been prompted by an unexplained incident in China in which the Australian nationality of this ensign (presumably the 1935-1948 type with yellow stars) was not recognised as indicating Australian national identity.

A related recommendation was that 'In addition to displaying the Australian Civil Air Ensign on the ground, all Australian civil aircraft engaged in international air navigation should have the Australian National Flag painted on the tailfin or other conspicuous position'. Although display of the Civil Air Ensign did not continue, painting of the Australian National Flag onto Australian airliners was generally adopted. So far no legislative requirement to do so has been found.
Jeff Thomson, 29 November 2021
---
The Flags Act 1953 sections 5, 6 and 7 provide for the Governor-General to appoint further flags or ensigns of Australia, to issue warrants for their use in defaced or undefaced form, and to make rules concerning the use of such flags. These provisions have rarely been exercised, and apparently not at all before 1967. This would seem to be because officials of the Prime Minister's Department who would be advising the Governor-General to perform these actions were concerned that they would receive a flood of applications for processing of flags. Although in the event they only appear to have received the applications and enquiries listed below, the PM's Department officials never processed any of these despite persistent follow-up letters being periodically received as late as February 1960. So concerned were they that this matter could get out of hand that by mid-1958 the officials had developed a no-defacement policy toward the Australian flags that remains to this day, and is well-understood in the Australian community. Known applications and enquiries were for;-

CHIEF OF GENERAL STAFF PERSONAL FLAG (1954)
COMMONWEALTH LIGHTHOUSE SERVICE BLUE FLAG & RED FLAG (1956)
No stated reason has been found as to why these flag applications were not processed under the Act.

CIVIL AIR ENSIGN OF THE COMMONWEALTH OF AUSTRALIA (1954)
The application for appointment of this flag under section 5 was not processed, as advice received from the Attorney-General's Department was that this flag was already sufficiently constituted through other legislative means. The diagonal orientation of the Southern Cross, and the refusal of the Department of Civil Aviation to modify the design so that the Southern Cross stars followed the placement of the stars on the other Australian flags also worked against the appointment of this flag.

DIPLOMATIC FLAGS (1954)
The Department of External Affairs made enquiries concerning processing of proposed diplomatic flags on the British model in 1954. However no formal application nor design details appear to have been submitted. The Prime Minister's Department officials expressed the view that the Australian National Flag was suitable for diplomatic use without defacement.

ROYAL AUSTRALIAN ARMY ORDNANCE CORPS FLAG (1955)
In 1955 the Army applied for processing of a proposed new ensign of the Australian National Flag for the RAAOC, described as an imperial blue flag with the Ordnance badge in the fly and the Australian National Flag in the canton. This format of flag places an ensign in the canton of an ensign, and would have replaced the existing RAAOC British Blue Ensign. It is not known if this flag was taken into use. There does not appear to be a specific vexillological term for flags of this format, although 'cantonilla flag' and 'compound ensign' have been suggested.

BOYS BRIGADE 'COLOURS' (1957 and 1958)
From 1957 there were applications from a local Victorian unit and later, the Western Australian Council of the Boys Brigade, for warrants to deface the Australian National Flag with the Boys Brigade badge in the flag lower centre. A 1958 compromise proposal from the Victorian unit had a smaller oval badge centred on the Union canton. In these applications the units wished to produce 'company colours' that followed the established practice in the United Kingdom organisation, but to reflect a specifically Australian identity.

The refusal to process these several flag applications changed the nature of the Flags Act 1953 from being a 'working Act' providing central control of most Australian flag matters as originally intended, into being effectively a rarely-used 'ceremonial Act' for flag matters of profound national importance only.

Jeff Thomson, 25 January 2022



Anything below the following line isnt part of the Flags of the World Website and was added by the hoster of this mirror.

---
Bei fahnenversand.de erhalten Sie eine Vielzahl an günstigen Flaggen, Pins und Aufnähern, zum Beispiel: